12 Easy Tweaks for Asking for Reviews via Email
6 min read
Collecting customers' reviews is a game-changer for any business looking to boost their revenue and beat the competition.
Customers' feedback may influence your decision-making process and shape the future of your products or services. What's more, it's also crucial for understanding your target audience better and measuring satisfaction among your existing clients.
In this article, we have put together a few techniques you can adopt to gather insights from current and prospective customers like there's no tomorrow.
Table of Contents
Why is Collecting Reviews Important?
The whopping 95% of clients take into consideration reviews before making a purchase. And one more staggering number: 84% of customers trust online reviews as if they get these recommendations from friends!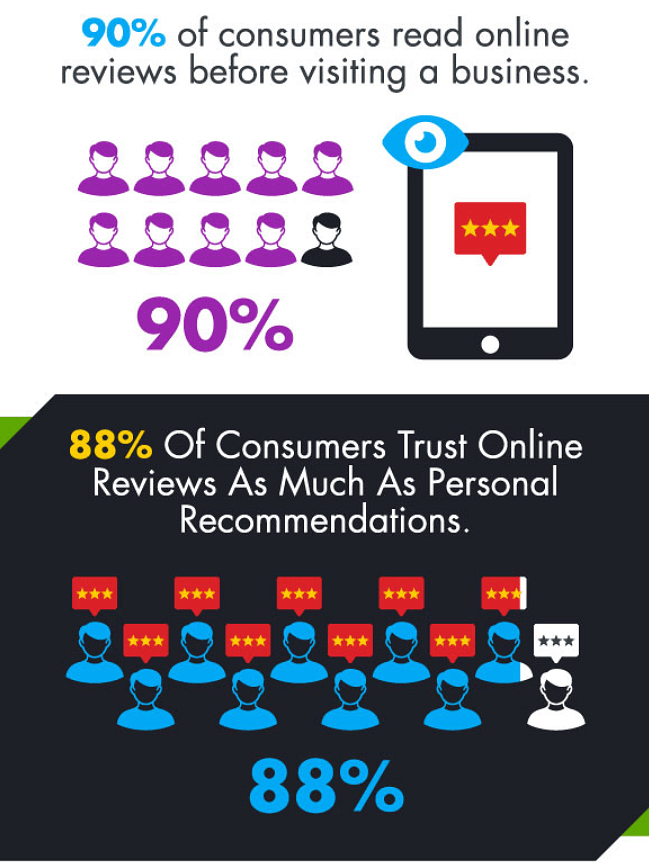 The first principle says that people get attracted to everything that relates to them somehow (for instance, when they read the review which describes the same problem they have).
The second principle claims that people like feeling connected with others. And when they read a small success story, described in the review, they think something like 'I want to have the same!'
But how do reviews influence a company's business goals and objectives?
In a nutshell, more reviews equal higher brand credibility, thus, more prospective clients. In addition to reputation boost, a bunch of 5-star reviews from satisfied clients creates powerful social proof for inspiring clients' confidence and driving sales.
The stats show that an increase in reviews can lead to significant improvements in conversion rates.

Want more?
Proactively asking for reviews strengthens your relationships with clients—and, as a result, reduce churn rate.
Also, reviews are factored into organic and local search rankings. That means: the more reviews, the higher the position in search results.
"In addition, company or product reviews by customers can be used as assets for your marketing activities. You can publish them on your social media accounts, use in email campaigns, or feature them on eCommerce stores and product pages", notes Helga Dosa, Head of Marketing at Brand Rated.
The use of online marketing tools like crowdy.ai automates the whole process – they collect all the data from customers without using unsecured third-party tools or adding new website pages, and then display it on your website.
And last but not least: you can significantly improve your services or products based on clients' feedback. In fact, reviews can be a huge source of important ideas on how to improve your business which you haven't noticed before.
To sum up this section, your company will benefit from reviews in many ways. Let's go through the sure-fire tactics on how to successfully collect them.
Make the Most of a Post-Purchase Email
Since asking for testimonials can be tricky, having a set-in-stone process will ensure a higher response rate and save you a lot of headaches.
Post-purchase emails are the most no-brainer and effective method to do that. These automated messages are usually sent after customers complete purchases because during this period they will be more likely to leave their testimonials.
One crucial thing to remember here: give your customer enough time to try the product or (especially!) service. Depending on the products you offer, it may take from a few hours to a couple of months.
Once you've decided who and when you will target, it's time to get down to business. Let's dive right in!
1) Ask for Permission to Enter Clients' Inbox
Resist the urge to slide into people's inbox spontaneously.
People expect to see only the valuable content in their email accounts.
If your lead has themselves subscribed to become a part of your email list, this means that the person would like to hear from you. And even in this case, always give them an option to 'unsubscribe'. Otherwise, that's against the GDPR.
2) Start with a Compelling Subject Line
Writing a personalized subject line makes you stand out among an ocean of other emails and get you a little closer to getting a response.
Statistics show that emails with personalized subject lines get 26 higher open rates than emails with generic subjects. Considering that, do your best to pique your customers' interest.
3) Choose an Appropriate Greeting
Although saying hello consists of one single word, it can make a difference. Dealing with finalists or layers, go with the conservative and traditional salutation. Working with Millennials, pick a more casual setting.
4) Pick a Proper Opening Line
Now, what comes after the greeting? The opening line.
How you start your email is crucial, especially when you ask for something. This is the line that will define whether your client will comply with the request or take a swift exit.
First and foremost, there is one ground rule: Always make an opening line about the client, not you.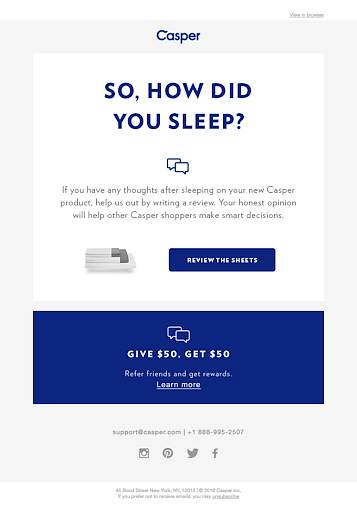 The email which starts with something like 'My name is X, I'm a success manager from Y company, and I am reaching out because…' won't get recipients interested. It is the first sign that tells the clients: 'This email is irrelevant'.
You will have a way better response rate if you start your request email with something related to your clients.
People love to talk about themselves, so just do it – talk about your clients and only then proceed to your review request. For instance, you can start the conversation with 'Just saw your Facebook post where you talked about our product…' or 'I noticed you have recently purchased our product…'.
5) Personalize your Message
Make your clients feel special – nobody likes to feel like a number.
You won't get a review with a dry as dust email saying just 'Review us please!'. So, personalize your email to clients by including their first name (it's a must-have!) and even mentioning the specific product or service that they use.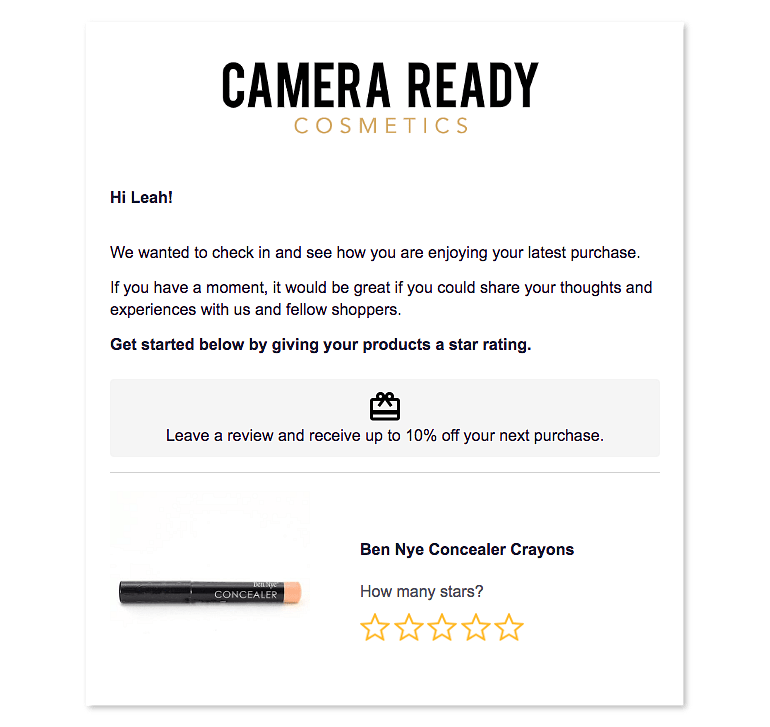 If you're using some email marketing software like SendX, then making an email personal won't take any extra time.
Sometimes personalization also means a friendly tone. Remember to keep a casual setting when asking for a review – if you sound too pushy or needy, it'll only scare away your customers. You won't achieve high open and response rates if the email feels cold and impersonal from the very beginning.
6) Work on the Main Body of your Email
Let's move to the main part. After implementing the above-mentioned tips, your clients are likely to stay long enough to read your request. Now you have to write something engaging and add value to the clients.
First, don't beat around the bush and explain your reason for reaching out clearly.
Then, make your content easy-to-read, add a lot of whitespaces, keep the font clean and simple. That will make the email uncluttered and clients won't get confused about where to look and what to read in which order.
While asking clients for testimonials, you can also include images of purchased products so that the clients won't get mixed up with what actually they are supposed to review.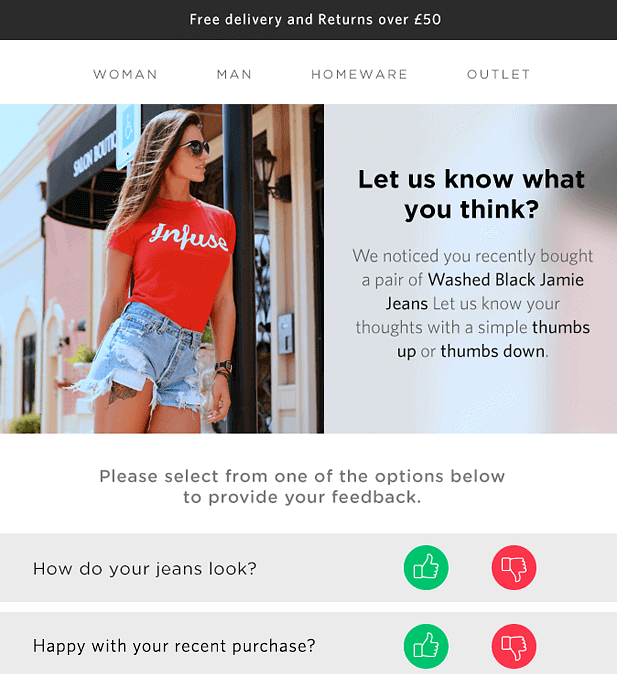 7) Keep it Short
Keeping emails short is the most important thing about asking a customer for a review is to keep it short. Don't make them read a novel.
Your email should thank them for being your clients, mention the purpose of this email (a review) and explain how to leave it. Avoid unnecessary phrases that your customers are unlikely to read.
Also, don't forget to let customers know how long leaving review should take. Remember that no one will take a 30-minute survey or write more than a couple of sentences.
8) Use a Rating Scale
Rating scales, 'Yes/No' questions and multiple-choice answers are the fastest way to collect reviews from your clients. Nevertheless, these options can be a little bit tricky in implementation so try to stick to the following rules:
Pre-selected answers should be super easy to understand and choose from
Rating scales show a gut reaction best. Ask to rate your customers' purchase experience 10 minutes after they have bought something from you.
Using a rating scale, provide a neutral option that provides better, more accurate data.
9) Add a Bold CTA Aligned with your Request
Stating your review request, make sure to add bold and eye-catching a call-to-action (CTA) redirecting your clients to Google Form or your website page where they can leave a review.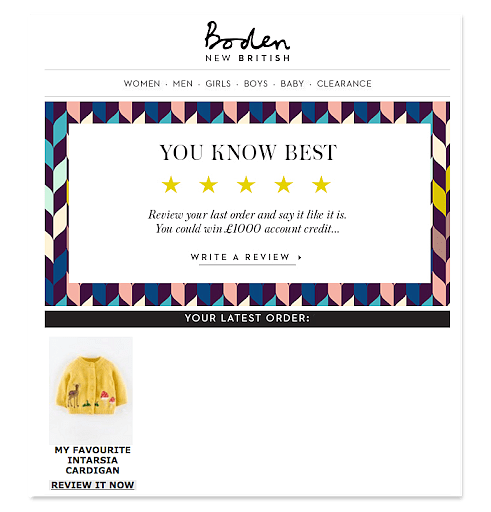 10) Offer an Incentive
Should you offer a channel incentives program? Speaking of leaving reviews for Yelp or Google Business – Hell to the No. That's against guidelines for most of these sites.
But if we are talking about getting reviews for your website, why not offer a 10 percent discount or $25 dollar Amazon card or whatever else? Then you will see if this strategy works very effectively for you in terms of response rate.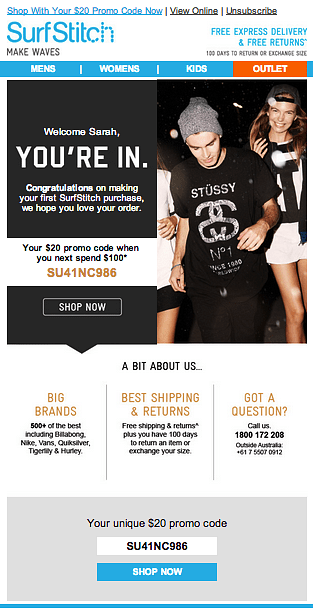 11) Test, Measure, and Adjust
You don't know what email copy or incentive will work until you actually test different options. Try various email variations, and rack and compare results.
At the same time, don't forget to personalize each email to every individual client. Then you will able to pick the top-performing email to use in the future and generate reviews like there's no tomorrow.
12) Respond Immediately if it's Needed
If you receive negative feedback from the client (everything is possible), act quickly.
Respond to let the unsatisfied customer know you are working hard to help them with their challenges. Also, it's a good idea to leave the contact information of a specialist who can work on the issue.
Remember that it's crucial to keep in touch with the consumer until the problem is solved. Otherwise, you take the risk of leaving an angry client who is not going to buy from you again.
On the other hand, when the review is positive, you should respond, too. For instance, thank your clients and offer them to share the testimonials on their social media accounts.
Automate Your Review Request Process
As they say, a little automation never killed anybody.
There are many tools to automate this process: CRM platforms, support ticketing apps, social media listening, social proof platforms... You can choose whichever workflow you prefer for requesting reviews from clients.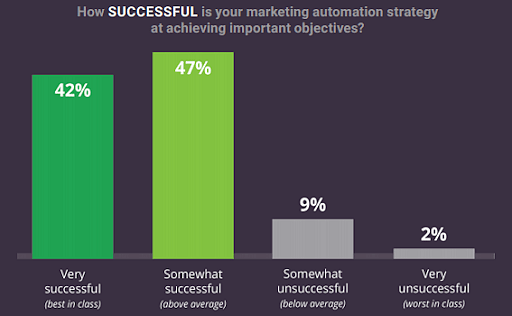 Email marketing tools like SendX can help get more review generation work done faster. Businesses who automate their workflow of collecting reviews can often double or triple their performance, without wasting time and effort on manual work.
Wrapping Up
Customers' reviews can significantly boost sales and brand credibility if you know how to ask for reviews and how to build them into your growth strategy. Asking customers for feedback should become one of your routine tasks.
The best results will come if you tweak your outreach campaigns as needed. Use various subject lines, personalize your message, keep a friendly tone of voice, test out different email copies to motivate clients to respond.
Even negative reviews are valuable as they help you grow and leave every client happy. Asking for feedback shows you care about your customers. You can also use tools like Feedback Express to automate the review process on Amazon and eBay.
The above-mentioned outreach tactics are meant to be used as guidelines. Take them as a starting point of crafting the most effective emails and mix them to increase your chances of receiving more reviews.