8 Email Sequence Examples (Get More Conversions)
11 min read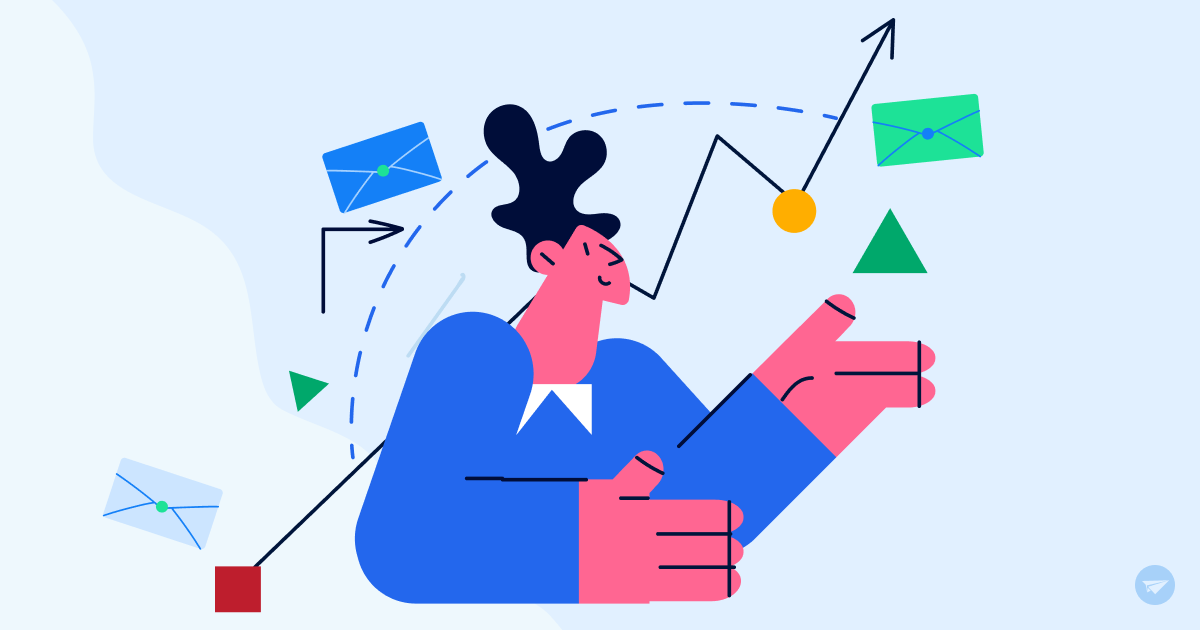 Timing > List size?
If I had a dime for every time someone asked 'How huge is your list?', I would have enough to buy hoardings at Times Square, NY or Piccadilly Circus, London (or maybe both..gasp) and put this instead - 'List size doesn't matter. Timing is everything'.
The value you add to your email list and profits you generate from there depends a lot on the timings of your emails. In this blog we will talk about different times in the journey of a customer when you can should send an email (a.k.a email sequences)

Let me show you an example first.

Suppose you run a website selling hats. I browse through the collection, put that mauve fedora hat in the cart and think I will wait or check more websites before I buy from you.

If you send me a discount code to reconsider buying 10 days after I was at your website, forget the sale, I won't even remember the website.

And you just wasted your email. And you risk getting unsubscribed.

Hurts? Well, only if I had received the reminder to check the cart and use the discount a day after I was visiting the website. It might have put your website on top of my head and a discount would have swayed me.

This is only one example of how an automated email could have earned the hat website a sale and a happy customer. This is what we mean by email sequence.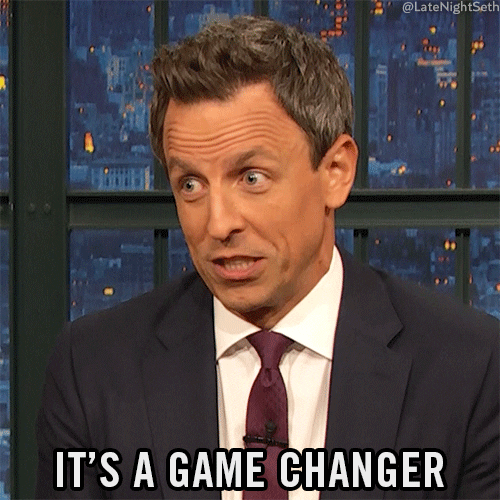 via GIPHY
Table of Contents
What is an Email Sequence?
Email Sequence is a series of emails that are sent out automatically on a schedule depending upon the actions of the customer/subscriber. Email Sequences are known by different names such as drip emails, lifecycle emails, email marketing automation, and autoresponders.

Email sequences can be utilized in nurturing your leads, welcoming and engaging your customers, on-boarding, and reminding customers to renew. Unlike email campaigns, all of this is automated.
But automating this takes planning, understanding customer behavior, writing tons of emails for different scenarios, tracking every single conversion. I wouldn't say it is effortless. But worth your time and effort.

Whatever the size of your list and business, I would recommend implementing email sequences.

You won't just believe a stranger on the internet. I know. So let me tell you how an email sequence can benefit you.
Difference between Drip Sequence and Email Sequence
Email drip campaigns are static. Meaning, the content, or design doesn't change based on a recipient's behavior or category. They are predetermined and rules to send these are just scheduled once.
Some examples of email drip campaigns
Welcome email
Sales emails during Black Friday or Cyber Monday days
Email automation sequences on the other hand are dynamic. Meaning, the content and changes based on the user's action (abandon cart, non-engagement etc.) Email automation sequences are a reaction to the user's action.
Some examples of email automation sequences:
Abandon cart emails
Special access unlock to high-paying customers
Birthdays and anniversary emails
Email drip campaigns are easier to set up compared to automation as the content in automation keeps changing. Drip campaigns generally don't require much segmentation. Automation sequence on the other hand will be benefited heavily if the segment of the user is well defined.
Benefits

Helps you scale
You only have to set up email sequences once and then they can work like clockwork. It's like having an online evangelist or salesperson that keeps running your business even while you sleep.

You have to map our subscriber's journey only once and then emails will keep them engaged based on how they open emails, how they avail discounts if they took the trial or not if they visited a particular page or not. There are so many variables and if you had to do this one at a time for every subscriber, you would need to have the hands of an octopus.

You are not an octopus. You are human with two hands and one brain.
via GIPHY
Email sequences work whether you have 100, 10K, or a million subscribers. So it truly helps you scale your business.
Segmentation leads to quick conversion and value for subscribers
Email sequences' are designed to turn subscribers into customers. Since these are sent based on their past interactions with your website or emails, you can judge their needs almost precisely. You can segregate based on low, medium and high intent and send messages appropriate for each stage.

Once you send the subscriber exactly what they need to hear, you will turn them into customers.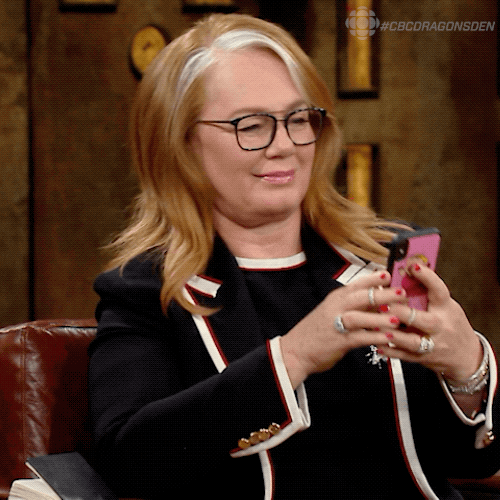 via GIPHY
It also adds immense value to the subscriber as they are guided in the journey on your app and can rely on emails to remind them of renewals or read your valuable emails.
More sales
More emails create a greater opportunity to engage with interested customers and close the deal as you are able to address their objections, provide them discounts and re-iterate the benefits in your email sequence.

Once subscribers start engaging with your emails, then it is a matter of nudging them a bit more to close the deal. You also make yourself familiar to them and that psychological activity builds trust.

Trust means…sales and cash flow!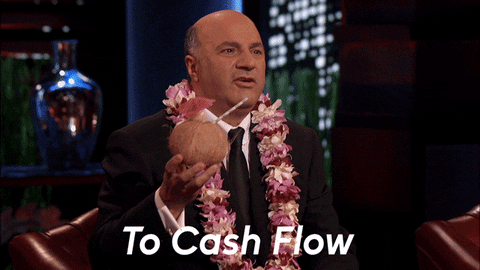 via GIPHY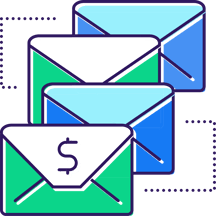 Create an email sequence & save hours of time
Types of Email Sequences With Examples

1) Welcome Email Sequence
A welcome email is the first direct communication to a subscriber from your brand. It's the first impression, so make it count.

Three things to keep in mind when crafting your welcome email:
Keep the tone congratulatory and positive
Guide the readers on what to do next

Check out this email by frame.io that has all these elements: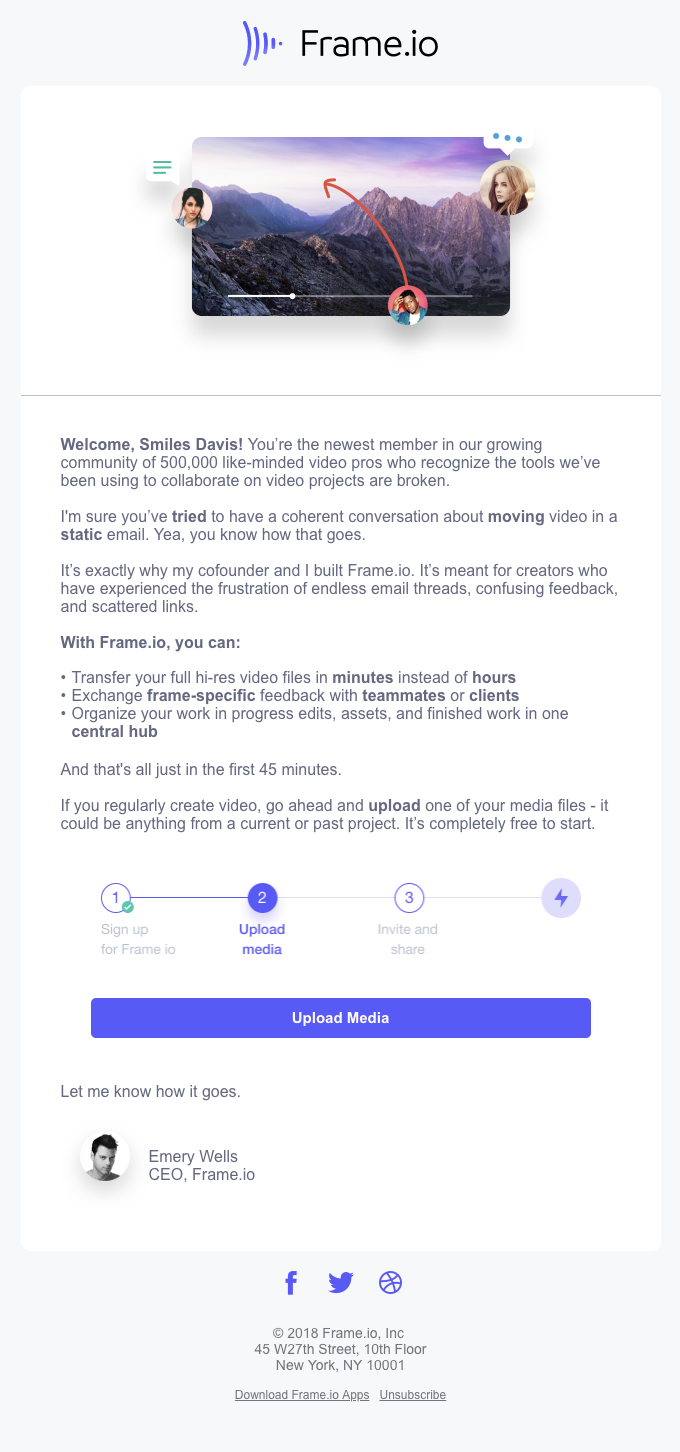 This is also a great chance to maintain your deliverability rates by asking subscribers to whitelist you. Here's how the Evercoach does it in their PS section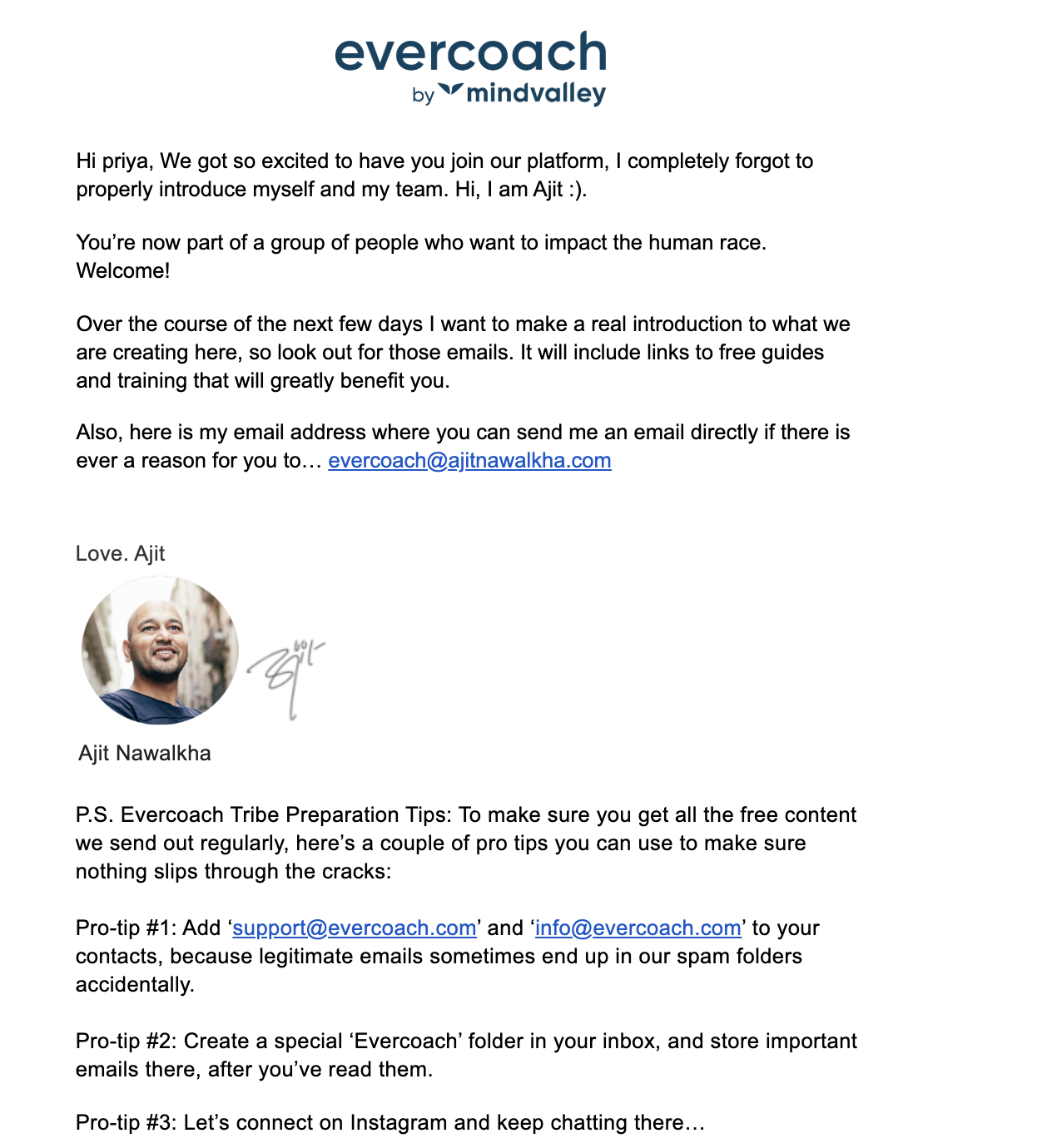 2) Onboarding Email Sequence
Onboarding emails are great to help subscribers reach the 'aha moment' where they finally realize the value of your product. This will help in customer retention & greater revenue. This is the playground to turn a free trial into a paid membership.

Headspace offers a 14-day free trial. You get an email from them, every day until your trial ends to encourage you to use the app for meditation, unwinding and relaxing.


This email is great because:
It focuses on benefits rather than features
It is sent precisely according to where the subscriber is on the journey, on day 1 here. So it feels personalized.
It educates the reader & focuses on building a habit rather than saying 'use our app daily'.

From personal experience, I can tell that emails did influence my decision to buy the subscription as I read about the benefits of meditation every day in their emails.

Yes, marketing works on marketers too.
3) Renewal Email Sequence
It's always (always) better to send renewal reminders before the renew date. Build a smart campaign, not just one email. You can use automation features in your ESP to stop these emails once the subscriber has paid.

This will help bring your brand at the top of the customer's mind and If there is an issue (or if they are happy/satisfied), they are more likely to tell you that. And, if you can get a customer to renew earlier, it means fewer emails you have to send them & that's less likely to bother them.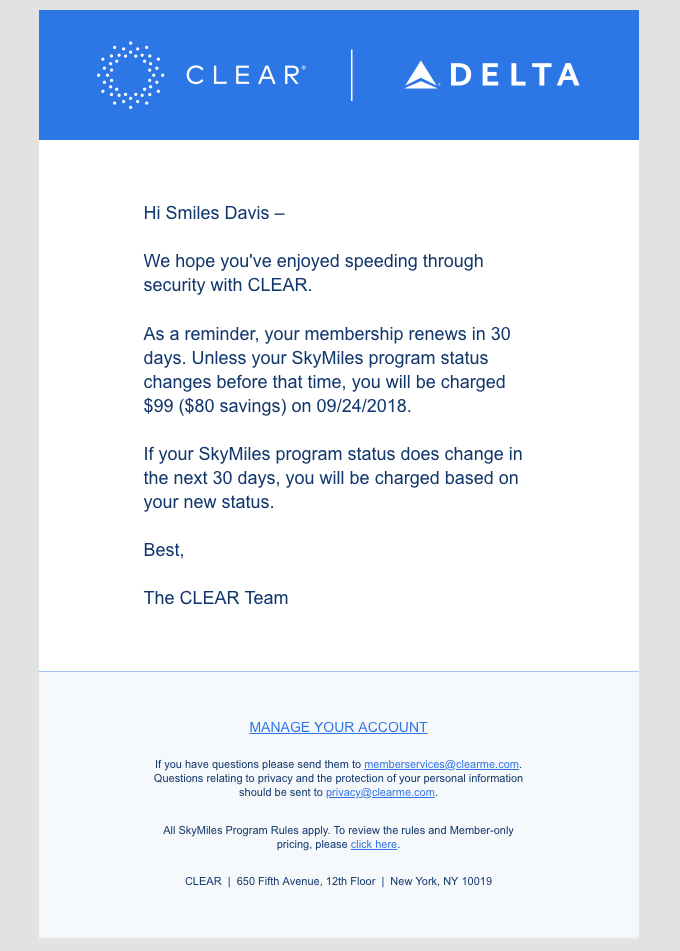 4) Abandoned Cart Email Sequence
Abandoned cart sequence is a great opportunity to turn a lead into a customer because the person has already expressed a high intent to buy.

Create a single abandoned cart email or a series that displays the name, product image, and price for items customers have left behind. You can even add a product recommendation block to suggest similar items from your store. To really close the deal, you can offer an incentive in the form of free shipping, discount code or extended free trial.

This one by Society6 offers a 30% off on items abandoned in the cart.

Cart abandonment emails don't have to be dead serious/pushy. This one by Casper adds little fun by using a creative headline: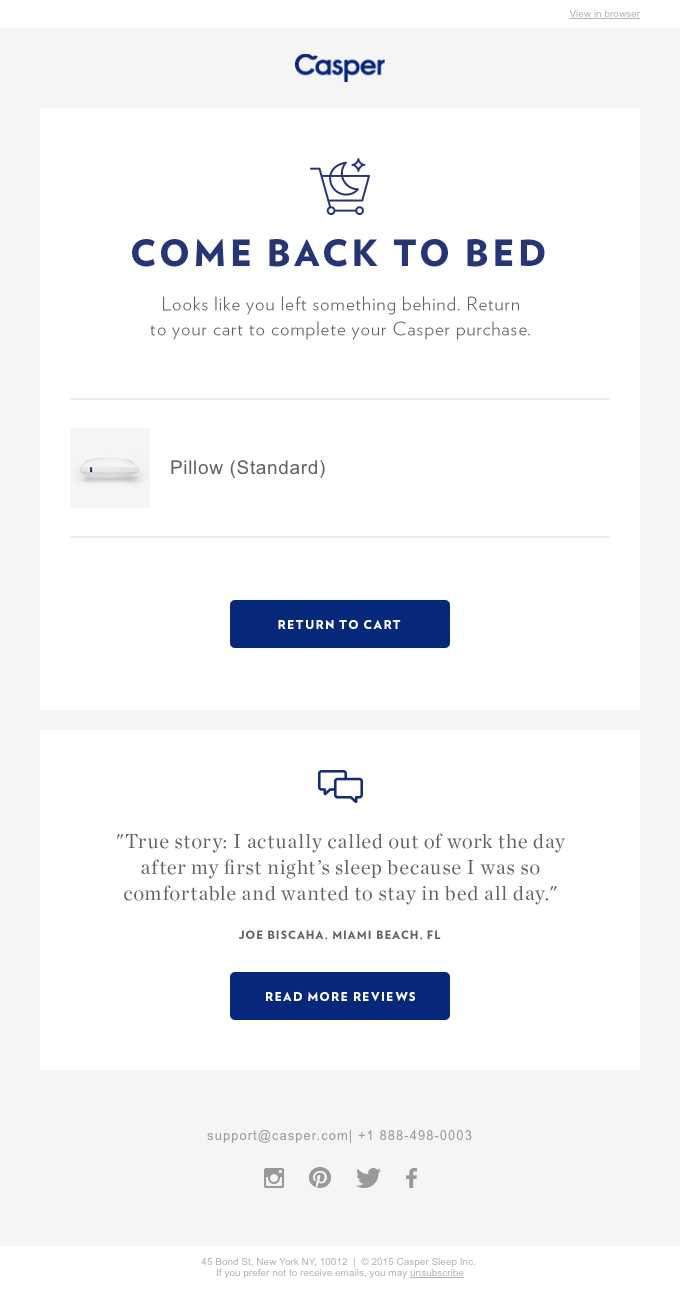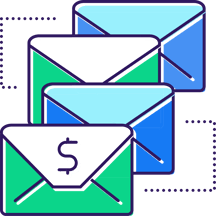 Create an email sequence
5) Re-engagement Email Sequence
The main aim of re-engagement emails is not to push sales but to get customer's attention. For Apps, it's great to boost DAU or MAU. Here is an example by Return Path to nudge the subscriber to update their email preferences and re-engage or unsubscribe for good.

There is no set rule for when you should send this. You can set your own condition & limit of inactive days of a subscriber before you send this email.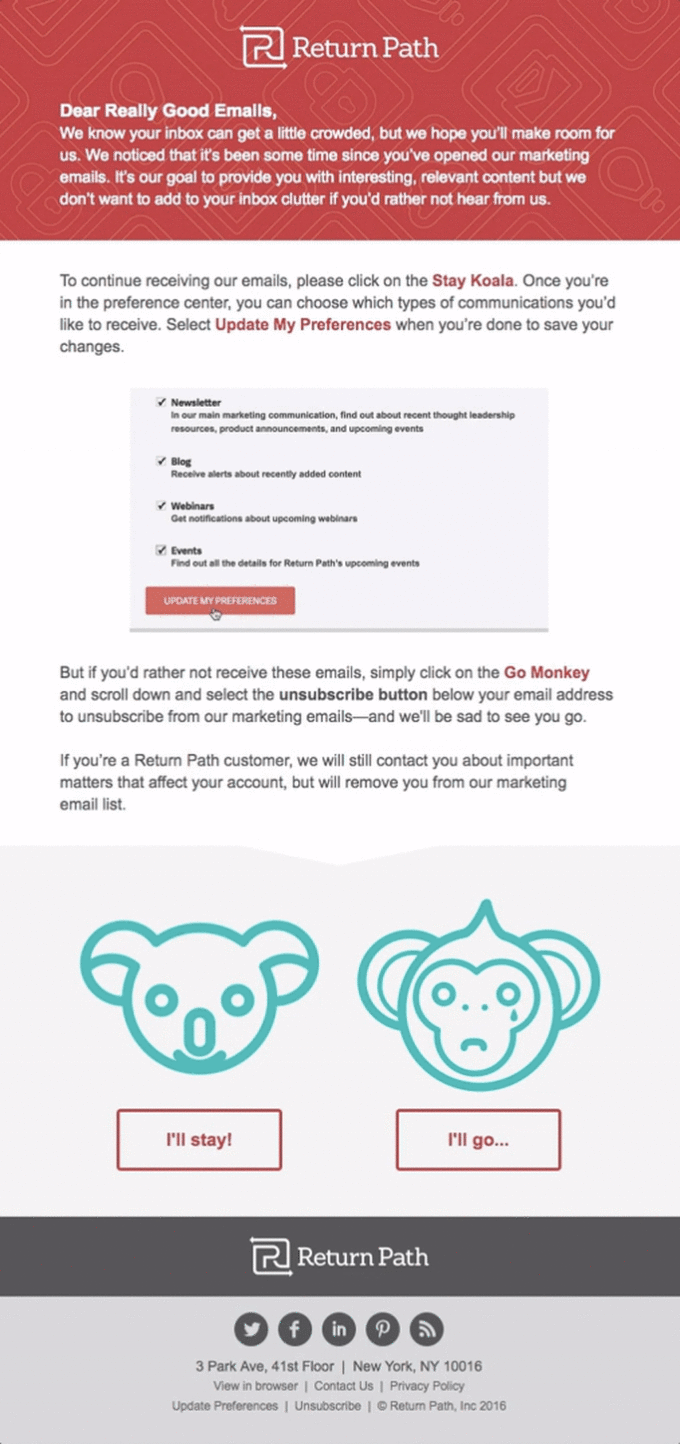 6) Improved Sales Email Sequence
With upsell/cross-sell sales emails, you can give your customers an amazing opportunity to buy additional items that complement their initial order. Although they promote a purchase, these emails don't have to scream "buy me now!" but instead they give emphasis on "I think this item will also benefit you."

Here is how Airbnb does it. When you book a stay with them in a city, they recommend that you can book.

7) Nurture Email Sequence
Nurture sequence is all about converting a lead into a paying customer. The lead might come from a free subscription or lead-magnet.
If someone visiting your website opts in for a free guide, free webinar or any other lead magnet, this sequence comes after the person has consumed your content - watched the webinar or downloaded the free guide.
Nurture sequence can go from educational, to introducing the offer, overcoming objections and then closing with scarcity (if you have one).
Here is an example of a nurture sequence from Harry's educating about their products after we signed up for their email list.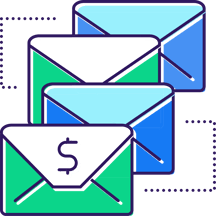 Try creating an email sequence with SendX
8) Event Email Sequence
An event sequence is a series of emails sent around an online or offline event. It can be categorized into two parts - pre-event emails and post-event emails.
Pre-event emails are sent before the scheduled event to remind people to attend it, get them excited about it and to tell them how to prepare for it.
Post-event emails are sent to gather feedback, upsell a subscription or other products (since we know that people who attended the event are interested audience)
Here is an example of event email from Mindvalley. This is sent as a reminder for the masterclass that you sign up for.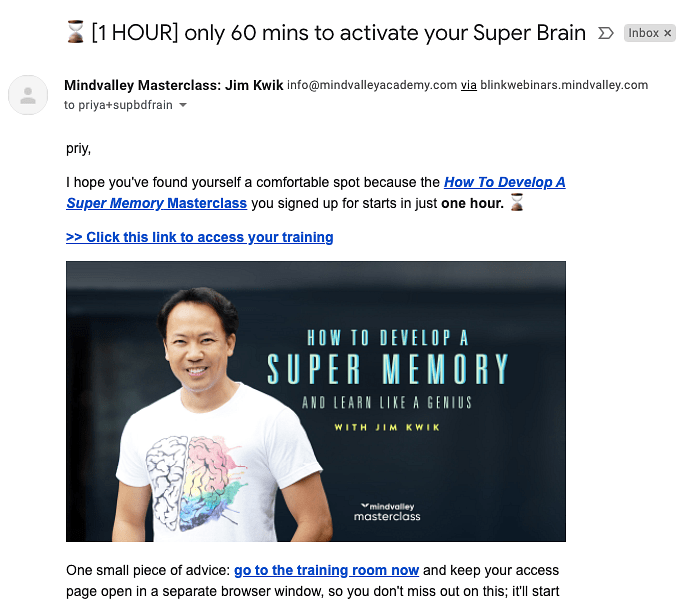 After the masterclass is over, there is a follow up sequence to get subscribers to check out and join the paid course.

Tracking Email Sequence
Tracking your email sequence is important for two reasons:
To compare it with other sources of leads and customer
To constantly improve your email sequence.
Let's look at the 3 important metrics to track:

User acquisition cost: Check what's the cost of sending someone 10 emails before they buy a $10 book vs other channels like social media. This will help you analyze if you should put more effort and money into email sequences or focus on other channels.

Conversion rate: The motive of an email sequence is to push the subscriber further down the funnel. Even when they have made a purchase, the next sequence is to get them to buy a higher-ticket item or take a subscription. So you have to analyze which emails in your series are the most effective in making people take the desired action.

If the conversion is dropping somewhere, either something is broken or content doesn't resonate with the audience.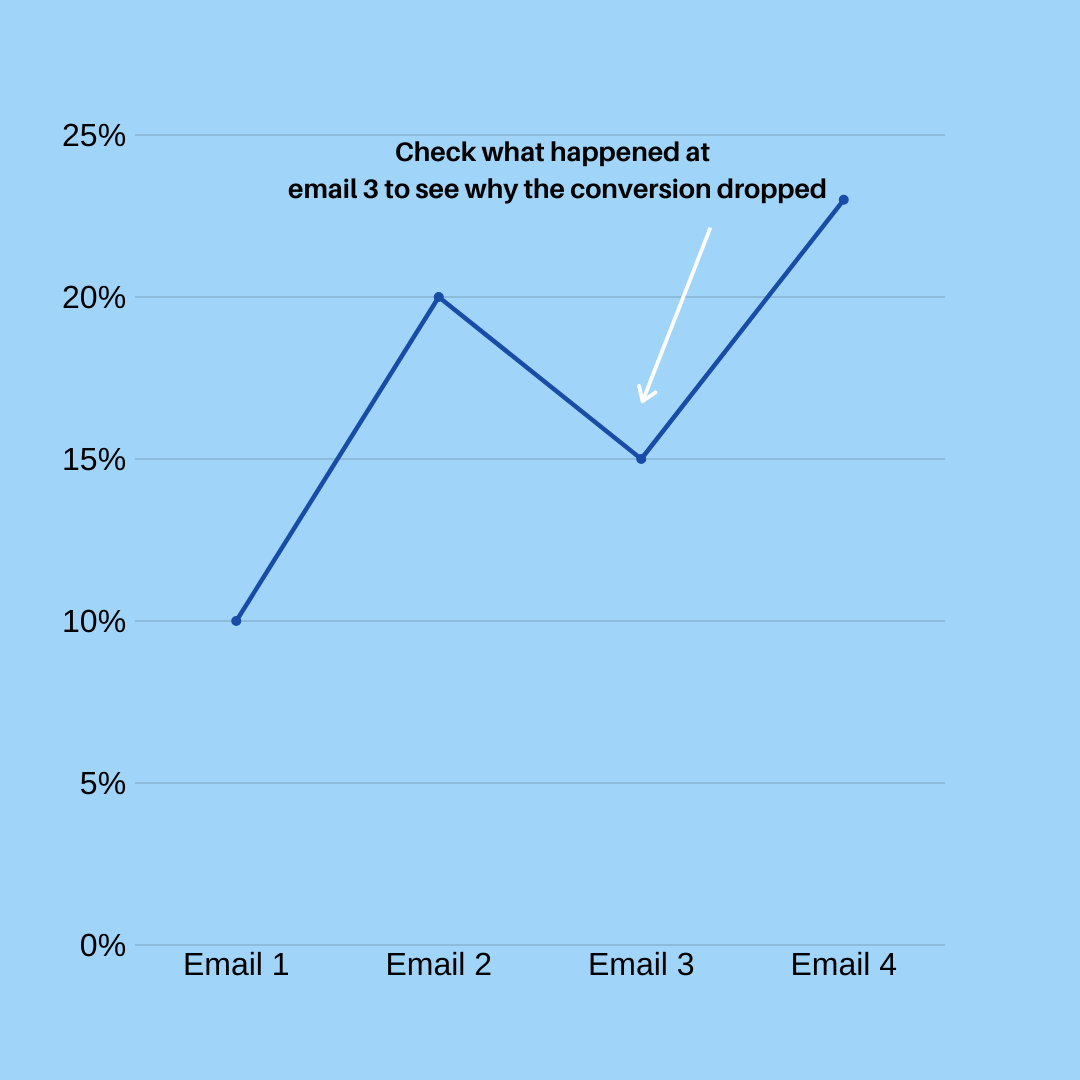 Time to customer conversion: This is the time/no. of emails, it takes to move someone to the next step of the funnel. This can also help you decide how many emails you should send. If almost all of the subscribers are getting convinced after email 3, then you can shorten your sequence. If it's taking longer, you need to optimize your content.
5 Email Sequence Best Practices To Follow
1) Include a strong call-to-value (a transition from normal CTA)
While a clear, compelling CTA is still a best practice, we're seeing a shift towards Call to Value (CTV) approaches.
The key difference here is that rather than simply instructing readers what to do ("Click Here", "Buy Now", etc.), a CTV explains why they should take that action — essentially, what value they will get from doing so.
For instance, instead of "Sign Up", use "Get My Free Guide Now". By emphasizing the value that taking action will provide, you're more likely to engage your readers and motivate them to click.
2) Tailor sequences based on actions
The more you can tailor your email sequences to reflect a recipient's actions or interests, the more effective your campaign will be.
For example, if a subscriber downloads a certain lead magnet, your follow-up emails should discuss related topics or provide additional resources that build on the information from that lead magnet. This shows the subscriber that you're attentive and responsive to their needs and interests.
Similarly, if someone downloads a template, your subsequent emails might include tips on how to use it, case studies from others who have successfully used it, or additional related templates.
By customizing your email sequences based on a subscriber's actions, you're not just sending targeted emails — you're providing a personalized experience that makes each subscriber feel valued and understood.
3) Consistent schedule
When planning your email sequences, it's important to determine a consistent sending schedule that your subscribers can expect.
For instance, if you're running an onboarding sequence that sends an email every day at 10 AM, make sure you stick to this schedule strictly. Any inconsistency or missed emails can confuse your subscribers and disrupt the flow of your sequence. This adherence to a schedule establishes a predictable rhythm and can increase anticipation and open rates, as your subscribers will look forward to your next email.
At the same time, be cautious to maintain a balanced frequency. Sending too many emails in a short period can lead to subscriber fatigue and may cause unsubscriptions.
4) Automate email sequences using SendX
Email marketing automation tools can send out your emails at the right time, to the right people, without you having to manually handle each one. Automated email sequences can trigger based on specific actions (like signing up for a newsletter, making a purchase, or abandoning a shopping cart), making your marketing efforts more efficient and personalized.
Automation is a key element in effective email marketing, and SendX is an excellent tool that can streamline this process
SendX allows you to create automated email sequences that are triggered based on specific actions such as subscribing to a newsletter, making a purchase, or abandoning a shopping cart.
The intuitive interface helps you set up a sequence of emails to nurture leads, onboard new users, re-engage inactive subscribers, and more.
With SendX, you can focus more on crafting engaging content while the tool takes care of the timing and delivery.
5) Make it mobile-friendly
With most people checking their emails on mobile devices, it's crucial to ensure that your emails look good and function well on smaller screens. Use responsive design, keep your emails concise, use a readable font size, and ensure that any links or buttons are easily clickable. Test your emails on various devices and email clients to ensure everyone has a positive experience, regardless of how they're reading your email.
How to do all this, without overwhelm?
In a nutshell, to make email sequences work for you, learn to get the frequency right, be personal, send emails in response to user-activity and include a clear and strong call to action in every email.

That's a mouthful.

But it can make a lot of difference if you use the right ESP...

Like SendX.
SendX has pre-built triggers and actions for a variety of email marketing use cases. Whether you are a blogger, e-commerce or SaaS marketer or run a newsletter, we've got your email sequence needs covered.

You don't have to add your credit card or go through a lengthy sign-up process to try SendX. It's free for the first 14-days and then you can choose any affordable plan and continue.
---
FAQs
1). What is an email sequence?
An email sequence is a series of emails that are sent out automatically on a schedule depending upon the actions of the customer/subscriber. They are also known by different names such as drip emails, lifecycle emails, email marketing sequences, email marketing automation emails, and autoresponder emails.
2). What are the types of email sequences?
The most common types of email sequences are those listed below:
Welcome Email Sequence
Onboarding Email Sequence
Renewal Email Sequence
Abandoned Cart Email Sequence
Re-engagement Email Sequence
Improved Sales Email Sequence
3). How can I write the best email sequences?
When you write your email sequence you need to keep certain email sequence best practices in mind. You need to:
Give subscribers what you promised them at the time of subscribing
Make them interesting to read by adding your personality to it
Subtly reveal what you do and how it benefits them
Provide unique insights and teach them something new
Share other ways for subscribers to connect with you.
4). Why is it important to track my email sequence?
Tracking your email sequence is important for two reasons:
To compare it with other sources of leads and customer
To constantly improve your email sequence
5). What are the important metrics used to track my email sequence?
There are 3 important metrics used to track your email sequence. They are User acquisition cost, Conversion rate, and Time to customer conversion.
6). What are the tips to write a great email sequence?
Here are few tips to write a great email sequence:
Think about what your goal is with an email sequence
Have good personalization to make the customer not feel that it is coming from an automated system
Include a clear CTA leading the reader to the next step.
Have a content workflow set in place so your whole team can ensure that the messaging of your email sequence stays consistent with the brand's identity.