12 Email Design Best Practices for Successful Email Marketing in 2023
5 min read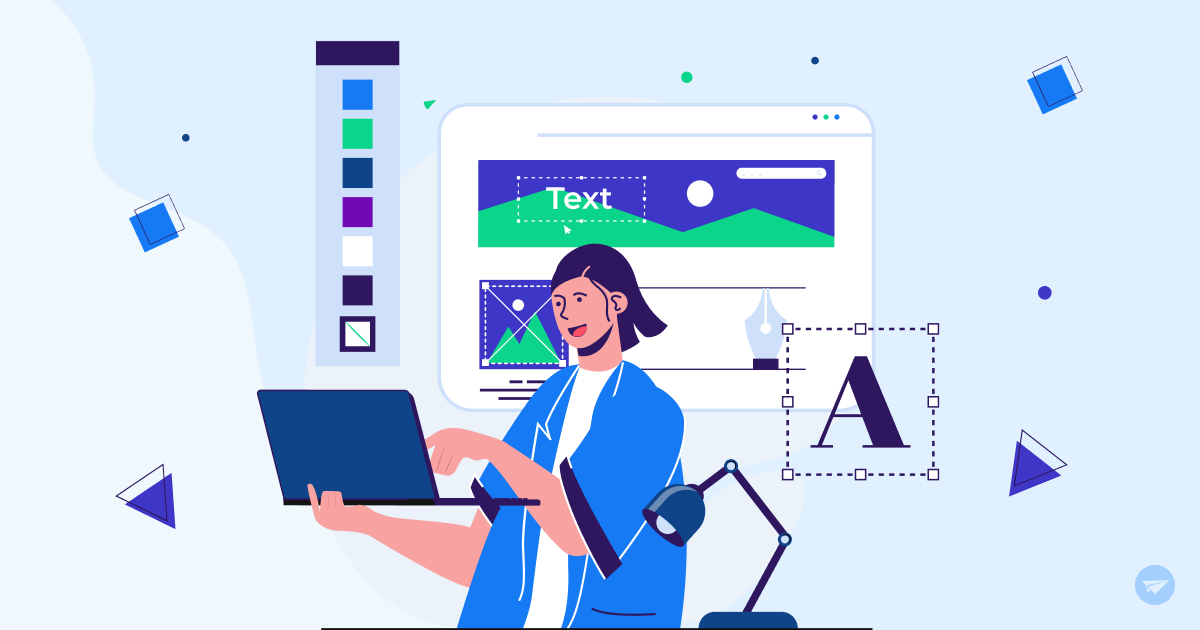 Email marketing is building strong relationships with the audience through effective emails. In the digital world, email marketing is a popular tool to promote your brand and engage with potential customers.
The whole reason for sending emails to the contacts is to convey your message with a personalized effect for a better customer experience.
But, there are 306+ billion emails sent every day (source). Some land in the spam, many are left unread.
How can you hold the dwindling attention of your audience to make your campaigns successful? Let's find out how you can do that with a well-designed email.
Table of Contents
Importance Of Email Design
Designing an email involves deciding the look and feel of the email, from the fonts to the visuals that can keep the audience hooked.

There can be three types of email designs:

1. Plain text: This email contains only text and no additional elements to it. It can be used when you have some important information to relay and don't want the reader to get distracted.
2. Rich HTML Text: This is an email created with HTML to make it more attractive and engaging for the audience.
3. Interactive Email: This is the type of email that lets the reader engage with through actionable links.
12 Best Practices For Great Email Designs
1. Craft a strong subject line
The subject line is the first thing that a reader notices about your email. It's crucial to keep the subject line clear, concise, and catchy.
The subject line should pique the interest of the reader and provide a reason for them to open the email.
So, an email subject line should be:
Clear and concise: A long subject line won't be readable. Keep it short and clear so that the reader can see the value that the email will provide.
Unique: A unique subject line is also a great way to stop the readers from scrolling past your email. Make sure that your subject line is relevant to the body of the email.
Valuable: Attracting the audience with a valuable proposition can also improve engagement. The benefit should be clear and using numbers and percentages can help you with that.
2.
An attention-grabbing pre-header
A preheader is the preview of the email content shown along with the subject line.
You can optimize your subject line with a relevant preview header. To make the most of the preview header, avoid repetition of the subject line.
It's not necessary to change the first line of your email content for the preview header as well so you can experiment and try A/B testing to see what's working the best for your audience.
3. Be Concise
Say more with fewer words.
Think of your audience who have a list of unread emails in their inbox. They don't want to read through paragraphs of boring words.
So once you get them to open your email with a strong subject line, keep them engaged with short but meaningful content.
Don't make them regret their decision of opening your email.
4. Use An Email Layout That Enhances The Email
A visually appealing email is easier to read and understand.
Avoid a scattered layout that is confusing and difficult to navigate.
Use a layout that can be:
Understood within seconds of skimming through it
Align the structure with clear sections
Include spaces to allow the reader to breathe and let the information sync
5. Personalization Is The Key To Build a Connection
Emails should drive the conversation, instead of being a generic announcement for all.
An email that has some personal effect is bound to engage the reader and prompt them to take action.
A personalized message helps build real relationships with the audience. It also humanizes your brand and shows that you care for each customer.
6. Use Multimedia
Break the monotony of the email with some aesthetic multimedia embedded in your email.
It can be an image, vector graphics, infographic, video, or gifs.
These enhance the visual appeal of your email and keep the audience interested without overloading them with too much information. Further, adding after effects to your video emails can make them more engaging.
7. Play Around With The Emojis
Emojis have become a common element of everyday conversations. You can use these in your emails as well to make your communication more relatable and fun.
The open rate of emails with emojis in their subject line is 56% more than a normal subject line. (source: A study by Experian)
Make sure that the emojis are relevant. Going overboard with these can distract your audience and make your email look tacky.
8. A Responsive Design
Responsive design means that your email can be viewed on any device without affecting the reader's experience.
42% of the people check their emails on their phones and 29% on the desktop so ensure that your email is designed to fit a phone, iPad, desktop screen the same way.
HTML and CSS templates can offer you various options to create responsive emails.
9. Effective Call-to-action
CTAs tell your readers what to do next. These links embedded in the button drive your audience to move from the email to the desired external page.
CTAs have a huge impact on the conversions so make sure that your CTA is:
Clear and highlighted
Attractive enough to make the audience explore further
Personalized (a personalized CTA tends to do much better than using a basic CTA for all readers)
Informing what value the reader will get if they click it
You can also have multiple CTAs in your email for different use cases. Here the two CTAs are offering value to two segments of the audience, those who are interested in a webinar and others who need more data-based information.
10. Include an 'Unsubscribe' button
It might feel ironic but it's necessary to include an 'unsubscribe' option in your email.
Firstly, because the laws say that the readers should not be sent any content to which they didn't subscribe.
And even if the nature of the information is transactional, they should have an option to opt out anytime.
You can give this option at the end of your email. Readers who aren't interested are not going to impact your conversions positively so it's better to work with a set of involved audiences.
11. A/B Testing Of Your Emails
A/B testing is experimenting with your emails and observing what's performing better among your audience.
You can tweak the subject line, make the changes to CTA, or change the email structure for making it more appealing to the readers.
It lets you know what your audience wants and what their expectations are.
12. Design An Email Signature
Email signatures are a simple way to add credibility to your emails. It also helps the reader to connect with you easily.
What to include in your email signature?
First and Last Name
Affiliation Information: This tells your job title and your company name. It adds context to your message and builds trust with the audience.
Contact Information: Next is to tell the readers how to reach out to you apart from replying to the sent email. It can include a phone number or office address.
Social Media: You can add social media icons with your profile links to your email signature design. Include 3-4 platforms where you're the most active. This can help you drive traffic to other channels as well.
Photo: Add your professional headshot to your signature to give a face to the credentials. It makes you approachable and humanizes your brand.
Summing It Up
The whole purpose of your email should be to tell a convincing story so that the readers can relate to it and take the required action. Powerful stories can engage your readers and let you connect with them for stronger relationships.
Effective email design helps you present that story in an appealing manner to the audience.
Email designing trends are constantly evolving with time, it's important to keep yourself updated and look out for the reader's expectations.
You can explore email marketing tools that provide some sample templates to get started. This will help you kickstart your email design journey. You can also engage with the audience for their feedback and improve your email design based on that.
Content that is balanced with meaningful words, relevant images, and interactive videos creates an impactful and wholesome email that boosts customer loyalty and brand advocates. So, get started with the email design to connect effectively with your audience and build long-term relationships with them.