In 2019 alone, users sent and received more than 293 billion emails each day—a figure that's expected to grow to 347 billion by the end of 2022.
This staggering number means a lot of noise to cut through. For email marketers, it also means that much more competition for your reader's attention.
But organizations that craft creative and valuable emails have the power to connect with customers and move the numbers in their books. In fact, email shows an incredible 4,200% return on investment. Simply put, your email marketing strategy goes a long way toward growing your business—and part of the secret to a winning strategy includes effective email design.
Table of Contents
Why Does Email Design Matter?
The way your email is designed can positively impact email performance. For example, email elements like personalization increase open rates by as much as 50%; further, including video may increase click rates up to 300%.
In short, a solid email design is key to making your message stand out. And when it comes to email marketing design best practices, there are three important tenets to keep in mind:
Be purposeful with your layout.
Communicate effectively.
Include interactive features.
Below, we've compiled a list of 11 email design best practices that align with these three principles. Use them to get a jumpstart on creating your next click-worthy email campaign.
11 Email Design Best Practices
1. Optimize Your Email's Layout for a Better User Experience
You've got only a few seconds to capture your email recipient's attention and get them to continue reading—two tasks your email's layout plays a huge role in.
The layout of your email should be clear and easy to scan; ideally, it breaks text into content blocks that guide users down their browser. Most importantly, a strong email layout is organized according to a simple shape or pattern. Three popular models include:
Single column: Content is arranged in one straightforward column, encouraging readers to continue scrolling to find out more. This simple layout is the most common and especially effective for mobile viewing.
Inverted pyramid: Content in this layout begins by spanning the width of the browser window. As viewers continue scrolling, however, content shrinks in width to a single call-to-action, which acts as the point of your inverted pyramid. A large photo at the top often works nicely in this design, with short and sweet text so that the email is completely visible without scrolling.
Zigzag: This layout design keeps your reader active by directing their attention from left to right down their browser. Your text, photos, and color usage work together to create a zigzag pattern, presenting content in small blocks on each side of the email. Since this may be difficult to visualize, here's an example from UPrinting, with the original email on the right.
No single email layout works across the board for all industries and messages. The priority instead should be keeping the user's path predictable and familiar so as to foster quick comprehension and easy reading.
2. Contrast Style Elements for Readability
One of the most effective ways to clearly convey your email's message is through the use of contrast. Contrasting content elements make your email's main points more salient—and done well, they create an attractive design.
Popular design elements to contrast include:
Headers/footers and body
Headings and text
Background colors and text colors
Links and text
Buttons and text
Information and CTAs
Contrasting content also gives bones to your structure, helping guide readers through different sections of your email. For instance, take a look at the following email sent by investment platform Wealthfront to promote its cash account product.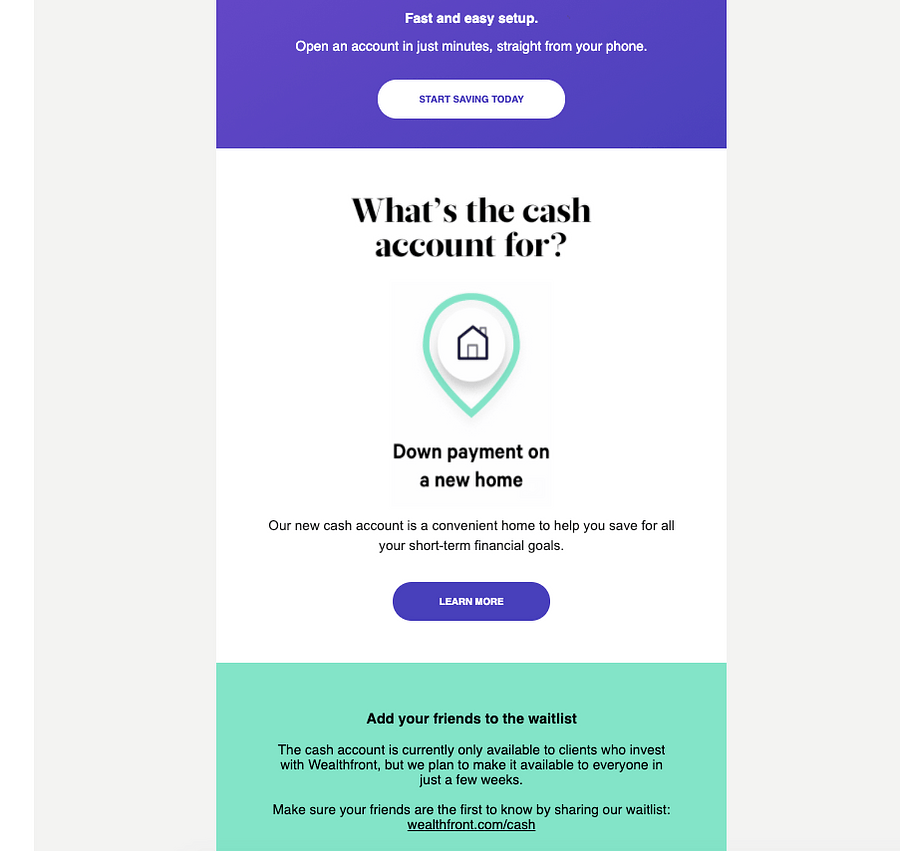 Can you see how contrasting colors are used to distinguish each block of content? Not only that, the contrast helps to draw more attention to the email's CTA buttons.
3. Use White Space Strategically
An uncluttered email presentation is neat, clean, and visually appealing. You can achieve this by making use of white space.
White space is the blank area left between text, images, and buttons—and despite its name, it's not necessarily white. (Think of white space instead as negative space.)
To see white space in action, check out the Vox Sentences email below; we've highlighted its white space in red on the left.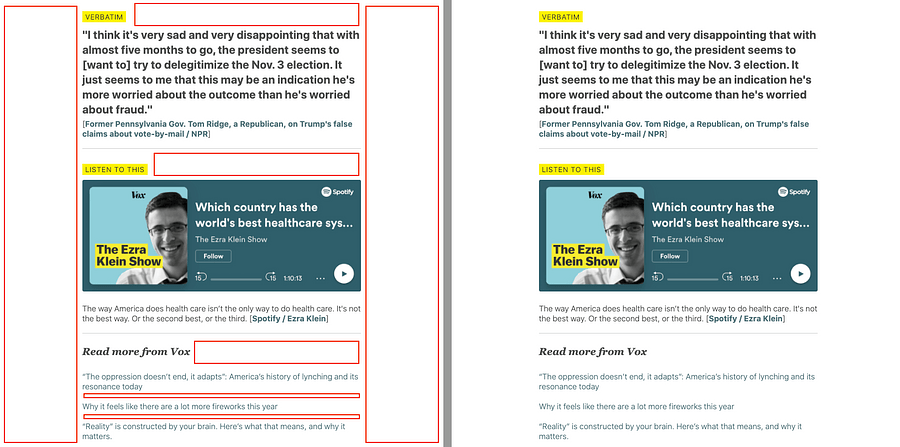 White space makes it easier for your reader to take in your email's message. Without effective use of white space, an email can feel crowded and overwhelming.
Some email marketers struggle with white space because they'd like to condense as much information as possible into their email. A reminder, though: your email isn't your website.
In other words, your email doesn't need the same amount of depth or detail as a landing page. The more concise your text, the more room you'll have for white space to breathe some fresh air into your message.
4. Use Images that Align With Your Content
Stock photos do not impress your audience. In fact, they may do more harm than good.
Including images in your email boosts its appeal, but they should be purposeful. Make sure your images match both your brand, style, and email content—or else they'll fall flat.
Other items to tick off on your images checklist include:
Use high-def photos when possible.
Avoid resizing or stretching images.
Include alt text for every image to make sure your content is accessible.
Choose images that fit within your email's overall color palette.
Avoid background images; because they aren't supported across all email clients, they tend to get blocked and ruin your email design.
Try to use photos that illustrate either your subject line or CTA.
It's also best to use images that match your branding, whether by using the same colors, font, or other design elements used in your official brand materials. PetSmart does exactly that with its emails.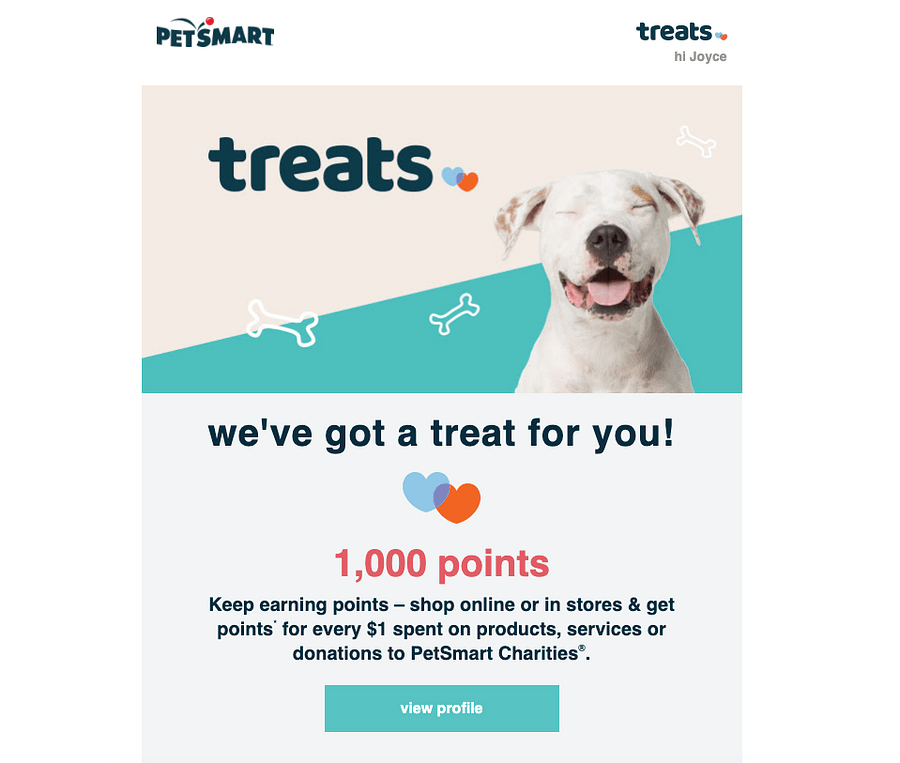 The result: stronger brand consistency all around.
5. Always Make Your Emails Responsive
One especially crucial best practice for effective email design involves making your emails responsive designs. When your email is responsively designed, it means that it's formatted to fit any screen that a reader views it on.
This is a necessity because 81% of users today regularly open their emails on mobile devices rather than on a tablet or desktop. So while you may create emails on a computer with their desktop view in mind, you should also be aware of how they'll look on a mobile device. Your layout, text formatting, and images should make as much sense in your mobile view as they do on a larger screen.
Fortunately, most email marketing platforms enable email previews for both desktop and mobile devices.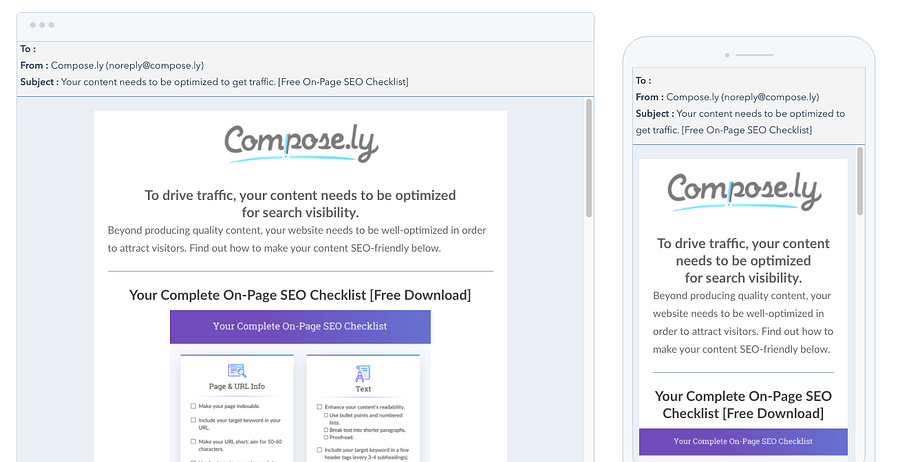 Don't forget to take a look at these previews to ensure your email is shipshape.
To go the extra mile in checking your email's responsiveness, do a test send before it goes out to recipients. Then open it on multiple devices, screen sizes, and even email providers.
6. Polish Your Email Preview
Always pay attention to your email's preview—it could mean the difference between an open and a delete. The email preview consists of three components: the sender's name, email subject line, and preheader.
Sender Name
While it may seem like a mundane element, the sender's name is a critical piece of your email design. After all, it may be the first part of your email that a reader sees as they scan their inbox. It's also the first thing that tips them off as to whether the email is spam or legitimate.
Your sender name should never just be your email address. Use your organization's name or attach a personal name to a company name, such as "Joe at SendX."
Subject Line
Next, your subject line needs to capture your reader in some way. This could be by hinting at a promotion or offer, asking a question, presenting an interesting starter ("Something new is brewing..."), or simply relaying relevant information that you know your reader would be interested in. Vary your subject line strategies and try A/B testing to see which type is more opened more frequently.
Preheader
Finally, there's the preheader, the line or two (think around 100 characters) of text explaining what the email contains.
This piece should always be written as a separate snippet of text and never just as the default first lines of your email. Why? The first lines might not make sense or fit the character limit. Keep to the character requirement and write something compelling for your preheader text.

See the difference between Redbubble and National Geographic's preheaders? It may not be a perfect comparison—an online marketplace vs. a major scientific organization—but one preheader is certainly more enticing. Redbubble's succinct and actionable snippet invites users to click more effectively than National Geographic's lengthy description
7. Use Clear CTAs
Your CTA, or call-to-action, is what you're asking your reader to do when all is said and done.
Writing an effective CTA is about more than just adding "Click Here" at the end of an email. It needs to clearly tell readers what clicking on it will accomplish—and it must do so concisely.
For example, "Schedule an Appointment" or "View Our Event Calendar" is better than "Visit Our Website." They are specific, show value, and aren't vague.
As a major component of your email, your CTA should be obvious and hard to miss. Remember the contrast tip—make your CTA stand out with a different font, button shape, or color. Or, for more emphasis, use another graphic to point to it.
Some of your emails may have more than one CTA. While you never want to overdo it for readers, this is okay so long as you clearly distinguish between CTAs both in text and appearance. For example, Live Nation accomplishes this by using different colors and text in its CTA buttons.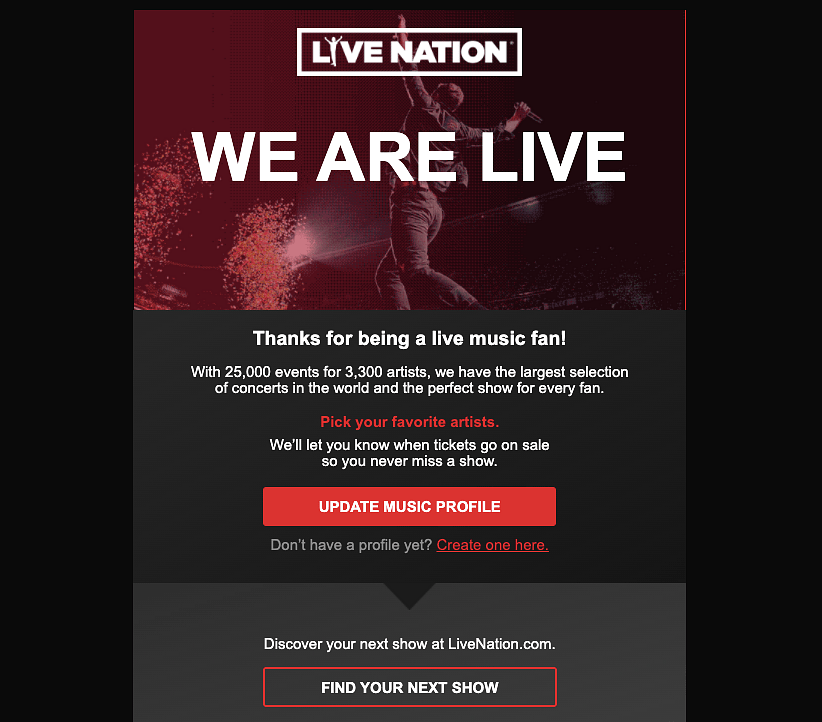 8. Personalize and Be Personable
Use first names if possible in every email, and personalize subject lines with names as well. Doing this humanizes your company, which can help with audience interaction with your email.
To connect with your reader even further, your email should sound like a human talking to one person—not a business talking to a vast audience. Segmenting your email lists can help you narrow down audience interests or goals and give you a more focused approach with each email.
9. Design for Each Segment
Not only will you want to address each segment differently, you'll want to design for each separately as well.
This might sound like more effort than it's worth, but it's not. In fact, segmenting your emailing lists gives you better open and click rates.
But how do you approach your segment strategy?
First, you'll have to decide what matters in a segment. It could be:
your user's interests,
where they came from (which landing page they were on when opting in),
when they opted in (long-time vs. new subscribers),
their interaction level with your previous emails,
something else—there are plenty of characteristics with which to segment readers.
Next, determine what each segment would value in an email. Maybe you've got one group of subscribers that clicked on a specific product link in a past email. These users may be interested in a specific product or category of products—as such, you might want to send them more targeted emails or offer announcements about similar items.
10. Make It Easy for Your Reader to Interact
Interaction boosts your click rates and overall brand awareness with your audience, so give readers something to do in your email.
Aside from a CTA button, here are several next-level interactive strategies to try out in the body of your email:
Ratings and polls
Quizzes
Accordion features to reveal additional content
User-generated content from social media channels
Product carousels with the ability to add items to your cart
Sliders
Sharing icons
Event countdown timers
Check out how online consignment shop ThredUp accomplishes this in one of its emails.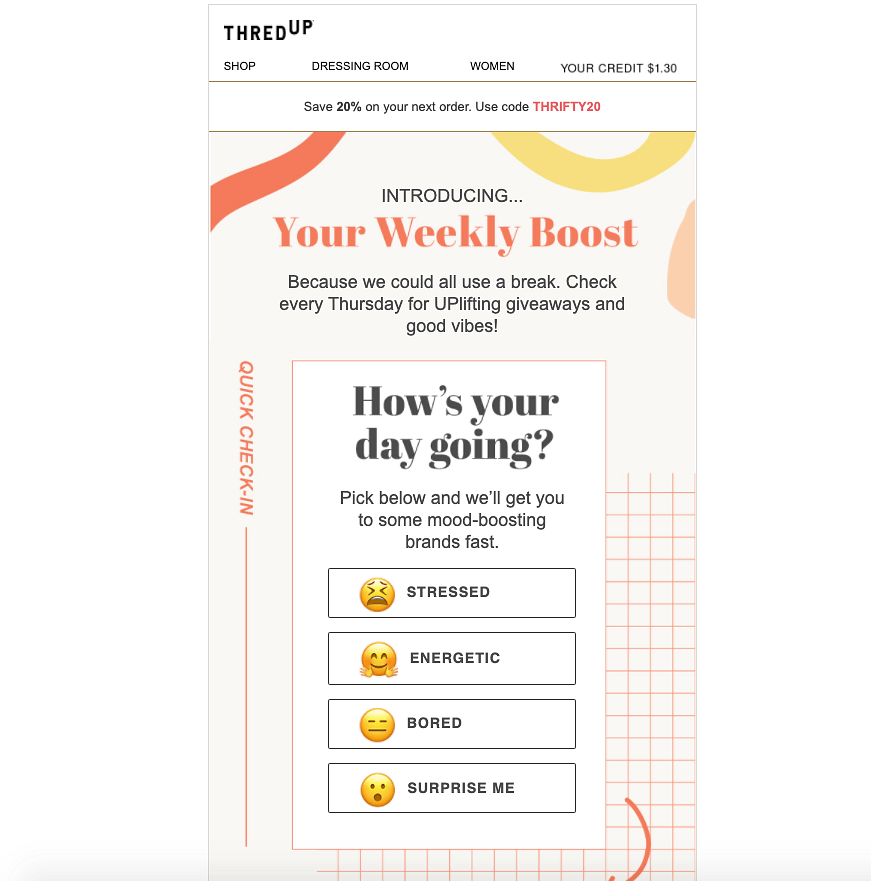 "How's your day going?" ThredUp's email asks with a poll-like format, inviting users to interact by selecting an emoji representing their mood. Each emoji directs readers to corresponding product pages—for instance, clicking "energetic" will take them to a page of ThredUp's latest athletic wear.
11. Incorporate Dynamic Content
Dynamic content is the next essential element to every future email. It involves programming content to reflect the audience receiving it.
For instance, if you manage a retail store and send out an email advertising your next sale, you can use dynamic content features to show photos of women's clothing and accessories to female subscribers and male-centric merchandise images to male subscribers within the same email.
Of course, there's a technical side to adding dynamic content to your email campaigns, but the benefits offset the learning curve.
Dynamic content gives your audience a new, higher degree of personalization. Your offerings are also tailored to a more specific group, helping to increase the likelihood of conversions.
Lastly, dynamic content gives your brand an edge and a modern presence in a sea of other companies competing for email opens and clicks.
Final Takeaways
In short, the three key areas to set your sights on when designing your emails are:
Layout
Communication
Interactivity
Together, these elements establish the foundation for a purposeful email design and help to guide your audience further down your email marketing funnel. To continue gaining traction with your target audience, keep the aforementioned email marketing design best practices in mind as you create your next email campaign using a highly recommended email marketing software like SendX (comes with a 14-day trial, no credit card required).
FAQs
1) Why does email design matter?
The way your email is designed can positively impact email performance. For example, elements like personalization increase open rates by as much as 50%; further, including video may increase click rates up to 300%.
2) What makes a good email design?
The best emails are the ones which tell an interesting and compelling story, starting from the subject line and header, and throughout the content. Each aspect should flow smoothly building up to the next, and always provide more and more information and value as one reads on.
3) What do I need to keep in mind when it comes email marketing design best practices?
When it comes to email marketing design best practices, there are three important tenets to keep in mind:
Be purposeful with your layout.
Communicate effectively.
Include interactive features.
4) What are some top email design best practices?
Some of the top email design best practices are:
Optimize your email's layout
Contrast the style elements to make it more readable
Use white space strategically
Use images that align with your content
Make your emails responsive
Use clear calls to action