8 Great Examples of User Onboarding Emails From Top Brands
5 min read
User onboarding is an important step in any customer's journey, making it crucial from an organizational point of view. About 86% of companies state that they are more likely to stay loyal to a company that carries out the customer onboarding process effectively. Moreover, customer onboarding processes also define the email workflow that every customer should be aware of while starting to use any application. In addition to this, a well-defined onboarding process can ensure that the customer has enough knowledge to use the application and its features.
Onboarding emails are one of the key features of any customer onboarding process, including elements and features that would be beneficial for customers, as well as defining the workflow of products and applications. There are many specific features of onboarding emails that define the customer journeys going forward, which the companies should choose as per their needs.
For easy reference, here are a few great examples of user onboarding emails by top brands and companies:
Table of Contents
#1 Groove
What says 'Welcome' better than a personalized email from the CEO of the company? At least that is the way that the folks at Groove kick off their customers' onboarding journey. Groove is a SaaS platform that offers an all-in-one customer service module that can help boost sales and revenue while providing high-quality support to the customers, making it important for the brand to exemplify its customer service expertise through its emails.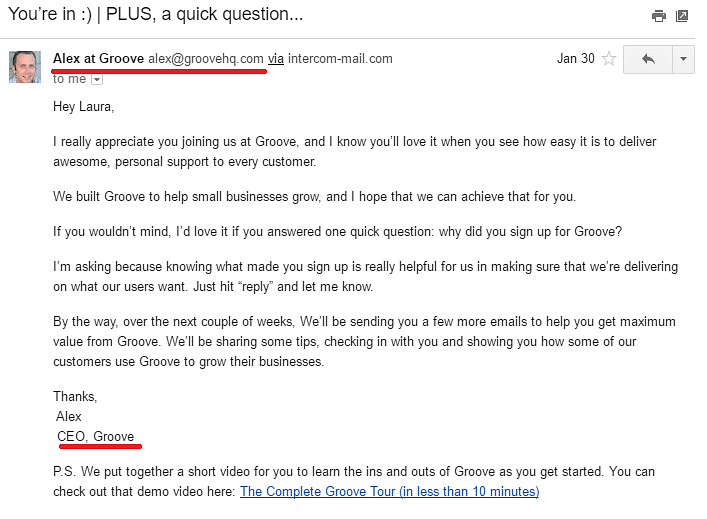 The importance of assigning a humane tone to the brand can not possibly be overstated. With the official onboarding email, Groove presents the people behind the software. With a warm welcome email provided addressed by the CEO, the brand seeks to present a friendly and relatable tone to their customers through their onboarding emails. Moreover, such an email also comes across as reassuring and makes customer support seem more approachable and helpful.
#2 Birchbox
Birchbox is a community of individuals looking to try out and purchase premium beauty and grooming products from established brands. Birchbox provides a subscription plan under which the company curates five expertly selected premium products and sends them to customers every month, based on the skin and beauty preferences that they selected during registration. With such a unique business model, the company focuses quite a bit on simplifying the customers' onboarding journey.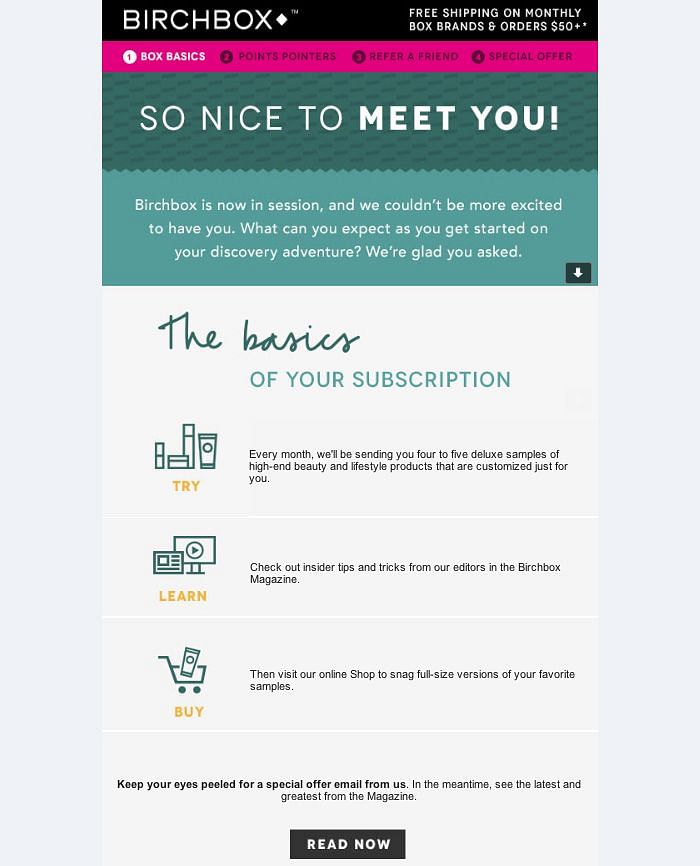 Once a customer registers on the website, the very first email that Birchbox sends out is a welcome email including the next steps that the customer can take. The email breaks down the basics of the subscription into easy steps which can help the customer figure out how to go about it from that point onwards. With clickable buttons leading to important information and links that the customer can use to better understand the service. This is a great way to not only welcome the customers but also guide the customer with the way forward.
#3 Square
Square is an up and coming financial payments company that allows users to process debit and credit card payments through a mobile phone. The device can be attached to a mobile device and be used to accept card payments seamlessly, and as a free app, it has gained a lot of popularity due to its efficiency and effectiveness.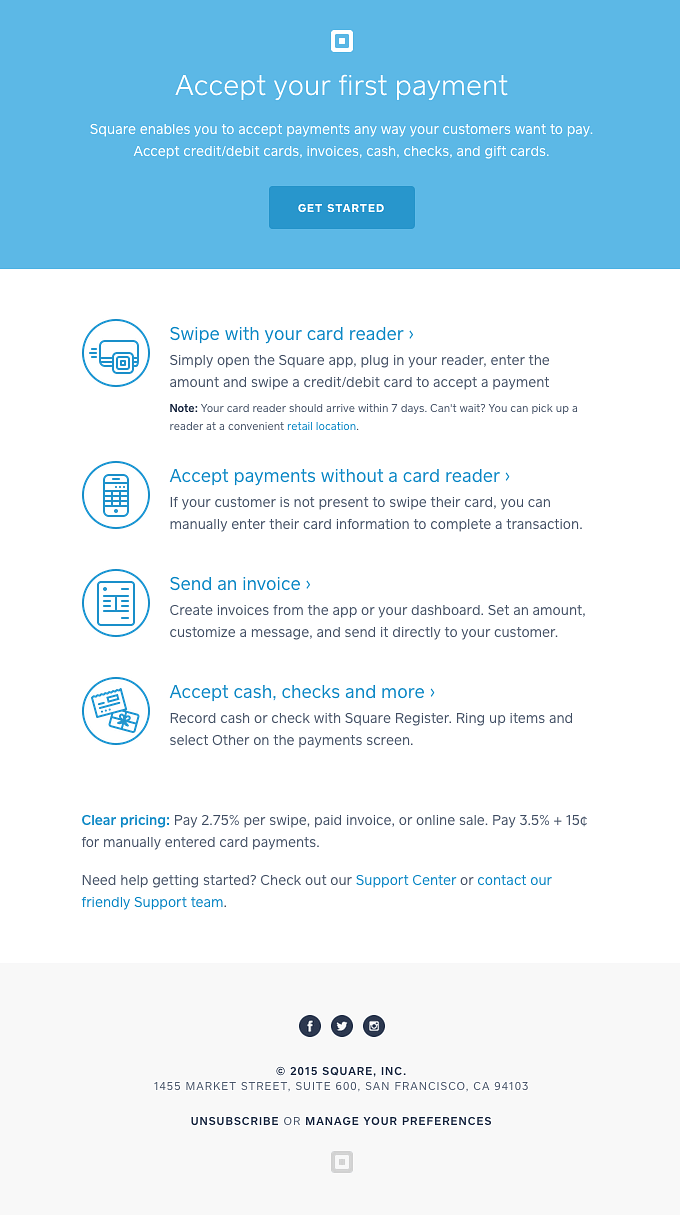 Square might be a new and upcoming company, but right from the outset, the company ensures a smooth and seamless customer onboarding process. The company offers a customized onboarding experience to customers based on the nature of their business. Each email has an image related to the industry that the client operates in, adding a touch of personalization that every customer would appreciate. Moreover, the onboarding email also has links and buttons leading to action modules, which would help the customer navigate through the interface easily.
#4 InVision
InVision is a digital product design platform used by companies and product designers across the world. With expertise in designing product flow and user journeys, InVision targets the betterment of customer experience using product design. The unified platform helps customers to design and develop products and their workflow effectively and seamlessly without affecting the overall flow.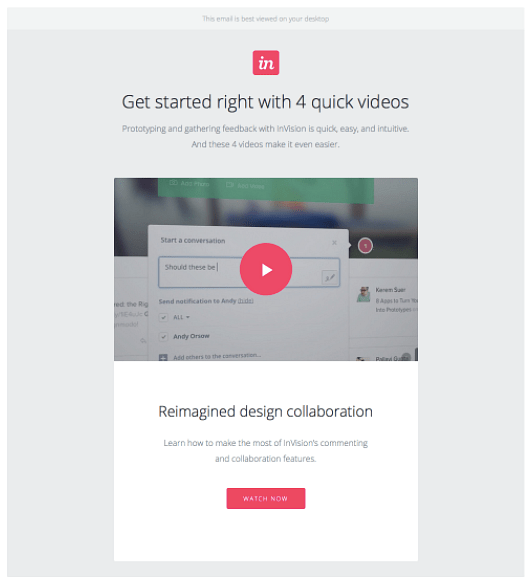 One of the best ways to handle your user onboarding process and set it apart from that of your competitors is to communicate with the customer at the right time. Since customers are unlikely to read long and wordy emails, one of the effective ways to communicate your point would be to include a video in it. InVision includes an array of how-to videos within the onboarding emails so that the customers can find necessary information immediately.
#5 BuzzStream
BuzzStream is a comprehensive outreach platform that can help companies deal with a wide array of PR and link-building activities that are directed towards maximizing the results of their marketing efforts. Primarily, the company offers options through which the clients can automate their email and outreach processes to meet their digital PR and marketing goals.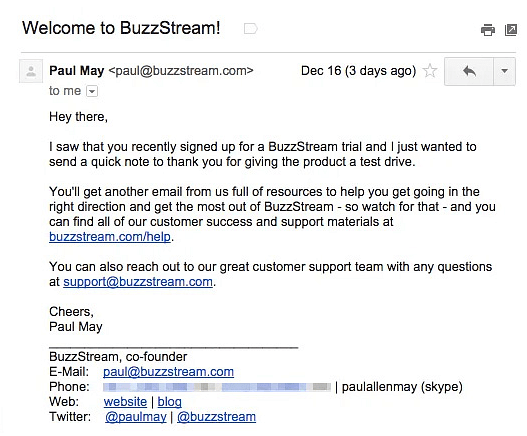 Similar to companies such as Groove, and Square, BuzzStream targets their new customers with an email that is addressed by the CEO of the organization. The first onboarding communication received by the customer is a Welcome letter which consists of just plain text. It might not look as attractive or eye-catching as several others that focus on the graphic design and aesthetics of the email, however, the ideas communicated in it are highly effective. The founder welcomes the new customers, gives them an overview of what to expect, and introduces the next few emails as useful resources in advance.
#6 Kate Spade
Contrary to popular belief, customer onboarding is not just meant for SaaS companies and software providers who have a set customer base. Kate Spade is a popular designer brand that sells clothing, shoes, accessories, and jewelry for customers in the United States. The brand sells its products from an eCommerce store.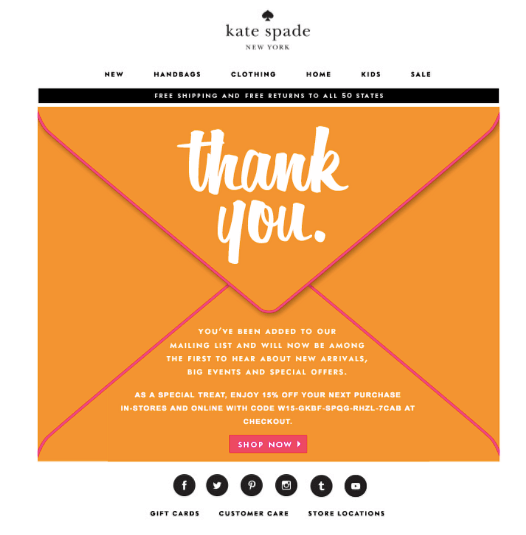 Customers can opt to sign in and register for emails on the website of Kate Spade, making it possible for them to receive regular newsletters and updates. Moreover, customers can also receive news about specific products that are being launched by the brand. Since only loyal customers would opt-in to receive such updates, the brand makes it a point to welcome them and thank them for subscribing. This gesture goes a long way in ensuring that the customers look forward to the updates and emails.
#7 Monday.com
Monday.com is yet another SaaS platform that designs and offers workflows for different business functions such as marketing, HR, Sales and CRM, and IT among many more. The company offers features across different modules such as task management and remote team management. It is one of the many software providers that provide various features and functionalities to growing businesses.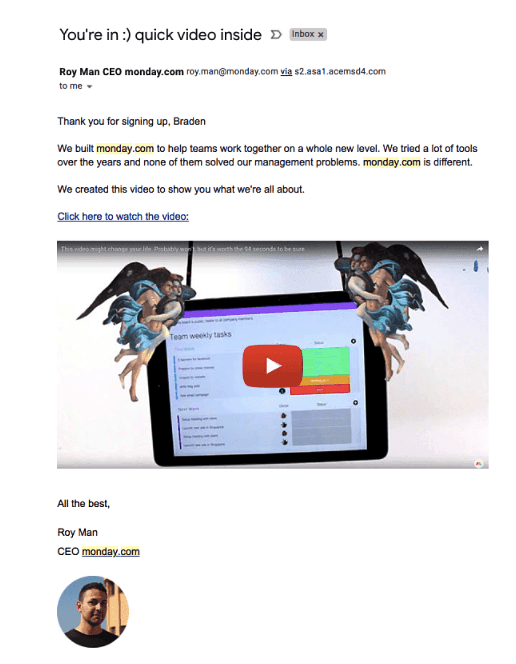 Another great element that can be integrated into the customer onboarding process is videos. Monday.com utilizes videos within their onboarding emails to exemplify their processes and modules to new customers. Keeping it friendly and simple, yet conversational, is the special thing about this email. Moreover, the email replicates a personalized email template by placing the customer name in the subject line as well as the first line, which is known to increase the click-through rate. Other apps such as Apty, Whatfix, and other Walkme alternatives also provide such features and modules for client organizations in order to aid them with important business functions.
#8 ZolaSuite
ZolaSuite is a legal practice management software that has modules for managing the various business functions within a legal firm. The software includes various features such as task management, CRM, billing, and account management which can assist with some of the primary business functions of legal firms. ZolaSuite also provides complete support for all the modules and functions within legal firms.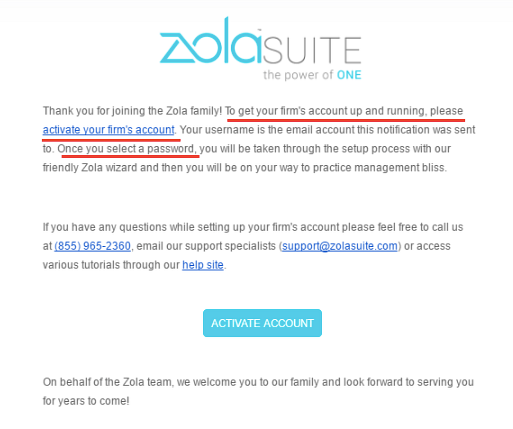 ZolaSuite sends an informative welcome email to their customers as soon as they register for an account on the website. Customers are not only given precursory information but are also informed about the steps that they need to take so that they can set up their account for effective usage. The button for activating the account is also a great starting point for customers to embark on their onboarding journey seamlessly.
Wrapping up
In conclusion, user onboarding journeys are key to the success of every customer journey. It is central to their knowledge and adoption of the product/service and defines the way forward for the customers. Since customers gauge the ability and performance of companies in the first few weeks of their association, it is necessary for every company to invest resources in setting their onboarding process apart from others. Moreover, as seen in the examples above, companies take different approaches to creating highly effective onboarding emails which impact the overall customer experience.
FAQs
1. What is an Onboarding email?
When users subscribe to a product or service, or in some cases for just information or content, they are supposed to receive an email welcoming them and to ensure that the customer has enough knowledge to use the application and its features. Such an email or a series of emails are called Onboarding emails.
2. What is the significance of Onboarding emails?
Onboarding emails are one of the key features of any customer onboarding process, including elements and features that would be beneficial for customers, as well as defining the workflow of products and applications.
3. What should be the contents of an Onboarding email?
The overall contents of an Onboarding email might vary depending on your business. However, typically, an Onboarding email should contain a welcome message, details of how your product will help their business, and the next steps involved in the onboarding process.