Email Marketing Planning: Strategies to Make it Easy
6 min read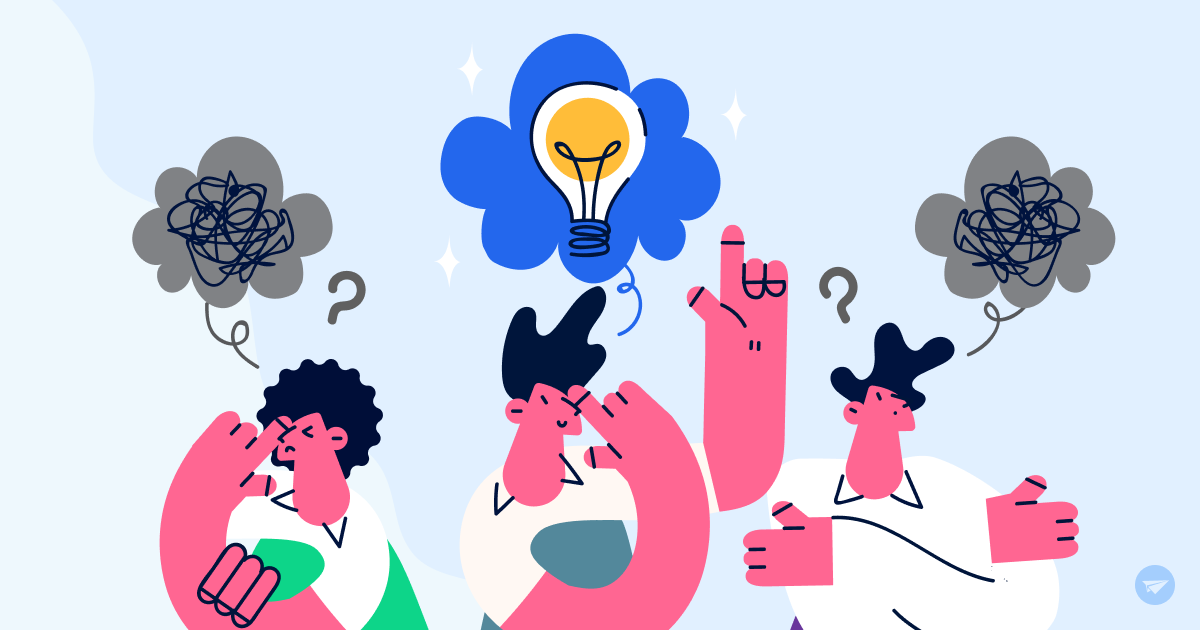 So you want to try out email marketing?
It's a smart move. Email is still an extremely effective marketing channel that is great at retaining current clients and winning new customers. And it's no wonder, with so many global users:
Source: oberlo.com/blog/email-marketing-statistics
However, it can be quite overwhelming to start from scratch.
How can you engage the right people?
How can you promote your business without ending up in the spam folder?
How do you make sure your marketing efforts don't go to waste?
The answer to all of these questions is planning and creativity. As the saying goes, every battle is won before it's ever fought — there is a mountain of research and planning that needs to be done before you send out your first email.
So if you're wondering exactly what is included in that research and how to plan a successful email marketing strategy that will ensure excellent campaign performance rates, you've come to the right place.
Table of Contents
Setting goals and objectives
To make things easier to understand, let's create our own company. Imagine you just launched a business that offers 3-day trips to Mars and let's call it "United First Orbital (UFO)".
Everything is great. You love your business, and you have a superb marketing team. However, you need a minimum of 10 people to make a trip, and you decide to create an email marketing campaign to get the clients you need.
Here we delve into the realm of short and long-term goals.
Defining Your Goals
Do you need to create an email marketing strategy to get you those first 10 people or one that will maintain a constant flux of clients for your Mars adventure trips?
Setting up your long and short-term goals as the first step in your planning is crucial as it will be the main factor that will determine your budget, experts involved, as well as the timeframe of your email campaigns.
Some email marketing campaigns are created around a specific event or an idea, so they have a small timeframe and are mostly single-use. A simple example is a Christmas email campaign:
As you can see, both the design and copy are Christmas-related, so you can't use them for anything else or during any other time of the year. That's not to say that these short-term email campaigns are not effective or worth doing. They are just particular.
Other times, your marketing efforts would be concentrated on a more consistent idea, like starting a podcast or E-newsletter that includes trends in space travel and ways to decorate your shuttle on a budget.
So before you start anything, think about what you need. It can be several things:
Increasing traffic on your website;
Increasing brand awareness;
Converting leads into paying customers;
Maintaining interest in current subscribers.
Figure out your objectives
Once you have your goals figured out, you can think about objectives. These are specific strategies you will implement to achieve said goals.
Let's say that as a brand new company, you would want to pay more attention to your short-term goals: attracting new clients. Your objectives, in that case, would most likely be the following:
Create a buyer persona and set your target audience;
Research successful email marketing campaigns for inspiration;

Create a customer database

and an

email list

;
Craft the design and copy of the email campaign (more on that later);
Choose an

effective email platform

that will serve your needs and will help you track your efforts;
Get ready for some split testing.
It's essential to have a clear action plan; otherwise, you can't move forward. Most of those objectives are pretty straightforward, such as creating a buyer persona. Naturally, you will need to find adventurous and fit people interested in going to space: primarily young people, upper-middle-class, who are regular Internet users.
Chances are you won't have the means to promote yourself in any other marketing channel, such as a billboard on a busy highway or a TV advert, so the Internet is your best bet, and forming an email marketing strategy is a great way to start.
With that in mind, people's attention span on the Internet is relatively short, so you need to grab their interest in a matter of seconds.
How do you do that, you ask?
Developing a content strategy
As our Lord and Savior Bill Gates once said, "Content is King."
25 years later, not much has changed. People crave good-quality content, and they appreciate it when they see it. Thankfully, nowadays, we have the means to deliver engaging content, both textual and visual.
And the results are more than telling.
Source: ByJessicaLa.com
As you can see, it will be a mistake to miss out on such a successful method of building a relationship with your current and future clients. However, it's important to note that no matter if you're using your team or decided to hire a freelance writer, you have to make sure they are aware of your goals and objectives.
Here is a short list of things they need to know:
Your brand's tone of voice;
Your brand's core values;
Your brand's competitors, to make sure they sound nothing alike;: in our case, that would be SpaceX (You can't have everything Elon!);
The timeframe of the email campaign;
Deadlines for making and editing the content;
The design of the email;
The goals and KPIs of the email marketing campaign.
Of course, there might be other specific requirements, but they depend on your business and are fully adjustable. It's also important to align your content marketing with your email marketing.
Now, let's take a look at the 4 main textual elements of an email.
1. Subject Line
Generally, you should create all the content of your email marketing campaign with the buyer persona in mind. This applies especially to the subject line since it's the first thing that will grab your lead's attention.
The easiest way to find your creative direction is to take a look at your inbox.
Which is the email you opened immediately?
Which ones were so annoying that you had to move to the spam folder manually?
Which ones are staying unopened, doomed never to see the Internet sun?
As we mentioned earlier, find inspiration at successful and engaging email campaigns and apply those ideas to your own business. Keep in mind that there is a difference between copying and being inspired by something.
Simply put, make sure you keep it unique and remember that you're trying to be helpful to the reader. This should apply to your entire seo content strategy.
2. Body Copy
If you manage to grab your reader's attention with the subject line, it is crucial not to disappoint them once they get to the email's main text. Let's see how you can achieve this:
Source: ByJessicaLa.com
3. Call To Action (CTA)>
Once you have your reader's attention, it's time for them to make a choice, and the CTA will be the final push in the right direction.
The text needs to be short and engaging;
The design should be eye-catching and user-friendly;
A smart move would be to try split testing and see which CTA has more clicks. It's recommended you do the same with the subject lines.
4. Sign Off - Footer
The final words to your recipient must leave a good impression.
Just like the subject and opening lines of your email, make your sign-off personal. Thank them for their attention, ask for feedback and maybe even finish off with a little joke or a pun, if it suits the tone of your email marketing campaign. Some people put testimonies by other clients which can be quite effective.
And last but not least, include your contact information and a picture of the company's logo.
Pro tip: Don't forget to include an easy to find unsubscribe link, which is mandatory as per law in many countries as well.
Design vs text-based emails
One of the key things when planning your email marketing strategy is deciding between design vs text-based emails.
Design-based emails
Design-based emails are more visually appealing and offer a more interactive experience.
These emails typically have a lot of color and graphics in them and often use animation or video which makes for an engaging experience for the viewer. What makes this different from text-based email is that it makes it easier for viewers to process and understand the content and take action (like opening up your website).
Text-based emails
Text-based emails, on the other hand, rely heavily on copy to get their point across. There is no limit to what you can do with design email templates, but there are many things that text-based templates cannot do (like include images).
Which one is best?
Sometimes it's hard to make a choice - but you can choose to go about this based on your goals and objectives, or do A/B testing to see which one yields the highest ROI.
In general, if you are selling a business, product or service, it's recommended to use design-based emails. This is because they are more engaging and can help to sell the product or service in question.
If you are simply trying to communicate information to your customers, then text-based emails may be a better option. They are less flashy and more straightforward, making it easier for people to read and understand the content.
Take Notes And Measure The Success Of Your Email Marketing Campaign
Finally, it's important to note that you have to be prepared for unsatisfying results and no immediate ROI. Successful email marketing campaigns take time and many attempts. This is why we mentioned split testing.
However, if there is one crucial thing in email marketing planning, it's using the right tools. Things like open and click rates cannot be measured manually, so you will need to look for a tool that fits your requirements.
With SendX, you'll get all the help you need to engage better with your audience, learn from your mistakes and create an email marketing campaign that converts. Start your free trial today!