15 Best Practices for E-newsletters
7 min read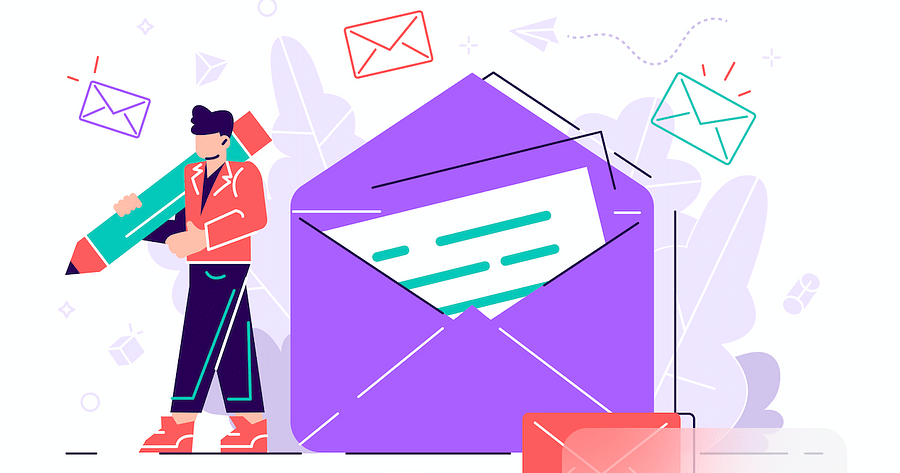 Table of Contents
With a 45-to-1 ROI (return on investment), email newsletters are among the most effective tools for generating sales in e-commerce.
However, if you haven't been seeing the results you want from your email marketing efforts, then it's time to tweak your strategy.
Read on to discover the 15 best practices for e-newsletters that will skyrocket your engagement and conversions.
Each of the tips below falls under one of the four main steps in the process of creating a successful e-newsletter campaign:
Part 1: Planning Your Newsletter
1. Plan Your Email
You need to have a clear goal and audience for your newsletter.
Who are you writing the emails for?
What is their place in the sales journey?
What information do they need to know?
Answering these and other similar questions will help you better plan your newsletter and build a foundation of success for your email campaign.
2. Always Offer Value
One thing you should always aim to provide in your emails is value. Tons of it!
Not every email has to be selling something, but even when you do, you can't expect your subscribers to click through to your offer unless it's compelling.
So, put VALUE first in everything you do.
If you commit to this, your readers will always be eager to open your emails, read them, AND take action on them. For instance, if you were trying to build an online course focused on blogging to sell to your audience, it would make the most sense to send them a series of emails full of excellent tips on blogging to "warm them up" to potentially purchase the course.
Hacker Newsletter is a fantastic example of an email newsletter design that provides immense value with each issue published.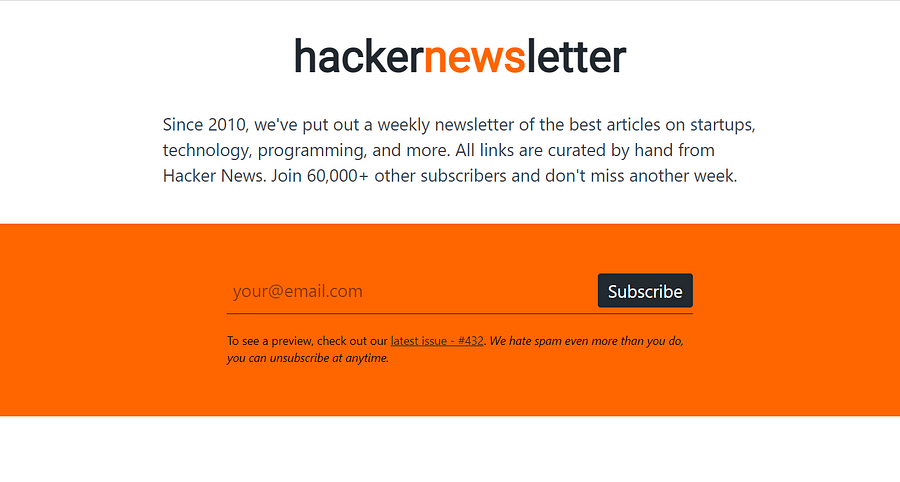 3. Plan Your Newsletter Progression
How does each email newsletter fit into the others you sent before and those planned for the future?
You should have a clear email progression so that your campaign is targeted, predictable, and relevant.
This is particularly important if you are segmenting your audience because you also have to plan to differentiate new sign-ups from subscribers who've been on your list for years.
Part 2: Crafting Your Email
4. Personalize Your e-Newsletter
Personalization makes your emails more effective.
According to studies, personalized email messages have a much higher click-through rate (14%) and an increased conversion rate (10%).
There are tons of different ways to personalize your email newsletter, including:
The name
Age
Interests
Purchase history
...and more.
And, thanks to the advanced email marketing platforms available today, it's possible to send a single email that dynamically adjusts content based on the subscriber information that you have collected.
For example, if you own an outdoor apparel website, you might send an email to your list where one subscriber gets a discount on hiking boots whereas another gets a discount on rock climbing shoes, depending on their previously expressed interests and preferences.
5. Optimize Your Copy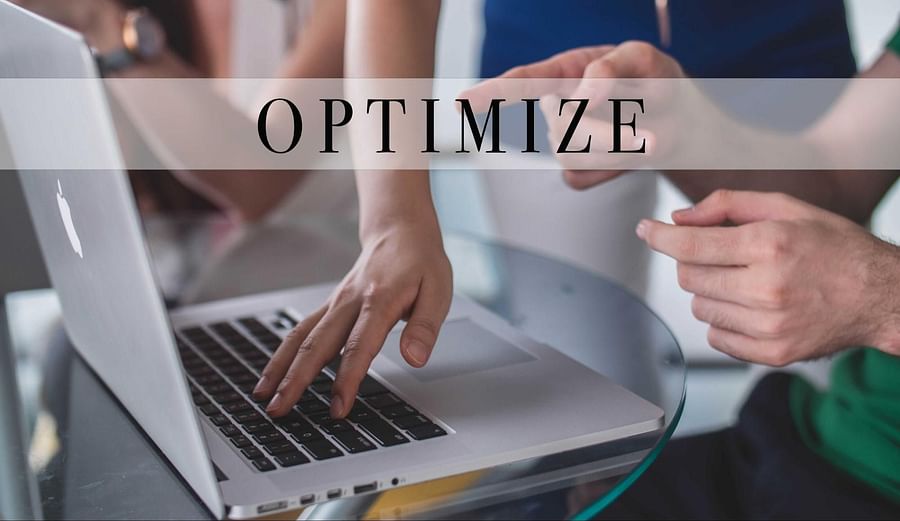 Crafting an email isn't hard. It's simply about putting the information that you want to share with your audience on a page.
However, there are certain practices for optimizing your email copy that will help you get more engagement and boost conversions.
Here are some ways to optimize your email copy:
Write a killer subject line to boost your open rates
Optimize the preview text so you can make the most of it
Write for the web (short sentences, and even shorter paragraphs)
Avoid spammy practices, such as using all caps, multiple exclamation marks, etc. Here are some more advanced recommendations on avoiding spammy practices.
Use psychology in your copy (e.g. color psychology and emotions like FOMO)
6. Add Social Media Links
Email marketing is effective on its own. But, it also provides you with an opportunity to increase your social media following.
Make sure you include social media links to all your social media profiles in each of your emails, as in the example below: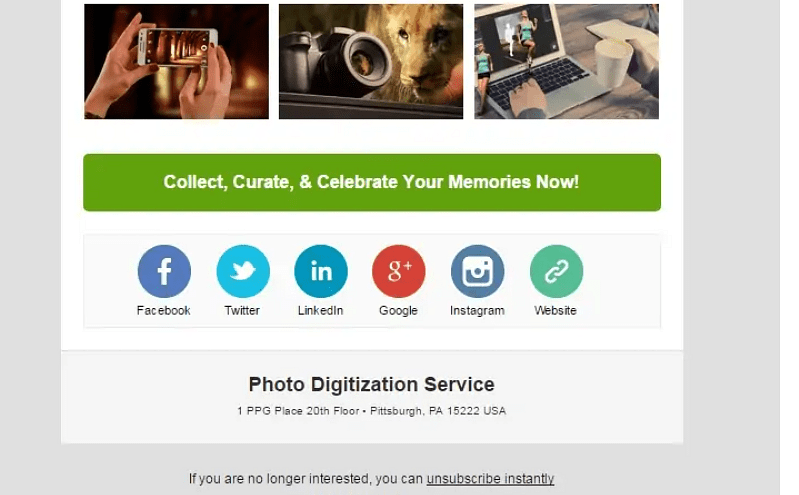 Many of your subscribers, particularly those who are true fans of your brand, will be eager to connect with you on social media and share your content with their own networks, further expanding your reach.
7. Have a Compelling Call to Action
There's a goal behind each email that you send to your subscribers.
Regardless of what that is, you must compose a compelling call to action that will encourage your subscribers to take action.
For example, you might want them to sign up for a free trial, purchase a flash sale product, refer a friend, etc.
Whatever the case, you need to make it as clear as possible what action you want them to take AND how they can complete that action.
8. Give Them a Good Reason to Click
A compelling CTA may not be enough to get subscribers to click through.
If you want your audience to take some sort of action, you must give them a very good reason for doing so.
For instance, if you want them to share your email or refer friends and family, you might offer an incentive for doing so, such as a discount coupon or free sample.
The email below, from Starbucks, is a great example of an email that stands out from the rest.
It shows you how you can catch and keep the attention of your subscribers, and get them to act on your email by offering something COMPELLING.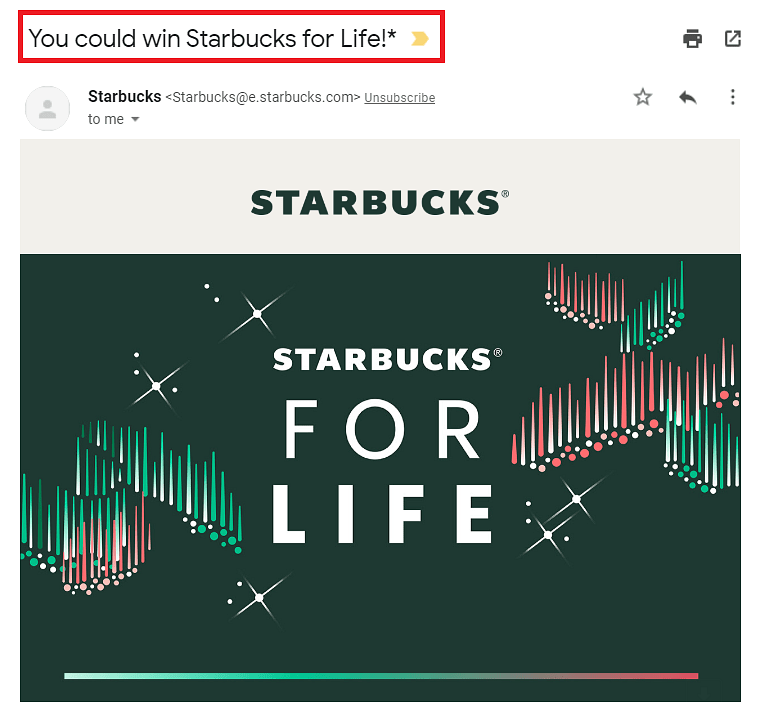 9. Make It Easy to Unsubscribe
The CAN-SPAM Act of 2003 states that commercial emails should all include a clear way for recipients to opt-out of emails in the future.
This means that your unsubscribe button or link should be easy to spot as possible.
Also, if someone has to search for a way to unsubscribe from your list, they will likely end up hitting the "spam" button, which will ultimately affect your email deliverability rates.
Part 3: Sending Your Email Newsletter
10. Send Emails at the Right Time
Depending on the niche you are in, there is an ideal day - and time - to send your email newsletter.
As a general rule, search results have shown that Tuesday and Thursday mornings are the best times to send emails, but that may be different for your specific audience.
To avoid your emails getting lost among dozens of others in your subscribers' inboxes, look at your analytics data or industry stats to find the ideal time to send your emails.
Pro Tip: Experiment with Your Timing
Although it's possible to infer general trends from big data and best practices, it's always best to do your own research to find the time that's ideal for you.
So don't be afraid to find the sweet spot through a process of trial and error.
11. Find the Right Frequency
In addition to finding the perfect time to send emails, you also need to hit on the right frequency.
According to research, campaigns that send between 2-5 emails per month experience the highest open rates.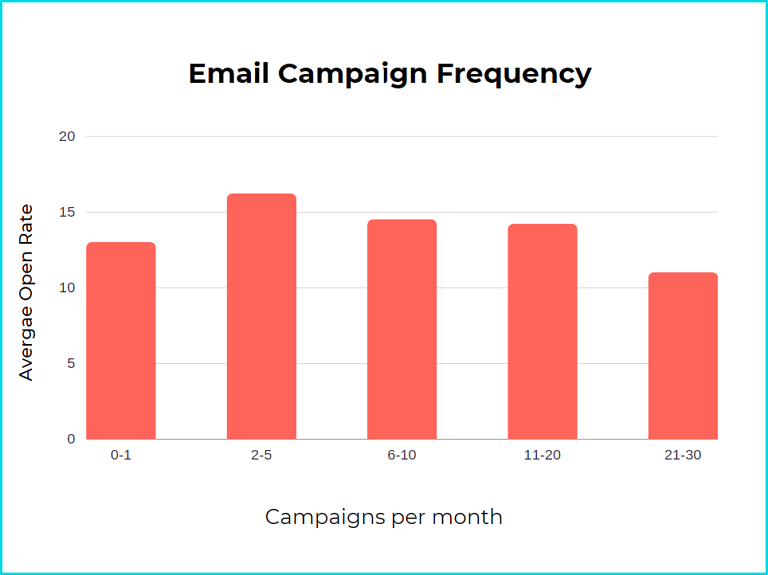 The last thing you want is to bombard your audience with too many emails or send so few emails that they have forgotten who you are when they do receive a newsletter.
Again, the process of trial and error can help you find the sweet spot for your subscribers.
12. Create a Consistent Schedule
When it comes to success in email marketing, consistency is key.
Now that you know the best day and time to send you emails, as well as the right frequency, you must commit to it.
Stick to the schedule you set so that your subscribers know when to expect your emails.
This will help improve your opens and click-throughs, whereas an erratic schedule will result in the opposite effect.
13. Send More Relevant Content
Another important factor in the success of your email campaign is RELEVANCY.
You need to give your subscribers what they want.
After all, they get dozens and even hundreds of emails every day, so yours need to be super relevant if you're going to get them to open and read them.
A great way to send relevant emails is through proper email segmentation.
This will allow you to send and unify content that resonates with each segment of your list, as opposed to sending generic content that tries to appeal to everyone at the same time.
Part 4: Monitor Performance and Optimize Your Results
The average open rate for emails is 13.90%. This means that 86% of your subscribers won't see the visual content of your email.
Depending on what your newsletter is about and the frequency with which you send it, a re-send might be in order.
For instance, if you send an email for a one-day sale that took place the previous day, a re-send obviously doesn't make sense.
However, in other cases, it may make sense to send the initial email again after a couple of days.
To make this tactic more effective, you might tweak the subject line to make it more likely that recipients will open it this time.
15. Improve Deliverability
Improving your email deliverability can help you hit the inbox every time.
There are tons of methods you can use to improve your email deliverability, some of which are more effective than others.
Below, I've listed some of the ways to maximize your email deliverability so your message gets across to ALL your subscribers.
Authenticate your email domain
Ensure proper IP allocation
Use a double/confirmed opt-in
Avoid writing spammy subject lines
Maintain a healthy email list
Avoid spam traps
Optimize your email across all devices
Use branding in your "from" name, as in the example below:

Conclusion
Crafting effective, high-converting email newsletters comes down to following best practices for e-newsletters on a consistent basis.
It's all about taking the time to plan your newsletter, write well-thought-out emails, and send them at optimal times.
You also need to track the right email marketing metrics so you can improve your results over time.
And to successfully execute your e-newsletter sending strategy, you will need an affordable and intuitive email marketing software like SendX, which comes with a 14-day free trial period, no credit card required.
FAQs

1) What is the purpose of sending a periodic newsletter?
Sending a regular periodic newsletter serves many purposes like driving sales, connecting with your customers, increasing social media following, and of course, bringing more traffic to your website.
2) What is the ideal time to send email newsletters?
The perfect time to send e-newsletters will vary depending on your audience, their location and their routine. Platforms like SendX have powerful features like Smart Send that can give you access to complex algorithms to help you determine the best time for your particular audience.
3) What are the best practices to make our email newsletter campaigns successful?

Some of the best practices to make your email newsletter campaign successful are listed below:
Have an engaging subject line
Use welcome emails to build strong relationships
Have a consistent schedule for consistent results
Test your email content
Have one clear CTA
Send emails at the right time (SendX has a smart send feature that helps you do just that)
Keep your emails short and crisp.

4) What is the best time to send an email newsletter?
According to a study, most emails are read and opened between 9-11am during the week. However, your audience may not necessarily open your emails then. To find out when your audience will open your emails, you'll have to experiment with timing to find the best one.

5) What are the few types of newsletters which I can send on a regular basis?
Given below are a few broad examples of email communications that can be sent in the form of a regular newsletter:
A company newsletter which can be used for marketing or recruiting
An employee newsletter which will improve internal communication
A blog newsletter to help you share your latest blog posts
A product newsletter which will include information about product updates.