Email Marketing For Yoga Studios
8 min read
As a yoga studio owner, you're always looking for cost efficient ways to attract and preserve yoga enthusiasts. Maybe you're rocking word of mouth as your most prominent marketing channel but you've decided to take a step forward and dip your toes into the world of digital marketing. After long consideration, you finally started your own website and are wondering how to make it work for a type of business that heavily relies on the lifetime value of its customers.
After all, every yoga teacher knows that yoga studios need to form personal relationships with their students to keep them interested in yoga. People tend to see any self-investment act (such as attending a yoga class) as a pastime and easily quit.
Well, you're in luck today. Because I'm going to talk about the best way to hook wanna-be yoga enthusiasts, nurture them until they become your yoga students, and keep them attending your classes. I'm going to talk about email marketing as the most efficient marketing channel for your yoga studio.
Why Is Email Marketing An Efficient Channel?
If the fact that email is the most prominent direct marketing channel these days does not convince you that it's an efficient marketing channel, maybe these wil
1. It has the highest ROI
Email has a whopping 4200% ROI. Put this alongside other email marketing stats and this number makes perfect sense:
There were an estimated 3.9 billion email users in the world in 2019 and this number is forecast to grow to 4.3 billion by 2023.
99% of consumers check their email every day.
Email marketing is 40% better at converting leads than Facebook and Twitter.
Consumers who purchase products through email spend 138% more than those that don't receive email offers.
2. It's measurable
A suitable email marketing platform offers many features that could measure the success of your campaigns.
Some of the key email marketing metrics you should measure are:
Your delivery rate (or bounce rate). Knowing this could help you a lot in maintaining a clean email list. A low delivery rate (or high bounce rate) means that many of your emails are not delivered to inboxes. Use an email validation tool to make sure you have valid emails in your list.
Your open rate. Knowing this could help you target the right people and optimize your subject lines when emailing them. Average open rate for the wellness/fitness industry is 25.34%.
Your click-through rate. You should always have CTA's with links to your own website in every email you send to your subscribers. Knowing your CTR could help a lot in optimizing your message. Average CTR for the wellness/fitness industry is 3.49% so anything below that is a bit unusual and needs detailed scrutiny.
3. It has the greatest personalization features
Email marketing platforms have made it possible to send personalized emails to your customers. Here are some of these features:
Segmentation:
Segmentation is the idea of dividing your email list into different segments and sending them different emails according to what interests them most. Doing this could increase your revenue by 58%. You can segment your list based on different factors such as geography, age, gender, job title, particular interests, engagement level, purchase status (have purchased or not), buying frequency, etc.
Sender and receiver's names:
Instead of sending emails from a company name or email (such as "Sendx" or "info@sendx.io"), you can use your own name and email address (such as "John from Sendx" and "John@sendx.io). This little tweak could increase your open rate. Addressing your recipient by first name ("Hi Kevin" instead of "Dear customer") could make your message more personal as well.
Behavioral triggers:
Email marketing makes it possible for you to send timely and personalized emails after a particular behavior from your subscribers. These behaviors include completing a form, viewing specific content on your website, engagement or lack of engagement with your emails, mentioning you or sharing your content on social media, etc.
4. It's easily automated
You could easily set emails to be sent at particular times to particular recipients after a particular action they did. For example, you could also design a sequence of emails to be sent with customized intervals to new subscribers.
For example, LiveAgent is a company that uses email automation features frequently. Matej Kukucka, head of marketing at LiveAgent, explains how they do so:
For our particular needs, we use email in two different places. First, our ticketing system provides plenty of automation, rules, and triggers, which we can combine to quickly get inquiries to the correct department and person. For instance, we use customized demo pages with contact forms from LiveAgent, which are transferred, tagged, and sorted to the best possible agent based on the prospect's input fields.
For the email marketing software, we are working with a trial onboarding and based on behavior, we are sending follow-up emails or warm-up messages. Also, we use comeback campaigns that are triggered when the account's trial period is over. We also use feature segmentation to provide the best in-depth learning experience when someone is joining our mailing list, all based on the actions from the website/application.
How Can Yoga Studios Go About Email Marketing And Nurture Relationships?
If you're not offering online classes in addition to your on-site yoga classes, you're missing out on a huge revenue stream. I talked with Vicky Jain from Airmeet, a platform that enables online yoga classes, about the importance of going online for a yoga studio:
One of the biggest hit industries during the pandemic were gyms, fitness centers and Yoga studios. Confined spaces, proximity to fellow students and the teacher as well as increased breathing and sweating made them a classic hotspot or virus super spreader.
That said, this industry has been the most resilient and adaptive too. Quickly pivoting to online classes, Yoga centers and teachers took to google meetings, zoom calls, skype and even whatsapp to stay connected with their students, expanding geographically to reach a much wider network of students.
Yoga is one of those areas of life that people tend to keep pushing down their schedule and quit easily. Yoga studios know that their business relies to a great extent on building meaningful relationships with their customers and preserving them. Therefore, increasing customer lifetime value (CLV) is one of the main goals of yoga studios. As Kevin Kessler explains "CLV or LTV (Lifetime Value) is the total amount of money or revenue that you'll earn from your existing customers as long as they subscribe to your product or service."
The ongoing delivery of meaningful messages to your students' inboxes has made email marketing an efficient way to nurture relationships. As Jordie van Rijn explains, you can send professional emails for almost any phase of your customers' lifecycle from acquisition all the way to winning back lost customers.
Here are some types of emails you can send to your students.
1) Welcome email
Welcome emails are a kind of trigger emails that are sent to your new subscribers after they subscribe.
Welcome emails should accomplish a few tasks including setting expectations, introducing you and your business, and encourage people to start communicating with you.
Here's a proper welcome email by Yoga with Adriene. The email introduces the yoga instructor, Adriene, and what her mission is. It also gives a taste of her schedule and what the recipients should expect to receive from her. And finally invites the recipients to join her communities and start a conversation.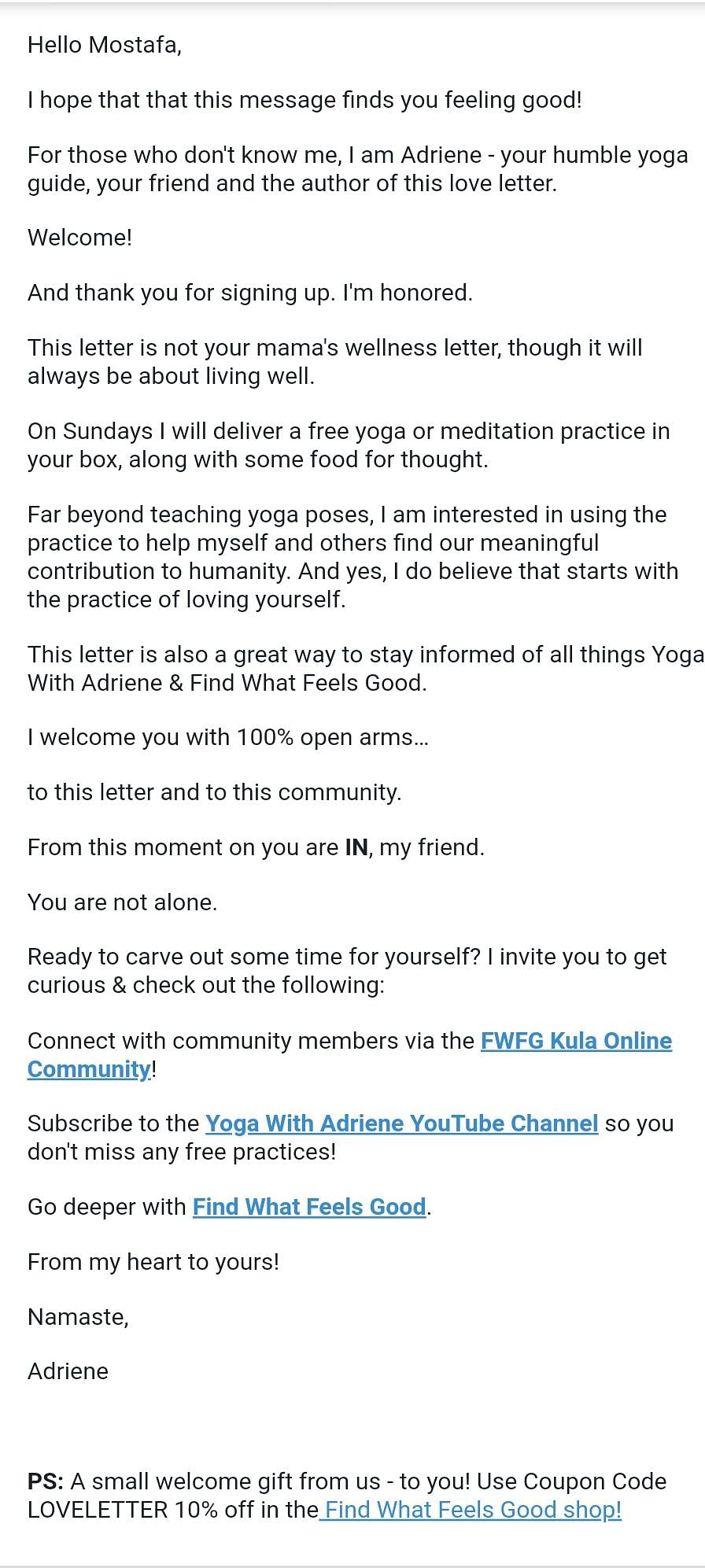 2) Follow-up email
A follow-up email is basically an email you sent after a particular touchpoint with your customers. A nice follow-up email would check in and see if the issue is resolved or if they need any further help.
The key here is to be helpful and try to provide a great customer experience. This is how Alomoves, an online yoga studio follows up after a potential customer registers on their website but fails to complete the payment process.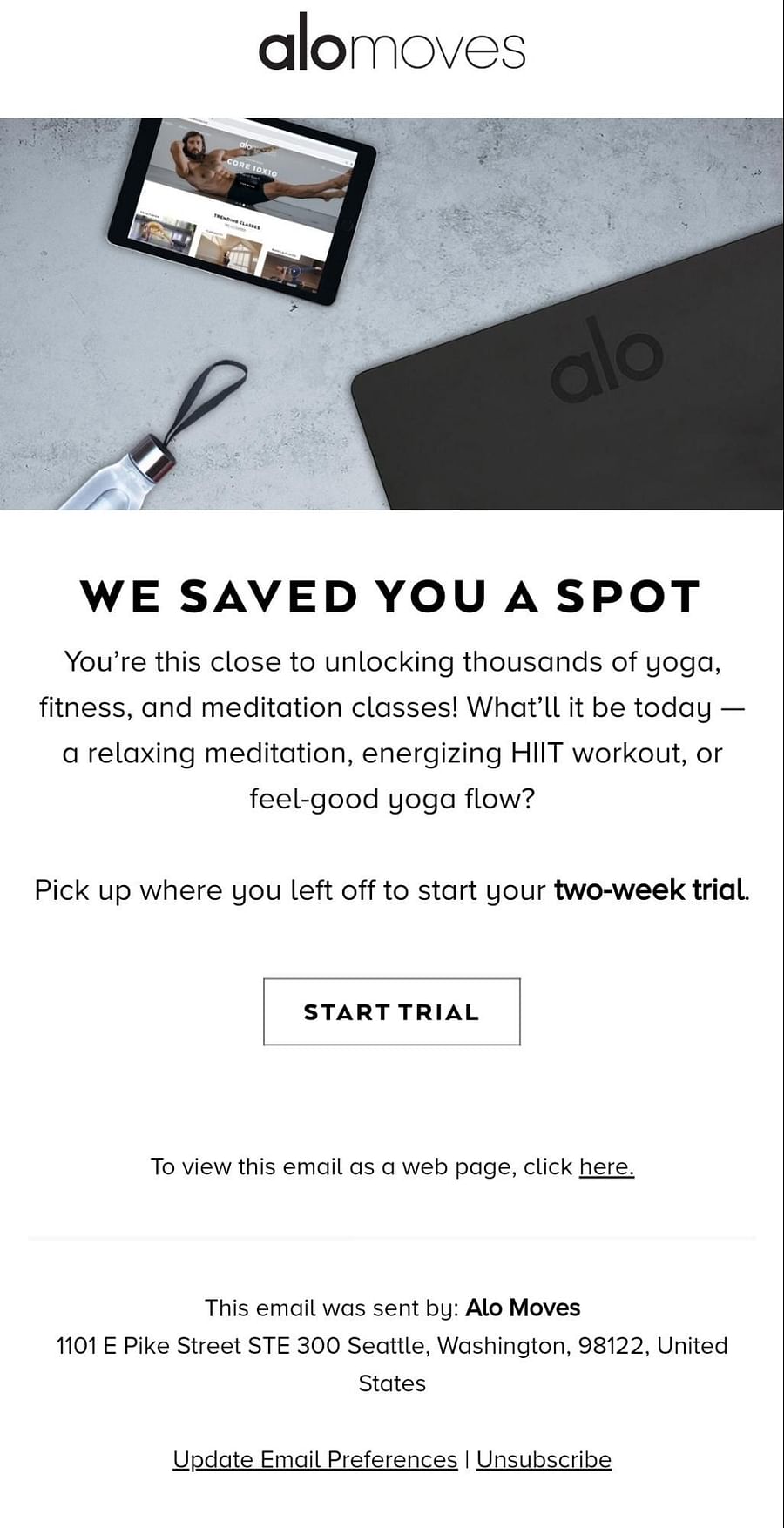 3) Newsletters
"An email newsletter is a periodical email sent by a person or business containing news, updates, curated content from the topic that you signed up for" as Priya Nain explains in a blog post for Sendx.
A newsletter has three main goals:
Keeping the brand alive in people's mind by sending them periodical emails.
Building the sender's authority around a topic.
Building a deeper connection with the audience.
Figure out what's the most interesting and critical information your audience should know about, then send them timely emails giving them this information. It could be something as simple as "Benefits of doing Yoga" or "How yoga could make you happier in life" or as sophisticated as detailed case studies of your most successful students or interviews with well-known yoga masters.
Make your newsletters interesting by using visuals. On an average, users read only 20-28% of the text on a webpage. But they retain 65% of the visual information they encounter.

Pro-tip. If you are looking to send a lot of emails at once, you should ensure that your email deliverability stays high. Check out these best mass email services to make a better decision on what platform to choose.
4) Purchase receipt
Without a purchase receipt email your customer might feel that the purchase has not been completed or even worse, they might think that they've been scammed.
Here's what you need to include in your purchase receipt emails:
Customer's personal details including their name and shipping address
Order details including the order number, date, product, a picture from it, the quantity, price, tax, etc.
Estimated delivery time if the product is physical.
Your company name, logo, address, and contact information (email and phone number).
5) Promotions and discounts
Promotional emails could be effective if they contain the right offer for the recipient.
Here are some tips for sending the right promotional emails:
Have a strong lead generation system. Don't lure people into subscribing to your list. Let them know what they should expect in the first place.
Personalize your emails. Modern email marketing platforms are equipped with advanced personalization features such as segmentation and targeted emails.Upsell and cross-sell. According to Chatra: "70-95% of revenue comes from upsells and renewals whereas only 5-30% come from the initial sale." You can use different occasions to upsell or cross-sell your products. Say a customer has purchased access to your beginner yoga class. You can offer them your related physical products such as your mattresses, clothes, etc.

6) Reengagement emails
Keeping a large number of inactive subscribers in your list has a couple of downsides: first you're paying extra to your email marketing company because you'd have a larger email list. Second, having a lot of inactive subscribers might increase your spam score over time.
To deal with inactive subscribers you need to send them re-engagement emails. If you don't hear from them after a few times, it's time to remove them from your list. This is an example of a re-engagement email.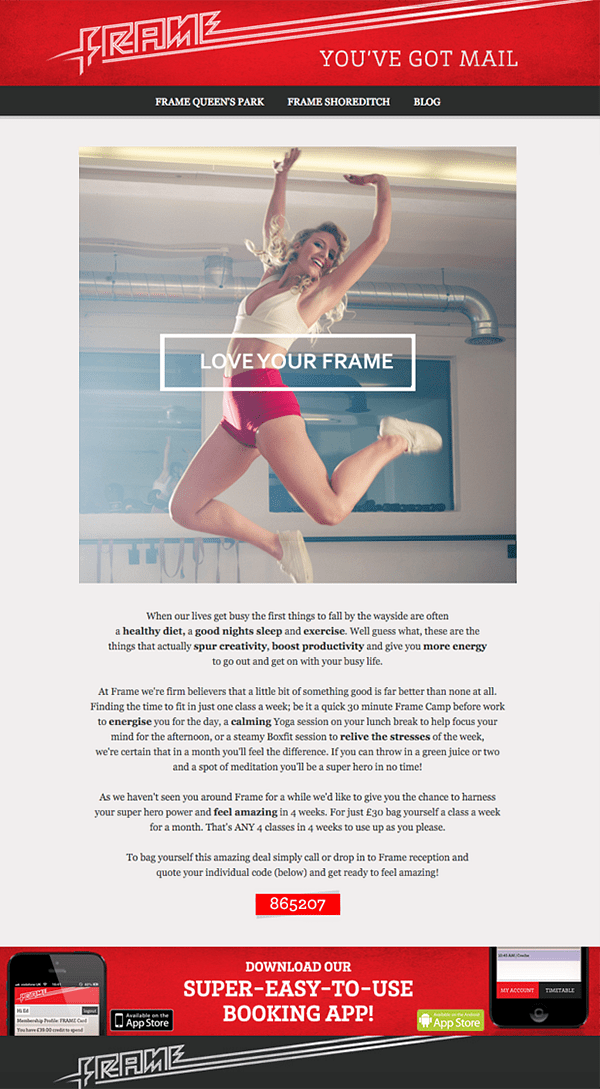 7) Replenishment/subscription reminder emails
Replenishment emails are typically sent to remind users that their recent purchase is expiring or about to run out.
For a yoga studio, these emails could be used to remind users that their class subscription is about to expire. It's quite easy to send reminders through your email marketing platform. For managing your subscription payments you can use subscription ecommerce platforms that work as intermediary that work as intermediary between your products or services and the payment gateway and let you bill and invoice customers periodically.
8) Feedback emails
Feedback emails work best after a pleasant interaction such as a successful purchase or a successful customer support resolution. Send an email after a pleasant interaction and ask them to spare a minute to explain their experience with you.
Asking customers to fill in surveys is quite the standard here because they're easy to read and completing them does not take long for your customers. As Ben Aston explains, well-designed surveys have a positive influence on your customer's user experience as well.
Critical tip: Always let them unsubscribe easily. Include an easy to find Unsubscribe link, and ensure that the unsubscribe process is simple and instant. This will keep your email list healthy, and besides it is required by the law, like the CAN-SPAM Act.
What comes after email marketing?
By now you should appreciate the value of email marketing in increasing customer retention and loyalty. And since yoga studios are largely dependent on preserving current customers by forming strong by forming strong relationships, email marketing seems to be the perfect fit for them.
The question remains: what happens after someone clicks on your email's CTA? How does your landing page perform when visited by your subscribers? There are some features your landing page should have: