Choosing an Email Marketing Service: 8 Pros and Cons to Think About in 2023 (+Examples)
7 min read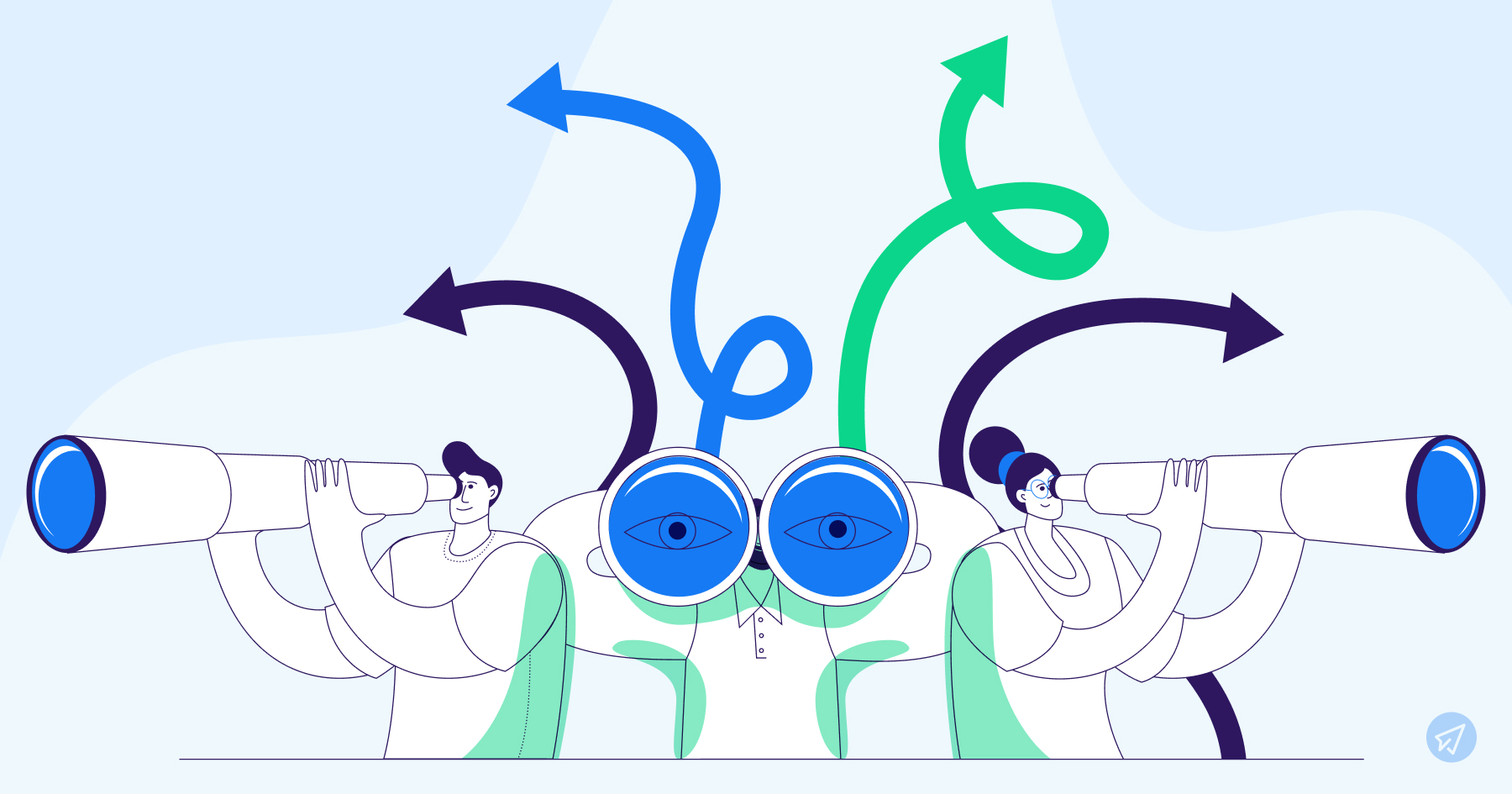 There are approximately 4.37 billion active email users worldwide. Among them, you will find your ideal customer personas. No matter the emerging email marketing trends, emails remain one of the most surefire ways to keep new and existing customers engaged, even beating social media. Email marketing's remarkable return on investment (ROI) makes it a prerequisite for every successful marketing strategy. But let the numbers speak for themselves:
Source: One Smart Sheep
The problem is that most business owners have trouble finding the perfect email marketing service for their needs. Before investing in one, they have to spend time doing market research, testing platforms, and reading through reviews. To help you sort things out, we have gathered the pros and cons to consider before picking the one made for your brand.
Table of Contents
Choosing the Right Email Marketing Service: 8 Pros and Cons to Consider

With so many options on the market, finding the perfect fit for your business is overwhelming. That's why we will present the key criteria for you to make the right choice for your business.
Pros
1. Ease of use
Robust email marketing services are all about saving time and effort, especially for small businesses or novice marketers that have got a lot on their plate. Needless to say that picking an ESP with a long learning curve will probably do you more harm than good. From crafting email campaigns to setting up automation workflows, email marketing-related processes get time-consuming if you leverage the wrong tool.
What you should look for is an email marketing solution that everyone can use, no matter their level of expertise. First and foremost, opt for an ESP with a user-friendly interface and drag-and-drop editors that allow you to tweak components based on your objectives easily. Reliable ESPs help you minimize effort and reduce learning times for everyone on your team.
SendX is an email marketing service that brags about having one of the most straightforward UIs in the industry. With SendX, you can create compelling emails from scratch or choose a template from various categories like Product Promotion or E-commerce. The intuitive editor lets you drag and drop components, experiment with different layouts, insert personalization elements, or preview how your email will be displayed on different devices.
Source: SendX

And it's not just email creation. You can also build beautiful forms or create engaging landing pages through the corresponding editors that make the process a breeze. List management is turned into a walk in the park, too, with the platform's segmentation capabilities. Some of the parameters you can set include recipient demographics like name, company, or geolocation and specific interactions with your email campaigns, such as opening an email or marking it as spam.
Source: SendX
2. Customizable templates
Building your own marketing campaign from start to finish is the epitome of creativity. However, even the most experienced marketers are grateful for ready-made templates that serve as the starting point for creating outstanding campaigns. Predesigned templates enable you to tailor different aspects, such as your emails or landing pages. You can tailor components or add your own, like your logo, for your final design to match your branding and specific requirements.
Unlike popular belief, customizable templates aren't only meant for large brands with tech-savvy teams. Affordable ESPs, such as Moosend, offer user-friendly template creators that allow you to drag and drop content blocks and edit the elements of your choosing to match each recipient's preferences. Moosend's email template library features more than a hundred designer-made and fully customizable templates with responsive layouts to ensure your emails render perfectly on any device.
Source: Moosend
There are several categories to search through, ranging from cart abandonment and promotional emails to seasonal ones. Anyone in your team can build off Moosend's built-in templates without coding or spending much time and effort. There's even the option to add comments for flawless team collaboration. Customizable and responsive templates aren't limited to emails either since you can adjust the platform's landing page and form templates to your needs and unique branding.
Source: Moosend
3. High deliverability rates
For your email marketing efforts to bear fruits, the first prerequisite is your emails getting delivered to recipient inboxes. Email deliverability goes hand in hand with successful email marketing. Putting your trust in unreliable email marketing services results in your emails ending up in spam folders instead of user inboxes. Trustworthy ESPs, on the other hand, ensure your subscribers only receive solicited email communications. Also, they help you apply the best email practices to protect your sender's reputation, such as:
Setting up proper authentication methods to prevent spammers from using your sending domain
Maintaining list hygiene by monitoring recipient activity and removing inactive or fake email addresses
Offering double opt-in subscription methods to ensure recipients give you consent to deliver email marketing material
Adding and customizing your unsubscribe option so every unengaged recipient can opt out if they want to - or receive fewer or more relevant emails by changing their email preferences
Email Tool Tester reports show that MailerLite offers excellent deliverability rates, helping marketers optimize their mailing lists through its email verification capabilities. Also, SendX and Constant Contact are among the best-of-breed ESPs in terms of email deliverability rates.
4. Wide selection of integrations
For most marketing professionals, keeping everything under one roof is key to scaling their business. Connecting your email marketing service to third-party platforms and apps helps streamline your workflow and save valuable time. When looking for the ideal solution, you should consider both the number and breadth of integration options.
ESPs that integrate seamlessly with popular apps enable you to optimize your overall marketing strategy. For instance, you may want to integrate your email marketing service with agile project management tools to manage different tasks and enhance team collaboration. Or, you can synchronize your ESP with your CRM system and personalize your recommendations according to the data collected.
Mailchimp is popular for its extensive integrations, facilitating the tool's connection with several third-party applications. From customer service and analytic tools to social media platforms, Mailchimp offers more than 300 native integrations. For example, you can use its integrations with reputable form and survey tools to collect insights from your existing customers and then use the data to optimize your marketing efforts.
Source: Mailchimp
5. Detailed reporting
Monitoring an email campaign's performance is a simple and straightforward process, especially when you leverage reliable email marketing software with detailed analytics. Reporting tools are powerful and effective since they put valuable data at the center of your email marketing efforts. All you have to do is decide on your email marketing key performance metrics and measure the success of your emails based on these metrics.
Most ESPs allow you to view your reports through straightforward dashboards with visualizations, thus making it easy to digest and analyze key information. Your service's analytics will serve as a guide on what worked and what didn't and help you make informed decisions to improve your emails.
Campaign Monitor is considered a top-notch choice for marketers who need a detailed overview of their email performance. You gain access to data such as email clients used to open your emails, recipient and link activity, or even social sharing metrics. What's more, you can compare key performance metrics on a monthly, quarterly, or yearly basis.
Source: Campaign Monitor
6. Flexible pricing and scalability
We've already established that a robust ESP saves you time and effort. But what about money? There's a common misconception that investing in such software could break the bank for small businesses or startups with limited budgets. We can't deny that some solutions' pricing plans are beyond companies on tight budgets. However, many reputable ESPs come with free versions. Although they might be somewhat limited in the capabilities offered, small businesses usually find them more than enough for their marketing goals.
Alternatively, you can look for an email marketing platform with flexible pricing depending on the number of subscribers, the email sent, or the additional features. So, when you compare the pricing of different providers, make sure you search for the right balance between reasonable pricing and the value provided. Flexible pricing is important in terms of scalability, too. It's essential that your ESP can scale as your business and contact list grows without costing you a fortune.
SendX is an ideal solution for startups, small businesses, and entrepreneurs in search of cost-effective solutions. The platform has a simple pricing structure, starting at $7.49 per month (paid annually) for up to 1,000 contacts and all the core features. The price goes up based on the number of subscribers, but we should note that all pricing plans offer unlimited email sends.
Source: SendX
Another option for businesses looking for an affordable yet feature-rich ESP is Moosend. Pricing starts at $7.49 per month (paid yearly) for up to 500 subscribers and the platform's key functionalities. The pricing is flexible and depends on the number of subscribers. Also, we should mention the platform´s innovative Credit plan, which is a credit bundle users can leverage according to their business needs at the corresponding price.
Cons
1. Poor or limited customer support
What's the number one reason users decide to change their ESP? If you answered something like basic features or lack of integrations, you guessed wrong. The main reason users switch to a new email marketing service is poor customer support. It might seem like stating the obvious, but slow communication and the inability to fix things or address customer queries seriously affect your email marketing.
Source: Email Vendor Selection
Prompt customer service is of utmost importance when users have questions or experience technical issues. Not to mention that excellent customer service goes a long way in supporting the ever-changing needs of companies. So, before choosing an email marketing service, you should evaluate the customer support options. Some of them include email and phone support, live chat, or even video tutorials. Many ESPs give users the option to explore core features at their own convenience through extended knowledge bases.
For example, Mailchimp offers its free-plan users access to such a knowledge base and 30-day email support. In low-tier packages, customer support is limited, too. Full access to all support channels is included only in high-tier subscription plans. ActiveCampaign is a good choice in terms of customer service since it offers access to video tutorials, chat and ticket support, and an extended knowledge base, regardless of the plan tier. SendX is a great option, too, providing all users with excellent support and detailed documentation.
2. Inadequate free trial
No market research will do you any good if you don't get to test an ESP for yourself. Even if you have a clear picture of your needs and set a clear email marketing plan, there's no way of knowing which ESP will best serve them. You have to check factors like features, user-friendliness, and deliverability to understand whether or not a tool meets your needs.
Thankfully, most solutions come with a free trial version that lets you test the waters for at least 14 days. But the truth is that for some of the above mentioned tools, the free trial version comes with limitations. Therefore, marketers are unable to check crucial capabilities unless they upgrade to a paid plan.
That's why it's critical to seek an email marketing service that lets you use its core capabilities during your free trial. After all, perhaps you'll have to test more than one to decide. Constant Contact's or Mailchimp's free trial is limited compared to platforms like SendX or Campaign Monitor. SendX's free version includes all its features and sets limitations only regarding the number of contacts. Campaign Monitor, on the other hand, offers a free forever version that includes every feature, but you can send emails to up to 5 subscribers.
Final Words
From nurturing your audience to building brand awareness, emails are a foolproof way to achieve your business goals. Therefore, robust email marketing software is your go-to tool for guiding your business toward growth in 2023 and beyond. Finding the right one for your organization seems like a daunting task with the plethora of tools out there. That's why we have detailed the key points to look for in an ESP, as well as the limitations to take into consideration.
You should weigh factors like ease of use, customizable templates, deliverability, integration options, and advanced analytics. Moreover, opt for a solution that will help your business scale as your subscriber base grows. And let's not forget excellent customer service is a key ingredient of every reliable ESP, even if you subscribe to a lower-tier package. Last but not least, consider trying at least a handful of tools to avoid unpleasant surprises. By following the tips mentioned here, you will find the one that best aligns with your business needs and be on your way to email marketing success.