How to Use Email Marketing to Build Your Brand Awareness?
8 min read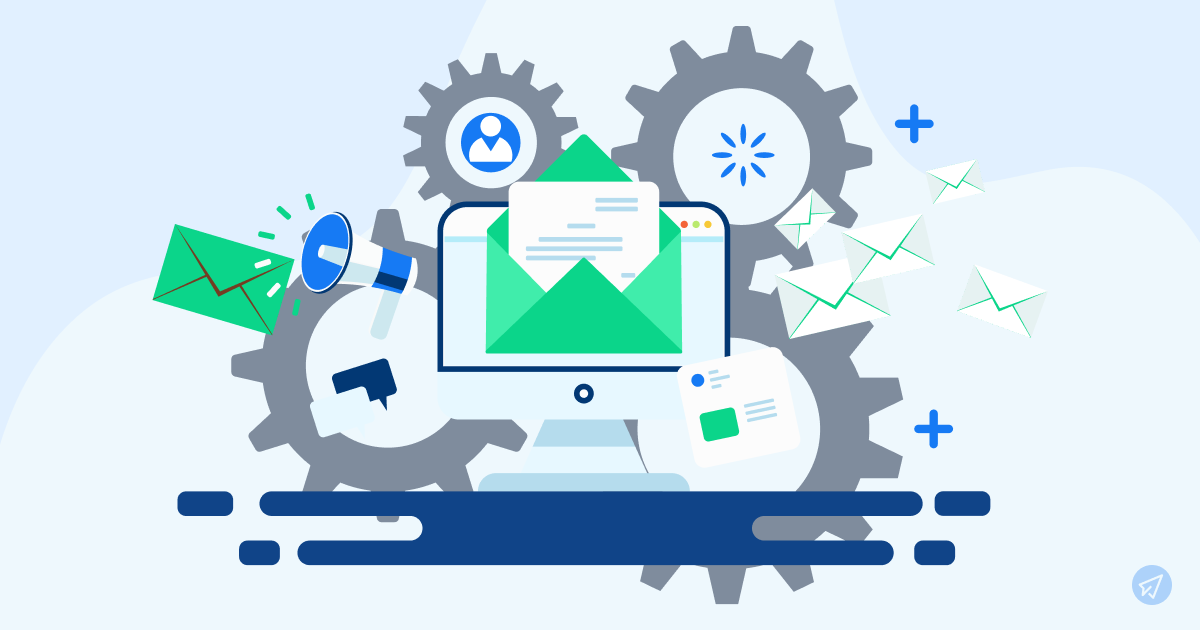 Several consultancy groups and essays have predicted email's demise in favor of social media and flashy messaging apps. But a decade later, email is still going strong.
According to Statista, the number of email users is expected to increase from 4 billion to 4.6 billion in 2025. By then, more than half of the global population operates email for personal and business use.
That's a potential market right there. If you're a new business just starting to disseminate your brand to the world, email is a great place to start.
Unlike the flood of content from social media and other platforms, email is rather personalized. All of your email messages are either from your subscriptions or people you personally know.
Meaning that most messages have a high open rate, click-through rate, and conversion rate.
Building brand awareness through email is a great strategy because the likelihood of people getting to know your brand is high. From knowing your story to looking at your visual displays, your readers, who subscribe to your newsletter, will have a closer look at your brand and, in turn, become a client, user, or consumer.
But for all of these to happen, your email strategy should be finely tuned. Using email is not enough. You need to compose your email in a way that captivates your audience well, that makes them feel like you know them, their questions, and their desires.
For starters, here's how you can build the perfect email for the perfect brand awareness campaigns.
Table of Contents
1. Polish your Subject Line
Subject lines are the ultimate key to getting your readers to open your email. It's the first thing they notice, apart from the sender, of course. It's a big factor on whether they will click the message or not.
If it is relevant and interesting, then the recipient's action is in your favor. If it is inappropriate, out-of-the-blue, or rather lackluster and generic, the receiver might trash the message or leave it unopened.
Therefore, if there's any part of an email you should focus your attention more on, it's the subject line. Most people would dump the first words that come to mind. But a seasoned email marketer would research and test their lines first before hitting the send button.
A reminder that in this case, your reader is your god. Their needs must come first, or else they might view the email as another self-serving sales pitch in their trash box. The subject line is the perfect opportunity to convince your receivers that you have something valuable to say.
If your receivers are subscribers, they are quite interested already so a subject line is less important. But if your receivers are unknowable, your subject lines carry a bigger responsibility. So to get them to click on that email, write a clear, crisp, interesting, and relevant subject line.
2. Pay Attention to your Tone
Unlike other marketing assets, such as social media posts, flyers, infographics, and billboards, email newsletters are largely made up of words. Readers subscribe to your newsletter because they expect a kind of letter — where your words might bring inspiration and action.
Although email newsletters nowadays are visually rich with images and moving pictures, the words are still the building blocks of this platform. Without properly created sentences and paragraphs, an email is just another website or social media page.
Moreover, while it's given that you need to create grammatically sound sentences, there's one important aspect of writing that you need to brush up first before hitting that send button. It's the tone of your message.
Lots of email writers get tripped up when talking about tone. Maybe because there's no single definition of tone and the examples get in the haze. But to put it simply, tone is how it comes across to your audience. The emotion that dominates the message is most likely the tone. Does it sound fun, care-free, stern and serious, or is it urgent, demanding, and prompt?
What the tone will be and how accurate you want it to be portrayed will depend on your skill. But it would definitely help to define this aspect first before creating your content so that the words will flow better and are more likely in-tune with your goal and the purpose of the reader.
3. Maximize Image and Video Options
Enough with words. Words might be powerful in email but to gauge your audience's attention and stand out among the crowd, you need to take your visual skills with you and create impactful images and other displays.
Let's start with pictures. Gone are the days of email being a big block of words. It has evolved to a social media-like interface where you can upload images and videos and even use dedicated third-party software. This way, you really can take your branding to the next level as you can inject your personality to your content.
The images can vary in style, because in email no rules are set in stone. And it also depends on your brand identity. Some brands use high-quality photographs of their products, or their models to signify luxury and realness. Others use popping graphics and 3D renderings for creativity and fun. And there are brands that use GIFs, holographics, or simple flat-images styles to mean simplicity and cleanliness.
And let's not forget about videos. Using videos in your email marketing campaigns may help to increase engagement over using static images — these might include vlogs, tutorials, interviews, or sales videos (check out the commercial video maker for inspiration on creating sales-driven marketing videos), but remember that snappy, concise video content is more likely to engage users and drive conversions.
In short, videos and images will not only make your emails more visually appealing but also help to create a unique brand identity and ensure your content stands out in crowded inboxes.
Some videos will ramp up your engagement better than images. In short, videos and images will not only enhance your style, it will also make your brand unique and, therefore, noticeable than the other
4. Develop a Legible and Standout Font Style
Some brands will opt for a traditional font style — one that mimics that of the email's interface. And for good reason, they don't want to throw the reader out with so much difference, rather it feels just like any other email the reader expects.
Yet there are those that maximize email's ability to inject a different font style. This way, fonts can be elegant, charming, bold, flirty, childish, professional, and techie. It's all up to the creator of the email.
Since fonts act as the extension of an email logo or any type of logo, it's a good opportunity to show your readers who you are as a brand, and what kind of personality and identity they should expect from you. If it is at par with their taste, then it's safe to say that your font, along with your modern logo has the ability to elevate engagement and response rate.
5. Ensure Visual Consistency
While it might be tempting to try out different styles and design concepts, the risk of non-targeting your audience and lost engagements is too high. That's why we urge brands to be consistent with their email content. When you have finally decided on the design concept in terms of color, font, image choices, and placements, it has to be consistent all throughout your campaigns (unless it's a different campaign or a newsletter for a different brand if you're an agency).
The reason is that trust builds up when a brand is consistent. Expectations are broken when a single color is misaligned, or the font was changed rapidly. It might not be obvious to a typical reader, but an avid reader of your newsletter — your most valuable asset— will notice and will likely bounce off.
Remember consistency builds trust. And trust prompts people to act in your favor — be it buy from your product or patronize your services or read your blog content.
6. Incorporate Stories
Most email newsletters ticked off as spam or trash are salesy emails. These kinds of emails have the lowest response, click-through, and open rate. So sales pitches might not be a good idea right off the bat, but do you know what sells no matter what? Stories.
A carefully written story as a welcome email is better at hitting emotional points than a sales pitch. Stories elicit emotions, and since most people are emotional buyers, stories drive people to buy without them knowing it.
How to write a story in email? First, you need to figure out the main character, then like all stories, it has to have a beginning, a middle, and an end. That simple.
7. Figure Out Your Email's Prevailing Emotions
According to Harvard Professor Emeritus Gerard Zaltman, 95 percent of people are emotional buyers. Meaning the emotions associated with a brand, a product, a service, or an experience is what propels people to shell out money or click that buy button.
Professor Zaltman says that most decisions happen in the subconscious. That no matter how much you rationalize your brand, people will still find emotional aspects they'd resonate with and use that as reasons for their purchase.
So part of what makes an email campaign successful is the dominant emotion in every newsletter. That's why it's important to ask yourselves what kind of emotions you want your readers to feel before you craft your first email newsletter.
Because this will guide you through creating content that elicits such emotions and in turn will propel them to do things that favor your brand.
8. Focus on Adding Value
If you want a brand that is associated with value, then send emails only when you have a valuable thing to share. Others overthink what time and how often to send emails, but it's more important to know when to send the emails that you know will add value to your recipients. That means, it can be as often or as rare as it can be.
So what do you think of your email's value? Obviously it comes with knowing your audience. If you know your audience well, then you have a good understanding of their queries and concerns. Only then can you create an email that satisfies these concerns. Or, perhaps, you have quite a good knowledge of their personality that your topic might bring entertainment and inspiration.
9. Segment and personalize
You might think that because email subscribers like your content means they are all and the same. That's wrong. Even with the same brand, product, and service offerings, your customers are still widely varied. What works for one might be repulsive and annoying to another.
It pays to group your audience right. This way, you know that your content is in line with their personality and taste. Some of the factors you need to consider are age, income background, culture, ethnicity, gender, favorite products, location, and other minor details. Big brands have a lot to gain in this technique but small brands will be grateful for incorporating such strategy.
Brand Awareness Samples
1. BirchBox
This is Birchbox's "You're just getting warmed up" email designed for new customers. The subject line, content, and discounts are tailored to appeal to self-care and beauty-focused individuals, making it highly effective for the brand's target audience.
The email encourages the recipient to engage further with Birchbox's community and provides a compelling reason to do so. This email also increases the chances of users paying attention to subsequent emails due to the valuable content provided.
2. AutoTrader
Dynamic companies are always changing, and your customers expect this evolution. But, what they don't expect is for these changes to be introduced without proper warning. AutoTrader's email does just the opposite. It provides clear, fair warning to its leads or customers about the changes in communication, giving them the chance to adjust their inbox settings if needed.
The email sets clear expectations for future communication, giving the customer the freedom to choose what works best for them. The headline is straightforward, the design is clean, and the call-to-action ("Stay Subscribed") is attention-grabbing.
3. Lita Lewis Fitness
Introducing new products or projects? Let your subscribers know ahead of time, especially if you've been out of touch. This email from fitness expert Lita Lewis does just that, reconnecting with subscribers and informing them about her upcoming app.
The email feels like catching up with an old friend, and the "Join Now" call-to-action makes it easy for the reader to sign up for the app and receive updates.
4. Airbnb
This comprehensive welcome email from Airbnb provides step-by-step instructions and actionable content with corresponding graphics. The email is highly customer-focused, as it includes an option to set email preferences at the bottom.
Most Airbnb users take the actions recommended in this email due to its clear and effective copy.
5. Venmo
Venmo's friendly email aims to re-engage lost users by highlighting the app's latest updates and benefits. The email is brief but packed with enough information to help the recipient make an informed decision.
Why It Works:
The "Explore Venmo" call-to-action and benefit-focused copy make the content feel inviting, rather than aggressive. The branded imagery and graphics also add to the email's overall appeal.
Final Thoughts
The email marketing world is a rather tricky one. If you do it right, you're on your way to becoming a favorite brand and your newsletter the most anticipated content on the internet. But if you do it wrong, you might be viewed as a spam-generating business and only there to nab someone else's hard-earned money. All right, they're rather extreme ends. But you get the idea.
Email marketing has the power to earn you an earnest customer. But because lately it has been the breeding ground of information theft and overload, any brand that might want to succeed in this field needs to work on it carefully.
It is all the more important for starters whose main goal is to promote their business. People barely know your brand so it takes more than a little effort for readers to welcome your emails.
You just have to remember that when it comes to email branding, personality and personalization is the key. Your personality will help you stand out and your personalized content will tug the hearts of your recipients.
So try your luck in email marketing. Take all the necessary marketing tools you need to succeed and be prepared to A/B test everything before you get the one that hits the shelf.