Top 6 Bulk Email Tools to Save You Time and Money in 2023
9 min read
So, what is that one thing that you do after you wake up? Meditation? Make coffee? Let me prick a bubble for you. Most people around the world prefer to check their emails first thing in the morning. Because according to a report by Radicati, the active email users in America came out to be 3.9 billion.
While it is true that people might open the emails, they will hardly click through your content. Because, according to GetResponse, the average click-to-open rate for emails sent in Asia alone is, 13.74%.
2020 went by fighting the crisis, and 2021 is almost over now. But did you know that both March and April 2020 witnessed an increase in open rates with nearly four-point increases for both months from 2019 to 2020—an increase of more than 20% (Campaign Monitor, 2020).
Of course, email marketing is working at a top-notch rate. The question is, which tool to employ to send those emails in bulk?
Don't worry! We are here to your rescue. We have been jumping on and off to try different bulk email tools to see which one works the best. And finally, we have shortlisted a few. Call it an intense investigation!
Table of Contents
Top 6 Bulk Email Tools for 2023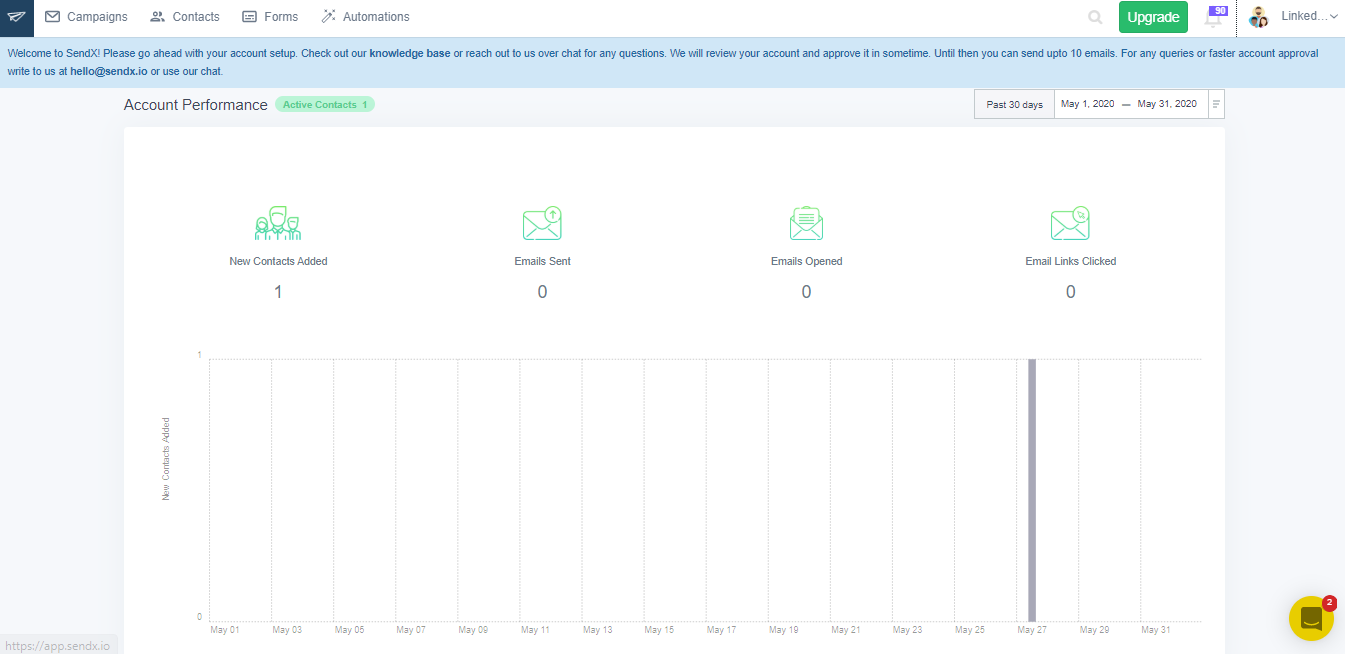 So, when you are employing any tool for marketing, you want to be sure that it is the best of the best, and that nothing should go down the drain.
SendX is one such intuitive email marketing tool that is both trustworthy and affordable. While some bulk email marketing tools carry hidden costs once you get onboarded with it, every plan in SendX is transparently displayed.
It comes with unlimited email sends to your opted-in subscribers and it charges only for the subscribers that you have got without any email limits.
The thing with new software and tools is that they strive to be better and provide more options than the industry giants and the ones that dominate the marketplace. One thing that we witnessed while using MailerLite was, we dropped a query to the customer support team. But the reply that came was, it can't be resolved because the team is on a virtual retreat.
While it is essential to take a break, leaving the customers altogether is not what any business would want. SendX provides great instant customer support through all the mediums, be it phone, email, or chat support.
SendX's monthly paid plans start from $7.49 for 1000 subscribers and keep hiking depending on the number of subscribers.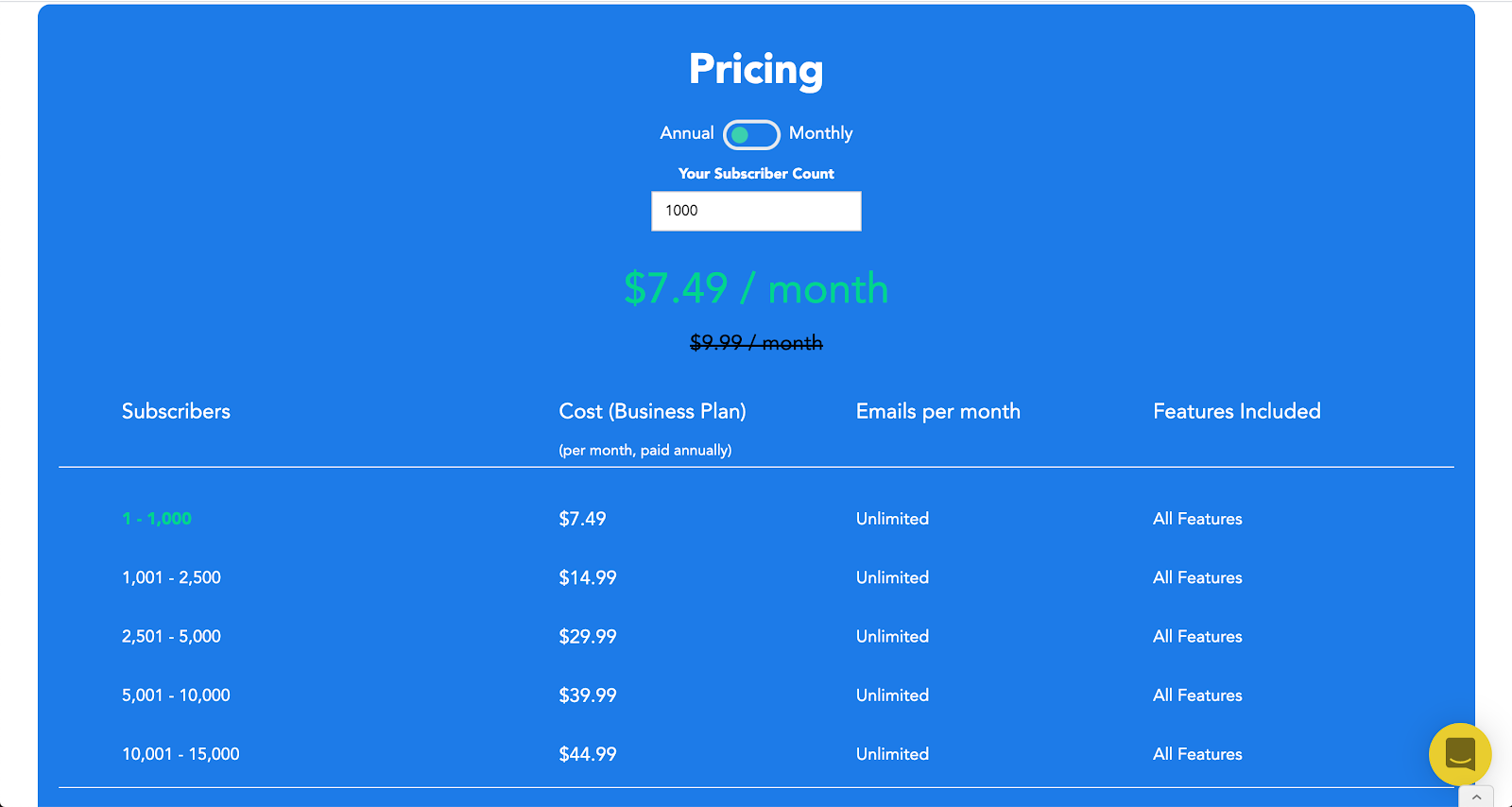 Recommended if:
You are looking for turning your website visitors to customers through email automation campaigns and top-notch deliverability. It allows mail campaigns optimization based on 30+ parameters
You want a huge variety of forms and landing pages
You want excellent customer support.
Not Recommended if:
You are looking for an advanced marketing automation tool and complex workflows.
Yow want extensive integration options to other business websites or service providers
---
2. MailerLite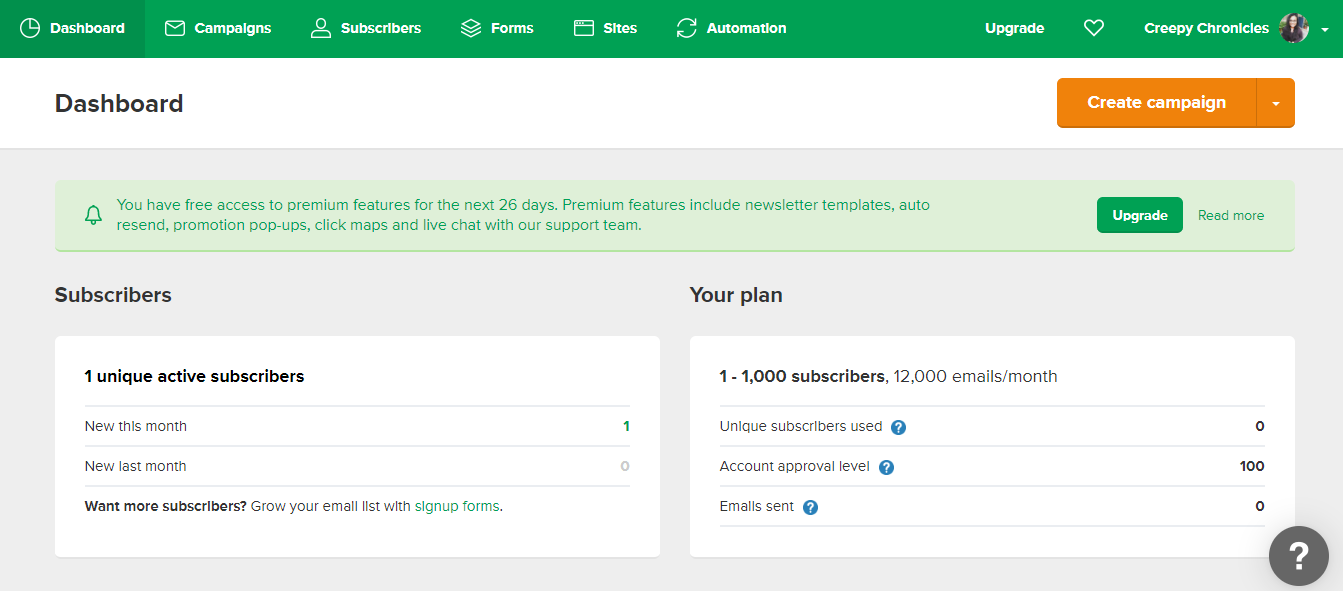 If you are a small or medium-sized business and want to send in an email with a creative touch then MailerLite can work well. Of course, it is a widely used email marketing tool but if you want a built-in CRM and a variety of marketing features then you might want to look for an alternative.
It might work out well for freelancers, startups, and small businesses for sending out emails with a clean and simple design. Of course, everyone might be aware of its simple drag and drop feature but if you want to run bulk automation sequences, there is a possibility of a few glitches.
This is because many of their customers complain about the fact that their emails land up in the spam folder. Of course MailerLite tried to rectify this problem but it cannot be deemed as overall satisfactory.
MailerLite, now, follows quite a strict account approval policy. Although it just takes a day to get your account approved, yet they will not provide any reason in case the account is disapproved.
In terms of affordability, the starting price for 25000 email contacts is $15/mo. Also, this bulk email tool can send up to approximately 12000 emails per month in case you have a list of 1000 contacts. Also, if you need add-on options, you can go for MailerPro. It is available at $100/mo which is quite affordable as compared to Mailchimp Pro at $199/mo.

Recommended if:
You are a solopreneur, have a startup formed as an LLC or a small business with a decent budget. It is an affordable tool if you want to send out basic automation sequences, segment your contact, edit landing pages, and more.
You want to do something creative. With a beginner-friendly interface and easy to use drag and drop email editor, MailerLite comes handy to build RSS campaigns as well.
Not recommended if:
You need advanced reporting and comprehensive analysis. Of course, the basic reports such as, open rates, total clicks, etc, of any campaign can be tracked. But if you need social media reports and tracking, unfortunately, it is not in the picture.
If you are a large business and want advanced level automation sequences. While it entails the feature for basic automation workflows, it doesn't come in handy as you move forward with complex workflows.
---
3. Mailchimp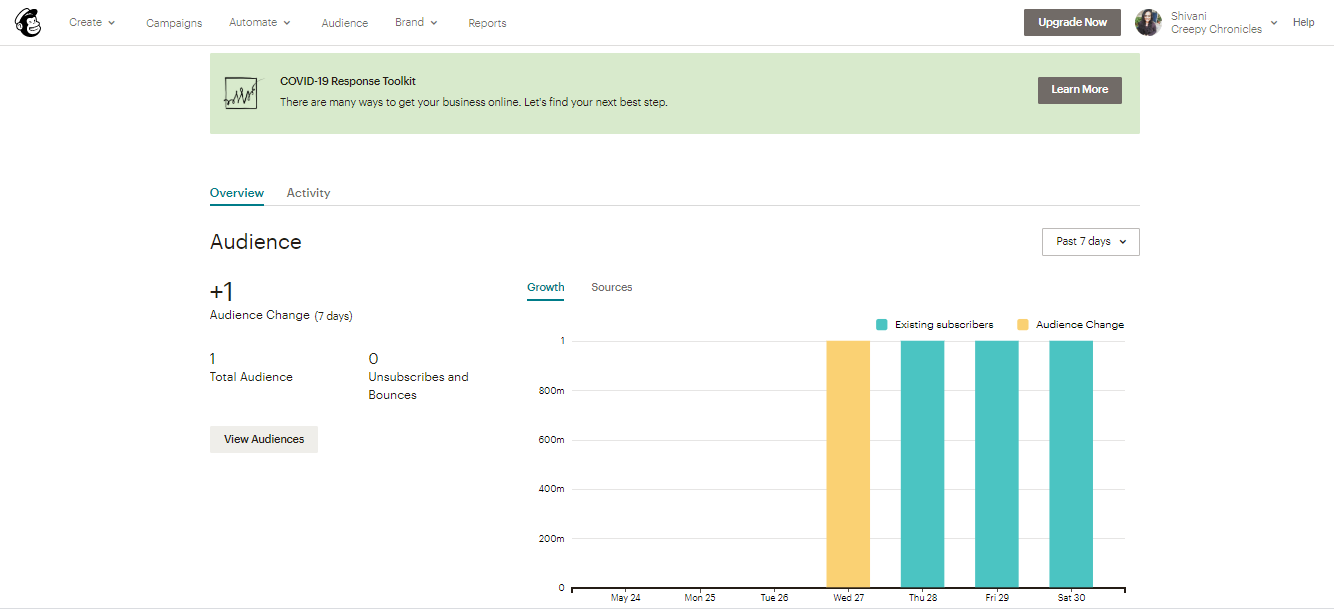 While this bulk email tool is the most popular of all, there are some intricate details that you must consider before choosing the same. It is right that they offer a free plan for email marketing and that it comes with an easy-to-use email-builder feature. Besides providing the autoresponders feature and email contact segmentation, it allows setting the email delivery options based on time zones and geolocation.
It offers integration with popular websites like Shopify and WordPress, but at the same time, if one talks about the automation features, it comes with quite a few limitations.
Mailchimp has tried to game up their business by bringing in their set of 'advanced features', but to tell the truth, it hasn't been working that well. Their workflow editor might not be a smooth ride for you. Also, they charge ridiculously high prices on the basis of 'audience' and not on the 'email lists'. As a result, the user ends up paying for the unsubscribed contact as well.
Apart from the premium plan, Mailchimp also launched Mailchimp Pro. It is an add-on feature at $199/mo in which you get advanced features like advanced segmentation, optimizing the send-in-time, comprehensive testing and more.
They provide an offer of a forever free plan. Accordingly, you may send 12000 emails to a contact list of 2000 subscribers. But in the free plan, you don't get live customer support. On top of that, you don't have the option to remove their watermark in your email.
Mailchimp's monthly paid plans start from $10 for 500 subscribers which keep on hiking up with every 500 subscribers. This price hike could actually put holes in your pocket.
But if you don't have any budget constraints, you may go for this amazing email marketing tool.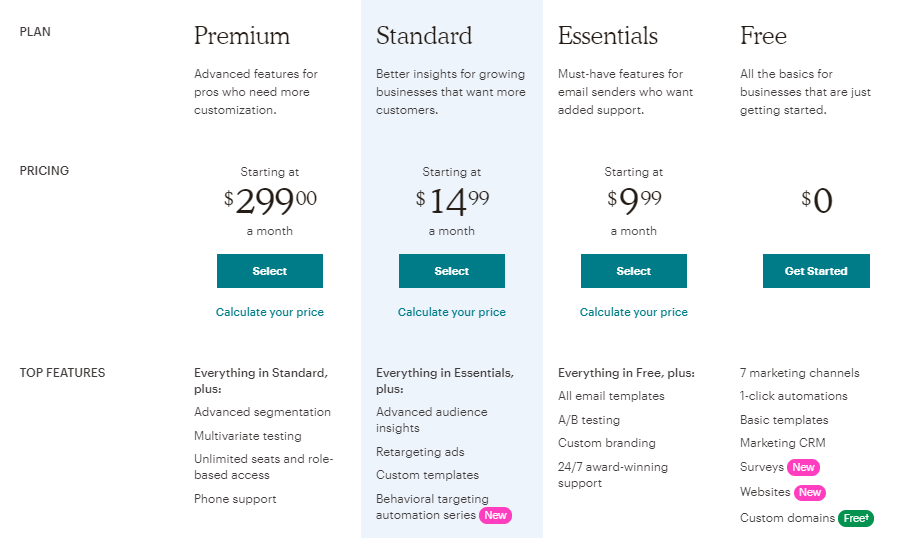 Recommended if:
You want to integrate with other websites or service providers (Zapier, Magento, WordPress)
You require a one-stop solution for inbound email marketing campaigns for lead capturing and a CRM
Not recommended if:
You want an easy to manage automation email marketing. Mailchimp is not the best one in the automation email sector for it entails a complex workflow editor and it could take a lot of time to design a good automation sequence.
You want to try affiliate marketing for it levies heavy penalties or account cancellation
You want very good customer support. They can be contacted through email and live chat but the process is quite slow.
Mailchimp's Venture Into eCommerce
One important update for all those looking at Mailchimp as an option is that Mailchimp has also recently launched its own online stores for SMEs, and a new service for booking appointments. The appointment booking service went live on 28th April 2021, and the new eCommerce features are scheduled to become available for the US and UK Mailchimp customers by May 18th 2021.
New 'Websites and e-commerce' plans will be introduced (and free-plan users will have to pay 2 percent transaction fee). Transaction fees will be reduced for users of different pricing grades, for example, those who go for a Plus plan at $29, only 0.5 percent transaction fee will be applicable.
Besides, for $10 extra, Mailchimp's branding will be removed and you will get email and chat support, and you will only have to pay 1.5 percent transaction fees.
All their plans will also include SEO tools and Google Analytics integration. Plus, you can build websites with unlimited pages and without bandwidth restrictions.
And when it comes to the online stores by Mailchimp, you can build your product catalogues, manage your orders, and taxes and shipping configurations.
But if you don't need all of these additional features and services, you should still proceed with comparing Mailchimp with other email service providers.
---
4. Sendinblue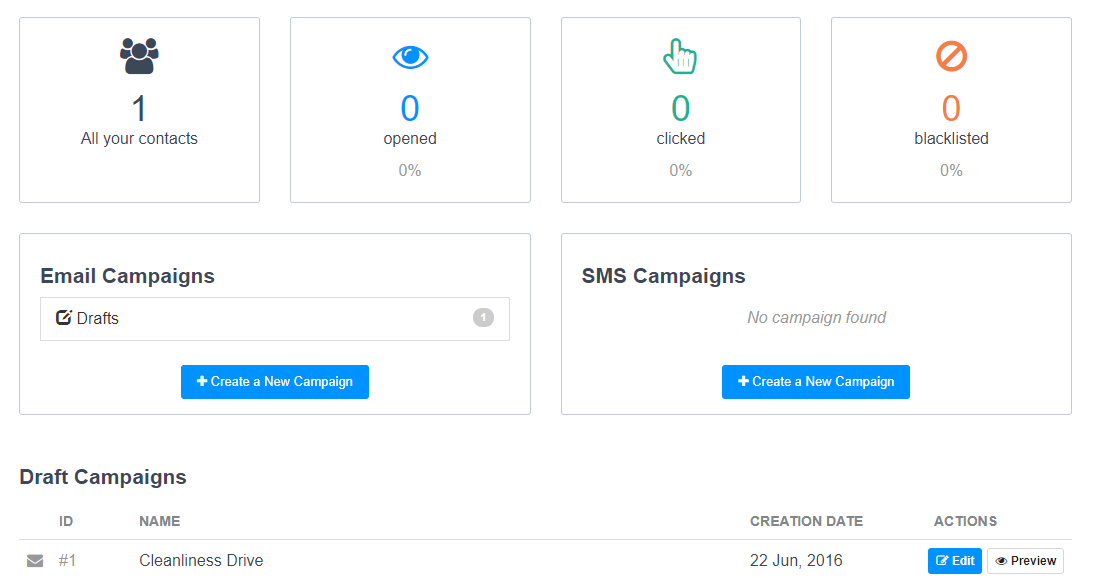 If you are looking for an email and SMS marketing software, Sendinblue provides the same. Based in Europe, this marketing platform has observed rapid growth in a short time. With its easy to use drag and drop feature, even an amateur can create engaging and eye-catching emails.
It employs a beginner-friendly approach. This approach allows the beginners to send in engaging emails, design workflows, easily segment the users, send bulk emails on a specified time for better deliverability, and more.
Although this tool allows a free plan of 300 emails per day, again, you will not be getting rid of its watermark. Sendinblue's monthly paid plan starts from $25/mo and you may also opt-in for SMS services based on your requirements.
Just like Mailchimp, they also tried to game up their business by adding on advanced features. Accordingly, they worked on providing live chat support, CRM features, landing page builder, etc. Along with it, they offer a separate plugin for sending bulk emails via their SMTP that help in sending automated emails from your WordPress site.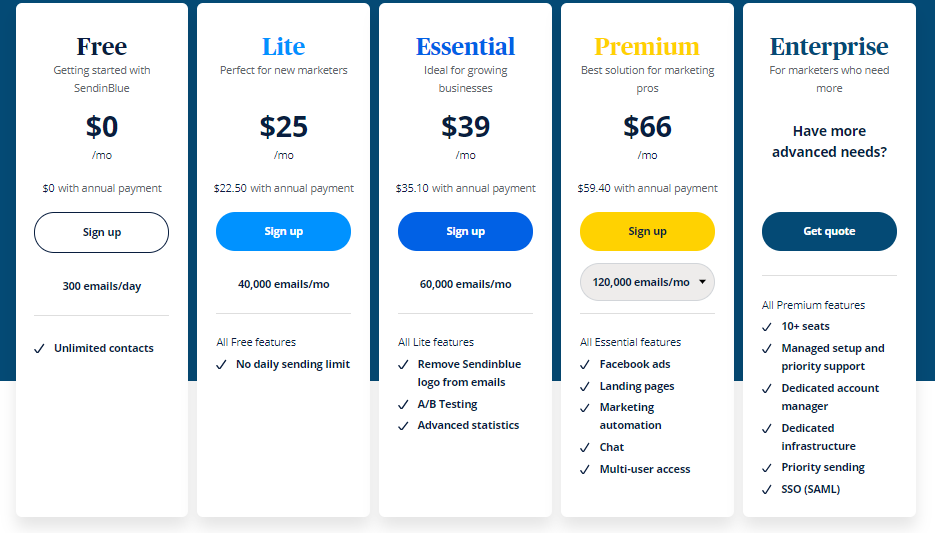 Recommended if:
You plan to send a one-on-one campaign along with SMS. It works well for trigger-based emails or transactional ones and track them to see if they have been successfully delivered, opened, clicked on, etc.. Its automation workflow editor equips you to build unique campaigns.
If you are an eCommerce business, on a tight budget and don't want to miss out on advanced features of bulk email marketing. This SendInBlue Review guides you with tutorials to get started.
Not Recommended if:
You want more number of login and access options. It can only happen if you buy a premium or enterprise plan.
You want an easy account setup. It's quite time-taking and a tedious job.
5. Pabbly Email Marketing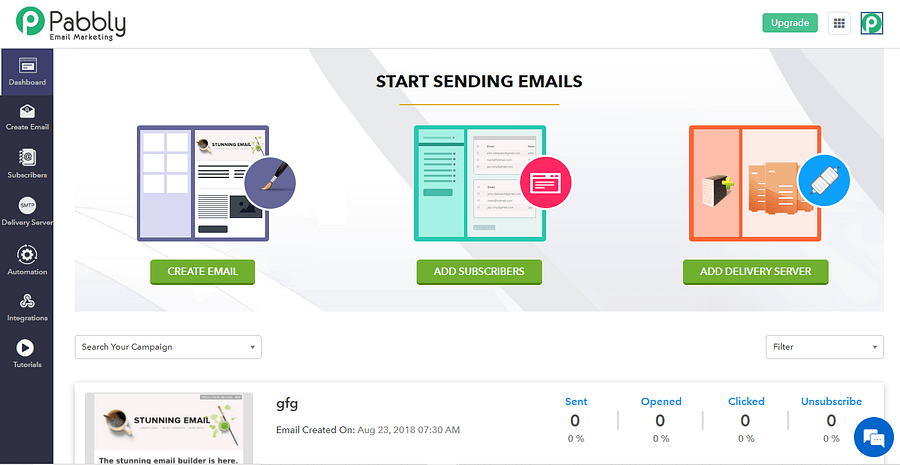 Pabbly Email Marketing is another affordable email marketing service for both small & large businesses. This is the only bulk email marketing service that is allowing the use of every feature even in its basic plan.
It has many remarkable SMTP features such as in-built SMTP, external SMTPs & SMTP routing. We'll hardly find any service providing these features. Also, using multiple SMTPs can help you improve your email deliverability.
Nowadays, automation is almost everywhere and good marketing automation software is all you need to engage your customers. Well, Pabbly Email Marketing can help you bring automation in your email campaigns as well as the autoresponder option will also ease your work in a very time-saving way. As the interface is very easy to use and you can apply complex logic very easily.
There are many more features but let's just discuss some of the best such as MX cleaner that can help you remove bad email from your lists that can cause bounce. Also, the subscription forms will help you collect leads very easily.
Pabbly Email Marketing offers the basic plan of $24/month for 5000 subscribers and these are 2 more plans for higher subscriber counts. Also, it has a free plan that'll help you explore the service.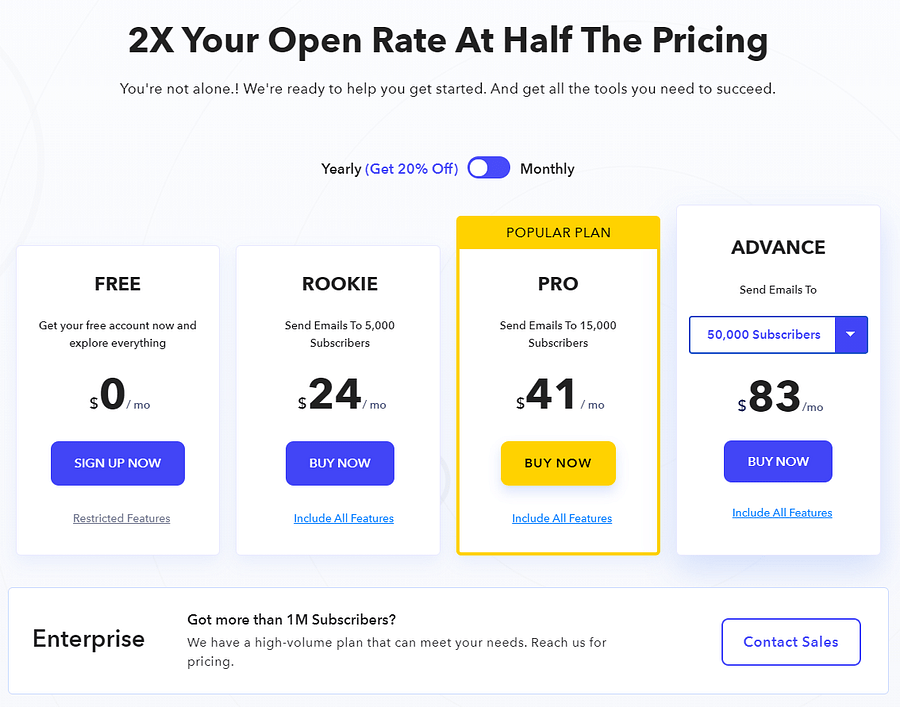 Recommended if:
You want an affordable bulk email marketing platform for your campaigns.
If you want clear campaign performance reporting.
If your emails are not landing in customers inbox and you want to boost your deliverability.
You want to integrate your marketing campaigns with other premium apps too.
Not Recommended if:
If you want to send emails beyond the daily limit via inbuilt SMTP only.
6. ActiveCampaign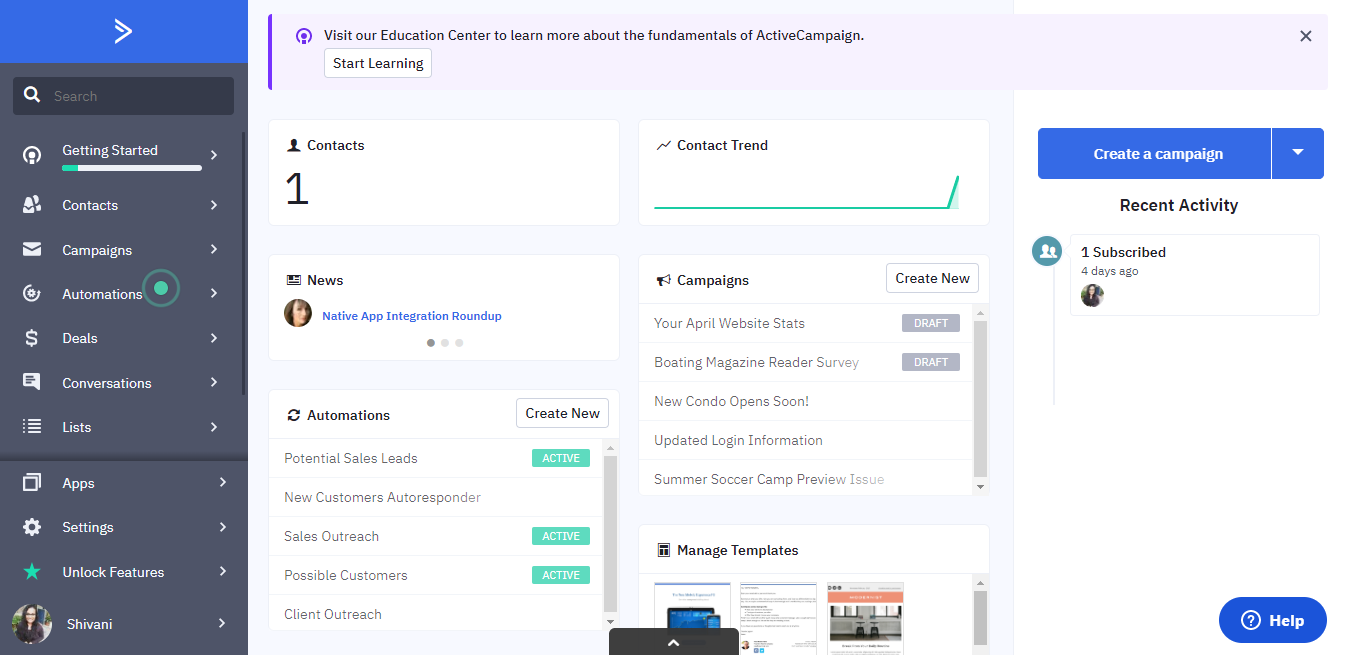 If you are searching for an all-in-one CRM platform along with an automated email marketing system, then this might be the one for you. They provide decent automation features, options for integration with other providers, reports, and analysis for sales through the emails sent.
You will get to send unlimited emails with each plan according to the number of contacts available. ActiveCampaign's pricing starts from $9/mo and the Lite plan costs $49 per month.
If you have a contact list of 10,000 then it will cost you between $111 to $399 per month. As the price hikes up, you get access to a number of features like A/B testing, consistent support, and more.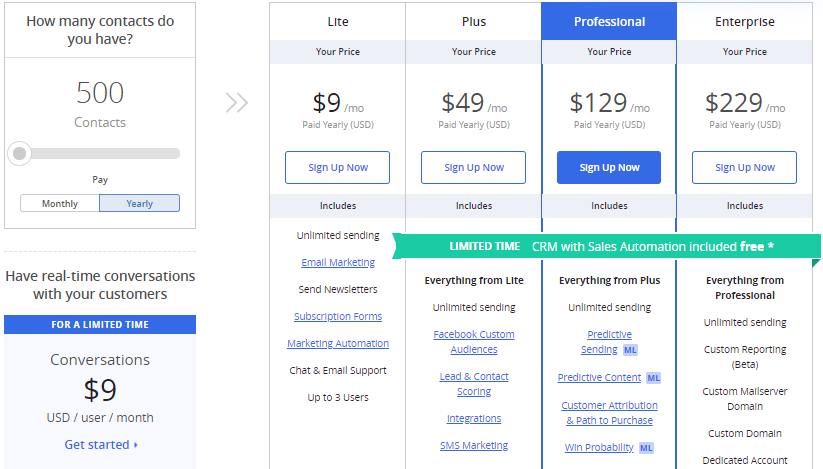 Recommended if:
You want to create advanced email sequences and need an integrated platform for sales purposes for your business.
You are into multi-channel marketing. ActiveCampaign is a plus if you were to manage the displayed ads on Facebook to your contact list. You can also send personalized emails SMS to the leads who visit your websites through ActiveCampaign.
Not Recommended if:
You are just a beginner in the email marketing field and want less maintenance for this tool is quite an advanced one. It may take a while to get used to the features of this tool.
You want to keep it simple. If you need a tool for just a basic automation sequence email, you may want to go for an alternative
---
Wrapping Up
In the table below we have compared the top 5 bulk email tools with respect t0 pricing at different list sizes. All price comparisons are for the lowest tier plan wherever the pricing is influenced by features provided.
| | | | |
| --- | --- | --- | --- |
| Bulk Email Tools | Upto 1,000 subscribers | Upto 10,000 subscribers | Upto 50,000 subscribers |
| SendX | $7.49/mo | $39.99/mo | $172.49/mo |
| MailerLite | $10/mo | $50/mo | $210/mo |
| Mailchimp | $51/mo | $100/mo | $305/mo |
| Sendinblue | $25/mo for 100K emails | - | - |
| Pabbly Email Marketing | - | - | $99/mo |
| Active Campaign | $25/mo | $125/mo | $275/mo |
As you can see SendX is the cheapest for all list sizes. Mailchimp is the most expensive. Sendinblue will cost $25/mo for 100K contacts and is not influenced by the number of subscribers you have. The difficult part is that you will pay $25/mo whether you send 1000 emails of 100K emails.
After this detailed discussion about the bulk email tools, you might have got an idea for which one to go for. You may hop on each tool and sign up for free, watch demos, and take free trials for better understanding.
Each of the above mentioned tools have their pros and cons. Therefore, choose the tool that fits well with your business needs. For instance, if you are a beginner go with MailerLite and not ActiveCampaign, or if you are tight on budget then you might want to avoid Mailchimp and check out SendX.
Visit SendX now and get a 14-day free trial. It is trusted by 3000+ companies all across the globe.
FAQ's
1. What is bulk email marketing?
Bulk email marketing refers to the practice of sending a large volume of promotional or informational emails to a wide audience simultaneously.
2. Which bulk email tool is best for my business?
You need to choose the bulk email tool that fits well with your business needs. For instance, if you are a beginner you might want to go with MailerLite. And if you are tight on budget then you might want to check out SendX.