MailerLite Pricing – Know their Plans, Subscribers, and Discounts [2023]
6 min read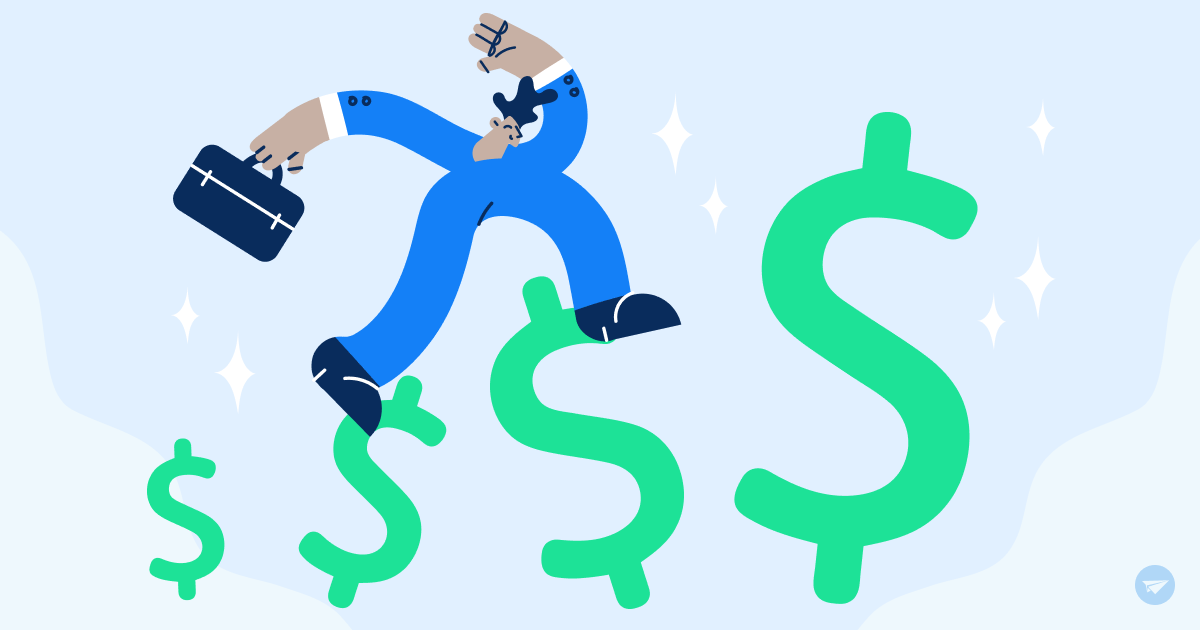 I don't know who birthed this idea.

This idea of designing complex pricing models for email marketing software.

Rather than getting frustrated & saying words that babies shouldn't hear, let's read about one tool that actually has a straightforward pricing model.
MailerLite - A simple, affordable email marketing software.

But is there a catch in MailerLite's pricing? Let's see.

This guide is not a copy-paste of what is described on MailerLite's official pricing page but a drill down on terms, actual billing models and payment systems.
A Snapshot of MailerLite's Pricing and Features
Here's a snapshot of MailerLite's pricing and features for you.
Cost of 'x' Contacts
(per month)
Premium Plan
Free Plan
1000
$10
Free
2500
$15
N/A
5000
$30
N/A
10000
$50
N/A
15000
$75
N/A
20000
$100
N/A
50000
$120
N/A
Features
Premium Plan
Free Plan
A/B Testing
Y
N
Abandoned Cart emails
N
N
Auto Resend
Y
N
Chat Support
Y
N
Customizable favicon
Y
N
Click Maps
Y
N
Create templates
Y
N
Custom HTML Editor
Y
N
Charges for Unsubscribers
Y
N/A
Dedicated IP
$50
N
Discounts
30% on the annual subscription plan.
30% for non-profits.
3 months free for organizations responding to COVID-19.
N/A
Email Automation
Y
Y
Email Campaign Reports
Y
Y
Email Support
Y
Y
MailerLite Logo
N
Y
Monthly limit of sending emails
Unlimited
12000
Multi-user accounts
Y
Y
Newsletter Templates
Y
N
Opens by Location
Y
N
Refunds
Y
N/A
Refunds
Y
N/A
Segmentation
Y
Y
Surveys
Y
Y
Time Zone Delivery
Y
N
Unlimited domains
Y
N
Next, we will further explore its pricing and features in the coming sections. But first, here's a quick summary of MailerLite's pricing.
A Quick Summary of MailerLite Pricing
MailerLite offers a fairly simple choice in terms of pricing: You have a free plan for up to 1000 subscribers and you can send up to 12000 emails/month, and there is a paid plan starting at $10 per month for 1000 subscribers. Plus, you get all the features, including unlimited emails per month, regardless of the number subscribers you have. And what's more: the cost per subscriber decreases as your list grows.
Just 2 ways to go (Simple!).
Free - Up to 1k subscribers and you can send up to 12k emails/ months
Paid - Starts at $10 every month for 1000 subscribers.

You get all the features, including Unlimited emails per month no matter how many subscribers you have.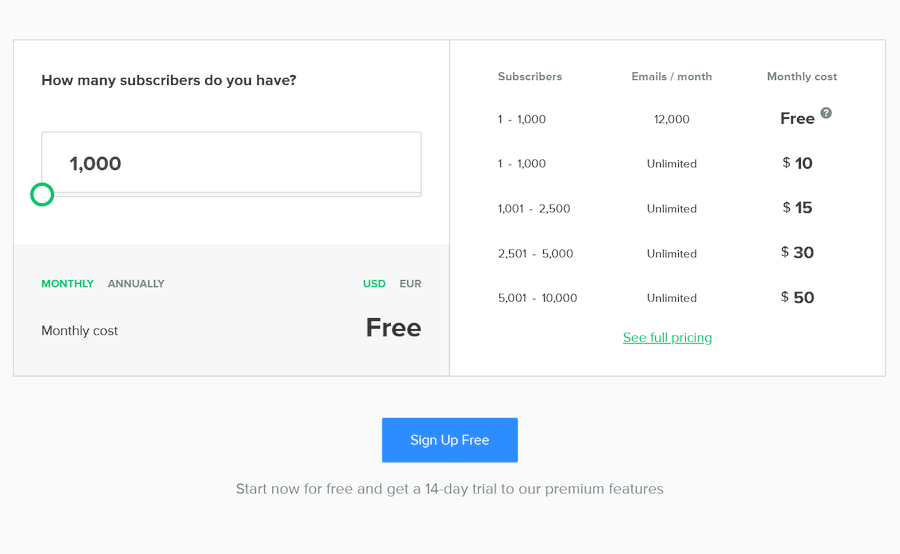 Here's how the cost per subscriber goes down as your list grows.

For example, a list of 10k costs $50/month so the cost is $0.005/subscriber. If you have 1K subscribers, you will pay $10/mo so the cost will be $0.01/subscriber. And I asked my 5th standard niece, 0.005<0.01.

I know, you are 'TL; DR' but stay longer and let's all find out more.
MailerLite's Free plan vs Paid plan: Which is Better?
It truly depends on a few factors as described here.
If you have less than 1000 subscribers you can choose between free and paid plans. If you want to send unlimited emails, then you will have to choose a paid plan of $10/month.

If you have more than 1000 subscribers, you have no choice but to choose a paid plan. The cheapest paid plan is $15 and comes with unlimited emails.

The pricing increases as the number of Unique used subscribers increase (explained in the next section), but features remain the same.
But unlike in a Piad plan, in a Free plan, you will have the MailerLite logo at the bottom of all emails.
More details follow...
How is MailerLite's Free Plan?
Free plan, as the name suggests is $0 plan if you have 1-1000 subscribers and you will send only 12000 emails/month. That means, a maximum of 12 emails per subscriber for the 1000 user list.
In the MailerLite free plan, you can access features like email automation, some reports, and a landing page editor.
And you will also get the MailerLite logo at the bottom of all emails. So if you want clear branding, you will have to go to a paid plan.

And it doesn't have these features:
Custom HTML editor
Email templates
Custom landing page domains
Auto-resending
Time zone based delivery
Email click maps
Reporting based on location
Live chat support.
How is MailerLite's Paid Plan?
Every paid plan of MailerLite, under the MailerLite premium plans, comes with these additional features:
Both emails & live chat support, 24/7
Ability to code your own newsletters
Insights on email performance with access to heatmaps
Access to a library of newsletter templates
Ability to save your own templates
A/B testing
Is MailerLite Offering Bookmarks?
Now, do you remember how the seller at the bookstore sells you a bookmark after you buy a book? As you want a better experience of reading the book, you happily get the add-on and his cash register goes double ka-ching!

I am not distracted.
All this is leading to show you what add-on MailerLite has to offer. Smart strategy.

It offers 3 bookmarks.. add-ons:
MailerPro for $ 100/month

Add priority support by email or live chat.
A dedicated account manager who will help you in importing subscribers, creating email templates and GDPR-compliant web forms and analyzing metrics.
Dedicated IP for $50/month

To improve your deliverability by isolating your sending reputation. It's recommended if you are sending more than 50,000 emails per week.
SitesPro for $10/month

This lets you publish as many landing pages as you need to keep your business booming. This also gets you unlimited access to MailerLite's site-building features so you can build a better user experience.
How are Contacts Counted Against your MailerLite Plan's Limit? (Must Read Section)

The number of subscribers calculated for the purpose of billing involves counting unique subscribers used.

Let's understand that. It's a pause-tv-now-section.

Unique subscribers used are all unique email addresses that you've sent at least one email to in the past 30 days + any subscribers that were unsubscribed or bounced in the last 30 days.

These used subscribers are counted against your plan's limit.

This number is updated every day by counting the recipients you have used by sending them any email in the past 30 days.

That means, it doesn't matter whether the user is deleted, bounced or unsubscribed it remain in your Unique Subscribers Used list until 30 days after they have been deactivated.

But can you just delete those and remove any traces?
via GIPHY

You can't delete your subscribers like that. You have to wait for 30 days.

The moral of the story is - you pay for each subscriber that you send an email to for the next 30 days starting from the last day when you sent them an email.

Read again, it's different from what most email marketing platforms do.
What Happens If You Outgrow Your Subscribers' Limit in MailerLite?
You're not going to lose the money that you've already paid for your lower plan.

When you upgrade to a higher plan, MailerLite will calculate how much of your current plan you've already used, and then charge you the difference towards your new plan.
Does MailerLite Offer Any Discounts?
If you commit to the long term with an annual payment plan. Then you get 30% off.
And similar to SendX's 25% discount, if you're a non-profit organization you get a 30% off on all plans with Mailerlite.
Update: In response to the ongoing pandemic, Mailerlite is also offering 3 months free service for all governmental, educational and healthcare organizations responding to COVID-19.
What is MailerLite's Refund Policy?
Mailer offers a refund on annual plans, in case they terminate their service before the end of that year for which you've paid.
No refunds for any monthly plans as such.
I bet you are looking for an alternative to MailerLite
MailerLite is a great option to start when you want to grow your audience. No doubt it has good user experience and simplicity but you will have to spend some time and efforts creating emails from scratch if you use a free plan.

With a paid plan, if you have concerns with MailerLite pricing, features and confusing ways to add up your contacts, I would humbly suggest you look at SendX. And for you to make the best educated decision, here's a quick reference comparing SendX with MailerLite.

SendX is intuitive, feature-rich. And it's one of the most affordable tools in the email marketing industry.

And it includes more features like advanced segments. You get email templates so you save time. Your total bill looks simpler so your finances won't be mad at you.

It offers a 14-day free trial without needing your credit card details. Don't miss out on this one.

Please note: We make our best effort to keep the pricing information updated but in case it changes, don't be mad. But let's exchange that information for free virtual cookies from us. Pretty please?
FAQ's
1. Does MailerLite have a free plan?
Yes. MailerLite's free plan offers 12000 monthly emails, for 1 user, for upto 1000 subscribers.
2. How much does MailerLite cost?
MailerLite's pricing for paid plans starts at $9, for which you get to send unlimited emails, for upto 3 users, for upto 500 subscribers.
3. What if I am looking for an alternative to MailerLite?
If you are looking for an affordable alternative to MailerLite, SendX is intuitive, feature-rich, and it includes more features like advanced segments. You get email templates so you save time. SendX offers a 14-day free trial without needing your credit card details.