Email Marketing vs. Marketing Automation: Explained
6 min read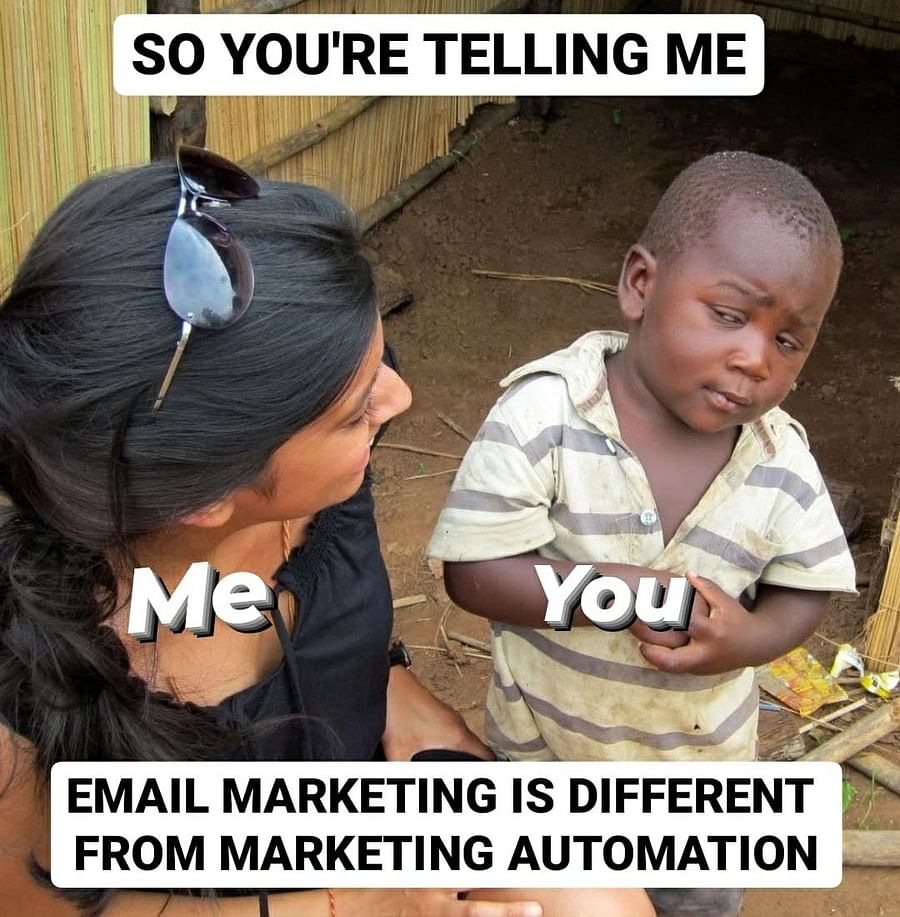 YES, Email Marketing is different from Marketing Automation. I understand that the difference can be overwhelming at times. But believe me, it's important for you to know how and where they differ. To ensure that you pick the one that fits into your marketing plans better.
Hang on with me till the end, and I'm sure you will never confuse the two terms again.
Table of Contents
What is Email Marketing?
Email Marketing is basically sending emails to a bunch of people who have signed up for your email list. The email list can have any number of subscribers from 10 to 100k and even more! Emails that a business usually sends are important business updates, coupons, sales, new product launches, newsletters, etc. These emails can be sent both manually and automatically.
Using features like segmentation, tags, fields, etc., you can divide contacts into different segments. And send specific emails to specific segments only. Likewise, you can use dynamic email marketing to send personalised emails to your contacts.
So, no automation?
Actually, there is… You can use Email Marketing Automation to automate certain tasks. For instance, you can set up automation rules which would be triggered by certain events and it will in turn lead to some other event. For example, if a user abandons her cart, send her an abandoned cart email.
Or you can set up a drip sequence, which is a series of triggered automated emails, sent on a predefined schedule, to particular contacts. For example, when a new user subscribes, sending her 2-3 emails to welcome her could be one sequence.
With SendX, you can even automate the process of segmentation and tagging, so you have one less thing to worry about. For example, if Jane clicked the Cycling Shorts link in email then the ''interested in Cycling Shorts" tag would be associated with her.
Simply put, Email Marketing Automation works on "If This, Then That" rules which are specified by you.
That's it? Is that Marketing Automation? NO! That is Email Marketing Automation. Which basically means email marketing served with a dash of automation. Let that sink in!
When is Email Marketing the Right Choice?
Generally email marketing is fit for businesses across all industries and content creators. A few examples could be:
A small business who needs to send out important updates, announcements, coupons, etc.
A blogger who needs to send blogs
An ecommerce business who needs to send drip sequences, transactional emails, product recommendations, etc.
A nonprofit business who needs to organise events and conduct fundraisers
A creator who needs to send newsletters and welcome emails
To summarise, if you need to send emails, automate a couple of basic tasks like segmentation and tagging, welcome emails, etc and if you have a simple sales cycle (the complete process of selling a product), then Email Marketing, or Email Marketing Automation would be the right choice for you.
What is Marketing Automation?
While with Email Marketing you can only automate certain tasks like segmentation, drip sequences, etc, but with Marketing Automation you automate your entire marketing process. With the right online marketing tools for marketing automation, there is literally no limit to what you can accomplish. Yes, it's that powerful! Businesses use marketing automation to not just make marketing efficient but also to make the content highly customised for the users.
Let's take a very basic example here. I love reading books, fiction, nonfiction, anything works. But I work from home and check my social media obsessively. So I always exceed my screen time. Ok I'm not proud about it! But I can't compromise on my reading, so I ordered the book I want to read from a friend's online bookstore.
After my order is successful, I get my payment receipt and the shipping status by email. In a day or two, I get another email with the details of the delivery partner and an option to make changes to my order. In a few days, I get another email which includes a bunch of other recommended books, similar to the ones I ordered.
Finally, I get my book shipped and just after that I receive a confirmation email where I'm also asked to rate and review my shopping experience. I'm extremely happy with the service so I obviously give 5 stars. Then in another 2 days, I get another email with lots of awesome book recommendations and personalised combo offers. I shamelessly give in, and order more books again! And the cycle repeats.
The moment I visited my friend's website and made an order, the only goal of her life was to make me buy more books than I can read. Just Kidding. Well, not really. So her goal really is to make me and everyone buy more books, but she's not the one actually doing all the work. It's the automation system!
My friend Ana chose Marketing Automation because the automation tool analysed my behavior and targeted me with what I'll be drawn towards buying more. This process of nurturing a customer or lead with the right content is at the root of Marketing Automation. Because imagine recommending cheesy romance novels to the person who only reads books about startups. Wasted effort!
When Should You Choose Marketing Automation?
Marketing Automation is generally right for businesses that are past the email marketing automation stage. And need a slightly more advanced approach towards their marketing with increased capabilities of lead targeting and personalization. This works better if you have a bigger and more resourceful marketing department.
While Marketing Automation is adopted by businesses across industries, it can be particularly useful for B2B companies. Because the sales cycles are usually longer and you need more refined strategies for tracking the leads.
B2C companies like car sellers, for example, would have a longer sales cycle and would require a great deal of lead nurturing and personalization. But, say a bookstore owner, would have a shorter sales cycle.
Ultimately, it all boils down to three questions that you have to ask yourself:
What is the level at which the marketing of my business currently operates?
What are the resources I have to tackle these needs (for example, the capacity of your marketing and sales team)?
What is my budget?
And that's it! Once you have the answers to all the three questions, you will know exactly what your business needs.
A Combination of Email Marketing and Marketing Automation
Both Email Marketing and Marketing Automation have their respective use cases. But they are not just limited to those cases only. The two concepts can be combined to create an even stronger marketing strategy. Let's take an example to see how.
Jane is a big shopper. She visited your online sustainable clothing store because you care about the environment and so does Jane. She added a couple of dresses on the cart and then bought two of them. You think it will be nice of you to welcome her to the family via an email, so you shoot one in her inbox.
Later, you send her the order summary and a link to track the status. Then you show her some ads on her Instagram to remind her to buy some eco-friendly dresses. Next you send her a newsletter which informs her how fast fashion is contributing to climate change.
She decides to buy some more dresses as she has a wedding to attend. You help her out by showing some recommendations based on her previous activity on the website. It's Jane's birthday, so you send her an email with a big discount offer and she takes it. You tag her into the "big customer" segment.
You have new arrivals coming up, so you send her an email to inform her. She buys more dresses. You love her, she loves you. That's the power of a combined marketing system, it spreads love everywhere. And don't worry, I will tell you exactly where to go in order to get the best out of your marketing.
Conclusion
All hail me, as I come bearing good news! How would you feel about a one stop destination for all your marketing needs? I'd jump at the opportunity and so will you.
The brilliant team at SendX has created a platform to offer you precisely what you need to get the best out of your marketing. Whether you are a B2B company, B2C company or a content creator, SendX would be the right fit for you.
Just started out with marketing? Need help with advanced marketing features? SendX's awesome customer support is available 24X7 to help you out. The most likeable part, however, is that you can get started with just $7.49 per month.
You can even take up the 14-day trial if you are not quite sure about committing to one platform yet. Ok I see you are worrying about the credit card issues. Don't, because with SendX you can sign up without a credit card!
Go check it out for a hasslefree experience with the best of email marketing and automation features.
Go check it out!
FAQs


1. What is marketing automation?
Marketing automation is the utilization of software such that monotonous marketing tasks are automated and do not need human action, without losing the personal touch. It helps marketers save time so that they can concentrate on other complex tasks and improve their effectiveness.
2. How does email marketing compare with marketing automation?
With Email Marketing you can automate quite a few tasks, like segmentation, email personalization, drip sequences, etc. But marketing automation enables you to automate your entire marketing process.
3. For whom is marketing automation suitable?
Marketing Automation is suitable for businesses that are past the email marketing automation stage, and need a more advanced approach towards their marketing with increased capabilities of lead targeting and personalization.
4. When should I choose marketing automation?
When to choose marketing automation depends largely on the following three factors:
The level at which the marketing of your business currently operates
The resources you have to tackle these needs
Your marketing budget