How to Make Money with Email Marketing
6 min read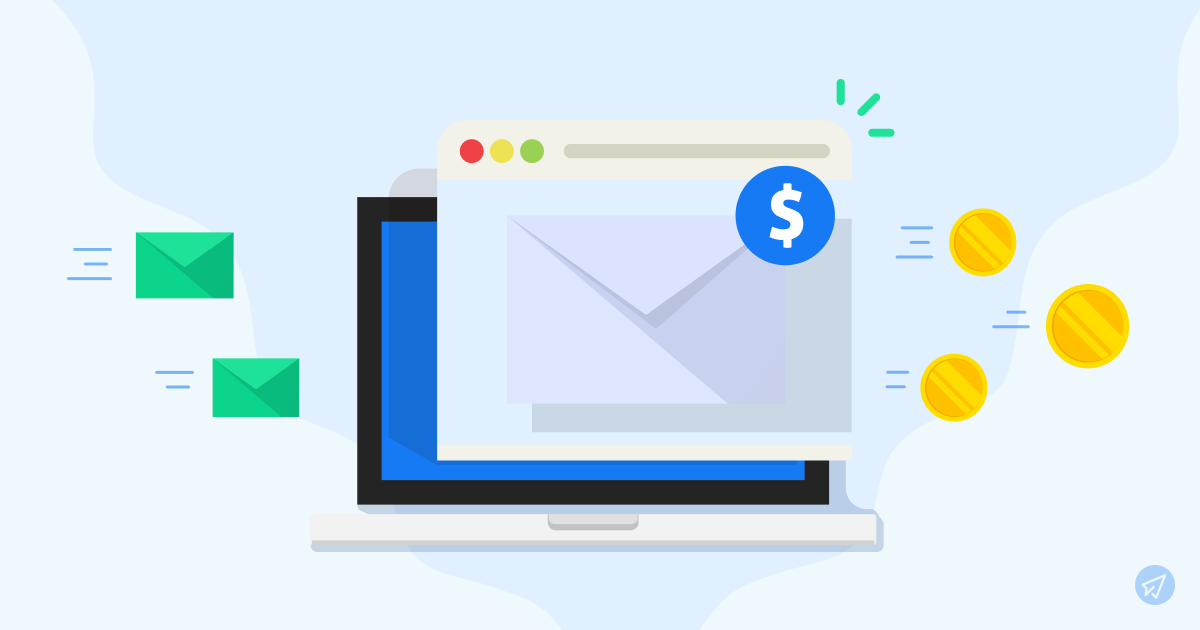 Did you know that there are 4.26 billion email users worldwide? That's almost double the number of people on Facebook and triple the number of Instagram profiles. Who would have thought that something as simple as an email address could be so far-reaching and powerful?
With such a large pool of potential customers, it's no surprise that email marketing is one of the best ways to make money online. Are you trying to learn more about how to use it to your advantage? Keep reading to find out.
Top 10 Proven Ways to Monetize Email Marketing
Since email campaigns have proven to have great conversion rate when it comes to turning leads into customers, it's no surprise that businesses are making money in copious amounts. In fact, the way consumers interact with them has changed over the years, with more people now open to clicking through and making purchases. Here's what you need to know and some ideas on how to make money with email marketing.
1. Outline Your Marketing Goals
Before you start drafting your first email, it's important to have a clear idea of what you want to achieve. You should base your email marketing incentive on your business' wide-ranging goals and KPIs.
Think of it this way: do you want to boost sales in your online business? Maybe find new email subscribers for a product or service you're offering? Or even just promote traffic to your website? These are vital questions to answer as they'll help you determine the focus and overall tone of your email marketing campaign.
The more specific your goal, the easier it'll be to see if your email marketing campaign was successful. Once you've got a good idea of what you're aiming for, you can move on to the next step.

Source
2. Decide Your Products and Services
Speaking of the next steps in your email campaign, you can't move on without first deciding what products or services you're actually going to promote. And sure, no one's psychic: you can't know exactly what someone wants to buy or which industry has a shortage of leads, but you can get an idea by evaluating your resources and online business strategies.
This involves evaluating what products and services you have to offer and who would be most interested in them. How would they benefit from what you're offering? What needs do they have that your products or services could fill? Once you've considered this, you can start to put together an email list of potential leads for your marketing campaign.
3. Map Out Your Targeted Marketing List
Seeing as your target audience is the main way to earn money with email marketing, it's important to get this right. This includes segmenting your email list into manageable groups and adding relevant content for each group.
This allows you to personalize each email so that it appeals more to the reader, which in turn increases the chances of them taking a peek at what you're selling. And as we all know, the more eyeballs on your product, the better chance you have to make money.
4. Cross-Sell Related Items
Chances are, if someone's interested in one product or service in a certain industry, they'll be interested in others too. This is where cross-selling comes into play: it gives you the opportunity to boost sales by promoting related items to subscribers who have already visited your site or inquired about your services.
When you're putting together your email list, make sure to include subscribers who have shown an interest in affiliate products. For example, say you're promoting a skincare line for men. In your campaign, you could cross-sell related items like beard oil or shampoo. If someone wants to look good, they'll likely be interested in other products that'll help them achieve that goal.
If you intend to use email to stay in touch with existing customers, you can build your email list by importing your existing customers' information from CRM software to your preferred email marketing tool.
5. Promote Brand Awareness
If you want to make money with email marketing, then building a recognizable brand that people can trust is essential. After all, no one's going to hand over their hard-earned cash to a company they've never heard of before. According to studies, 64% of customers believe that a good reputation can motivate them to try some product, but trusting the company is essential for becoming its loyal customer.
The last time you bought something online you probably went with a brand that you already knew and relied on. This is the kind of brand awareness and loyalty you should be aiming for with marketing campaigns. Once you've established a good rapport with your email subscribers, you're more likely to make a sale.
To do this, focus on creating an email campaign that's consistent with your brand identity. This includes using the same logo, colors and overall design in each interaction. This will help create a cohesive look that your subscribers will begin to associate with your brand.
Source
6. Create an Engaging Email
Apart from the visual aspects of email campaigns, the actual content is what's going to engage your subscribers and turn them into keen shoppers. So, how do you write an email that's both informative and interesting?
To start, focus on creating a catchy subject line that'll make people want to open your email. The so-called marketing hook should be attention-grabbing and make use of keywords that are relevant to your product or service. You understand their struggle and can offer a solution.
Your email copy should be clear and to the point, without sounding too sales-y. Use simple language that's easy to understand, and get straight to the point. People are more likely to interact with an email that cuts to the chase, rather than one that's full of fluff.
7. Include a Call to Action
Once you've piqued their interest and given them a taste of what you have to offer, it's time to include a call to action. This is where you tell your email subscribers what they need to do next, whether it's visiting your website, signing up for a free trial or making a purchase.
Your CTA should be clear and concise, with a strong sense of urgency. You should make it simple and easy for potential customers to take the next step by including links that lead them directly to your landing page or social media accounts. Ensure they're fully operational and optimized at the time of sending too - you don't want your subscribers to get frustrated and give up because they can't click through.
8. Play a Psychology Game
When it comes to making money with email marketing, playing on people's psychology can be an effective tactic. While full-on manipulating people into visiting your online business isn't entirely ethical, there are certain psychological triggers you can use to nudge them in the right direction.
One such trigger is the fear of missing out, also known as FOMO. This is the feeling of anxiety that people get when they think they might miss out on a good opportunity; whether that's discounted affiliate products, early bird tickets to an event, or a limited edition item.
You can curate your content in a way that plays on people's FOMO. Urgent language and a sense of scarcity are key in email marketing; try phrases like "last chance" or "running out fast." Your email subscribers will be more likely to act if they feel like they have access to exclusive items.
9. Reward Your Clients
There's hardly anyone that doesn't love a good deal, which is why offering discounts, coupons and freebies are a great way to earn money with email marketing. Of course, you don't want to give away too much for free, but offering a small discount on your landing page or social media accounts is enough to incite action from your email list.
You could also try a loyalty program, where people can earn points every time they make a purchase. These points could then be redeemed for discounts or free items further down the line. This is an excellent way to increase your sales and build brand loyalty among your customers.
10. Encourage Subscribers to Spread the Word
Word of mouth travels fast, reaching an audience that's much wider than the one you initially targeted. So why not prompt your existing subscribers to share your email content with their friends and followers and do the marketing for you? It's a great way to get more eyes on your brand, without having to put in too much extra effort.
To do this, include share buttons in your template as this will make it easier for readers to share your content. You could also try using a refer-a-friend program to give subscribers an incentive to share your content. For every friend they refer, they could earn a discount or be entered into a prize draw.
Bonus Tip: Measure and Analyze Your Results
Tracking email analytics is key when it comes to making money online. You should be regularly monitoring your open rates, CTR as well as unsubscribe rates to get an idea of how well your email campaigns are performing.
You can then use this data to improve your marketing strategy going forward. If you see that a particular campaign isn't doing as well as you'd hoped, take some time to analyze it and see what went wrong and find a way to improve it.
On the other hand, if you see your email subscribers like a particular campaign, try to replicate that success in future emails. Use similar language, images and design elements to see if you can get the same effect.
To Sum Up
Email marketing is a convenient and influential way to make money online. With careful planning and execution, you can use it to achieve a range of marketing goals - from boosting brand awareness to increasing sales.