12 Inspiring Examples For Crypto Token Marketing Campaign
6 min read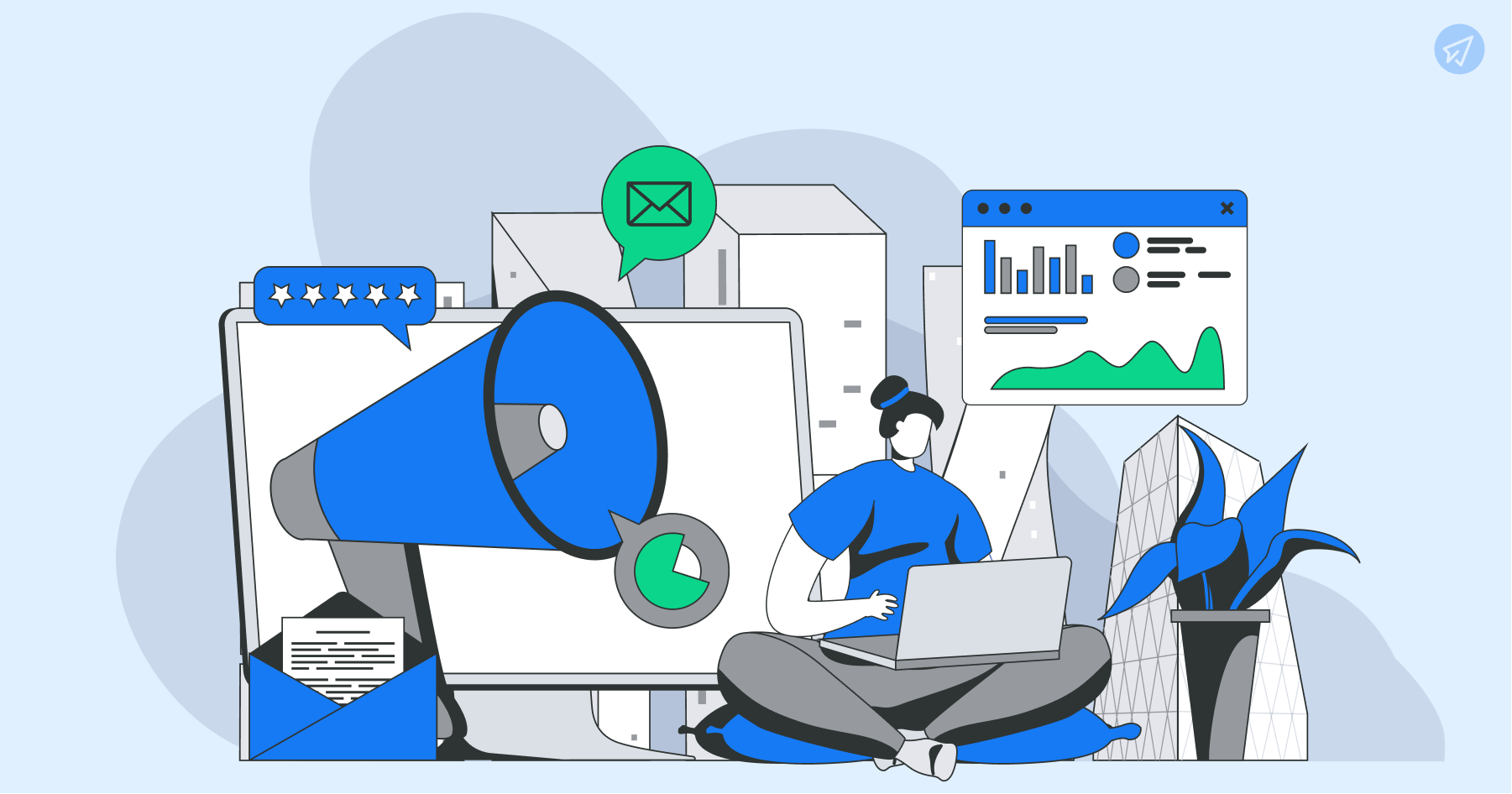 Despite crypto being the new buzzword, many people chicken out when taking action.
That's why marketing crypto products or services is entirely different from the traditional one, and you need a dedicated crypto marketing strategy for it. People aren't aware enough, and the products are too complex.
It's both bad news and good news.
You'll have to work harder to educate the audience, but you can capture a huge chunk of the market size if you manage to do so.
That's where a creative marketing campaign comes into play. But creative ideas can be hard to come by.
In this article, we have some inspiration for you to optimize your crypto marketing with creative campaigns that will keep you relevant, fresh, and trusted among your audience.
Table of Contents
Ideas For Crypto Marketing Campaigns
1. Coinbase Bytes
One popular and affordable way to reach out to your customers is through email marketing.
But what should you add to your emails that keep the readers engaged?
Here is Coinbase's weekly newsletter, which they call Coinbase Bytes.
Why does it work?
Engaging Outline: The newsletter isn't a long paragraph of white noise. It is creatively divided into subsections with attractive headlines. The various sections added are designed to keep the readers hooked with relevant and exciting news so that it has something for everyone.
Market updates with the latest happenings.
Number crunch for accurate analysis.
A trivia section for engaging the audience and improving the response rate
Use of different content formats like text, image, and audio. A link to a suitable podcast has been added in the 'Tune In' section.
A call-to-action button in each section with a clear and concise copy
2. Binance- The Tipping Point
At the end of 2020, Binance released its ad campaign titled 'The Tipping Point.'
The idea behind the campaign is simple and effective, where Binance has drawn a parallel between the social and the financial issues. It states that the world is at a tipping point for a change and so is the crypto space with the new developments.
Let's see why a campaign like this is essential for your crypto marketing strategy.
Video is the most popular method of holding the audience's attention. Realizing this, Binance has packed its message in a crisp 2-minute video.
Divide the video into three main sections- the problem, the solution, and the benefits.
Binance has tapped the ongoing social issues to make the cause relatable to their customers.
The narration uses pronouns like you, which makes it feel more personal.
It involved its real employees for an authentic look.
It included strong images for conveying the message effectively.
3. Monero- Explanatory Video
A thought-out marketing campaign that educates the audience is an investment for loyal customers. Monero strikes the right chord with its introduction video, aiming to spread awareness among crypto enthusiasts.
Here are the key takeaways:
The video is engaging with appealing visuals and clear narration.
The video begins with the issue of financial privacy, which is one of the major concerns of the target audience.
It has a clear message of empowering people with secure and private transactions. And how Monero can help with that.
The video is displayed on Monero's website, making it easily accessible for every visitor.
It also gives ample reasons for customers to trust them. Calling it stable and safer than bitcoin instills a sense of trust among the prospects.
Ends the video with the link to take action or learn more about Monero.
4. Pianity- Product Update
No matter how much sweat and tears you put into building your product, there isn't much point to it if the results don't reach your customers.
You can take inspiration from Pianity's email, which aims to keep the customers updated with the latest developments on the product.
Here are the key takeaways:
It's short, and the email's purpose is disclosed right away without beating around the bush. This avoids distraction and keeps the reader interested.
The two updates are clearly segregated for better messaging with images and where to spot the changes in the app.
The email has CTAs that will redirect the reader to the app directly to check the new features.
The links to social channels are given for the reader to engage on other platforms too.
5. eToro- HODL Campaign
eToro has taken the creative ad campaign to a whole new level. It has used the misspelled version of 'Hold' and spun off a viral video around it.
Here's their HODL campaign featuring Kristian Nairn.
Here are some key takeaways:
Share your message with humor to connect with the audience.
You can also use a known face to boost the reach of your ad.
Think differently to give an original twist to your content.
6. Changelly- Contests & Quizzes
Not everything has to be about your product or service. Sometimes, it's better to shift the focus to the customers and earn their loyalty.
Changelly allows the crypto exchange through a mobile app, and around Halloween, they launched this fun email campaign to their mailing list.
Here are the key takeaways:
Use interactive content like puzzles to keep the customers engaged.
Accompany the contests with some rewards to boost loyalty among your audience.
You can also add a time limit for submitting answers to create a sense of urgency.
Use CTAs that prompt the reader to take action quickly.
Enhance the look and feel of your email with appropriate colors and even emojis.
7. Ripple- Ad Campaign
You have already crossed a big marketing hurdle if you can convey your company mission so that even a 10-year-old can understand it. Because in the end, you want the general public to use your services, not just the industry experts.
With its 2020 ad campaign, Ripple mastered this art of simple yet effective communication.
The ad campaign is titled 'Got It' and aims to educate the audience about what they do and why.
Here are some key takeaways:
The video has linked their purpose with an emotional aspect to make them more human and relatable.
It used storytelling with visual representation to present the message powerfully.
The video is less than a minute, making it perfect for the generation with a shorter attention span.
Highlight the advantages of your business clearly to build trust among your audience.
8. PayPal- Crypto For People Campaign
PayPal released its Crypto For People campaign in 2020, which announced the crypto exchange launch on the platform.
Check the video titled Crypto with Paypal here.
Here are the key takeaways:
The short video has crisp messaging with the tagline 'Crypto for the people is here, ' making it memorable.
It has mentioned its unique selling points, clearly highlighting that you can even make a transaction of $1.
The video has a fantastic graphic that distinguishes it from the rest and makes it visually appealing.
It ends the video with a persuasive call to get started now.
9. Coinbase- Referral Campaign
Only a loyal customer base can help you survive today's stiff competition.
Let's see what inspiration we can take from Coinbase's referral campaign.
Here are some key takeaways:
Reward your customers for their loyalty and referrals.
Mention the complete steps of how they can avail the benefits.
Include prominent and multiple CTAs to get the results.
10. Blockchain.com- How to Videos
Another way to market your crypto product is through helpful DIY videos. Blockchain.com is a crypto wallet, and it has published a lot of videos educating its customers on how to make the most of its product.
Here is one such video talking about ensuring wallet safety for cryptocurrency.
Here are some key takeaways:
Despite being a knowledge transfer video, it's short and visually appealing to keep the audience hooked.
It details all the dos and don'ts one should consider for securing their wallet from any fraud activities.
The script is simple and easy to understand without any jargon.
Graphical representation adds comprehensibility to the explanation.
11. Coindesk- Crypto Explainer
Understanding the need of the hour, Coindesk has dedicated a whole section on its website to educate the audience about crypto technology. They have named it Crypto Explainer +.
Here are some key takeaways:
Coindesk has used a common term for its campaign that gives away the purpose straightaway to the audience. It sets the expectations clear.
It has divided the section into three categories- Beginner, Intermediate, and Expert. It offers value to the target audience at all awareness stages.
Creative concepts like flashcards and crash courses are added to educate the visitor.
The courses are less than 30 minutes, providing a quick download of the required information.
Adding such campaigns to your website ensures that the visitor sticks around for a longer time. This increases the chances of a potential purchase.
12. Brave New Coin- The Crypto Conversations
Brave New Coin (BNC) launched its podcast named The Crypto Conversations, which Andy Pickering hosts. It talks to key people and discusses the future of crypto, blockchain, and Bitcoin space, figuring out the evolving industry.
Here are the key takeaways:
Podcasts are growing popular among the new generation to consume on the go.
The show brings well-informed & established personalities to share insights on the chosen topics.
It's a great way to keep the audience updated with the latest news and build loyal followership for yourself.
The storytelling fashion of the conversation makes it an engaging form of content.
What's Next For Your Crypto Marketing Campaigns?
A product is incomplete without a supporting marketing strategy. It rings true, especially today with the cold competition and overflowing market.
A good marketing campaign can help you gain the trust of your customers and make your product successful. And it also works for those who are still apprehensive about the new changes in the crypto world.
Sharing accurate information is an investment that can give you manifold results in a short period of time. Even if the reader doesn't make a purchase, they'll still be an active prospect looking out for your subsequent communication because they have confidence in you.
Create campaigns with valuable information that your reader wishes to read. These examples will definitely help you with that. You can try Sendx to design appealing campaigns for your mailing list and use the analytics to improve your crypto marketing strategy.
And while you're doing this, don't miss out on hearing your customers' expectations and problems.
FAQ's
1. What is crypto marketing?
Promoting and selling products or services related to crypto business, such as an exchange, a wallet, a lending bank, a community, etc., is called crypto marketing.
2. Can you offer some crypto marketing strategies for business growth?
Here are seven crypto marketing strategies for business growth:
Content marketing
Email marketing
Community building
Crypto airdrops
Bounty campaigns
Referral programs
Social media platforms.
3. How can I design an effective crypto marketing strategy?
Here are six tips to design an effective crypto marketing strategy:
Know your target audience
Research your competitors
Create SMART marketing goals
Select your marketing channels
Engage customers with creative ideas
Track the performance of each initiative.