ConvertKit Pricing – Know about their Freemium Plan, and Paid Plans [2023]
5 min read
For many people, email marketing always ends up costing more than what they expected. Sometimes they pick the wrong plan or miss the hidden costs. Then they get surprised when the bills come in.
via GIPHY
Glad that you are here and want to do your research before your email marketing becomes a cash-burning machine. On that note, here's a bit more on how email marketing pricing is done.
To make sure you know exactly what your bills would look like with ConvertKit, let's take a walk you through everything that will affect your bill, and how much ConvertKit costs in detail.
ConvertKit's Pricing Plans Summary
Cost of 'x' Contacts
(per month)
Free
Creator / Creator Pro
1000
Free
$29
3000
N/A
$49
5000
N/A
$79
10000
N/A
$119
25000
N/A
$199
50000
N/A
$379
100000
N/A
$679
Cost of 'x' Contacts
(per month)
Free
Creator / Creator Pro
Automation
N
Y
Autoresponder
N
Y
Background spam testing
Y
Y
Designs
Y
Y
Email & Chat support
Y
Y
Email sending limit
Unlimited
Unlimited
Landing pages
Y
Y
Newsletter preview
Y
Y
Number of user accounts
1
1
Registration forms
Y
Y
Reports
N
Y
A Detailed View of ConvertKit's Pricing
This is the pricing on their official website & we get a high-level view from this: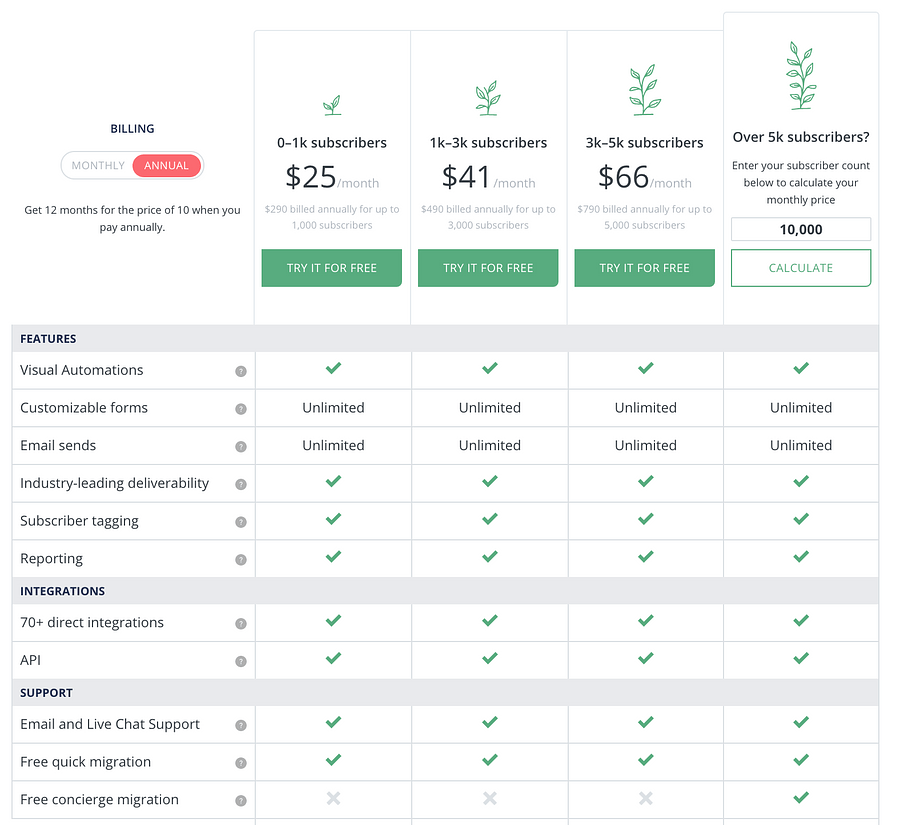 Pricing is based on the number of subscribers only.
You get all the features in all the plans.
The lowest price is $25/mo for 1K subscribers ($29/mo if you opt for monthly billing)
In a nutshell, all the ConvertKit paid plans offer almost all the features.
What is ConvertKit's Freemium plan?
They recently made a switch to being a Freemium platform.

What it means is that you can now have a free ConvertKit account and build unlimited landing pages or opt-in page to grow your subscriber list. You will be charged and asked to buy a plan only when you start sending emails to this list.

But when you move to one of their paid plans, they are not the cheapest when compared to options like SendX or ActiveCampaign.
Does ConvertKit Offer a Free Trial?
If you have over 5,000 email subscribers, you can schedule a demo with their sales team. They'll show you around the app and answer any questions.

If you are still not convinced, you can take the 14-day free trial and check out all the features. So after 14-days you can simply stop using the services or you can submit your credit card details and continue. They don't take your credit card details up front.
Do I Get All the Features in all of ConvertKit's Pricing Plans?
Yup, you get all the features in all the plans. Except for free concierge migration that's reserved for accounts with more than 10K subscribers.
Does ConvertKit charge for Unsubscribed & Duplicate Subscribers?
Does ConvertKit charge for Unsubscribed & Duplicate Subscribers?
No, unlike Mailchimp and some other services, ConvertKit doesn't charge you for unsubscribed & duplicate subscribers. Their pricing is subscriber-centric rather than list-centric.

Let's take a scenario to understand this better.

Suppose you have 3 lists:
Newsletter List with - 3300 subscribers (out of these 300 unsubscribed)
Product Link Click List = 1000 subscribers (already included in Newsletter List)
Customers List = 200 subscribers (already included in Newsletter & Product Link Click Lists)

So you will be charged based on 3000 subscribers. That means it won't count unsubscribed & duplicate subscribers for billing.
What Discounts Does ConvertKit Offer?
Convertkit offers a discount if you choose an annual payment plan. You basically pay the price of 10 months for a service of 12 months. 2 months of free service will help you save from $58 for 1K subscribers & up to $238 for 10K subscribers.
What Happens If You Outgrow Your Subscribers' Limit in ConvertKit?
First, you take a shot of tequila and celebrate.

Then you relax as your plan will be automatically upgraded to the next level. You don't have to monitor your account each hour and sweat about missing sending an email to a bunch of people, just because you didn't upgrade your plan.
How Does ConvertKit's Plan Upgrade or Downgrade Work?
ConvertKit charges for the billing period ahead.

That means when you pay your $29 monthly bill on January 1st, you're paying for up to 1,000 subscribers from January 1st to February 1st. If you upgrade or downgrade in that period, they'll pro-rate and apply the difference (positive or negative!) to your next monthly invoice.
If you clean up your list and downgrading will save you cost, it won't be done automatically. You will have to send them an email and they will downgrade your account tier, and pro-rate your next invoice accordingly.
Do I Pay Extra When Using Integrations with ConvertKit?
ConvertKit has about 90 integrations (e.g. Shopify, WooCommerce, SumoMe, ConvertPlug, etc.). You don't pay anything extra for any of these.
That's great!

But…

Some of the "integrations" they mention need to be set up manually by copying and pasting HTML code.
What is ConvertKit's Refund Policy?
It has a 30-day refund policy, so if you cancel, you can request any funds paid in the last 30 days to be refunded in full. The 30-day refund policy applies to all plans, including annual plans.
What Should You Do Now?
Know that ConvertKit is an email marketing service made for creators, artists, podcasters, and bloggers. It was started by Nathan Barry, a blogger himself.

If email templates and A/B testing are not your priorities right now and you are looking for clutter-free, easy to use email marketing software, ConvertKit is an option.

But yes, ConvertKit is expensive compared to other platforms. Some of them even provide more features at lesser prices.

Which ones, you ask?

You can checkout SendX here. Before you go, I have done some maths for you comparing ConvertKit and SendX, and I'm glad to let you know that SendX is 68% cheaper! It will cost you only $7.49/mo for 1K subscribers. You can send unlimited emails at this pricing. But the incredible part is, it includes more features like advanced segments and email templates at lower prices.
SendX Pricing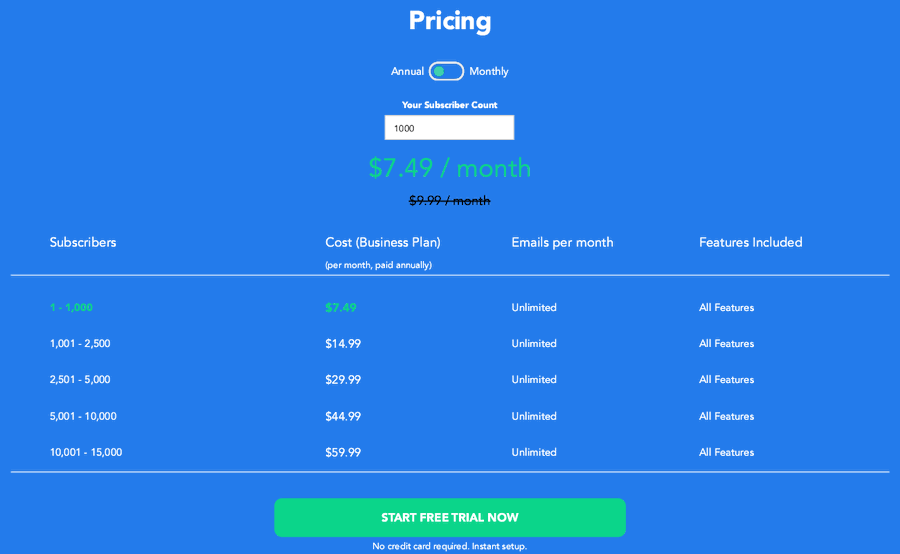 SendX sounds like the obvious option, but rather than listening to me, you should check it out for yourself. Take the 14-day free trial (no credit card required!) and let us know in the comments section if you have any questions.
Please note: We make our best effort to keep the pricing information updated but in case it changes, we can not be held accountable for anything mentioned above.
FAQs
1. Does ConvertKit have a free plan?
ConvertKit has a free forever plan with which you can manage up to 1000 subscribers. And you get unlimited landing pages, unlimited forms, and unlimited broadcasts.
2. How much does ConvertKit cost?
ConvertKit's paid plans start at $9 per month, for upto 300 subscribers. It includes everything in the free plan, plus automated email sequences, visual automation builders, and more.
3. What if I am looking for an alternative to ConvertKit?
If you are looking for an affordable alternative to MailerLite, we recommend SendX because it starts at $7.49 per month, and includes more features like advanced segments and email templates at lower prices.