Three Things you Need to Look for In an Email Drip Campaign Software
Before we give you a list of top 8 email drip campaign software, let me tell you three things you need to look for:
1. Email & Workflow Builder: To see how easy it is to create, schedule, and trigger your emails.
2. Reporting: To help you get data on key metrics that will guide your optimization efforts.
3. Pricing: To check if the pricing is based on the number of subscribers, emails you send, and which plan offers you drip email functionality.
To make it less overwhelming and save you the time of scheduling trials and demos with each tool, we have created this guide to give you a peek inside the top 8 email drip campaign software.
Let's read on to find out more.
‍Building Drips:When you are creating your drip campaign, on each screen of SendX, you will clearly know what action to take so it's very intuitive to use. Your drip campaign will be up and running in 4 simple steps.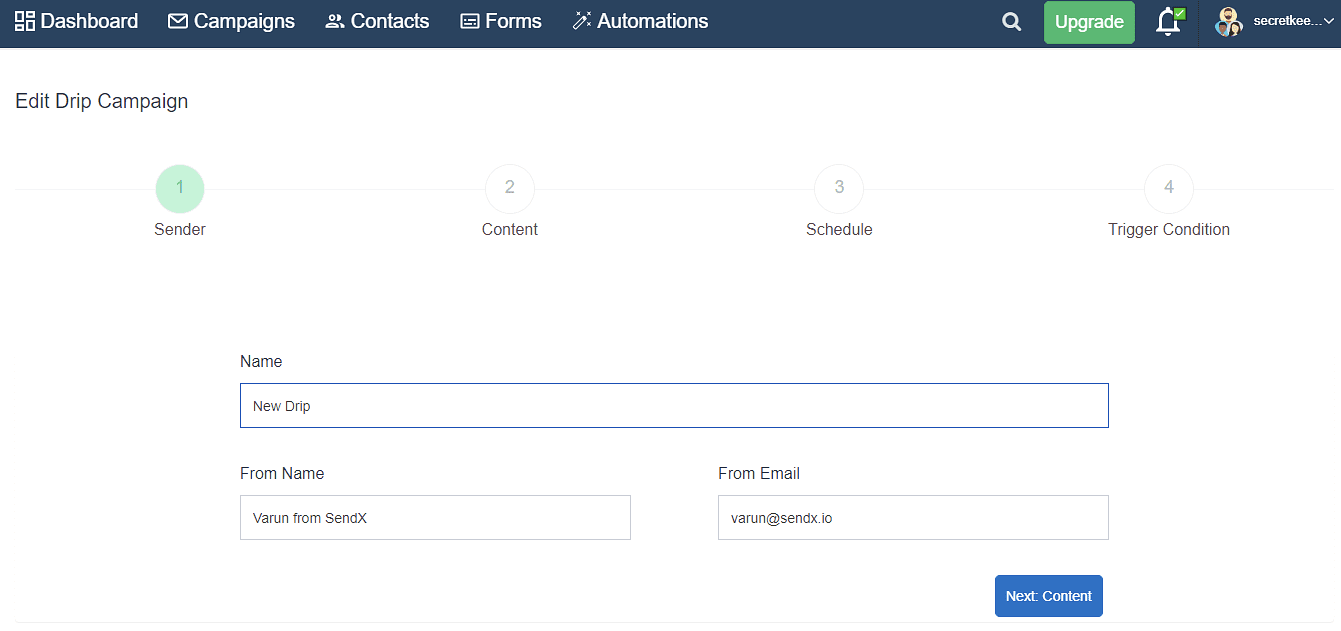 ‍
In the email editor, you can choose a pre-existing template, add custom fields, timer (to show scarcity), images, videos etc.
You can customize all your emails to look like an extension of your website/brand by editing the HTML code.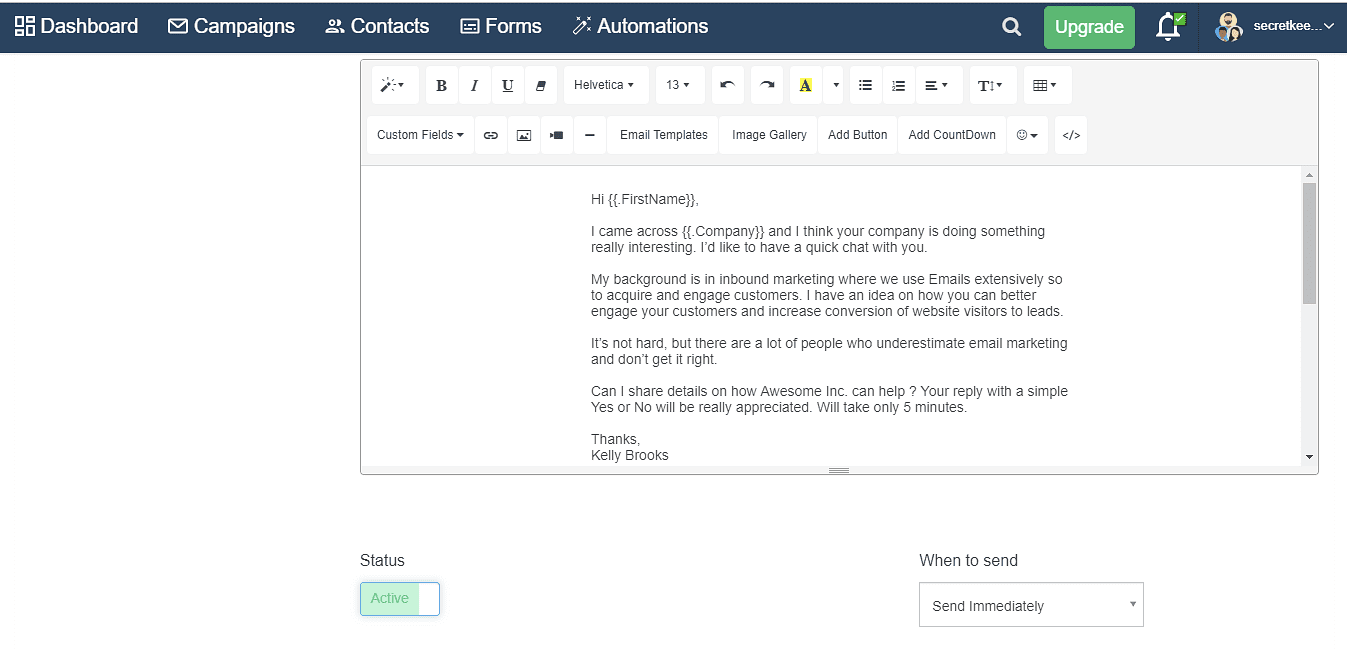 Some interesting features that SendX provides are:
Skip Weekends:
If you don't want to send emails on Saturday or Sunday, you can just check this option. No messy rules or manual intervention required.
‍Track Replies:
Check this box to track people who replied to any of the emails in the drip sequence.
‍Auto-generate UTM parameters:
This will automatically convert the links in your drip sequence to links with UTM parameters. This will help you track the website/page traffic coming from these campaigns. E.g. a link www.sendx.io can be converted to https://www.sendx.io?utm_source=sx&utm_medium=em&utm_campaign=wel&utm_term=hi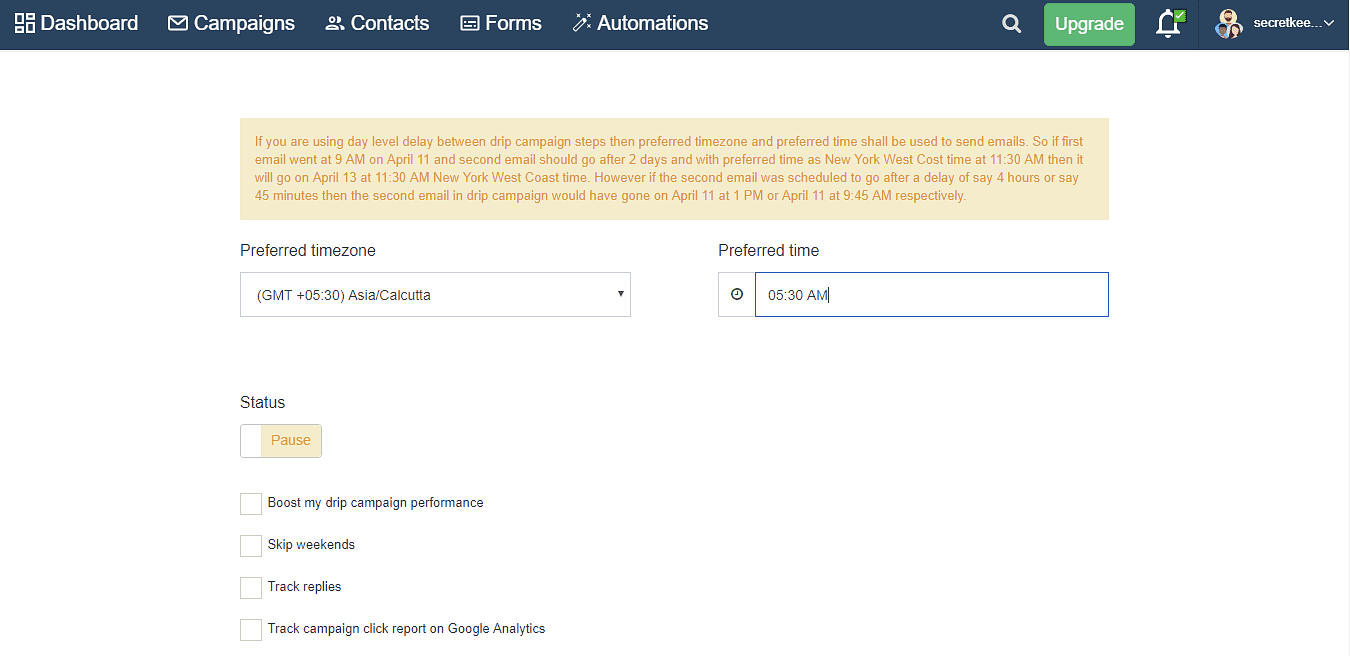 ‍Reporting:
You can optimize your emails further by analyzing data provided through intuitive dashboards and heatmaps.
Dashboards give you key metrics - open rate, click-through rate, unsubscribers - for the overall campaign as well as hourly performance.
Heatmaps give you data on which CTAs and links are people clicking the most so you can use these patterns across your campaigns and even broadcasts.

‍Pricing:
Unlike other email marketing software where drip emails, modern templates are behind high-priced plans, with SendX, you get access to everything even if you are on your free trial.
Even after the free trial ends, you can access all editor functionalities, templates, 24x7 customer support (through email) for as low as $7.49/mo.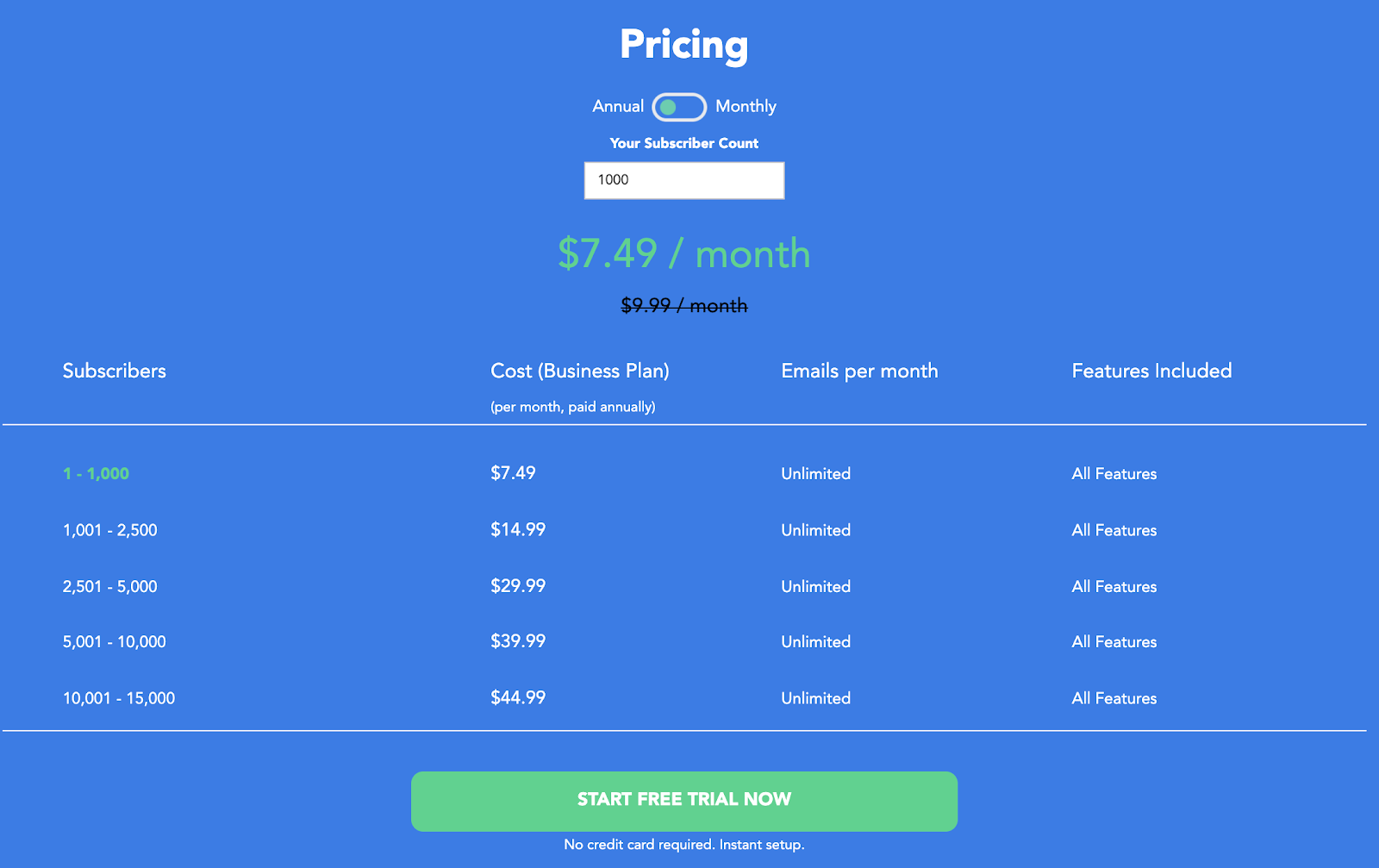 2. Customer.io
‍Building Drips:
Customer.io provides a visual workflow builder to create your drip sequence logic. It's easy to drag-and-drop different blocks. You can also combine different ways of sending messages (emails, SMS, and push notifications) to your users.
To create your emails you can choose from existing templates or start from scratch. If you start from scratch, you can use a drag-and-drop editor, rich text editor or HTML code.

They have a visual workflow builder that allows you to drag and drop components like emails, delays, conditional branching, segments etc., into the canvas to build your journey.
If you just want to send & track drip campaigns and don't care about all other email marketing features, then you can choose from these selected platforms:
‍Reporting:
You can see the metric related to each step of the workflow in the sequence builder itself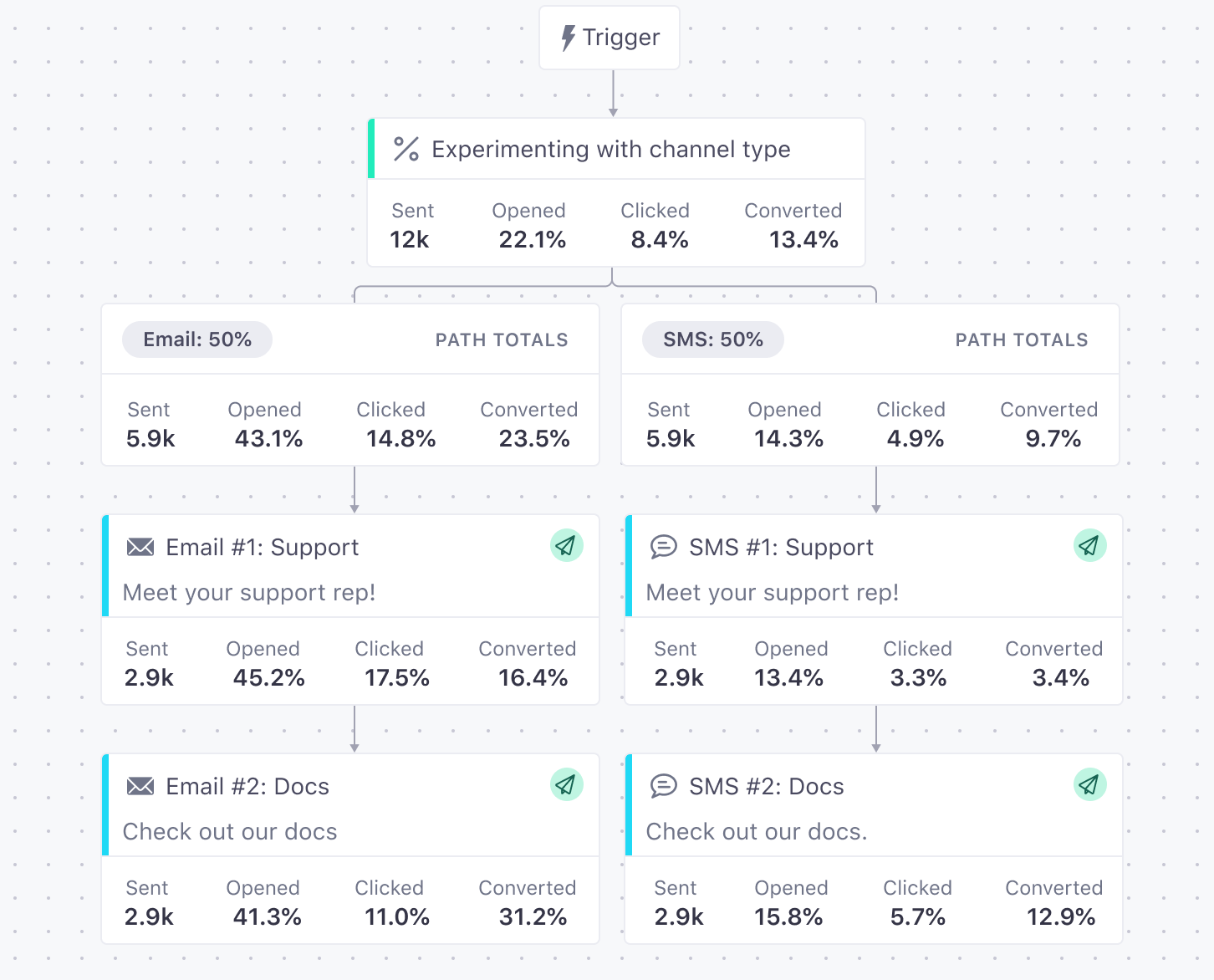 To see how people are moving through the campaign, which emails are working, and which ones need optimization, you can go through the journeys metric.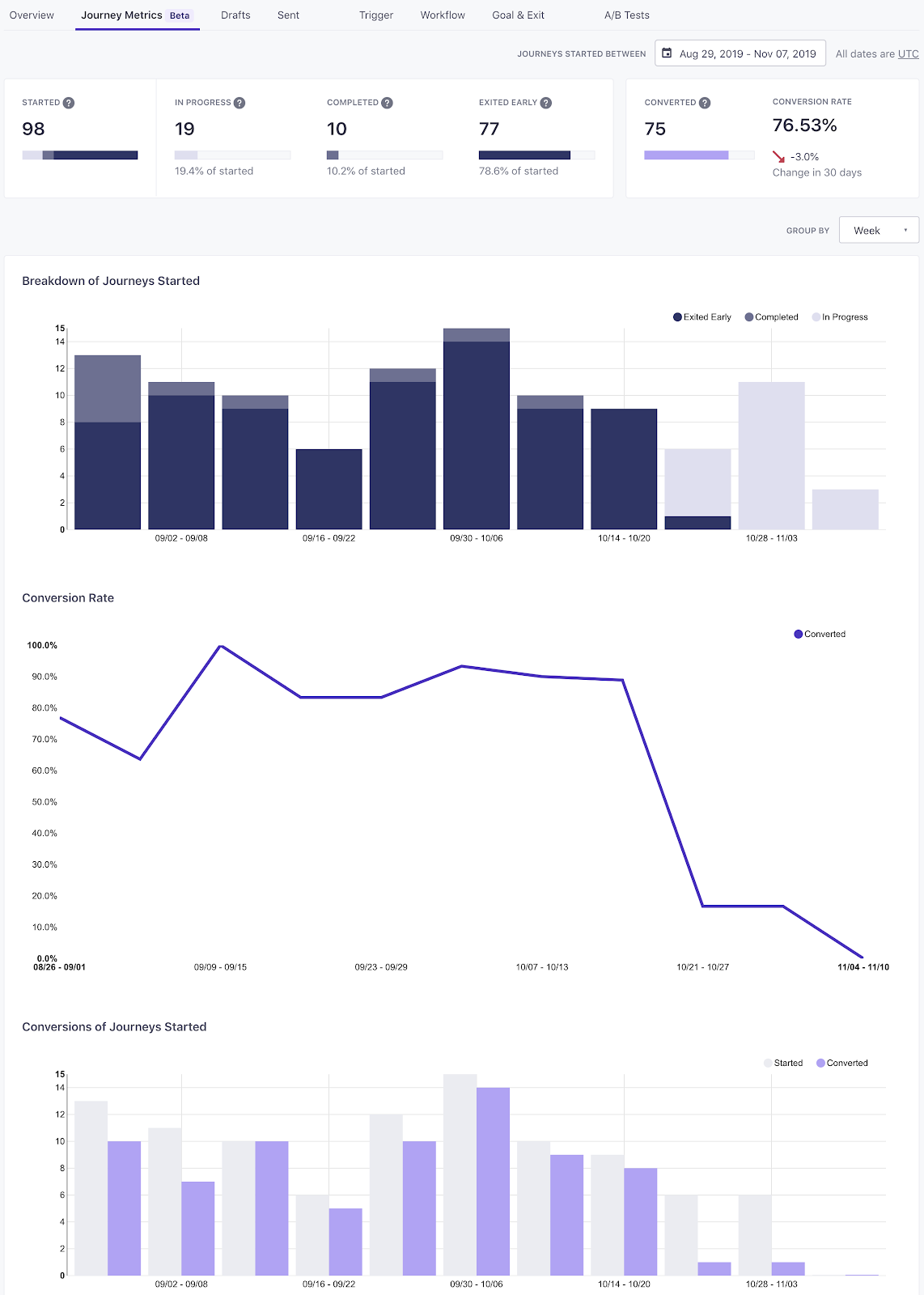 You can export these reports as CSV and store them in your database.
‍Pricing:
They have a base price starting from $150 and you can send emails to up to 12K customers.
If you want to try before committing, they offer a 30-day free trial. You get access to automation and drip campaigns during the trial too.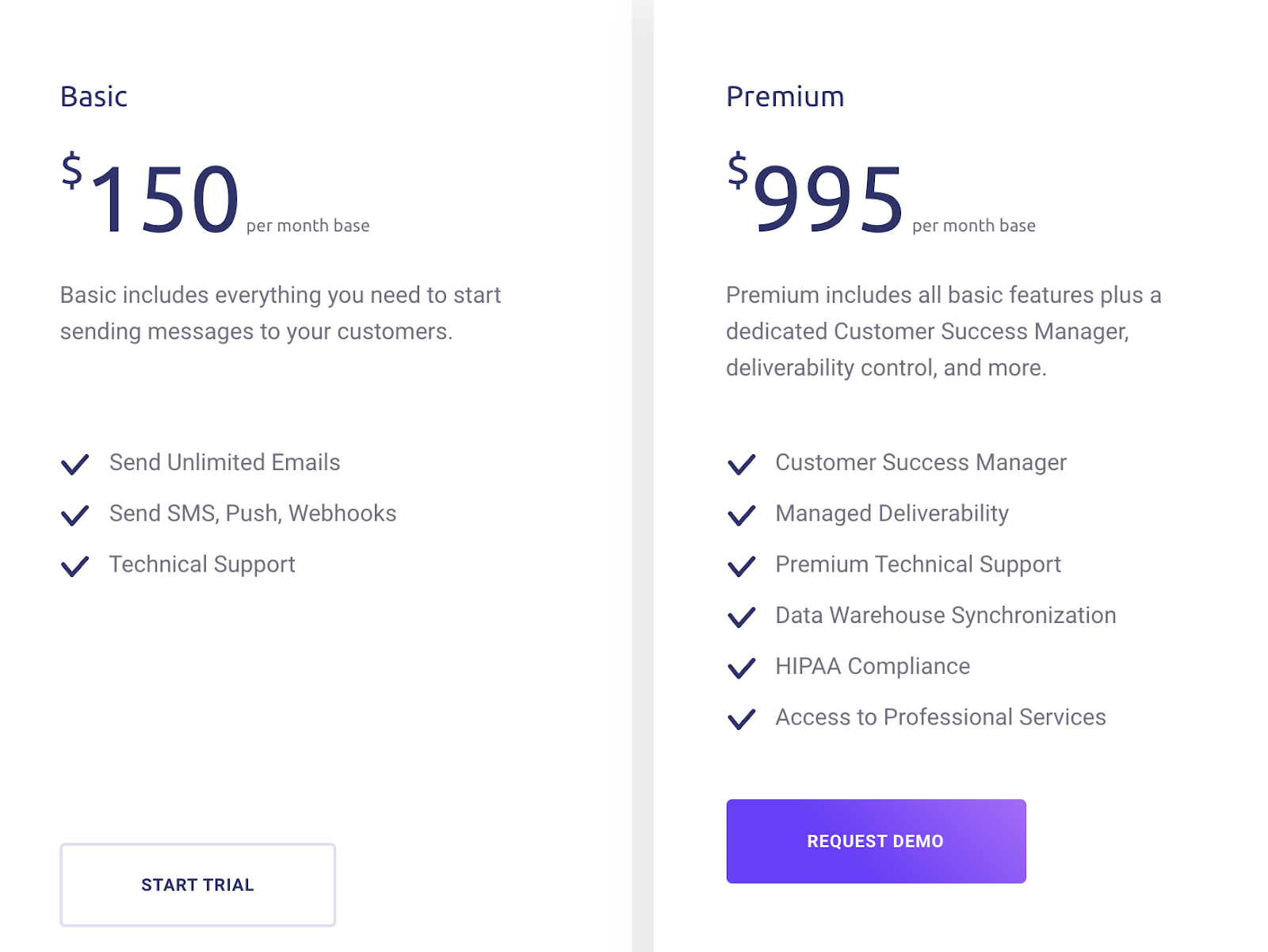 ‍
‍
3. HubSpot Email Marketing
‍CRM Platform:
HubSpot's email marketing software is part of a CRM platform. The idea is for you to have all the tools you need, not only to run a smooth email marketing campaign, but for your entire marketing and business operations.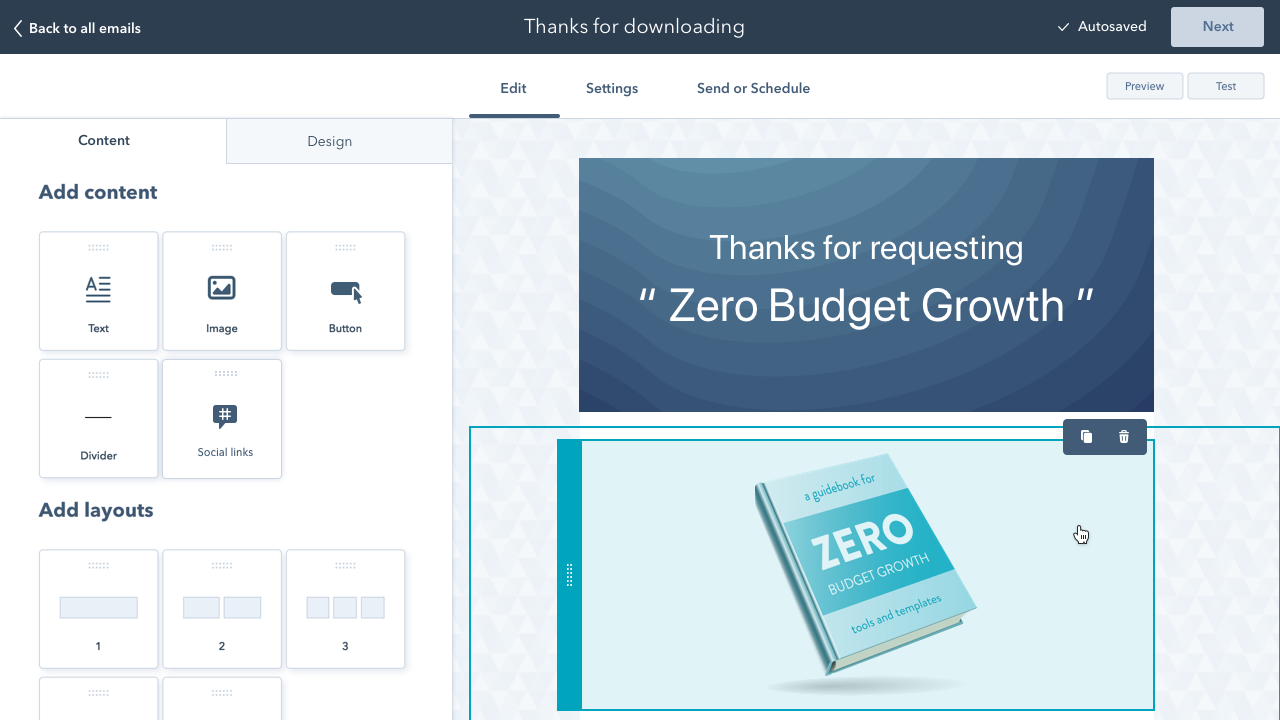 The email marketing software is highly intuitive and the native CRM integration allows you to easily personalize your emails so you can get better conversions. In tandem with that, you also have access to a free form and popup builder to capture new contacts, you can create high-converting landing pages, add a live chat or chat bot to your website, and more. The platform is truly designed to help you scale and grow.
‍Advanced Email Marketing Automation:
HubSpot's software lets you create custom autoresponders and drip sequences, which you can then add to more complex workflows. Many triggers are available, such as when someone views your product page or fills out a Facebook lead ad form. You can essentially trigger any action based on any of the information you have on your contacts in the HubSpot CRM, making for even more intricate sequences and targeting.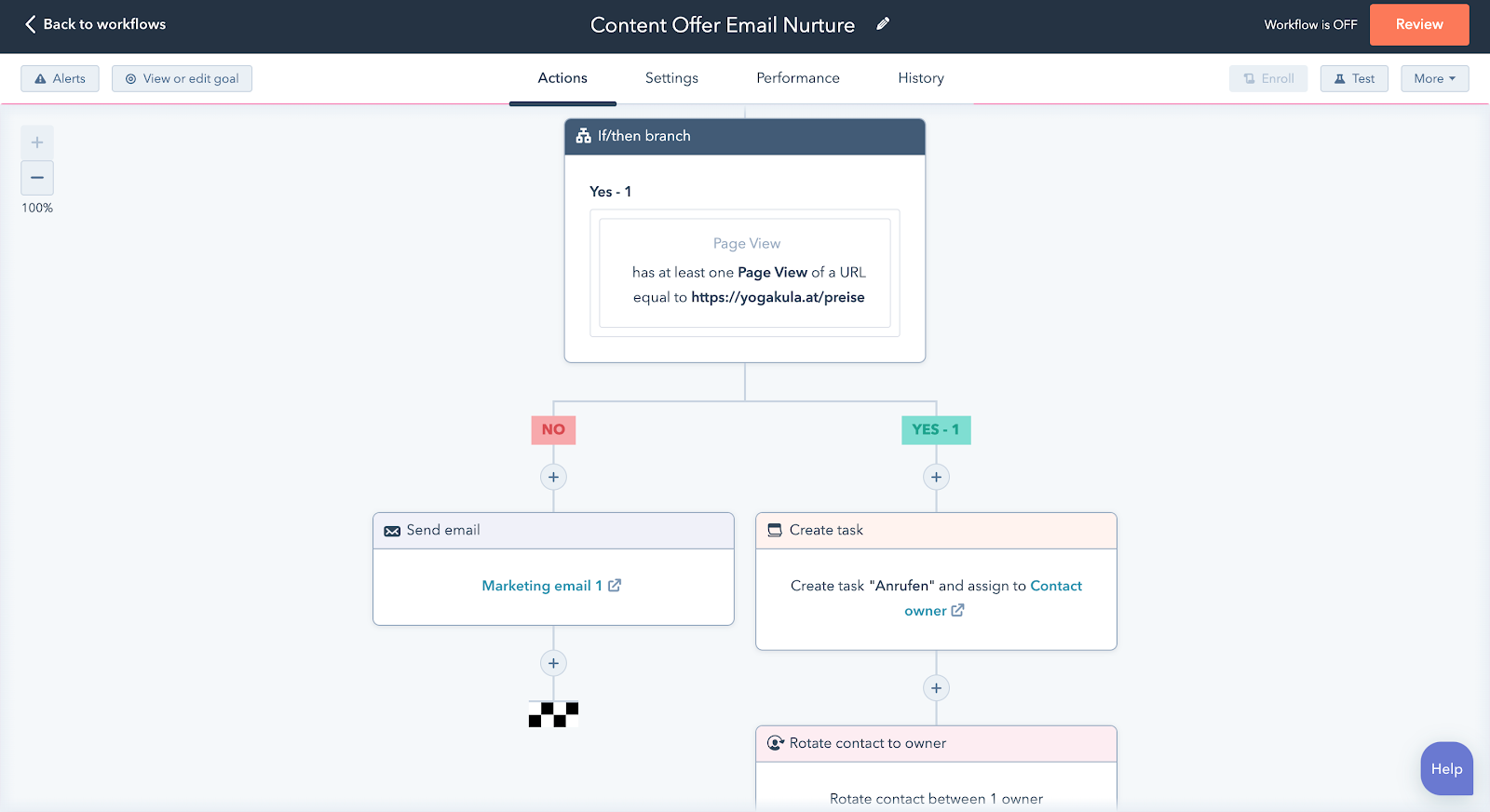 In addition to email, you can automate internal processes to make sure contact and lead management runs smoothly within your team. You no longer have to worry about manually updating a contact's lifestyle stage or changing information after a certain action happens. Let your entire marketing system run on auto-pilot.
‍Pricing:
HubSpot's free plan allows you to send up to 2,000 emails per month and store unlimited subscribers. This free plan also comes with a CRM (all the CRM features are 100% free), customizable signup forms and popups, landing pages, ad management, live chat and bots, and more. It's a great way to set you up for success as you're getting started.
If you wish to send more emails and benefit from the more advanced features like automation and a/b testing as well as more thorough reporting, you can upgrade to one of the paid plans. Pricing will vary, depending on the number of contacts you wish to have. Premium plans also include additional software tools such as a blogging tool and social media scheduling.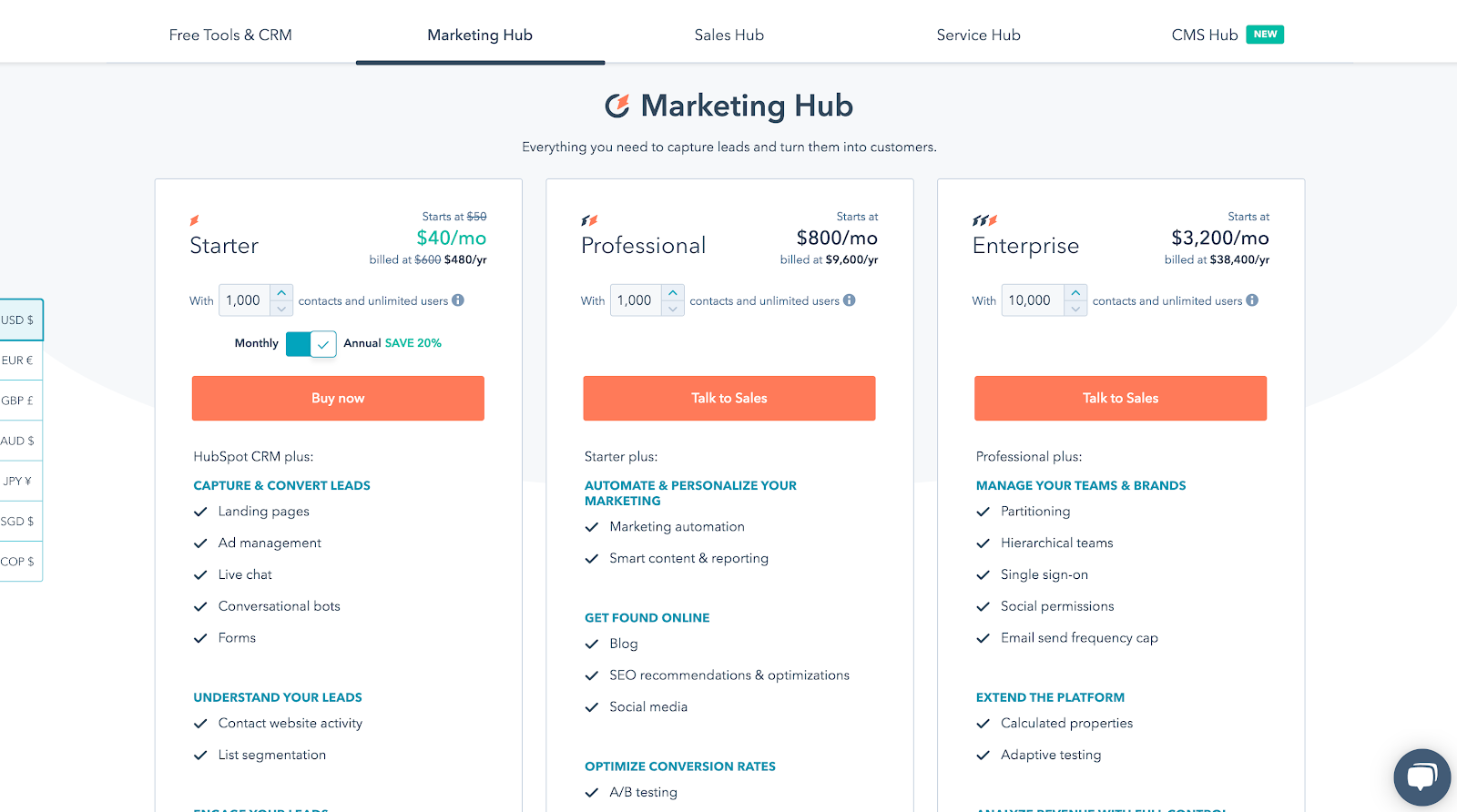 ‍
‍
4. GetResponse
‍Building Drips:
The simplest way to create a workflow for your drip campaign is to use the premade workflow templates. You can choose anyone depending on your goals and needs.
You can also create a workflow from scratch by going to the visual workflow builder and dragging the blocks you want to use. You can use tags and scoring to track user behavior and optimize further communication flow.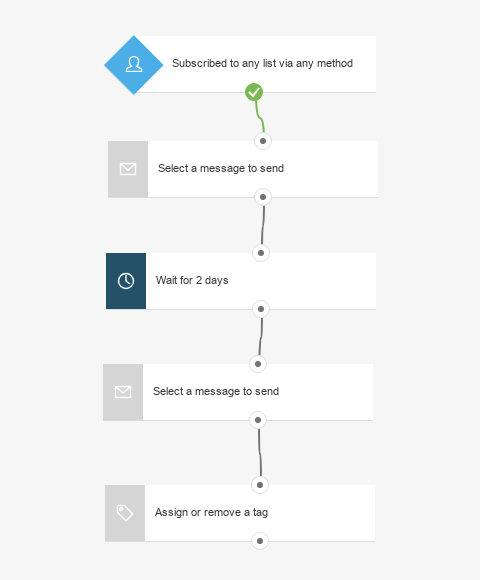 You can use a list or calendar view to plan your emails for a particular day in your subscribers' journey.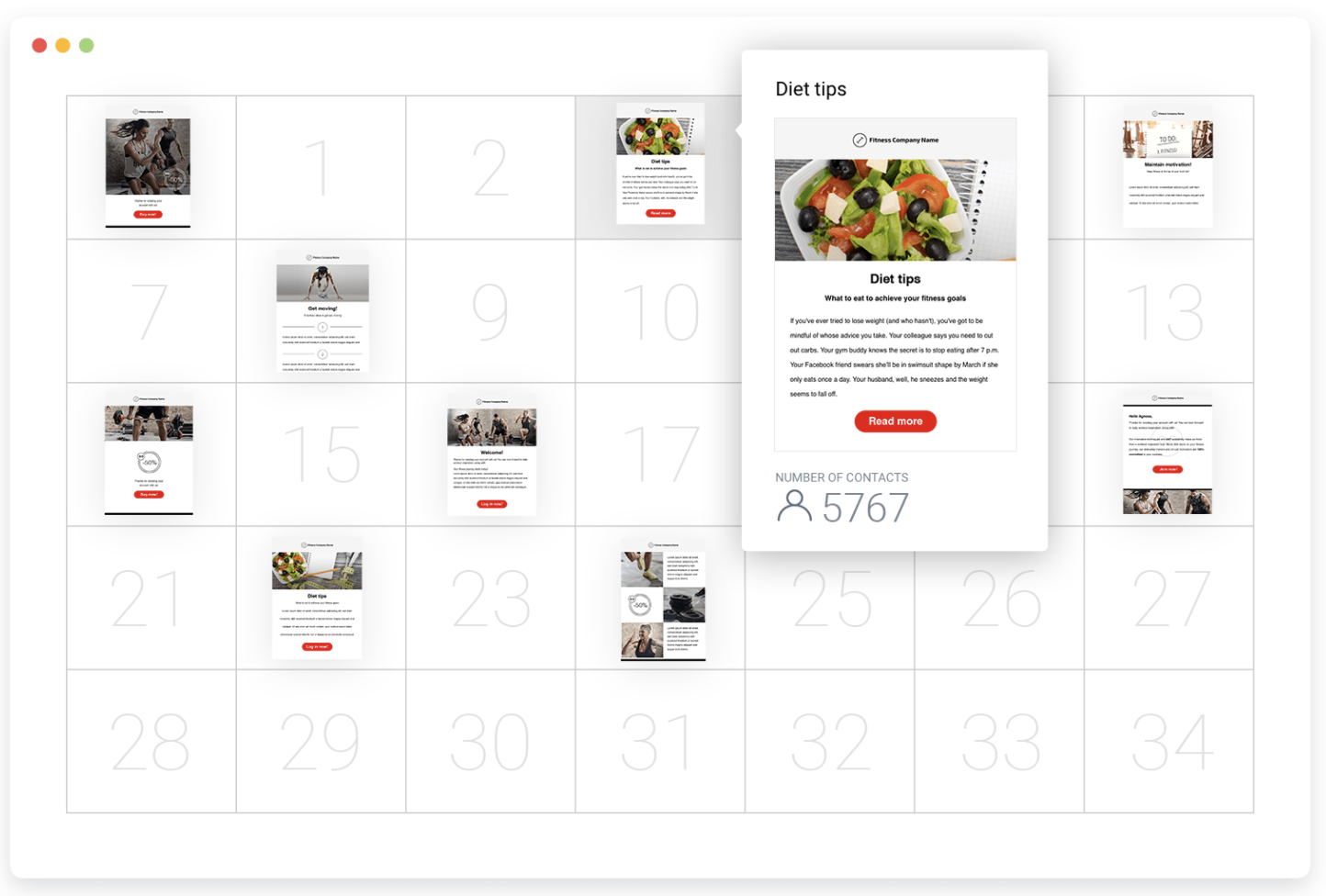 To create emails, you can use their simple drag-and-drop editor or start from one of the ready-to-customize templates provided.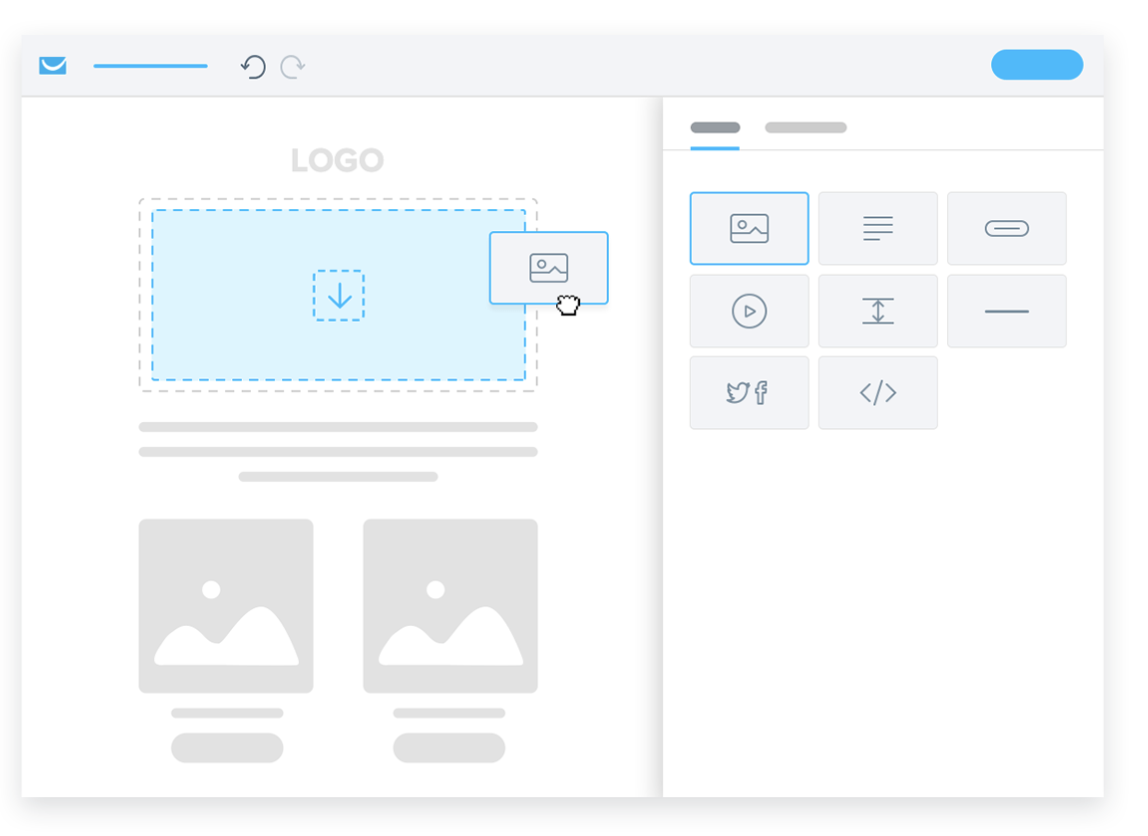 ‍Reporting:
In the reports dashboard you get the open rate, click rate, goals, social media, bounce, unsubscribe and spam complaint ratio details for each campaign or list. You can choose to get this information directly to your inbox, weekly, monthly or any frequency that you choose.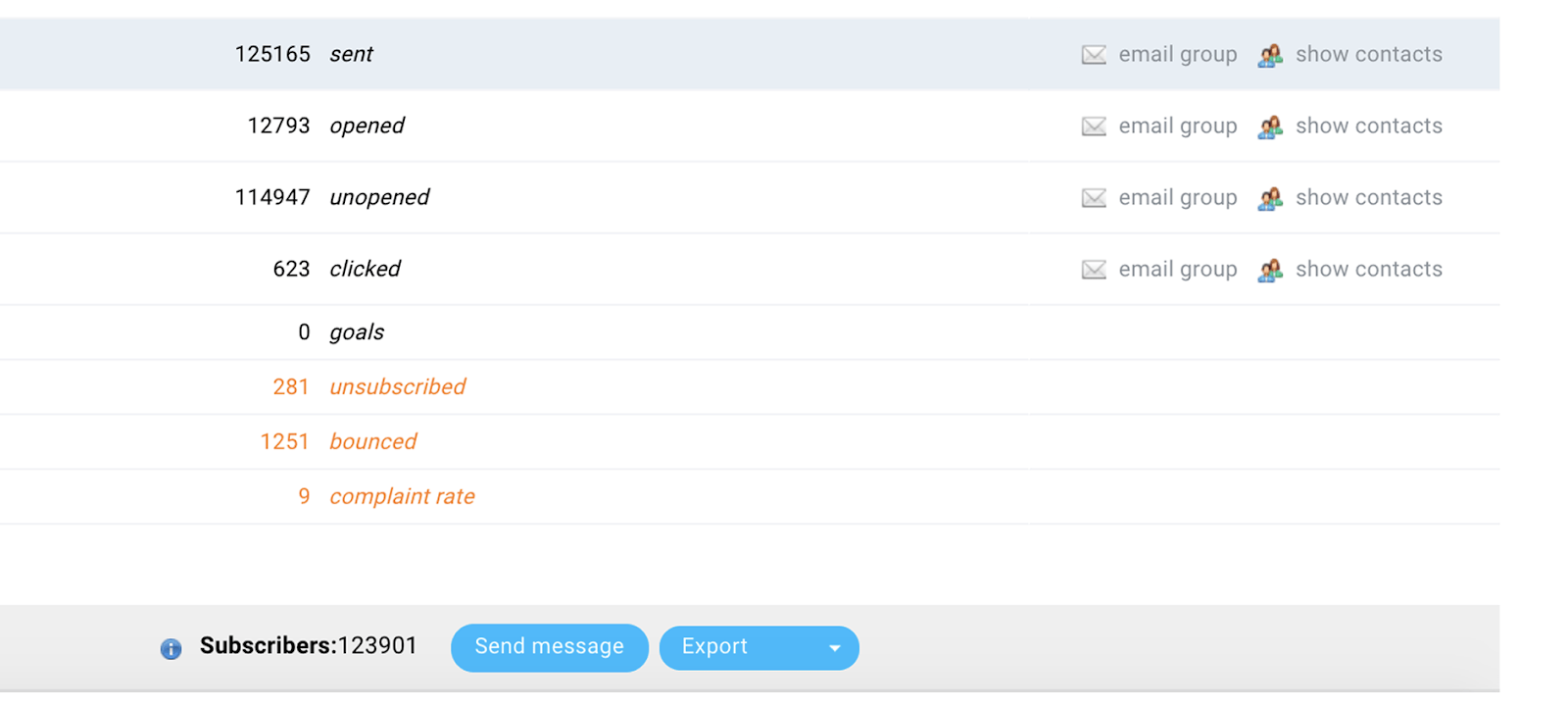 ‍Pricing:
They offer a 30-day free trial after which you can choose a paid plan. To use drip campaigns, you will have to choose the Plus Plan or above. The least price for Plus Plan is $49/mo for up to 1000 subscribers and 5 workflows.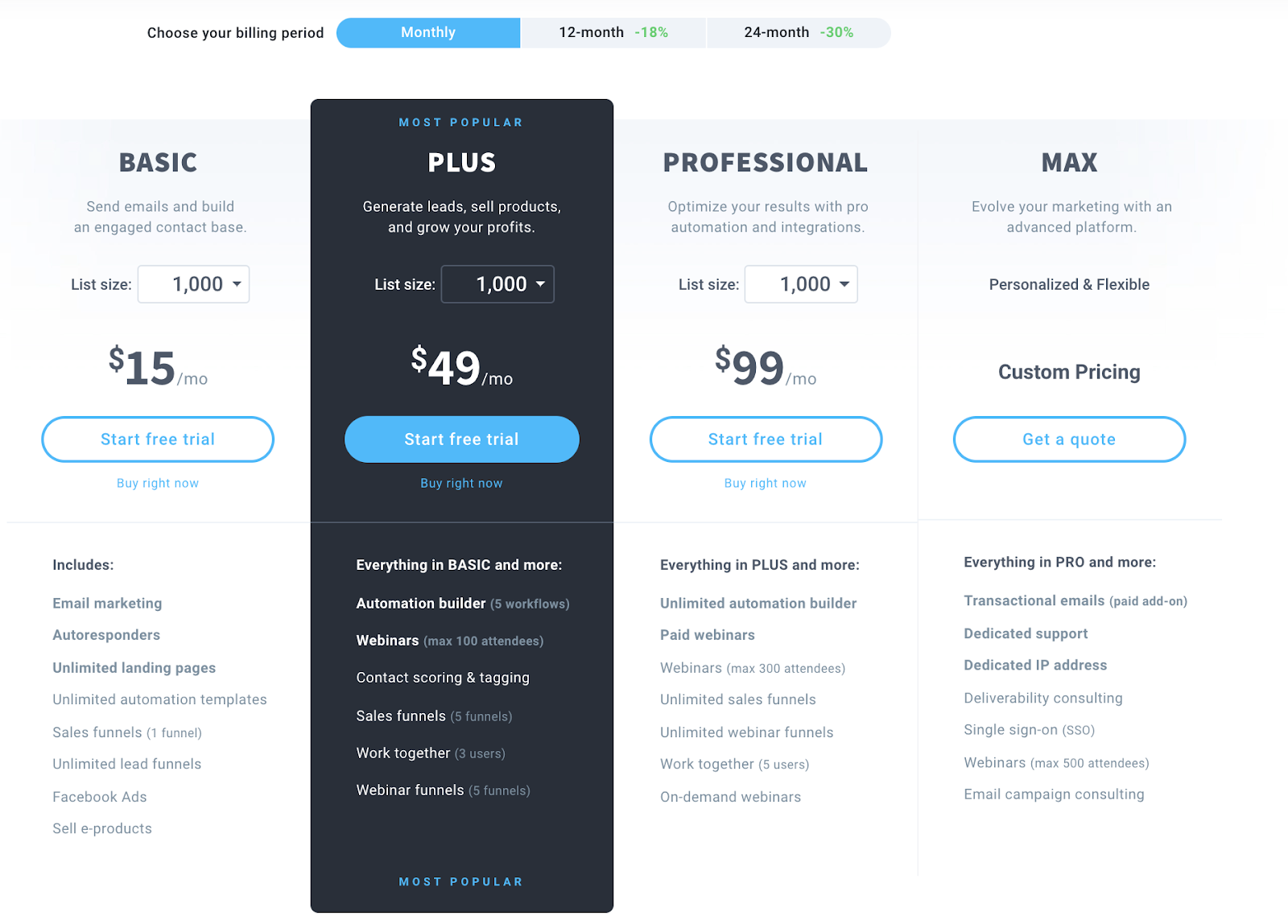 ‍
5. Sender
Sender is an email and SMS drip marketing automation platform that helps businesses of all sizes engage with their target audience, drive sales and streamline customer journeys.
Set up automated drip sequences for every communication your business needs — from onboarding new customers to nurturing leads, re-engaging subscribers, and promoting special offers.
Building Drips
Sender's automation builder helps you create fully automated drip sequences with simple drag-and-drop functionality.
Every automation sequence will start with a trigger. Choose from advanced triggers, including dates, anniversaries, link clicks, product purchases, abandoned carts, API calls, and more, to kickstart your drip flows.
Image Source: Sender
Choose every automation step to be any of the following:
Condition: Branch your workflow depending on whether specific conditions are matched;
Delay: Introduce a time delay;
Email: Send an email to the subscriber;
SMS: Send a text message to the subscriber;
Action: Take a specific action (for example, change subscriber details or membership, send notifications to yourself or a webhook to another application);
Image Source: Sender
Reporting
Sender's automation reporting module offers in-depth insights into the performance of your automated drip sequences, enabling you to track the effectiveness of your flows and make informed decisions about corrections and optimizations.
Check out the quick stats for every drip sequence at the automation home screen below:
Image Source: Sender
Clicking on 'View Report' next to a workflow will get you detailed statistics for that specific drip sequence, including the number of subscribers who've completed the automation and those that are still inside it.
Image Source: Sender
Performance reports specific to each step are available by clicking on them.
Reporting is only as powerful as the insights we gain from it. Use your learnings to further refine your drip sequences for higher engagement and better conversion rates.
‍Pricing
Free Forever plan: Includes 15,000 emails and 2,500 subscribers + Unlimited email automation;
Standard: Starts from $8 per month for up to 30,000 emails and 2,500 subscribers;
Professional: Starts from $29 per month for up to 60,000 emails and 2,500 subscribers + FREE SMS credits worth your monthly invoice every month;
Enterprise:

Contact for pricing

.
Image Source: Sender
If you're looking for user-friendly drip email software that also comes with a great free plan, consider trying out Sender. Besides offering unlimited email automation and up to 15,000 email sends per month under its free forever plan, its paid plans also include text marketing automation.
6. ConvertKit
‍Building Drips:
ConvertKit believes that plain, simple text emails perform better than image-heavy ones. So their email builder is focused on writing and editing. You don't get bombarded with drag-and-drop features, fancy templates, etc.
You can create a drip campaign in just two steps - write your emails, do the setting for time, exclusion of any list, etc. and just hit save.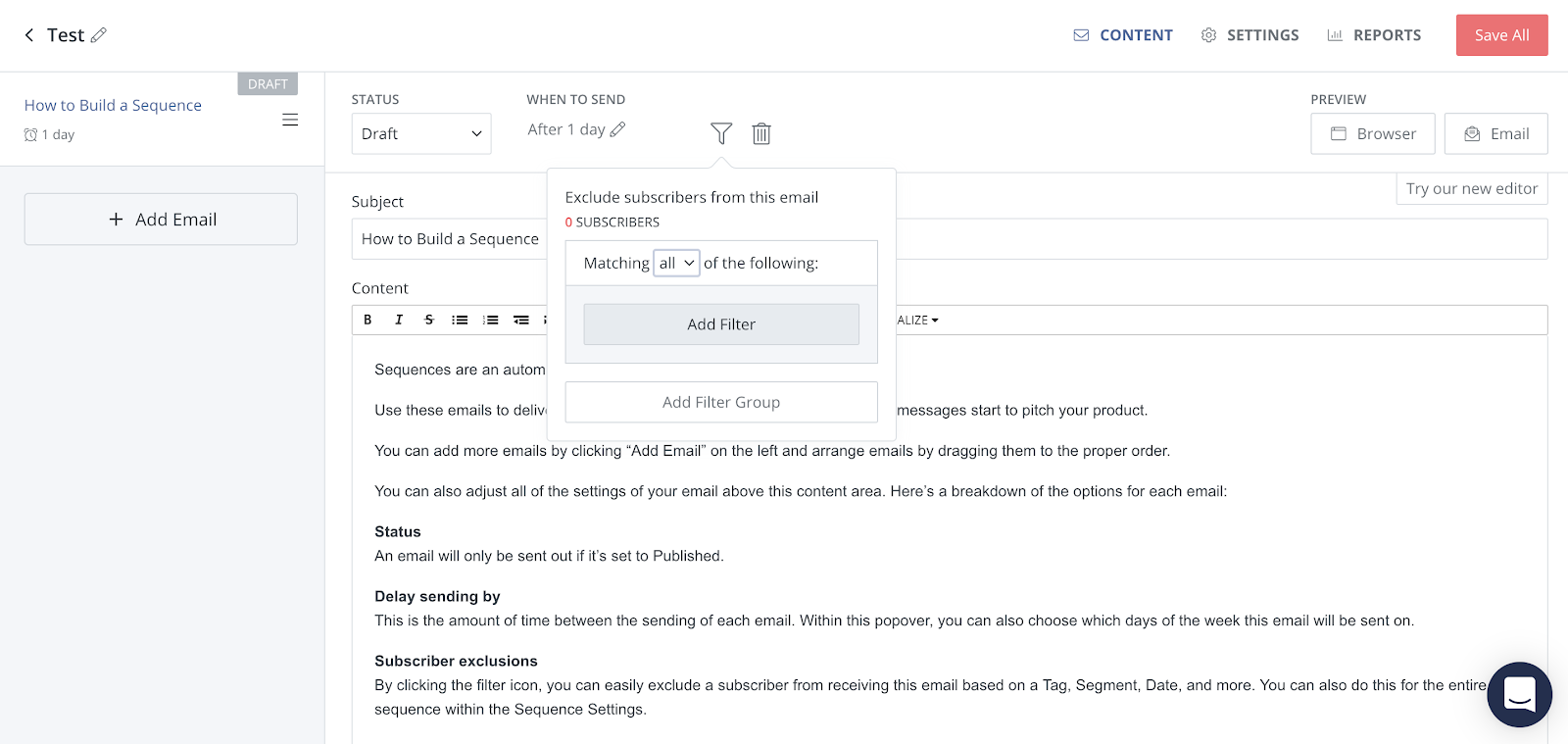 You can set the timing of the email under the 'When to Send' tab and that's it. Once you do that for all the emails your drip campaign will be built.
‍Reporting:
You can get information on how each email performed and how the overall campaign performed under the 'Reports' of each drip campaign.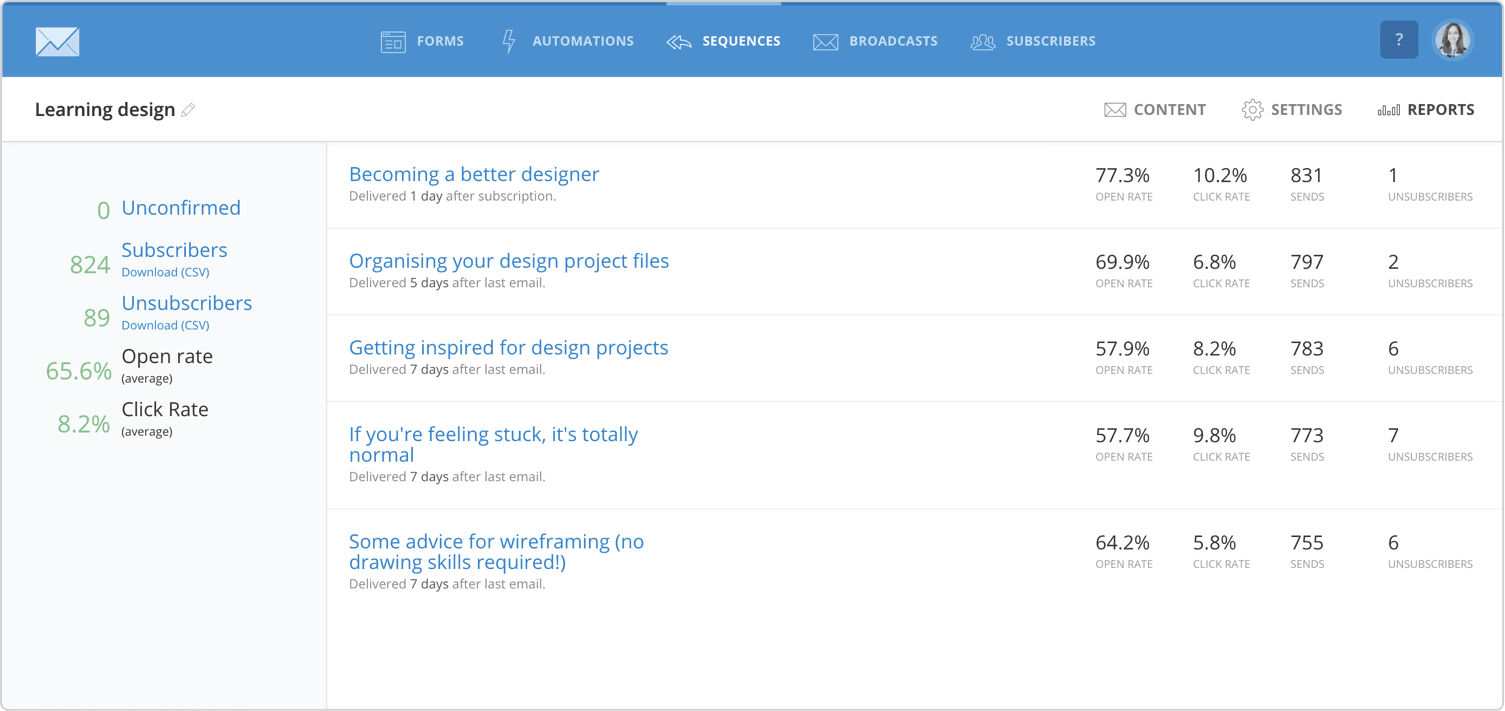 Since Convertkit is created for creators, bespoke, local businesses, their reporting dashboard doesn't try to overwhelm you with any geography data, heatmaps, etc. It's simple and gives you a quick glimpse into all major metrics. You can see the open rate, click rate, subscribers, unsubscribers.
‍Pricing:
They offer a free plan if you have less than 1,000 subscribers but that only allows you to send broadcast emails and not drip campaigns.
So, you will need to choose a paid plan that starts from $29/mo ($25/mo if annual plan is chosen) & you get access to all features. The pricing increases as your number of subscribers increases. You can check more about ConvertKit Pricing here.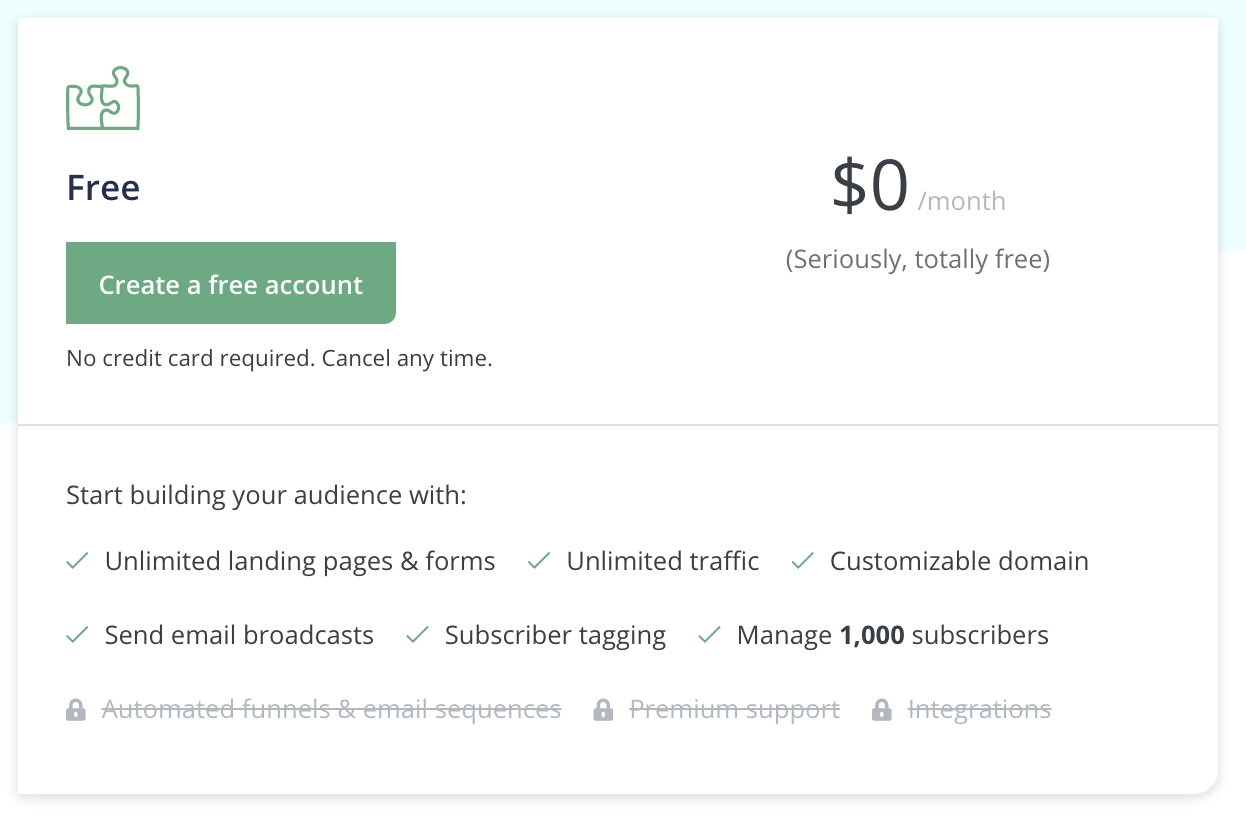 ‍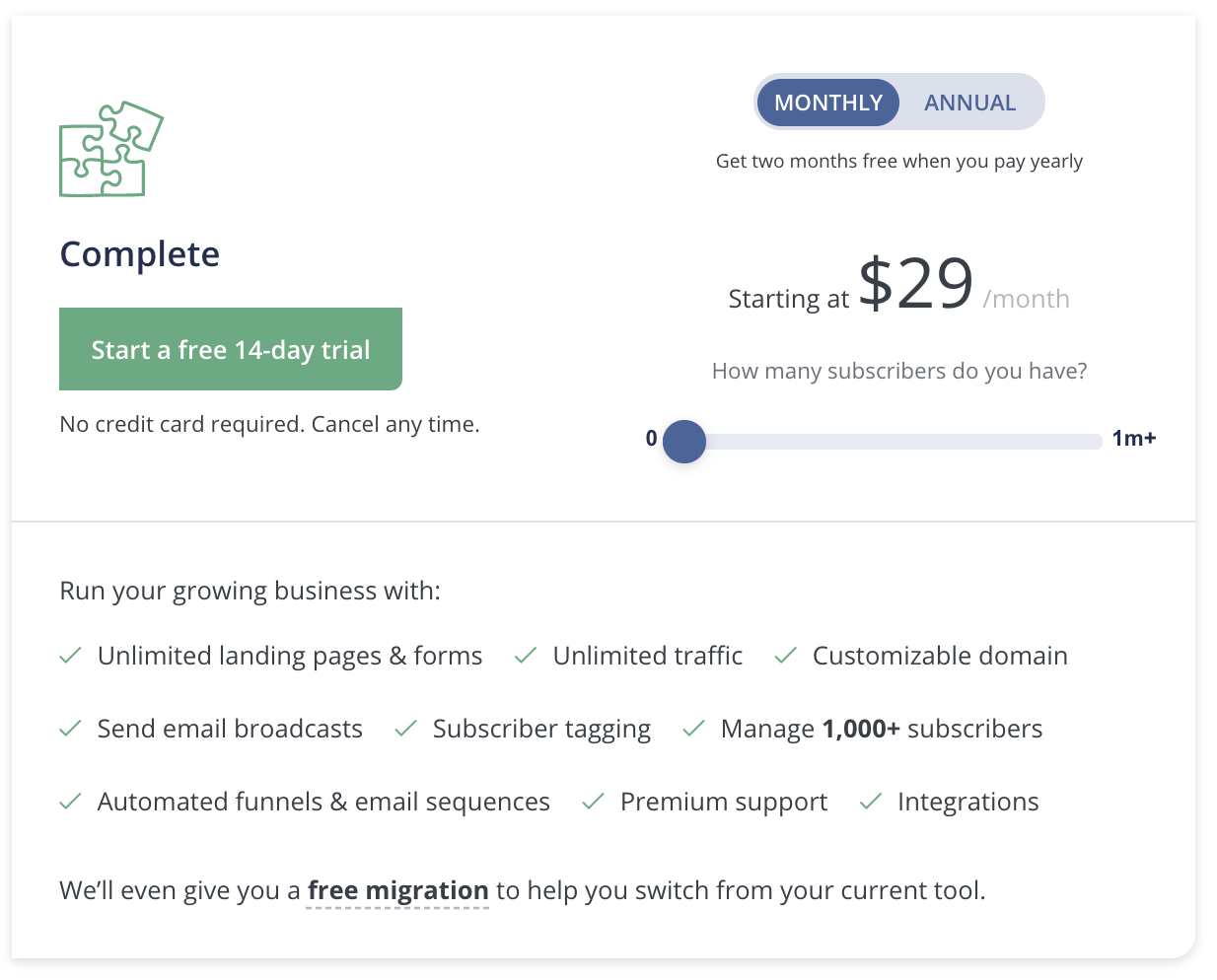 ‍
7. Sendinblue
‍Building Drips:
Sendinblue uses a visual canvas-like workflow editor to help you create your drip sequence. To get started, you can choose from one of the pre-made templates or choose 'Custom' to create something from scratch.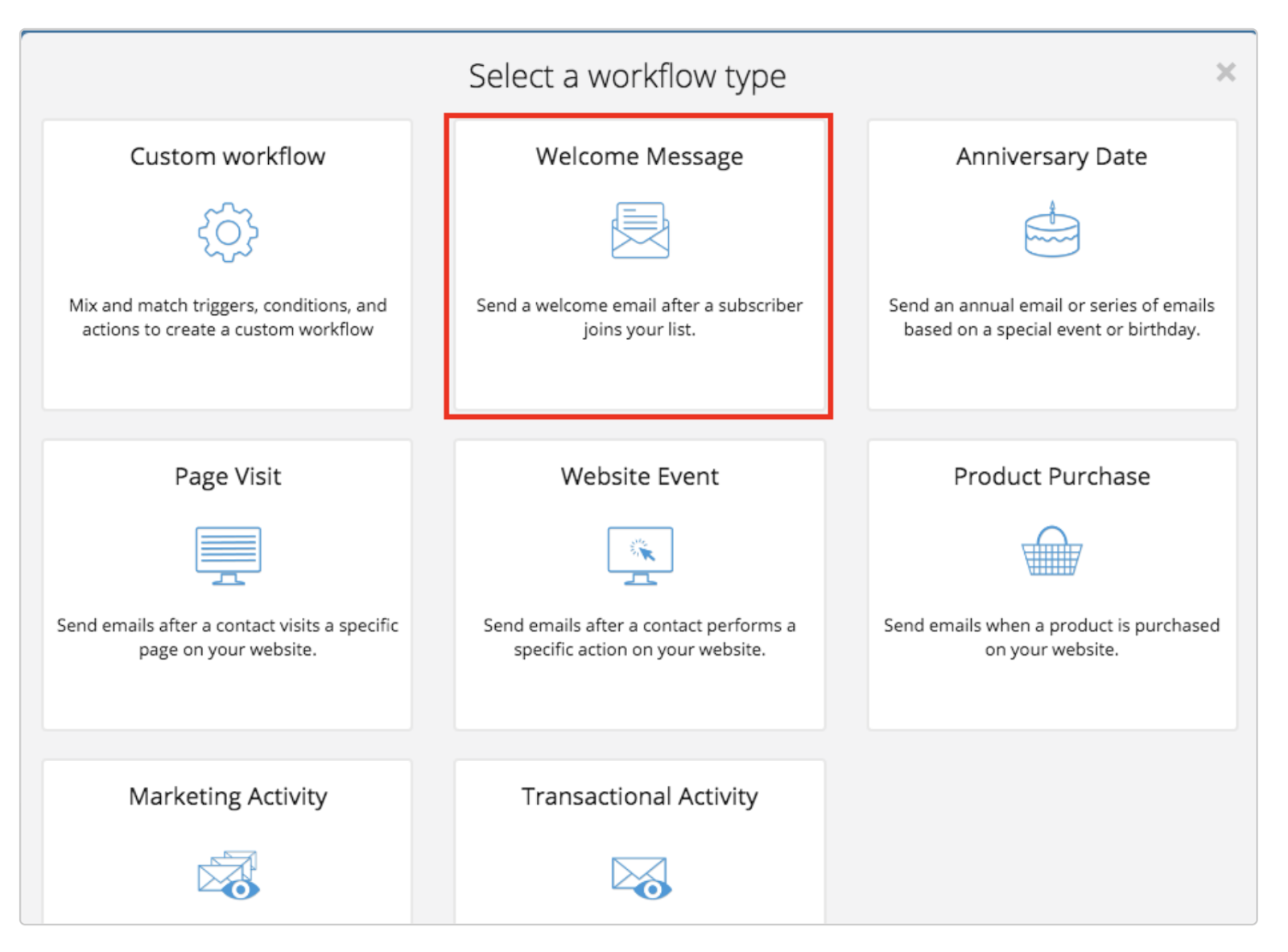 ‍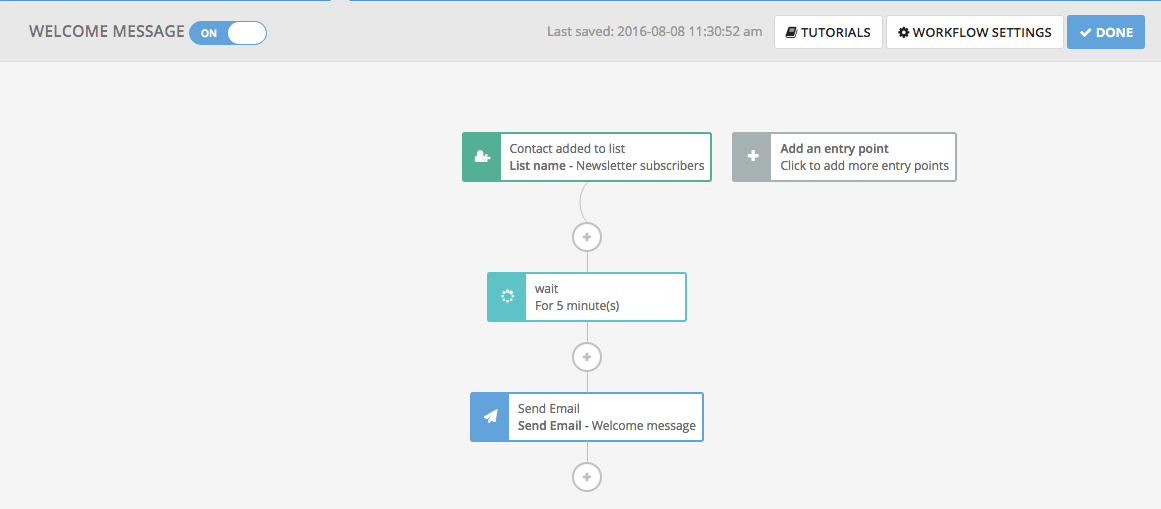 Once you define the flow of your drip campaign, you can then select the email template you want to use at each step.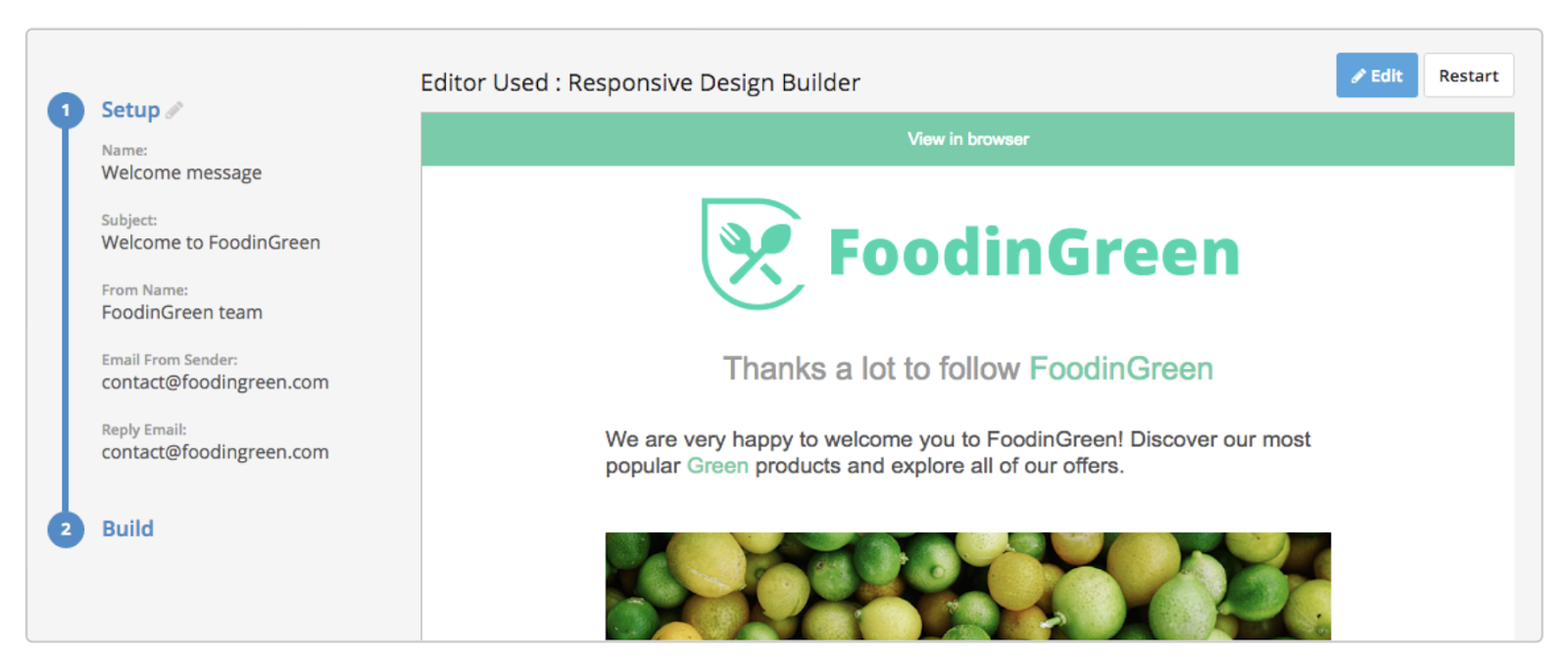 ‍Reporting:
You can get a report of how your contacts are engaging with each email in the workflow under the 'Logs' section.
Useful feature here is 'Workflow Logs' that gives you a report of currently where the subscriber is, in the workflow.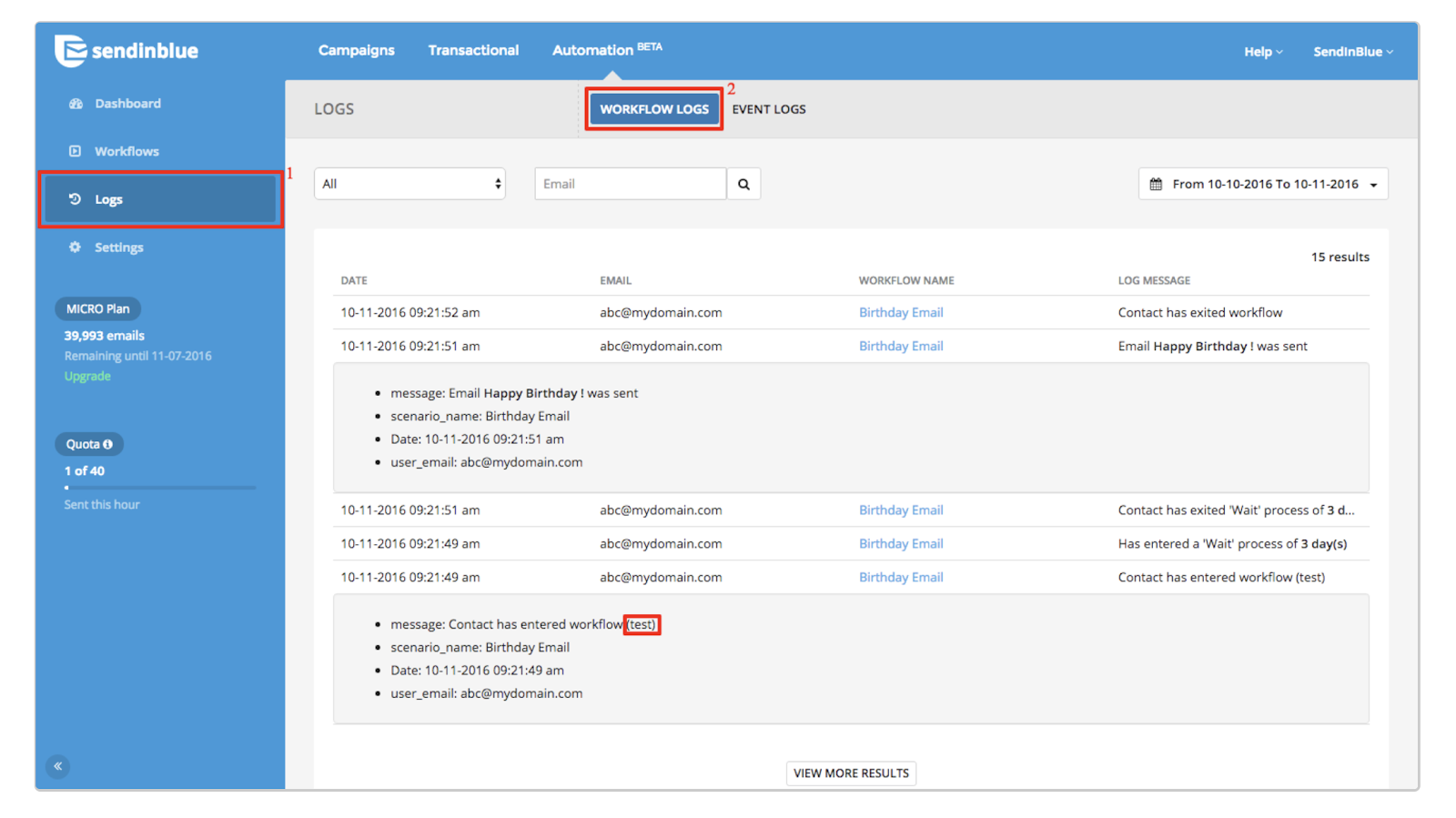 You can also see the key metrics for each campaign on the reporting dashboard.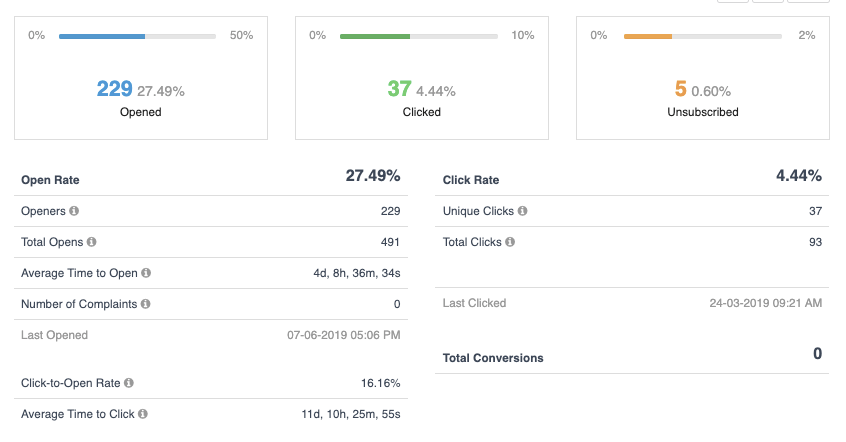 If you have a premium plan, you can also get data based on location of people who clicked or opened your emails.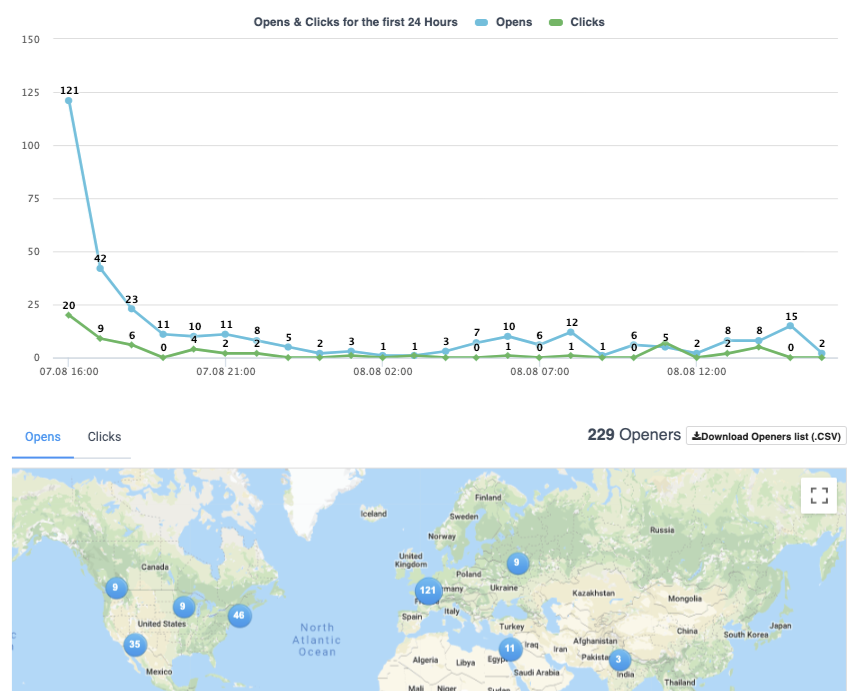 ‍Pricing:
The pricing isn't straightforward so you will have to dig deeper to balance your budget and feature requirements. The cost will depend on the number of emails you send, rather than the number of subscribers you have and on the kind of features you want. They have a forever free plan but that gives you just 300 emails/day and the quota to send 2000 automated emails in a month. If you wish to send more than 2000 automated emails in a month, you will have to choose a Premium plan. Every plan below that will restrict automated emails to 2000 per month.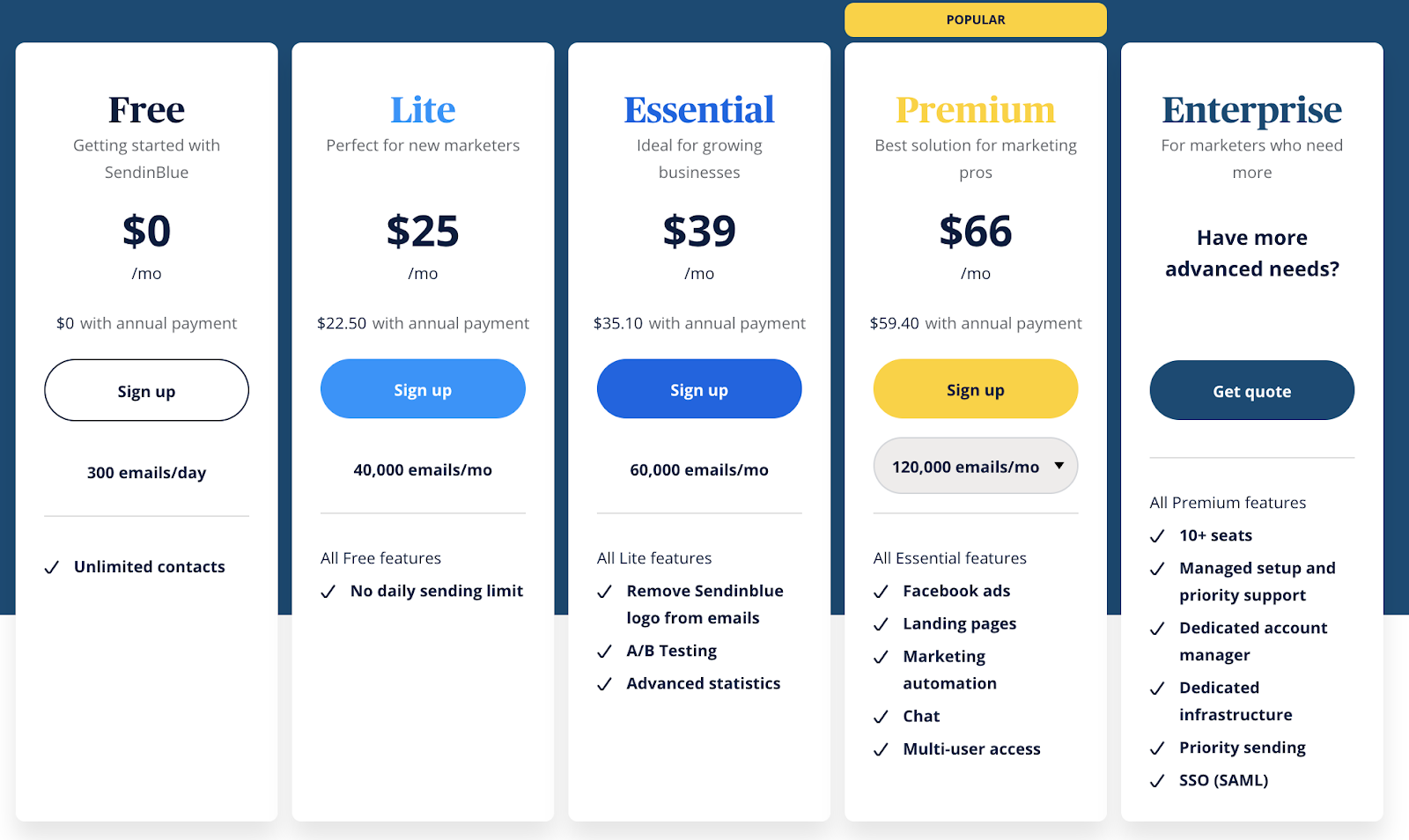 ‍
8. Maropost
Maropost is an email marketing software that helps you connect to your subscribers mainly via email but also via social, SMS and web notification.
It is evolving to focus on eCommerce businesses and adding extensive reporting to its suite of features. It has a drag and drop editor but it lacks a bit of flexibility when it comes to heavily visualised emails. No doubt that it's great for text based emails.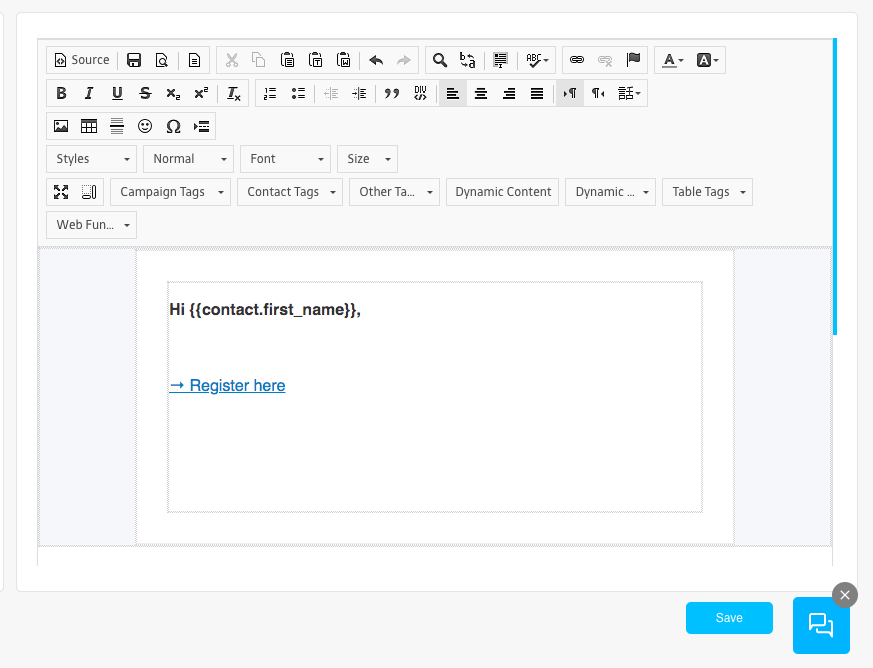 ‍Building Drips:
With Maropost, you can create complex customer journeys & send targeted messages. The best part is that you will get key metrics for emails that are part of journeys. This will help you optimise your campaigns.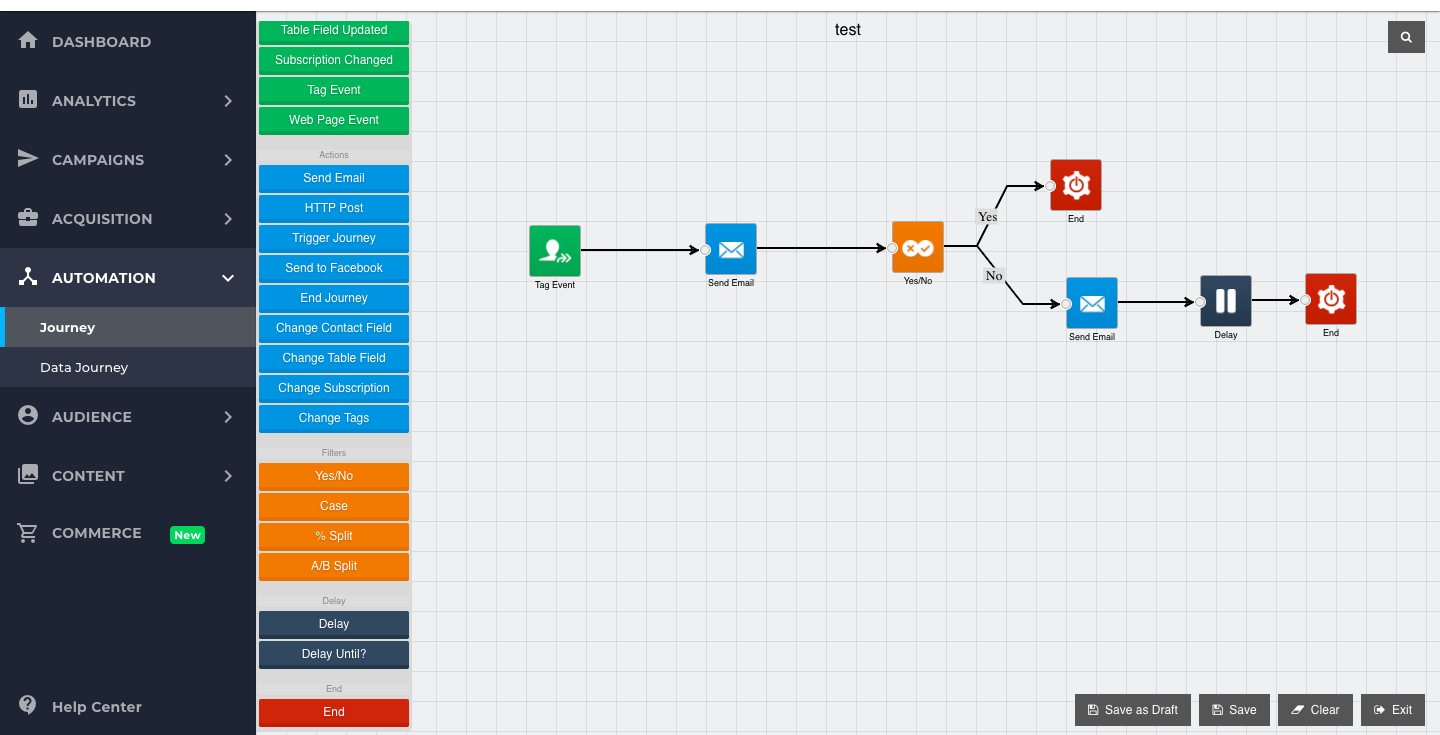 Their chat support is available 24/7 for Enterprise users.
‍Reporting:
For reporting you can use their built-in dashboards or create your own custom reports.
‍Pricing:
Maropost pricing starts at $500/mo. They don't offer a free trial.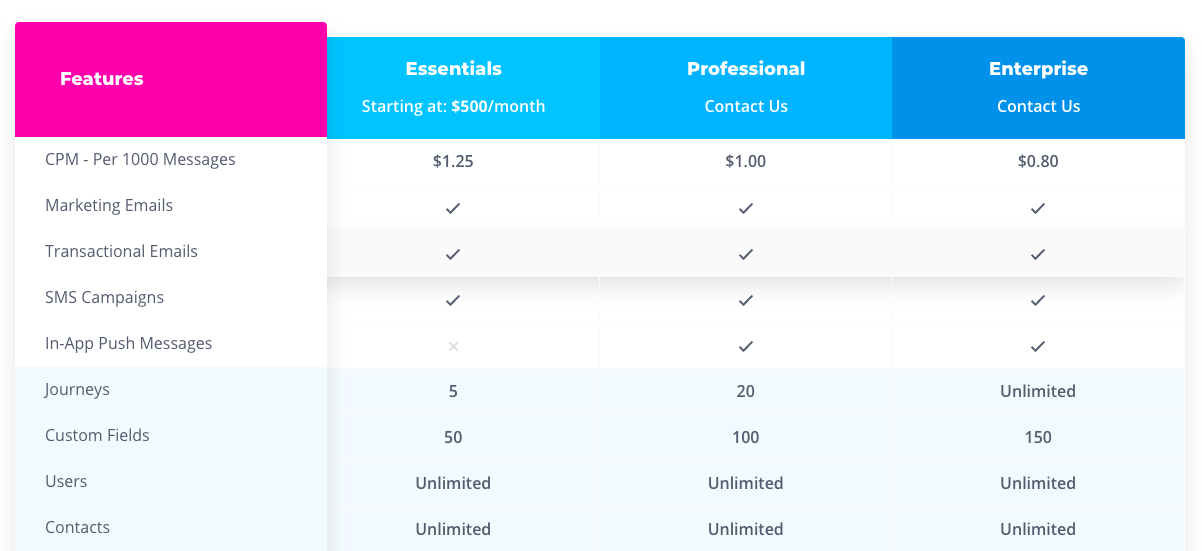 ‍
9. Sendloop
Easy-to-use yet powerful self-service email marketing platform designed for small businesses, entrepreneurs, eCommerce businesses.
‍Editor:
Sendloop's editor is a drag-and-drop editor with 80+ email templates. According to most reviews, it gets a good reputation because of its easy to use editor. It allows you to import new subscribers via excel files or csv files consisting of contacts with their details. You can also manually add your contacts. You can create segments of your contacts and send automated emails to each segment based on certain conditions.
‍Automation:
Sendloop helps automate your email marketing campaigns with the help of plugins and integrations with your site. Sendloop's Automation features also allow you to customize JavaScript.
You can trigger emails automatically based on certain user actions, like site visit, sign-ups, opening an email etc.
You also get features like single or double opt-in confirmation, Google Analytics integration, email preview and social share.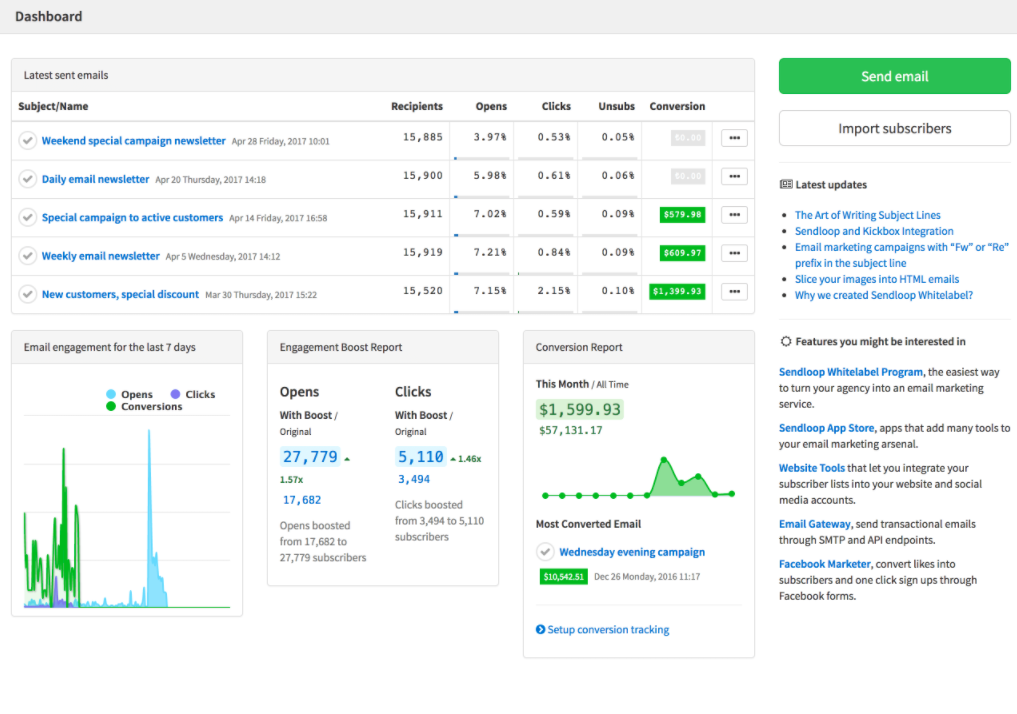 ‍Pricing:
Sendloop pricing is based on the number of subscribers. At any price plan, you can send unlimited emails.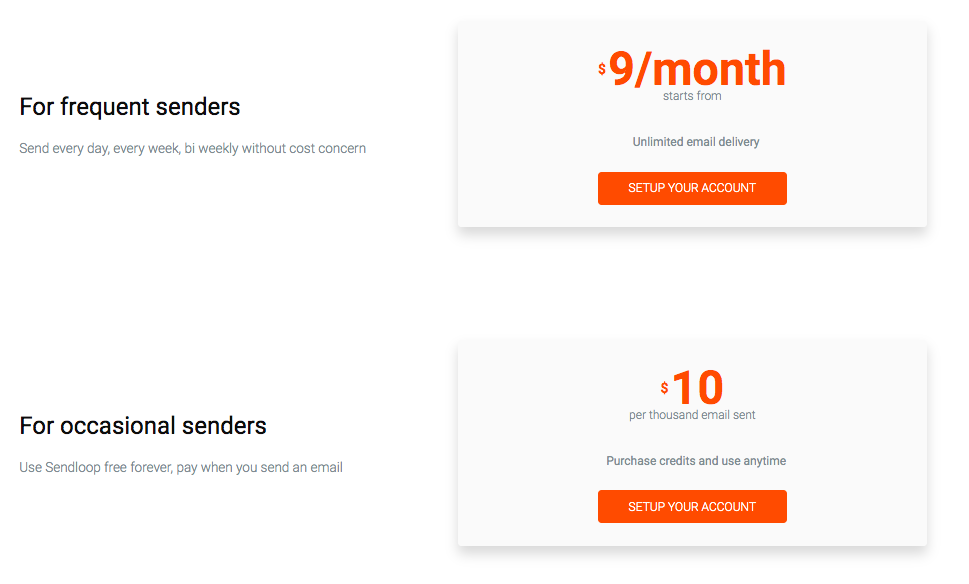 The pricing starts from $9/mo for 500 contacts. You can also choose 'pay when you send' offer. Under this, you pay $10 per thousand emails and there is no subscription fee.
‍
10. Mailchimp
Mailchimp is a popular email marketing software. It became famous due to its graphic templates, easy to use editor. But it also has solid automation capabilities.
‍Editor:
When creating an email, you will find 5 main categories of templates to choose from: Layouts (Featured & Basic), Themes, Saved Templates, Campaigns, and Code Your Own. All layouts are mobile-friendly.
‍Drip:
For drip campaigns, Mailchimp uses its new automation features that comes with built-in drip campaigns for welcoming new subscribers/customers, following up after a sale etc. You can also create your own completely customized drips.
‍Pricing:
Mailchimp's pricing starts off cheap but gets really costly as your audience increases. You can sign up for a forever free plan but that only allows you to access only a few features. Forever Free plan: $0, 2000 contacts, 10K emails Pricing for other plans is based on a combination of features you use and the number of contacts you have. For 500 contacts, pricing would be:
Essential plan: $10/mo, 500K emails
Standard Plan: $15/mo 1.2M emails
Premium Plan: $309/mo, 3M+ emails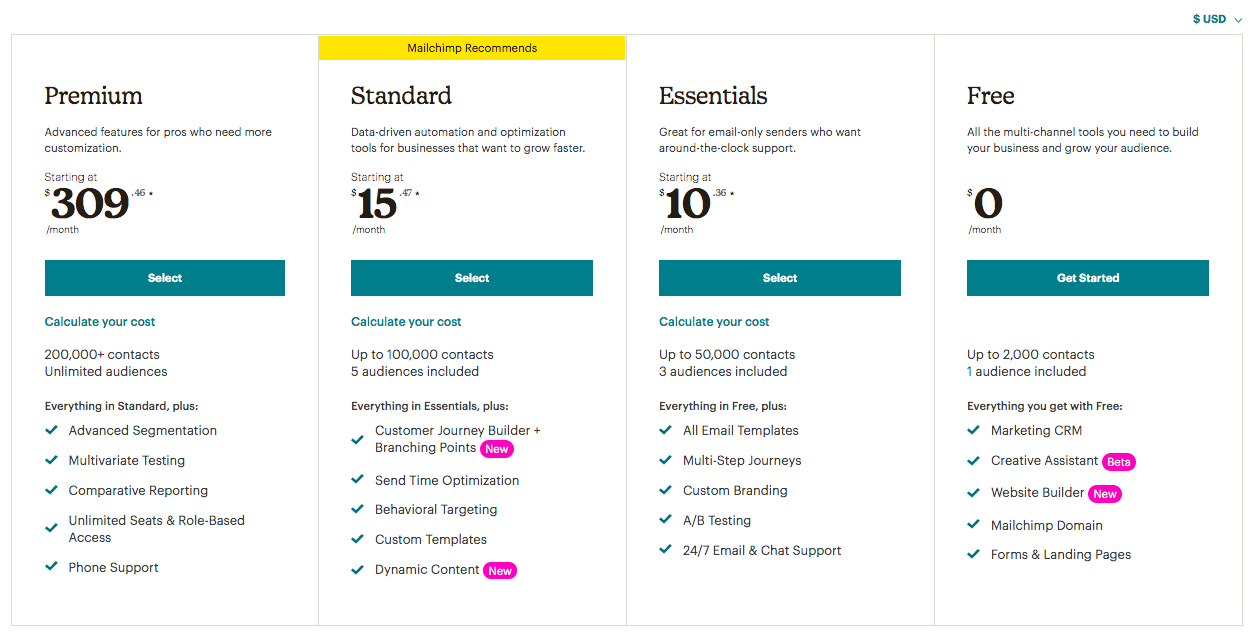 And remember, the Mailchimp counts subscribers & unsubscribers to calculate the list count. Mailchimp is actually one of the most expensive newsletters tools out there for small-to-medium businesses. If you are looking for a budget-friendly solution we'd encourage you to try SendX.
You'll be joining many other former Mailchimp users who've shifted to SendX and never looked back.
Mailchimp's Venture Into eCommerce
One important update for all those looking at Mailchimp as an option is that Mailchimp has also recently launched its own online stores for SMEs, and a new service for booking appointments. The appointment booking service went live on 28th April 2021, and the new eCommerce features are scheduled to become available for the US and UK Mailchimp customers by May 18th 2021.
New 'Websites and e-commerce' plans will be introduced (and free-plan users will have to pay 2 percent transaction fee). Transaction fees will be reduced for users of different pricing grades, for example, those who go for a Plus plan at $29, only 0.5 percent transaction fee will be applicable.
Besides, for $10 extra, Mailchimp's branding will be removed and you will get email and chat support, and you will only have to pay 1.5 percent transaction fees.
All their plans will also include SEO tools and Google Analytics integration. Plus, you can build websites with unlimited pages and without bandwidth restrictions.
And when it comes to the online stores by Mailchimp, you can build your product catalogues, manage your orders, and taxes and shipping configurations.
But if you don't need all of these additional features and services, you should still proceed with comparing Mailchimp with other email service providers, like SendX.
Wrap Up
There is no doubt that drip campaigns tools can help you supercharge your retention, conversion, re-engagement. These tools, much like most social media management tools, make reaching your audience a lot easier and more effective.
And now that you have a peek inside these top 8 drip campaigns tools, the next thing is to get started with the implementation of your drip campaigns. If you just want a simple, intuitive & affordable platform, you should check out SendX. With SendX you get an easy-to-use platform, useful reporting dashboards, 24/7 customer support and of course a pricing plan that's aligned with your needs. And to make the deal sweeter, you can get a 14-day free trial. No credit card required. Access to all the features from day 1.