What is an Autoresponder?
Autoresponders are simply a sequence of automated emails that are sent to a subscriber, based on a trigger event. And once you've set up an autoresponder, it should run with virtually no maintenance required.
We have prepared this short guide for you to evaluate different autoresponders based on features, pricing, ease-of-use, etc. You can take your pick and explore further according to your business requirements.
Which Autoresponder is the Best?
This autoresponder gives you all the critical features you need to put your marketing on autopilot.
What you can do:
Edit automation rules in the future to add or update either triggers or actions.
Categorize different types of users in different user groups or lists & trigger emails based on their behavior.
All this is made possible while maintaining a smooth user experience & intuitive interface. I think that gives it an edge over all the other autoresponders that lack the ease-of-use.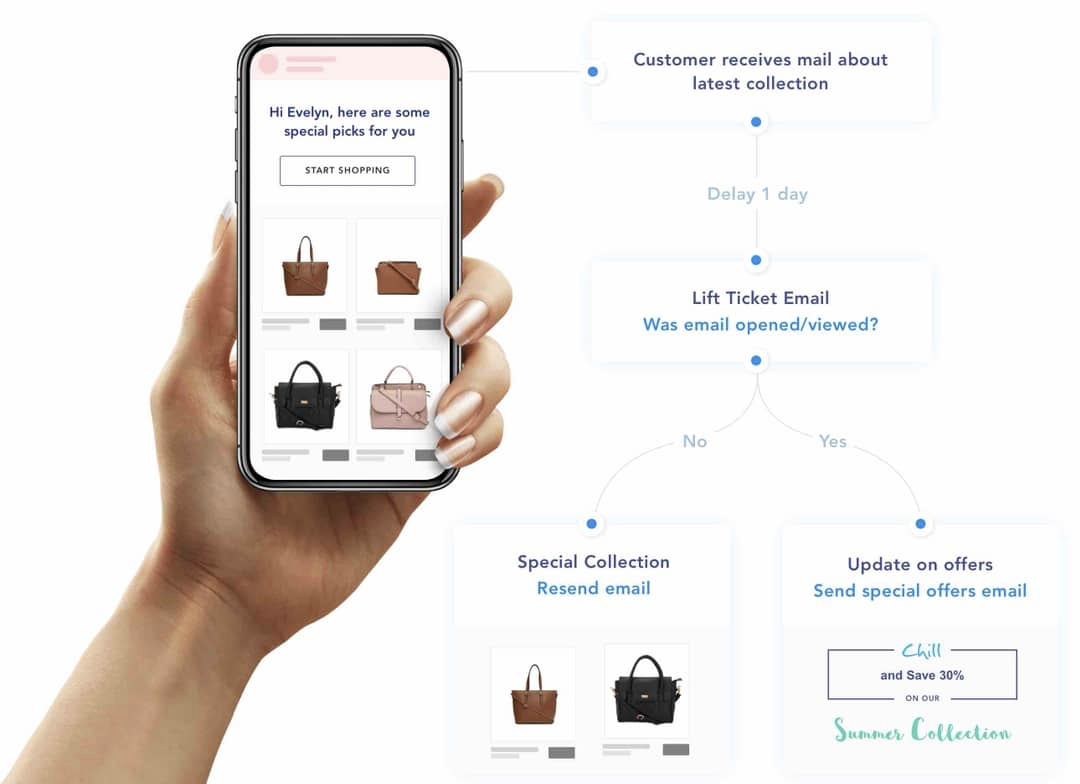 Pricing:
Their pricing structure is based on the number of subscribers in your list, and then you can send unlimited emails. Your pricing plan changes only when you grow your subscribers. You can access all the features at all pricing plans.
Pricing starts for as low as $7.49/month (when billed annually) and $9.99/month (billed monthly).
Before you commit, you can take a 14-day free trial and get access to all the features.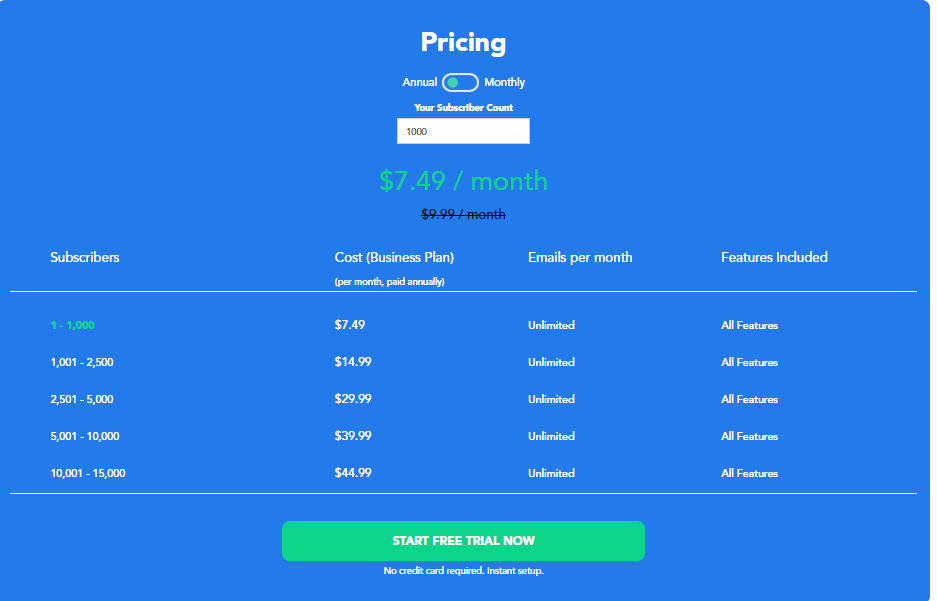 Mailchimp suggests using their automation but even their legacy autoresponder is powerful.
What you can do:
Create essential autoresponders (Welcome email, order notifications, abandoned cart, RSS, etc), as well as more advanced options (e.g. e-commerce, tag-based).
If one of your autoresponders uses a layout or includes content you like, you can save it as a template to reuse with other campaigns and automation.
You can get detailed analytics on all your emails that are part of the autoresponder sequence such as geo-locations, heat maps, and of course open and clickthrough rates.
Pricing:
You can sign up for a forever free plan but that only allows you to access a few features. Forever Free plan: $0, 2000 contacts, 10K emails/mo.
The rest of the plans are based on a combination of features you use and the number of contacts you have. For 500 contacts, this would be the pricing:
Essential plan: $9.99/mo, 500K emails
Standard Plan: $14.99/mo 1.2M emails
Premium Plan: $299/mo, 3M+ emails
Then the pricing increases as your list count increases. And remember, the Mailchimp counts subscribers & unsubscribers to calculate the list count.
Two drawbacks:
The main drawback is that their autoresponder editor isn't the easiest to use.
Mailchimp's pricing starts off cheap but gets really costly as your audience increases. MailChimp is actually one of the most expensive autoresponder tools out there for small-to-medium businesses.
If you are looking for a solution that's best for a small and medium-sized business I'd encourage you to try SendX.
You'll be joining many other former Mailchimp users who've shifted to SendX and never looked back.
Mailchimp's Venture Into eCommerce
One important update for all those looking at Mailchimp as an option is that Mailchimp has also recently launched its own online stores for SMEs, and a new service for booking appointments. The appointment booking service went live on 28th April 2021, and the new eCommerce features are scheduled to become available for the US and UK Mailchimp customers by May 18th 2021.
New 'Websites and e-commerce' plans will be introduced (and free-plan users will have to pay 2 percent transaction fee). Transaction fees will be reduced for users of different pricing grades, for example, those who go for a Plus plan at $29, only 0.5 percent transaction fee will be applicable.
Besides, for $10 extra, Mailchimp's branding will be removed and you will get email and chat support, and you will only have to pay 1.5 percent transaction fees.
All their plans will also include SEO tools and Google Analytics integration. Plus, you can build websites with unlimited pages and without bandwidth restrictions.
And when it comes to the online stores by Mailchimp, you can build your product catalogues, manage your orders, and taxes and shipping configurations.
But if you don't need all of these additional features and services, you should still proceed with comparing Mailchimp with other email service providers for your email marketing needs, like SendX.
‍
It offers a WYSIWYG editor to create an email campaign, secure contacts list management, social stats reporting tools, images/texts import feature, real-time tracking of your email campaign, etc.
What you can do:
Once the autoresponder series is created, you can select which lists the email will send out to. You can also add multiple lists to the autoresponder series as well.
Once the report is generated, you can view the queued contacts, sent, opens, and clicks for emails in your automated email series.
Contacts don't open your email for a variety of reasons. So you have the option to trigger an email to automatically resend without having to figure out for yourself which contacts didn't open it.
The autoresponder feature is not available in a trial account. Upgrading your email plan gives you access to these additional features.
Pricing:
Email – The plan starts with $20/mo for 1 user & lets you send unlimited emails along with features like 1 GB storage, list-building tools, e-commerce, customizable templates, apps & integration, live support & more.
Email Plus – This plan starts at $45/mo for multiple users & comes with features like unlimited email sending, 2 GB storage, email automation, surveys & polls, subject line A/B testing, email scheduling, etc.
Lite – The plan starts with $5/mo for 1 user & lets you send 10000 emails per month, along with 500 MB storage, list-building tools, list segmentation, e-commerce & more.
Their free plan offers a good range of advanced autoresponders, including welcome, anniversary, page visits, and e-commerce (such as product purchase or abandoned cart).
What you can do:
It also allows you to select the days and times you want your followup messages delivered, and then it will be sent to your subscribers in sequential order.
You also get an allowance for free transactional emails. SMS can also be added for an extra cost.
You can use the autoresponder on the free plan.
Pricing:
Free – You can send 300 emails/day to unlimited contacts for free & get access to limited features like - email personalization, mobile-friendly email designer, etc.
Lite – This plan allows you to send 40,000 emails in a month at just $25/month. There is no daily limit on sending emails.
Essential – For this plan, you pay $39/month & can send 60,000 emails in a month. You will also get options for advanced statistics & removal of the SendinBlue logo in addition to the Lite plan features.
Premium 1 – With this plan, you can send 1,20,000 emails in a month at $66/month with advanced features like send-time optimization, landing page builder, and retargeting ads.
Premium 2 – For $173/month, you can send 3,50,000 emails a month & get access to features like unlimited automation workflows, free dedicated IPs.
Wrap Up
If a simple, yet powerful autoresponder system is what you're after, SendX is hard to beat.
It's perfect for a wide range of industries. Whether you are an online store owner who wants to send automatic order confirmations and abandoned cart campaigns, or a blogger looking to increase engagement from your subscribers, SendX is a very reliable platform.