SaaS Email Marketing Strategy That Brings Sales (With Bonus Examples)
4 min read
Table of Contents
Have a strong lead-gen strategy to build your email list

Right from day one, you should be gathering email addresses at every point you can—your site, your blog, your content. Everyone that visits your website, landing page, or company profile product is a lead, even if they don't become a user immediately.
Most of the time, they won't be opening up their wallet right away, but having their email gives you a chance to convert them later on.
Choose a lead-gen strategy according to your business.
Automate & Scale Quickly
An email drip campaign is a series of emails you send after someone signs up for your free guide/ebook, a free trial, demo, or another resource you offered.
They are created beforehand and set into the system. Your rules you have set in your ESP then decide to automatically send these emails. If a user moves from a free trial to a paid version at some point in the sequence, the initial email sequence can stop. And the users can now be diverted to another sequence.
All of this happens without you needing to put down that whiskey on the rocks or postponing that ski trip. All automated and like clockwork.
You can do even better marketing by tailoring your email sequence based on your lead's entry point. For example, have a long sequence for someone who signed up after downloading a free report. Have a shorter sequence for someone who came after watching an hour-long webinar.
If you are looking to tap the power of automation without breaking your head dealing with complicated systems (that only look cute or clean), SendX is a pretty savage choice.
If you want proof, look at what Jon Buchan, founder at CharmOffensive said about us:
"I can create sophisticated email marketing campaigns. The team is also superb - helping me with my requests very quickly. I have to say that SendX is the best email marketing software I have used to date."
Jon is a pretty reliable guy but if you have been warned to not trust people on the internet so easily, check out every feature, all automation, all nuts, and bolts of SendX for free for 14-days.
We are confident that you will appreciate how easily you can create complicated drip campaigns, and that we are not even locking you by asking your credit card details.
As a bonus, here are examples of automation we have been impressed with:
Welcome email triggered after creating a new account: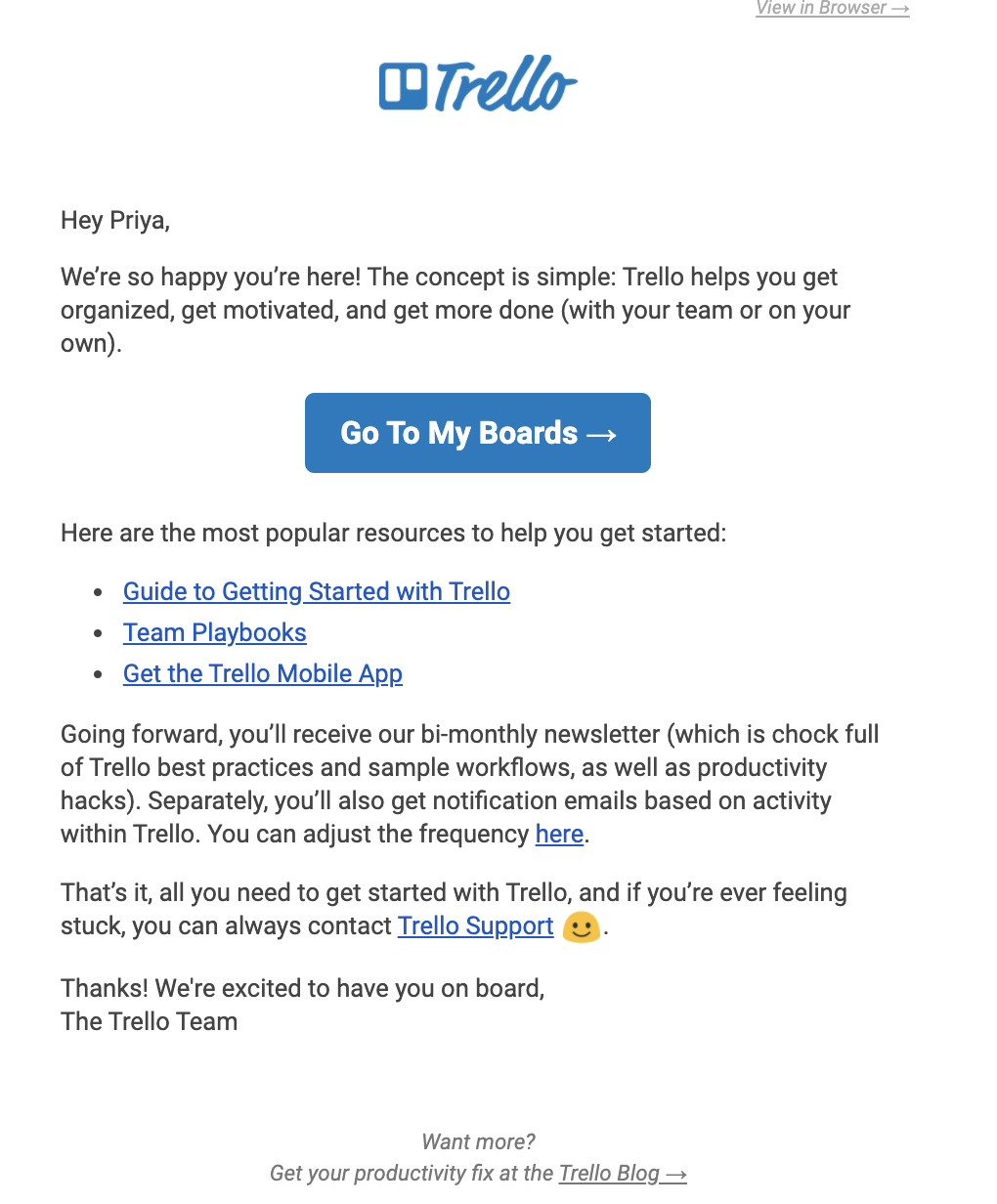 Shopify sends this reminder email to convert the customers from a free trial to a paid subscription.
This email from Grammarly gets sent after you complete 1 year with them.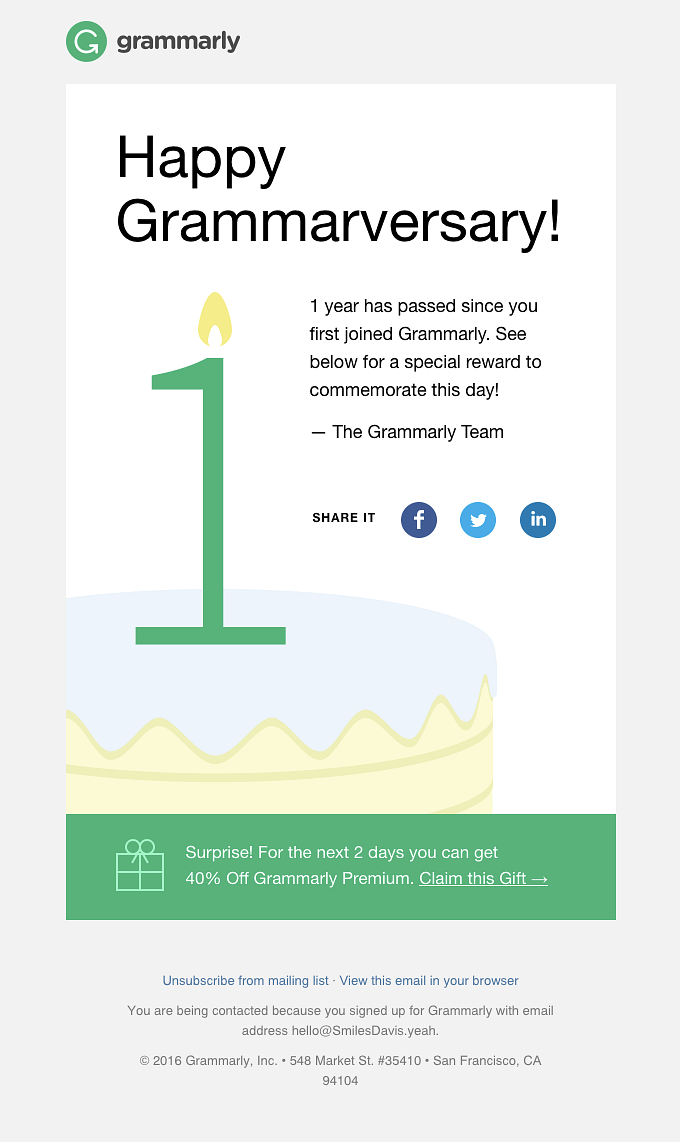 Segment & deliver a tailored experience
Segmentation is a smart way of sending personalized, contextual content.
Segmentation can help you deliver an almost personalized experience to your subscribers, especially if your company is a multi-product business or offers several plans for the same product.
You just need to decide the right criteria to segment your audience. Various segments can be based upon:
Buying stage - To free trial members, send feature
Payment Plan
Team Size of the company
Type of business
Functionalities used
The right emails will gently take them from a free plan to a paid plan, without you using pushy sales emails. It will also help you reduce churn & hence boost your holy number- the MRR.
This way, the emails and content people get is contextually relevant to where they are, in buying, onboarding, or renewing their subscription.
Decide the goal of your emails
At the very beginning of designing your email campaign, you need to decide the end goal of it. What action do you finally want the users to take and what is that one metric that will tell you whether it worked on it?
This is important because that will define:
Kind of content you send.
For example, You will send FAQs answering objections to only free trial customers. You will send a UI update to existing customers.
The segment to which you send emails.
For example, promotional emails will be sent to only non-customers.
The CTA.
A CTA matching the desired action is an obvious one. If you want people to sign up for a free trial, a 'Know More' CTA will be less effective than a 'Try for Free' CTA.
In a SaaS business, the different goals & emails related to those can be mapped as shown below:
| Goals | Emails |
| --- | --- |
| Get as many quality leads as possible | Informational Emails |
| Get leads to sign up for a free trial or attend a live demo | Promotional Email |
| Increase stick rate and get freemium customers to become paying customers | Onboarding Emails |
| Get paying customers to continue their subscription | Sales Emails/Retention Emails |
| Get happy customers to post testimonials or give pass referrals | Feedback Emails/Referral emails |
Wrap Up
We have given you a kickstart with these 4 strategies.
But now it's time to implement.
If you are looking for an ESP that can provide you all the tools you need to implement your email marketing for SaaS, you should check out SendX. It's easy to subscribe with just an email and no credit cards are required until you commit to them. They don't want to see your shiny bucks until you are fully impressed. So checkout SendX for free for 14 days.
FAQs
1. What is an email drip campaign?
An email drip campaign is a series of emails you send after someone signs up for your free guide/ebook, a free trial, demo, or another resource you offered.
2. What kind of emails do I send for what kind of goals in a SaaS business?
In a SaaS business, the different emails to send will depend on your goal. For example, you would send informational emails to get as many leads as possible. To get leads to sign up for a free trial or attend a live demo, you would send promotional emails.