6 Mailchimp Changes to Know Before Choosing it
7 min read
Mailchimp made a major move last week, they announced that they are transitioning from an email marketing software to an all-in-one marketing platform.
The news in itself was not very surprising considering they have been adding these all-in-one marketing features for the last few years. So, this pivot was in the works for some time now.
But, the real surprise came in a few days back when Mailchimp communicated to its users about the changes to the Terms of Service and what these changes could really mean for them.
Also, these Terms of Service were kicking in that very day.
Here are the top two changes that are going to seriously affect you:
1). The move towards a completely new pricing plan structure based on Audience Size. This alone can increase the prices to as high as 3-5x (details below).
2). A lot of features being moved out from lower pricing plans to higher plans .
Additional details around these changes started coming out when Mailchimp users reached out to support asking for specific details.
After gathering all the details that has been trickling out for the last 6-7 days the message seems loud and clear - Mailchimp is going all in into becoming an all-in-one marketing platform even at the cost of alienating their core user base of email marketers.
Here's what the email from Mailchimp says:
"As we've grown beyond email to be an all-in-one Marketing Platform"

If you're serious about your email marketing, you should be really concerned with this direction.
Here is why:
The drastic increase in prices (all the changes included could inflate your bill significantly by as high as 5X), change in product direction (and email marketing not being at the centre of it) and loss of trust over the last week.
This will really complicate the relationship between Mailchimp and email marketers.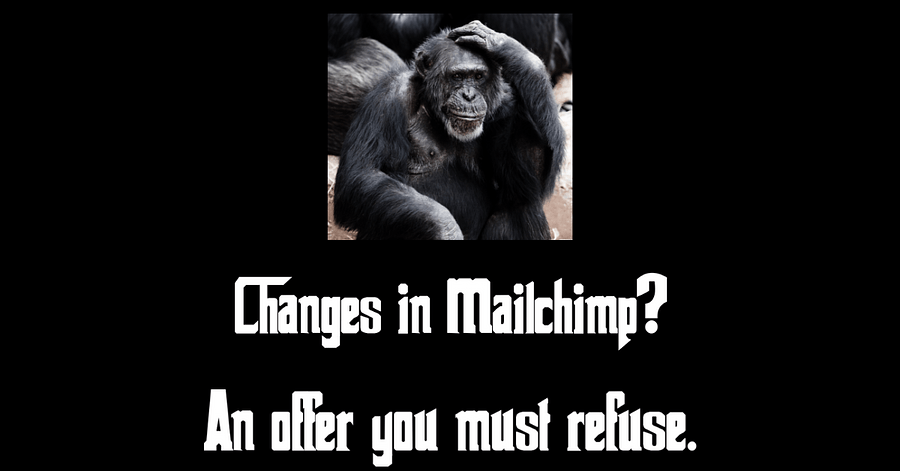 1). The new pricing is based on audience size and not email list size
Mailchimp defines Audience as - all type of contacts in your Mailchimp account (i.e - subscribed, unsubscribed, non-subscribed and cleaned contacts).
This pricing methodology will not make sense for email marketers.
Why? Quite simple. Email marketing users will be charged for contacts that cannot be used for email marketing.
The number of contacts in this segment can be really significantly. The email marketing account of SendX itself has close to 35% contacts that will fall into this category.
This means you will have to also pay for - unsubscribed, non-subscribed and unconfirmed contacts (in case of double opt-in list). Honestly, this kind of pricing is something quite unheard of in email marketing world.
Here is the snapshot of the email sent by Mailchimp.

This change has not gone down well with a lot of Mailchimp users...
Same sentiment has been echoed by a lot of email marketers online.

2). The entry level paid plan has become very restricted
Most of the core features are either missing or extremely restricted in the Essential plan (and of course the free plan).
In the entry level paid plan you can't have more than 3 email lists (or what Mailchimp now calls as audience)
The next higher paid plan (Standard Plan) also allows only 5 email lists. Until you pay for the Mailchimp's premium plan (starting at $299 /month), you are not allowed to have more than 5 email lists.
Following core email marketing features are not present in the entry level paid plan of Mailchimp:
Core Email Marketing Features
Available in Essential Plan?
(the new entry level paid plan of Mailchimp)
1). More than 3 email lists?
No
2). Ability to add your own email templates
No
3). Email drip and sequences (i.e. Multi-step custom workflow)
No
4). Email delivery by time zone
No
5). Time-optimized emails (what others call as Smart Send)
No
The free plan has become all the more restrictive and allows only 1 email list along with a lot of other important features going away.
3). "Additional charges" makes Mailchimp even more expensive
Every Mailchimp pricing tier now comes with "additional charges". This is more like an overage fee attached to every pricing tier. If you exceed the contact or email limit then you will have to pay additional charges on your extra usage.
The industry norm is to move the user automatically to a relevant pricing tier as the number of subscribers increases or decreases. Even Mailchimp was following the same practice for years (until this was changed on 15th May).
But, unlike the earlier pricing mechanism, Mailchimp will no longer upgrade or downgrade your pricing tier automatically anymore. You have to do it manually. If you miss doing it, then you will incur additional charges for the prior billing cycle based on your current Monthly Plan.

Let's take an example to see how it will affect the users' billing.
You are on 2,500 contacts Essential Plan ($29.99) and your contacts increase from 2,500 to say 4,500 in a particular month then you have to pay $69.95 (instead of $49.99 if you were automatically moved).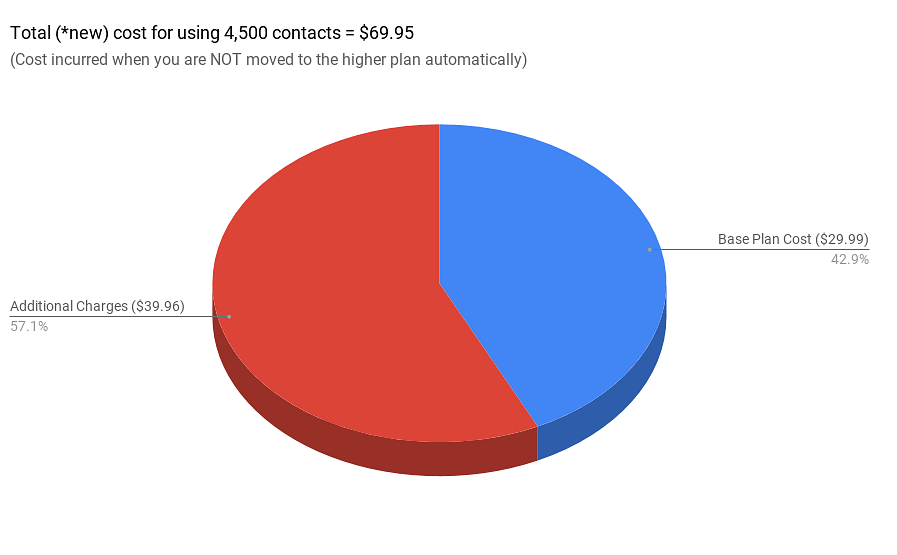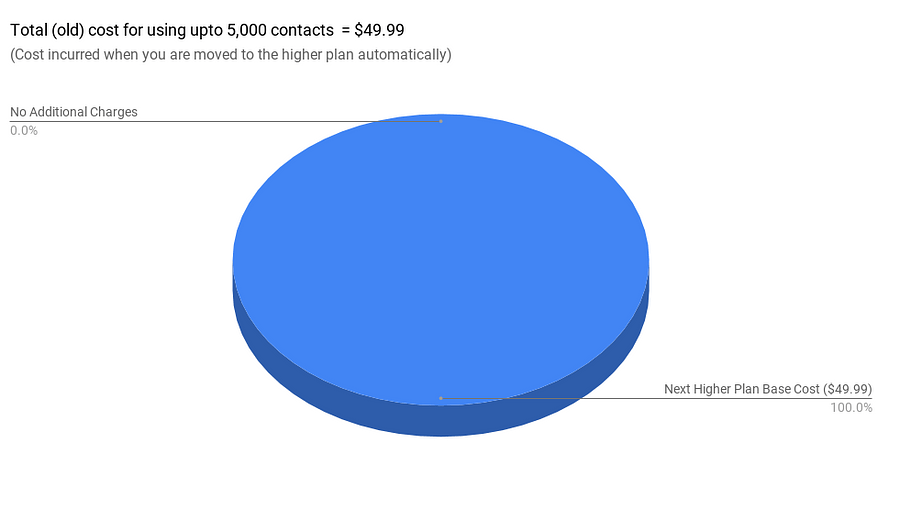 You will end up paying much more than before for using even lesser features.
Let me explain:
Essential plan with 2,500 contacts (base cost $29.99) has the following additional charges:
"additional charges of $9.99/mo per additional 500 contacts (comes with additional 5,000 email sends)"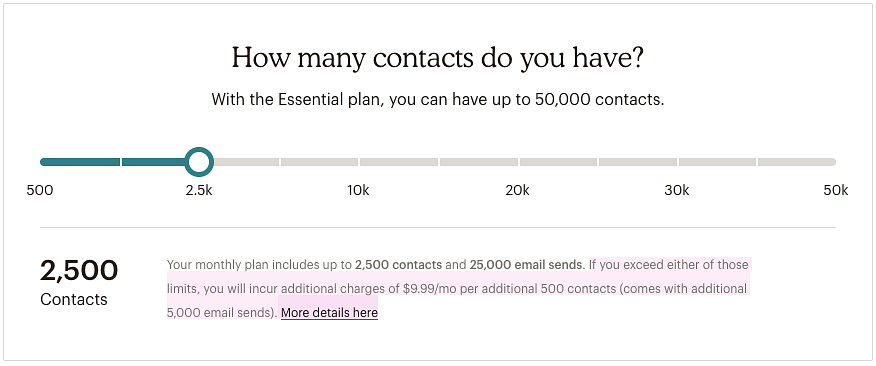 Here is a break-up of the cost you will incur:
Essential plan price (for 2500 contacts) - $29.99
Additional charges (for 2000 contacts) - $39.96 (4 x $9.99)
So in this case:
Additional charges > Base cost of your plan
The thing to note here is that the cost of Essential 5,000 plan is only $49.99 but you will end up paying a much higher price (for lesser contacts) since your plan is not auto-upgraded.
It is worth mentioning that I did not find tier-wise break-up of "Additional Charges" overage $ amount either on Mailchimp's pricing page, pricing calculator page or additional charges help doc. The pricing calculator page only says the following (but does not give specific additional details).

I could only find these details inside billing section after login.
So, Mailchimp is asking you pay more than before for using lesser features
4). Non-email marketing product direction?
Here is the email from Mailchimp:
"we've growth beyond email..."

I believe, Mailchimp's mission has changed from creating a great email product to an all-in-one marketing platform.
And they are two very different things.
Let me explain.
Mailchimp is a great product company and I truly admire them.
You might argue that Mailchimp will be able to pull off a product that does both the things really well ("email marketing" & "all-one-marketing").
I would argue against it primarily because Mailchimp is a great product company. They would only do one thing and do it really well. That thing happens to be an all-in-one marketing software right now.
Email marketing will be part of it and its job will be to work seamlessly with other marketing channels inside Mailchimp. The moment it starts to interfere with all-in-one product direction, the casualty will always be email.
Case in point - Choosing "Audience" over "Email lists" as the pricing axis.
I got reminded of the product and emphasis quote by Steve Jobs in this All Things D (D8) interview:
"...things are packages of emphasis. Some things are emphasized in a product, some things are not done as well in a product, some things are chosen not to be done at all in a product. And so different people make different choices…"
The emphasis of the Mailchimp product will change from email to an all-in-one marketing product that works seamlessly across channels.
5). New Email Marketing features will come only to users on the new pricing plans
Even if you are currently on the legacy pricing plan, you will eventually have to move to the new pricing to stay updated with the latest software development in email marketing space.
If you are a legacy pricing user and stick with Mailchimp, then you will eventually have to move to the new pricing. As detailed in the points above, the new pricing plans make no sense for an email marketer. It is the pricing for an all-in-one marketing software and not for an email marketing software.
If you are wondering whether new features will be shipped to legacy users or not, the answers clearly looks to be - No.
Here are a few communications from Mailchimp that established that:


6). Pricing plans with unlimited emails are gone
Earlier Mailchimp had unlimited emails (at no extra cost) for up to 52,000 subscribers. Unfortunately, that is also gone.
I could not find any pricing plan or tier that allows unlimited emails.
A lot of email marketers send much more emails than what is allowed by Mailchimp right now. Paying "additional charges" to send more emails will make little sense for these email marketers and the only option left will be to look for an alternative.

Some other issues important issues:
There are other developments over the past 1 week that do not inspire much confidence.
A). Non-expiring email credits policy has been suddenly changed.
As per the new policy, all old non-expiring email credits will expire by May 15, 2020.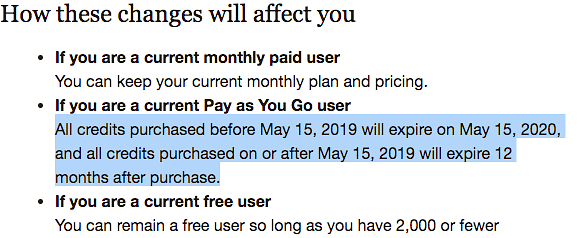 This has enraged many users, especially those who had stocked up email credits.
It is almost like they have been penalized for being too loyal!
Mailchimp seems to be making an exception on a case by case basis (as of now) but nothing officially seems to have come out addressing these concerns.
B). Lifetime 10% discount for enabling two-factor authentication has been reduced to only 3 months.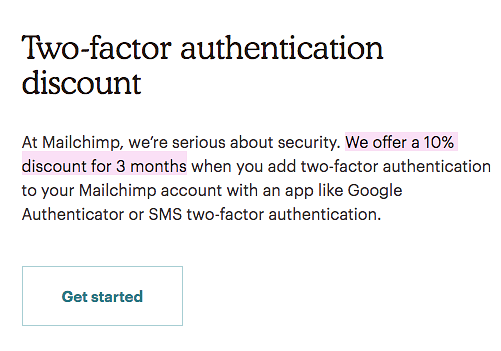 This sudden change just doesn't stand up to the old image of Mailchimp.
Perhaps, they have now becoming one of those big corporations that optimise revenue over everything else.
These sweeping changes and the way they have been handled till now does not inspire trust.
Conclusion
These changes are BIG.
They will affect every type of Mailchimp user eventually.
If you stick with Mailchimp for your email marketing, you will have to eventually move to the new pricing plans one way or the other.
The new pricing is not meant for email marketers.
Even for email marketers for whom cost is not a major concern other questions around product direction and erosion of trust still remain open.
Also, adding up all the pricing plan changes, some users are predicting that their cost can jump by 300% to 500% if they were to move to new pricing plans.
Here is what David Gaughran has wrote in his excellent piece about the recent Mailchimp changes:

Here is the thing:
Mailchimp (the company) has grown beyond email to be an all-in-one marketing platform.
The questions you need to ask is:
Do you have to force that on yourself?
IMHO, this is an offer every email marketer must politely refuse.
---
Disclaimer: I am the founder of SendX and we compete with Mailchimp. So, please take anything I write with a pinch of salt. That said, I have tried my best to provide as objective an opinion as I can about this entire event. If you disagree with anything, do let me know in the comments section.