We live in an era in which marketers are becoming more and more technical, and with that comes the need to build a marketing tech stack (email marketing software included) that puts the business in autopilot mode.
The problem with the technical-driven approach, beyond the obvious one, that is ignoring the creative side of marketing, is to start pursuing new shiny objects, which turns your marketing into a useless effort.
Besides reducing your marketing efforts results, going after every new shining object has its financial costs, and as a person who is responsible for the companies' marketing department, you should have this in mind when you are in the market looking for a solution that will help the business grow.
In this article, in particular, I will talk about choosing an email marketing software that won't break your finances, especially if you are an SMB.
The criteria I will take into consideration are:
Pricing
Features
Integrations
Why these three?
We don't want to pay a lot of money when we have cheaper and good email marketing software alternatives in the market, at least I don't.
Yes, the solution can be cheap, but if it doesn't suit your needs you will be spending money instead of saving it. This is why we will take a look into some of the features, and see what we are buying for the price we are paying.
If we want our email marketing software to be part of a larger marketing technology stack we will have to talk about integrations. Sure you can try to do everything using Zapier or something similar, but they aren't as powerful as "natives" integrations from the app.
Now that we have established our ground rules, let's get this thing started.
How Much You Got for Spending on Email Marketing Software
Every business struggles with a marketing budget - the big companies' struggles are different, but they still have to do the math, and decide on where and how to spend their money.
I can only imagine that a small/medium company will have to put much more emphasis on price.
With that in mind, let's analyze some of the affordable options that we have out there.
But, before we get into the email marketing software per se, let's clarify something here, I know that there are a lot more options out there, I am not claiming that this article is the ultimate list, and I will put the prices per month.
Our first option is yours truly. SendX is on the list for two reasons: one, they own the blog; and the second reason is the most important, it's an affordable option. And I don't think there are a lot of options out there that can beat it on price, especially because repeated contacts will still count as a single subscriber.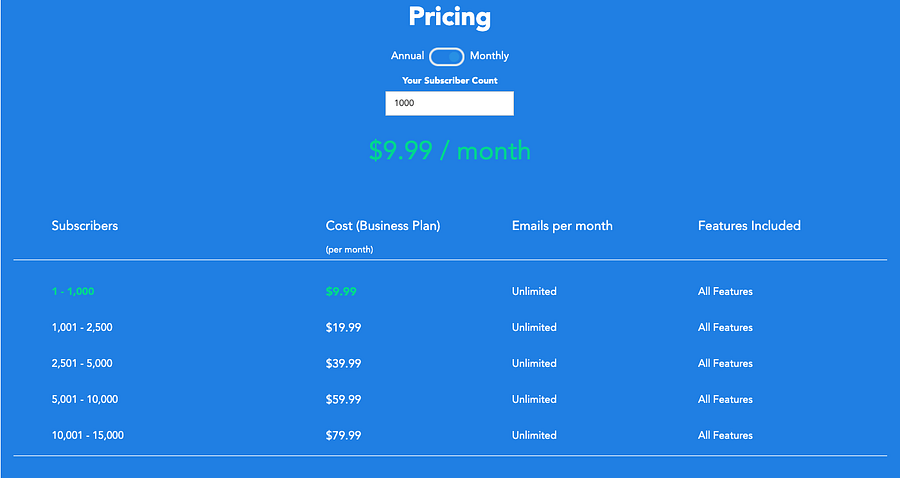 It's easy to think that the only thing SendX has to offer is its pricing, but you will see that they have more to offer when we talk about features, but for now, the price is what we are talking about so keep that in mind.
Mailchimp is the most famous email marketing software in the world, I would say. And it has something that a lot of businesses that are just starting will love - a forever free plan. The free plan has a lot of limitations but a starting business won't need all of those advanced features, and you have a 10K email limit that you can send per month.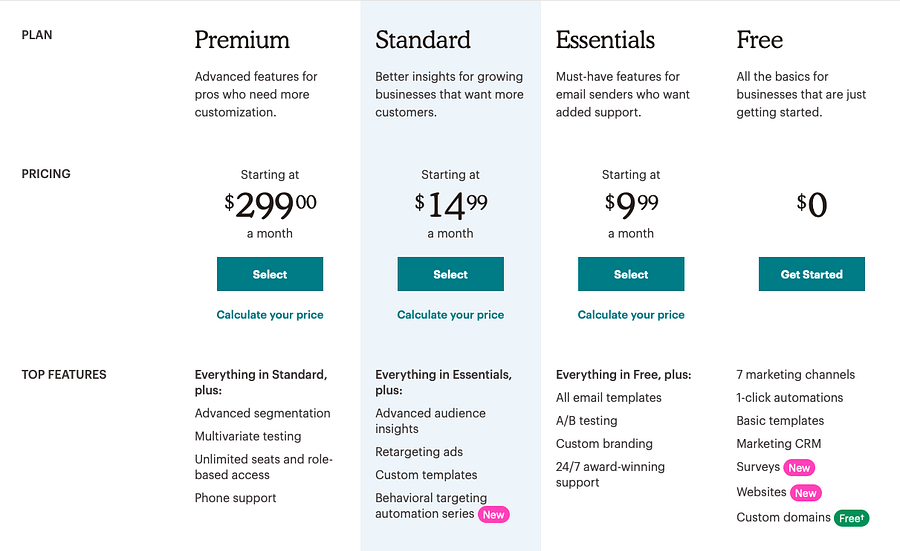 When you leave the free plan, Mailchimp can become a little bit expensive for a small business, but if you are stacking that paper, by all means, pay for an account because if they stood the test of time, quality is there for sure.
Mailchimp's Venture Into eCommerce
One important update for all those looking at Mailchimp as an option is that Mailchimp has also recently launched its own online stores for SMEs, and a new service for booking appointments. The appointment booking service went live on 28th April 2021, and the new eCommerce features are scheduled to become available for the US and UK Mailchimp customers by May 18th 2021.
New 'Websites and e-commerce' plans will be introduced (and free-plan users will have to pay 2 percent transaction fee). Transaction fees will be reduced for users of different pricing grades, for example, those who go for a Plus plan at $29, only 0.5 percent transaction fee will be applicable.
Besides, for $10 extra, Mailchimp's branding will be removed and you will get email and chat support, and you will only have to pay 1.5 percent transaction fees.
All their plans will also include SEO tools and Google Analytics integration. Plus, you can build websites with unlimited pages and without bandwidth restrictions.
And when it comes to the online stores by Mailchimp, you can build your product catalogues, manage your orders, and taxes and shipping configurations.
But if you don't need all of these additional features and services, you should still proceed with comparing Mailchimp with other email service providers.
Another affordable plan option from our list, MailerLite is exactly what a starting business or a marketing team on a tight budget needs.
Besides the affordable pricing, they have a free plan also - which doesn't contain all the features that you have on a paying plan but don't be greedy, you are using it for free already.
As you can imagine, the free plan has other limitations like: emails that you can send per month.

I told you that I would present to you some affordable options, and Moosend is among them. It has a forever free plan as well, until 1000 subscribers, but different from the others - except for Mailchimp - it has different plans to choose from, three to be more precise.
If you have more than a thousand subscribers those plans are limited to only Pro and to an Enterprise that you will have to contact them to know how much it costs.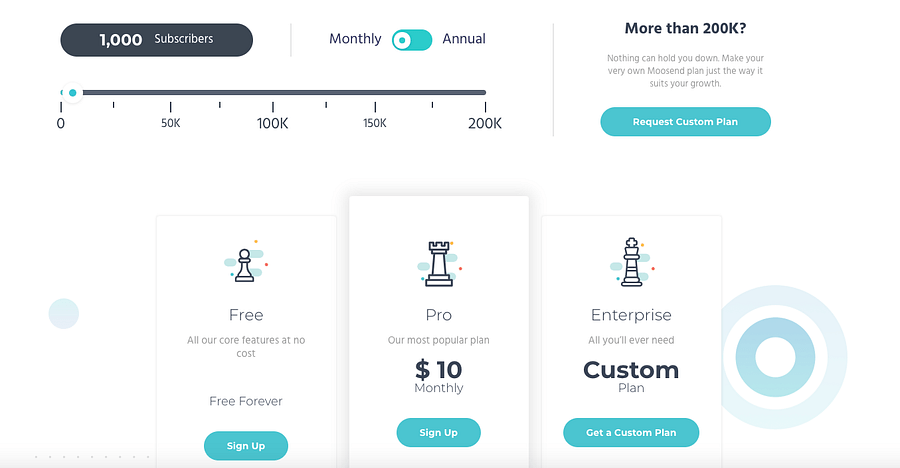 After some options that feel like stealing, it's time for the prices to go up a little bit. AWeber is an email marketing software which has been around since 1998, meaning that it stood the test of time, and if you compare it to other similar solutions it isn't that expensive.
From my point-of-view, someone just starting a business may look for a cheaper tool or a free plan, but a medium-size company can afford it just fine. We will have to enter the features and integration field to be sure that we will have a return on our investment.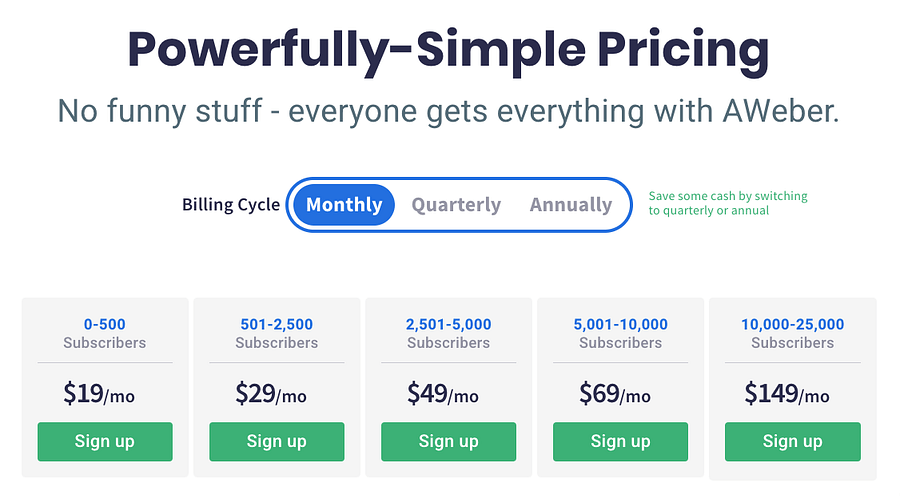 Another option that you should have in mind, which is not on the cheaper tier like SendX, MailerLite, and Moosend - as the pricing is similar to Mailchimp and Aweber. This means that we were able to reach some kind of equilibrium with our list.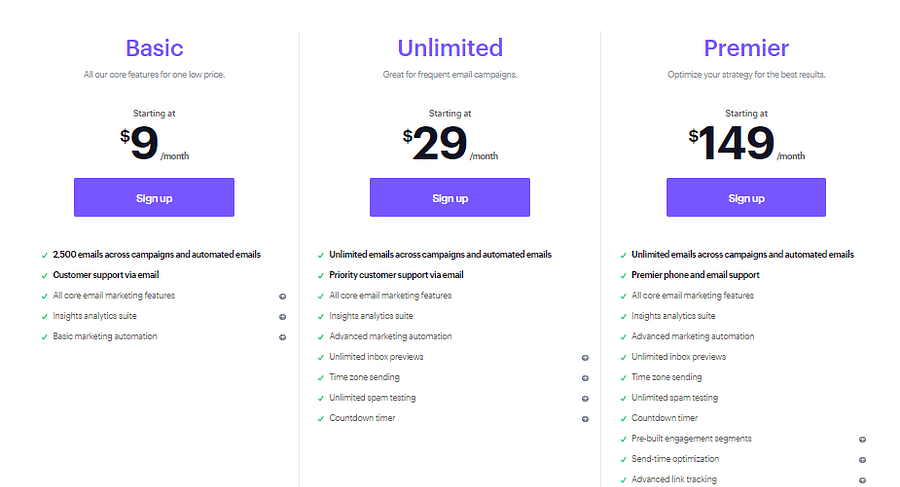 As I've said before the pricing is not the only criteria to have in mind when you are looking for an email marketing solution for your business.
Let's jump right into the features and see what are some of the things that you will get after paying for these email marketing softwares.
What Your Email Marketing Software Can Do for You Counts for a Lot
Well, this is the part where we will truly see what you are getting for your money. Bear in mind that if we analyze every single detail of an email marketing software, we will have a novel - that no single person would want to read - instead of a blog article.
So we selected a few topics to talk about, and I trust that the things that are important for me will have the same level of importance for you also.
Email Editor & Templates
There is this old, and still relevant, discussion about HTML emails VS plain text emails. To be honest I think that both are needed and it depends a lot on the situation you are in.
If you are a DTC (Direct to Consumer) business that has to show your product to the customers, it makes more sense to use HTML emails to elaborate something appealing, instead of a plain text email with a picture attached.
Now that we took this "problem" out of the way, let's start with this comparison.
1. SendX
With a good selection of templates, it's almost guaranteed that you will find something that will fit your campaign objectives and needs.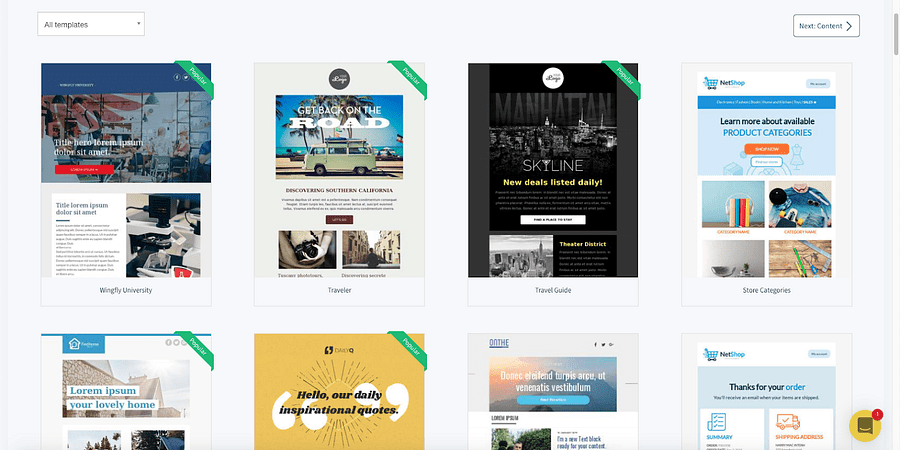 You can select one of these templates, even by use cases, and then modify them using the drag and drop email editor, or you can simply create your own email from ground zero, it is your choice.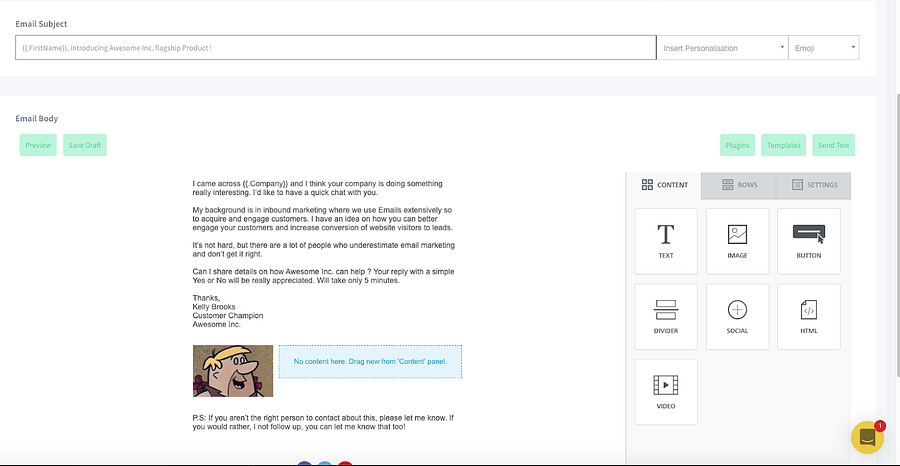 Like a lot of other email marketing software, SendX, will make your campaigns look good and well designed, even if you are not a professional designer. The perks of technology.
2. Mailchimp
Similar to SendX, Mailchimp has a great database of well-designed templates, some of them limited to the paying users, but you can get a lot of cool stuff with your free plan as well. Their email editor is very intuitive as well.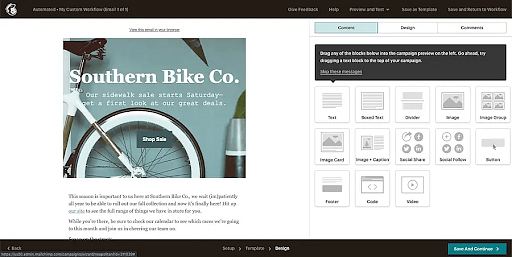 Come on, it's Mailchimp, they know design.
3. MailerLite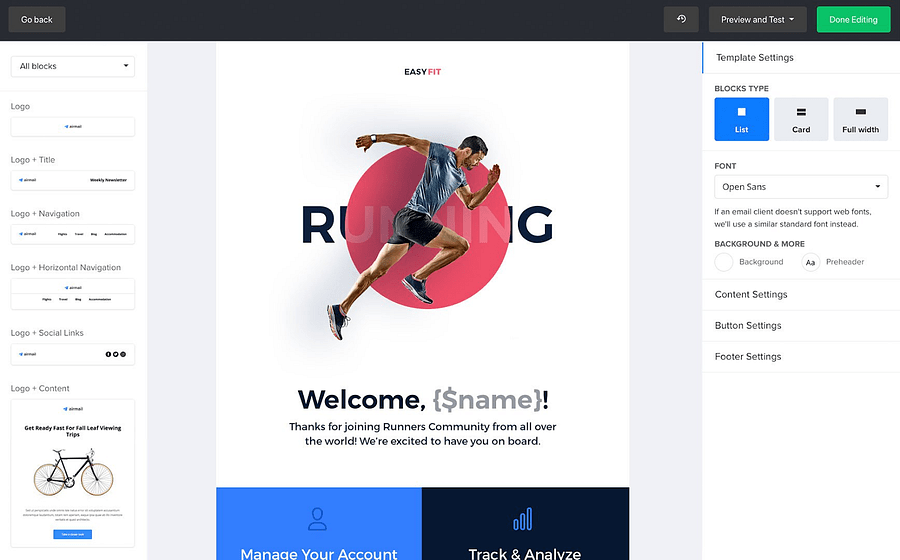 Another company that follows the standard of the industry. Great collection of beautifully designed templates, and a drag and drop email editor that allows you to edit every single thing on a template or simply start from scratch.
4. Moosend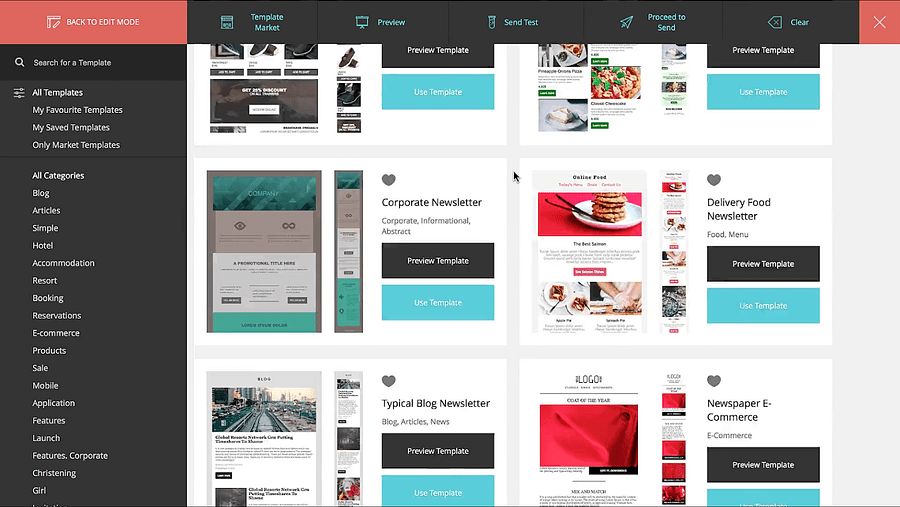 At this point, you are seeing where this thing is going. Yes, Moosend also offers you a great template library and a drag and drop email editor.
5. AWeber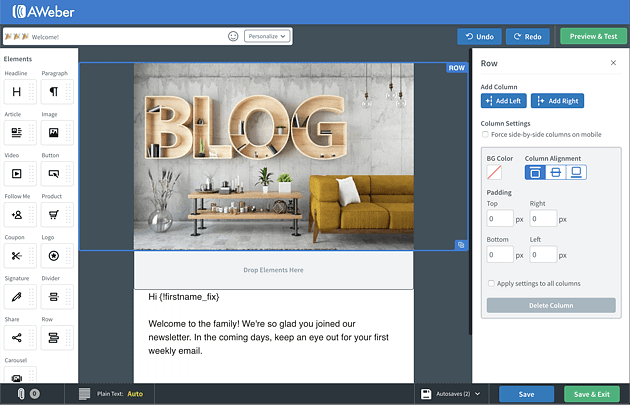 If the young email marketing software has them, you can be sure that an O.G like AWeber wouldn't neglect this feature as well. The thing is, people like shiny things and you better give them that.
6. Campaign Monitor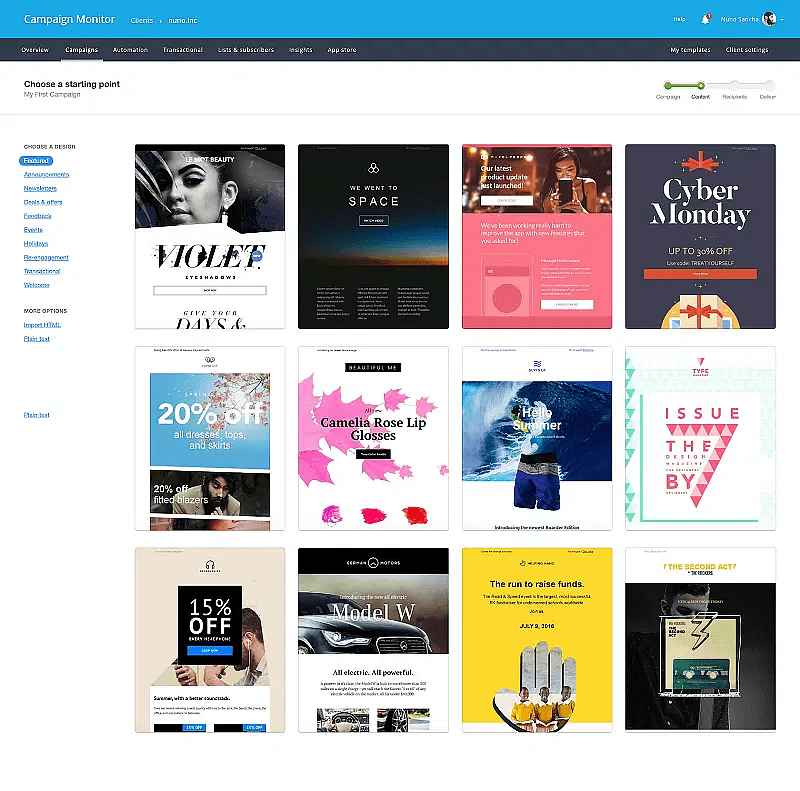 Well, Campaign Monitor may be the only case that I will say is not standard. The drag and drop editor is not as smooth as the other ones that will facilitate a creation from ground zero, the editor seems more like something created to modify the existing templates they have on their library - not necessarily a bad thing since they are so well designed.
How these Email Marketing Software Deal with Your Subscribers
1. SendX
With SendX it is pretty simple, it charges you by subscribers and a duplicated contact is not counted twice. And people who unsubscribed from your list, will not be counted as a contact on your list and charged as such.
But please, please, please… clean your list once in a while even if SendX won't punish you for not doing that. It's a good habit to have.
2. Mailchimp
Mailchimp changed to become an all-in-one marketing platform, and with that change came some other things as well.
They now are an audience based platform, meaning that the way they will deal with your subscribers is very different.
Your duplicated subscribers across your audiences are counted and charged as if they were two different subscribers. And your unsubscribers are charged as well since they are part of the audience.
So remember to do some cleaning not once in a while, but regularly. And even by doing that you will still be charged for the current month in which a contact unsubscribed from your list.
3. MailerLite
In Mailerlite, unsubscribed, deleted contacts, and so on will be charged for that month.
4. Aweber
After seeing other solutions that will charge you for duplicated contact, it's a relief to go back to one that will count the same contact as one across all the lists. The only problem that I see with Aweber is that they will charge you for unsubscribed contacts, as for Aweber they are part of your total billed contacts.
5. Moosend and Campaign Monitor
Have as many lists as you want, and your unsubscribed contacts won't influence your pricing as well. But anyway, it never hurt anybody to clean their contacts once in a while. I know that with all this automation, it feels like you shouldn't worry about following things closely, but you should.
Speaking about automation...
Automation
This is the part that everybody loves about email marketing, a software that can easily make decisions based on preset rules, leaving you with extra time to pay attention to other aspects of your business.
So let's see how powerful these email marketing software are when we are trying to get things into autopilot. We will analyze advanced automation, since all the solutions in this article have drip emails and so forth.
SendX has a simple but powerful automation feature based on IF this happens (trigger) THEN do that (action). You can stack triggers/actions using the AND as well.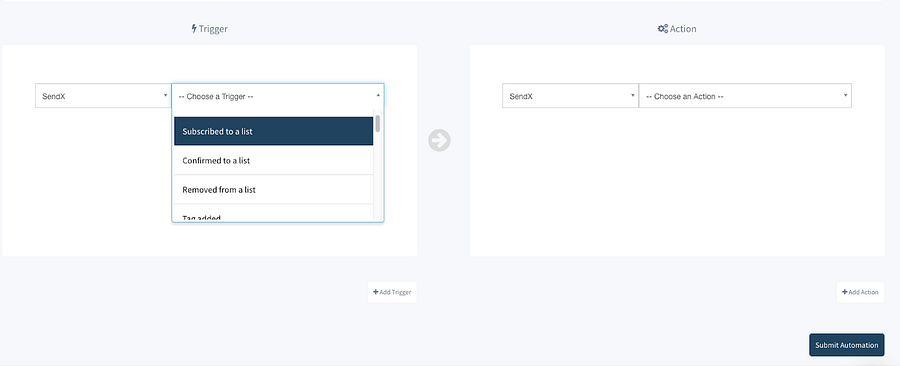 To tell the truth, I do prefer when you can get a more visual workflow of your automation, but this one is not complicated to understand at all.
With Mailchimp you can expect a similar mechanism for your automation based on triggers and actions, but just a little bit more complicated to pull off. If you are using the free plan, you will be very limited in what you can accomplish with automation.
One of the things that I like about Mailchimp is the fact that they have a lot of pre-made automation recipes, maybe because they know how complicated it is to set them by yourself, but nonetheless, those recipes will save you a lot of time and headache.
The visual workflow of MailerLite is something that makes me smile. What can I say, I just love that feature. It is such an intuitive feature that I could be here talking about it for hours, but instead of that, I will let this gif do the talking: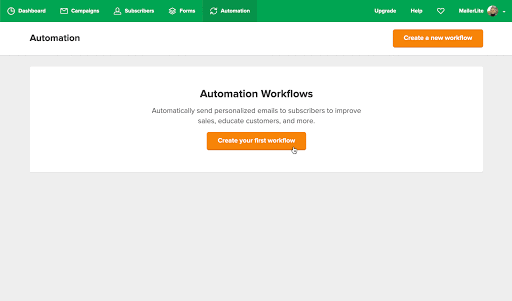 Via MailerLite
The logic is the same from SendX and Mailchimp, but now you can see those steps (triggers and actions).
Speaking of workflow automation, Moosend is another email marketing software who have got this feature, but they prefer to emphasize automation recipes. They have a lot of them, and their communication is based on the fact that as a marketer you won't need to rely on IT to accomplish advanced stuff because Moosend has your back.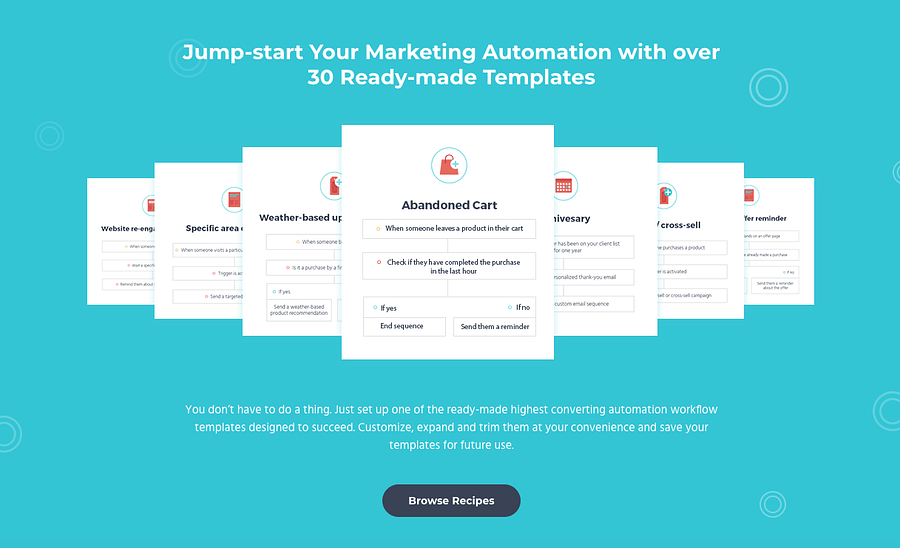 You would think that a solid company like AWeber would have a better automation feature than the relatively new companies that we already talked about in this article, and you would be wrong.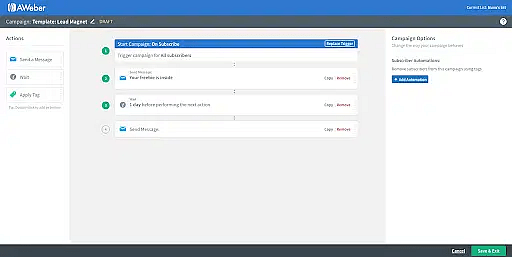 They are easy to set up for sure, but besides that, they are pretty limited. I am sure that they have a lot of other things that are one of the best in the market, but not this one.
Campaign Monitor is a good example of what I was saying about AWeber. They are a solid company by now, and they did exactly what you would expect from a respected email marketing software. You can create automations using their workflow, and you can use their pre-made recipes to save time.
Reporting
Let's not take a lot of your time here.
Except for Mailchimp that has one of the most complete reporting systems in email marketing, that includes eCommerce reporting, the rest of the email marketing softwares in this article have basic reporting. Not that you can't improve them with integrations, but we are talking about native features here.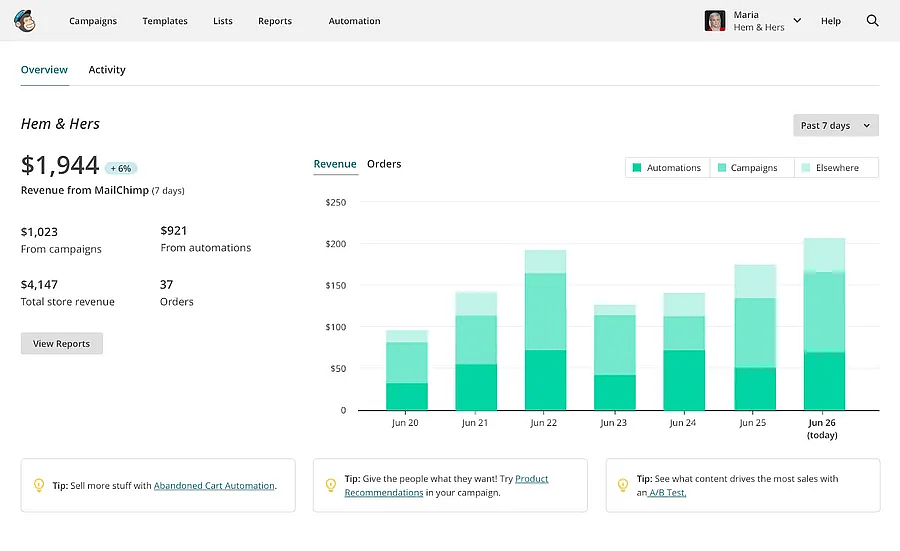 And when I say basic I am not saying that the reports are bad. It is just what you would expect in any SaaS email marketing - open rates, CTR, bounce rates, and so on and so on.
Email Deliverability
This is a subject that SendX loves to talk about, their team studies everything that can give them an edge in deliverability. Since they are relatively new in the market, they needed to differentiate themself from the rest.
And when I asked them about their rates, the answer was that for the best customers the rates were 99.4%.
Now using data from experts let's see how the average deliverability from the other tools in this article are.
Mailchimp - in July 2019 it was 90.6% and in February 2020 it dropped to 81.6%. This was a heavy drop, as you can see.
MailerLite - from 94.8% in July 2019 it dropped to 78.4% in February 2020. The worrying part is that they used to have one of the highest deliverability in the market for years straight.
AWeber - escaping from the declining tendency of the other email marketing software so far, Aweber managed to improve from 80.4% in July 2019 to 85.4% in February 2020.
Moosend - unfortunately, I don't have the data for Moosend, but I will update it as soon as possible. I am really sorry about that.
Campaign Monitor - has a 84.9% overall deliverability rate according to EmailToolTester, so they have good deliverability.
Support
There is something about SaaS that I really like as a user, the fact that they try to make it the most self-service and low touch as possible. The companies produce a large number of resources in their knowledge bases (mostly videos and articles) in order to try to answer every single question that you might have about them.
And this is no different for the email marketing software in this article. All of them have a vast number of resources in their KB, so we will analyze their support from their team when those resources are not enough to help us.
SendX - 24x7 Email Support and quick Chat Support. This means that if you get stuck, you can reach out at any time and they will help you. They have awards for their support, so it's not just them saying it, it is the customers confirming it as well.
Mailchimp - offers support via email and chat (limited to business hours). If you are on the free plan, you only have access to support in the first 30 days.
MailerLite - they don't do phone support, but they provide 24x7 support via email and live chat. Not bad at all.
Moosend - 24x7 live chat support, and support via email.
Aweber - they offer a 24x7 chat and email support. The support over the phone is limited to only five days a week, during business hours.
Campaign Monitor - 24x7 Email support; support via social media; and phone support for the premier plan.
How do these Email Marketing Software Talk With Other Apps?
Following the low touch philosophy, SaaS products tend to create ways to talk with other apps, allowing their customers to create a marketing stack without being a developer. Integrations are the way they do this.
Let's see how good these email solutions are in this field.
SendX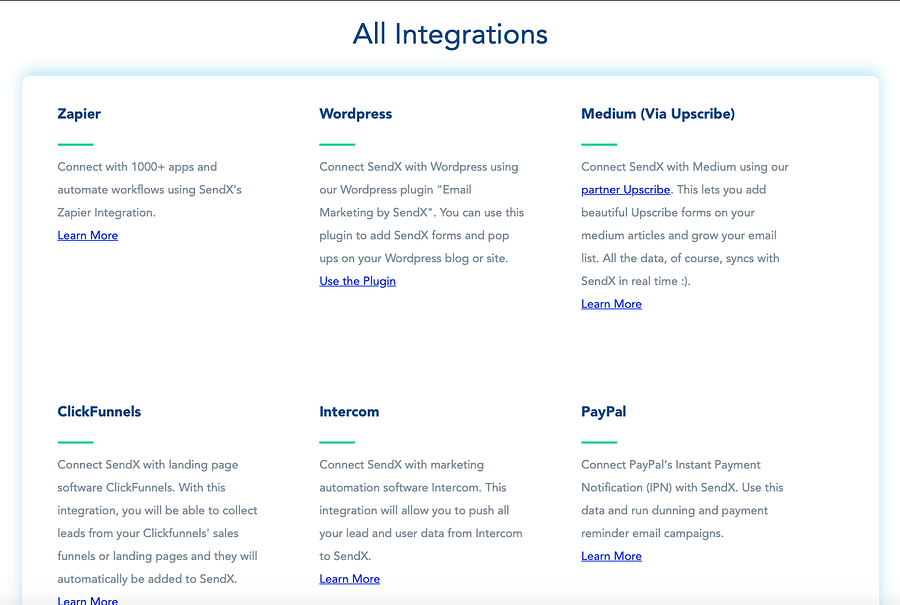 Unfortunately, this is where SendX falls short. The integration list may not be large, but at least they've dealt strategically with them. At least they integrate with Zapier, and you can do a lot with that.
Mailchimp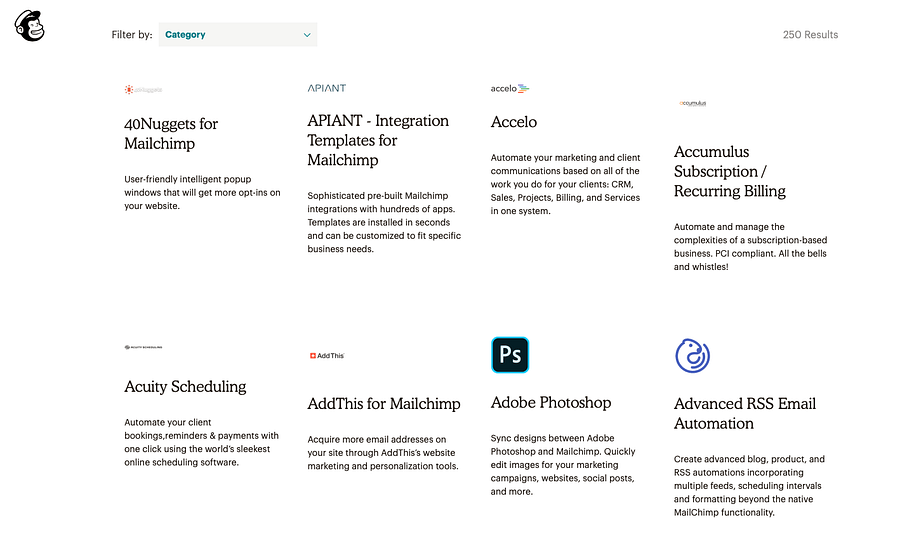 When you have 250 integrations, there's nothing to be said about it. One of the best numbers in the email marketing software realm. If you use some obscure service, the chances are that Mailchimp will integrate with that.
MailerLite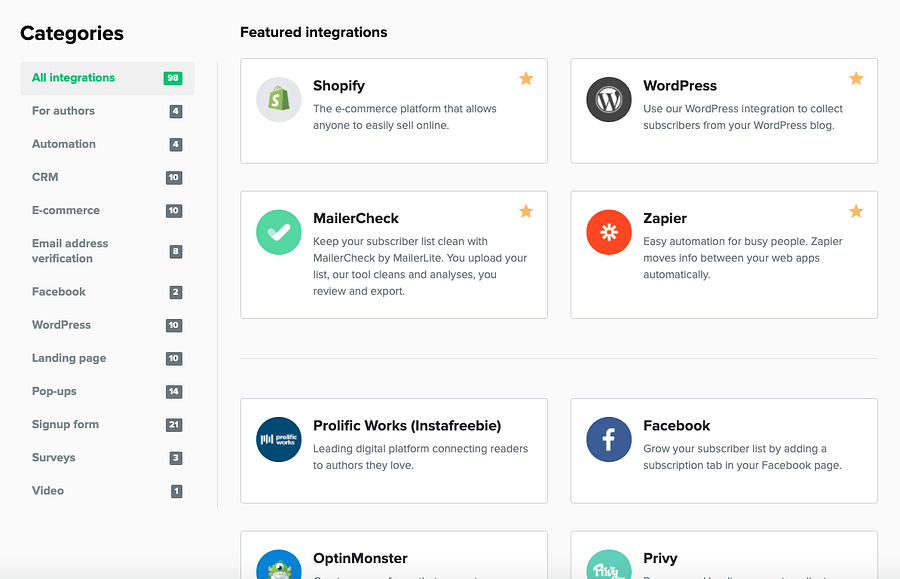 Not a Mailchimp, but 98 integrations is something that you cannot ignore.Besides that, it lets you have access to the developer API, so if you know a thing or two about coding you can DIY. A great thing if you take the pricing into consideration.
Moosend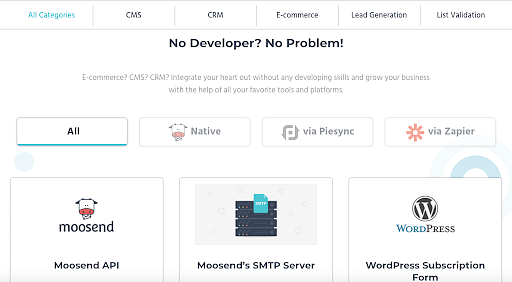 Moosend has a particularly limited selection of integrations when compared with other companies. However, you can use the Zapier integration that allows you to connect with different apps.
AWeber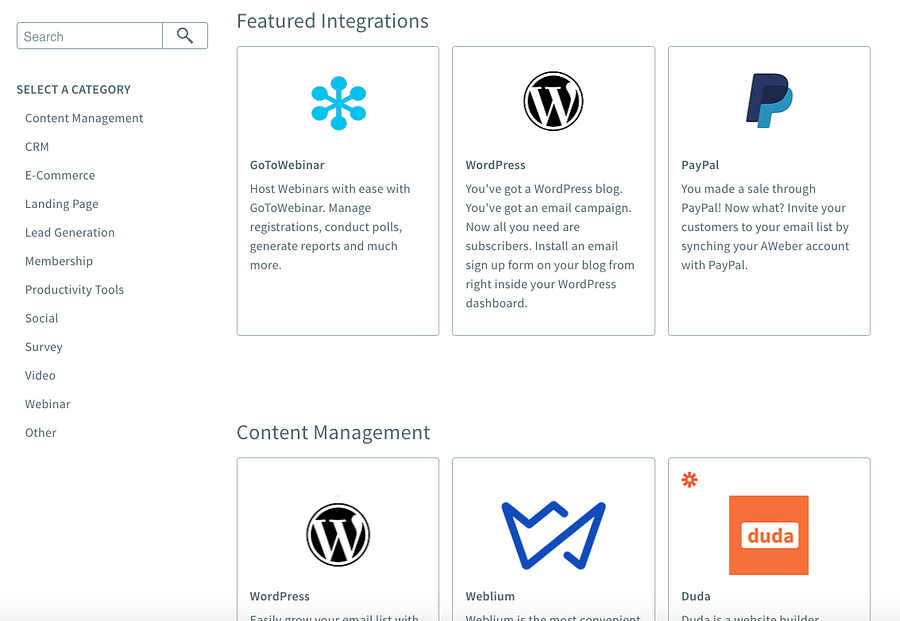 You would expect Aweber to be a heavyweight in this field, just like Mailchimp, but the truth is that they don't have as many integrations. Anyway, they have some high quality integrations like Zapier, PayPal, WordPress, Shopify, Salesforce and so many more known names in the market.
Campaign Monitor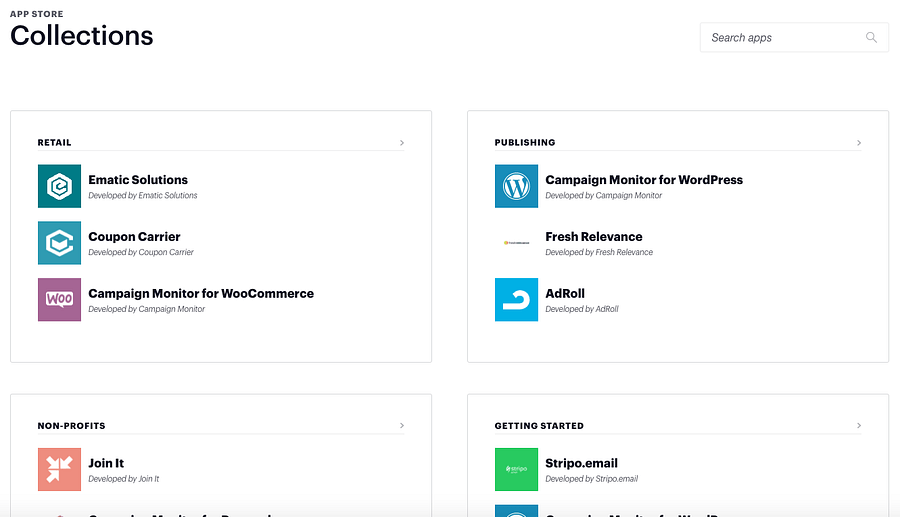 They call it App Store, and they are organized by categories like the other email marketing software in this article. I don't know how much of these apps they have in store, but for what I've seen, they don't go for quantity like Mailchimp, they prefer to go with quality like AWeber and the others.
Wrapping up
Now you know six email marketing software that you can use in your Martech stack. Some of them are really cheap, others are more expensive, but not to the point that will make you sell office materials to pay your bills.
The idea behind my choices was simple, sometimes the price is the most important thing in the world for you, other times you don't mind paying a little bit more just to have certain features or better delivery.
Maybe your digital marketing game is so advanced that you are looking for a tool that integrates really well with the other solutions you already got.
For instance, if I wanted a lot of features, a great email deliverability for a just price, and since my title promised you that you wouldn't file for bankruptcy just to send some emails, I would choose SendX. It's worth every cent you spend and the ones it makes you spare as well. You can go for a 14-day free trial (no credit card required).
Of course, SendX can do better with the integrations, but if you want a rational tip: if pricing is your main concern you may not have a lot of tools to integrate in the first place.
Another thing that would make SendX a PERFECT tool would be the workflow for automation, let's hope they work on this, soon.
There is one caveat though if you looking for affordable email marketing software for your e-commerce business, in this case, I would give MailerLite or Moosend a chance, they seem to be built with that in mind - more MailerLite than Moosend in my opinion.
But if you are a business with more money in the bank, and looking for an email tool, Mailchimp should be your choice, everything just works, and there is no much difference in price with other more expensive tools.
And you can integrate it with a lot of tools, making your life easier.
This is all I have, for now.
See you soon.