The Ultimate B2C Marketing Automation Guide [With Comparison of Top 5 Tools]
6 min read
There are rumors that email marketing will soon be dead and it does not lead to good returns. And many more!! I would like to answer that with some little stats - email is the third best way for content distribution among B2C marketers and In 2020 alone there were 4 billion email users globally and is set to grow to 4.6 billion users in 2025. Woo-hoo!! Shout out to all the email marketers!!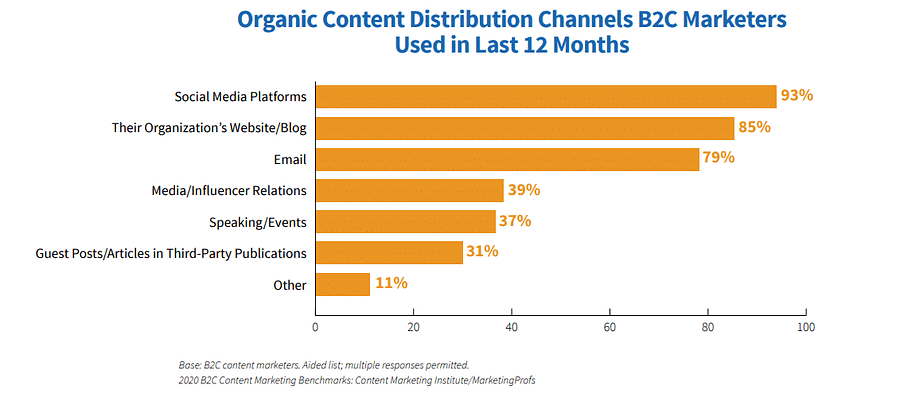 So now, as I have gained your attention, let's start with the basics first.
Table of Contents
What is B2C Marketing?
B2C short for (business to consumer) marketing refers to the approach of selling goods and services directly to consumers. Some of the popular examples of these companies are Sendx.io (SaaS), Mywish (eCommerce), Amazon (Ecom and Saas combined) etc.
Now, one of the main challenges of Digital Marketing for B2C companies (business to Consumer) is to build value and gain the confidence of the audience. In this scenario, the segmentation, automation and micro targeting as a marketing strategy advances considerably. The goal is to attract more customers by providing them with solutions to their problems at the time they need them. Let's advance further with the role of automation in b2c marketing.
Automation History
Today almost all the marketers, even from small and medium corporations, use automation to interact with their visitors. Personalised emails attract better engagement and conversions.
These tools have just started their journey, earlier the tools that allowed you to automate were difficult, expensive and needed a definite skill set. These tools were the big corporations' weapons of mass interaction. But now these tools have become a bit more accessible to medium and small businesses the prices have come down and have evolved to be marketer friendly.
Marketing automation came into existence in the 1990s, but it gained momentum only around the early 2000s. Some big players like constant contact were founded in 1999, which due to popularity and money-making machine image soon gained a lot of competition.
When you are catering to thousands of people, with diverse habits backgrounds, and needs your manual approach doesn't work, it just doesn't!!. Hence automation is to the rescue, and it makes it so much easier to address the needs. Now what is Automation? Let's take a few example-
You post a new blog on your website, it automatically sends email to your subscribers with highlights, link, title, etc.
A subscriber checks out your pricing page but does not buy your product? Send them a series of emails showing them your product feature and after a couple of days if they don't convert and how they behave to your emails, send them a discount coupon.
I think you get the idea, right? B2C automation can be used in numerous ways, from drip campaigns to sales campaigns. Sky's the Limit!
Now that you have a fair idea about the marketing automation in B2C, let's discuss some of the top tools to do so.
Marketing Automation Software Comparison
Marketing automation has become a part of our lives, and it is making our tasks simple yet complex. It is started to be used for lead scoring, training, and even calculating the ROI based on the past data analysis. With automation you can easily take care of repetitive tasks and have more free time in hand to concentrate on strategizing and organising workforce in a more efficient way.
To help you find your way around and make your choice, there are a huge number of autoresponder tools that you can use for free. Below I have discussed some great B2C automation tools that might or might not have a free plan.
B2C-oriented Marketing Automation Software
1. SendX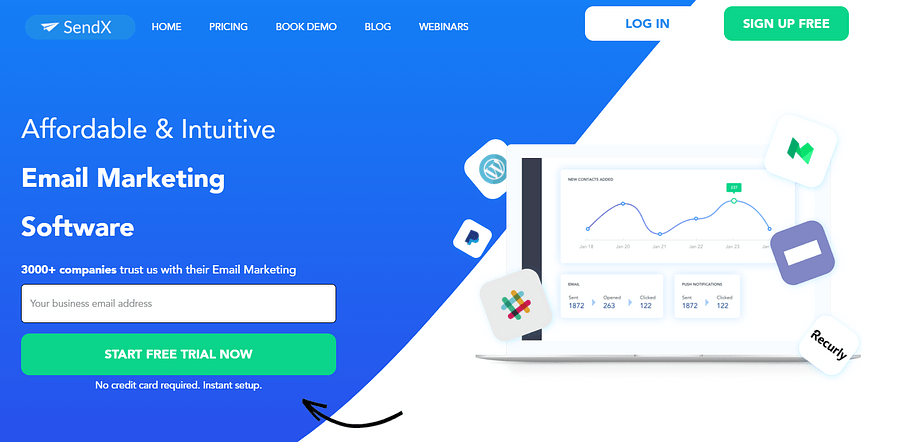 SendX is a full fledged email marketing software. With some noteworthy features at a reasonable price. You can use SendX to trigger automatic campaigns to nurture relationships with your prospects by sending compelling emails using their amazing templates. SendX has all the basic and advanced marketing automation functionalities.
You can easily segment your lists, create forms and do A/B split tests, run automated campaigns, Send birthday and anniversary wishes. Track website activity and send autoresponders according to your subscribers' behaviour. And lot's more.
Strong points
Good features in your budget
Segmentations and advanced automation
Website tracking
Deliverability Booster (Opti-Send Tech)
Website forms, page targeting & form automation.
Prices
The pricing is based on the number of subscribers. Check out the pricing below -

2. Sendinblues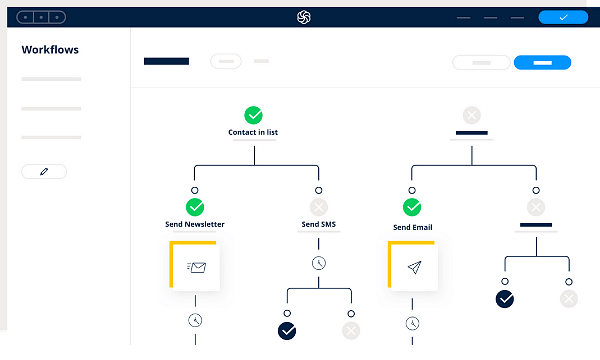 Sendinblue is an all in one marketing tool that helps you build strong relationships using email marketing, SMS marketing and marketing sales automation. You can even combine your SMS and email marketing to work together to get you even better conversions. Sendinblue also offers send time optimization to send emails at the individual's best time so your emails gain better open rates, but this feature is provided to enterprise customers only which is offered in much lower plans by its alternatives.
The biggest advantage of Sendinblue is its SMTP service that increases its deliverability and ensures fast delivery of your emails. You can also use Sendinblue as a free smtp server to deliver emails on your WP website.
Strong points
Automated workflow templates.
Smart scheduling
Advanced statistical analysis.
Prices
Sendinblue pricing is according to the number of emails you send -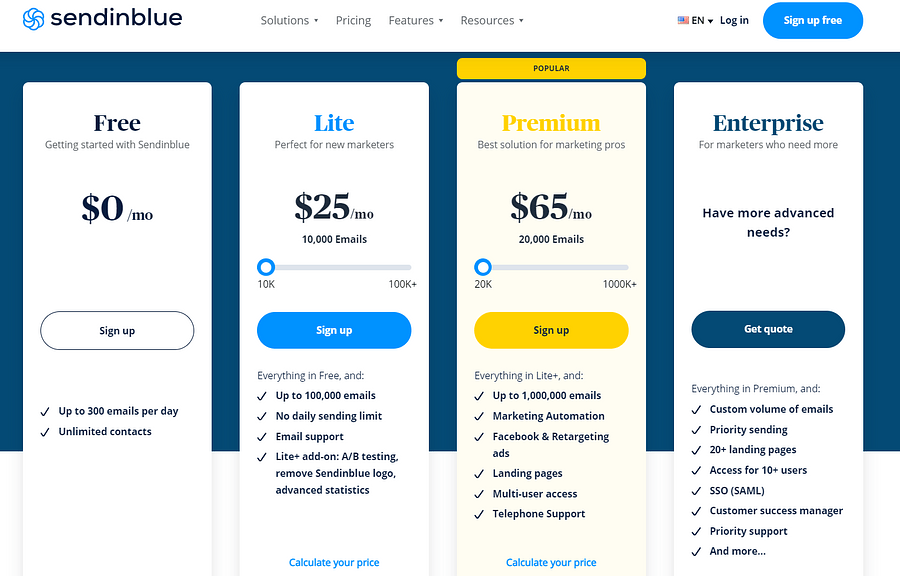 3. ActiveCampaign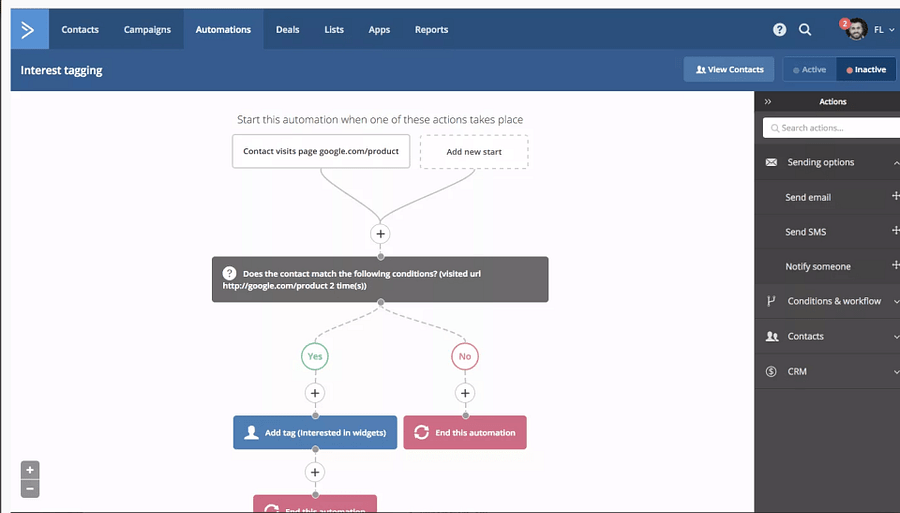 ActiveCampaign combines various aspects of marketing, it's more focused on small and medium businesses. It's stronghold is it's automation technology, which is better than any other tool out there. With this tool, you can seamlessly create attractive and engaging emails, use social media marketing, get more information about your contacts, and apply marketing automation technology previously inaccessible to small businesses. companies. You can capture and follow a lead with an automated email, for example.
Strong points
Conditional content
Advanced lead scoring
Prices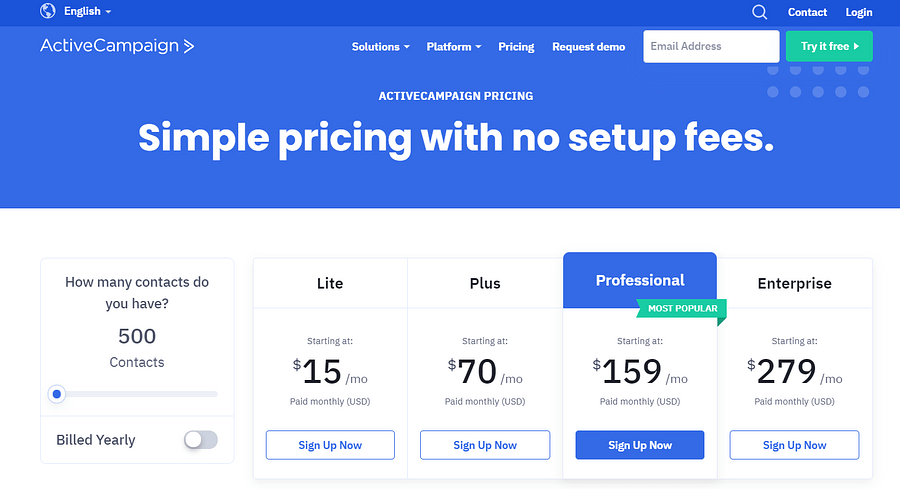 4. Mailchimp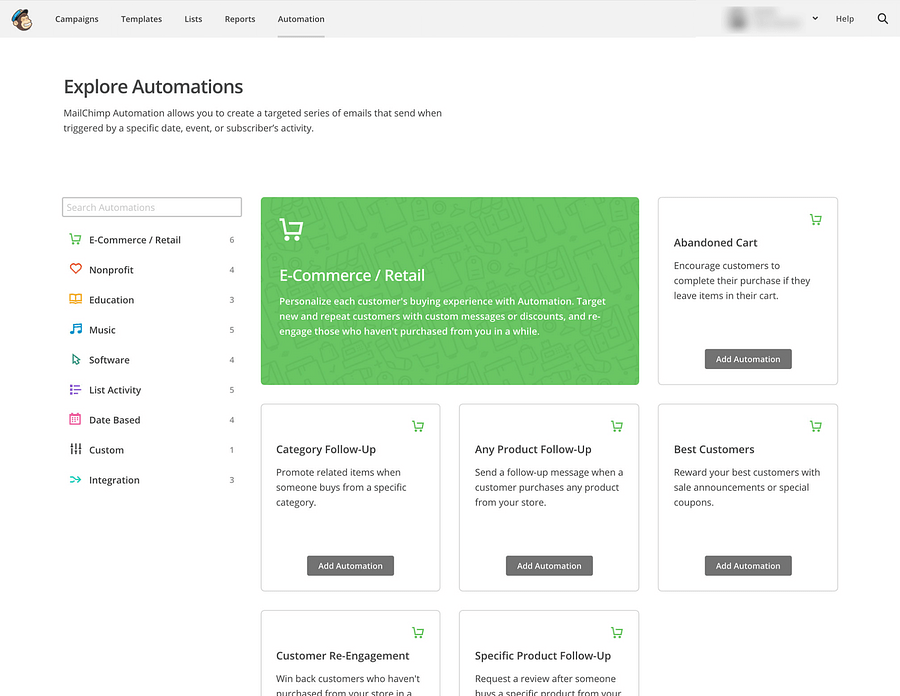 I am sure you must have heard of Mailchimp if you are thinking of email marketing. Known for its affordable plans ideal for startups, Mailchimp also offers analytical and marketing automation features that improve your business. There are also powerful technological tools that make it help effectively use emails to connect with current and potential customers and to market your products and services with ease and precision.
Mailchimp is one of the oldest and prominent players in the email marketing domain, but lately it is gaining huge competition from its alternatives. Mailchimp allows you to eliminate manual tasks by automating them using pre-designed marketing automation templates. This allows you to focus on your strategy and engage and follow to nurture your audience.
Strong points
Automate tasks
Personalized registration forms
Use relevant reports and analysis.
Prices
Check out the Mailchimp pricing below -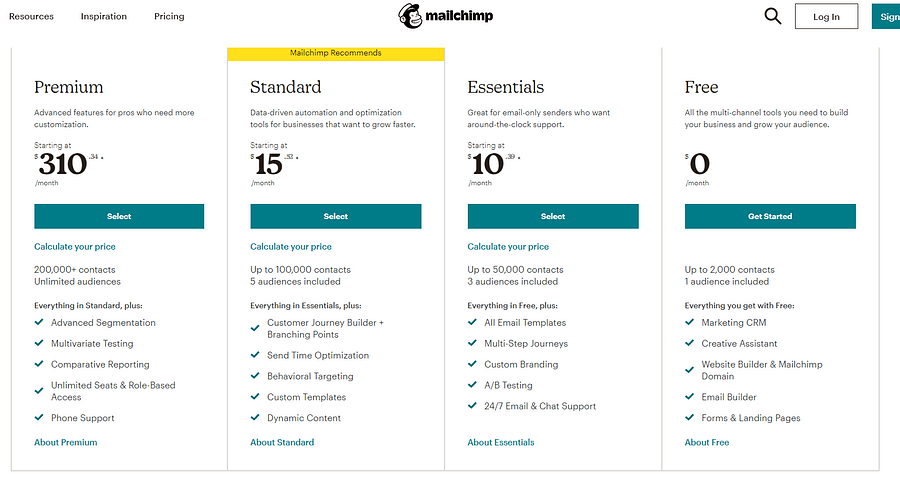 5. HubSpot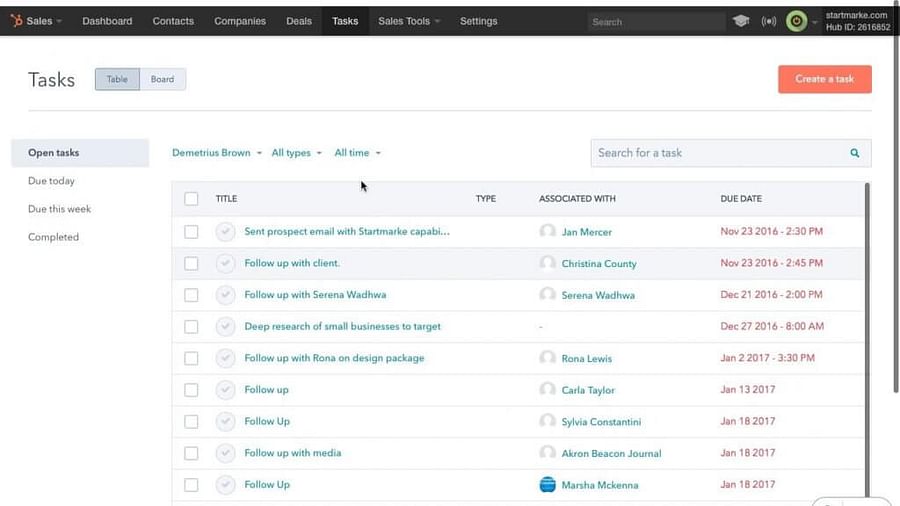 HubSpot is a marketing, sales and customer relationship management suite that provides marketers with all the tools and features necessary to create engaging content, target the right audience, and sell at least three times faster than competitors. The first thing to appreciate about HubSpot is that it's a marketing system aimed at all parts of the sales funnel. Users can create, administer and distribute engaging emails related to the rest of their marketing tools and applications.
HubSpot Marketing Hub is known for its automation capabilities and an expert marketer's tool, as marketers can create their own workflow from the start or choose from the existing automation templates. You can easily segment, nurture and tag your contacts for a more personalised experience.
Strong points
A simple interface
Personalized and Automated Outreach
Prices
HubSpot is an advanced level tool and is used by big enterprises which is also reflected in its pricing.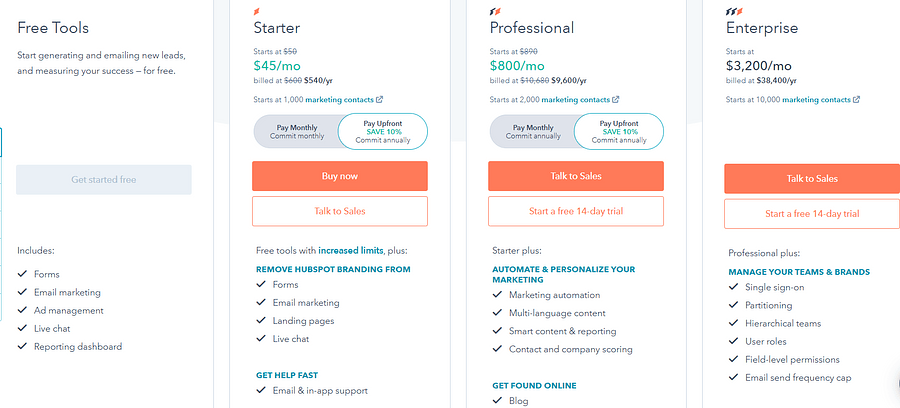 6. Deskera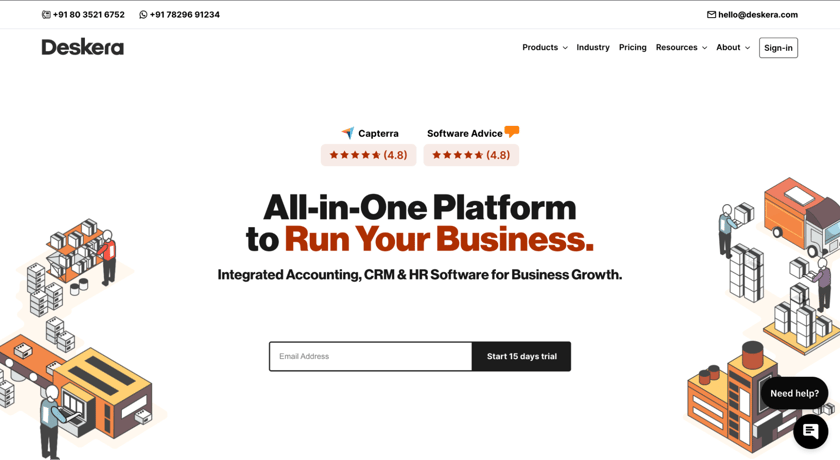 Deskera is the only business software that gives you everything you need to run your business right out of the box. If you are looking for a tool that can perform all the tasks that an ERP can, without the burden of huge costs and failed ERP implementations, then Deskera is your answer.
Deskera focuses on three core competencies: Books, CRM, and People to take some load off the back of you. It provides integrated accounting, inventory, invoicing, faster bank connections, segmented marketing campaigns, payroll, and employee management in one package. All these can also run from its award-winning Mobile app.
Strong points
Replaces the need for separate accounting, inventory, payroll, and CRM software.
A variety of features available at an affordable price.
Fully automated platform.
Prices
Deskera pricing is according to the number of emails you send -