Automotive Email Marketing: 5 Tips to Boost ROI on Emails
6 min read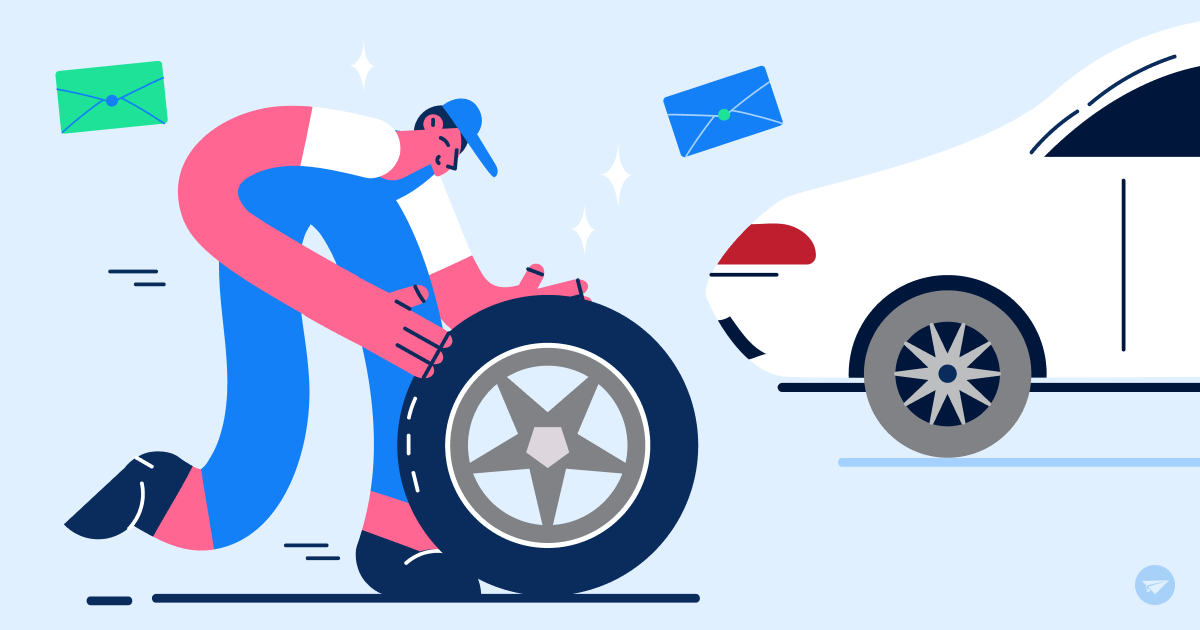 I don't know anybody who wants to buy a car, wakes up in the morning, gets ready and says "I think I'm going to go into a car showroom today and spend some time."

They first get online and visit websites, blogs, dealership websites, forums. And this is not your typical Pinterest audience who got bored and now want to gawk expensive ideas. They are mid to high intent buyers.

The good news - they have email addresses!
Bad news - there are so many things they don't teach us at school & email marketing is one.

So we are here to help and dive into whys and hows of automotive email marketing.
via GIPHY
Why is Email Marketing Great for Dealerships or Car Companies?

Effective and Efficient
You have heard it n times and I will repeat it n+1th time: emails are an efficient and effective channel of marketing, whatever your industry is.
Since everyone has mobiles and email addresses you can always be on top of the minds of your clients and potential clients. So, this was one obvious benefit.
What else?
Traffic and Trust
There are a number of reasons why your dealership should start using newsletters.
Newsletters can drive traffic to your website. Higher the quantity of traffic there is, the more sales are possible.

It also builds trust through the content that you share.
Cross-sells and Upgrades
Once someone has purchased a high-priced commodity like a car from you, they are more likely to buy other related things from you.

Through email marketing or email popup, you can upsell insurances, get them to upgrade features, sell newer models, etc. and all of this is going to add to your bottom line.
via GIPHY
Multiple Locations-One Database
If you are someone who owns dealerships at multiple locations, you can maintain one email database and use email marketing as your channel to communicate with your audience.

Not everyone might be on social media and of course, you can't call every one of them without spending a lot on bills, salespeople and infrastructure. So, email is an efficient way to go.
Now that we know email marketing is the way, what kind of content can you send out?
Here are some ideas with examples
Promotion
This is an example of a promotional email from an auto dealership.
It can do much better with CTA and the general template. But it's short and states the benefits clearly.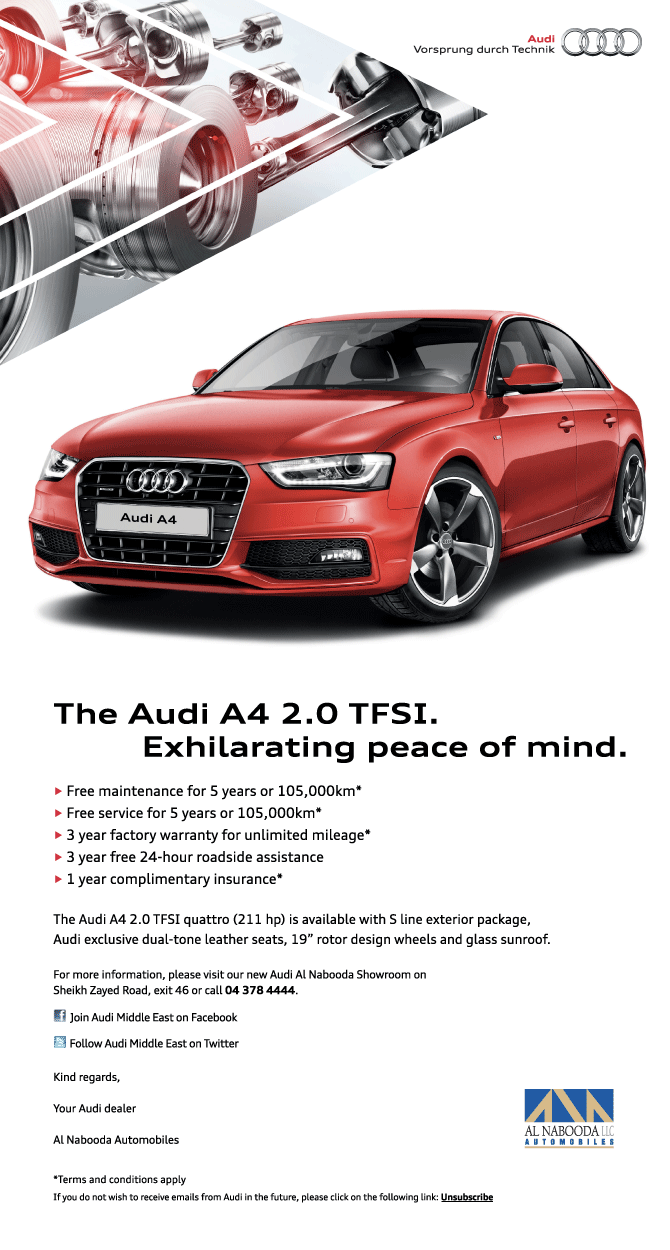 Promotional emails are very common for the automotive industry but doing just that is what I believe to be underutilization of email marketing.

Let's see what other ways you can use emails for your Automotive Business?
Online Surveys
You can use platforms like SurveyMonkey or Typeform to design your survey which can then be linked in your emails.

Online surveys are great for :
1. Knowing customer preferences
2. Feedback Research for new features or services
Welcome Email
Welcome emails make a big difference because that's when the customer is highly engaged. It is not really to drive sales but to make the customer feel that they made the right decision and make the experience memorable for them so they keep returning.

Here is an example from Volkswagen: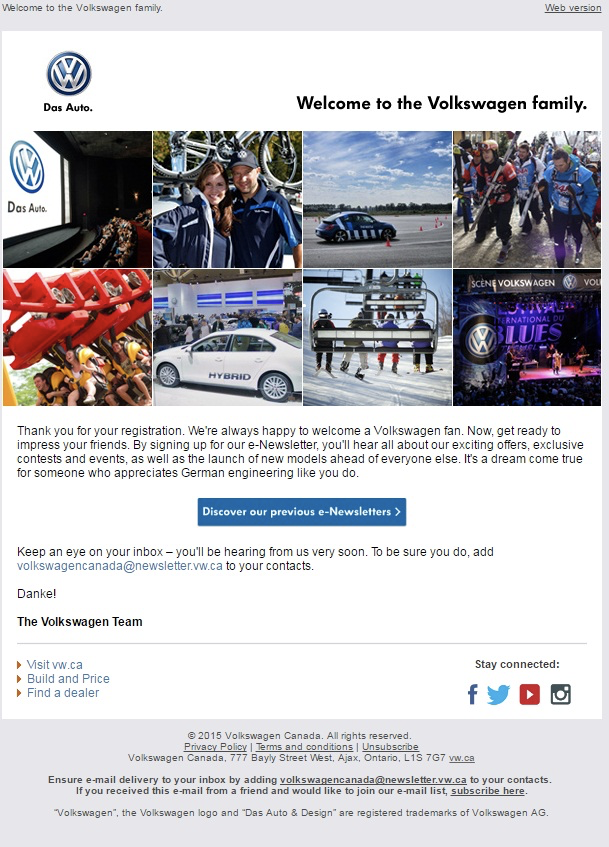 Service Reminders
Everyone thinks they will remember for sure to get that tyre changed or fuse fixed next week. And then everyone forgets. Every time.

This is where you can show you care by sending them friendly reminders for servicing at regular intervals. This keeps your brand on top of their mind and your email comes across as useful rather than 'one-more-promotion'.

You can use these as marketing opportunities and add images or links of featured products, promote upcoming offers or give the incentive to join your social media channels or check the blogs.

Here is how Nissan does it: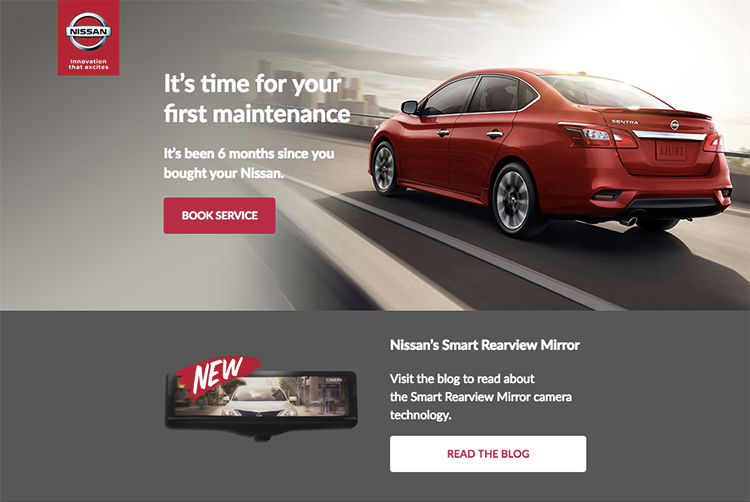 Tech Updates
In 2017, when Hurricane Irma bore down on Florida, Tesla issued an over-the-air update to drivers and sent this email to its customers.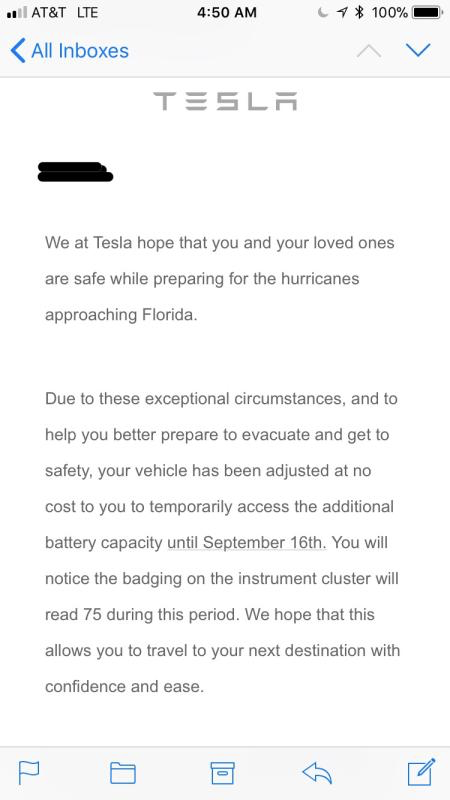 Utilizing the power of email marketing for such companies is crucial as there would be constant updates and innovations and emails are one of the most affordable ways to communicate.
Informational & Promotional
This email from Tesla is a great example of how to market your car as having a positive impact and then leading people to be a part of that positive impact.
Initially, this email looks like just providing some cool information around carbon footprint but then leads to a simple CTA to 'Start Your Count'.
So it's designed to be promotional but also acts informational.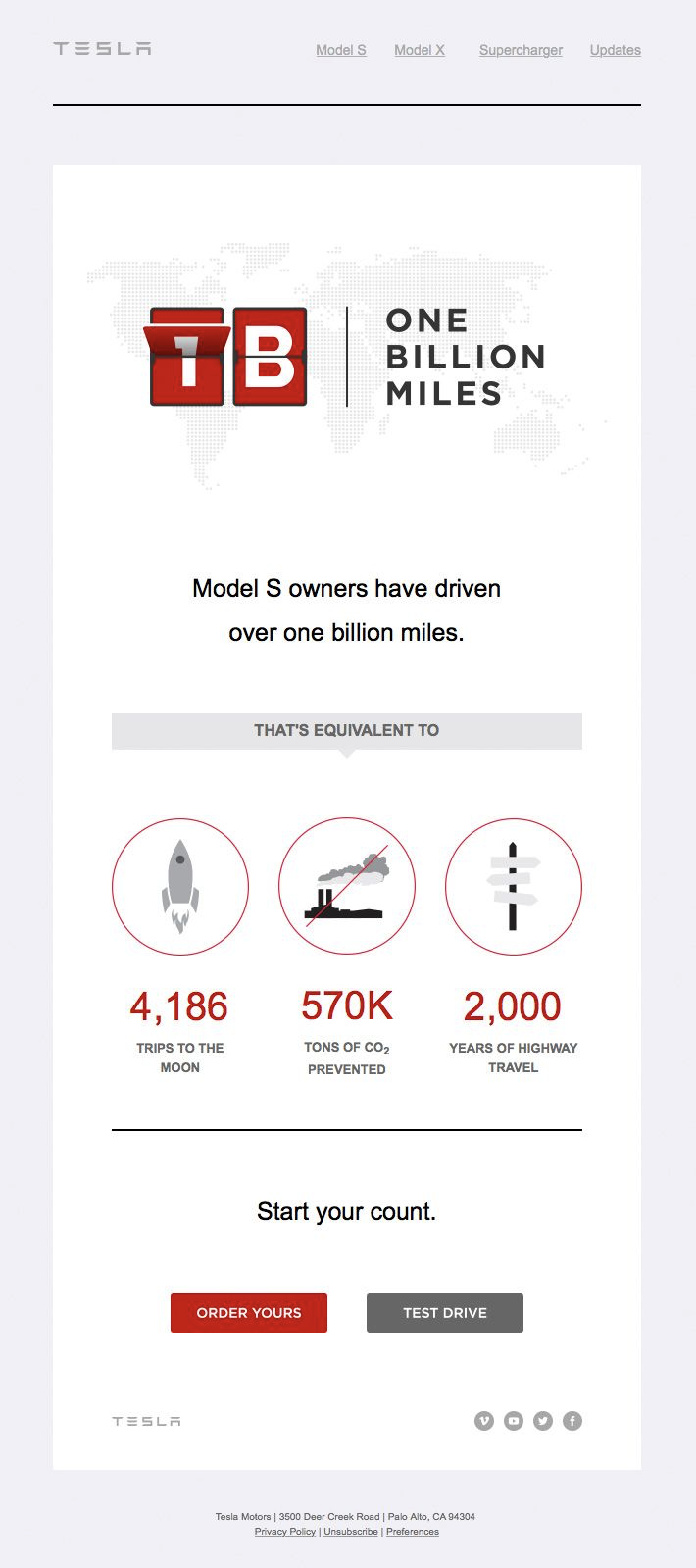 Let's notice the good parts of this email:
It is minimal and clean with lots of white space around the text, images, and CTAs The CTAs are clearly distinguished with different colors.
Footer is non-cluttered
The whole email is brand aligned with brand colors and fonts
The copy is crisp and very effective
If you want to check out the collection of 1500+ templates, check this blog.

If you are looking for such gorgeous, professional-looking templates for your email marketing, you should try SendX. It has a huge library of customizable templates with easy to use drag and drop editor.
You need to incorporate cross-selling in your marketing to reap the benefits of hard-won customers. Don't leave this on the table for others to grab.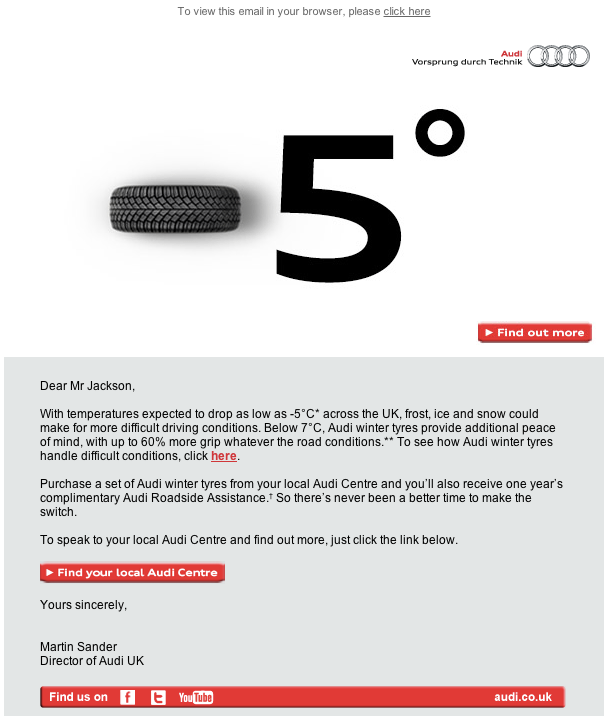 This email by Audi is an excellent example of how to cross-sell the right way in your emails.

Let's look at what they do right:

The image incorporates the product, captures attention and is apt for the topic being discussed in the email
CTAs in red are distinctly visible from the rest of the email
It's short, to the point and focuses on one thing - to get you to check out the winter tyres.
It's personalized with the subscribers' name and sign off coming from a person of authority makes it genuine and compels to be taken seriously.
Are you still thinking - does email marketing work? Let me tell you that If you manage to use the right email marketing tips, the answer is a 'hell yes.'
5 Tips to Boost ROI on Emails Using Email Marketing for Car Dealerships
Compelling Subject Line
The subject line is the first impression and if it sounds boring or spammy (like 'get a free car' or 90% off on tyres) it won't work.

Since the automotive industry is not into dynamic content marketing and thus you won't be sending them daily emails, your subject lines should be straightforward about what's inside.
Include Clear CTAs
A CTA (call to action) is a button or hyperlinked text that directs the reader to a webpage, form or online store. The point of a CTA is to drive consumers to action.
You might have a great email, amazing offer, and right timing but if you don't lead people on what to do next, your emails are pointless.
Popular CTAs specific to the automotive industry:
Book Service
Take a Test Drive
Visit the showroom
Check Insurance Options
Format Your copy
There is no clear conclusion on whether short copy works best or the longer one. It's very contextual. But one thing that's definitive is that formatting your copy for easy reading will increase engagement. It's good for the lazyweb that's skimming through emails.

Few tips for formatting
Choose the colors according to the tone of the copy
Keep your paragraphs short
Leave ample white space around different sections
Use bullets and lists whenever possible
Add visual elements like GIFs, images or logos
Use section headings.
Responsive Emails
As more and more people continue to move to mobile, designing emails and experiences for different sized screens becomes more relevant.

If your email is not optimized for mobiles, iPads, etc, the reader is not going to get any value out of that and that will not only lower your engagement but also increase your unsubscribe rate.
Choose an ESP That Fits Your Bill
Choosing an ESP is like finding the right car. Something that you would want to stick for long, will be worth the cost and makes your life easier.
Few questions you can ask to help you make the right decision:
What's your goal?
How will this ESP help you achieve it?
Is it easy to use?
What kind of advanced features will you require?
What's the cost, payment plans, refund policies?
How will you track your success?
Does it provide reporting and analytics?
Is there a free trial?
Can we also point you to the ESP where you can find a positive answer to these questions? - Check out SendX.
It's affordable, intuitive and trusted by 3000+ companies for their email marketing. You can take a free trial for 14-days and if you want someone to show you around, you can also book a demo. All without giving us your credit card or mother's maiden name. Simple and hassle-free 14-day free trial.
---
FAQs

1). What is automotive email marketing?
Automotive email marketing is the use of email to develop customer relationships with customers and promote deals/cars.

2). Why should dealerships or car companies go for email marketing?
The main reasons why dealerships or car companies should go for email marketing are as given below:
It is the best form of asynchronous communication that helps drive qualified leads
It drives traffic to your website
It builds trust through the content that you share
You can upsell insurances, get them to upgrade features, sell newer models, etc.
You can maintain one email database and use email marketing as your channel to communicate with your audience

3). What kind of content can I send out in email marketing for car dealerships?
You can send various kinds of content in email marketing for car dealerships, such as promotions, online surveys, welcome emails, service reminders, tech updates, cross-selling emails, or just informational emails.

4). How can I boost ROI on emails in automotive and car dealership email marketing?
Here are some tips to boost ROI on emails in automotive and car dealership email marketing:
Your subject lines should be straightforward about what's inside
Include clear CTAs
Formatting your copy for easy reading will increase engagement
Designing emails and experiences for different sized screens, like mobiles
Choose the right email service provider

5). What are some popular CTAs specific to the automotive industry?
Some popular CTAs specific to the automotive industry are:
Book Service
Take a Test Drive
Visit the showroom
Check Insurance Options