In this post, we have analyzed 4 major email marketing softwares based on how they help you build your email list, send your newsletter, check the metrics & prices they charge.
And we are not just going to tell you things. We will try to show you the inside look of these softwares with plenty of images that we included.
Four Major Newsletter Sending Software
1. Sendinblue
Sendinblue is a cloud-based marketing communication software with modules dedicated to email marketing, landing pages, Facebook ads, SMS marketing, and more. In 2019, they acquired Newsletter2go to provide a robust platform for sending newsletters.
You can create your newsletter using any of the three ways:
Drag-and-drop editor: Create beautiful emails using different content blocks that can be dragged from the dashboard and dropped in the canvas. Then you just customize the shape, color, and size with an easy to use interface.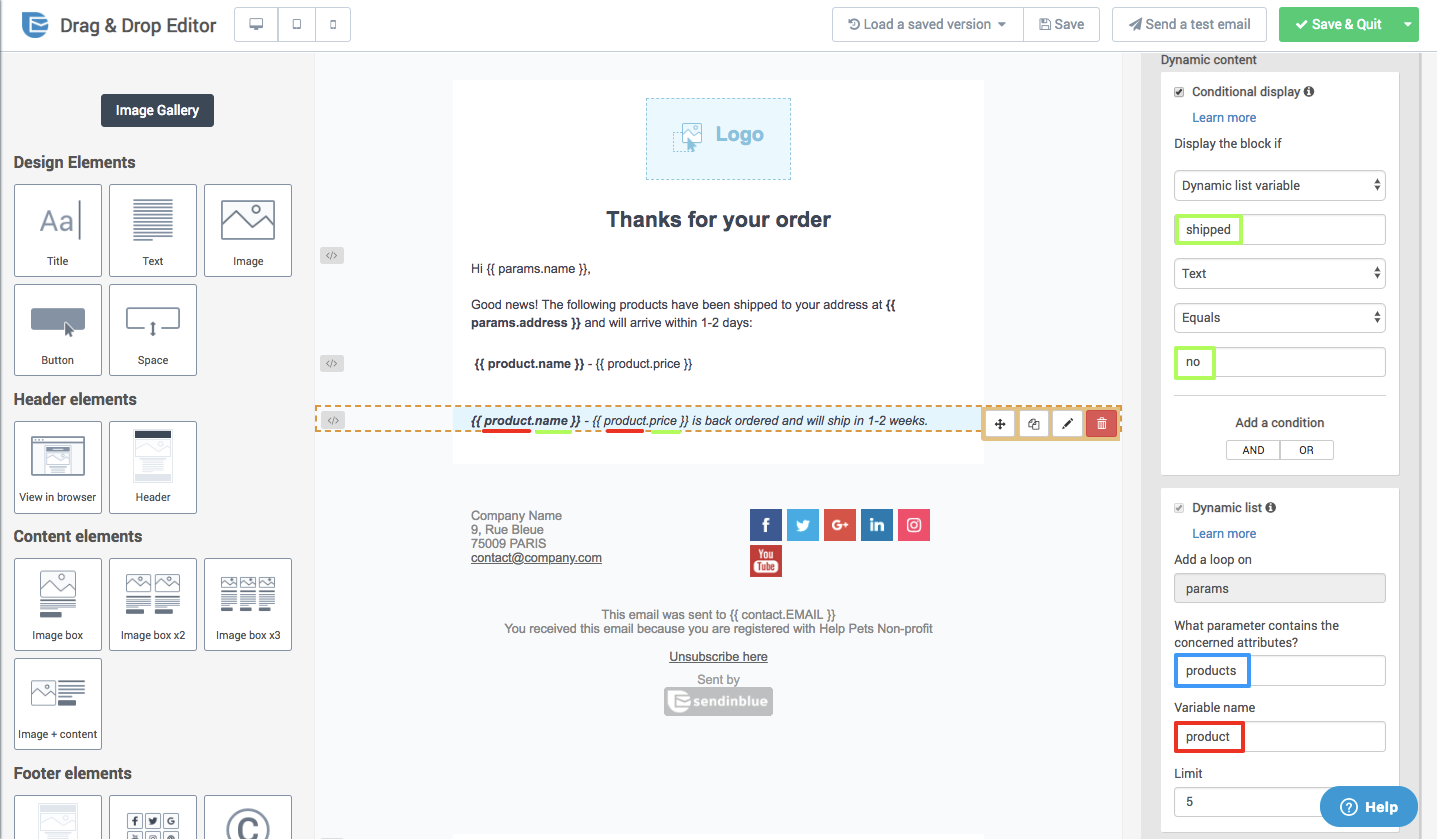 Sendinblue charges based on the number of emails sent and not on the number of contacts in your email list.
Rich Text: Use this to create more straightforward emails with text & text-formatting.
‍ Paste Your Code: You can use this if you have an HTML code that you exported from some other platform or created on your own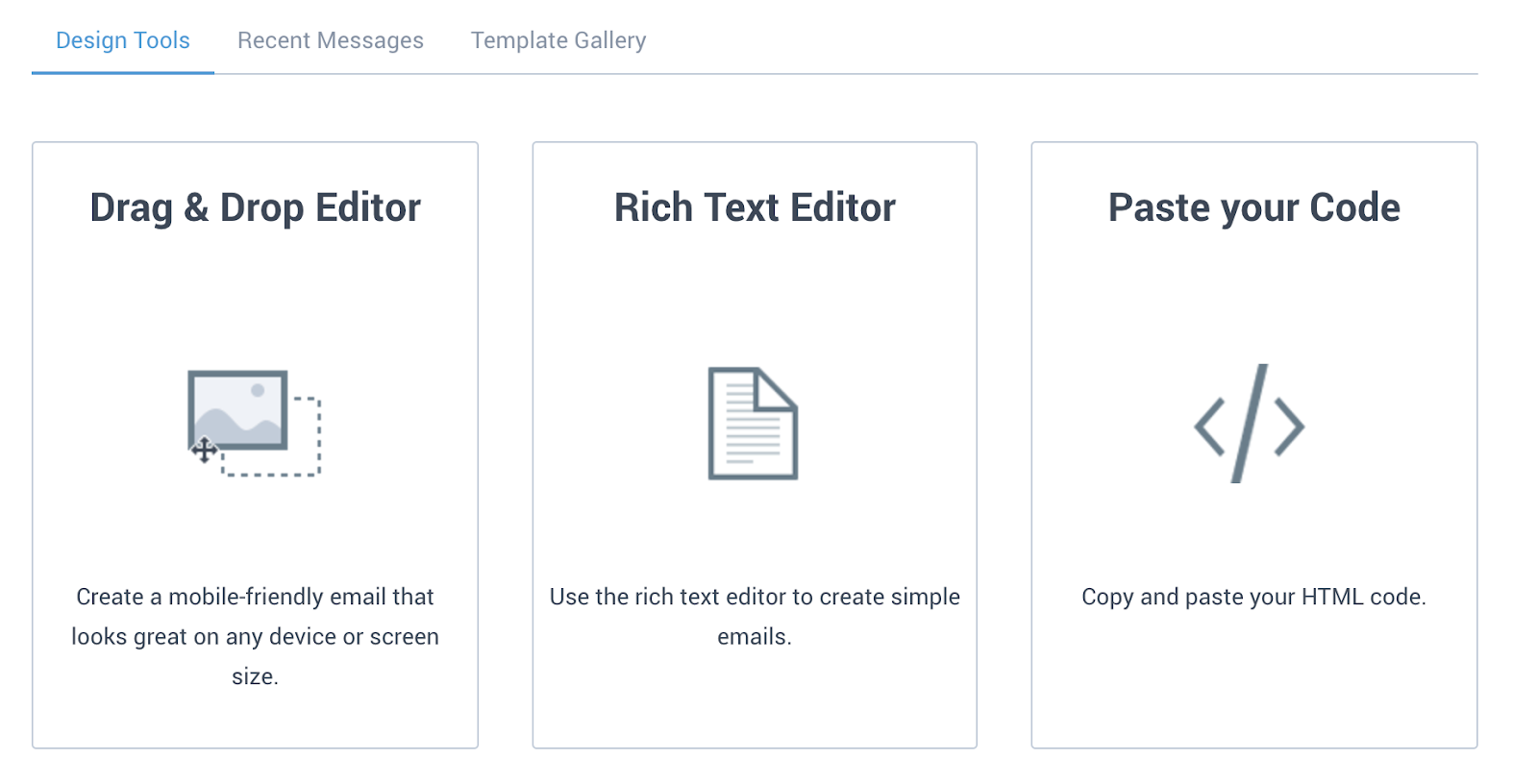 Ready-to-use templates: If you don't wish to spend time creating your template you can choose one from the 50+ mobile-friendly templates available in their library.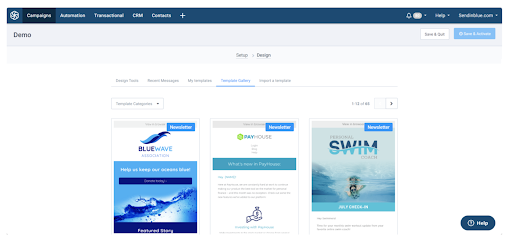 You get the ability to create signup forms and landing pages that you can integrate with your website to grow your newsletter subscriber list.
A/B Tests:
If you want to run A/B tests, you have two options:
-- On Subject Line
-- On Email Design
Features like testing 'from name' or 'sent time' are yet to come.
However, this is only available for Essential Pricing Plan or plans higher than that. These will suit you only if you have a steadily growing business.
Multi-user Access:
If you are a small growing business but want multi-user access, then it can get tricky because multi-user access is only available in Premium Plan.
Reporting:
You get an overview of the key performance metrics with their analytics dashboard that calculates the results in real-time.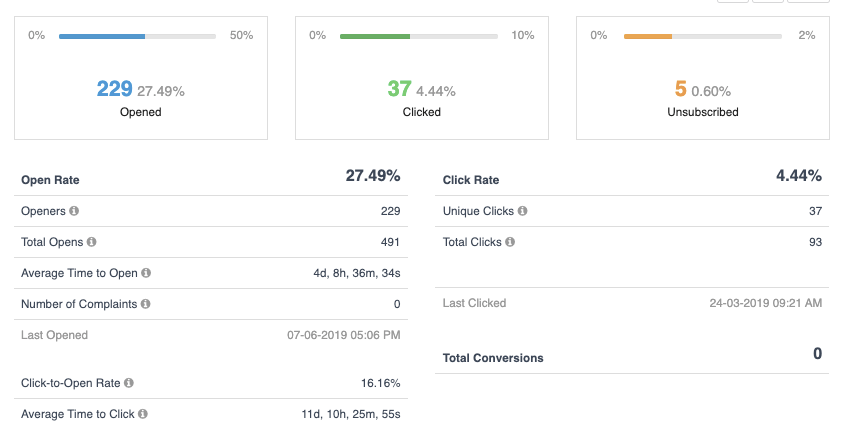 If you want advanced reporting like heatmaps, geo-location-based then you have to go for Premium or higher plans.
‍ Pricing:
Sendinblue charges based on the number of emails sent and not on the number of contacts in your email list.
Meaning, it doesn't matter if your list is 100 or 100K emails, Sendinblue doesn't charge you extra for that as long as you maintain a limit on numbers of total emails sent.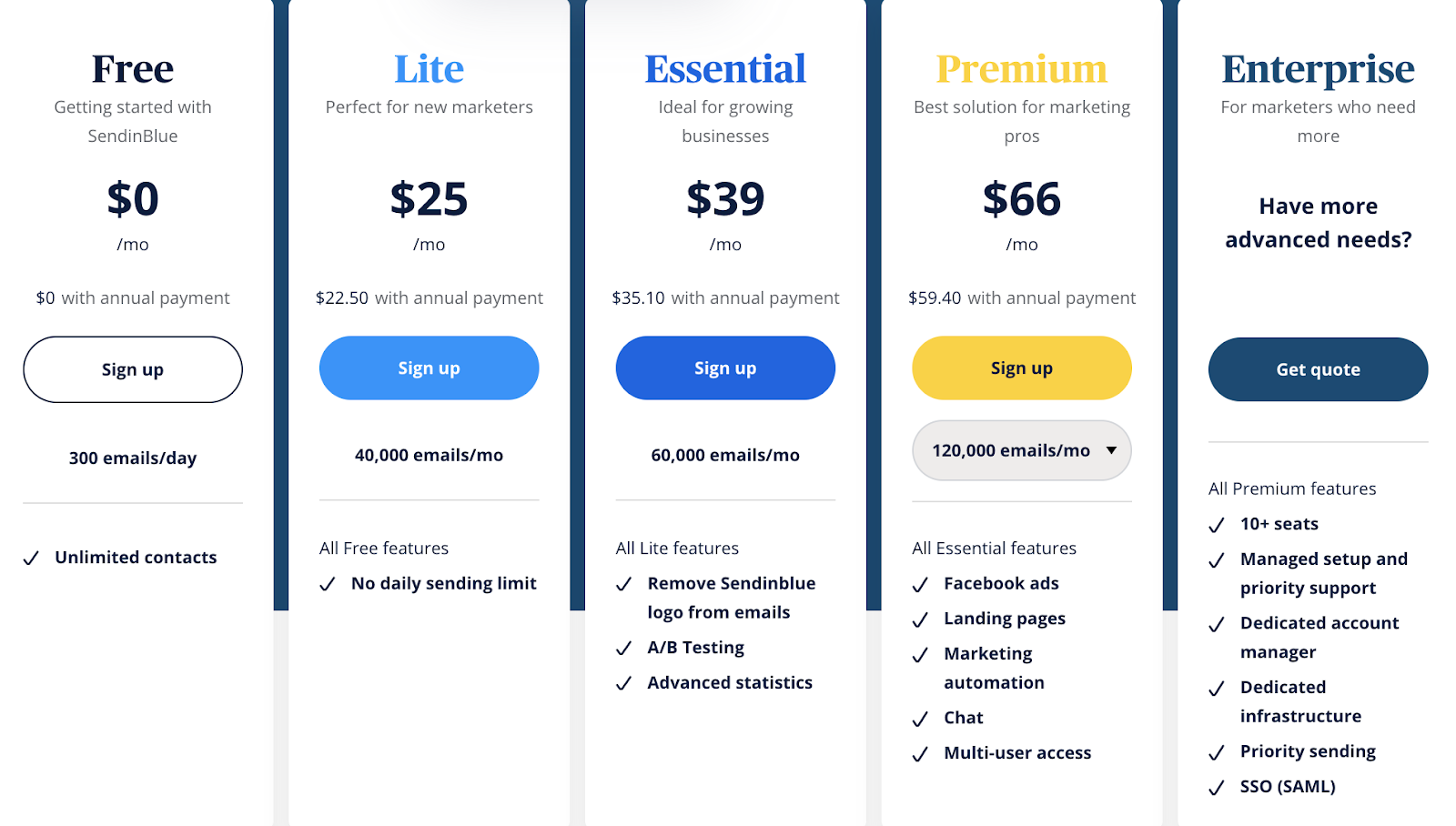 The good thing is that there's a free plan. With a free plan, you can send a maximum of 300 emails per day, which is 9K emails per month.
So if you're just starting and your list is between 100 and 500 people, then this free plan might be all you need.
‍
2. Mailchimp
MailChimp is quite popular, even amongst non-email-marketers, as there are quite good reasons for that. The first being their forever free plan.
But before we discuss pricing, let's see how it can help you create and send your newsletter.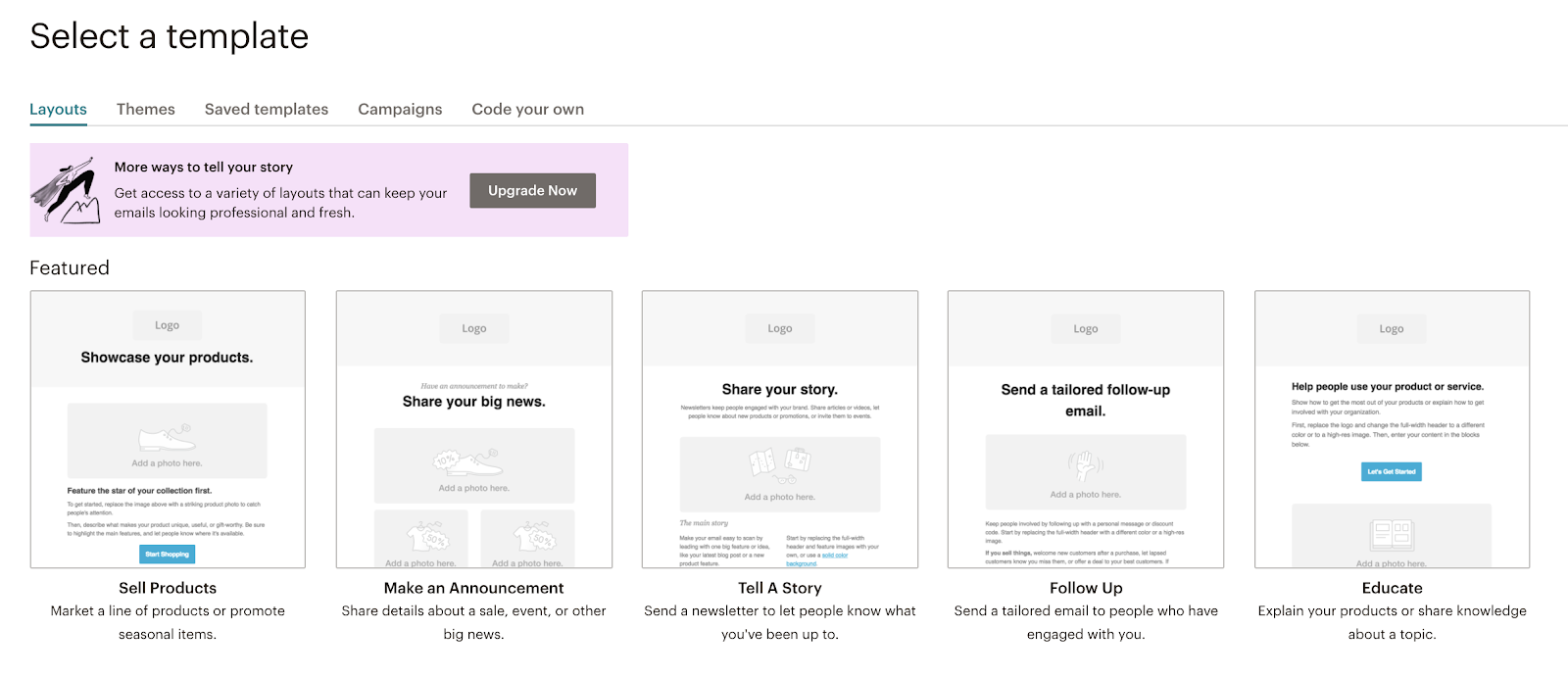 You will find 5 main categories of templates to choose from: Layouts (Featured & Basic), Themes, Saved Templates, Campaigns, and Code Your Own. All layouts are mobile-friendly.
Layouts:
Featured: Featured templates are useful if you have a specific goal in mind. Each template contains customizable content blocks you can use.
Basic: Basic templates combine blank layouts with the Campaign Builder's drag-and-drop editor, so you have full control over the design of your campaign.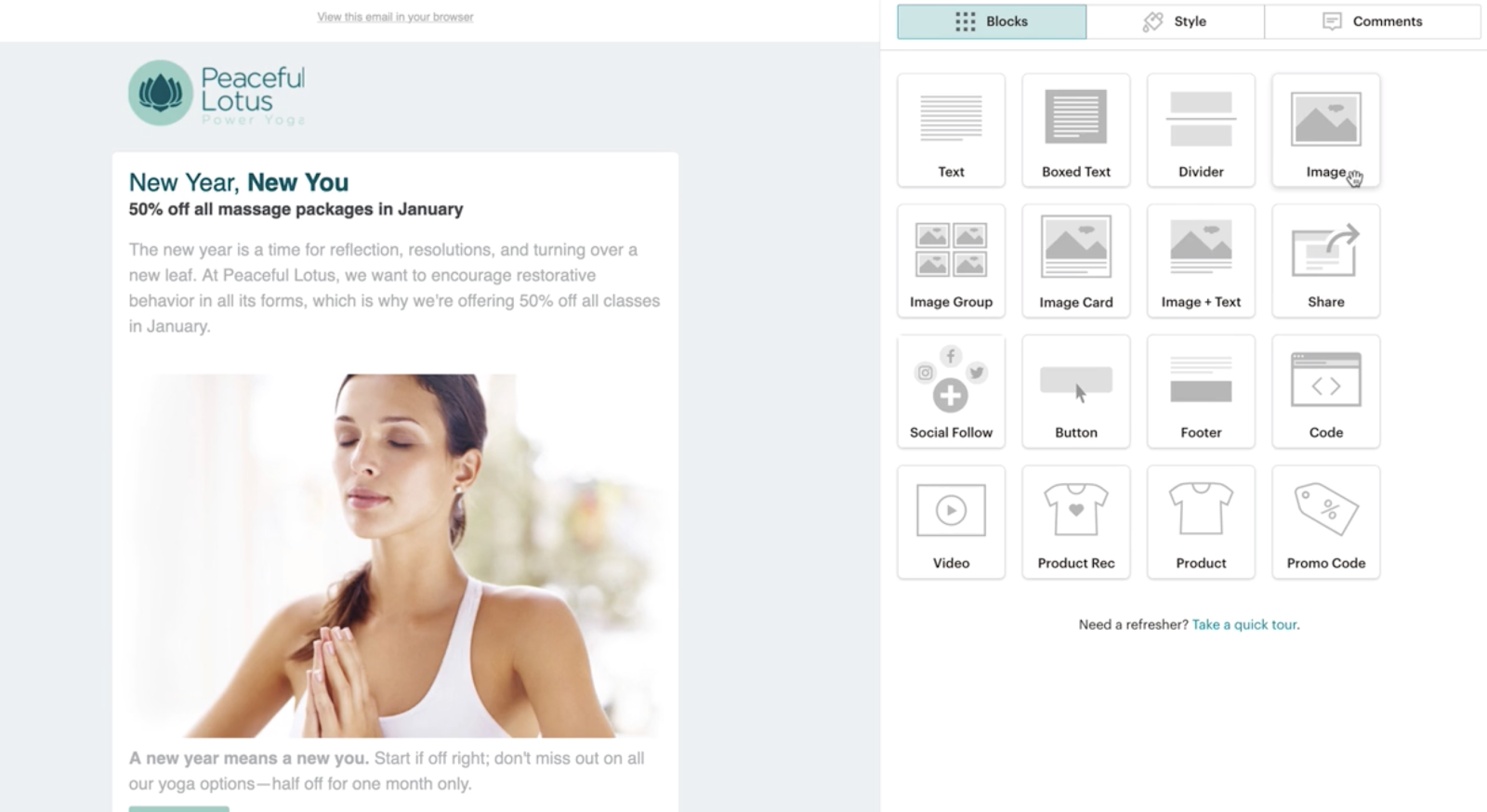 Themes:
These predesigned Themes offer several categories to choose from & have 30 templates under the 'Newsletter' section. It helps you get started even if you don't know anything about design.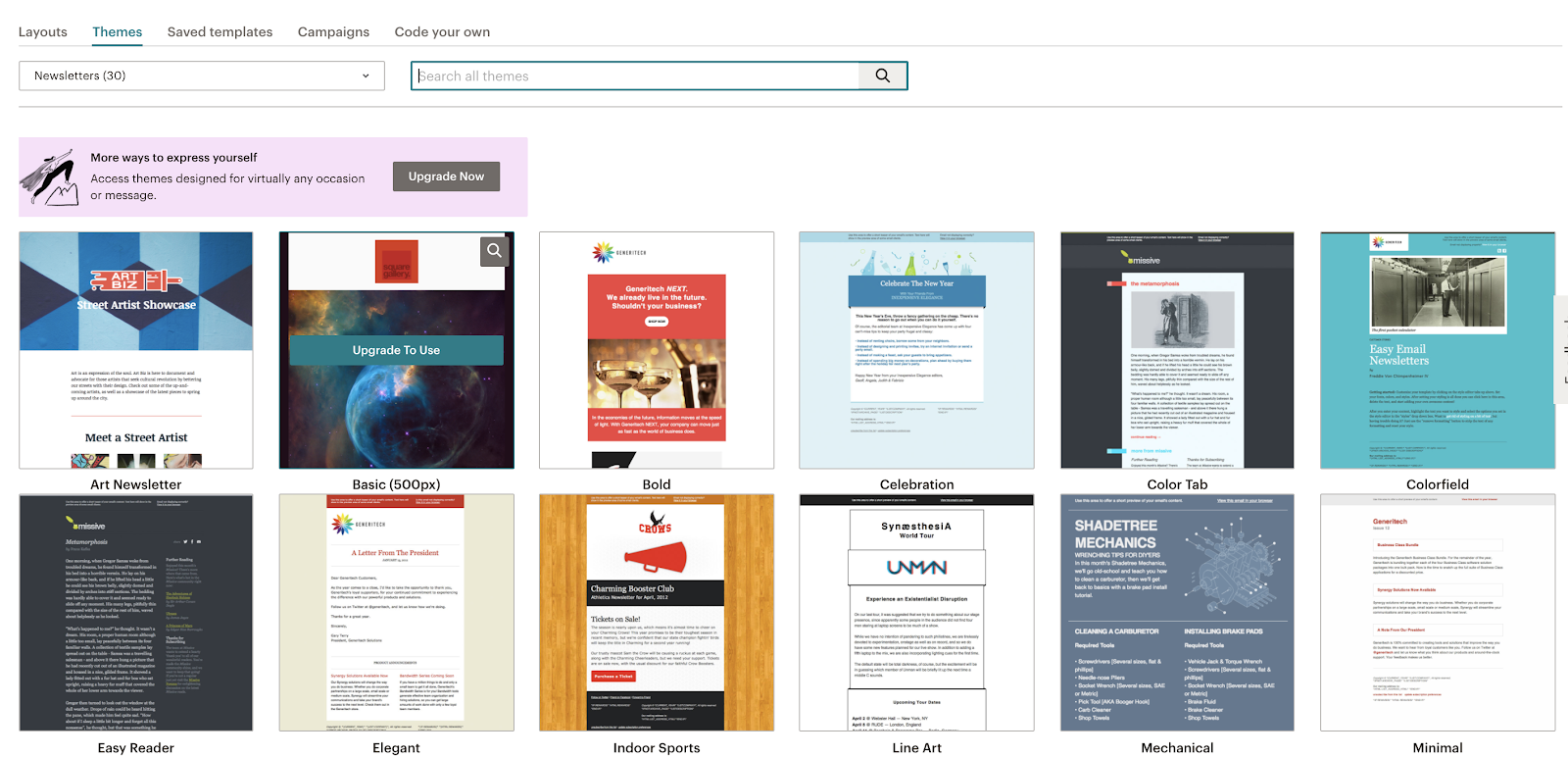 Saved Templates:
When you send a newsletter, you will probably not be creating a different design each time, so it will help if you can set a basic template once and use it every time you send your newsletter.
It will appear under the 'Saved Templates' tab. You can make changes to the template whenever you want.
Campaigns:
If you wish to send a new email that looks similar to the one you have previously sent, you can go to the 'Campaigns' tab and use any email as a template to start with.
Code your own:
If you want more control and flexibility in designing your emails, you can get an HTML email coded in another program and paste it under 'Paste in Code', or you can import an HTML file or get it directly from a hosted URL.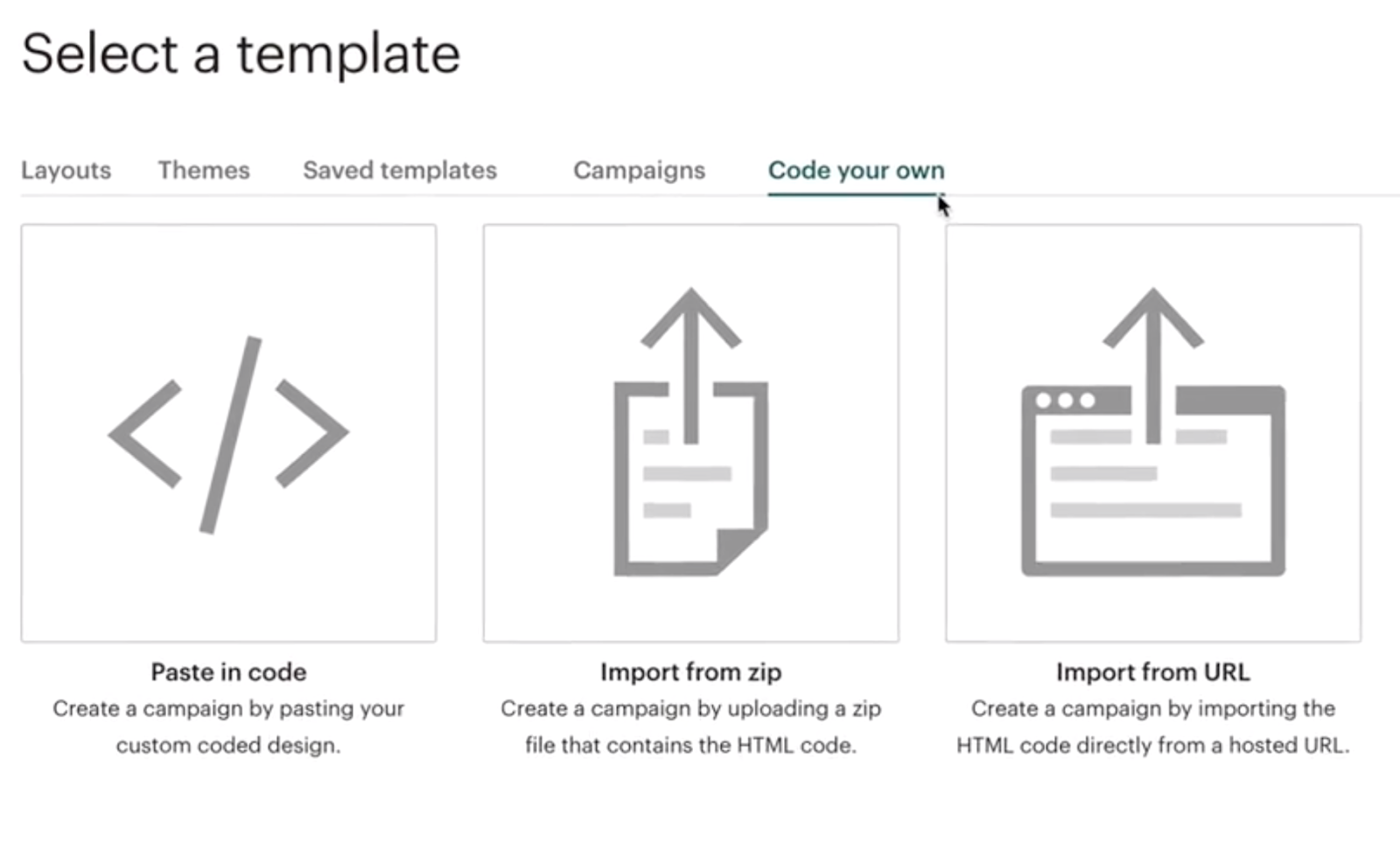 If you've already designed and coded an HTML email in a different program, you can use the Paste in Code feature to create your campaign.
Popup form:
Mailchimp provides popup forms that you can design using the three layouts they provide and customize with your fonts, colors, and branding. Then you can integrate these with your website to collect emails and add to your newsletter contact list directly.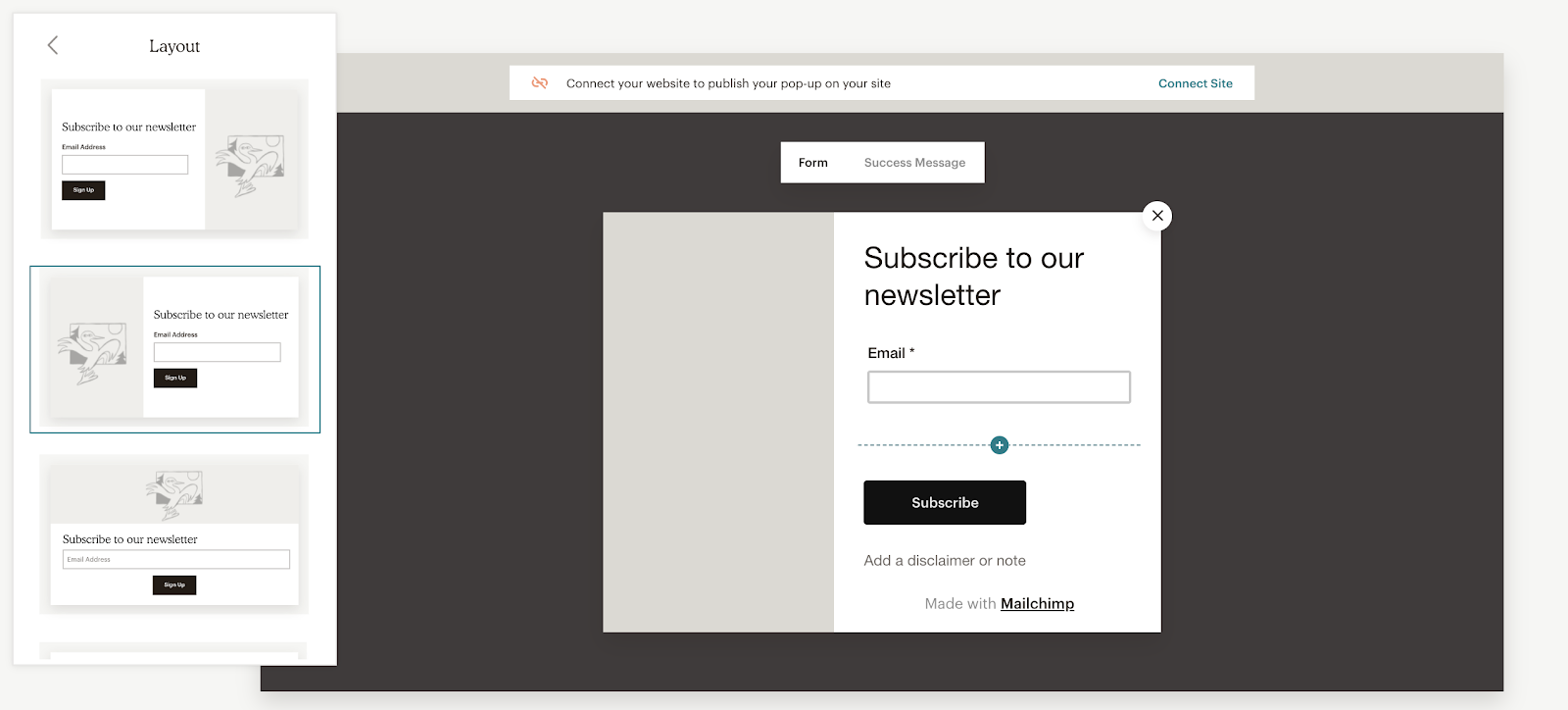 Reporting:
The main purpose of a newsletter is engagement, so it's essential to track key metrics like open rate, click-through-rate, etc. for each email that you send out.
Mailchimp helps you get this data consolidated under 'Reports'.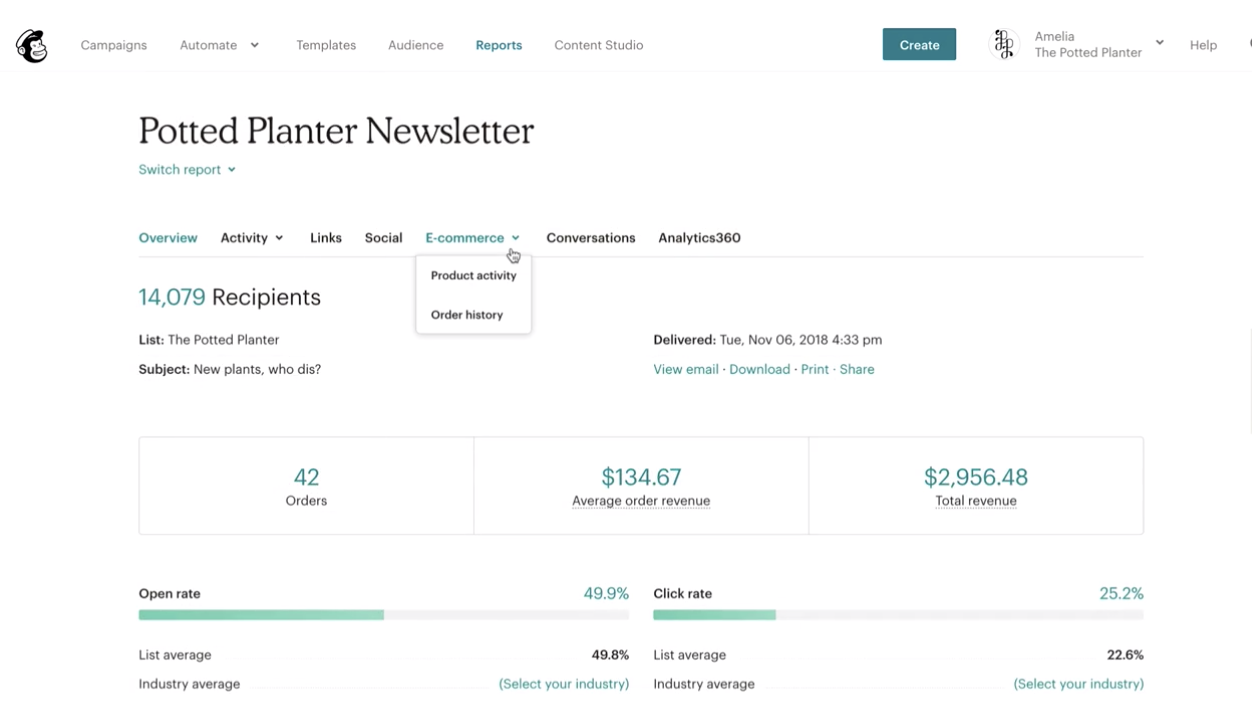 Pricing:
Mailchimp's pricing gets expensive as your audience grows and also because they charge for both subscribed and unsubscribed contacts.
But if you want an integrated service with Facebook ads, advanced reporting, etc, with your newsletter then Mailchimp might be a good option for you.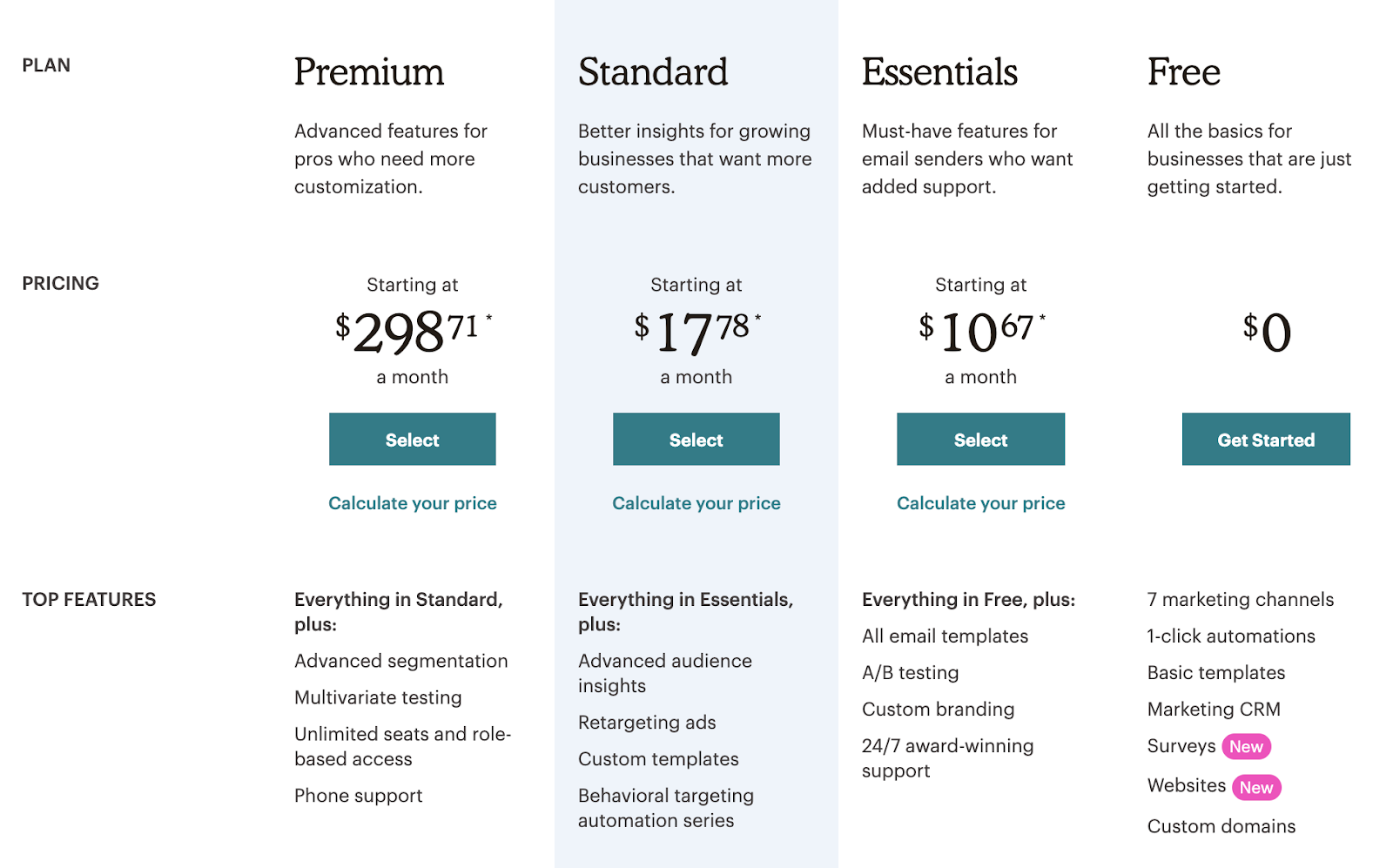 Let me also bring to notice that Mailchimp is evolving to be an all-in-one platform that provides CRM, social media management tools, and ad manager. While it might be great for someone with integrated requirements, it can get a little intimidating to someone who just wants to quickly build an email newsletter and send it to their subscribers.

Mailchimp's Venture Into eCommerce
One important update for all those looking at Mailchimp as an option is that Mailchimp has also recently launched its own online stores for SMEs, and a new service for booking appointments. The appointment booking service went live on 28th April 2021, and the new eCommerce features are scheduled to become available for the US and UK Mailchimp customers by May 18th 2021.
New 'Websites and e-commerce' plans will be introduced (and free-plan users will have to pay 2 percent transaction fee). Transaction fees will be reduced for users of different pricing grades, for example, those who go for a Plus plan at $29, only 0.5 percent transaction fee will be applicable.
Besides, for $10 extra, Mailchimp's branding will be removed and you will get email and chat support, and you will only have to pay 1.5 percent transaction fees.
All their plans will also include SEO tools and Google Analytics integration. Plus, you can build websites with unlimited contacts pages and without bandwidth restrictions.
And when it comes to the online stores by Mailchimp, you can build your product catalogues, manage your orders, and taxes and shipping configurations.
But if you don't need all of these additional features and services, you should still proceed with comparing Mailchimp with other email service providers for your email marketing needs, like SendX.
3. ConvertKit
If you are someone who doesn't like fancy templates and just wants to write simple text-based emails with only a few extra elements like images and CTA, then you can go for ConvertKit.
They have designed their platform to have only basic templates as they believe text-based emails are best for deliverability, readability, and responsiveness on all devices.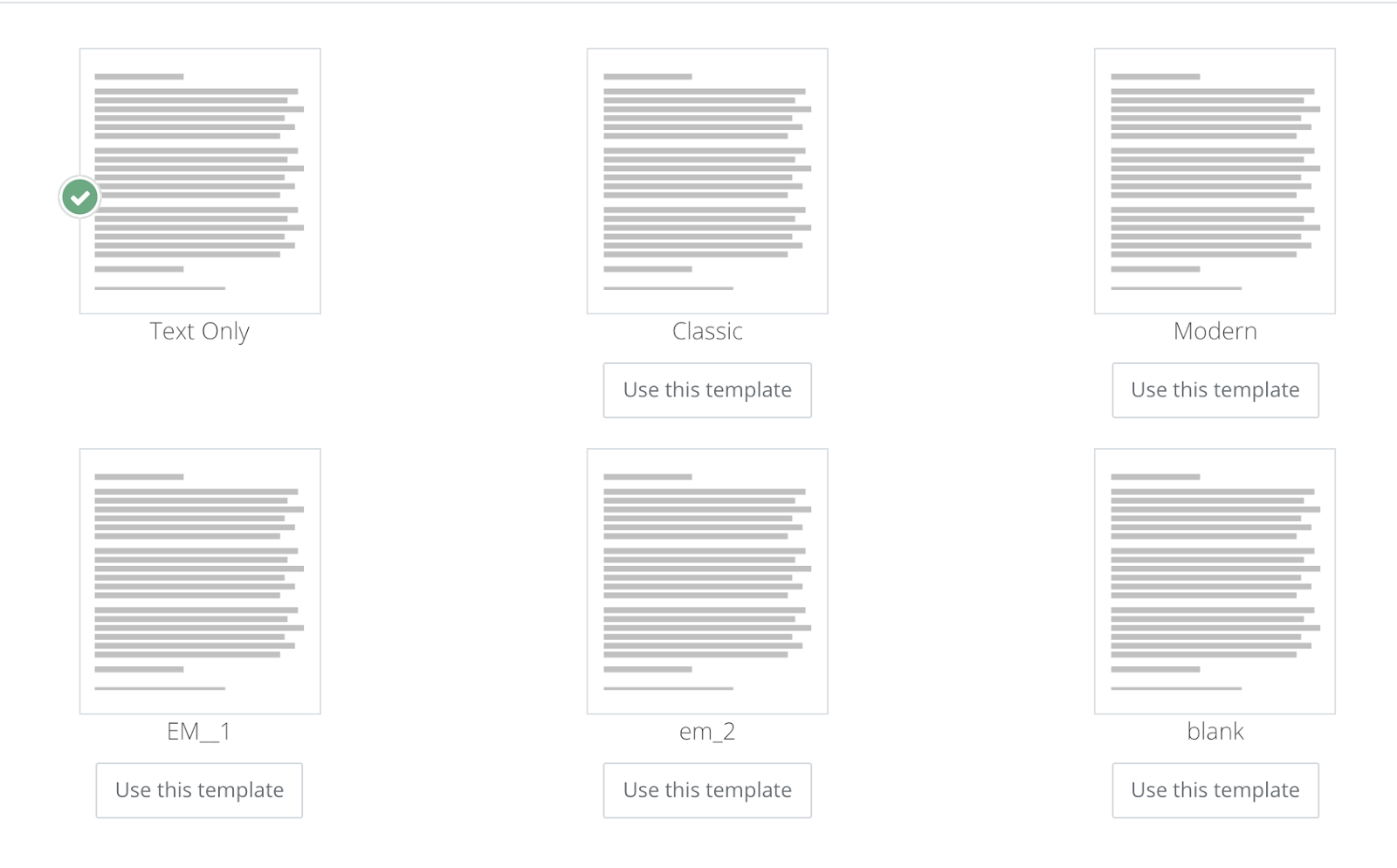 Modern:
A clean sans-serif look, with built-in button & text styling.
Classic:
Almost identical to the Modern template, but has a classy serif typeface.
Text Only:
The most 'stripped-down' option, without any bells or whistles.
If you wish to use the built-in templates, you can choose from the three options they provide. You can then customize these by using CSS code to align with your branding.
You can also create your own HTML templates by importing from other services or coding your own from scratch. There is no limit on the number of templates you can create… it's unlimited.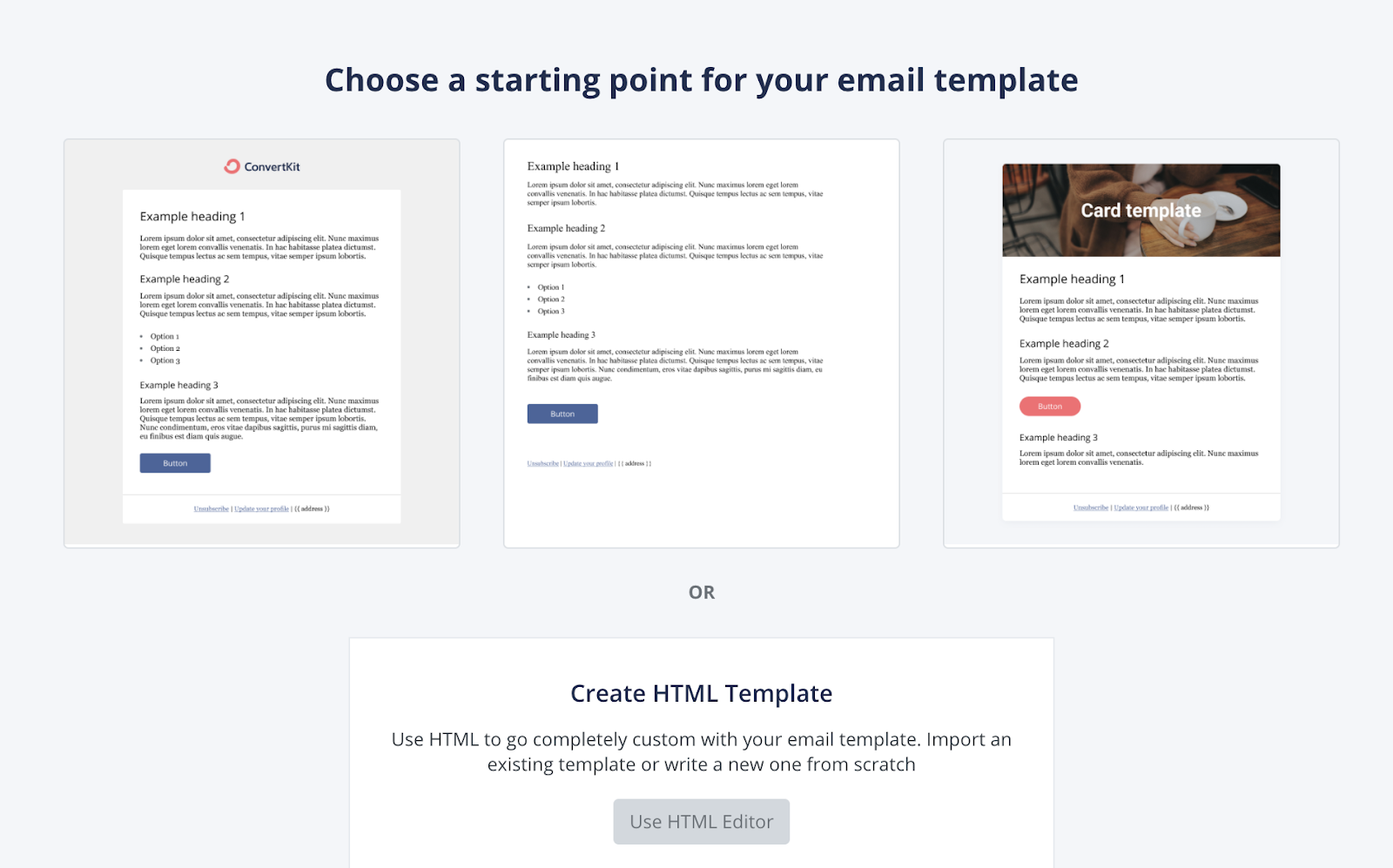 ConvertKit's email collection forms are pretty solid, and you get to choose the placement & design of your form.
They give you three options for placement:
Inline, Pop-Up or Slide-In
Inline is something you can put on your page, in between or after your content.

‍
The classic pop-up can be used after someone has spent some time on your website, and you want to convince them now to sign up for your newsletter.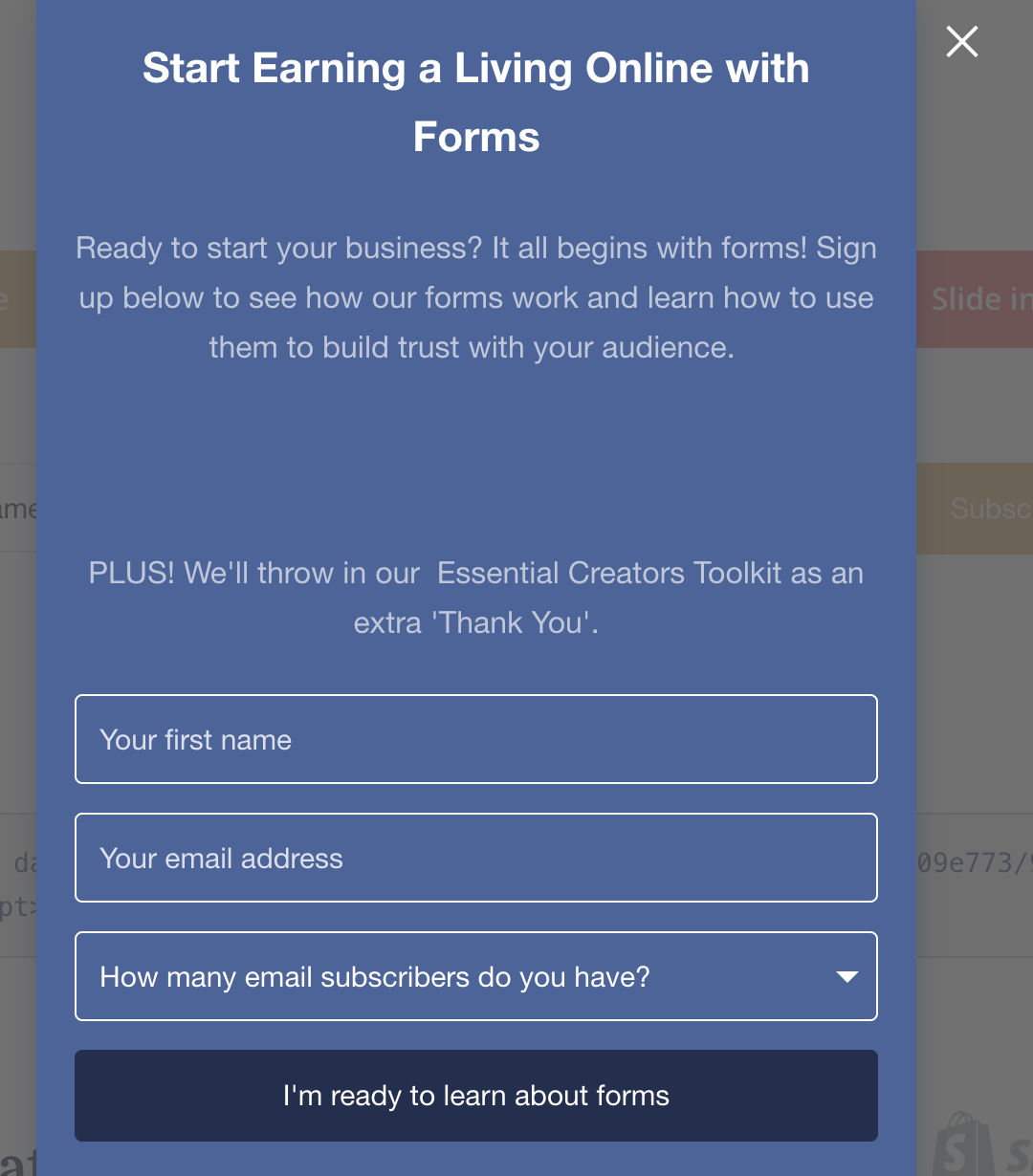 ‍
Then there is Slide In that comes on the bottom left of your page.
‍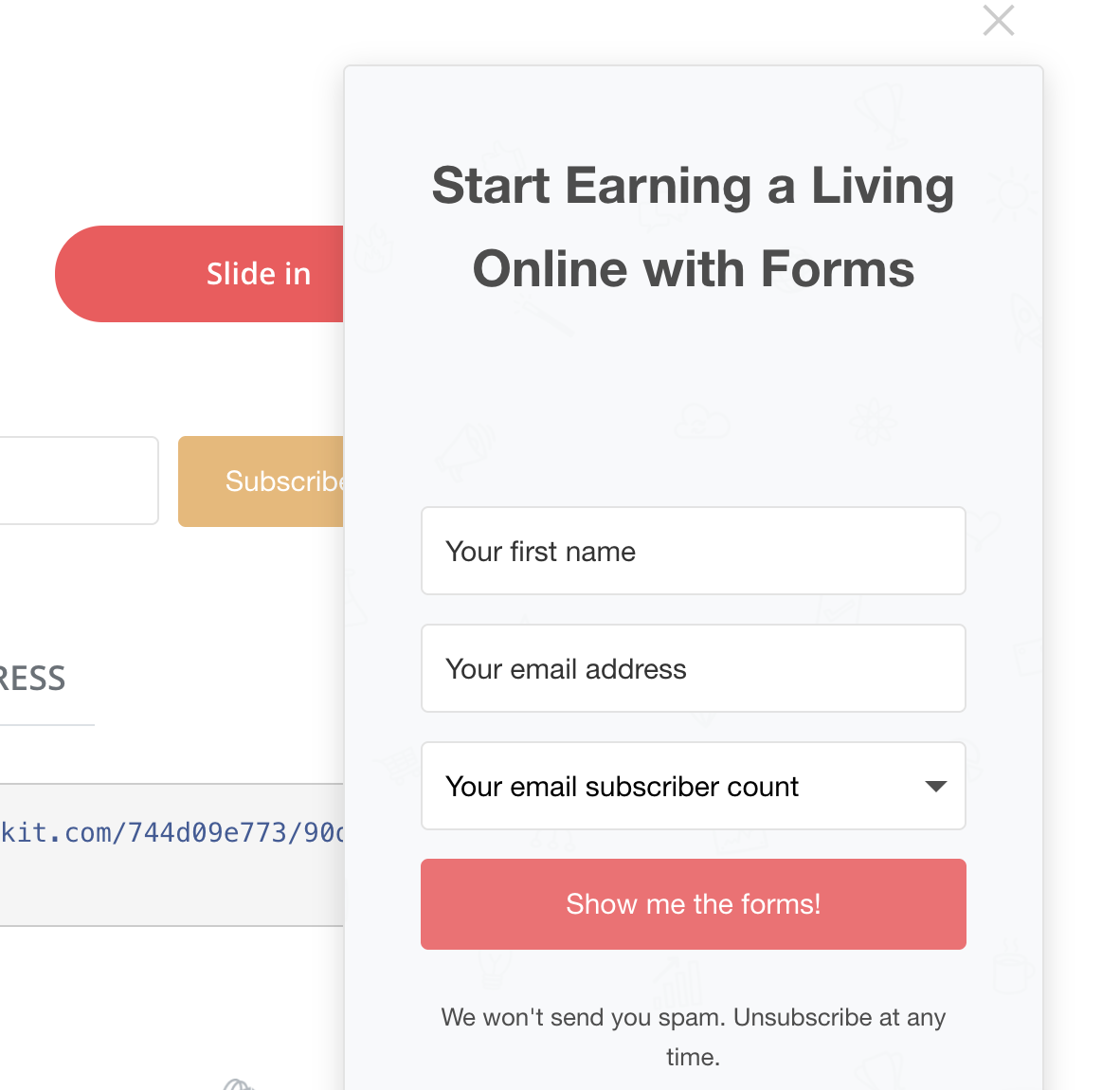 ‍
You can customize your forms by changing colors, images, CTA, etc.
‍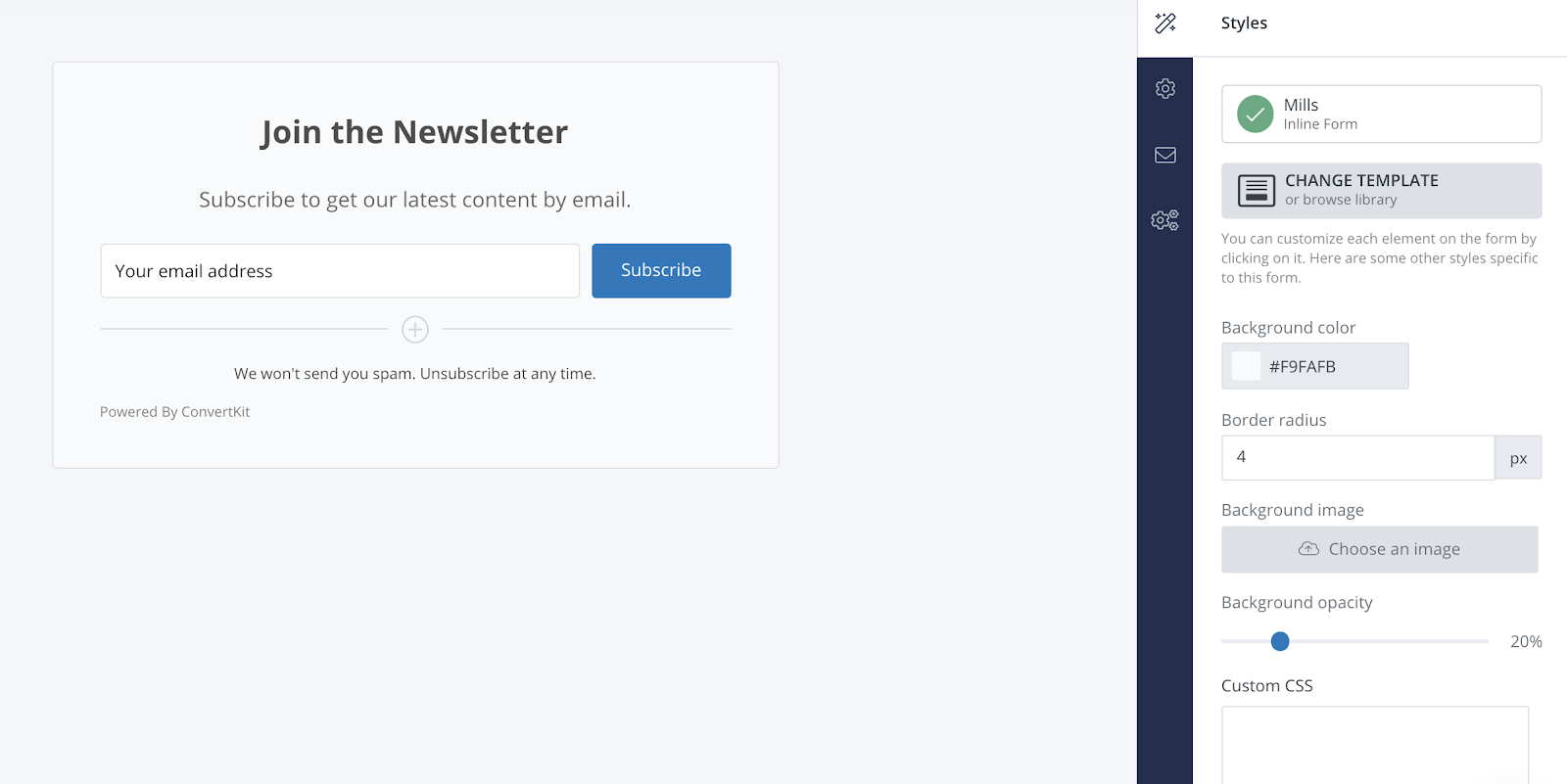 ‍
‍ Reporting:
ConvertKit has created a Broadcast reporting dashboard that puts everything together in one place. This gives insight into how each of your newsletter emails is performing.
For every newsletter you've sent, you can see the following engagement summary:

If you wish to see the growth of your email list, you can get that data too in this simple dashboard where you can sort data by timeline.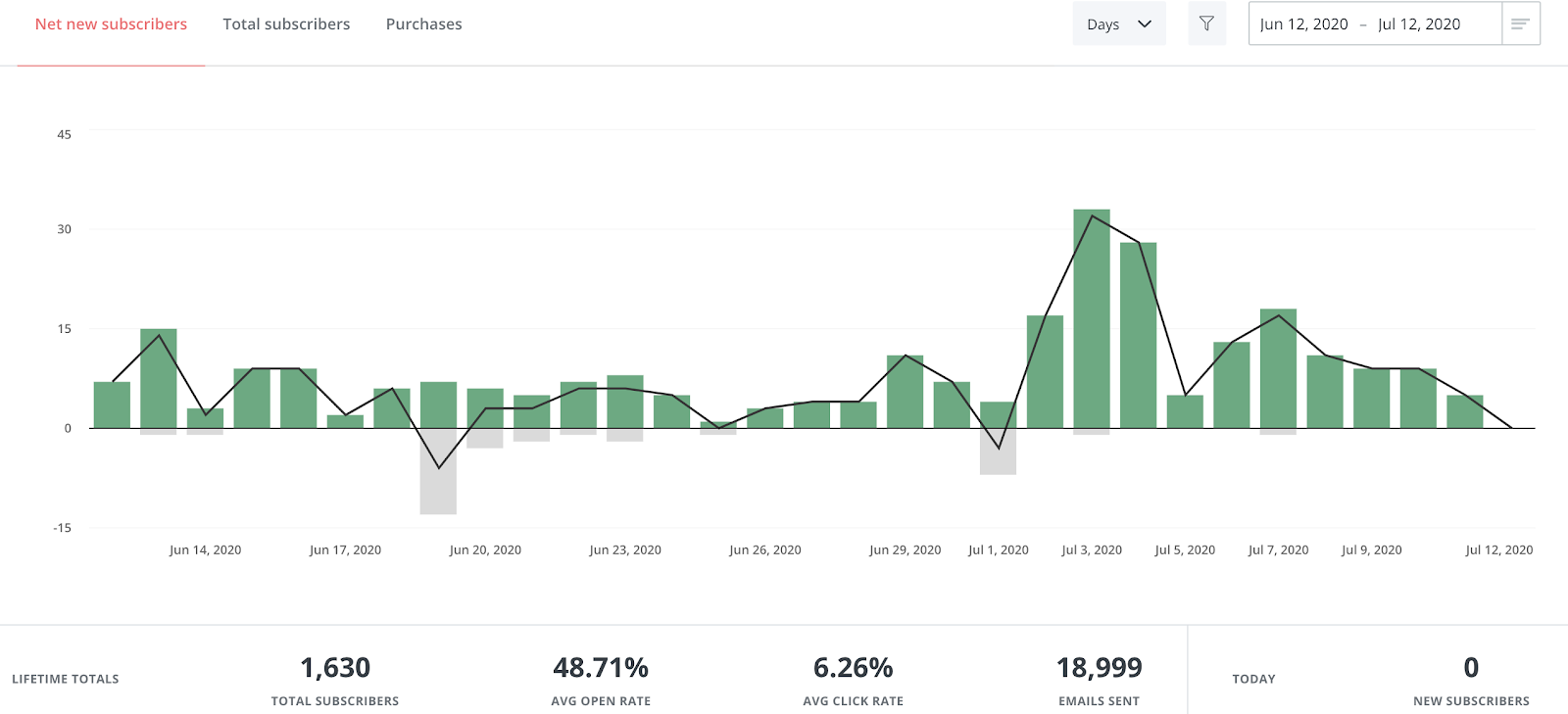 Pricing:
They have two plans: Free & Complete.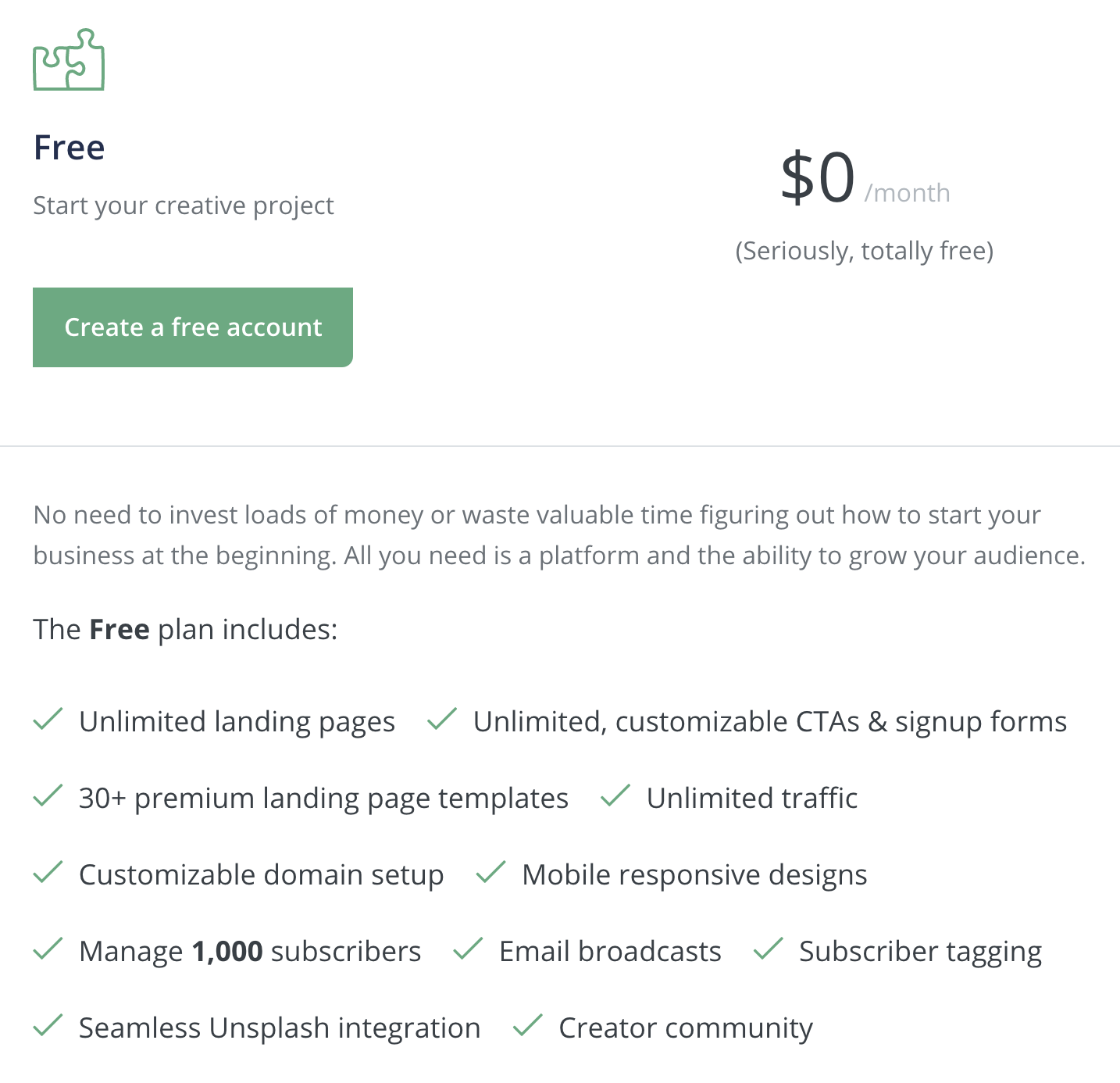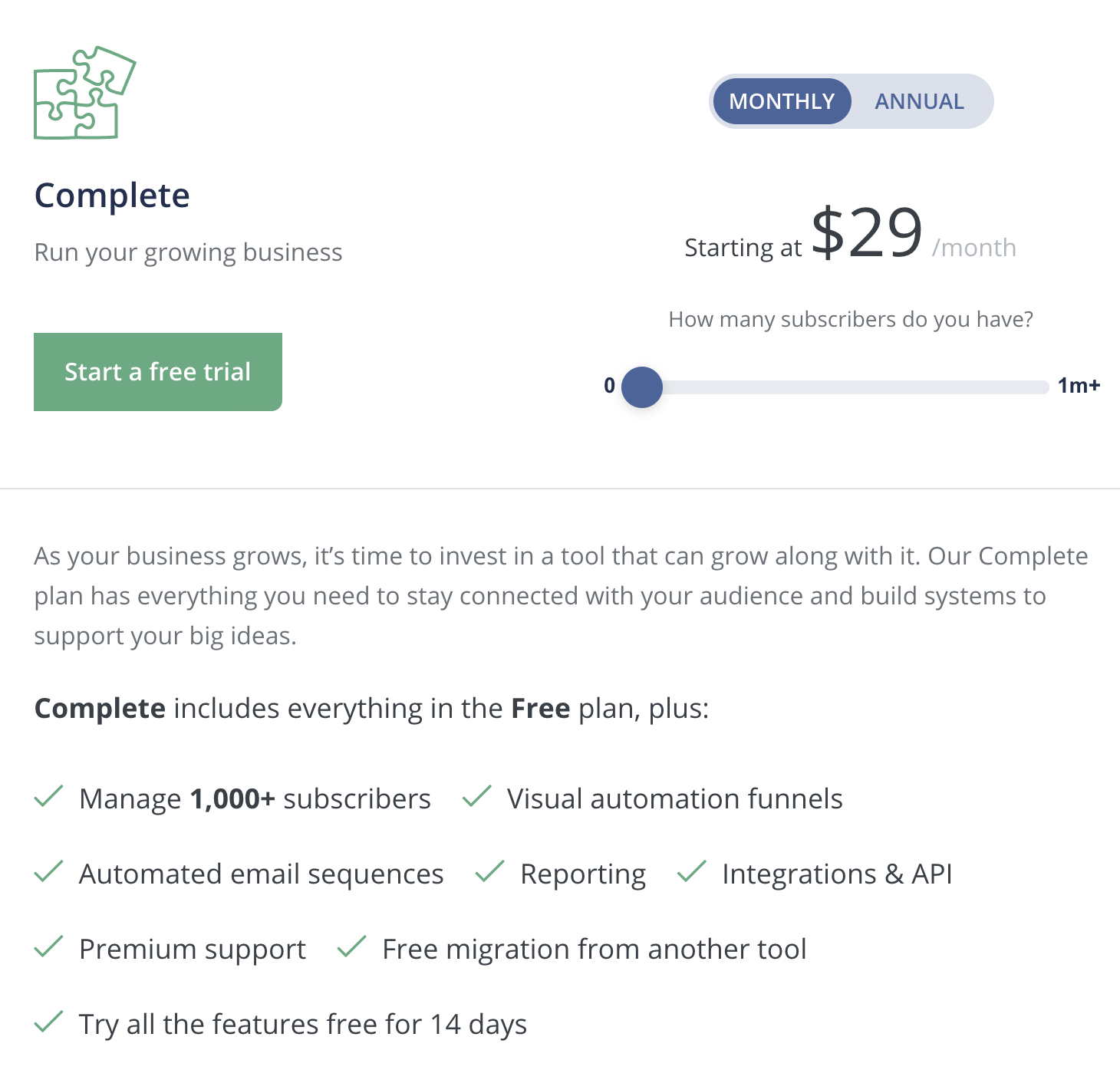 ‍
Free, as the name suggests lets you start without any payment.
It includes unlimited landing pages and forms and allows you to broadcast to a maximum of 1000 subscribers.
The other advanced features, like automation and sequences, are available in the Complete plan that starts from $29/month.
4. SendX
SendX has all the necessary features for sending an email newsletter that I have mentioned for other platforms above.
But the best part is that it's affordable, gives you access to all features in all plans and you have customer support 24/7, 365 days over email or chat.
Let's show you why SendX should be a top contender for your choice:
WYSIWYG Editor:
With SendX, you can design professional-looking emails without having to struggle with any HTML coding. This is possible with it's WYSIWYG editor. WYSIWYG stands for 'What-you-see-is-what-you-get.'
The main advantages of a WYSIWYG email editor are that you can do it yourself with ease, you can experiment with colors and layouts, and you can design beautiful email newsletters even if you don't know HTML.
‍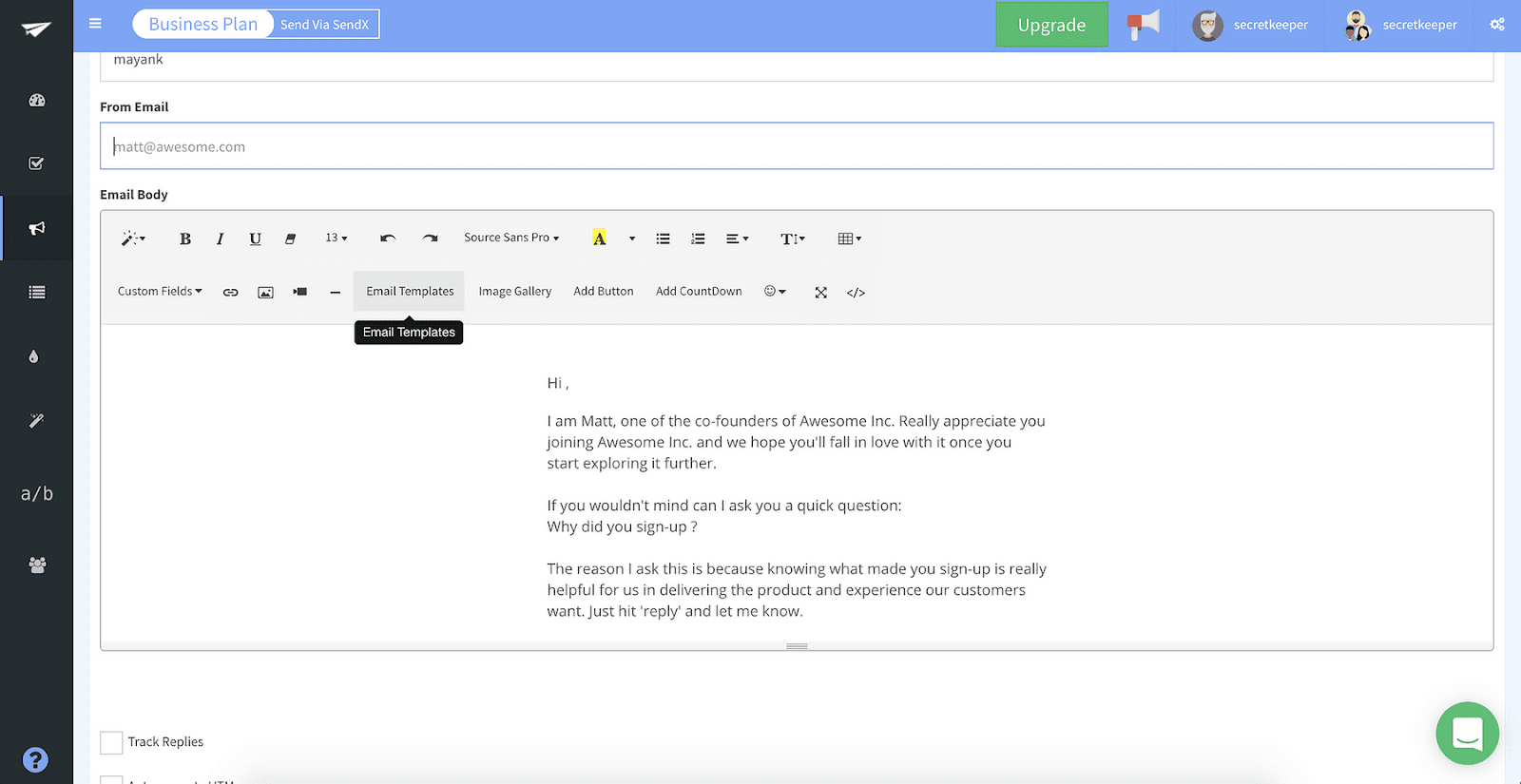 ‍
‍ Instant preview for desktop and mobile:
Now you don't have to guess how your email will exactly look like on a mobile screen or desktop because SendX WYSIWYG Editor shows an instant preview of your email newsletter for mobile and desktop screen sizes.
Pre-built email templates:
You will get access to free premium responsive email templates for use in your newsletter. You can check out the template library here.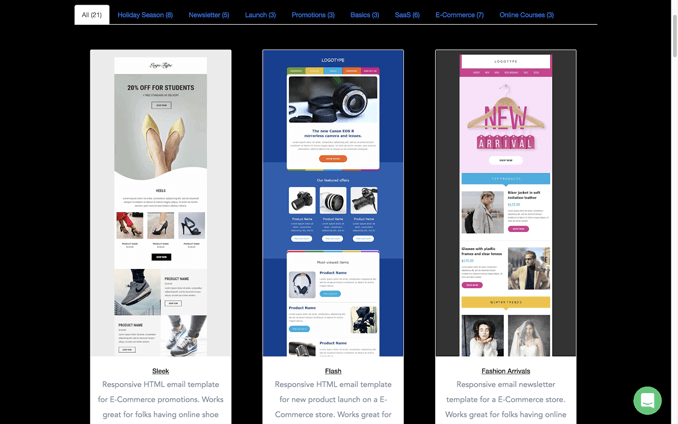 You also get access to more than half a million (yes, half a million!) royalty-free stock photos for refreshing your images each week. You will never run out of creatives and won't have to search the web for free, generic pictures.
Before you even send a newsletter, you will need to collect people's email addresses from different sources.
With SendX, you can create beautiful email pop-ups or banners to grow your email list.
Pop Ups:
Your email list is your biggest asset, and SendX helps you grow that.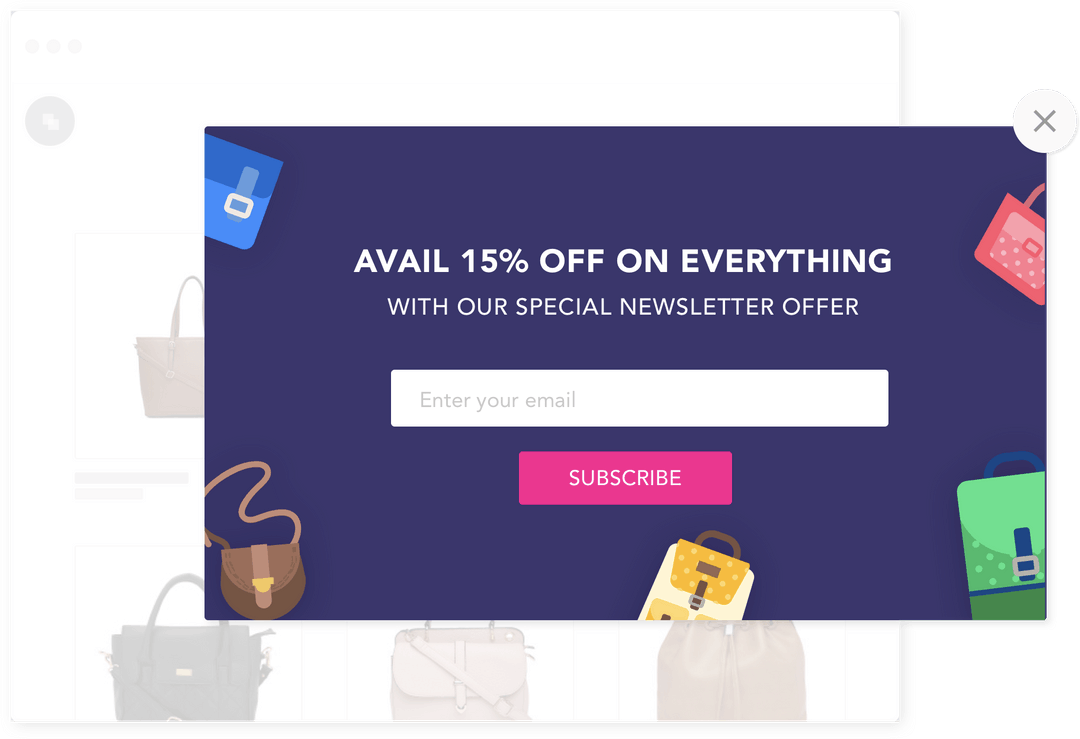 You get to choose from 26 different templates and customize it using the design-builder to make your brand stand out.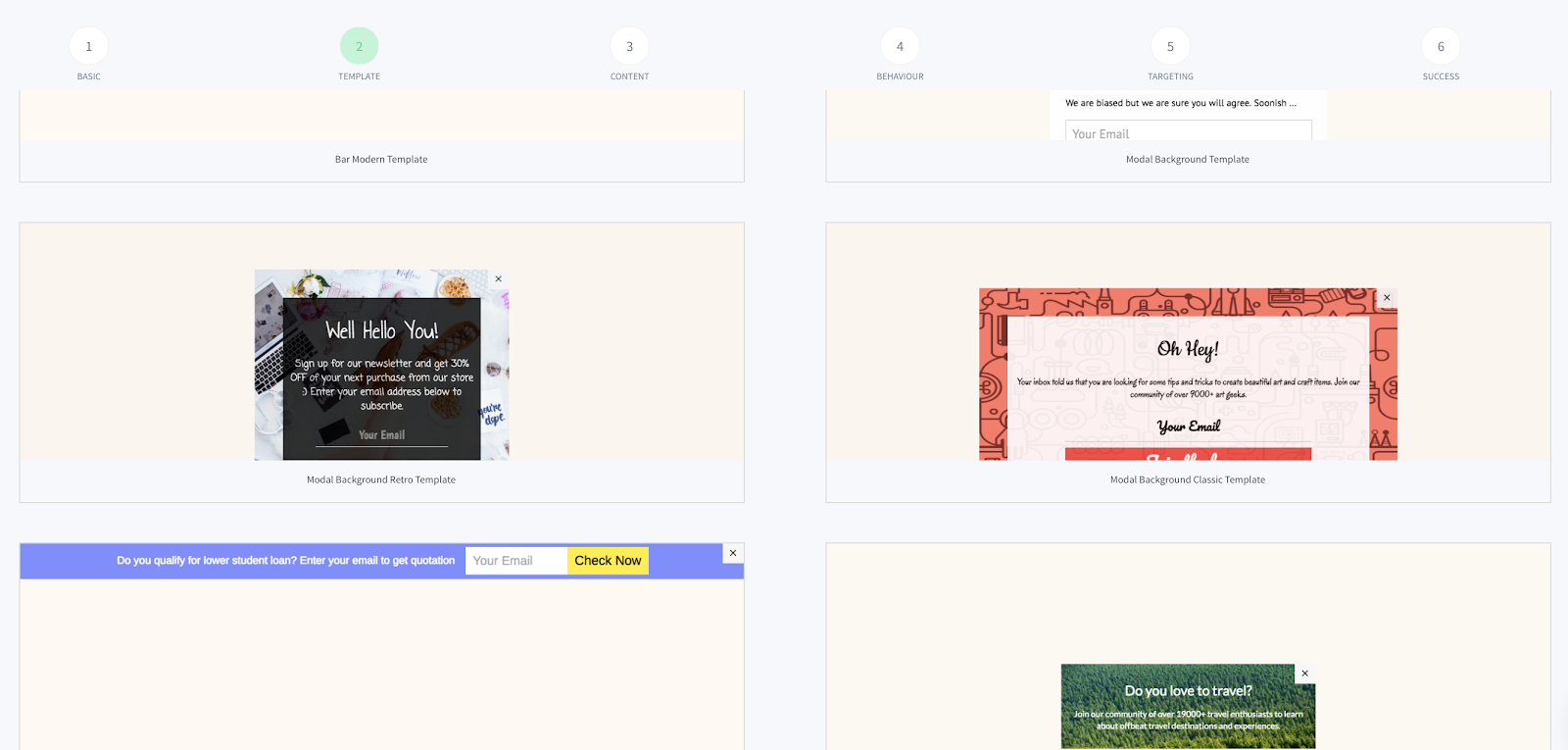 ‍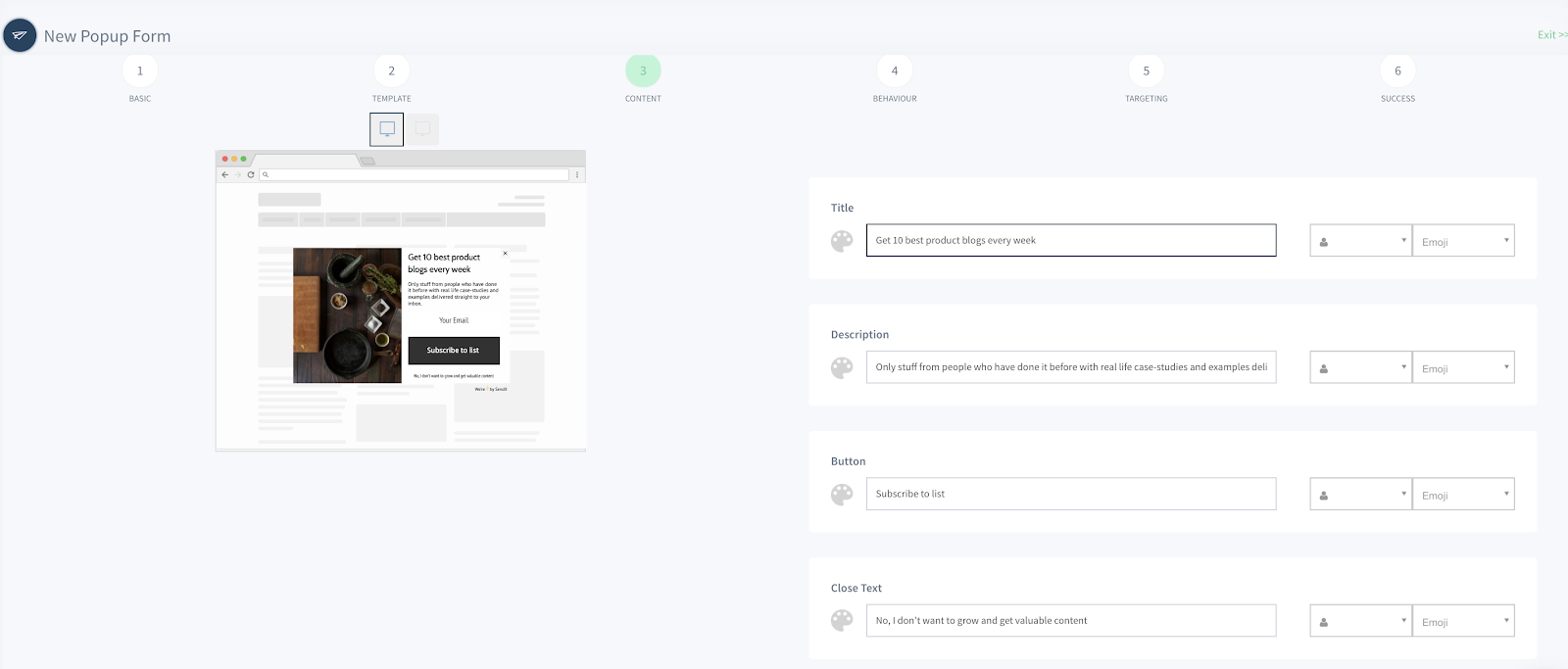 You don't have to worry about integrations as you can Easily add SendX pop-up forms on your website by simply copying their JS script.
Reporting:
SendX provides email performance numbers on all their payment plans. You can view the engagement on a single email or collectively for your whole account.
‍

‍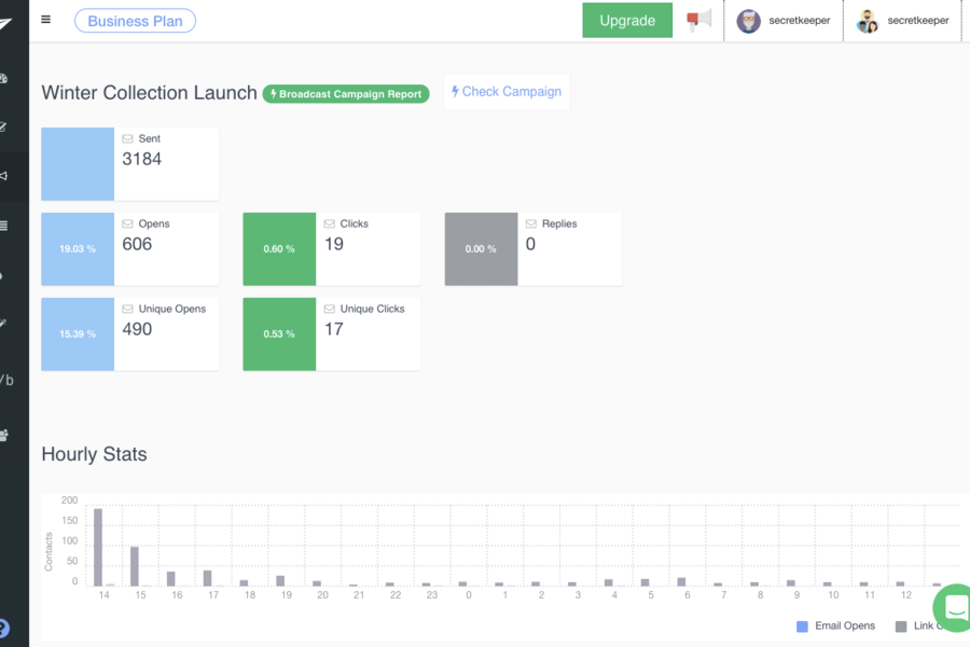 Pricing:
It's affordable, without cutting corners on features and support.
Unlike other email marketing software where responsive and modern templates are behind higher paywalls, with SendX, you get access to everything even if you are on your free trial. Even after the free trial ends, you can access all editor functionalities, templates, 24x7 customer support (through email) for as low as $7.49/mo.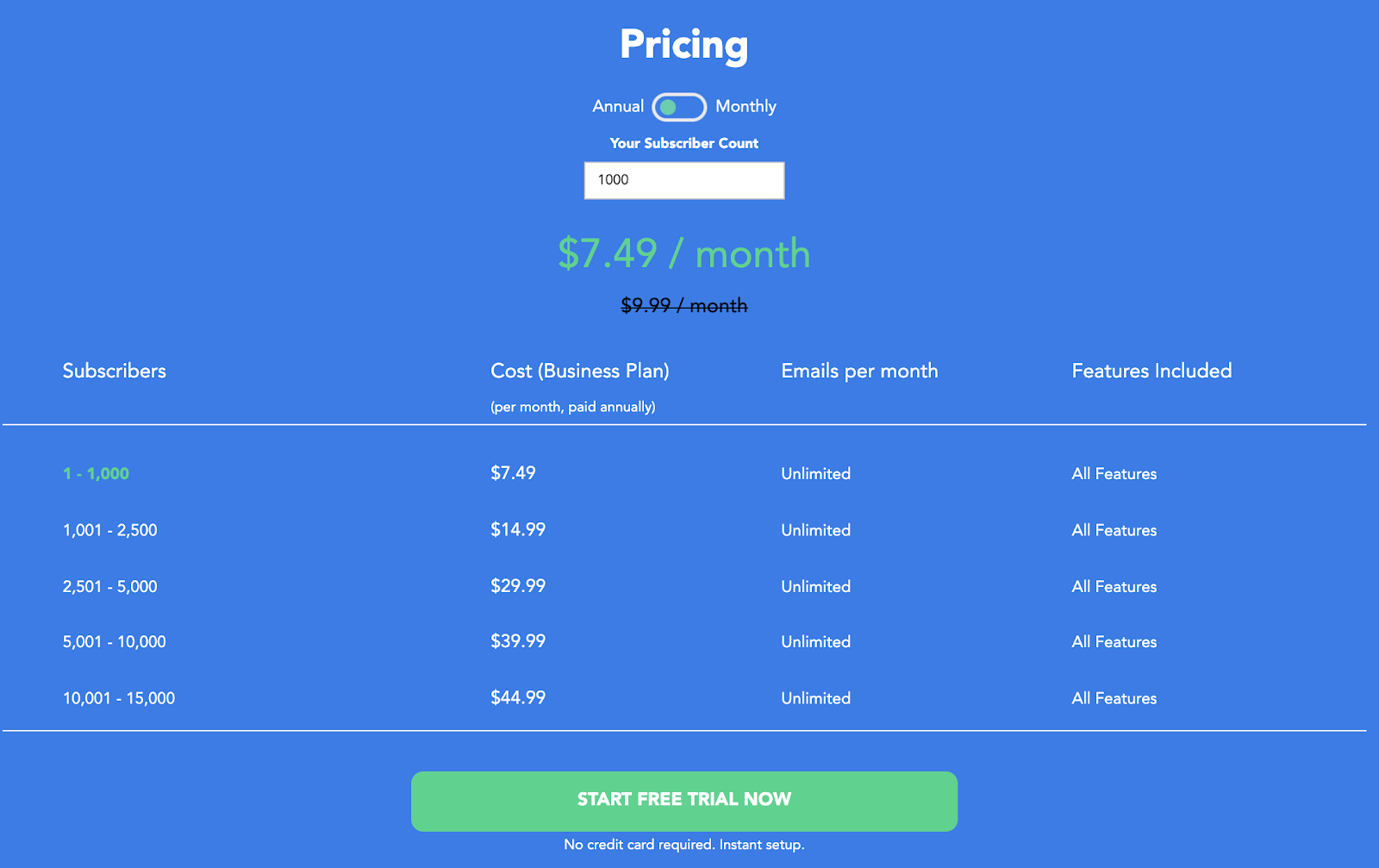 What's the best way to start?
After reading about these 4 major newsletter sending softwares, you must have realized that you don't need any complicated code, get any photoshoot done, or spend days setting up anything to send out your newsletter.
So the best way to start is to get your account created with these softwares and check out how you feel using them.
I would suggest you start with SendX as creating an account is as simple as logging in into Netflix. You don't need a credit card and get access to ALL of its features.
If you are stuck anywhere, their customer support is available on phone, chat, or email 24/7 even if you are in your free trial period.