TL;DR
| | | | | |
| --- | --- | --- | --- | --- |
| Email Marketing Too | Pros | Cons | Best Suited For | Starting Price |
| SendX | Unlimited Email Campaigns, Sign Up forms | Doesn't have advanced Workflows | Marketers and Business owners | $7.49/mo |
| Mailchimp | Templates, Reporting, A/B testing | Complicated Pricing Structure, Complex features | eCommerce and Retail industries | $10.66/mo |
| Sendinblue | List Management, Automation, FB Ads | Difficult set up, Basic plan lacks features | Small and medium-sized businesses | $25/mo |
| Constant Contact | Event Management, Deliverability | Difficult to use | Event management companies and Nonprofits | $20/mo |
| AWeber | Smart designer, Email builder | Limited Segmentation | Small businesses and Online bloggers | $19/mo |
| GetResponse | Autoresponder, Billing flexibility | Limited Customer Support | Small business and Freelancers | $10.50/mo |
| SendPulse | Web Push, Chatbots | Email builder needs improvement, Speed | Marketers and Developers | $9.85/mo |
‍
Let's discuss the features and pricing of all the autoresponders, one at a time:
SendX
Autoresponder features:
You can't make out the reason why your subscribers didn't open a particular email you sent. So with a single click SendX lets you resend the unopened emails with a different subject line.
You can auto tag subscribers based on a pop up they subscribed to or some data they have filled. And then group them to only trigger emails that will interest them.
If you think a particular autoresponder sequence is not working for you then you can add or update the triggers and actions as per your liking.
To design the emails in the best possible way, SendX provides around half a million royalty free photos so you never run out of options.
Every advanced feature takes a backseat when the platform is difficult to use. Therefore prioritising the user interface, SendX is designed in a very intuitive way which is super easy-to-use.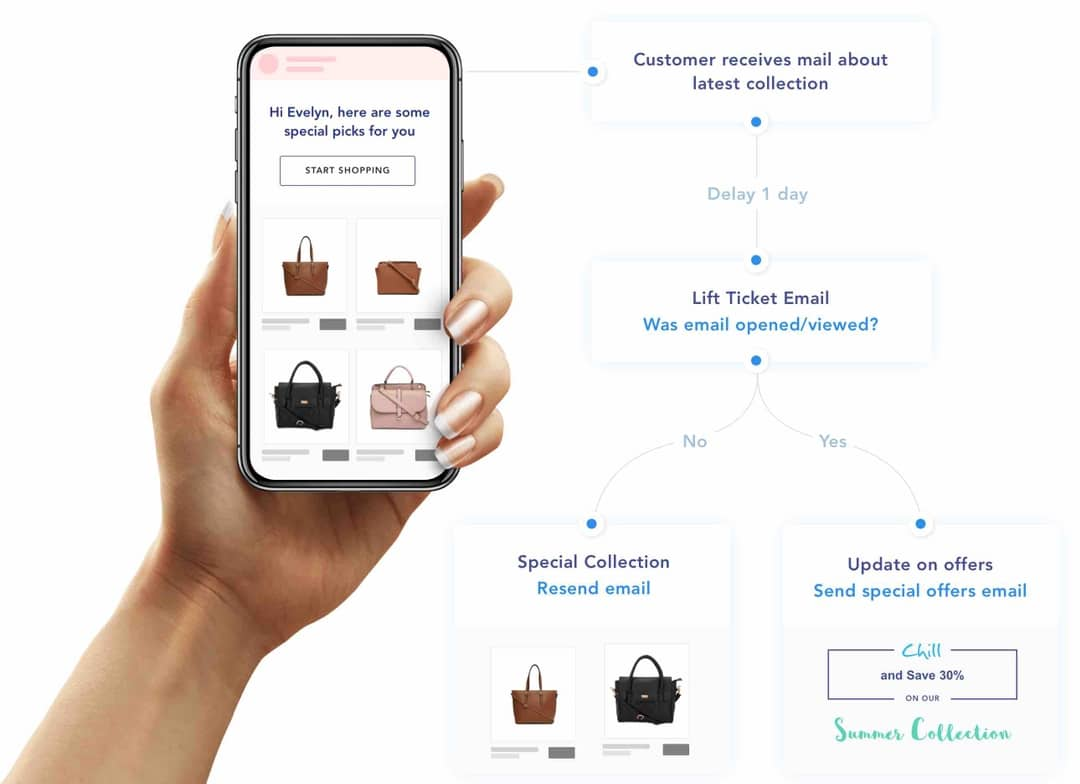 With Sendx, all the features are accessible with all the pricing plans because SendX never lets you compromise with your email marketing.
Pricing:
There is only one premium plan which is based on the number of subscribers in your list.
Before you commit, you can take a 14-day free trial and get access to all the features.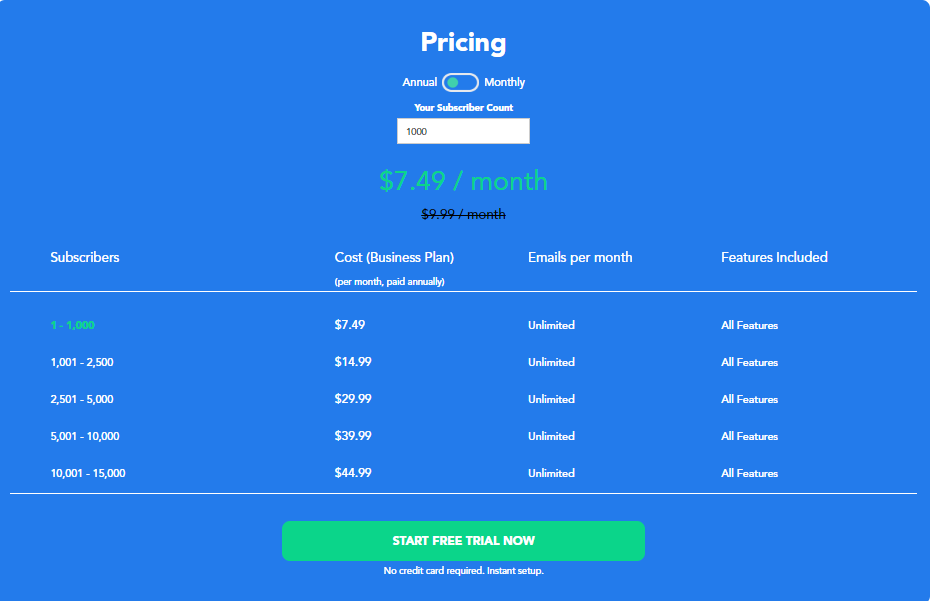 ‍
Mailchimp
Autoresponder features:
You can easily create autoresponders which include welcome emails to new customers, date-based emails for birthdays and anniversaries, RSS for sending blog updates, etc. This is a good way to engage with your customers.
Not just that, you can also go for more advanced options like autoresponders for e-commerce which includes abandoned cart emails, product recommendations, order updates and more.
If you use a particular layout for your autoresponders or if it includes some content you like, then you can save it as a template to use it again with other campaigns and automation.
You even get a detailed report of all your emails that are sent by the autoresponder sequence, such as geo-locations, heat maps, and also the basic metrics like open and click rates.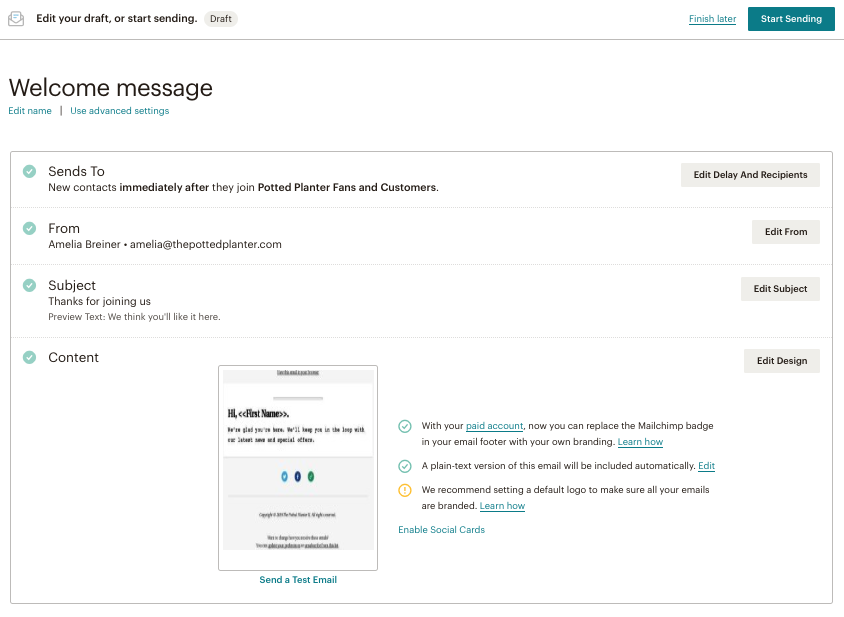 ‍
Most of the autoresponder features are available with premium plans.
Pricing:
Mailchimp has four main pricing plans- Free, Essentials, Standard and Premium
The pricing depends on the number of contacts in your email list.
You can also go for Pay as you go plan, which allows you to purchase email credits as and when needed. Each email costs one credit, which expires after 12 months.
Using the Website and Commerce features, you can build sites with unlimited pages, SEO tools, and more, even with the free plan.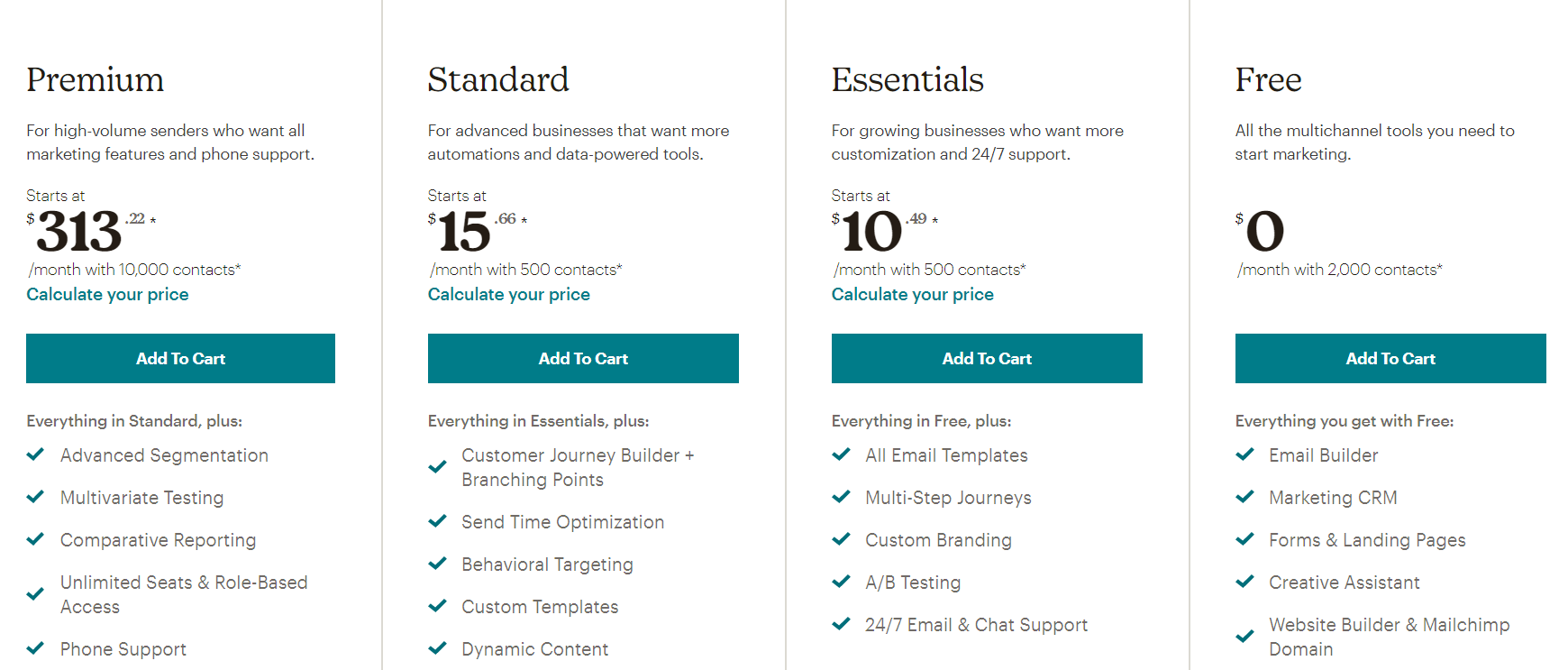 ‍
Sendinblue
Autoresponder features:
You can send out a good range of autoresponder emails with Sendinblue, including welcome emails to new subscribers, birthday and anniversary emails, and e-commerce like product recommendations, abandoned cart and more.
As soon as someone subscribes to your email list, they receive a subscription confirmation email from Sendinblue. Which ensures that you have a genuine list of subscribers.
Sendinblue lets you choose the specific day and time for the follow-up emails, which then will be sent in the exact sequential order you decided.
Sendinblue has different infrastructure for transactional emails in contrast to the marketing emails. But you can send transactional emails too. And if you want, you can even send SMS for some extra cost.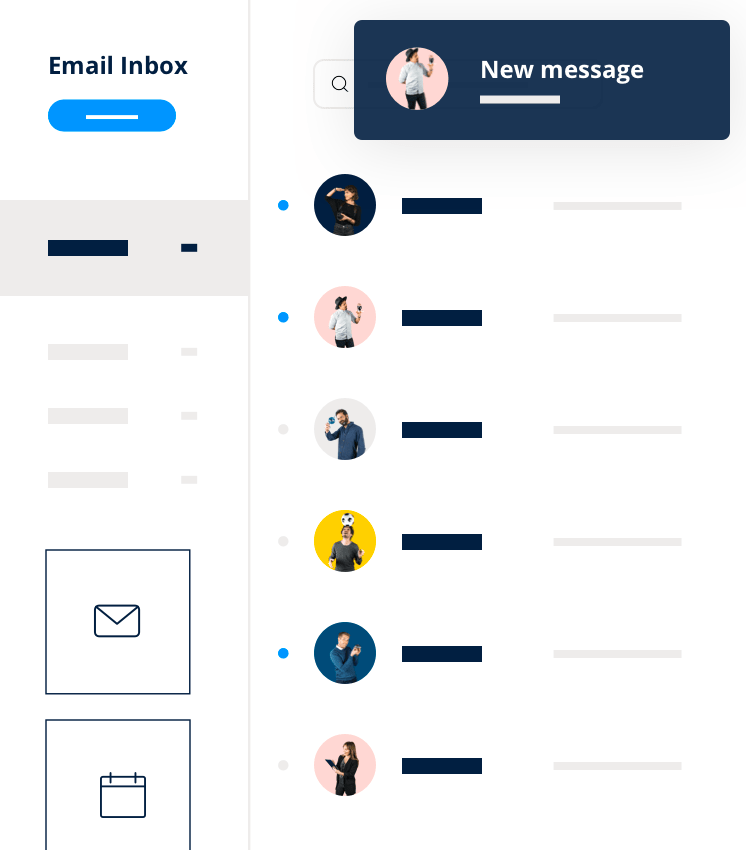 However, the best part is you can use the autoresponder with the free plan as well.
Pricing:
There are 4 plans: Free, Lite, Premium and Enterprise
The pricing depends on the number of emails you send. And there is no limit in the number of contacts.
Note: With the free plan, you can have unlimited contacts but can send only 300 emails per day.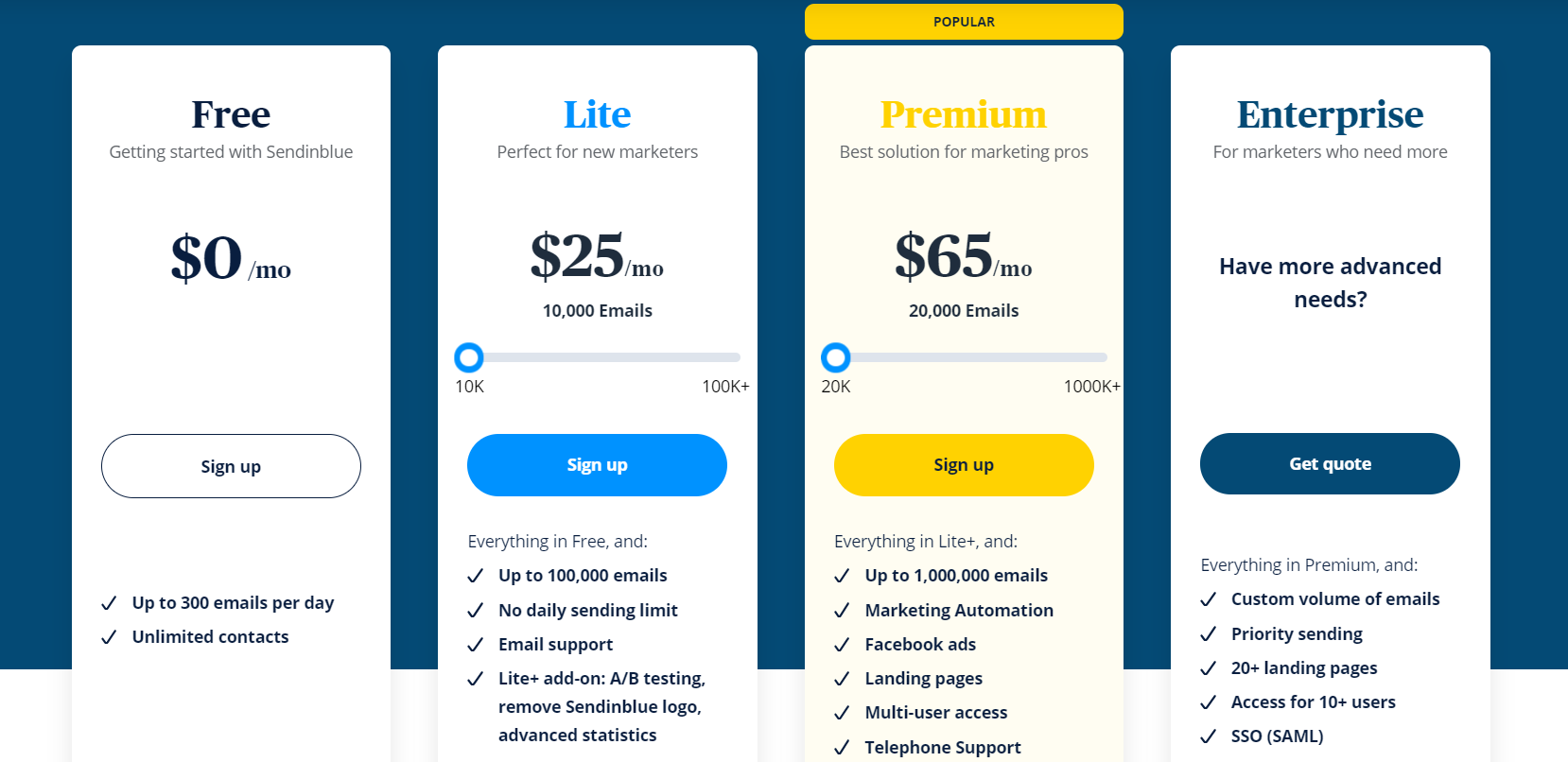 ‍
Constant Contact
Autoresponder features:
Constant Contact lets you send the basic welcome email whenever a new subscriber signs up to your list, birthday and anniversary emails to your subscribers, confirmation email on signup, etc, on the premium plan.
You can set up your own autoresponder series and select which lists you want to send the emails to. You also have the option to add multiple lists to your autoresponder series.
After sending out these emails, it's important to check whether they are working or not. So you get reports which contain the queued contacts, sent, opens, and clicks for all the emails in your autoresponder series. This helps you figure out strategies that perform the best.
Of all the emails that the subscribers receive, they usually don't check all of them due to a number of reasons. And sometimes, an important email might get lost. So Constant Contact allows you to trigger an email that automatically resends the missed emails without you having to figure out yourself.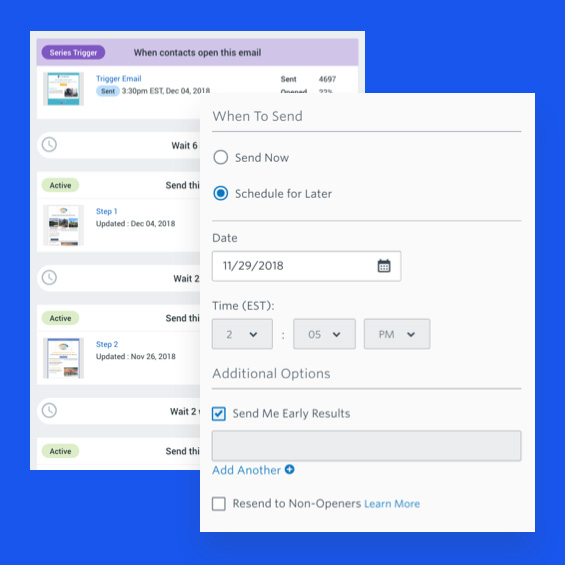 But, the autoresponder feature is unavailable in a trial account. So you will have to upgrade your email plan to get access to this feature.
Pricing:
There are 2 plans- Email and Email Plus,
The pricing of both varies according to the number of contacts in your list.
However, you can opt for a 60 day free trial.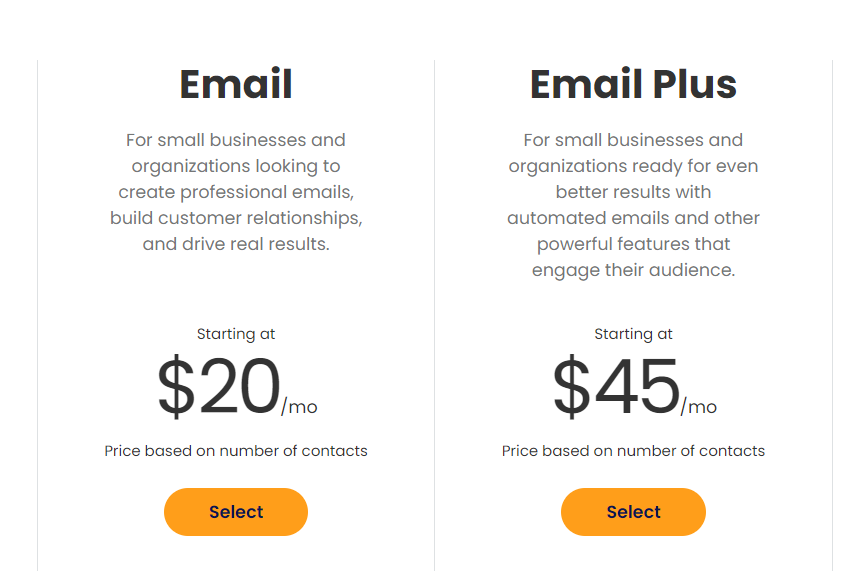 ‍
AWeber
Autoresponder features:
AWeber is the pioneer of good autoresponders, and it's still popular among email marketers.
AWeber's user experience might be a turn off at times but the autoresponder is decent. You can create a sequence of emails that will be sent as per your chosen schedule. It includes a welcome series for new sign-ups, product launch series for eCommerce businesses, customer onboarding sequence to tell your new contacts about your brand, services and products.
Using AWeber you can segment your contacts using tags and trigger the right emails at the right time to drive sales and boost engagement.
You can track the statistics of your emails using AWeber's analytics platform to know how your emails are performing by analyzing opens, clicks and engagement reports.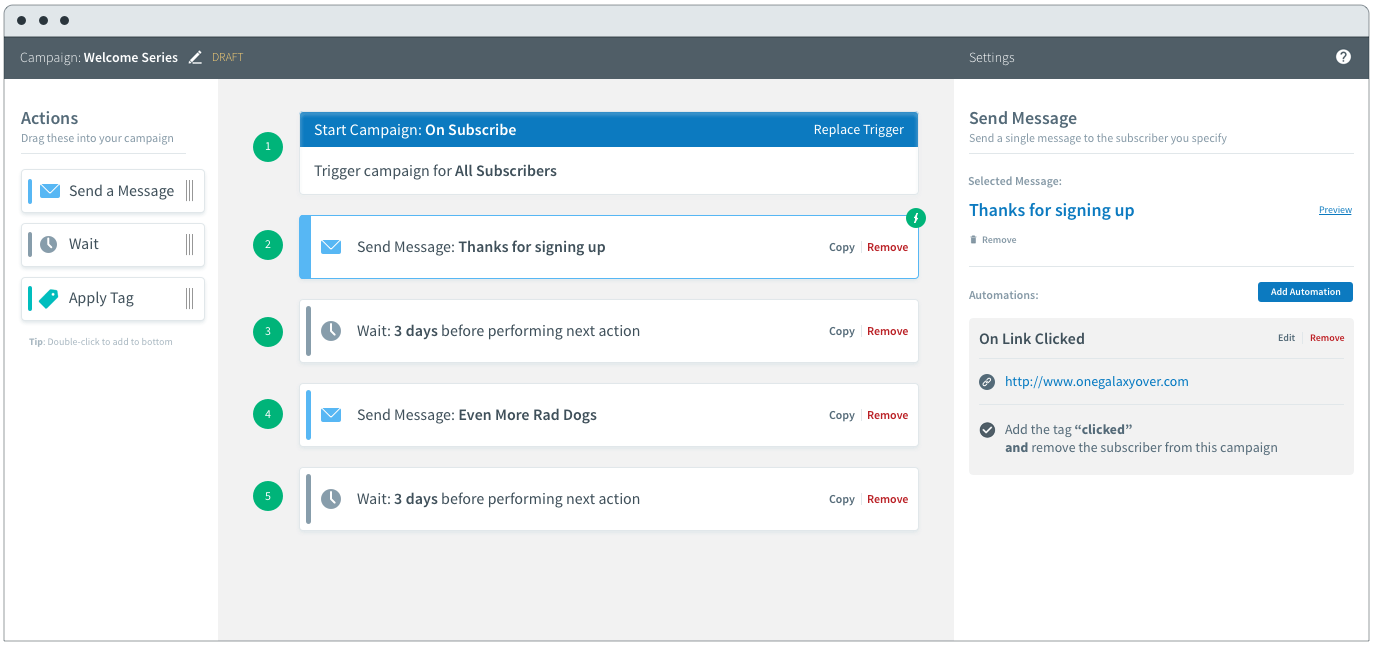 Anyway, the autoresponder feature is available with the paid plan.
Pricing:
AWeber has two plans- Free and Pro.
The pricing is based on the number of subscribers.
Note: With the free plan, you can have up to 500 subscribers.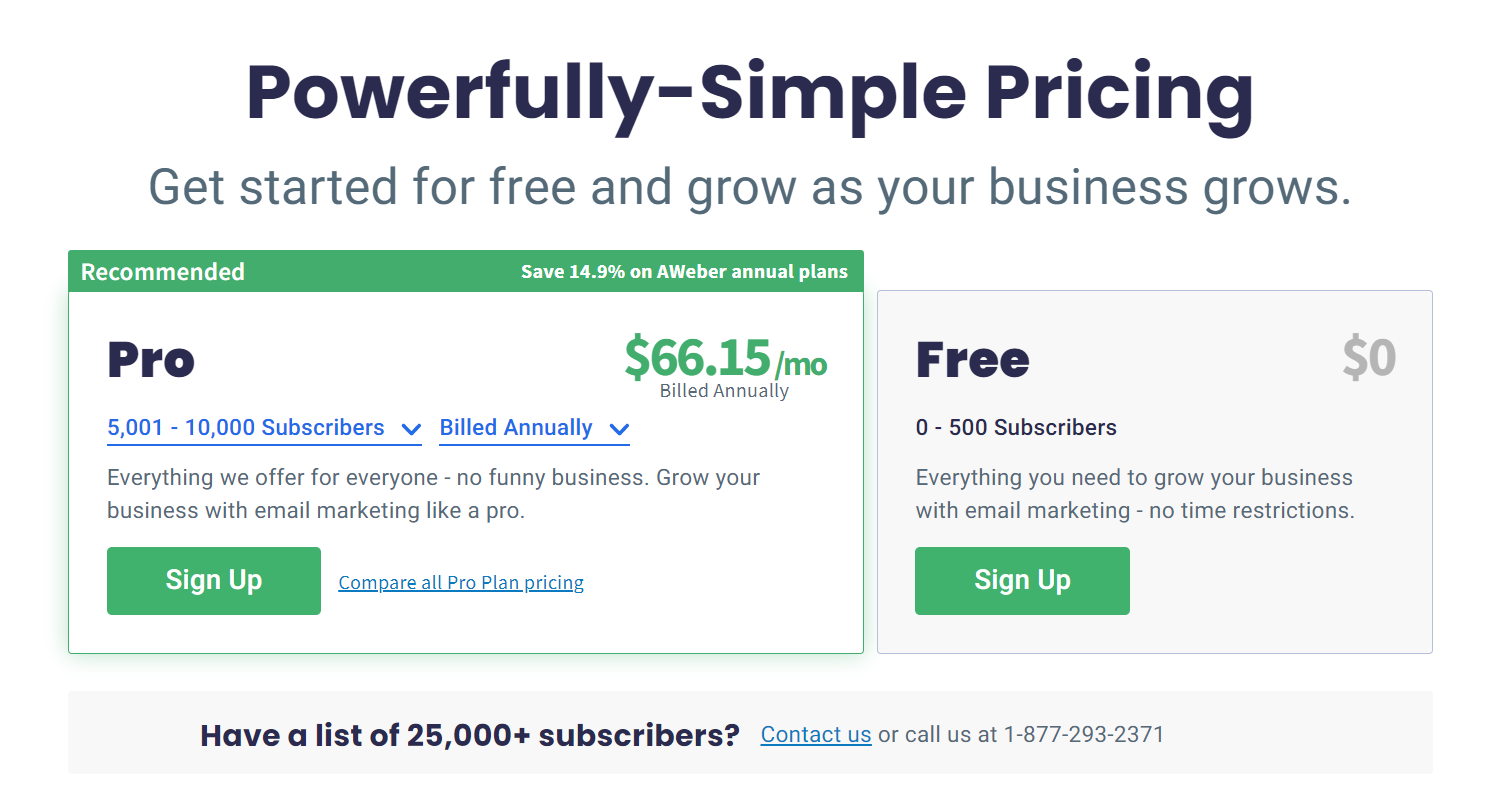 GetResponse
Autoresponder Features:
Along with the critical autoresponder emails like welcome emails to the new subscribers, etc, you can also trigger an email at a particular subscription day, like a customer anniversary.
You can send autoresponder emails with relevant upsell offers based on past purchase behaviour to ensure maximum engagement and drive sales.
You can choose from pre-designed RSS-to-email templates and send right after you publish your blogs, etc. Which will automatically be shared on social media like Facebook and Twitter.
Other than the usual emails, you can set up a series of emails that explain and educate your audience on a specific topic to build a relationship beyond buying and selling.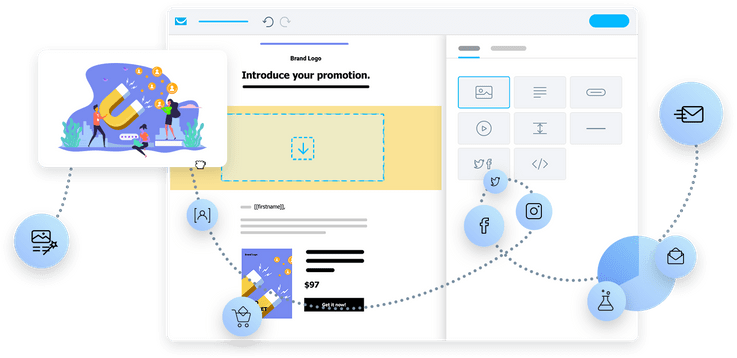 You can try out all the GetResponse features with the 30-day trial. Also, the Autoresponder is available in all plans, starting with the Basic plan.
Pricing:
There are four plans- Basic, Plus, Professional, Max
The pricing varies according to the number of contacts in your list.
However, you can opt for a 30-day free trial.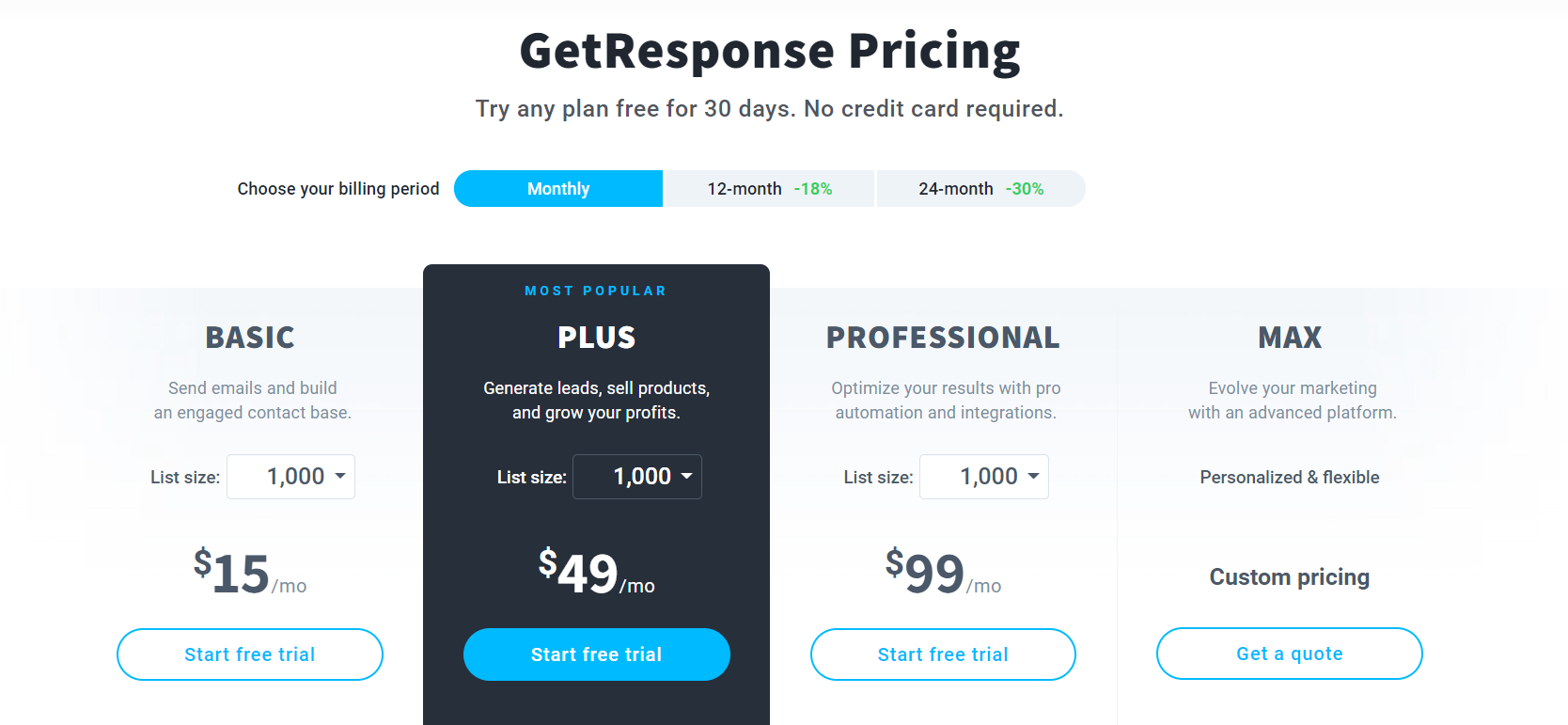 SendPulse
Autoresponder features:
They offer welcome emails to new subscribers, birthday emails as well as eCommerce emails like abandoned cart emails, emails based on purchase behaviour and more.
You get access to the templates from the free library and customize them as per your liking.
You can even use their Chrome extension to save any email from your Gmail inbox as a customizable template in your SendPulse account.
You have the freedom to create an autoresponder sequence by customising the subject line and the specific date and time.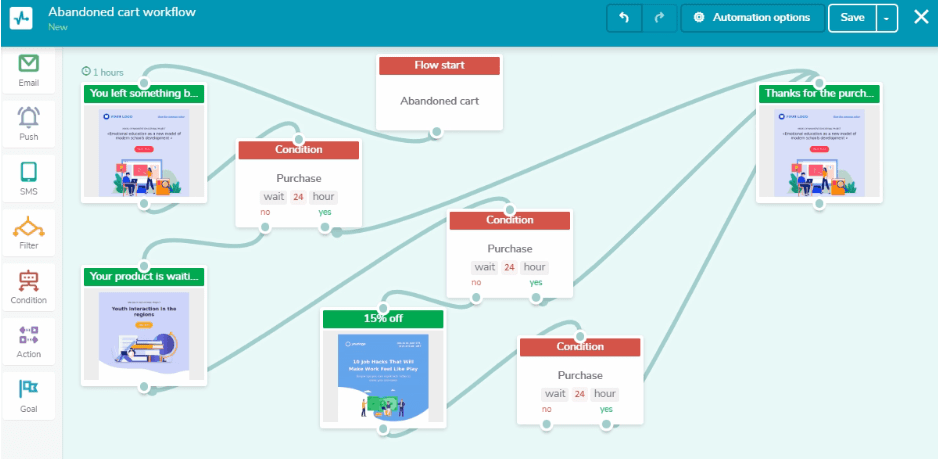 The autoresponder feature can be used with the free plan.
Pricing:
There are four plans- Free, Standard, Pro and Enterprise
The pricing is based on the number of subscribers.
Note: The free plan allows up to 15,000 emails to 500 subscribers monthly.
You can also go with the pay as you go plan which lets you purchase email credits as and when needed. It starts from $32/10,000 emails. The email credits are valid for 12 months.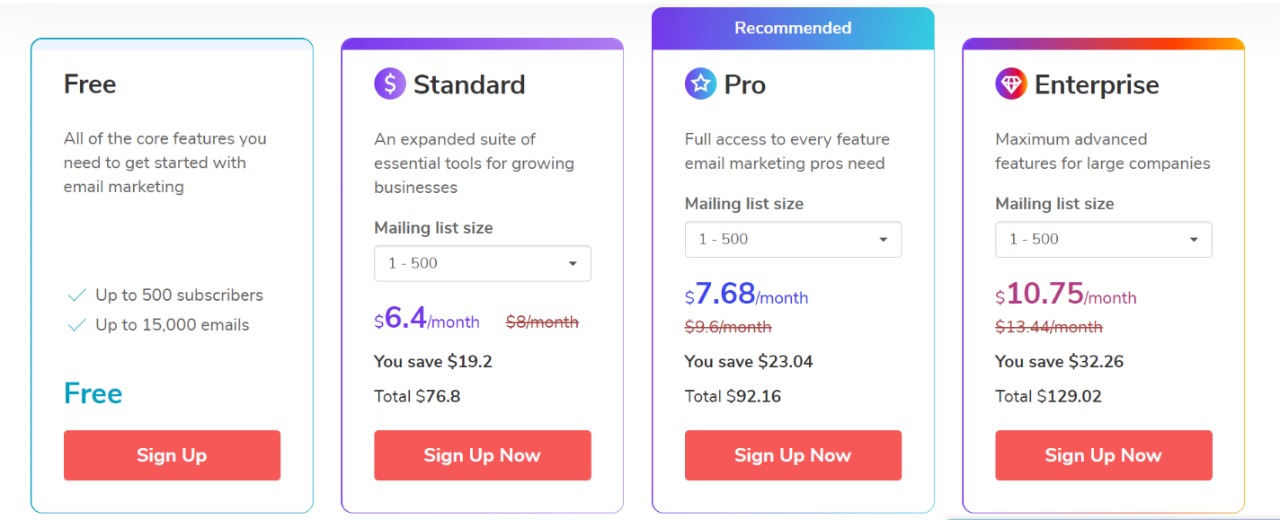 Conclusion
The thing with email marketing tools is that there isn't one that fits everyone. You will have different requirements according to your budget, business type, contact list, required features, and the list goes on…
Personally, I would recommend SendX for all the right reasons.
SendX means the most affordable email marketing platform, so no budget issues.
Whether you're a B2B business, B2C business or a solo creator looking to leverage the best features of email marketing platforms (A/B Testing, Integrations, Pop-up banners and so much more…), SendX got your back.
SendX offers all the features with all the pricing plans.
Now I don't see any reason why you would ditch SendX for other platforms. So go, go, go, check it out!!!