This post will focus on top five email marketing alternatives to Bronto. We have highlighted email editors, some of the key features & pricing for each one of them to help you make the right choice.
Comparison Table
| | | |
| --- | --- | --- |
| Platform | Great 👍 | Uh-oh 👎 |
| SendX | Extremely affordable. Excellent Customer Support. Very Intuitive UI. | Doesn't have advanced workflows. |
| Omnisend | Provides channels beyond email such as SMS, push notifications, Facebook Messenger. | Automations are not available on the free plan |
| ActiveCampaign | All in one CRM. Easy to use Flowchart system. | Complex to use for newcomers. The free plan is for a limited period only. |
| Sendinblue | Very affordable. Option to leverage SMS. | Not many integrations |
| Mailchimp | Many integrations. Forever free plan. All-in-one marketing platform. | Pricing can get expensive as your audience grows. |
1. SendX
SendX is an easy to use, intuitive, and affordable email marketing platform. It promises high-deliverability, drag-and-drop email editor and top-notch customer support. Let's find out more about it.
Email editor:
SendX provides a WYSIWYG drag-and-drop email editor. It has 10 elements such as buttons, text boxes, images etc. that you can drag to the canvas to create your own email or email template. This helps you create and send emails quickly and easily.
You can also see a preview of how the email will look on desktop, mobile or tablet right from the editor. This is super convenient.
‍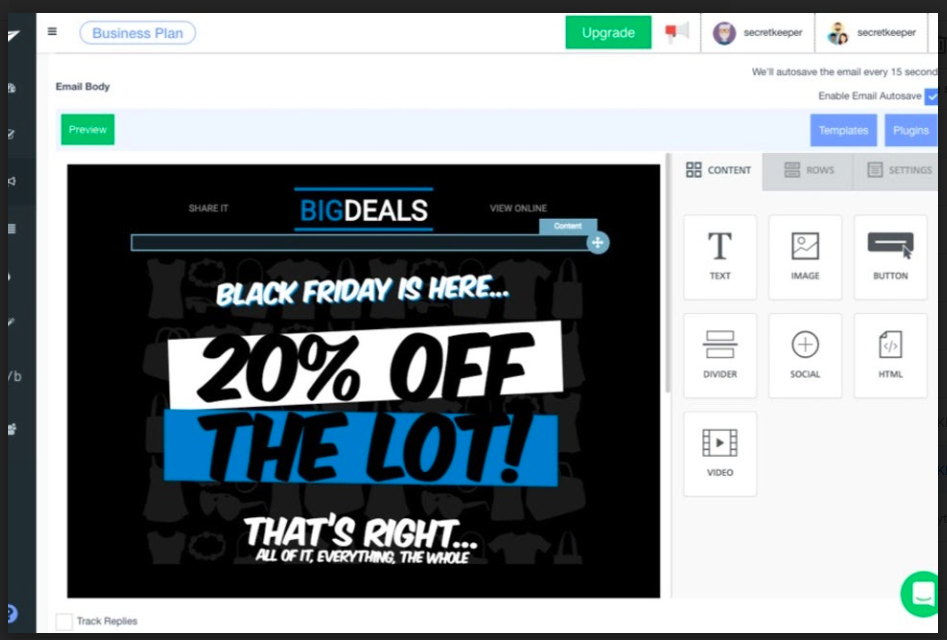 Dashboard & heatmap for data:
It gives you an easy to read dashboard where you can see key metrics for each campaign. You will be able to see open rates, click-to-open rate, unsubscribe rate etc. With heatmaps, you can visually see which one of your links/CTAs are the most clicked in an email.
This data will help you make decisions to improve your campaigns.
‍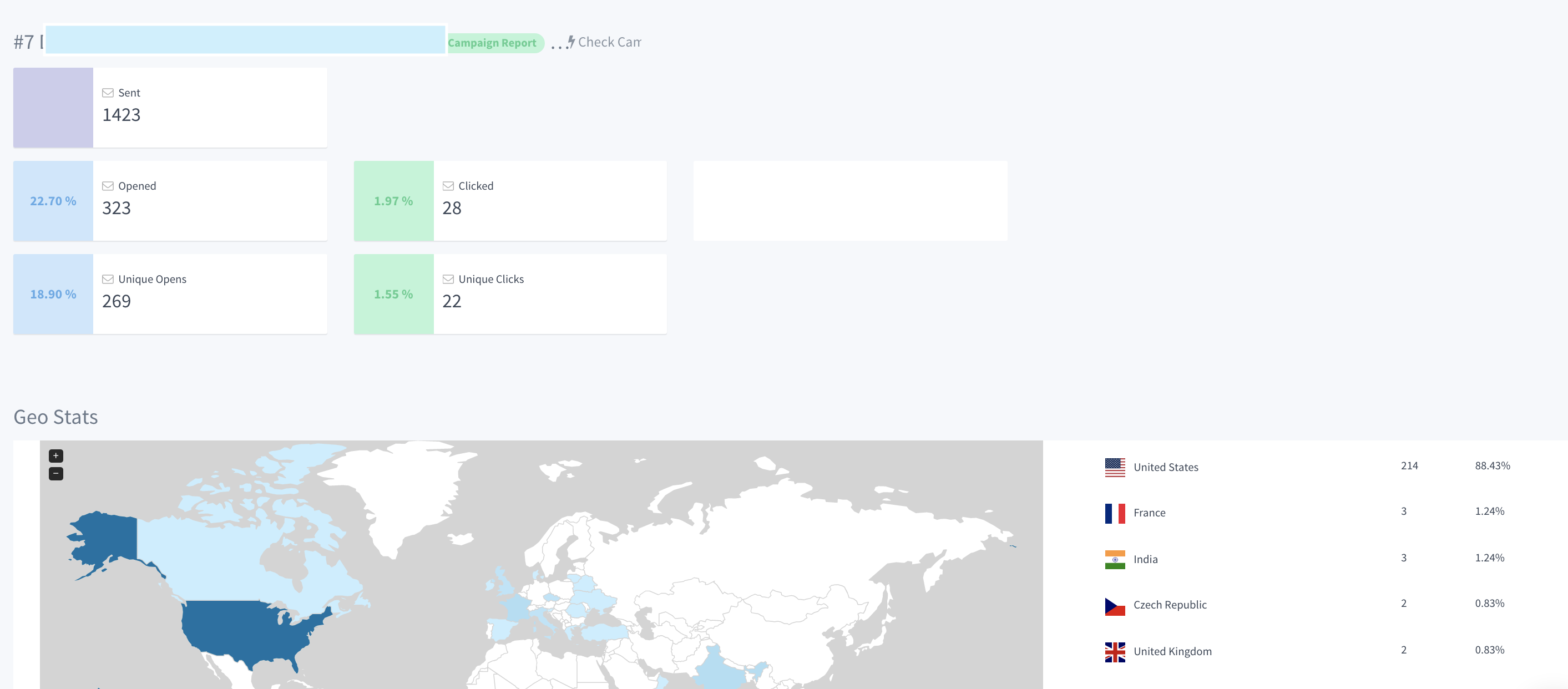 ‍
Automation:
SendX provides automation with drip campaigns, triggers and actions. You can create automated welcome messages, onboarding flow, inactive-subscriber flow etc.
All this is done through a set of triggers and actions you can define for any customer segment.
‍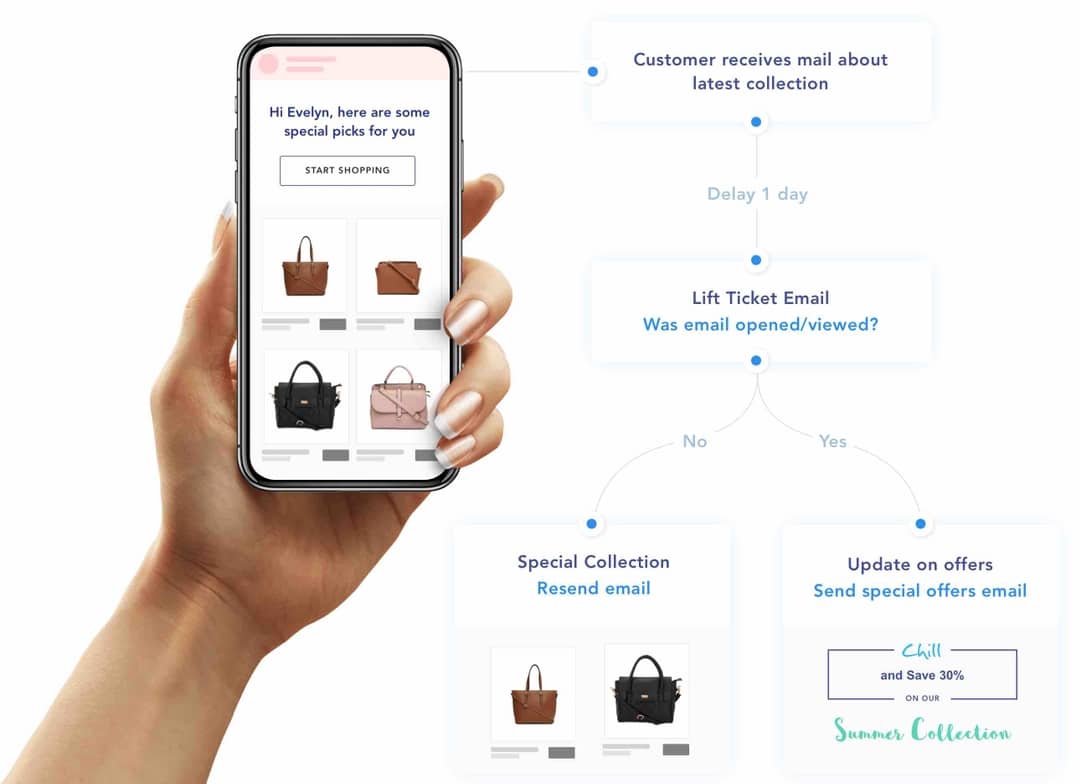 ‍
Templates & Images:
With all these features, you get half a million stock photos for free so that your emails can always look visually attractive and fresh.
If you don't know how to code, you don't have to worry about creating new templates. Because SendX provides 20+ email templates for various use cases (welcome, abandon cart, product launch etc.)
Other than this, you also get signup forms, landing page, integrations, segmentation and customer support via chat, email and phone.
‍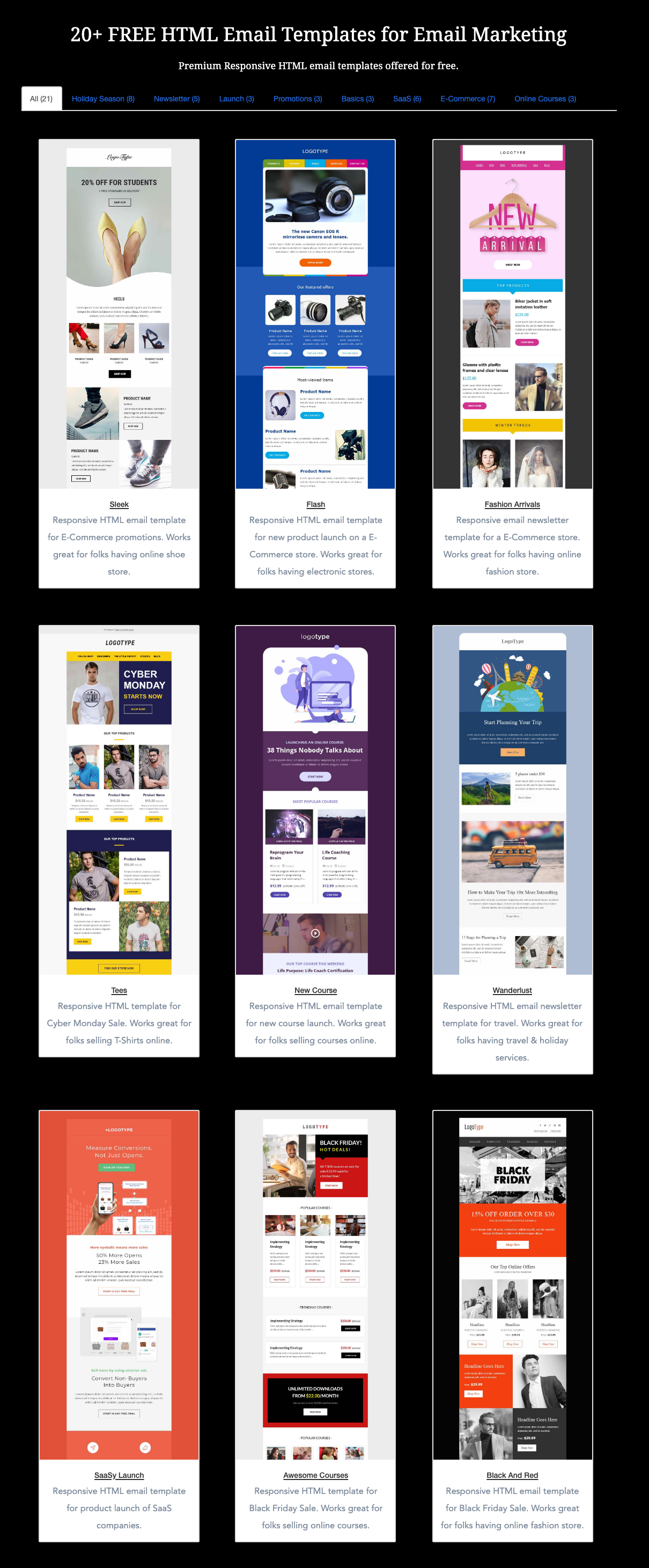 Pricing & Trial
14-day free trial
Starting price: $7.49/month for upto 1000 subscribers
To take subscription of a feature rich and intuitive software, you won't have to spend more than the price of 2 cups of coffee a month to get started.
Here is affordable pricing by SendX:
‍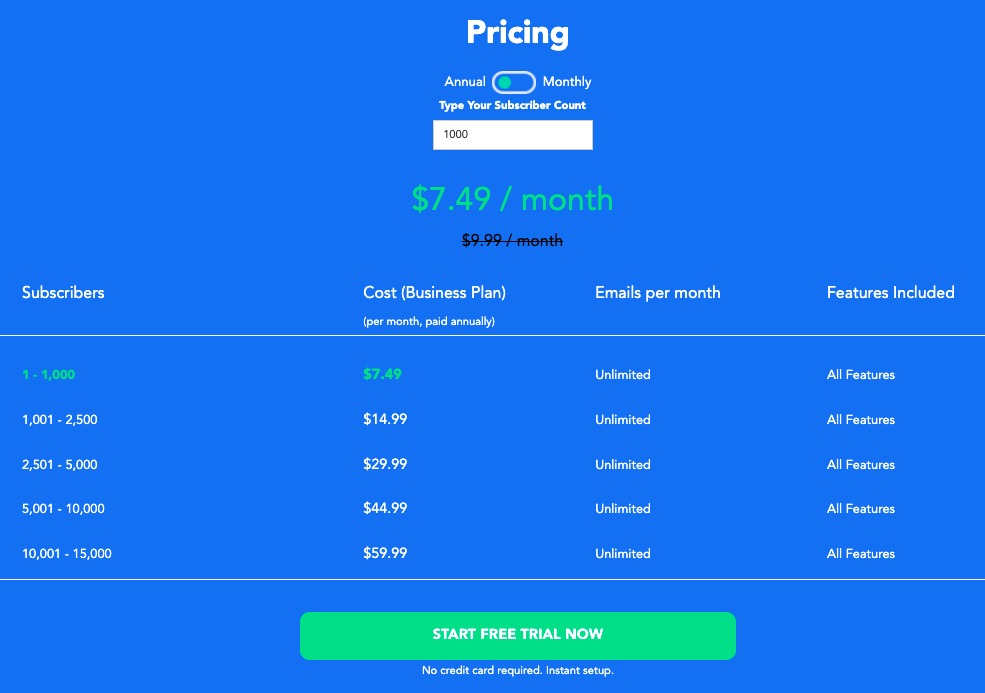 And with each SendX plan, you get UNLIMITED emails.
‍
2. Omnisend
This platform is tailored for eCommerce.
It also provides channels beyond email such as SMS, push notifications, Facebook Messenger. These help you target your audience not just in inbox, but also on social media.
Editor:
Omnisend's email editor has drag-and-drop functionality so you don't need to learn to code to use it. Since it is tailored for eCommerce, your get some convenient features like:
Product picker to directly add products from your store
Auto-generated discount codes that are synced with your store
Interactive elements such as scratch cards or surprise gift boxes
The product recommender will automatically add your bestselling or newest products to emails.
‍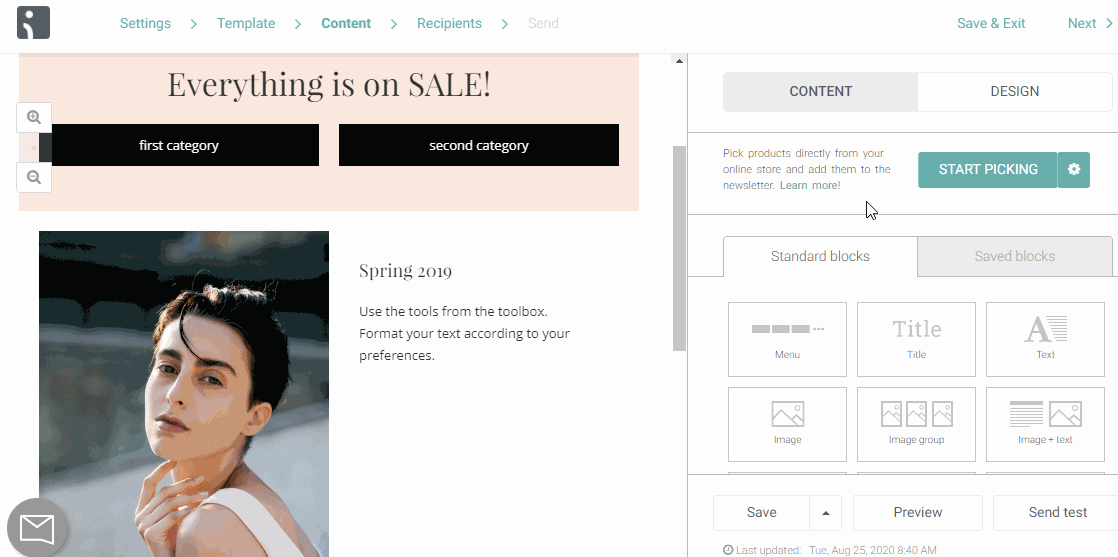 ‍
Automation:
For automation, you get pre-built workflows for sending cart abandoned emails, welcome series, order & shipping confirmation, etc. You can also create your custom automation with their drag & drop mapping canvas.
Automations are only available for Trial and paid plans. Not available on the free plan.
Signup form:
Omnisend provides built-in forms to grow your email list or capture sales via exit intents. You can create:
Popup forms
Landing pages
Signup boxes
Exit intent offers
Pricing & Trial:
It provides a free plan that allows you to send 15K emails per month, collect new subscribers & segment your audience.
For anything else, you will have to choose a paid plan. For 1000 subscribers, Standard plan starts at $16/month, Pro plan from $99/month, Enterprise plan with custom pricing
Each plan comes with a limit of emails you can send.
‍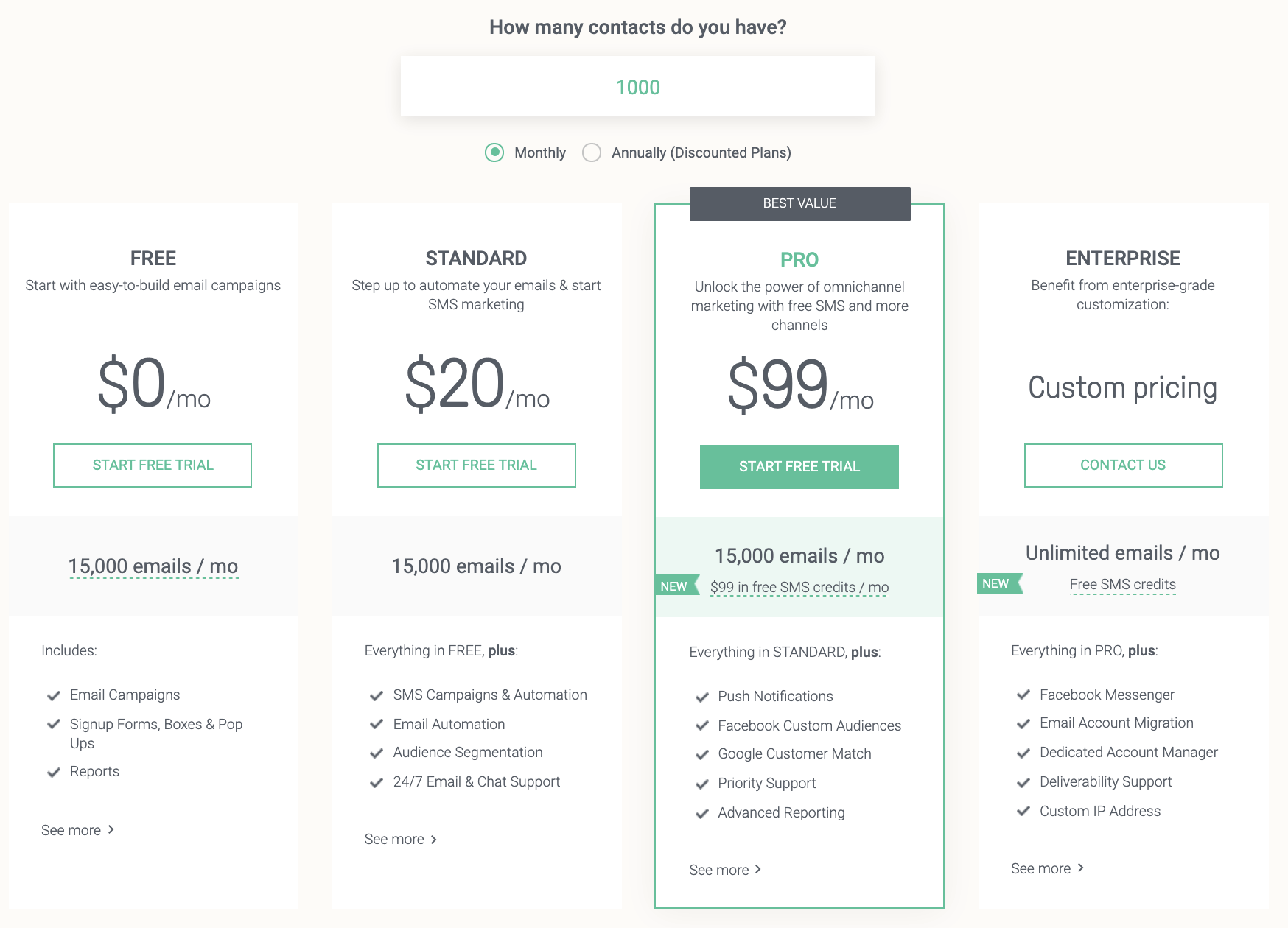 3. ActiveCampaign
ActiveCampaign provides email marketing, automation, and CRM all in one so that you can manage the customer experience from just one platform.
Email editor:
ActiveCampaign provides a basic drag-and-drop email builder.
If you know HTML or CSS, you can also code your own template and store it for future use. If you don't know coding, you will get 30 pre-designed template options to get started.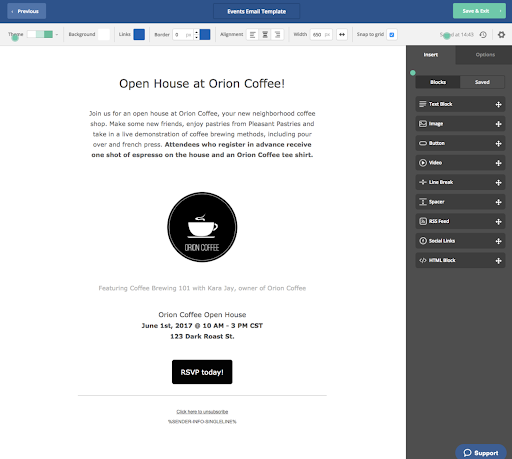 One thing that's good about their email builder is that you can create as many columns as you want & even adjust the column size.

Automation:
For creating automation, ActiveCampaign provides an easy to use flow chart system. If you want to add any element (send email, delay, decision maker etc.) you just use a drag-and-drop builder to bring it to canvas.
You can get started on basic automation and drip campaigns by using pre-built automation templates and customize according to your needs.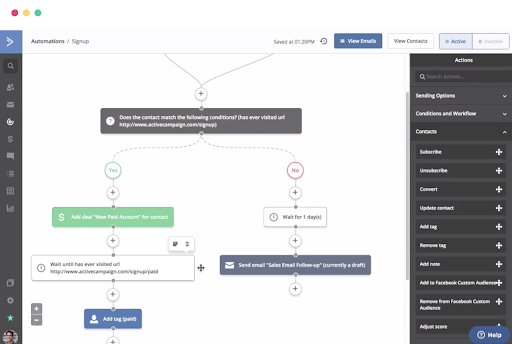 ‍


Lead Scoring:
ActiveCampaign also offers lead scoring that allows you to assign scores based on past actions of subscribers. This helps to segment the audience from highly engaged to totally inactive. Then you can take actions to upsell to the engaged audience or send engagement campaigns to inactive audiences.

Pricing & Trial:
ActiveCampaign's pricing is based on a combination of the number of contacts and the kind of features you need.
You can get a 14-day trial where you will get access to all the features. After that, to continue using, you have to opt for one of their paid plans - Lite, Plus, Professional or Enterprise.
The basic Lite plan starts from $9/mo, paid yearly and you can send unlimited emails to 500 contacts to start with.

‍
4. Sendinblue
Sendinblue is a Paris based company offering services in English, French, Spanish, Italian, Portuguese & German.
It provides email marketing, marketing automation, SMTP/transactional emails, and SMS campaigns.
Email Editor:
You can create email using any of the three options:
Drag-and-drop editor
Rich text editor for simpler emails
Code your own using HTML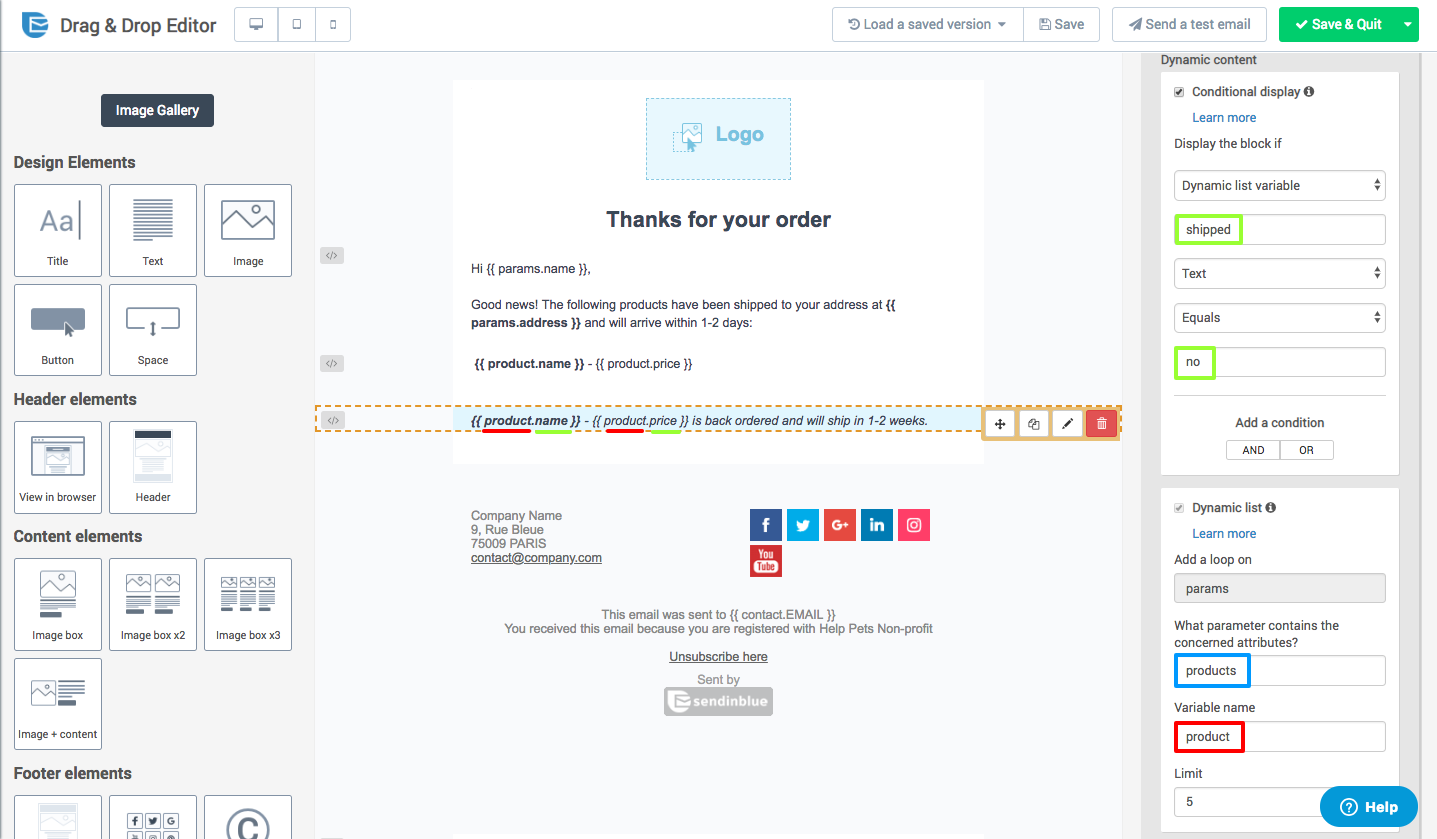 ‍


Transactional Emails:
Sendinblue provides different setup options like API, SMTP Relay, eCommerce plugins for transactional emails. You can use these to create confirmation emails, password reset messages etc. The good part is that you can control the design of these emails and they don't have to look like ugly receipts. ‍
Automation:
Sendinblue lets you trigger emails when people visit a specific page or take a specific action on your website. You can automatically send follow-up emails to non-openers, contacts that opened your emails but didn't click, etc. You can also send welcome emails, happy birthday emails or abandoned cart emails.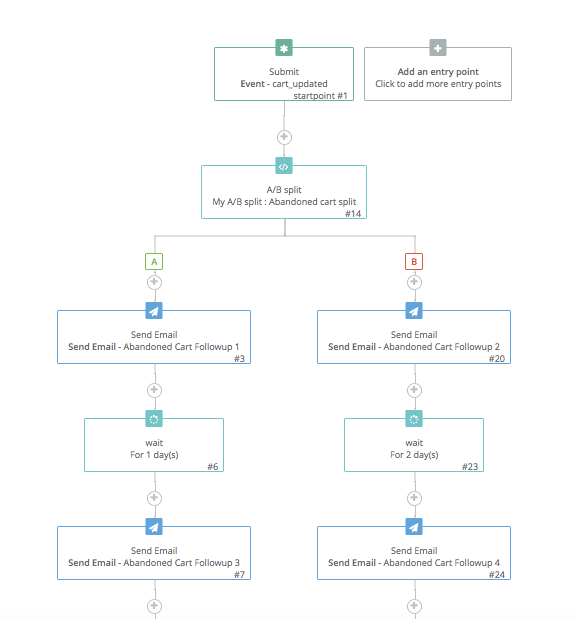 ‍
Pricing & Trial:
Sendinblue allows you to send 300 emails/day on the free plan. This comes with a limited number of features.
The pricing is based on the number of email messages sent, rather than the number of contacts in your list. Paid pricing starts with $25/month and comes with 40,000 emails per day.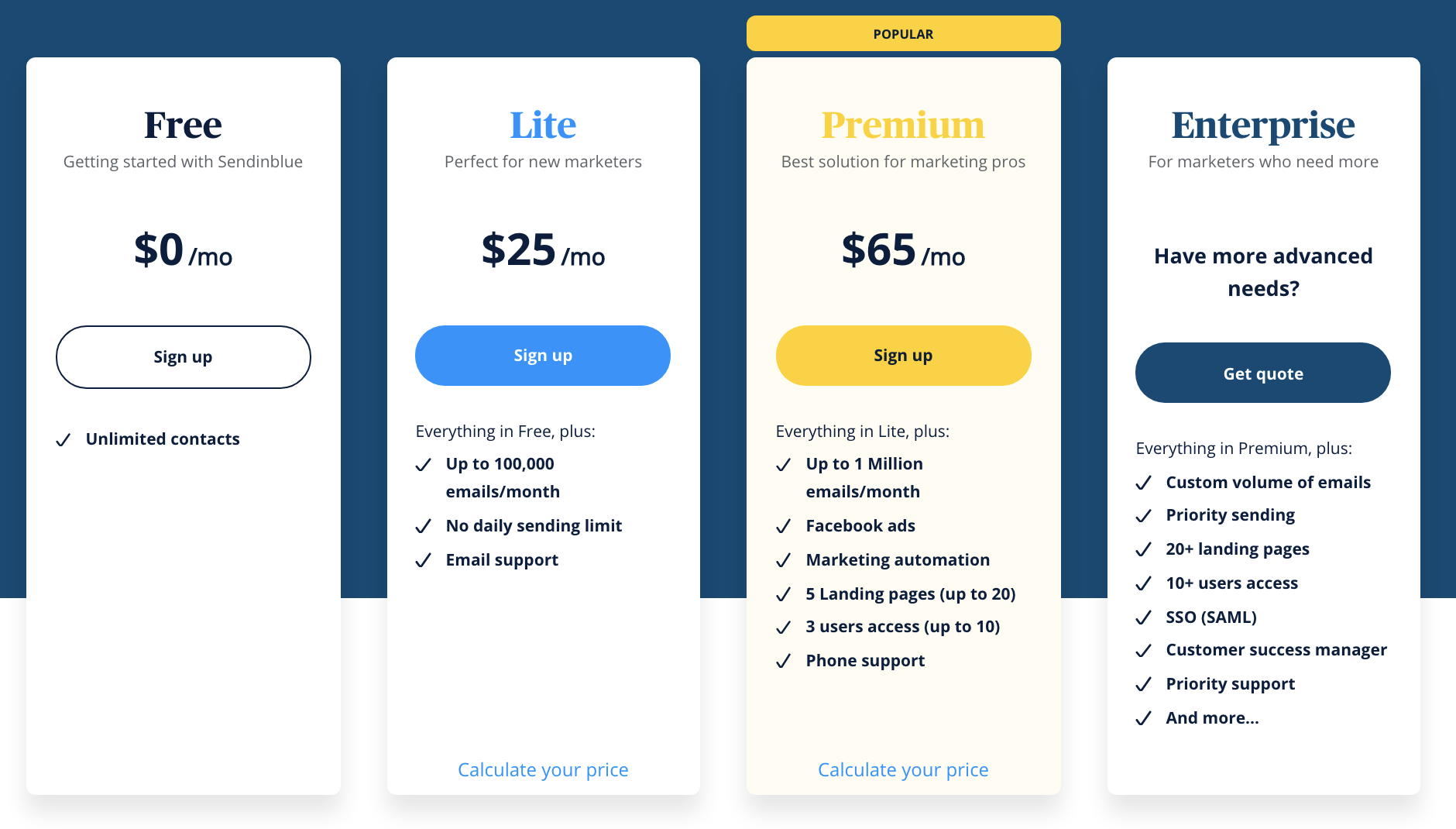 ‍
5. Mailchimp
Mailchimp is one of the most popular email marketing softwares, now evolved into a full CRM.
It has grown a lot in the last few years but so has its pricing. Let's explore some of its features and also see how affordable (or not) it is.
‍
Email editor
In Mailchimp's email builder will find 5 main categories of templates to choose from:
Layouts (Featured & Basic): Choose an option and build on top of it
Themes: Pre-defined templates you can customize
Saved Templates: Templates you created or exported from 3rd party platforms
Campaigns: Email campaigns you sent in the past
Code Your Own: Option to create your template using HTML, from scratch.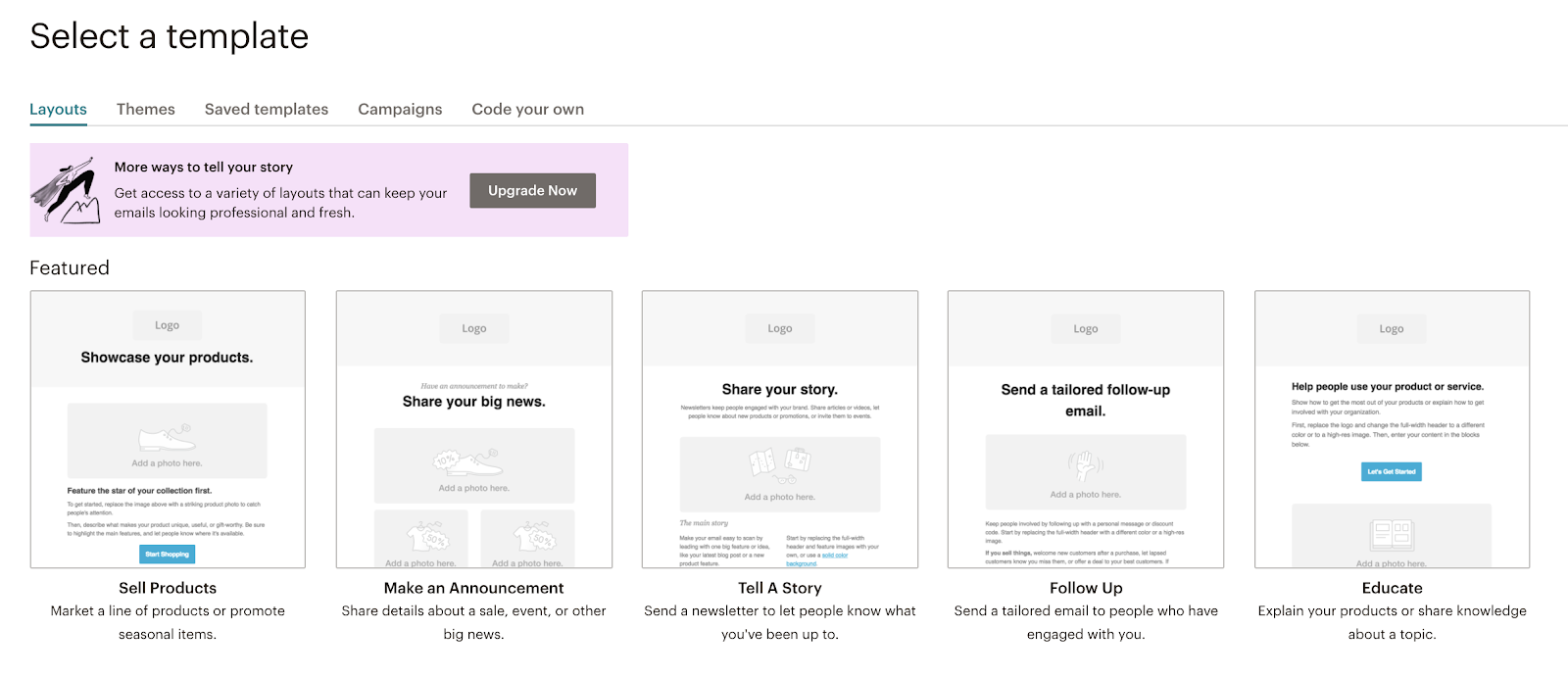 ‍ Automation:
Drip campaigns are not Mailchimp's superpower but it still provides functionality to execute those.
There are other automation features of Mailchimp that make a marketer's life simpler. You could run a Facebook ad and direct people to a landing page where you collect their email address. Those email addresses can be directly added to your broadcast list in Mailchimp.
Integration:
Mailchimp integrates with about 250+ web services and apps. For example, you can integrate PayPal with Mailchimp and import contacts of everyone who buys using your PayPal into your email marketing ecosystem.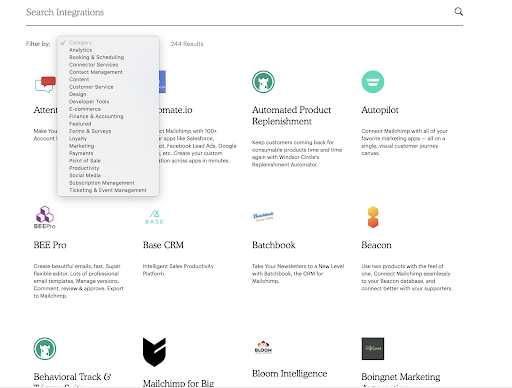 ‍
‍ Dashboard:
You get a thorough report of your emails, drip campaigns, automation workflows in an easy to understand dashboard. These reports can be downloaded, automated to send directly to your email, shared with colleagues.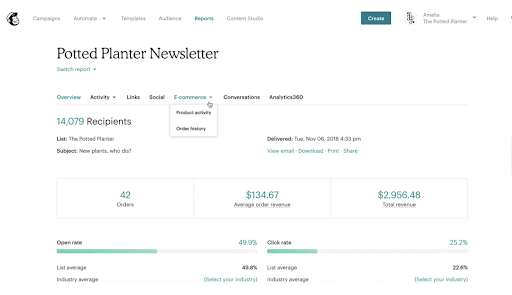 Pricing and Trial:
Mailchimp offers a forever free plan for upto 2000 subscribers with limited features and limited number of emails. For everything else, you have to choose a paid plan.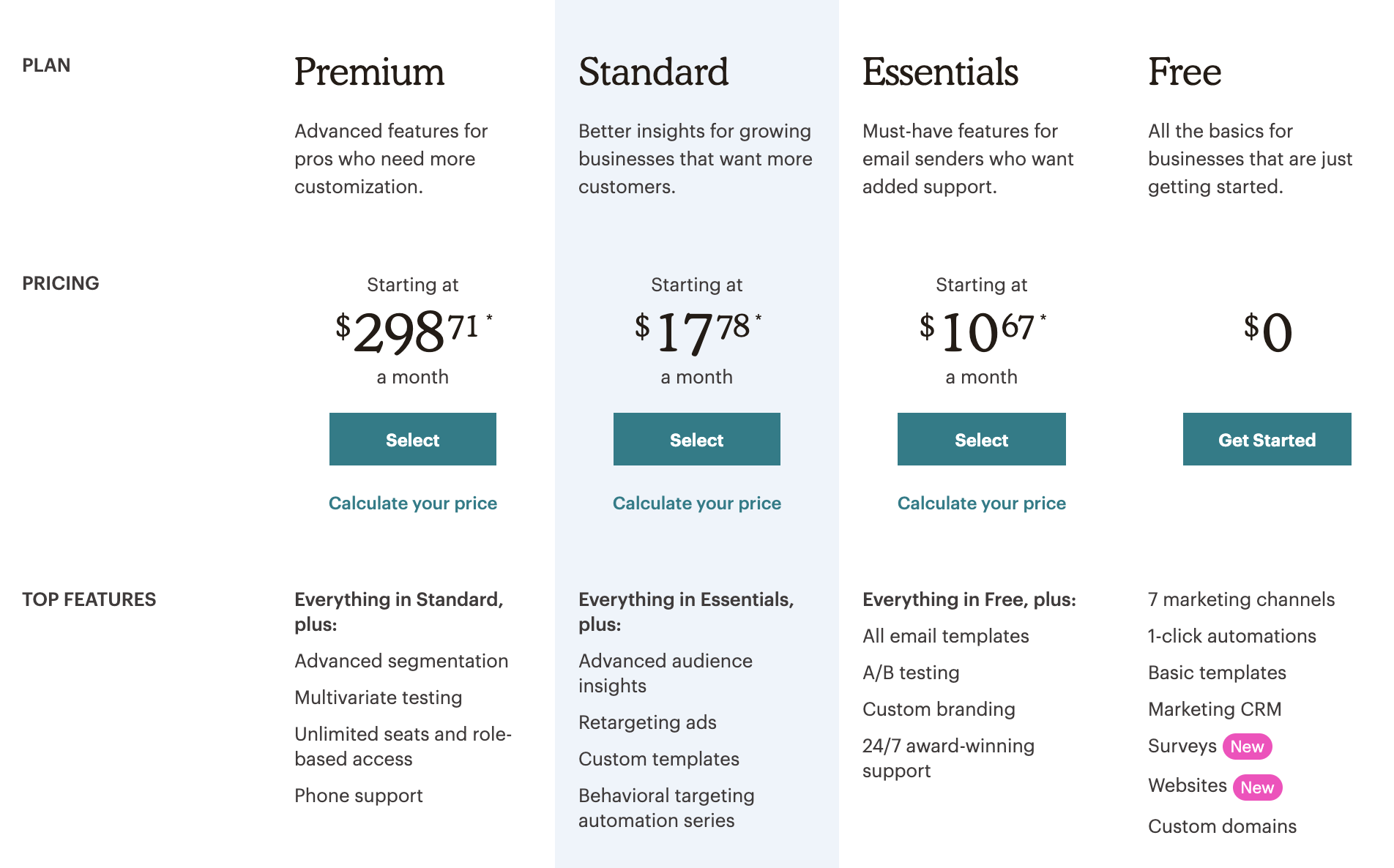 ‍
Looking at these prices, Mailchimp is an expensive choice and your bills will rise exponentially as your number of subscribers grow.
They also have a pay-as-you-go payment option, which is perfect if you want to send seasonal emails or have occasional low-volume requirements.
‍
Mailchimp's Venture Into eCommerce
One important update for all those looking at Mailchimp as an option is that Mailchimp has also recently launched its own online stores for SMEs, and a new service for booking appointments. The appointment booking service went live on 28th April 2021, and the new eCommerce features are scheduled to become available for the US and UK Mailchimp customers by May 18th 2021.
New 'Websites and e-commerce' plans will be introduced (and free-plan users will have to pay 2 percent transaction fee). Transaction fees will be reduced for users of different pricing grades, for example, those who go for a Plus plan at $29, only 0.5 percent transaction fee will be applicable.
Besides, for $10 extra, Mailchimp's branding will be removed and you will get email and chat support, and you will only have to pay 1.5 percent transaction fees.
All their plans will also include SEO tools and Google Analytics integration. Plus, you can build websites with unlimited pages and without bandwidth restrictions.
And when it comes to the online stores by Mailchimp, you can build your product catalogues, manage your orders, and taxes and shipping configurations.
But if you don't need all of these additional features and services, you should still proceed with comparing Mailchimp with other email service providers for your email marketing needs, like SendX.
Conclusion
If you are making a switch from Bronto, SendX can help you migrate all your contacts, workflows, templates with free migration services. You don't need any minimum number of contacts or pricing to qualify for this.
With SendX, you also have a 14-day free trial that will help you make a sound decision only after looking at all the features of the platform. Once you sign up for a free trial, you will get access to all the features, half a million stock photos, templates and top-notch customer support.
It's the most affordable option out of all the bronto alternatives mentioned above and is trusted by 3000+ companies for growing their revenue with email marketing. So get a 14-day trial of SendX and end your search for a bronto alternative.