How To Embed Countdown Timer In Email
2 min read
What is an Email Countdown Timer?
Urgency is one of the psychological factors that can be used to influence people's purchase. Imagine if someone tells you that today is the last day to get your favorite cheese burger at just $5 and from tomorrow the price will jump to $10. You will run to grab it, right?
Same with online sales via emails. If you are making an offer or creating a closed invite only group, timers are a great way to signal urgency and closing of doors.
An email countdown timer is an animated GIF that shows a virtual clock which is ticking to count down to a specific time in the future.
You can embed a countdown timer in email or an existing template as a GIF.
The end of countdown timer can mean an end of sale in a store or event tickets or last date of submitting an application etc. It can also mean the end of waiting time for opening up a sale, event tickets or the start of the application acceptance process etc.
Here is an example of an embedded countdown timer in an email (which has run out).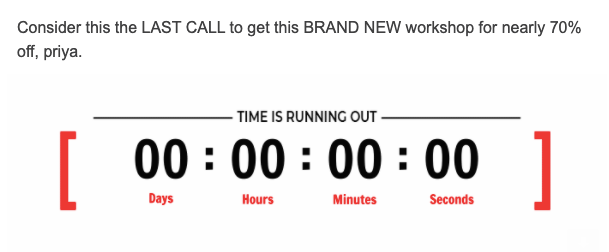 Benefits of Using an Email Countdown Timer
Increased sales or conversions
As I mentioned before, timers will create a sense of urgency to act if there is an upcoming sale or event. In cases of events which are yet to happen, timers can create anticipation and thus more interest in the event.
Both these cases will lead to increased conversions or sales.
Clear communication to your audience
If you communicate that your sale will end on 24th April, then it can get confusing for people who are not in your time zone. Should they understand your 24th April or theirs?
Even if you tell the timezone, you might lose the population who is behind your time zone because they will get confused translating time from your zone to their.
So the best way is to just tell the time left from the time they see your offer and it can be easily done by countdown timers.
Visual representation of urgency
The time left for a sale or last date to enroll in a course can be communicated well via written words but a visual representation of a ticking clock will have more impression on a person's mind. The ticking clocks stimulate a sense of urgency and motivation to act increases.
This is much better than written words which are often missed, skipped or just ignored. A bright visual ticking clock is hard to miss in an email
A Step-By-Step Guide To Using A Countdown Timer Inside Drip
Using SendX, you can quickly add a countdown timer to your drip emails, so as to generate some scarcity around your products and services. Using well made countdown timers optimally has proven to convert really well. This quick guide will help you to set up one for yourself.
Create a new drip sequence or edit an already existing one, depending on where you want to put your countdown timer.
Scroll down on the email edit screen till you see the Email Body.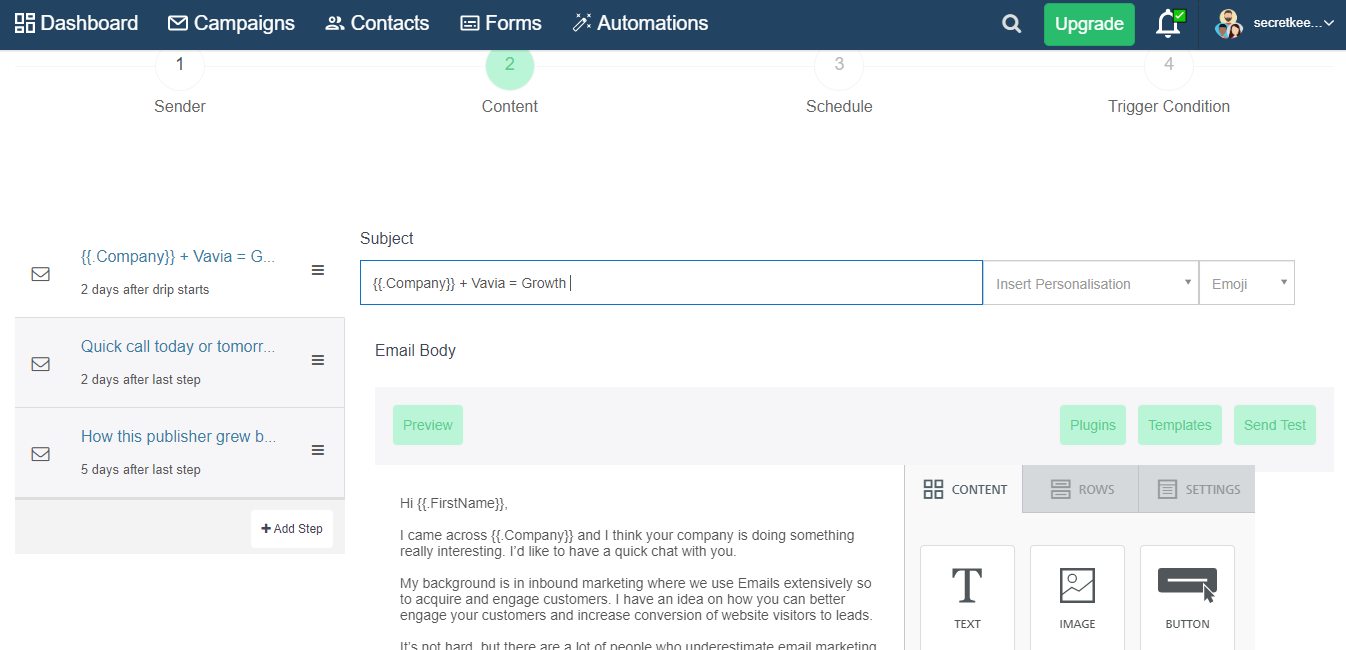 Click on the light green Plugins button right above the email editor. Go to Countdown Creator.
You will be able to see a Countdown Timer. Modify the colors of the digits as well as the background.
Set the Deadline Date, Deadline Time as well as the correct Timezone, and copy the Generated HTML Code.
From your Email Body Drag and Drop Placeholders on the right, drag the HTML box into your Email Body (specifically the place where you want the countdown timer to appear).
Click on the box to open the HTML editor view on the right. Paste the code that you copied from the Countdown Creator plugin (replace the default code).
And that's it! You now have a countdown timer in your drip emails all set to create scarcity for your offers. Click Submit to save this drip email when done.