Luxury Brands Guide to Email Marketing: 4 Top Strategies With Examples
Luxury brands position their products as exclusive, opulent, or status-driven. At first, email marketing might not seem like a good fit for luxury brands. Just because of the fact that it's thought of as reaching out to the masses at once, lacking personalization or exclusivity.
But that's only if brands don't understand the fundamental psychology behind emails, fail to know the techniques to make emails like extensions of their brands, or lack the strategy for using email to fuel actual sales.
Once you approach email marketing just like your brand - high quality, top-notch reader or customer experience, giving a personalized experience then it would add to brand loyalty, customer retention, and even revenue.
And now, since the whole world is moving online or remote the footfall in brick and mortar stores will plumate. The next best place to reach your audience would be through emails.
Why should luxury brands choose email marketing?
1. Email is here to stay
Unlike the social media platforms that trend for some time and then people start avoiding them, email as a channel has been popular and part of lifestyle for as long as anyone can remember.
So we know email is not going anywhere & it's still not late to start investing in email marketing.
2. Email gives you data to draw insights
Luxury marketing will give you all the data you can use to get insights about the kind of audience you have, the content they like, their purchasing behavior, what motivates them to come and shop from you, etc. Such extensive data is not possible to garner from other channels.
3. Email is owned channel
Every social media platform has its own rules that they keep changing and then brands are forced to change their strategy to work according to them. In worst cases, your content is suppressed from showing or blocked completely.
But with email, you have control over the kind of content, kind of audience you want to attract and keep and even see the data.
Social media is useful but all your customers and audience should ultimately lead to your email list.
To give you some real-life examples, look at any top luxury brand website and they will have a newsletter signup form on their home page.
Here are some that we collected for your inspiration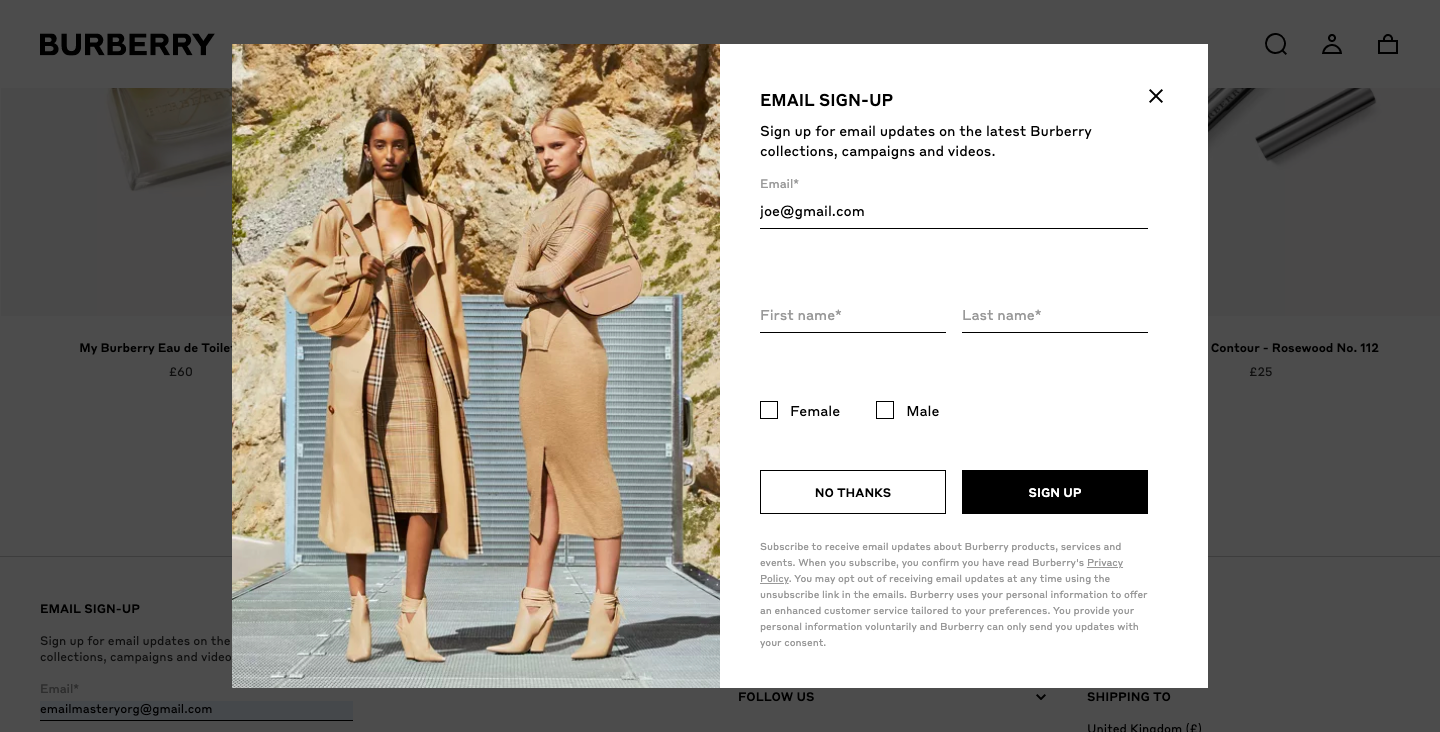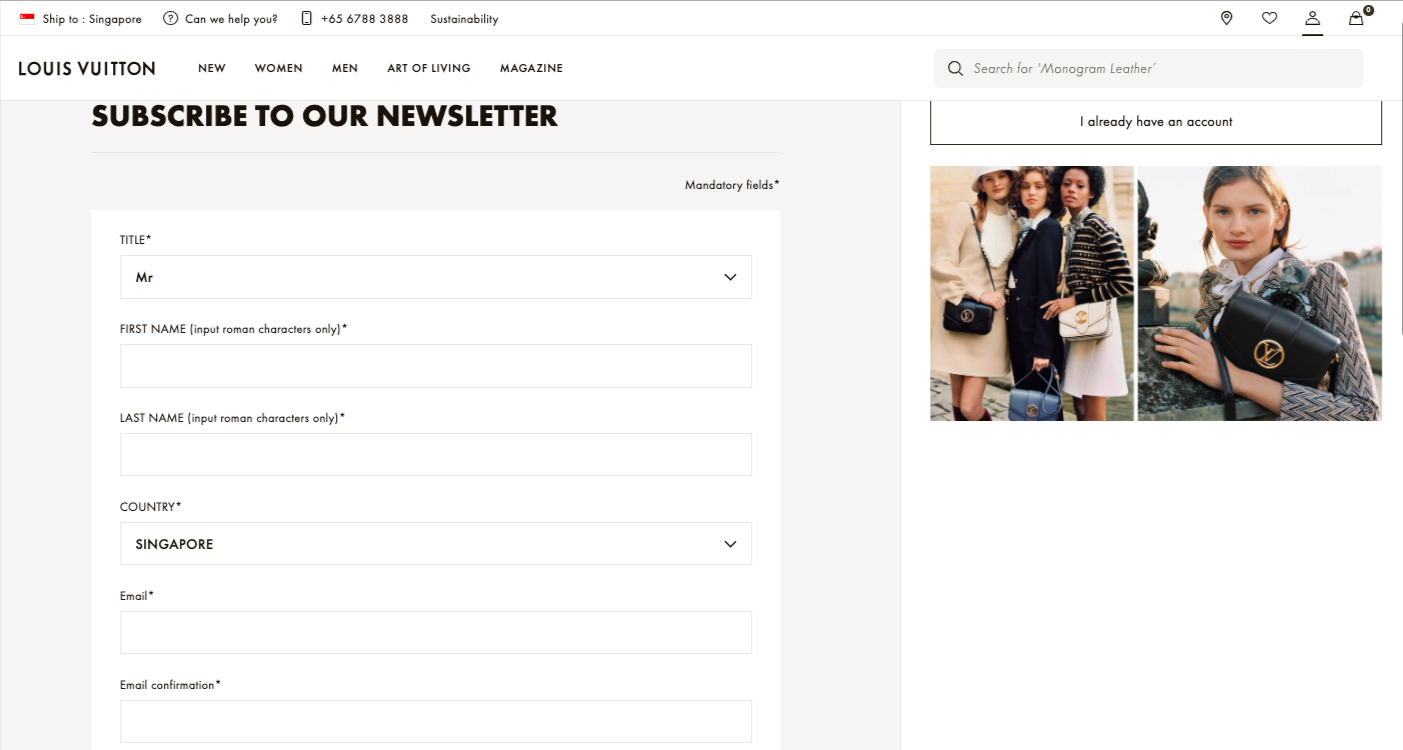 Let's look at some practical strategies and tips that will specifically help a luxury brand with its email marketing. Each strategy here has been explained with a real-world example so you can be sure that these strategies do work.
1. Think of Personalization Ideas
When you enter a luxury shop, you get attention, maybe a personal shopper to assist you. You don't find pushy salesmen asking you to try a sample or bombarding you with Buy 2 get 1 free offer.
So how can you translate the same experience to emails?
Here is an example from Burberry.

This is a welcome email that you receive just after signing up for their newsletter. Check out how it doesn't talk about any discounts or bombarding you with a catalog of products.
It leads with a simple 'Welcome [first name]' in bold and a thank you note. It shows models in their top collection which shows that they want to create a desire in you rather than push you to buy with discounts.
And then instead of asking anything, it offers you a personalized wallpaper for download. It mentions the 'exclusivity' by stating that this is a limited edition, just like their other products.
2. Send Cart Abandonment Emails
Sending a cart abandonment email in a classy and gentle way is actually not pushy but mostly very helpful for the customer (or potential customer).
Most of the time, people put items in their cart and leave without purchasing because they got distracted or the card failed during the transaction or some issue happened with the site.
So, in such cases, a cart abandonment email actually reminds them to complete the purchase they started. If it's a limited collection item, it can help them grab it before it runs out of stock. So they will actually appreciate the cart abandonment emails.
Of course, you don't have to bombard them with an email until they buy but 1 or 2 after a day of cart abandonment is perfectly normal.
Here is an example from the top luxury brand Chanel. Check out how it focuses on the brand more, is minimalistic, and has an actionable CTA.

3. Content Ideas Your Audience Will Like
The most common challenge you will face while implementing email marketing is coming up with valuable content ideas but don't worry.
Here are some of the ideas you can use:
Inform about your events. Emails are a great way to share if you have upcoming events like live shows, launch of a new store or just a sneak peek you are doing on social media.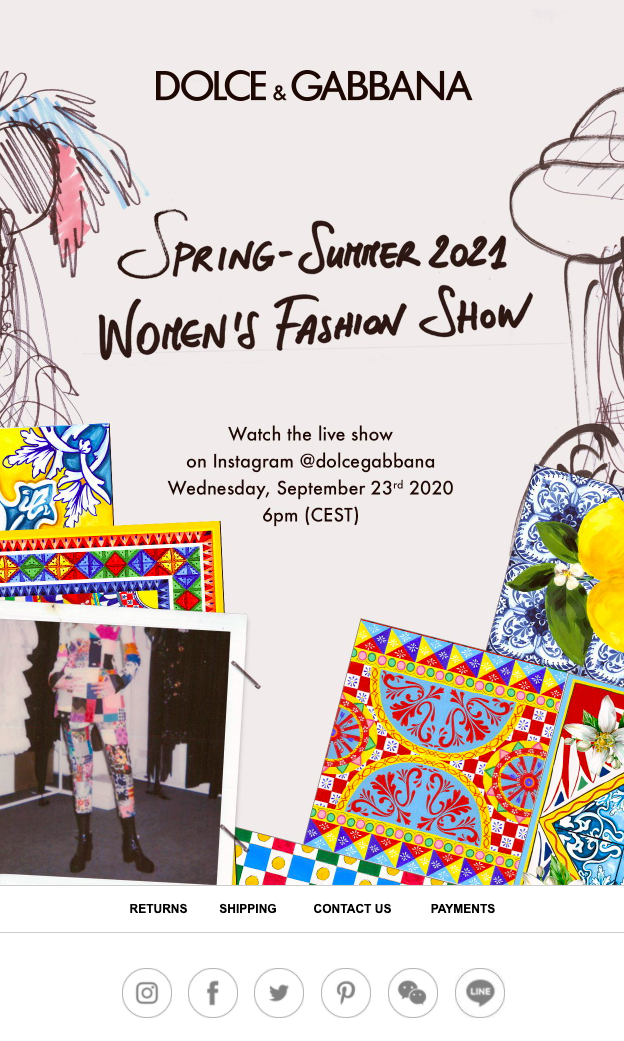 Wish them on their birthdays or anniversary. Everyone loves a personal email coming from one of their favorite brands.
Create classy emails for special occasions like New Year, Christmas.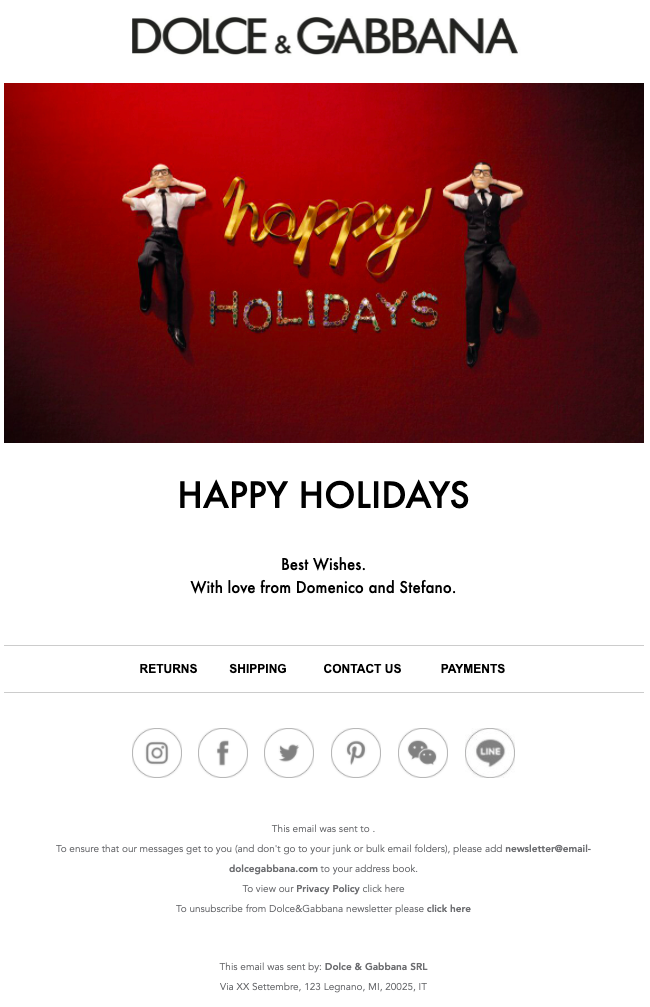 Here is an email from Dolce & Gabbana wishing people Happy Holidays. It doesn't promote any sales or asks people to buy for holidays. Because as a luxury brand, you should not come across as too sales-y.
Last but extremely important, share things about your new collection, new product launch, or some collaborations you are doing with another luxury brand.
Here is an email from Burberry talking about their new collection.

‍
4. Make Your Emails Visual
As a luxury brand, you have to manage the perception of your brand everywhere - in your store, in shows, on your social media, and of course in your emails.
If you think your emails will get lost in the sea of other emails and you won't be able to get that 'exclusive' attention, then let me give you one simple tip.
‍Tip: Make your emails visual and these visuals should portray your brand's unique personality.
Let's look at an example of this email from Dolce & Gabbana.

This email creates a pleasant, happy visual of a bunch of people on holiday wearing their clothes. It portrays style, comfort, premium clothing, and good times. This makes the audience aspire for the same thing.
And then they build on top of it by saying that you can shop for the same look. That's when they pitch their products.
All of this happened because they had a visual that portrayed their brand identity.
What should you do next?
Now we know that most of the top brands have email marketing as part of their strategy. So if you haven't started it or started solidifying it… you should get to it.
You also know what are some of the things you can have in your strategy. It's time to take your first step towards actually executing the plan.
No, you don't have to come with the plan right now. You just have to gather the tools that will help you execute the plan. The first one being an email marketing platform.
And that's where I want to introduce SendX to you. It's an email marketing platform trusted by 3000+ companies in eCommerce, online courses, the hotel industry, etc. You will be able to:
Create emails quickly and easily with the help of the drag-and-drop editor
Create a signup form for your website
Segment your audience by various demographics, purchase behavior, engagement levels, etc.
Write personalized emails with the variable fields SendX provides.
And so much more…
All you have to do right now is signup for a free trial for the first 14 days and test out all the features, customer support, and plans they provide. The signup process is not lengthy and requires no credit card. So don't wait further to take a small action and sign up with SendX here for free.