Email Marketing for Startups: Top 5 Email Strategies (With Ideas & Examples)
Running facebook ads constantly to fuel your business is like running on a hamster wheel. The business stops the moment people stop seeing your brand in front of them.
Email can help you fix that. You can get people's undivided attention and reach them directly without 'boosting' your post. And not just get their attention but feedback too.
Email marketing doesn't require huge budgets to put up billboards, or get expensive videos made. It is probably the least expensive & most effective channel.
And hence, email is a great channel for startups who should grab all the opportunities they get to talk to their audience. So we have created this guide to help startups build their email list, find out more about emails they should send and most importantly stay out of spambox.
This guide applies to both startups and small businesses. It will work regardless of the type of startup you are running - whether it is product based, service based, SaaS etc.
So let's read on.
Build an Email List Organically
You might initially gather emails by some hacks, tricks or from the 'market'. But ultimately when it will come to engagement, this will not yield any results.
Don't go after the vanity metric of the number of emails in your list. Rather, build your list organically. That doesn't mean you let it be up to fate.
There is no discovery mechanism or 'follow' concept with emails. So you have to show people that you have a newsletter and you would want to stay connected through emails.
Here are 4 strategies you can implement:
1. Referrals:
Did you know that Harry's started with 12 people on their email list? And out of those 12 people, 10 were employees… and 2 were founders.
But they got 100K emails in a day!
It was simply starting with a few people who signed up & then it gained momentum through referrals.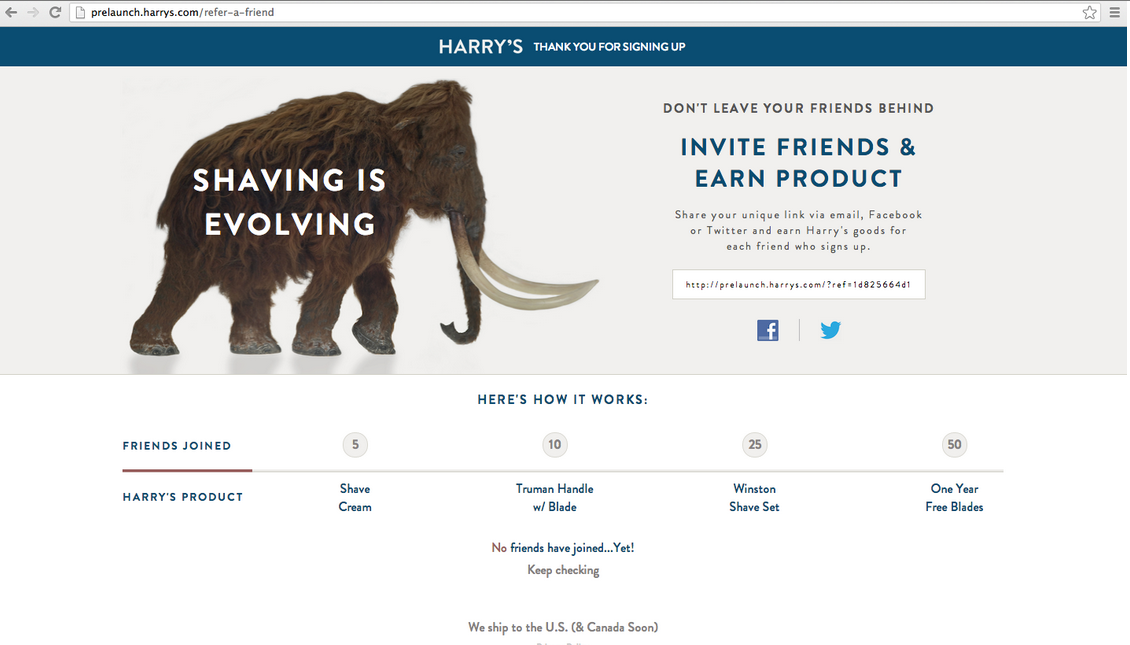 ‍
And today, it's a billion dollar company with a kickass email marketing strategy & probably a few million subscribers in its list.
So in the initial stages of your company you need word of mouth or you can try a referral program so that more people can know about your company without you having to hire someone famous.
2. Subscription forms on your website:
Use pop-up forms on your website so that visitors can easily & quickly share contact information and subscribe to your list while they're browsing your site.
Popup forms can be customised to match your brand and also give a punchy reason that can make someone cough up their email address. They can appear once someone has spent a few seconds or minutes on your website.
For example: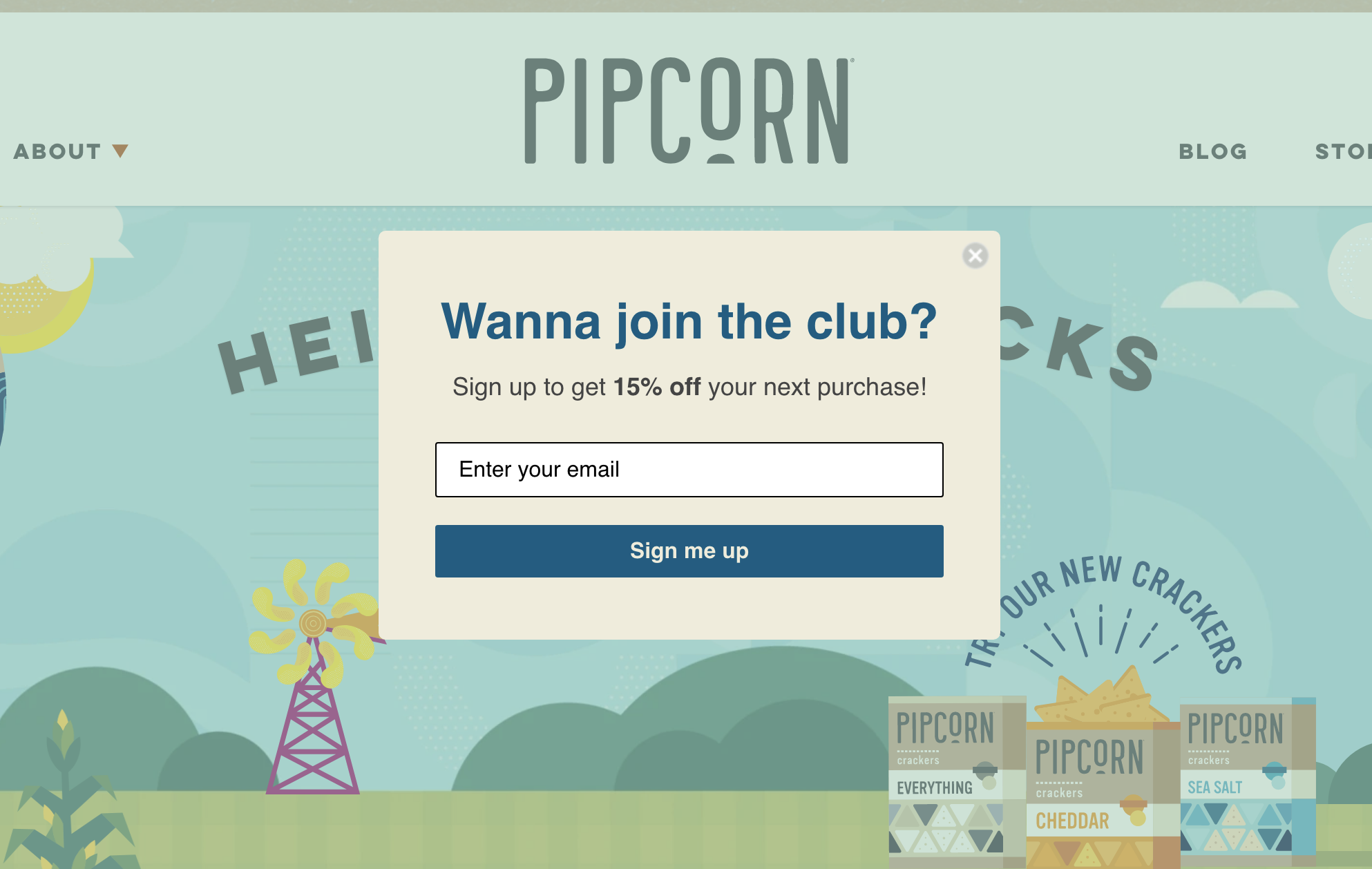 SendX offers professional-looking, customizable, ready-to-use email pop-up forms that you can use on your website. You can customize these to fit the look of your brand. You can check them out by simply signing up with your email address.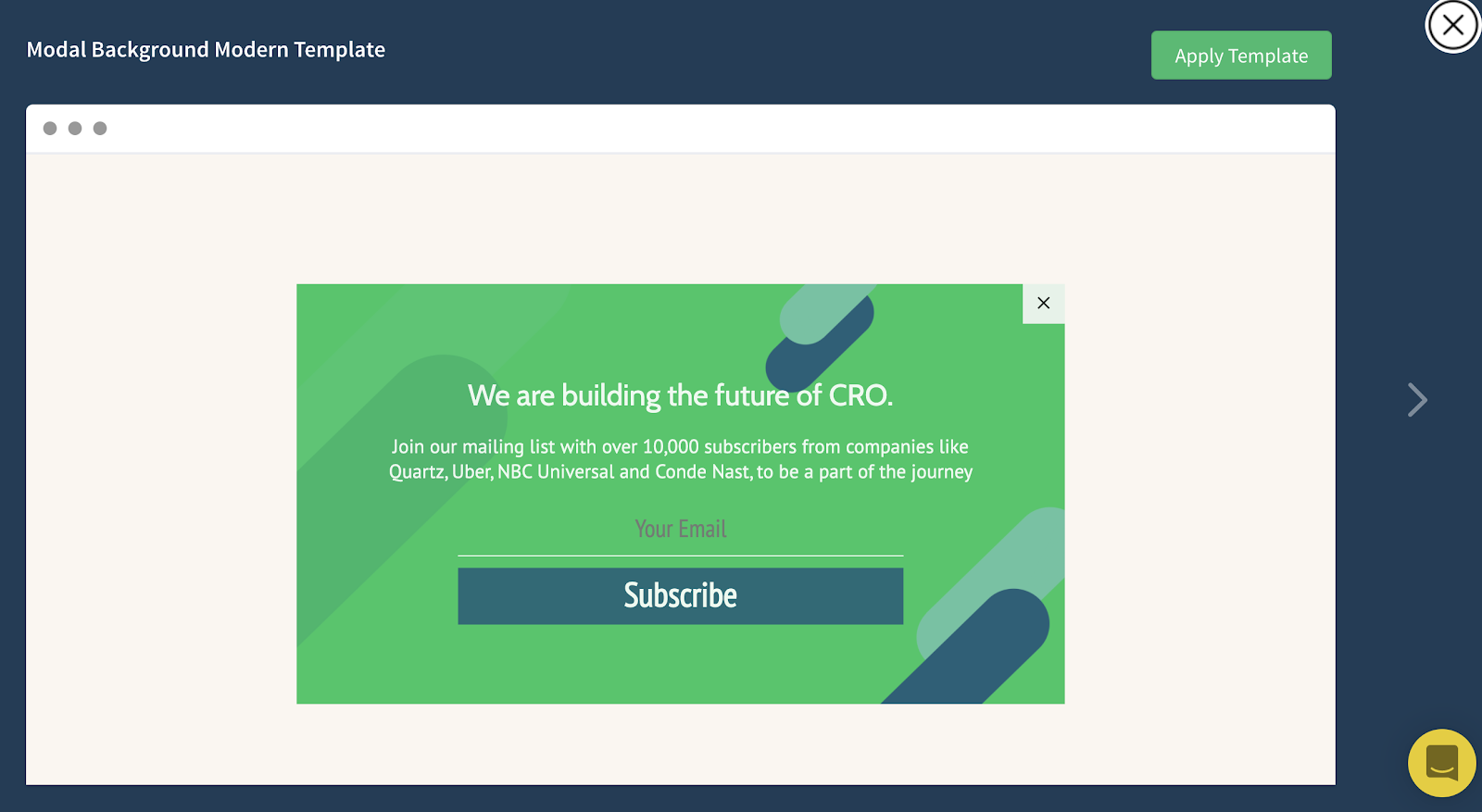 3. Lead all channels to your email:
Use all of your social media platform channel profiles to highlight your website or landing page where people can find a subscription form or discover your content that leads them to sign up.
You can even do a post or stories letting people know that they can get more, richer and variety of content in your emails.
Social media can be good to test ideas, build engagement and your brand persona but most of the transactional relationship will be built over email.
Here is how Ramit Sethi does it for his business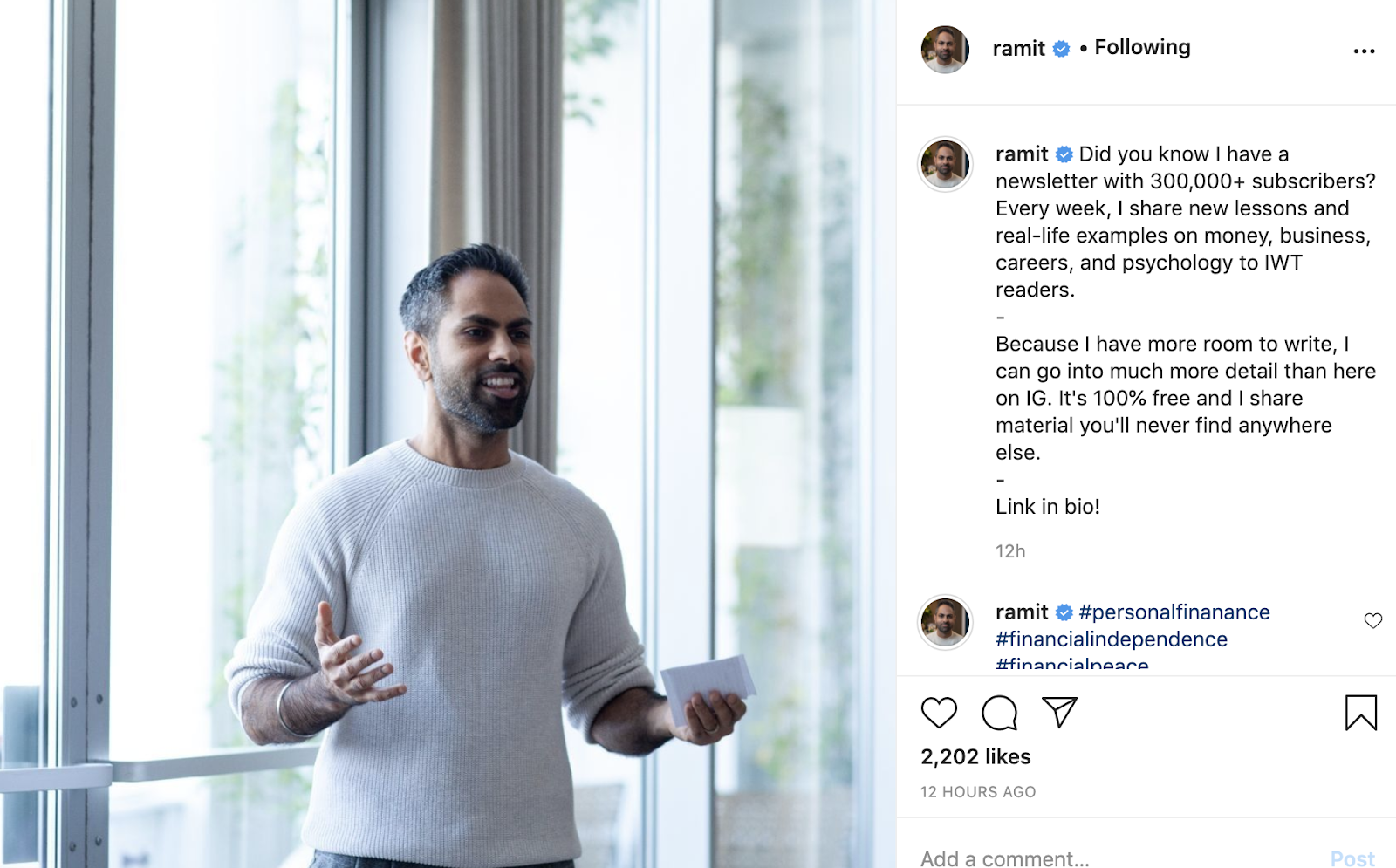 4. Advertisements:
You can run ads on Facebook or Instagram with your free content, which will lead people to your website or landing page. Once on the website, you can convince them why they should sign up for your newsletters or updates.
Running ads isn't inexpensive especially when you are a growing startup. But once you build your list with subscribers from your target market, you can promote your products/services to this list. This will help you not only to recover the cost but also make a net profit.
Find Out the Emails You Should Send
Every kind of startup will have different business models, different types of products and services. Even if two startups are in the same field, they will have their own persona and brand image.
All these factors will determine the exact set of emails you should send. But there are some emails that should be sent irrespective of the type of startup.
1. Welcome Email:
Welcome email should be sent automatically as soon as someone signs up to your list. It should just introduce your brand & not sell anything.
A good welcome email will have these components:
A polite thank you for joining your list
What to expect in future emails
Where to follow on social media channels
A request to add your email address to their contact list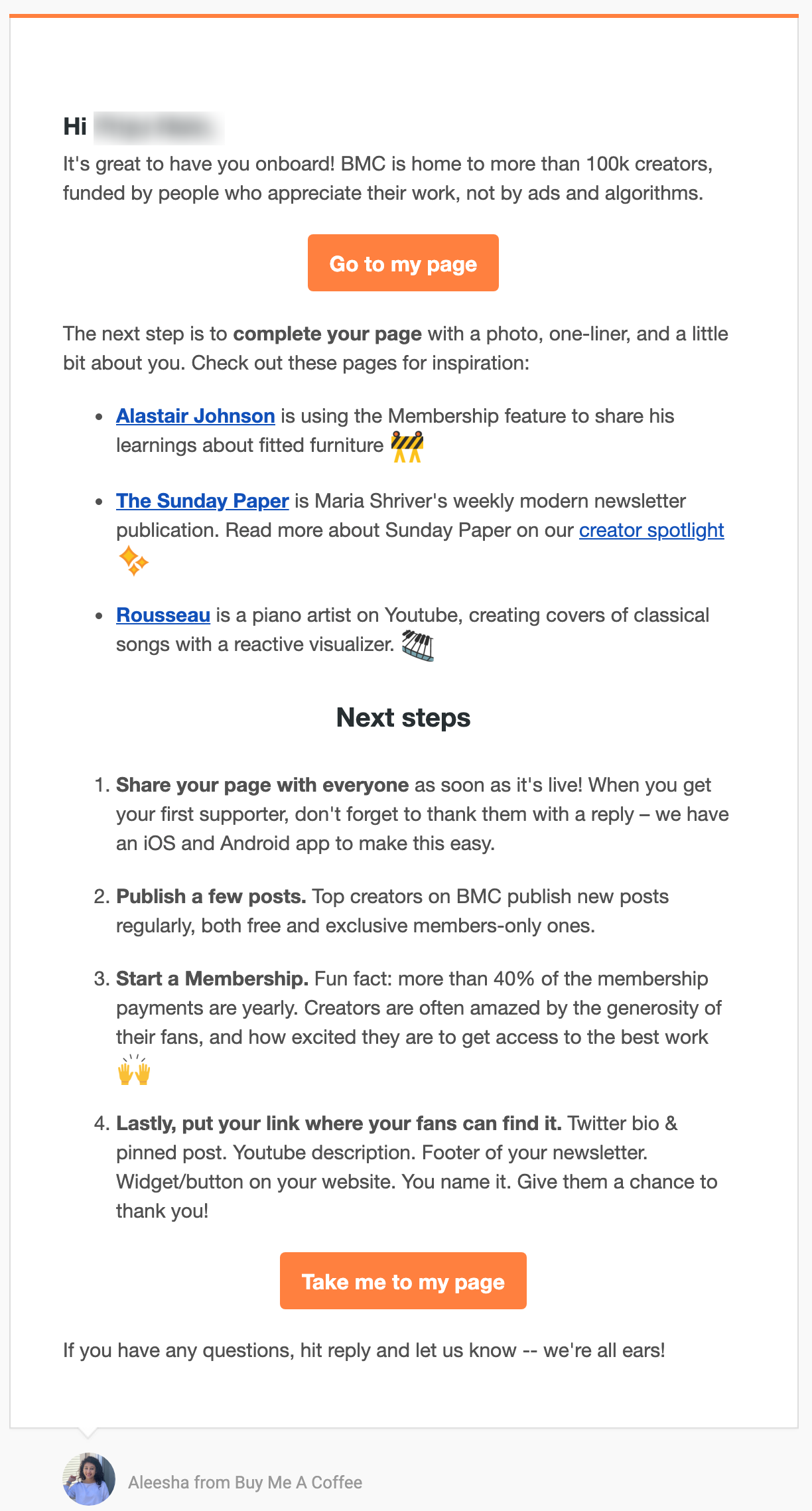 2. Onboarding:
Onboarding emails are a series of emails you can send a subscriber after the welcome email.
It works really well if you have a product that needs a bit of hand holding or education. In this series, you can walk them through all the features and benefits one by one.

For any other type of company, onboarding can include a series telling people more about your products, what's the brand story & if there is any special gift you would like to offer people for subscribing to you.
Remember, no one is buying from you if you don't evoke any kind of emotions in them. So the ultimate idea behind onboarding is to indoctrinate them to your brand by creating an emotional connection or a constant habit.
3. Newsletter:
Running a content newsletter will not only keep your brand on top of peoples' mind but it will also build your authority in your niche. That will ultimately help you get customers and fans.
Your newsletter can have tips and techniques that can help people even if they don't use your product. Harrys' does it very well with their illustrated newsletter on men's grooming.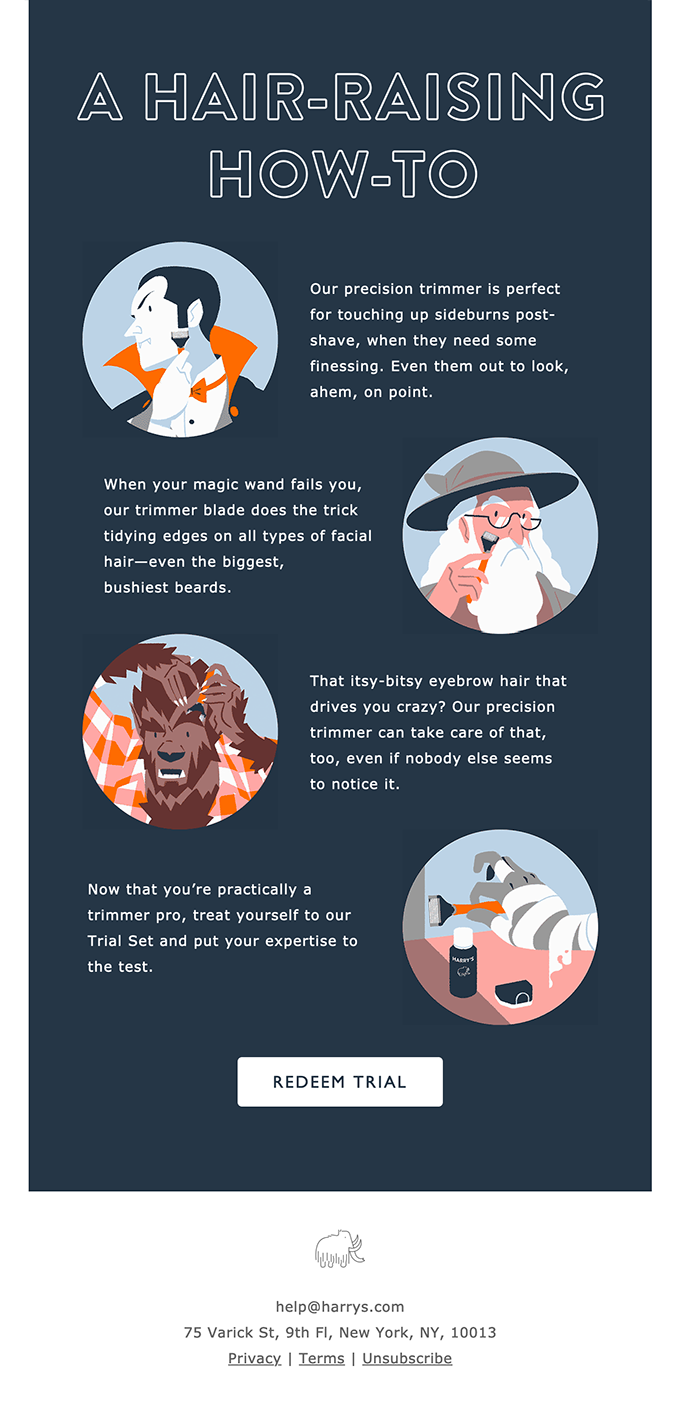 It can be blogs inspiring people to do something. E.g. Byond, a travel company sends a newsletter every week inspiring people to travel and see the world.

4. Sales & Product Launches:
With welcome email, onboarding and free content in newsletter emails you would have nurtured a good relationship with your customers. But to survive as a business, you have to turn this into a transactional relationship.
That can be done only when you tell/remind your subscribers that you have products & services to offer. You can run campaigns telling them all about your new products and even offer special deals because they are on your email list.
Here is an example of a sales email from one of my favorite startups.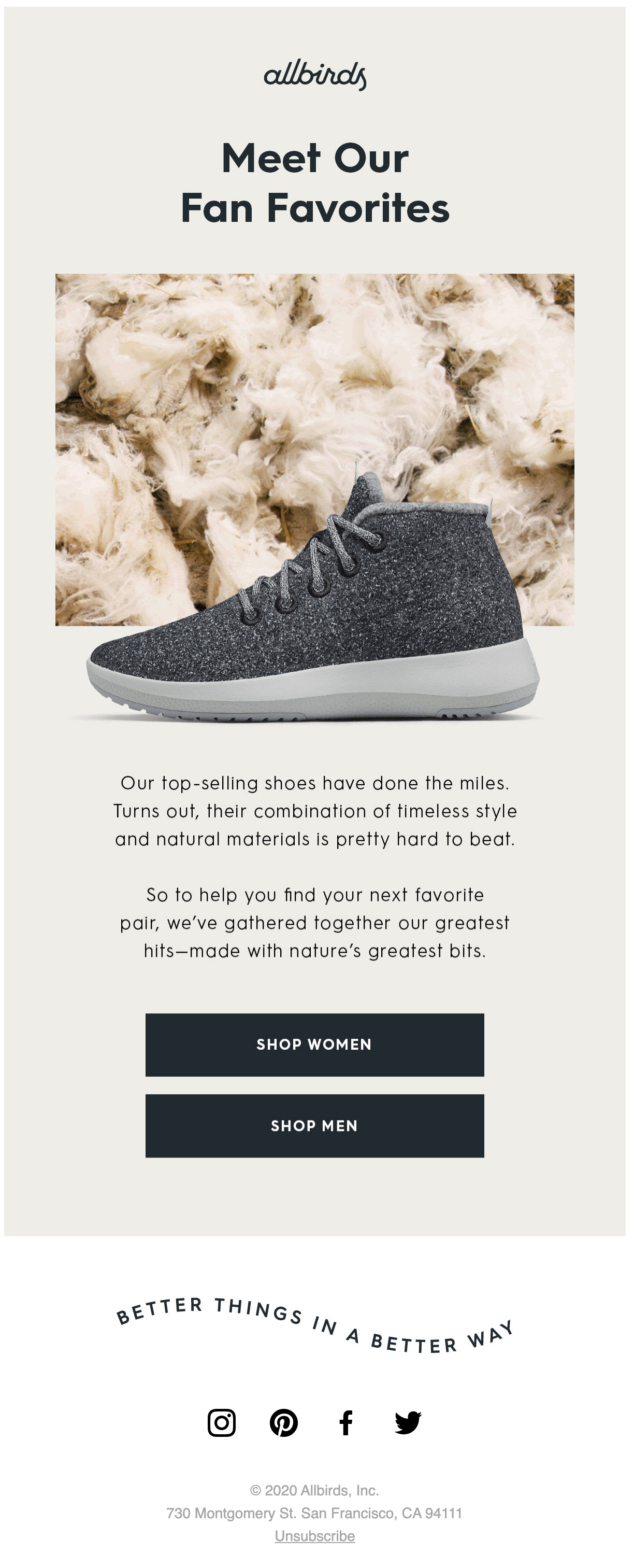 Segment and Automate
Segmentation is basically creating different categories in your email list so that you can send more targeted emails.
Not all types of people in your list are going to have the same choices, needs and preferences. E.g. if you sell personal grooming products, a woman won't be interested in shaving creams or razors but she would love some deals and updates about your all natural mascara.
So it's important to categories your audience according to demographics, age, location etc. and send them relevant emails.
This will improve your overall engagement & reduce unsubscribers.
Optimize by Using Data
One of the advantages of the online world is that you can pretty much measure all your efforts against your goals and see what's working and what's not.
And almost all email marketing softwares provides this data in simple dashboards. You can see what kind of emails have a high open rate, which have a high engagement and you can find patterns on why this might be the case.
So don't just blindly keep sending emails and creating automations. Do take a look at your important metrics regularly, usually weekly is suggested. Whenever you see a dip, do a course correction.
‍
Stay out of Spam box
Not all your emails are going to be delivered to the inbox. The most effective thing you can start doing right from the start is to avoid the spam box as much as possible.
It depends on a lot of factors - your email software provider, content of your emails, response of your audience… and of course the algorithm of email clients.
The easiest things you can do are:
Avoid manipulative, needy, sleazy, pushy subject lines. If you want a list of words to avoid, you should check out this link.
Make your unsubscribe button clearly visible. Sometimes, people wouldn't want your emails and if you don't provide them with an unsubscribe button they will go and mark it spam to just get rid of future emails. This will impact your delivery to other inboxes too.
Proofread your emails to avoid any grammatical or spelling mistakes. These are behaviors of the spammers so you should avoid being suspected as a spammer.
Keep the ratio of text to image 80:20. The best way to do this is to avoid using image heavy templates or image-only emails.
By the way, with SendX you won't have to worry about going to the spam box as they use the best technology to maintain a good delivery and gorgeous-looking, professional templates that don't trigger any spam filters.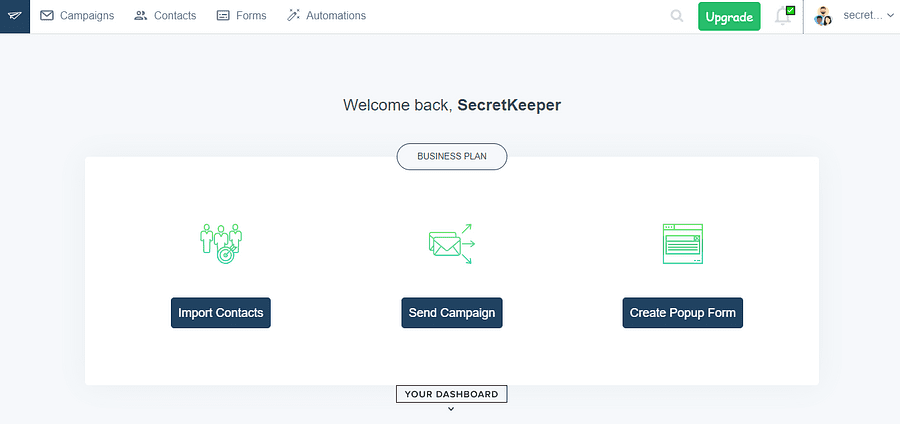 What's Next?
So now you have the basic framework of how to start your email marketing efforts, the next step is to take action.
The simplest thing you can do right now is to sign up for an email marketing software and see how easy & quick it is to enter a few emails ids, craft your first campaign & watch it land into someone's inbox.
"How much is it going to cost?"
With SendX, it's free for the first 14 days. You get access to all the features & unlimited emails. Even if you are just starting out or located in whatever time zone, they have you covered with a dedicated customer support team to help you out 24/7.
And the best part is you don't need to lock your credit card or go through a lengthy process to sign for the trial. You can sign up here now with just your email address.
Even when your 14-day trial is over, the cost of starting with your first 1000 subscribers is less than the price of your Netflix subscription.