Email Marketing For Lawyers: An Ultimate Guide With Actionable Tips
I am not a lawyer, neither do I work at a law firm. Let's get this out of the way first before you start running an argument in your head.
But I know quite a bit about marketing & I do have friends and lovely neighbors who happen to be lawyers. So that puts me in a unique position where I have insights into email marketing for lawyers - what strategies to follow and how to follow them.
Sometimes, lawyers forget that setting up their office, networking and just asking for referrals is not enough to keep a booked calendar and running a successful practice.
They need to go where their client's undivided attention is - in their inboxes. Sure, there can be other mediums to reach your clients - like social media or google advertisements but you don't really control these platforms, and the attention you get there would be divided with cat photos or DIY videos.
So the best way to get a good ROI for your marketing efforts is to choose email marketing.
In this blog post, you will find actionable, tried & tested strategies to help you succeed with email marketing even if you don't have previous experience. This will give you the basics of how to build a list, engage with the audience, use data to keep improving and so much more.
So let's read on.
1. Build an Email List
The first step before you send an email is of course to have a list of email addresses to which you will send your emails.
Some lawyers just throw in all their general contacts in a list and start sending emails about 'updates' and 'hope' that they will have their business operation booming in no time.
This approach is naive and exactly the kind of approach that leads people to say 'email marketing is worthless'.
The only sustainable and right approach is to aim for an audience that's interested in what you have to say or offer. How to attract such people?
Here are a few ideas:
Offer lead magnets: On your website, you can use a pop-up and show your latest guides on how the common man can protect their consumer rights. Ask people to subscribe to your email list if they want that free guide.
Offline: Whenever you conduct a workshop or presentation, have a booth ready to collect anyone's email address who is interested in keeping in touch with you.
Walk-in: Everyone who visits your office might not end up being your client immediately. But the fact that they have visited you is enough to believe that they need some legal help and are your perfect target audience. So even if they don't sign a contract with you, you can ask them if they would like to be added to the email list.

2. Leverage Segmentation
Segmentation basically means creating different categories of your email list & sending content relevant to those categories.
This is important because not everyone on your list will have the same interest, location, or requirements.
For example, your audience in Florida will not be interested in a workshop you are holding in New York. Or young students who joined your list to learn more might not be interested in child custody service by your firm.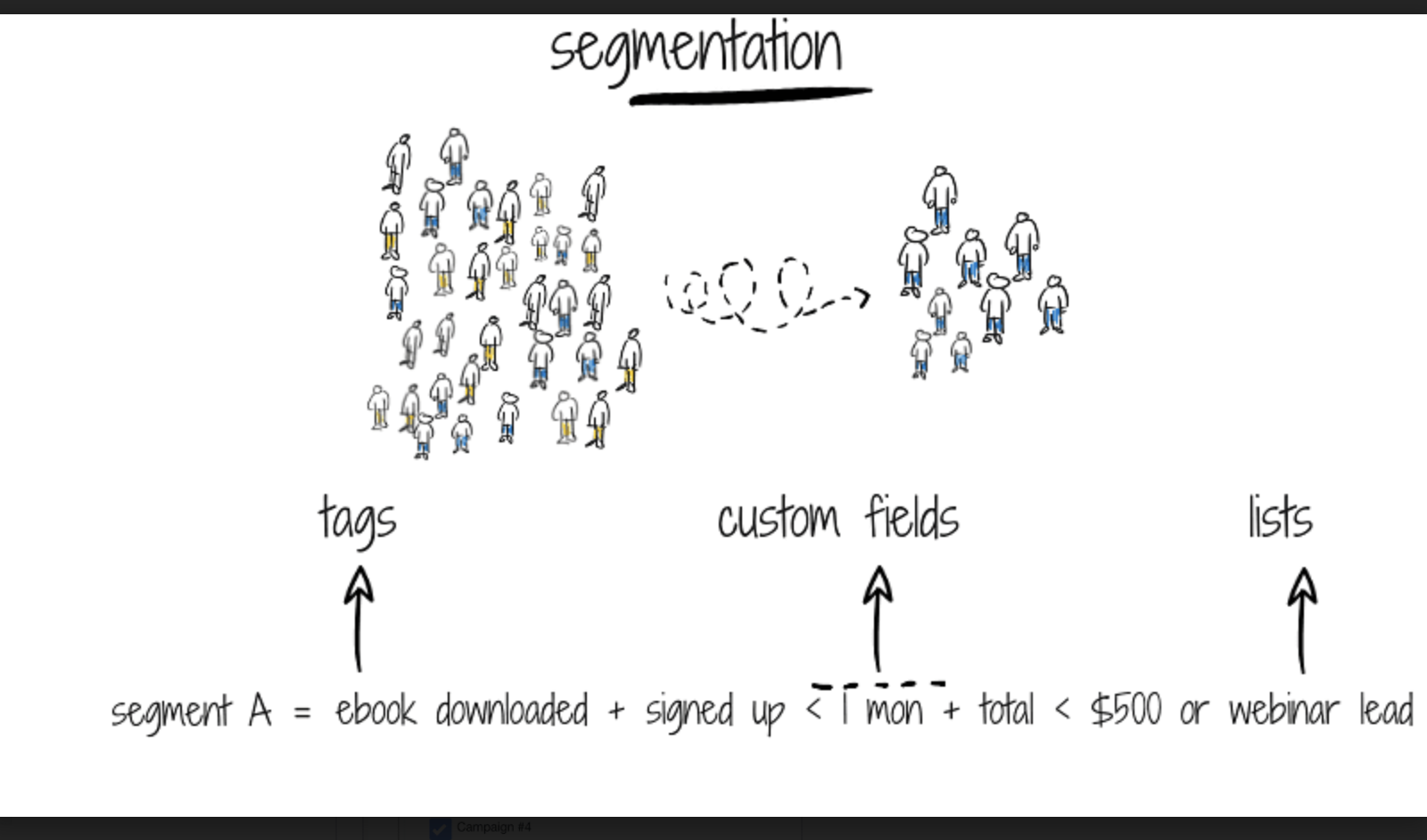 Sending relevant emails will increase engagement and lower your unsubscribe rate.
The categories you create can be based on:
Demographics - age, location, marital status, education, etc.
If they have availed your services in the past of not.
People who have been referred by someone.
Potential clients ( e.g. people who download your guides on legal matters).
3. Automate your Emails
Automated emails are messages you send out to your customers, leads, or subscribers automatically, based on certain schedules, or actions taken by them.
Here are some examples of automated email messages you should send:
Welcome email series to indoctrinate people to your brand and services when they first join your list.
Nurture email series to guide people to the next step. For example, if someone books a free consultation call with you, you can send them emails to convince them to get into a paid contract with you.
Happy birthday or anniversary emails to show that you care and thus increase customer loyalty.
Automating emails will of course save you a lot of time and effort because it's time & resource consuming to send everyone a welcome email or birthday wish, manually. It also helps you scale your marketing since you are not constrained if some person from your team is available to send a welcome email or not.
But since they are timed according to the actions taken by the subscriber, they feel more relevant and timely to them, hence building engagement and trust in your brand.
‍
4. Determine the Best Time to Send Emails
The timing of your emails have a high impact on their open rate and thus success of the campaign. It is obvious that if you send an email on Friday night about some law related information, people won't read it as they are in relaxed mode. Similarly emails sent on Monday morning are also ignored as people are busy with work week starting off.
Usually, the best days to send emails are Tuesday and Thursdays. For timings, early morning 8am-10am or evening 6pm to 8pm work the best.
But these are not set in stone and you should test various timings and see how your audience responds to those. Then choose the best timing for your emails.
5. Create Engaging Subject Lines
Email subject lines are like the headline of a sales page. If that is boring or generic your emails will be ignored.
Subject line will make your email stand out in the inbox and hence your email will be picked up out of a sea of emails. Then it will get individual attention once the reader opens it.
So make sure your subject line just gets the subscriber to open the email.
Avoid spammy words such as (100% guarantee, money back, cheap etc.). If you want to see a list of spam words to avoid, check out this list of 500+ such words we have collected here.
‍
6. Send a Mix of Content & Sales Emails
Many times, people don't start email marketing just because they don't know what to talk about in their emails.
So I suggest to them to look at their work and see what kind of questions people ask them in real life, what kind of queries did you resolve today? What does your process look like? How do you run your business? Can you break down any complex laws into layman language?
You just have to answer these questions to get content ideas. You can wrap these in stories and send your weekly newsletter filled with all the wisdom you gathered during the week.
Next comes the confusion of whether it's okay to sell your services and products via email or not.
I say hell yes, you should inform people that they can avail your services and products at a cost.
You build a value-giving relationship with all the nurturing emails and newsletters. But someday, it's time to turn it into a transactional relationship.
Although I suggest you first provide a lot of value before running sales campaigns. Also, keep a balance between your content and sales emails.
‍
7. Let them Unsubscribe Easily
Yes, this post is about how you can grow your email marketing efforts, so letting people unsubscribe easily might seem counterintuitive advice, but it's the right thing to do. Not just for legal purposes (which I am sure you must be aware of) but also to ensure that your emails don't go into the spam folder of people who genuinely want to receive and read them.
If you don't let people unsubscribe easily, they will mark your emails as spam. This will be taken as a negative signal by the spam filters of the inbox service providers (Google, Yahoo etc.) and they will send your future emails to the spam folder.
Letting the uninterested audience go will ensure that your engagement is high and you get the actual picture of what your audience likes & doesn't like.
To make it easy for people to unsubscribe:
Ensure that your unsubscribe link is clearly visible and is placed in a familiar place - in the footer area.
Make it one-click unsubscribe and don't make people go through emails or chats to opt out.
Here are examples of footers of some companies that provide a clear way to unsubscribe: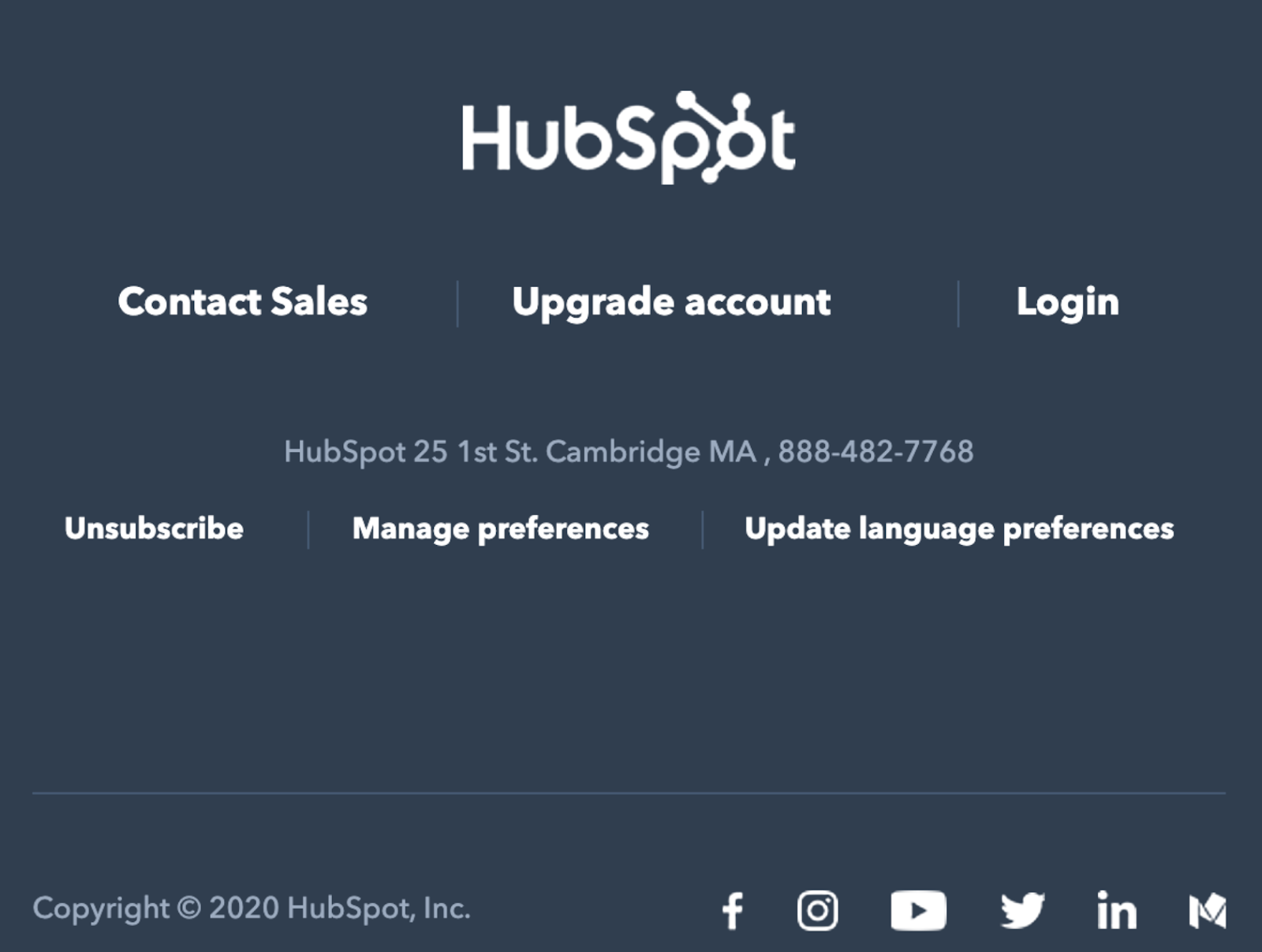 When someone unsubscribes, you can give them other ways to stay in touch. An obvious option is social media channels.

8. Optimize your Emails for Mobile
We have access to our smartphones, at all times. You, me, your colleagues, or friends - everyone has an email app on their phone. We check our emails while in line for coffee or while waiting for our cabs.
So if your email is not designed for mobile, nobody will care to get to the desktop and check it there. Now, there are a lot of mobile screen sizes, so which one do you design for?
The answer is - your email design should be responsive. Meaning, it should adjust to the size of the screen of the device on which it is being viewed. Then, whether it is a desktop, iPad, or mobile it should be easy to view it and take action.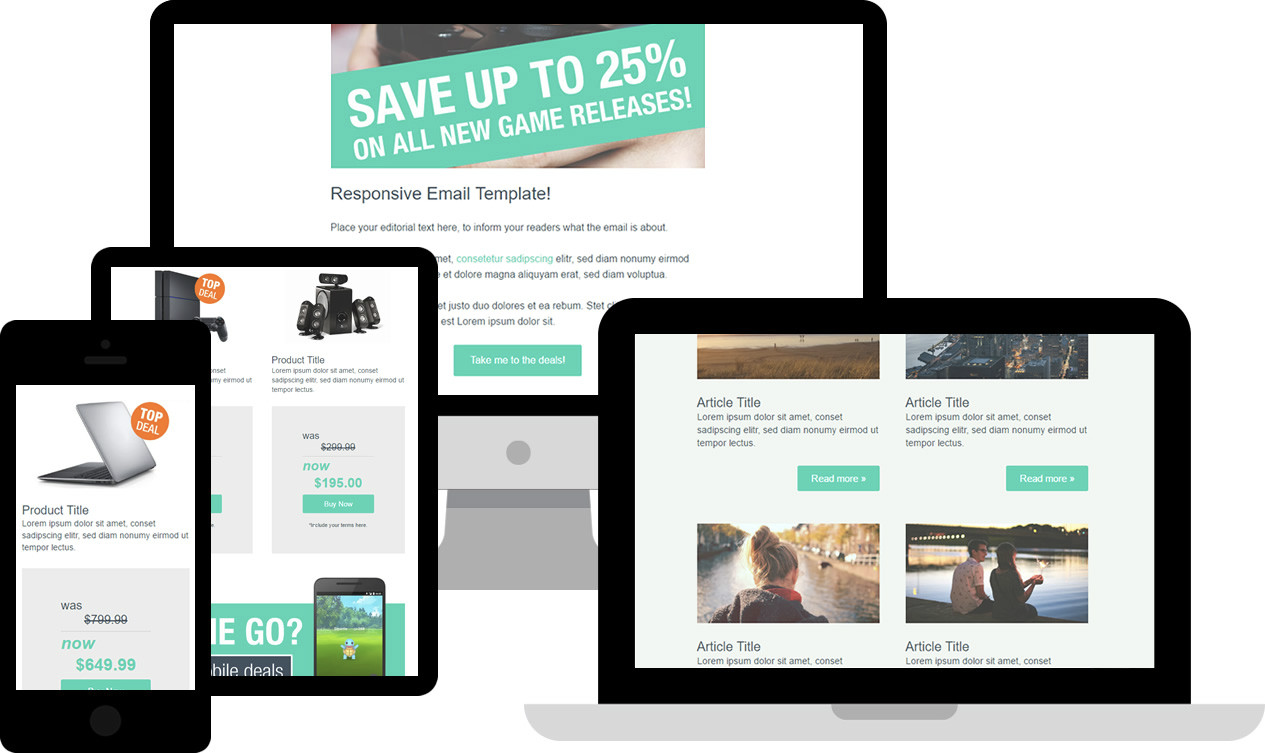 9. Make Use of Data
When you are using emails to communicate with your audience, you can know if people opened your emails or not if they took action on it, when they are most likely to open your emails and from which country do you get the most subscribers.
All of this information is available at your fingertips if you are using email marketing software. Every platform provides an easy to read dashboard with this data. It's important to stay updated on the latest legal industry trends to ensure your email marketing strategy remains effective.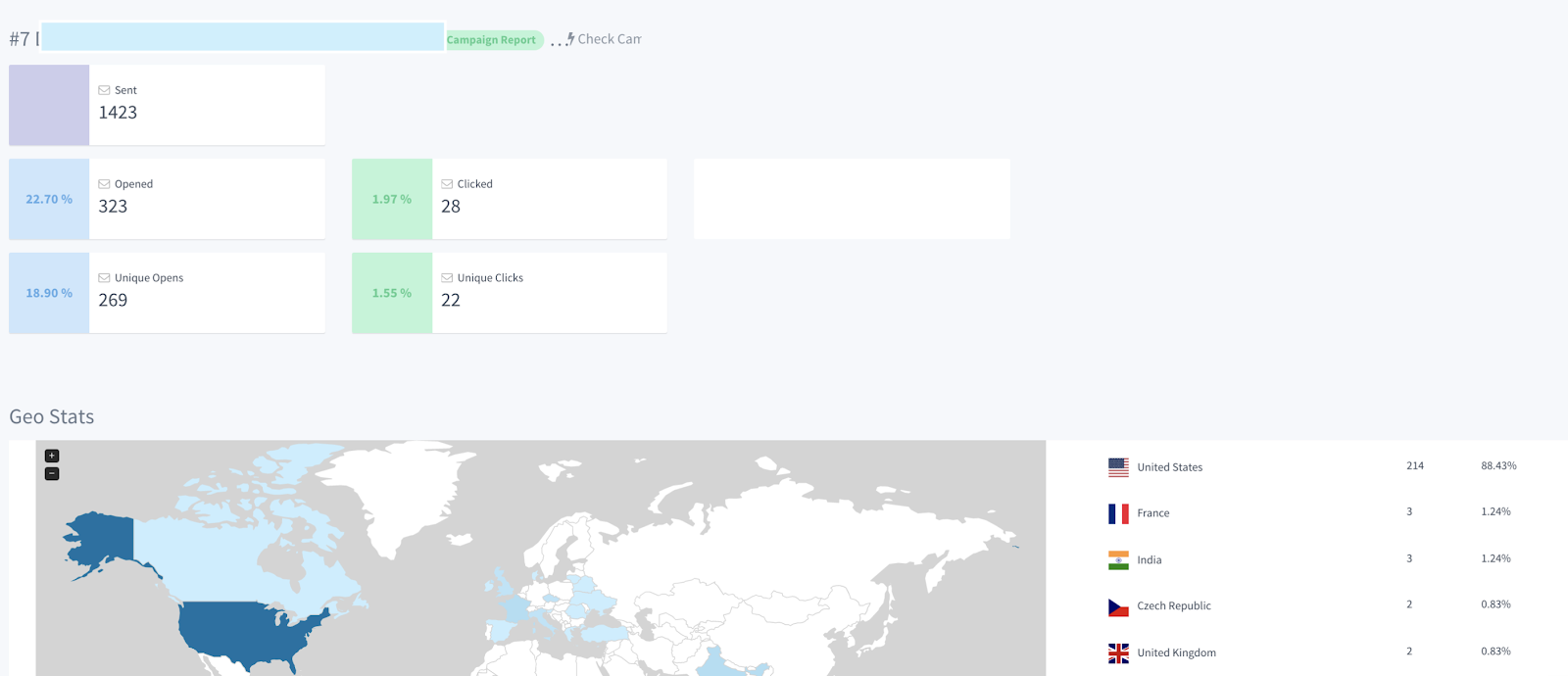 The two key metrics you should track after every campaign are:
Open rate: Number of people who opened your emails out of all the people who received it in their inboxes. This will tell you if your audience likes to hear from you and if your subject lines are interesting enough to catch someone's attention
Click-to-open rate: Number of people who clicked on one of your links out of all the people who opened your emails. This will tell you if your content was engaging and valuable.
If you want to know more about what key metrics you should track, check out this post on email marketing metrics.
You can use this data to improve your strategy & make decisions based on reasoning? You would certainly be able to do more of what's working and less of what's not working.
No other social media will give you these actionable data points on your audience. That's why email marketing is so crucial.

What's next?
As the next easiest step, if you haven't already signed up for an email marketing software, you should check out SendX. Don't miss the 14-day free trial to all their features.
It's a simple sign up process. There is no credit card required. You won't have to fill up lengthy forms.
If you choose to continue, the cost per month is less than 2 cups of coffee. It starts at just $7.49/mo. That is 3x-5x cheaper than most alternatives out there.
And the best part is that at this price you will get all features required for email marketing for lawyers, which you otherwise get in only high-priced software.
With SendX, you can:
Quickly and easily create emails using a drag-and-drop editor.
Keep your emails always fresh and visually captivating by using images from a library of half a million stock photos.
Collect email addresses of people visiting your website with the help of customizable pop-up forms.
Be sure that a high number of your emails will land into the inbox and not the spam folder.
Always be assured that help is just an email or chat away with their 24/7 support.
Now that you know why email marketing is important and how you can get started easily, hope to see you add this to your marketing strategy.