Email Marketing Handbook for Freelancers: A Step-by-Step Guide
You would know why it's so obvious to start a newsletter if you understand human psychology.
Ultimately, your goal is to sell to the customer. Your job becomes much easier if you have been planting the seed early on by giving the customers really valuable nuggets of free resources, tips etc, building trust, rapport and brand with them.
And when it is time to make that sale, you can say, 'Hey, you have seen my work. Here is what I can do for you and because you have seen the kind of value I can provide, I am going to charge x amount for it. I think you should buy it.'
And someone would be willing to work with or buy from you if they like you, connect with your values and like your work. But you have to show these things before you sell.
And email marketing is the best way to do that.
You might say that the same can be done on social media. But social media is good to showcase your work, but not to nurture your list.
When someone new follows your Instagram, they just jump into your life on a particular day and don't know your full story.
But with email, you can send a welcome email to anyone new joining your list. This would feel like a one-on-one connection for the person, thus building stronger relationships. You can tell exactly what to expect from your emails and what's your story, what you do and what amazing things you are going to send in their mailbox.
On social media, you are always trying to keep up with the algorithms, getting distracted to post things that will improve engagement rather than showcase your real work.
And most importantly, social media doesn't give you that freedom to use all kinds of media to support what you have to say. At a time, you can either use photos, video or just text.
Some of the successful business owners and creators tell people to sign up for their newsletter to get full value.
Here is a snapshot of Ramit Sethi, owner of iwillteachyoutoberich asking people on Instagram to sign up for his email list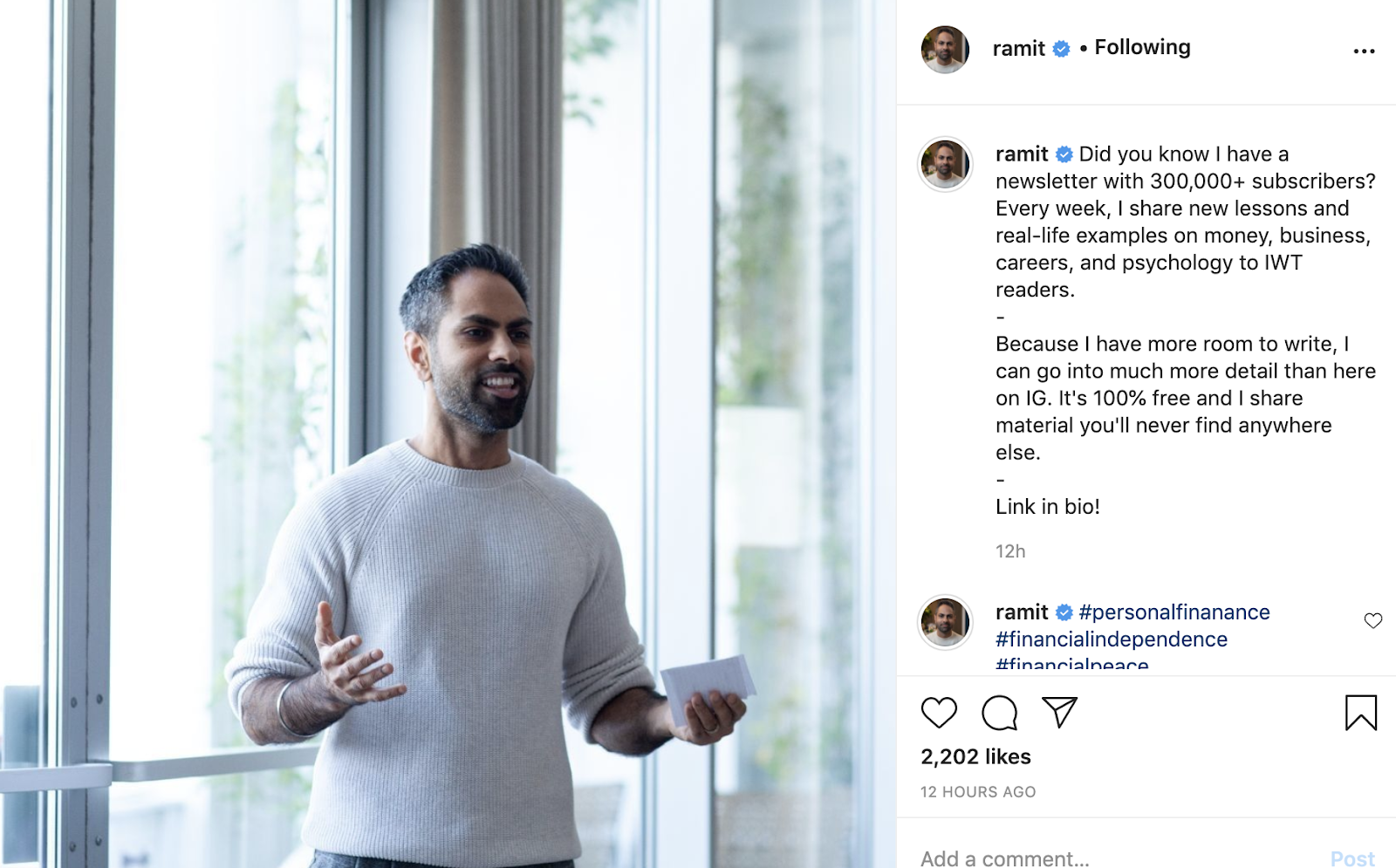 Email is the way to grow your personal brand. Social media and other channels can only fuel it but for a consistent stream of clients and growing your business, email marketing is the way.
Email list is at the heart of email marketing. It's simply a list of emails of people who are interested in you and your work. So let's explore...
How to Build an Email List
1. Use opt-in forms
These are forms where people can put their email address, and then your email marketing software can collect that and add to your email broadcast list. Everything happens automatically, and works even when you are sleeping.
You can use pop-up versions.
Here is an example from honeycopy.com, run by a freelance services copywriter Cole Schafer. The popup clearly tells what you will get if you sign up for his email list.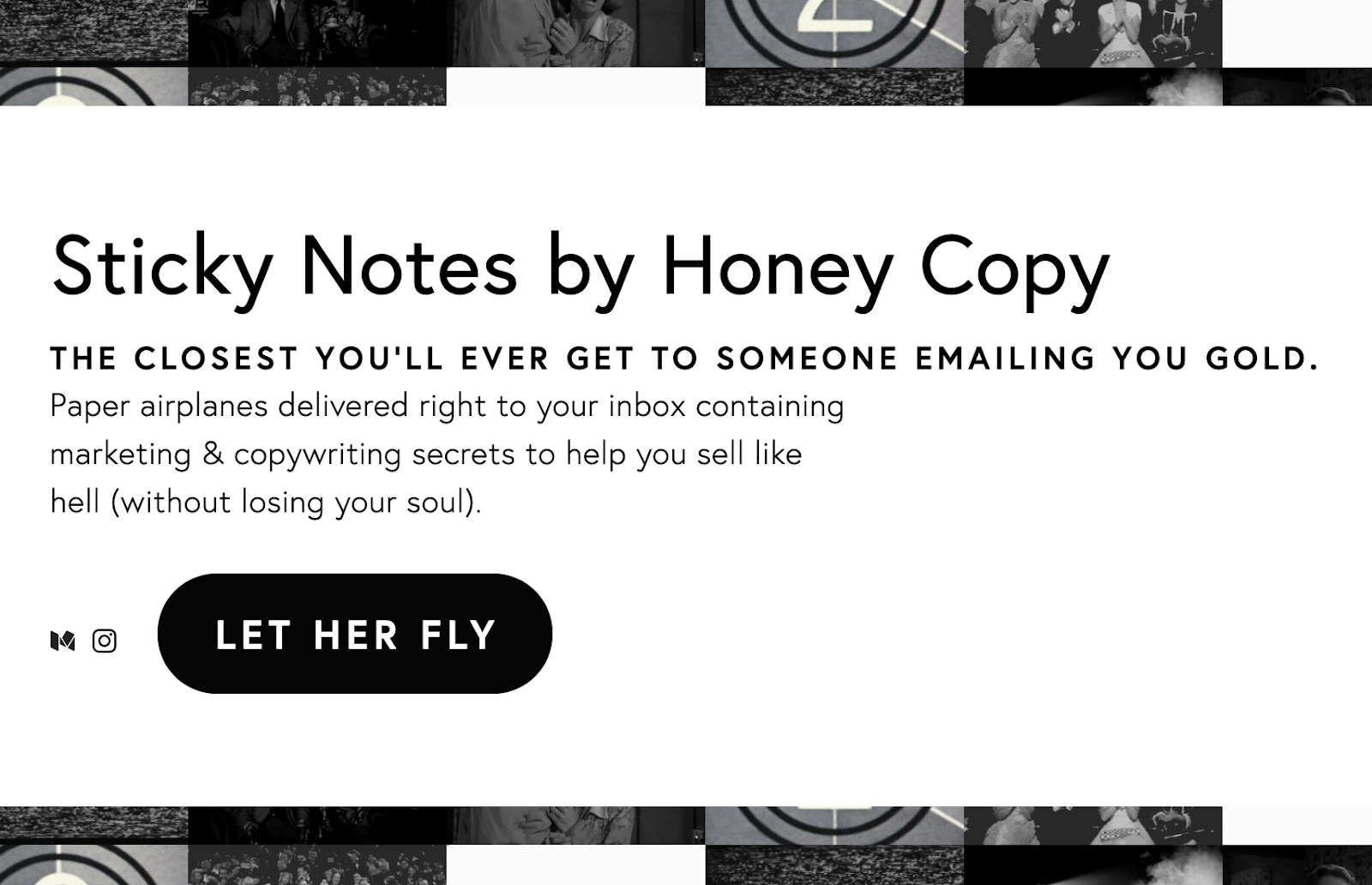 ...Or put one on the side bar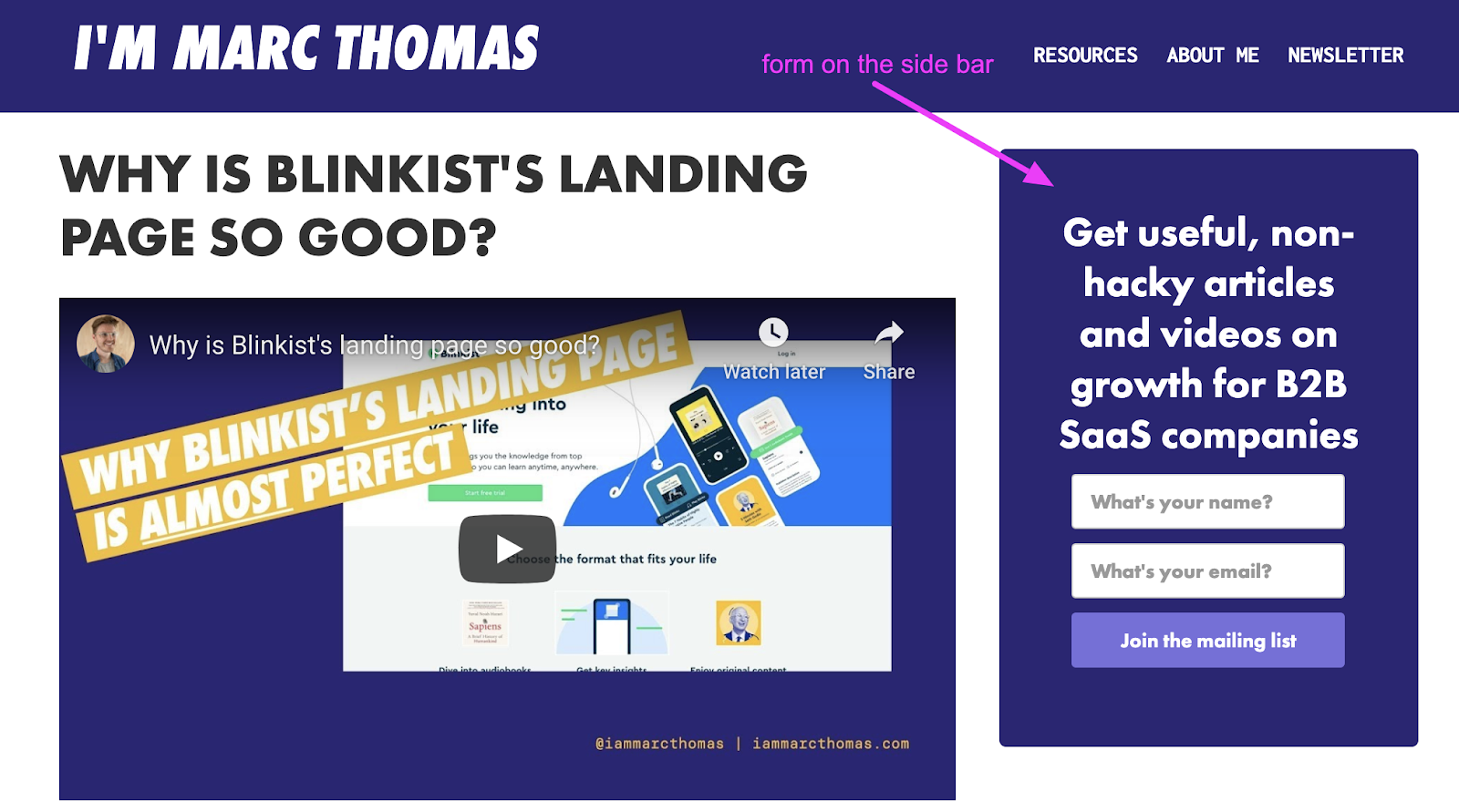 SendX offers professional-looking, ready-to-use email pop-up forms that you can use on your website. You can customize these to fit the look of your brand. You can check them out by simply signing up with your email address.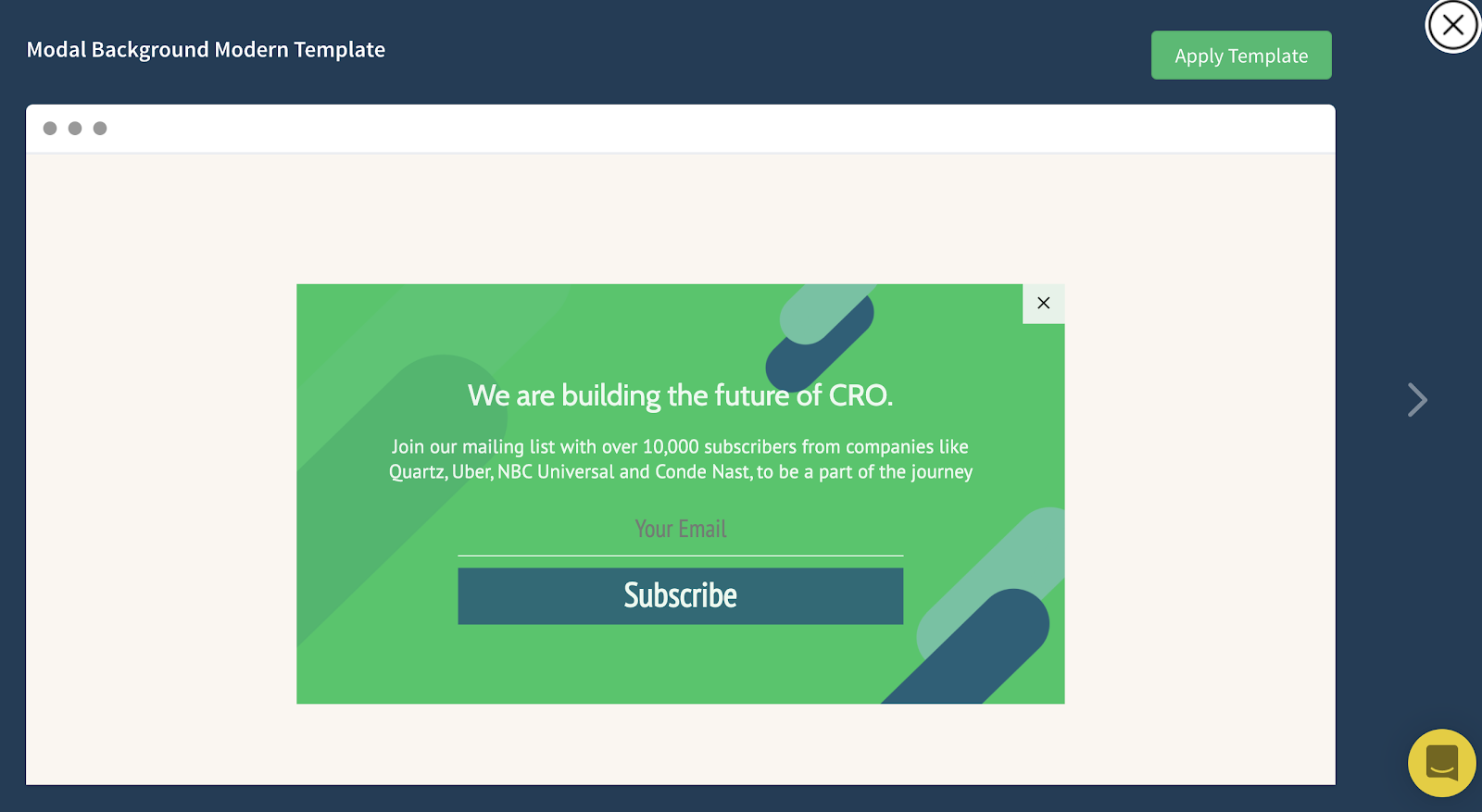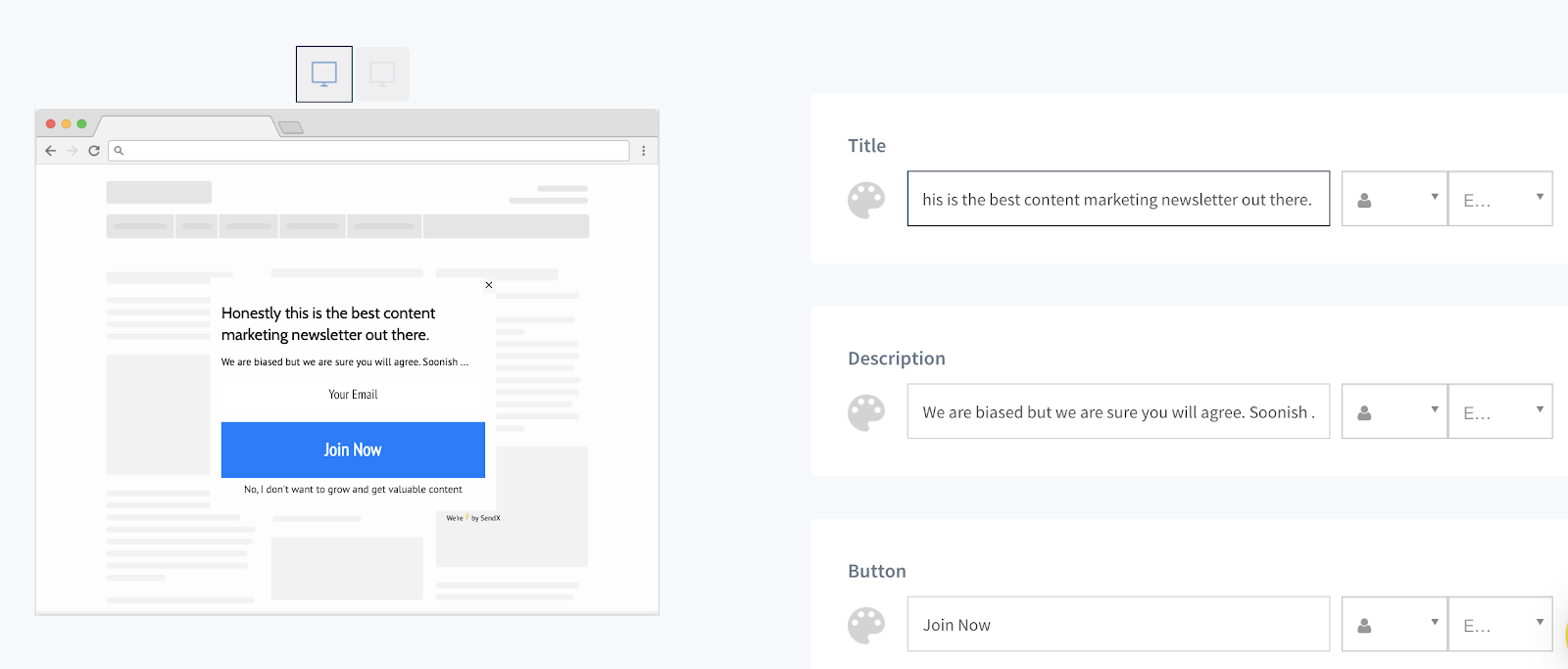 2. Create an amazing incentive
The only way someone is going to cough up their precious email address to you is if you have something valuable to offer. It can be a guide, template or tool that makes their work easier.
Here is how Laura from talkingshrimp.com offers her 5 secrets to non-sucky copy. Anyone who is a copywriter or wants to write something for their cold email, website or profile would be interested in this:
3. Collaborate with brands
You can collaborate with brands that have a newsletter that your target clients read. e.g. if you are a graphic designer, you can do a post for InVisionApp ( a design platform ) and ask for placement in their newsletter. When people discover you and find your content valuable they would be heading to your website to check out more. And of course, there they will find a subscription form to get your content directly in their mailbox.
4. Use Social Media
Use frequent CTAs in your social media posts to sign up for your freebie or email list. Add the link to your website or landing page where people can sign up for your emails and get much more value.
Now that you have built an email list, you will need ideas on what kind of emails you can send.
Ideas on Kind of Emails to Send
1. Welcome Email
This will be the first impression of your email in someone's inbox and sets the expectation for future communication. If it's interesting, clear and engaging they will remember to open your next email too.
First of all, thank them for joining your list.
Then, let them know what to expect from you: type of content, announcements, promos, etc.
If you are going to run promo emails, don't shy away from mentioning that. Remember, it's the first impression. It will only help build trust if your first communication is open and true.
Then, ask them to add your email address to their contact list so your emails don't accidentally go into the spam box.
2. Content Emails
It might seem daunting to come up with new ideas every week or thrice every week to send to your subscribers. But this is the most natural part!
Are you a freelance designer? You can talk about your process, tips for better designs or tools that you use for your work.
Are you a freelance photographer? You can show people behind the scenes of a shoot, your studio, tips to get clients, templates you use for onboarding a new client etc.
Basically, share any valuable tips or tricks that will help your target audience get better results or get to know you better.
3. Sales & Promotions
When you have nurtured the relationship with your customers and provided them tons of value, it's time to turn this into a transactional relationship.
So plan that series of emails to launch a promotional offer for your services. It will also help you segment your audience into hot leads and others. Anyone who visited your link to contact you for a project is a hot lead. You can then do a personal follow-up with them.
Here is how Cole Schafer from honeycopy.com pitches, hiring him for guerilla marketing projects, in his emails.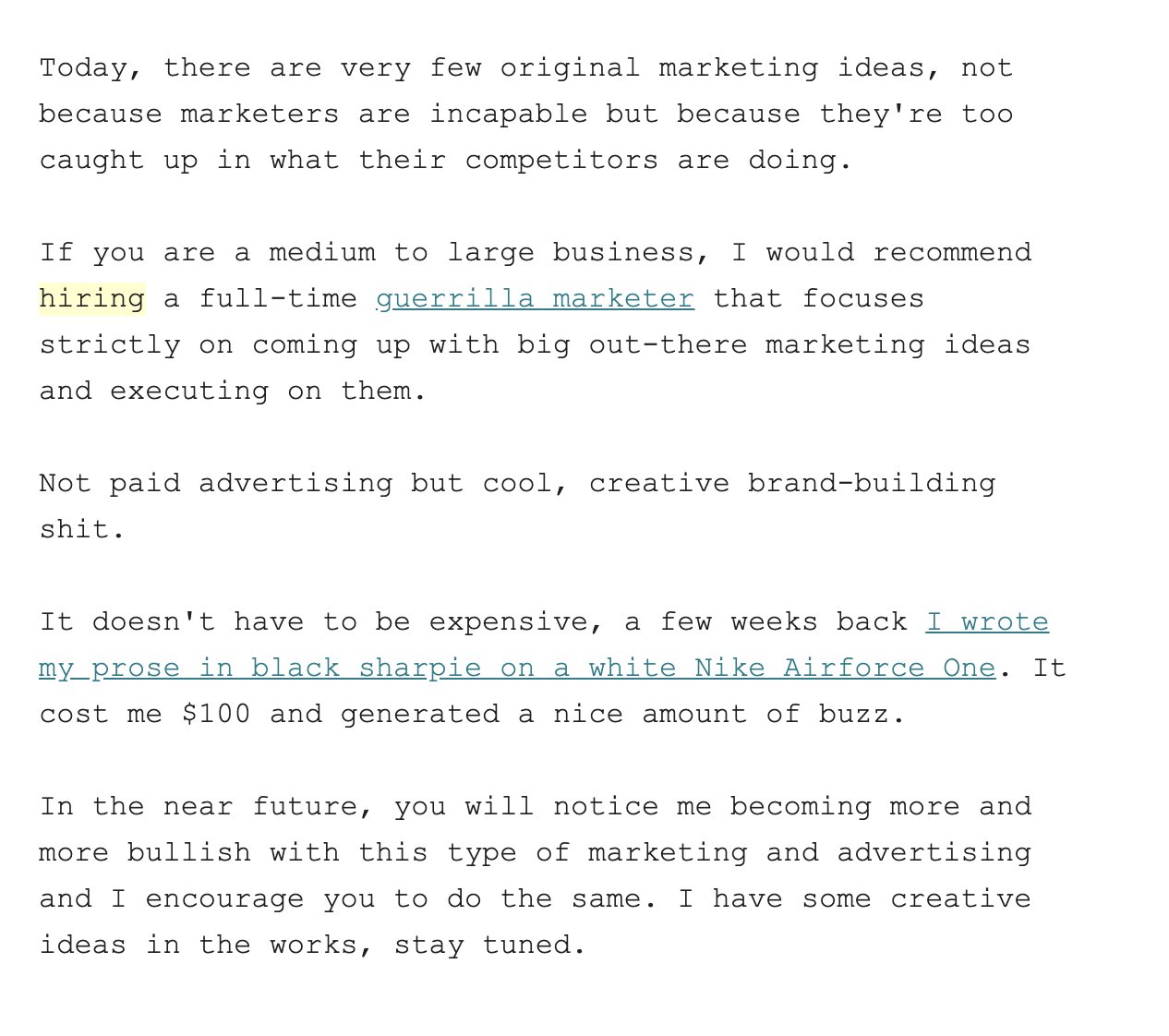 4. Feedback & Testimonials
Every once in a while, send an email to collect feedback from your list. You can create a simple form using typeform or google forms and just put it in your email.
You can also send an email to gather testimonials about your work from your previous clients. If you want testimonials for your content, you can even send it to your whole list.
It will give you tons of insights into what's working, what's not working and what can you do better.
Tips to Succeed with Email Marketing
1. Automate your emails
Most people feel scared of email marketing because they feel it's time-consuming. It's not as quick as snapping a picture and putting it into your IG stories.
But, that's only because they don't understand the power of automation. With automated emails, you can just create your message once, put the rules about when, and to whom it should be sent. And the rest is taken care of, forever!
Here are some automation ideas you can implement:
Welcome emails: You can pre-define a series of welcome emails introducing people to your work, and these will be automatically sent to any new subscriber.
Categorise: You can automate the process to categorize people into lists - highly engaged, bought something from you in the past, according to location, etc. Let's find more about this process called segmentation in the next section.
2. Avoid the spam box
If your emails don't reach the inbox, then all your email marketing efforts can go in vain.
To stay out of the spam box, you just have to avoid showing the same behavior as a spammer. That means, avoiding:
Manipulative subject lines. Stay away from 'Earn $1000 in 10 days' kind of subject lines. Here is a full list of words you should avoid using in subject lines.
Poorly edited text. Edit and proofread your emails with services like Grammarly.
Using image-only emails: Keep the ratio of images to text at least 70:30.
Making unsubscribe difficult: If your unsubscribe button is hidden or not present, readers will mark your emails spam. All email clients give them that functionality. And if you get a lot of spam complaints, your future emails will be automatically sent to spam.
This is definitely not an exhaustive list, so read more; you can check out this blog on email deliverability.
3. Make use of data
Email marketing can give you the exact information on who is opening your emails, what kind of emails get the most engagement, and why people unsubscribe. Find your hottest leads and drill down on their exact requirements.
The key metrics to find these insights are Open Rate, Click-Through Rate, Unsubscribe Rate, Bounce Rate.
Basically, use the data to do more of what works and less of what doesn't.
4. Choose a reliable email marketing software
Gmail, Yahoo or other email clients are good for work and personal use. But they are not practical to use when you are connecting with your subscribers and audience.
If you want to leverage the full potential of email marketing, you need to use an email marketing software that can manage your list, tell you about engagement, automate your emails, all without your constant human intervention.
Let's see how much a tool like that would cost.
How Much Will it All Cost?
I can guarantee it will cost less than $10… less than your netflix subscription.
A good option for email marketing software is SendX, and their pricing starts from $7.49/month
Why?
Because you can...
Build high-converting pop-up forms to collect emails with just a few clicks
Get your emails delivered to inbox as SendX has infrastructure and technical know-how to make it possible.
Create get nice looking emails with ready-to-use templates
See who is opening your emails, which emails receive the highest engagement etc. in an easy to follow dashboard
Reduce your efforts and time with automation capabilities.
Get all the help you need from their 24/7 email and chat support so that you are not stuck even if you are new to email marketing
Get a free trial for 14 days.
You don't even have to commit anything before you are sure. You just have to give it a try with the 14-day free trial: no credit card or any long-form filling process involved. Sign up here.