Email Marketing for Dermatologists: Tips and Techniques
Dermatologists are, undoubtedly, one of the most sought-after medical practitioners in the world. Be it the increasing exposure to harmful UV rays or one's interest to try out different anti-aging treatments, the demand for dermatologists has increased, now more so than ever.
Now, to meet this ever-increasing demand, the number of dermatologists is also on the rise. As a result, the dermatology industry is turning highly competitive, making it difficult for practitioners to stand out and provide quality service. And, it is also becoming harder for patients to reach out to the best in the field!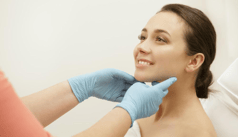 If you are a dermatologist stuck in this competitive market and searching for way-outs to harness the full potential in you, we suggest you use email marketing to market yourself and your practice.
Being the least costly digital marketing strategy and known to deliver outstanding results, embracing email marketing can be the best option for you.
Can Email Marketing Be a Feasible Marketing Tool for Dermatologists?
Let's delve deeper and see how email marketing can be an attractive option for dermatologists.
Ensure patient retention: Sending emails to your patients based on their last visit can help them know the course of treatment you have planned out for them. Moreover, it can play a significant role in patient retention, given that you are directly communicating with the patients on the treatment procedures.
Sending alerts to your patients: Be it reminding your patients about an appointment or telling them to get specific treatment to cure a problem, emails can directly help you stay in touch with your patients. Also, explaining why a given treatment will be suitable can be done best with the emails.
Checking if your patients are satisfied with your service: Besides making people choose your service, you can use emails to keep a pulse on patient experience. Imbibing the feedback from customized surveys will help you understand your strong points and the areas you need improvement.
Some Easy Email Marketing Techniques for Dermatologists
Now that you are well aware of the perks of using email marketing, here's helping you ace the game with some smart strategies.
1. Update Your Patient On Current Health Trends
With medical science and technology advancement, dermatologists are coming up with the best possible treatment to cater to various skin issues. For instance, one can find various skin treatments and well-crafted medications to treat skin conditions such as psoriasis, acne, eczema, and many more.
Likewise, you might have also specialized in providing treatments such as these. And, this where you need to make good use of email marketing.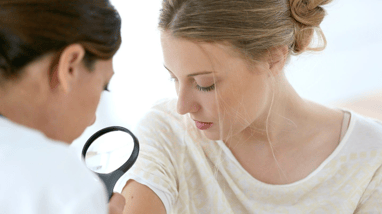 After you have segmented your email list, update your patients on the types of treatments they can choose based on their budget and preference. Ensure that while you are presenting the details, you add their benefits and downsides to help people make an informed decision.
2. Keep Your Patient Base Engaged With Informational Emails
Informational emails, if strategized right, can be an excellent way for dermatologists to prosper their practice.
If you dig deeper, you will see that in most cases, people visited others dermatologists over you because they were not aware of the services you provide or they were skeptical of the way you treat your patients. Therefore, it's time you start sending emails to your subscribers informing them about the treatments you offer, new additions to your clinic, safety precautions you follow, and your expertise in the field.
Moreover, keep your subscribers updated with any changes in your remuneration, treatment charges, modifications in policies, and procedure. Besides making your patients updated, these will also help them know that you care, and that goes a long way in building a healthy patient-practitioner relationship.
Drip marketing is a strategy that has not been explored by many. It refers to an approach where you keep a sequence of pre-written emails on different topics ready. Over time, these emails are sent to people who have previously shown interest in a specific subject.
For instance, you get to know that a subscriber has made an inquiry on treating hyperpigmentation but has not scheduled an appointment with you. At this stage, you can start using the drip marketing campaign.
Begin with providing solid insight on you and your practice, the things they can expect when they visit your clinic, talk about the success rates, and if possible, also add the reviews given by your previous patients. Remember to send all emails that nudge them to trickle down the funnel and schedule an appointment with you.
4. Enhance Revenue With Well-Planned Promotional Emails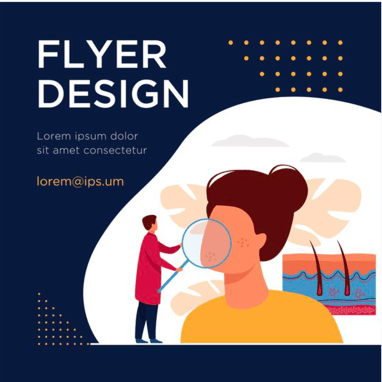 While promotional emails may gel more with businesses where customers need to make a purchase, they can also become a viable option for dermatologists, given the highly competitive market these days. Nonetheless, the promotional emails sent by dermatologists are different to some extent.
As a dermatologist, you will know that you cannot just send emails talking about deals and discounts. Instead, the promotional emails sent by you should focus more on the free checkups you are providing on special days. For example, you can ask all your subscribers to get their skin tested to ensure they do not run any chances of skin cancer. And, you can plan this event during cancer awareness month.
In this way, your patients will know about your expertise and keep making appointments with you when they or their friends and families face similar issues.
5. Keep Track Of Patient Experience
Now, did you know that emails can also be a way to better your services? Well, even if you didn't, now you know!
You can send emails to the patients who have to seek treatment from you. But, make sure that the feedback is not only about your service but also for the nurses, practice managers, and other staff you have. Utilizing these, you can understand the improvements you need to make to enhance the patient experience.
This will also make your patients know that you are eager to improve on your shortcomings, and that will impact a lot in the perspectives they hold for you.
Compliance with the Law
Now, before you implement the strategies, you should be aware of some important law provisions to ensure complete confidentiality of your patient's personal information.
HIPAA: The acronym stands for the Health Insurance Portability and Accountability Act. This federal law makes sure that no sensitive data related to the patient's health is disclosed without the patient's permission. Therefore, while you send emails to your subscribers, you need to abide by the standards established by the HIPAA act completely.
CAN-SPAM: This law is specially dedicated to the ventures that make use of emails to convey information. As per the provisions, you cannot add deceptive subject lines, you must have clear opt-out options, correct header information, and many more. For example, you cannot add a subject line on the new techniques of treating acne and then add a referral section in a corner. Other than displeasing the subscriber, you are also going against the law.
GDPR: General Data Protection Regulation was framed by the European Commission to grant the general public more control over their personal affairs. Therefore, as per GDPR law, if you are operating in the European Union or offer services in that territory, you must ensure that the subscriber's data is gathered legally and should not be misused under any circumstances.
Wrapping Up
As quite evident, email marketing can go a long way in promoting your dermatology practice efficiently and cost-effectively.
Now, being well-aware of the busy schedules a dermatologist might have, we already know that planning email marketing strategies will not be a very convenient thing for you. So, what you can do is, use an email marketing strategy to get the work done in a hassle-free manner. And, this is when SendX can come to your rescue! Our email marketing software is intuitive, feature-rich, and quite economical than other giants and can be the best option for you.
With this software, you can handle unlimited clients and access ready-to-use premium email templates. Also, the advanced account management features are a plus point! Moreover, you can keep a check on the response, now and then, with its click, open and other metrics.
All sorted now? So, wait no more and make the best use of the email marketing strategies to increase revenue and patient growth in your dermatology practice.