How to Increase Attendee Engagement for Your Digital Events
6 min read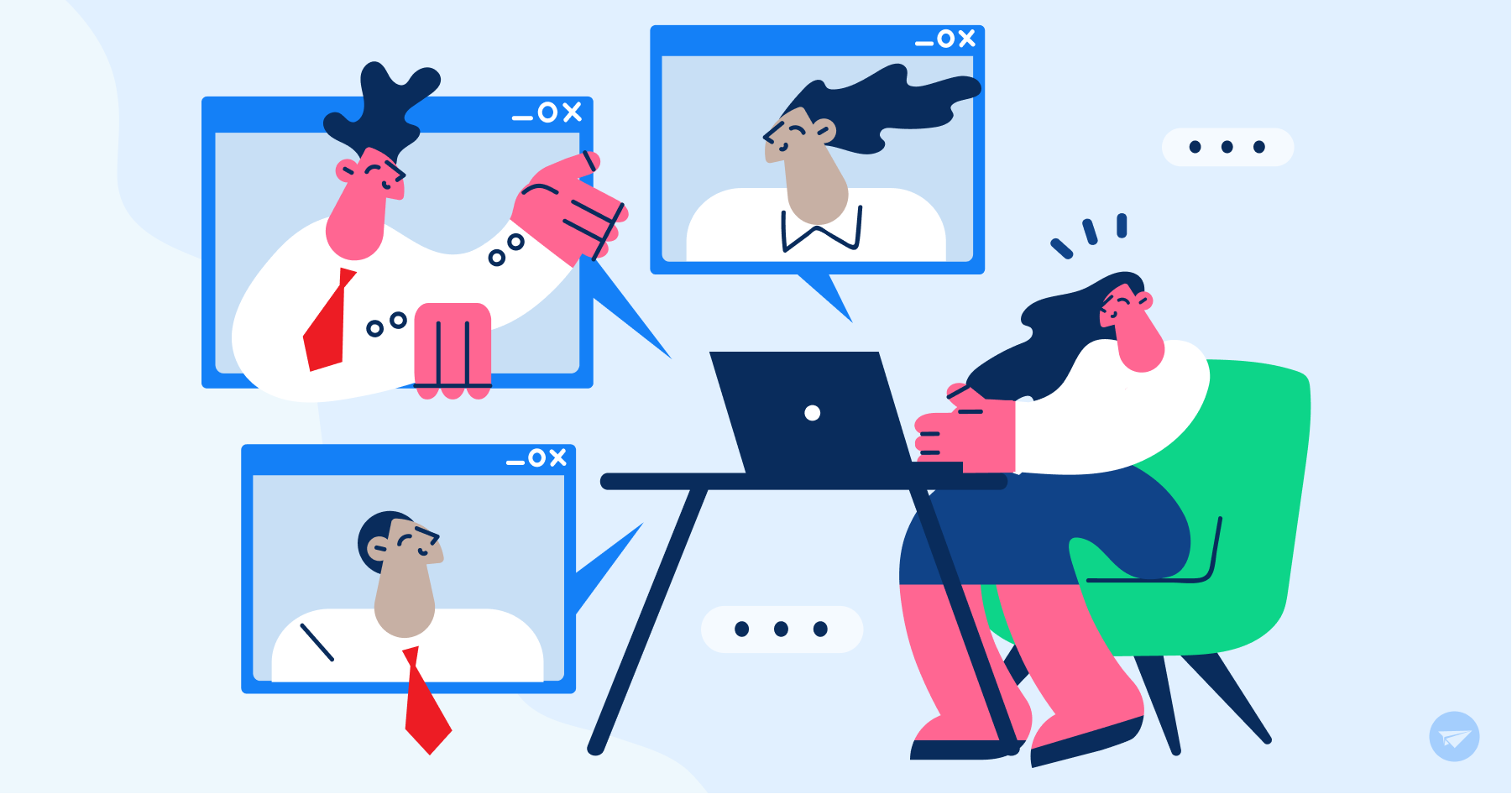 If you had never thought about holding digital events before 2020, the Covid-19 pandemic likely put these virtual experiences on your radar.
Gone were the days of in-person trade shows and networking brunches. Instead, businesses were forced to migrate online, holding sessions over Zoom, sometimes even in their pajamas.
But this was not an industry that popped up overnight. In 2019, the virtual event industry was already worth $78 billion, and it's expected to have a compound annual growth rate of 23.7% through 2028.
Source: Grand View Research
So, bottom line, virtual events will be here to stay, even when the word "pandemic" disappears from our everyday lives. And businesses are using these events to make a killing.
A virtual event can be a huge opportunity when trying to develop content marketing for businesses, and you can grow your revenue phenomenally by regularly organizing webinar events.
But simply holding digital events and drawing attendees in isn't enough to generate these kinds of results. You need to keep your attendees engaged in order to get them to take action. That's why 49% of marketers agree that an engaged audience is the single most important factor to an event's success.
This article isn't going to tell you how to host a digital event or how to pull people into it. Instead, we're going to walk you through how to ensure that your digital event audience is fully engaged and ready to convert.
Table of Contents
1. Send Out a Pre-Event Poll
The first step in your virtual event planner toward engaging your digital event audience occurs before the event even happens. It stands to reason that if you want to engage your audience, you have to first know what they enjoy and what kind of content will keep them focused.
You can do this by sending a poll out to anyone who has pre-registered for the event. This is a tactic employed by 81.8% of virtual event organizers and can go a long way toward helping you understand exactly who you're going to be presenting to.
Ask them questions about:
Their preferred social media platforms
Their specific interests as it pertains to the event topic
What they're most looking forward to
What they're hoping to get out of the event
How effective your event marketing has been (or hasn't been)
2. Use Email Marketing for Lead Nurturing
Most online event organizers would consider email marketing to be a beneficial tool when trying to get attendees. They're right in this regard. Creating content for landing pages can help you get email list subscribers who you can then market your digital events to.
But you can also use email marketing to remind your attendees about what's coming up in your event. The more information an attendee walks into a virtual event with, the more engaged they will be. By laying out your itinerary and communicating it directly, you're giving attendees an opportunity to enter with a plan instead of just making decisions on the fly.
Just make sure you don't overdo it. Review the do's and don'ts of email marketing for maximum effectiveness.
3. Offer Interactive Elements Like Quizzes and Gamification
The more interactive you can make something, the more engaged your attendees will be.
Nothing screams engagement quite like a quiz or a game. After all, when you just sit and listen to someone talk for hours on end, eventually, your brain is going to check out.
A quiz keeps attendees focused and alert. It also allows you to gauge how much of your information is actually breaking through. You can then use the data gathered from quizzes to improve your offerings for the next event.
Gamification basically turns your event into a video game. Attendees can earn points, virtual trophies, or even physical prizes for taking specific actions. Virtual scavenger hunts are an especially effective way to increase engagement and introduce an element of competition into the event.
That's why 59% of virtual event organizers have implemented gamification strategies for attendee engagement.
4. Encourage Networking Through Social Media
Social media can be a powerful tool for virtual events, but only 20.1% of virtual events live stream content on social platforms.
To do this effectively, you're going to need to know what social media platforms your audience frequents. This is another way that the aforementioned poll can come in handy.
There are so many social media users today that no matter who your target audience is, they're likely to have a social media presence somewhere.
Source: Oberlo
Social media can be a great networking opportunity for your event. Your attendees can engage with one another before the event, during it, and in the weeks and months after. You just need to make sure that you've set up dedicated social media channels ahead of time. This can be something like a group on LinkedIn or Facebook.
Not only can attendees interact with one another here, but you can also live stream to your members and send out push notifications when needed.
5. Provide Push Notifications to Keep Attendees Engaged
Speaking of push notifications, you should use them as an engagement tool. Push notifications are an alternative communication method.
You can send push notifications out to mobile devices via social media or text message as a way to remind attendees about specific live streams and content that you have coming up. This is another great opportunity to personalize the experience. If attendees have shown a particular interest in a specific topic, send them notifications about it.
That's a far better strategy than spamming everyone. When you send notifications for every little thing, you're going to just become noise, and people will unsubscribe quickly.
Make sure you are only sending push notifications to people who have specifically requested to receive them.
6. Ask For Questions
Live question-and-answer sessions can keep you attendees in the moment. As you live stream, people will undoubtedly have questions. That's why it's important to set aside time to take questions from your live audience.
Don't ask people to hold their questions until the end. Instead, hold Q&A sessions throughout the talk.
Make sure that you let attendees know that you'll take questions soon. It will keep them on alert. You should also include a live chat feature while you're live streaming and monitor the chat for any questions that your speakers might want to touch on.
It's good to have a moderator who can relay chat questions to the speaker during the event.
7. Provide On-Demand Content
Live streaming is great, but sometimes event attendees can't make it to every broadcast while it's going on. That's why it's important to offer on-demand features to virtual event attendees.
When live presentations are over, get them up in your digital on-demand library quickly.
Of course, it's better if an attendee can tune into a conversation live. This gives them a chance to engage directly. But when that's not possible, an on-demand library ensures that they can still access the information they're interested in.
On-demand content could also be useful for people who have attended a live webinar and want to go back and review what they've learned. You can send all of your attendees a follow-up email that links out to recordings from the event.
8. Ensure That Event Content is Top Notch
It only makes sense that if you want your event attendees to be engaged, then you're going to have to provide them with engaging content.
This is even more true for virtual events than it is for in-person events. When someone is in their home or office, there are always distractions that can pull them away. If your content is good enough, you'll hold their attention and keep engagement levels high.
Source: ReadBeach
Try splitting some of your best content into smaller pieces that are easier to digest. It might also be a good idea to present personalized content options to attendees based on how they answered the poll we discussed above.
Consider hiring an agency to provide top-notch writing services if you don't have an in-house professional writer on your staff. When it comes to something as important as attendee engagement, you don't want to leave anything to chance.
Remember, your content should be beneficial to attendees and not just a glorified ad for your services.
9. Provide Giveaways
Everyone wants to win something. It's one of the reasons why gamification is so popular in the business world.
Despite this, only 30% of event organizers provide giveaway items to attendees. Make sure to let people know when giveaways are coming. It will ensure that they're paying attention and ready to pounce.
10. Keep Groups Small
It's hard to engage with an online event when you're one small voice in an endless sea of competing voices. If attendees are trying to ask questions in a crowded chat window and their messages are immediately pushed up by a plethora of other comments and questions, they're not going to feel seen or heard.
While it might be tempting to pack your webinar or online event with thousands of attendees just waiting for conversion, it's not ideal for engagement.
Focus more on attracting smaller groups of the right people who fit into your ideal audience than massive groups of people who have varying levels of interest.
11. Give Attendees a Break Between Sessions
If your online event includes many different sessions, don't just go from one speaker to the next. This will wear out your attendees and create a disengaged audience.
Providing a small break allows for trips to the restroom, getting a drink or snack, and even some networking opportunities on those social media platforms that you set up earlier.
In Conclusion
Virtual events can be hugely beneficial to a modern business, and that's not changing anytime soon. But if you want your virtual event to be successful, you have to make sure that your attendees are engaged and attentive.
Follow these 11 tips, and you'll be sure to generate great results from your next virtual event.