5 Best Ways to Spice Up Your Email Marketing With Videos
6 min read
No matter how much you want to deny it, one of the best marketing campaigns around is still your stale, old email marketing. Despite all the assumptions that email marketing is dead, this classic marketing type is still alive and kicking.
The main issue is there's a ton of saturation, and frankly, people have gotten bored and lazy with old email marketing. That's because people always see faceless, typed-out text or long paragraphs in their inbox every day.
This is why you need to spice it up with another content that brings excitement after people click on your email. And one of the most engaging content you should consider adding to your email marketing campaign is video. Using videos in email marketing really works!
According to the stats, including videos to your marketing emails can increase open rates by 19% and click rates by 65% while reducing unsubscribe rates by 26%. So, it should come as no surprise that at least 77% of marketers reported an increase in email engagement when using video.
In this article, you'll learn how you can use video to increase your email marketing results and what factors you should pay attention to to make it work.
Let's dive in!
How to Use Videos For Your Email Marketing Campaigns
While videos can seamlessly help you to optimize your email efforts, there are some fantastic ways to use it as a powerful tool for your email marketing campaigns. Here are five best ways you can implement immediately to see visible results:
#1. Send Out Customer Success Story Videos to Your Leads
One of the handiest ways to send video in your email marketing is to tell your customer success story. It helps you gain trust from potential customers and convince them to make an informed purchase decision faster.
You don't have to waste time writing long paragraphs on the email body just to tell the leads how brilliant your brand is. Just let your customers say it best.
When your leads see a real human talk about their real-life experience using your brand in a genuine manner, they believe it and are tempted to feel the experience by themselves.
Here's an example of success story from TouchBistro's customer that the company shares with their subscribers through emails: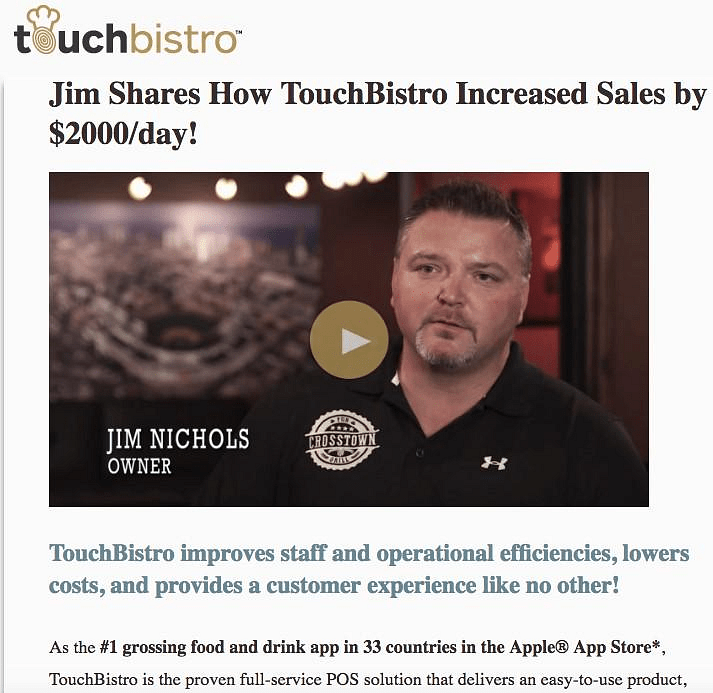 #2. Announce a Product Launch With a Demo Video
Email marketing offers you a handy way to spark interest in your new lineup. When you include a video, your audiences won't only get excited about what's coming, but they also can get more solid grasps on what you're offering.
Concise and straightforward types of videos like demo videos or explainer videos make it easier for you to highlight your new product's features and tell the subscribers how it'll benefit them -- without forcing them to read the description.
Including a video into your product launch email campaign can help to skyrocket your conversion response as the viewers are 64% more likely to make a purchase after watching a compelling product demo video.
Below is an example of video email from Wistia that has just launched Soapbox, their newest features: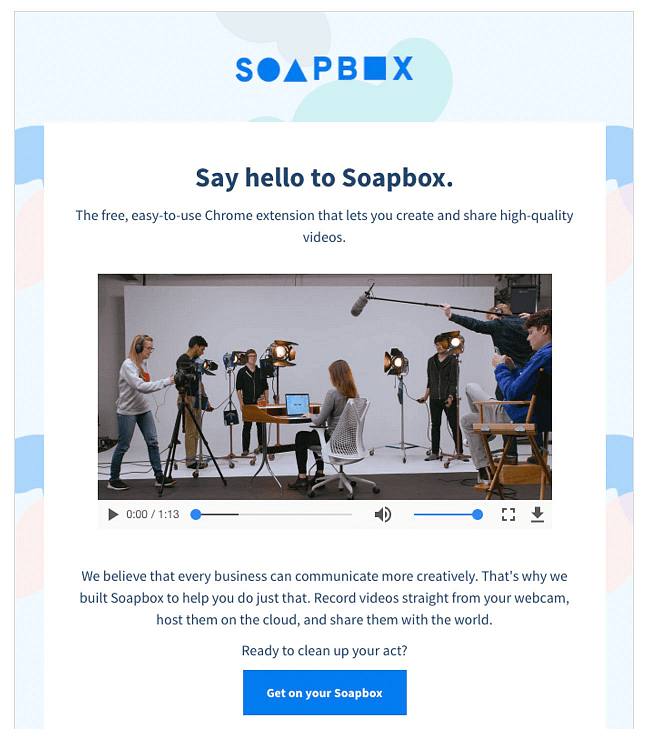 #3. Create Personalize Sales Video to Send Your Pitch
In case you didn't notice yet, your sales team is key to the success of effective marketing. They fight tooth and nail to pitch their ideas with convincing sales emails. But, the plain text isn't strong enough to stand out in the flooded user's inbox.
That's why they need to marry email and video. If you're a sales rep yourself, you can create more personalized emails to catch more eyeballs and close more deals.
While stale text-based sales email seems impersonal and far away, personalized videos can evoke the prospect's emotions and connect them on a more personal level.
Take a look at this example of personalized sales video from Vidyard's sales team. It's created intentionally for one prospect only, so it's much more effective to appeal personally to them and make them excited about the offerings: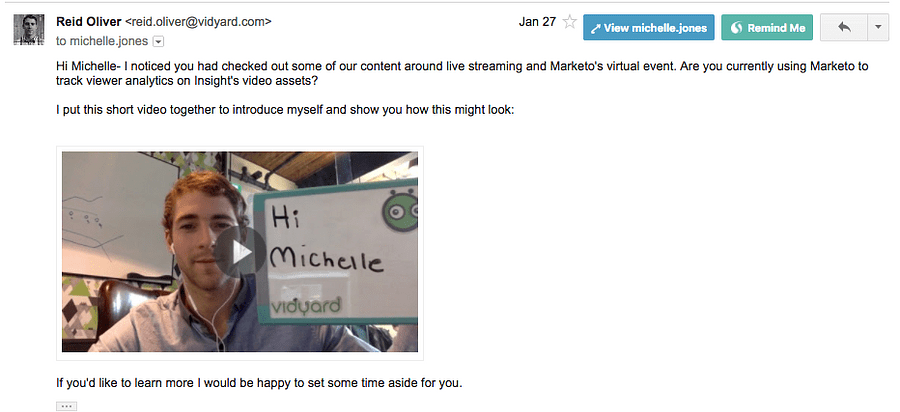 #4. Show Demonstrations or Tutorials to Your Customers
When customers make a purchase decision from your brand, you need to make sure that they understand how to operate it. In this case, a tutorial can be a handy way to show your products in action and educate your subscribers on best practices.
While text-based user manuals on your email alone can seem daunting to retain, a tutorial video with automatic captions can be an excellent addition to it. It can show a step-by-step guide on how to make your product work. While watching the video, the viewers can retain information and follow the guide effortlessly. Also, remember to insert captions to your video as some people might be watching it in a crowded area. You can do this manually with a video editing tool, or you can use automatic subtitling software
Cincopa show you how it's done: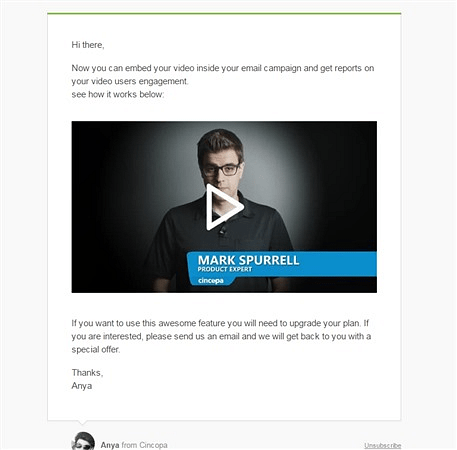 #5. Offer Personal Discount or Thank You Message for Loyal Customers
You can also use video for your discount or thank you emails -- especially for your lifelong loyal customers. Video here can show your real emotion, making it a great medium for expressing your gratitude, and making your loyal customers feel even more valued.
Showing customers the impact on your business, and providing a personal touch makes the discount email feel genuine and will leave a lasting impression compared to the generic ones. That's what makes video email marketing such a powerful tool for winning customer loyalty.
Optimizing Your Video Email Marketing
Now that you understand essential ways to use video for your email campaigns, it's time to make sure you get it right. Just like other marketing strategies, there are some pretty definitive 'rules' you should stick to in order to make it effective.
Get them wrong, and video email marketing can only be more hindering to you than profiting. Therefore, we've listed some of the best quick tips in optimizing your video that you will include in your marketing emails. There you go:
Include "Video" In Subject Lines. Including the word "video" in an email subject line can increase open rates by 6%. So, it's always better to make your subscribers understand that you've sent them a video right after you click the send button.
Turn Off Autoplay. More often than not, autoplay can bother subscribers who don't know it's coming. Therefore, you can disable the autoplay. Or, as an alternative, you can still enable the autoplay but turn the sound off -- it gives the subscribers more control of video playback.
Include a Clear CTA. Don't ever forget to place a clear calls-to-action to guide subscribers on what they should do next. You can say it on the video or write it in text form.
Embed Your Video After Your Text. Utilize strong messaging first, and then you can embed your video to increase overall email performance. Remember, your video is supposed to make your email clearer and more well-put, not to distract your main message.
Create Eye-Catching Thumbnails. A stunning video thumbnail can improve subscriber engagement by almost 41% when it's included in an email. Showing a catchy thumbnail can spark subscribers' curiosity and convince them to click on the video.
Wrapping Up: And… Action!
Video in email isn't something entirely new. However, the staggering numbers on video marketing statistics the past few years has fueled the implementation of videos in email. Today, video content has become a critical factor in running winning email marketing campaigns. It won't only help you boost the open rates but also make it easier for you to engage subscribers, making them stick around for quite a long time.
One thing you should bear in mind, though, even though videos are compelling and powerful, that doesn't mean every email should contain a video. Only use them if you think that plain text isn't strong enough to deliver your message. If you overdo it, the novelty wears off, and your subscribers get bored and uninterested. And in order to execute your video video marketing effectively, you need a powerful email service provider – SendX can help you with that.
FAQs
1) Why should I use Videos in my email marketing efforts?
When you use video for your email marketing it is easier to pass your message to your subscribers, videos capture more attention than your writing. You can explain things better and keep your engagement rate higher. Stories are easier to convey when you use videos because you can show what you mean, instead of trying to explain it in the abstract with written words.
2) Can I use GIFs instead of a static image representing my video?
In order to use a GIF instead of a static image representing a video, you can go on GIPHY and use it to transform a part of your video into a GIF, upload it to your email editor and link it to your video on YouTube, and that's it!
3) How can I use a specific landing page for my video email marketing campaign?
You can use a specific landing page for your video email marketing campaign, instead of linking the image or the GIF directly to the video, you can link it to a landing page, where you will have the video embedded and ready to play, and if you selling or launching something, you can use a Facebook Pixel or Google Ads for retargeting purposes.
4) What are some tips to succeed in video email marketing efforts?
Here are some top tips to be successful in your video email marketing efforts:
Make sure you will only give value to your subscribers. Avoid long videos that will waste their time. Only do it if the long video is something you must do in order to really pass the message.
Make sure you let your subscribers know that the content from the email is a video, it won't hurt if you put something like "[Video]..." in your subject line.
The concept of funnels applies in the video email marketing world as well. You do it in your traditional email marketing campaigns, so make sure you keep doing the same with your videos.