Role of Sales Intelligence Tools in 2023 [At Each Stage of Sales Process]
5 min read
Over the years, the wealth of information on the World Wide Web has proven to be a great resource for businesses around the world. Today, we are able to harness that vast amount of information to significantly enhance business productivity and functioning. This is all thanks to the growing capabilities of modern business intelligence tools.
You might agree that data plays a key role in the success of modern businesses, but why is that so? In order to compete with the best today, it isn't just the big decisions that need to be based on data but rather all organizational operations. Data-driven businesses that take calculated risks rather than depend on hope have the upper hand, undoubtedly.
It's generally your sales efforts that help bring a huge portion of the windfall to your business. As a result, sales intelligence tools have become a key component in the suite of business intelligence tools that teams today use. In the information age we live in, it's only logical for data to play a key role in the functioning of a business and its sales success.
Table of Contents
Sales Intelligence in 2023
Sales intelligence can be defined as the incorporation of relevant data into sales decision making across various sales functions in an organization. Factoring in data into these processes using sales intelligence tools can help you accurately target converting audiences, reduce the time and effort taken to close your deals and point you in the right direction when making any sales decision.
Taking your sales intelligence one step further by incorporating data warehouse services makes those processes even smoother, allowing you to easily report and analyze current and historical data uploaded from various operational systems.
Sales isn't just a numbers game but rather a dynamic performance-oriented exchange that hinges on ever-changing decision making variables. With the growing capabilities of tools today, incorporation of real time data into daily sales functions has become a necessity. It significantly reduces the time taken from lead discovery to closing the deal and optimizes sales productivity.
Further, sales intelligence tools help break down your sales decision-making into data-backed predictions each step of the way. This is done by collecting and processing necessary data into actionable sales information that will help you articulately plan your way into achieving desired results.
Modern sales intelligence helps you incorporate real-time buyer intent data into your sales decision trees. Intent data is an extremely powerful resource because it not only allows you to predict your lead's next move but also shows you the areas in which you can capitalize on when approaching a lead. This makes for an effective, well-planned, resource-saving and to-the-point sales process.
Role of Sales Intelligence at Each Stage of the Sales Process
While sales Intelligence is a broad term that encompasses a wide variety of functions, we will guide you through the sales process and where sales intelligence comes into play.
1. Prospecting
In the prospecting stage, finding key decision makers that may have a use for your product often involves a lot of manual work such as cold calling and other qualification procedures. However, the modern day equivalent comes in the form of sales intelligence tools that do most of the prospecting for you.
These tools help you target decision makers that are actually interested in your product as opposed to you having to play "pin the tail on the donkey" with possible leads. Sales intelligence tools make the prospecting stage a lot less cumbersome and significantly more effective.
By streamlining prospecting towards high quality leads, sales intelligence tools help make the cream rise to the top. This ensures only leads with a high propensity to convert flow through your sales pipeline as opposed to a barrage of unwarranted leads that eat away a significant amount of your time and effort. A good sales intelligence tool will help you prospect by segmenting your target audience based on actionable segments. Segmentation tools such as technographics and firmographics will help you filter out these unwarranted leads.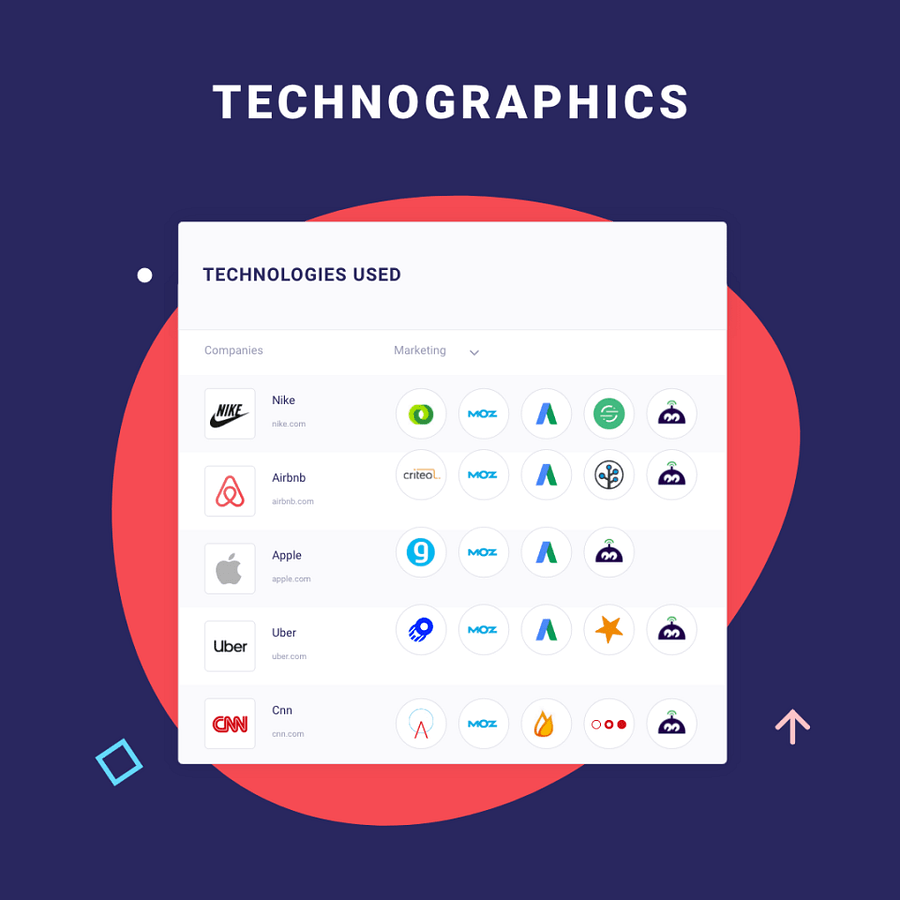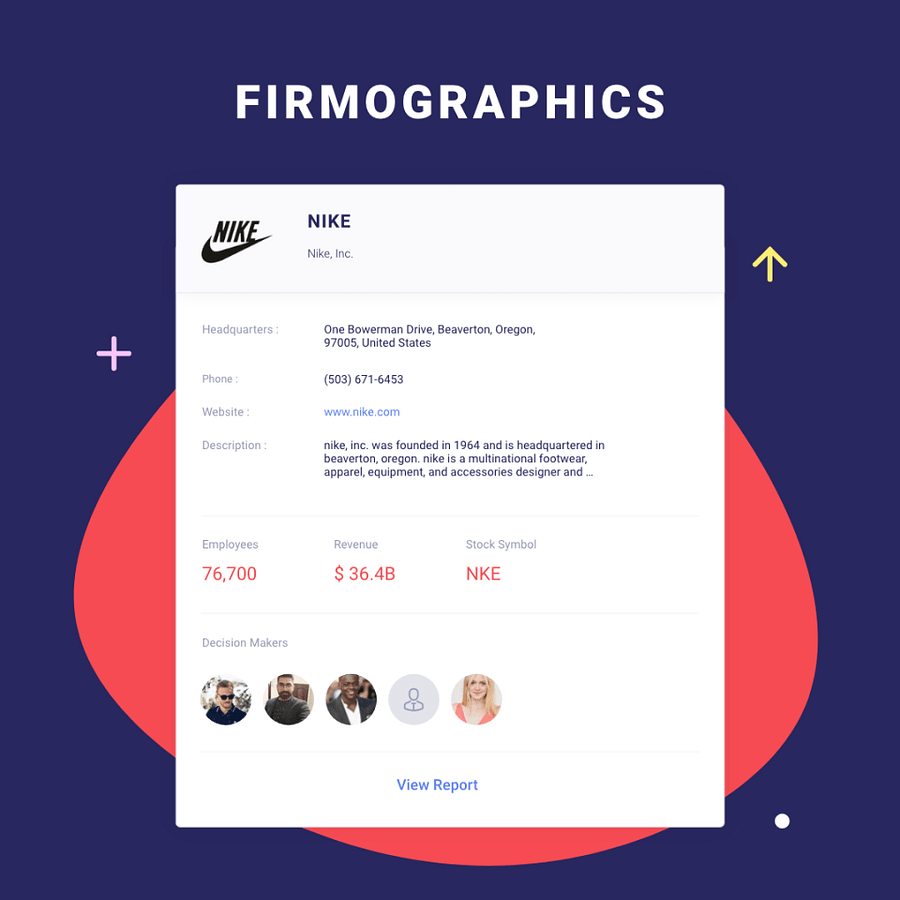 When data such as technology stacks, reverse IP lookups, website behavior, co-op data, company news, and thematic analyses are condensed into actionable information they provide a great deal of insight into a buyer's intent. Gauging your prospects buying intent is what prospecting is all about and when you can access all this data from the comfort of your CRM, your work is pretty much taken care of.
Without sales intelligence tools, obtaining this data simply isn't manually possible. More importantly, without sales intelligence, the leads flowing into your pipeline are baseless, unfiltered and require way too many resources to clean out.
2. Lead Qualification & Nurturing
Once you're done prospecting, you're left with filtered lead information that now resides in your CRM. Now comes the qualification and nurturing stage, where you really want to approach your target account with the perfect pitch. Sales intelligence tools give you all the information you'll need to approach your lead with exactly what they want to hear.
The best sales intelligence tools harnesses the power of thematic and technographic segmentation and other data that indicates buying intent such as company funding, contract renewals and buyer journeys. This gives sales teams all the cues they need to get a prospect to book a demo.
Once you're equipped with the necessary actionable data, you're going to need a medium through which you can vet and nurture these leads using the data. An email marketing platform like SendX will give you the ability to convert this actionable data into a presentable format, allowing you to design, automate and track high-converting email nurture campaigns.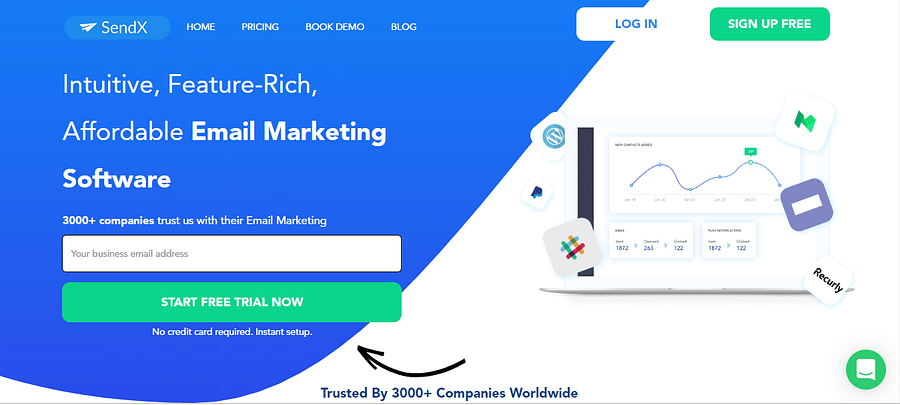 SendX will further help you build your email lists, analyze your campaigns and provide you with a gamut of email personalization tools. These include templates, themes, forms, website integrations and drag-and-drop design capabilities, which when paired with intent data will help you automate the perfect hyper-personalized email sequences.
3. Demos and Closing Deals
Once you've made first contact with your potential leads and successfully followed it up with sales qualifying procedures, you're now on track to closing the deal. A great demo, an explanation of why you're better than your competition, handling a few rebuttals and you're on your way.
With access to crucial intent data about your lead including website behavior, contract renewal alerts, firmographics, psychographics, user-technology interaction, thematic and review data, you know exactly where your lead stands in terms of their pain points, what they need, what they can afford and how you'll need to convince them. Using this data to create a perfect pitch gives you a lot more confidence going into a sales pitch or demo with a lot of the uncertainty out of the way.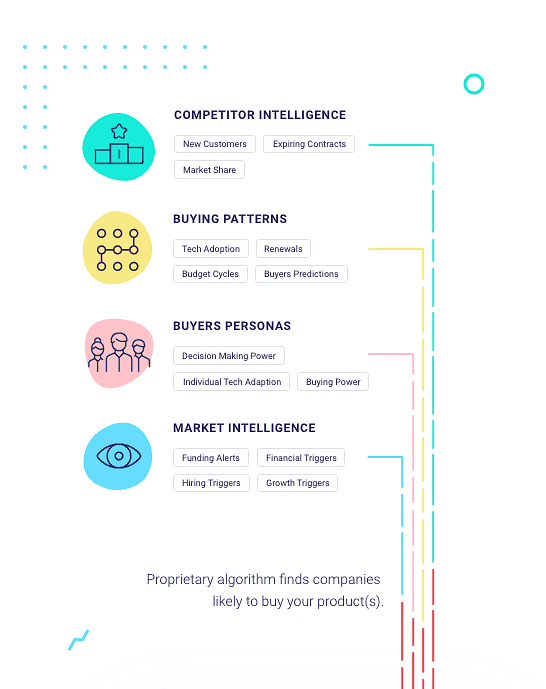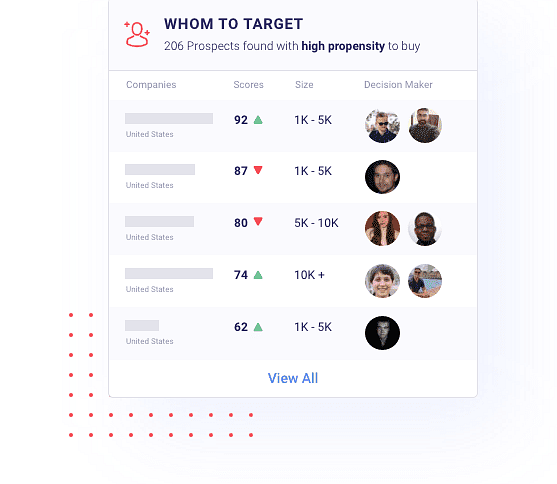 Furthermore, intent data also reveals your competitors weaknesses and what their clients are facing issues with. This gives you ample information to address the age old question of why you're a better bet than your competition. Having the right intent data also prepares you for any rebuttals that your leads may have for you. Being well prepared is the only way you can ace rebuttals and intent data just happens to be your best friend.
4. Retention
While closing a sale is accompanied by a great sense of accomplishment, it isn't the end of your interaction with the client. The retention stage is just as important, especially if you're selling a subscription based product or service. Intent-driven sales intelligence tools help you ascertain your clients interaction with your product or service. It even goes a step further and shows you whether they're checking out your competitors products or searching for solutions to issues with your product.
Using this data, you know where your customers stand in terms of their satisfaction with your product and your follow ups can be devised to quell their exact concerns.
Conclusion
Having taken you through a gist of what sales intelligence in 2021 looks like and how it can be incorporated into your sales process, we now hope you can use this information to transform your sales strategies and compete with the best.