How SaaS Onboarding Emails Can Improve Your Conversions
7 min read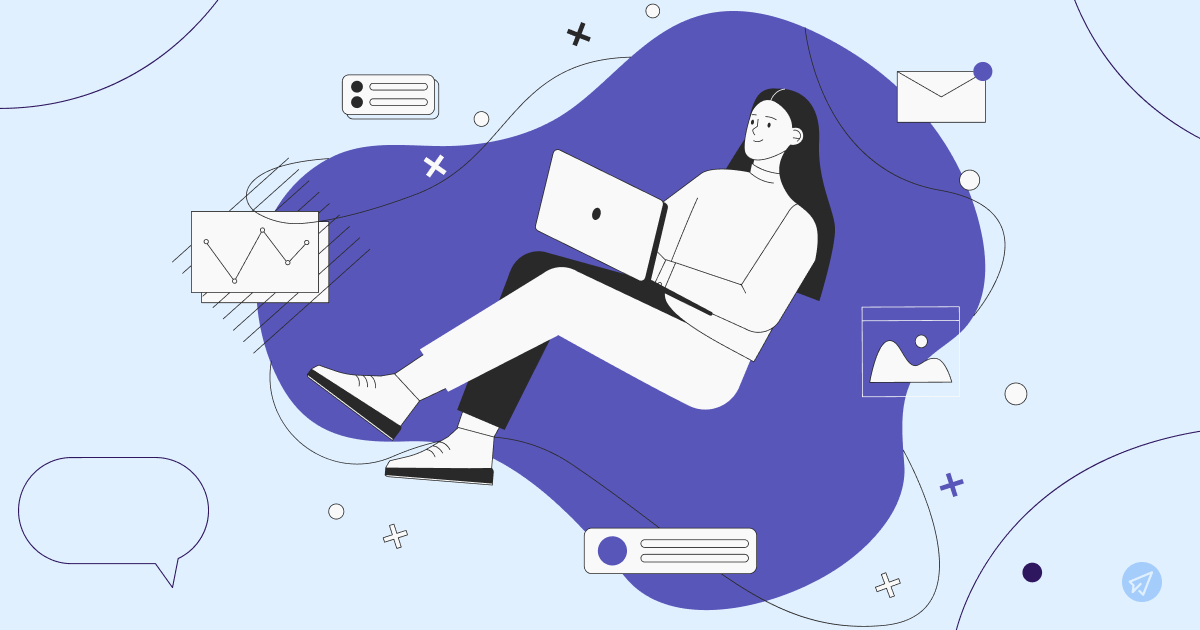 Table of Contents
Saas Onboarding Emails Are An Opportunity
Let's go back to the basics: SaaS onboarding emails, are an opportunity for your company or business to communicate (via email) the value of your product that can be experienced by new users who sign up for the free trial of your product, and help them have a smoother, more efficient onboarding experience.
The messaging will encourage users to take your product for a spin and develop a positive, continuous relationship with your service.
Every user will have their own unique motivation for signing up for your product per their individual needs. The more you know about your customers and what they're generally looking for when they discover your product, the better.
This is where the value of product analytics comes into play - the gathering and analyzing of customer data and insights will enable you to constantly adjust and optimize your SaaS onboarding email strategy as your product grows, improving overall customer success, time to value, conversion rates, and so on.
With this knowledge, plus the channels you're acquiring them from, you can tailor the messaging of your SaaS onboarding emails to have the greatest impact possible, and watch your conversion rates skyrocket.
Best Practices For High Converting Saas Onboarding Emails
There are so many SaaS onboarding email practices and strategies that you can implement, you may be wondering where to start, or which practices are best for you.

We've got you covered; here are the best practices for high converting onboarding emails.

1. Know your customer journey. Ask yourself: in a perfect world, what are the exact steps users would take to complete onboarding? These are the steps that you need to hone all of your efforts into helping users accomplish via your persuasive messaging. Understanding your customer's journey at its core is what will enable you to really get into the mind of your users, and understand what help they need to experience the value that they want to experience from your product.

2. User segmentation. This is where having a deep understanding of how users interact with your product comes into play. You can segment your users in order to send them emails that align with their priorities and specific interactions with your product or app, guide them towards completing the next step or goal necessary to complete onboarding, or integrate your product into their daily routine.

3. One CTA at a time. Keep it simple; you don't want to overwhelm or confuse new users by trying to get them to accomplish multiple tasks in the span of one message. As a general rule of thumb, include only one call-to-action per onboarding email. Remember: the small victories will always lead to the big victories. Also, for onboarding emails, the purpose of the CTA is not only to convert but make it very clear what the next step is for the user to reach his/ her goal. When phrased like that, users are more likely to engage.

4. Make it personal. The best SaaS onboarding emails are the result of extensive research and investment of time in getting to know your customers.

- What role does the user play in their company?
- What unfulfilled need led the user to search for your product?
- What value is the user looking to receive from your product?
- What motivates the user to interact with your product?
- What does success or satisfaction look like to the user?


These are all questions that you and your marketing team should dive into and have answers for each and every customer who signs up for your product. One way to accomplish this?

Just ask. It really is as simple as that!

To be able to curate the language of your SaaS onboarding emails so that they speak directly to your user's wants and needs, and hook them into continuing with your product, you can ask visitors to your website questions like: "What brings you to our site today?" or "How can we help you get started?"

This is a quick and efficient way to learn about your customers directly from the source. Even if you aren't able to ask everything you want to know from day one (it could put some people off and would affect your sign-up process), you can build this knowledge gradually.
Implementing Onboarding Emails In A Saas Company
Preparation is the key to building a successful onboarding email strategy. To create a solid foundation with which you'll be able to implement onboarding emails into your business with ease, plan out your email strategy with the following key elements.
1. Identify goals, big and small. Small victories will always lead to big victories. It's important to map out all of the goals a user will want to achieve with your product, that way you can encourage them along the way on their journey to accomplishing onboarding.
Remember, you want them to finalize onboarding before the free trial period is over (you want them to experience the value of your product within that time frame). You don't want to overwhelm users with hefty long term goals that they more than likely won't feel the results of in only a one to two week period.
Instead, focus on enabling them to experience the value of your product at least once, and other small goals they can feel almost immediate gratification from.
Once they get a taste of the value your product can bring to their business, they'll want to keep exploring and come back for more.
2. Understand the true impact of emails on onboarding. By all means, benchmark your email metrics; tracking open, click through, and conversion rates over time will create company-wide transparency about the progress of your email strategy.
According to a study conducted by Hubspot, here are the SaaS industry's average email marketing benchmarks:
Click-through rates: 7.18%
Hard Bounce rates: 0.8%
Unsubscribe rates: 0.5%
But here's some food for thought: do the average benchmarks matter?
While these metrics are easy to check, they paint only a portion of the story.
Your main goal is not to have beautiful emails that people open and click through (though it probably helps). Instead, your main goal is to help your customers finalize various actions.
You're doing this by writing and sending emails that have a positive impact on customer success - whether they help finalize onboarding, increase retention, and so on.
To understand the true impact of your email strategy on onboarding, you need to dig deeper and use a product analytics tool.
You'll soon discover which emails are successful, which emails have no impact, and which emails have a negative impact (you read that right; we've seen scenarios where the onboarding rate of the users who didn't open an email was higher than the one for the users who did open the email).
If you are a B2B SaaS company, it's essential to conduct the analysis at the account-based level. If one team member started the onboarding, and another team member finished it, you have a 50% onboarding rate instead of 100% for this account.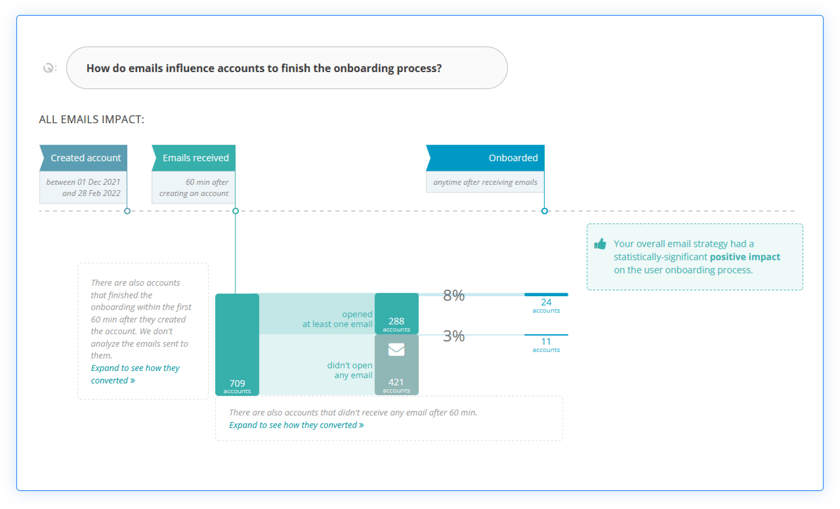 Image caption: InnerTrends report: Impact of emails on onboarding rates
But as we just said, all of this data can and should be used to your advantage, because with it you can improve your SaaS onboarding emails' language and strategy to better fit the needs of your users.
3. Timing, timing, timing. One question we hear often is: "When is the best time to send new users an onboarding email?" The best time(s) (and best messaging strategies) of when to send onboarding emails to your users can be determined using a product analytics tool.
A product analytics tool can average the amount of time it takes your users to complete the onboarding process, while also highlighting the outliers (users who take significantly longer to complete onboarding). With this knowledge, you can strategically send out emails at the time that will best encourage your outliers to finish the onboarding, while avoiding disturbing the users who finished onboarding at the average rate.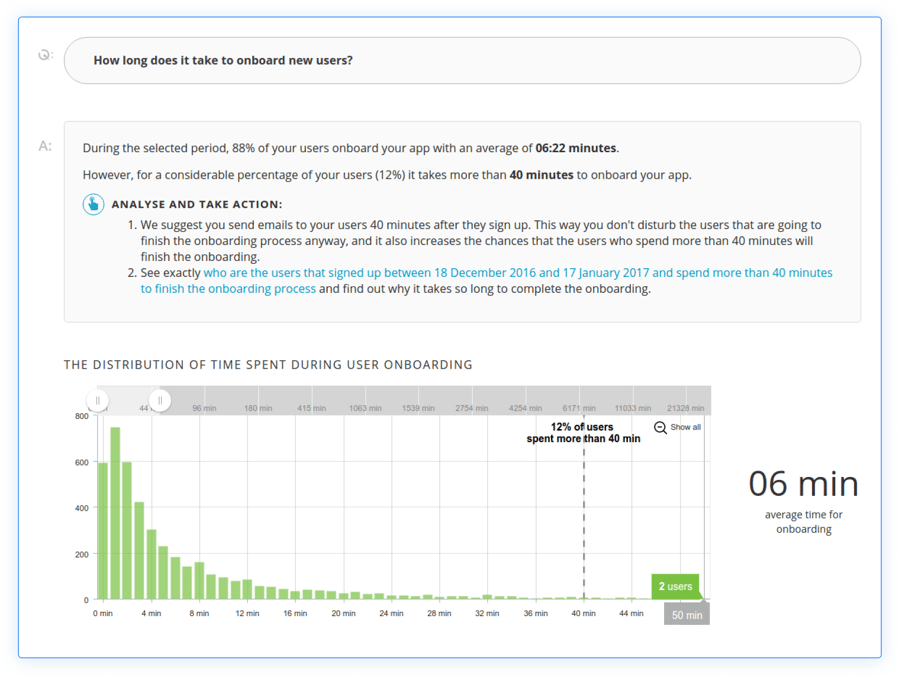 Image caption: InnerTrends report: How long does it take accounts to finish onboarding?
4. Complement other actions that improve UX. It seems obvious, but we have to point it out. Your product has to perform well and be easy to use in order for your SaaS onboarding to be successful. If it doesn't, you'll lose the interest of your users and they'll quickly forget about your product.
A product analytics tool will also help discover if you have a UX problem, and understand where people drop off during onboarding.
You can fix UX problems in several ways: redesigning the product, adding an in-app guide, or helping guide your prospects and customers with… well, emails.
Examples of SaaS Onboarding Emails
It's time to take a look at a few SaaS onboarding emails being put into practice. Use these as a springboard for your product's SaaS email marketing strategy.
1. The "Welcome" Email
Ah yes, the classic onboarding welcome email. Don't sleep on the welcome email; this is the first encounter a new user has with your product, so it typically has the highest open rate. If you win them over here, they're more likely to open future emails!
The welcome email should be kept simple by greeting the user, sharing what the user can expect, and highlighting the next step the user needs to take to move forward with your product.
Trello's onboarding "Welcome" email is a great example. Take a look:
2. The "Next Steps" Email
Be wary of overwhelming your users if the "next steps" for your product set up lean towards the more complicated side. However, if the steps are simple and easy to accomplish in one sitting, users will feel immediate gratification from achieving these small goals.
Bitly does a really nice job of incorporating the next steps while keeping it simple:
3. The Reward Email
Reinforcing good habits with positive gratification will encourage users to take further steps. It also acts as a fun way to reinforce the value that your product is delivering to the user, directly stating what they've accomplished as a result of the action(s) they've performed.
Ascend by Wix has a really fun example of this:
4. The Call To Action Email
Call to action emails are effective when they're kept simple. Like we said earlier, if you give just one call to action per SaaS onboarding email, your users won't feel overwhelmed or confused as to what step they need to take next. Instead, they'll know exactly what to do next, and receive value from continuing the setup.
Airtable's CTA email is simple yet effective:
5. The "Getting to Know You" Email
This email is where you can get to know your users and get down to the nitty gritty of why each individual user has sought out your product. This email can also show your users that you appreciate their input and are always looking to improve your product to cater to their needs.
Otter's "getting to know you email" conveys this message perfectly:
Ready to get started?
SaaS onboarding emails are an excellent opportunity to get to know your users, to support them along their journey to completing onboarding, and to reinforce the use of your product as a part of their daily routine.
The gathering and analyzing of customer data and insights through product analytics is your greatest asset in building a successful SaaS onboarding email strategy. With a powerful email marketing tool like SendX, you can get started with SaaS onboarding emails at no cost today. Once you're all set up with the emails and start to get leads via onboarding during the welcome sequence, you can use product analytics tools to measure their impact on your overall conversions.