Top 10+ Lead Capture Software For Your Website [With Pricing Detail]
8 min read
With the increasing use of innovations, it is not a big deal to capture your audience and find new opportunities for selling. This journey starts with the capture of leads. All the B2B & B2C companies take the help of automation and advancement of the technology in terms of lead capture software where they effortlessly find their leads in a short span of time.
Not only for large size businesses, but even the small and medium size of businesses can find their prospect and make them their potential banking customers. The concept of lead generation is to build a targeted audience list that may be interested in your product and services. But how this list is generated and what information does the company need for reaching its audience? Let's get started!
Table of Contents
Lead generation is a process where you find your prospects and convince them about your products/services. It not only increases awareness but also builds a list of your targeted audience (as prospects) to increase your sales leads, so it will be easy to convert them into your paying customers. There are many lead generation software that can streamline this process for marketers.
You gather basic information from the people such as their name, email address, phone number and add other possible fields where you can reach out to them easily. You have to communicate with your audience in every medium or channel to spread your brand awareness.
It is not for a specific business, it is an ongoing task for everyone who owns their business. Lead generation is useful for any type of business either it is B2B or B2C. 60% of marketers state that lead generation is a key pain point for their company. This process has been around for ages but the new tricks & techniques may enhance its power and reshape it into a more optimized way.
It is not an easy task to convince a person who randomly visits your website and jumps over to your competitors' website. Yes, you heard me right. If you want to connect with them, do not leave a chance to grab them.

A thin line of difference in lead generation and lead capture is that in the final stage of lead generation, you generate your own desired lead data using lead capture software.
74% of marketers use lead generation online forms, and 49.7 percent of marketers state that web forms are their greatest lead capture method for conversion.
What is a lead capture software? A lead capture software is a tool that you can use to generate your own desired lead data in the final stage of lead generation. You can control precisely what information you gather from the people you encounter, and instantly have access to that information, rather than waiting to sort out what takes a long time.
In this article, you can find the best lead capture software that will help you to recognize your desired tool for capturing leads.
1. SendX - Email marketing and lead capture software
SendX is an email marketing software where you can automate your email marketing, easily build an authentic list of emails via inline lead capture forms and pop-ups that can integrate on every type of website landing pages. 3000+ organizations associate with Sendx for their email marketing services.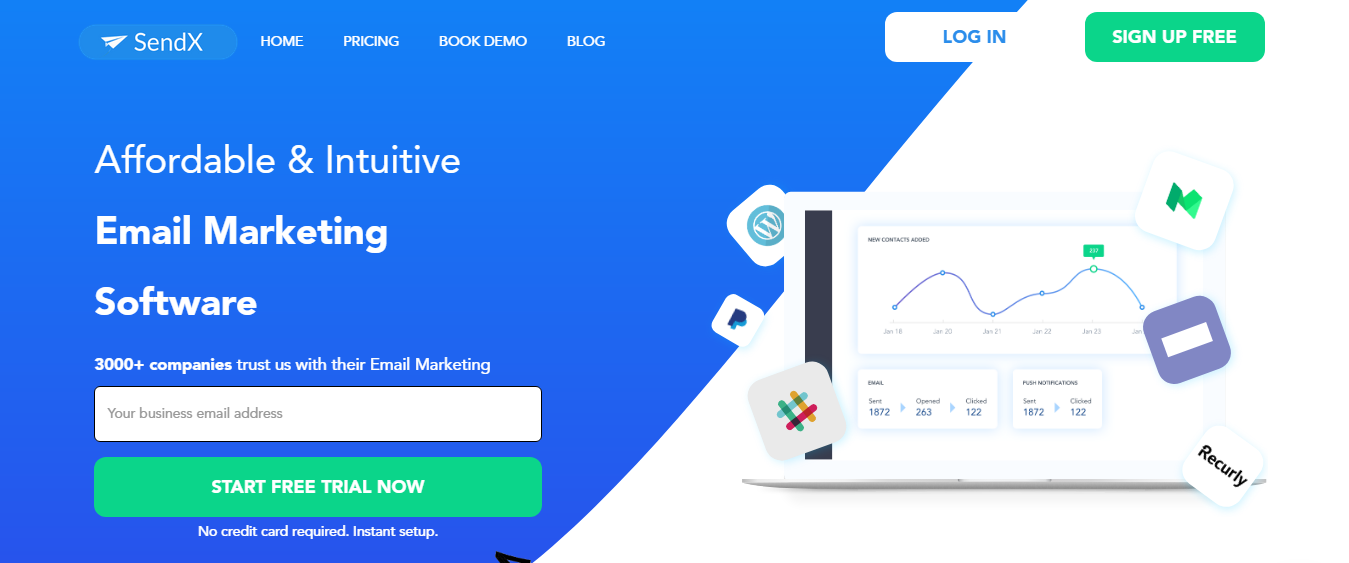 You can create customized pop-ups with attractive content that matches your customer behavior and make it personalized, so that it leads them to fill out their basic data easily. SendX's lead capture software helps to maintain email segmentation that helps marketers to send emails to a highly targeted audience. With a minimal investment, you can grow your reach and your business revenue.
SendX's pricing starts at $7.49/month. A free trial is also available.
2. Botsify - A chatbot can be a lead capture software
Botsify is basically a chatbot automation tool but it's an ongoing task as a lead capture software. Botsify chatbot is easy to embed in different social channels (such as Facebook Messenger, WhatsApp, SMS, Website) and make all of them a happening channel for customers. From the initial greetings to its happy ending of conversation with the customers, it is easy to ask for name, cell number, email address, and whatever data you need to target them in the future, you can easily add different fields for this purpose.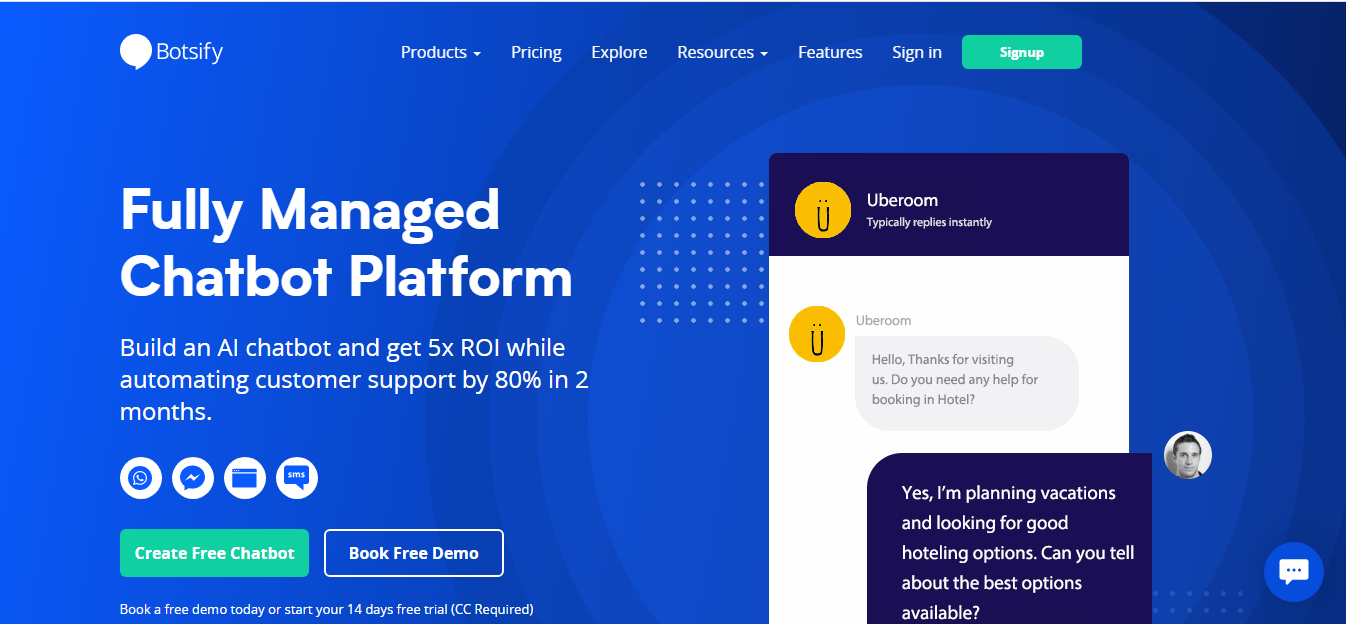 By engaging your visitors on the website with its automated chat capability, it can capture basic data without bothering its visitors. It provides authentic information about your product/service and makes them convinced to come back with a positive buying decision. Till now, 8000+ users use Botsify and they get chatbot for multi-purpose including capture leads.
Pricing starts with $49/month, 14 days free trial also available.
3. Optinmonster - Pop-up to extract leads
Optinmonster is another surprising lead capture software that helps to convert your website, visitors, into potential customers by displaying customized eye-catching pop-ups and inline lead capture forms. The most useful option in optinmonster is the exit intent pop-up.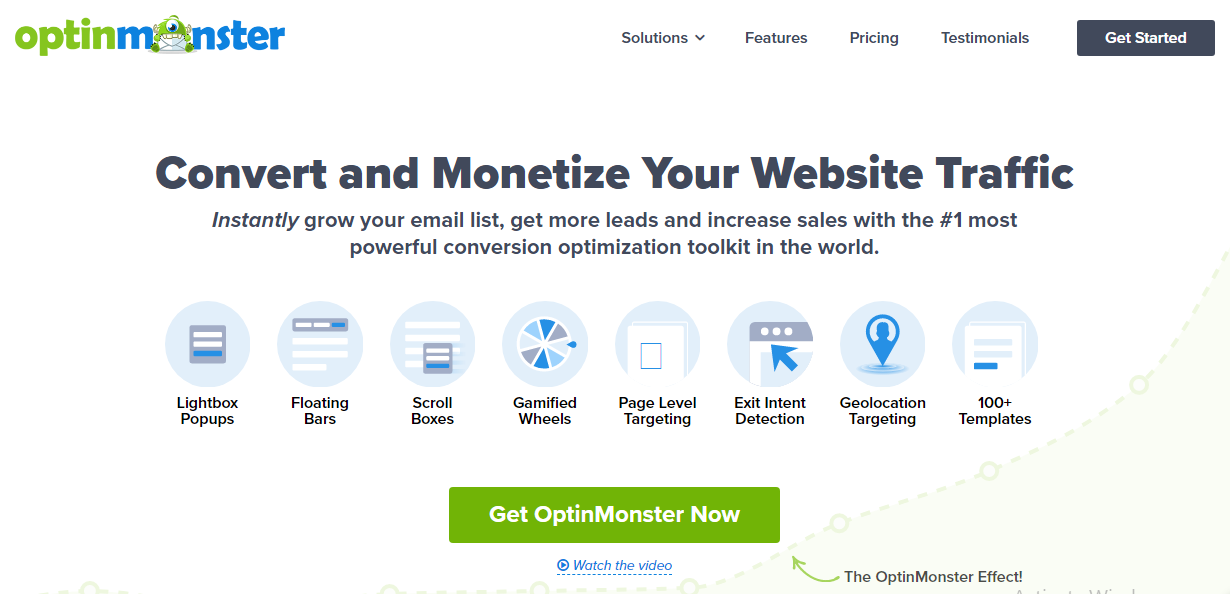 When a visitor comes to the website and goes to close the tab, it shows a quick pop-up for a user to fill out the email address or more information (if it is required) either for the subscription for blogs, to get free resources, or any discount offering message, etc. It can help you to build an email list of a purely targeted audience. More than 1,000,000 customers are using optinmonster on their websites.
Optinmonster starts pricing with $9/mo.
4. HubSpot - CRM Software with lead capture capability
With its drag and drop interface, it is easy to create pop-up forms to attract customers. HubSpot form pop-ups let your customers be brought into your sales funnel and ultimately become paying customers. You can make an attractive form by having nice content, giving resources/templates, spreading promotional campaigns, and much more. And in return, you capture leads in a huge quantity.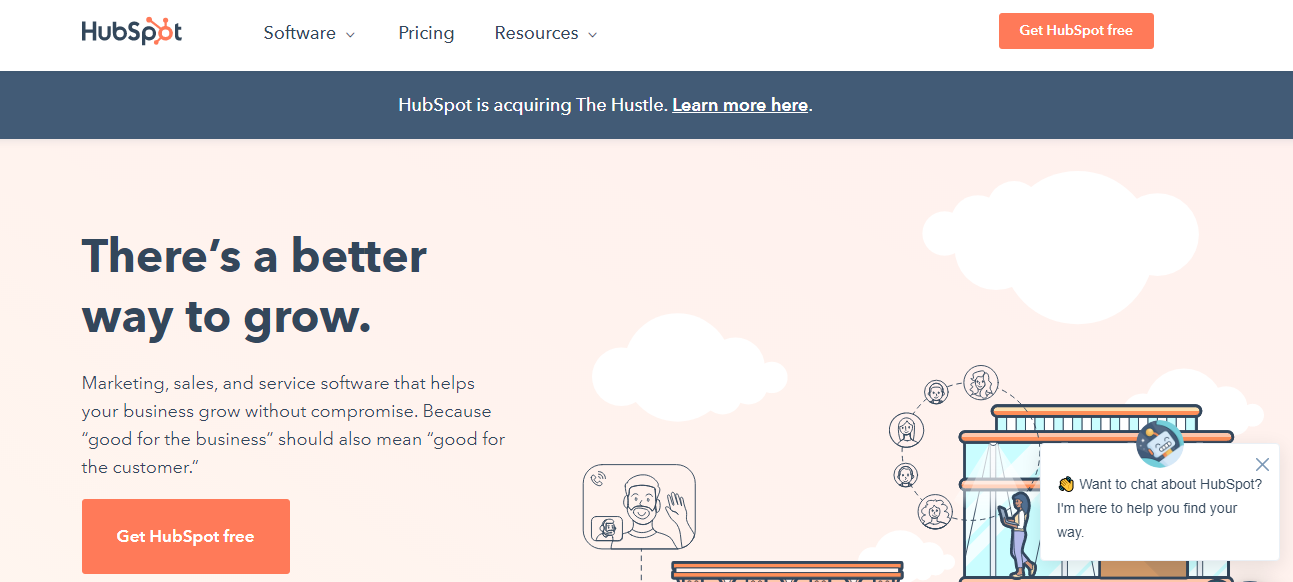 It has fast-tracking email analytics that helps you to get better capture lead information. However, they deal with great CRM software with other marketing automation tools' hub.
HubSpot provides free access to CRM along with multiple tools.
5. LeadSquared: Sales Execution CRM to capture online and offline leads
LeadSquared is an end-to-end sales execution CRM that also offers. It helps businesses boost productivity and revenue by automating lead capture, distribution, and tracking tasks.
It can be easily integrated with multiple platforms and software to capture online leads from Linkedin, Facebook, Instagram, and Google Ads. The tool also allows you to build custom no-code landing pages and portals to capture leads on your website.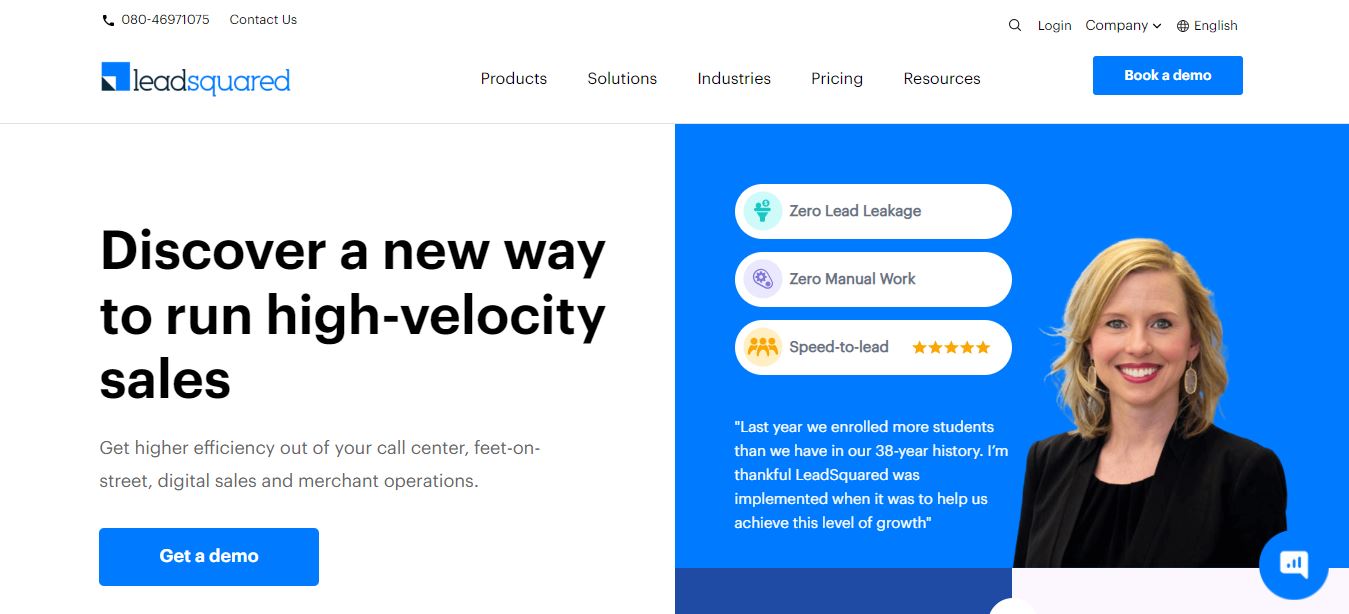 Source: LeadSquared
The LeadSquared Mobile CRM enables your on-field team to capture offline leads from events and meetings, even when they're not connected to the internet. The in-depth reports help salespeople attribute lead sources and identify high-performing lead generation channels.
LeadSquared's pricing starts at $25 per user/per month and you can get a free trial upon request.
6. Omnisend-Email Marketing and Lead Capture Signup Forms
Omnisend is an email and SMS marketing automation platform tailored for ecommerce. With email marketing at its core, Omnisend offers other useful features and channels including lead capture forms. These forms will help you collect more contacts & instantly start engaging them via automated messages.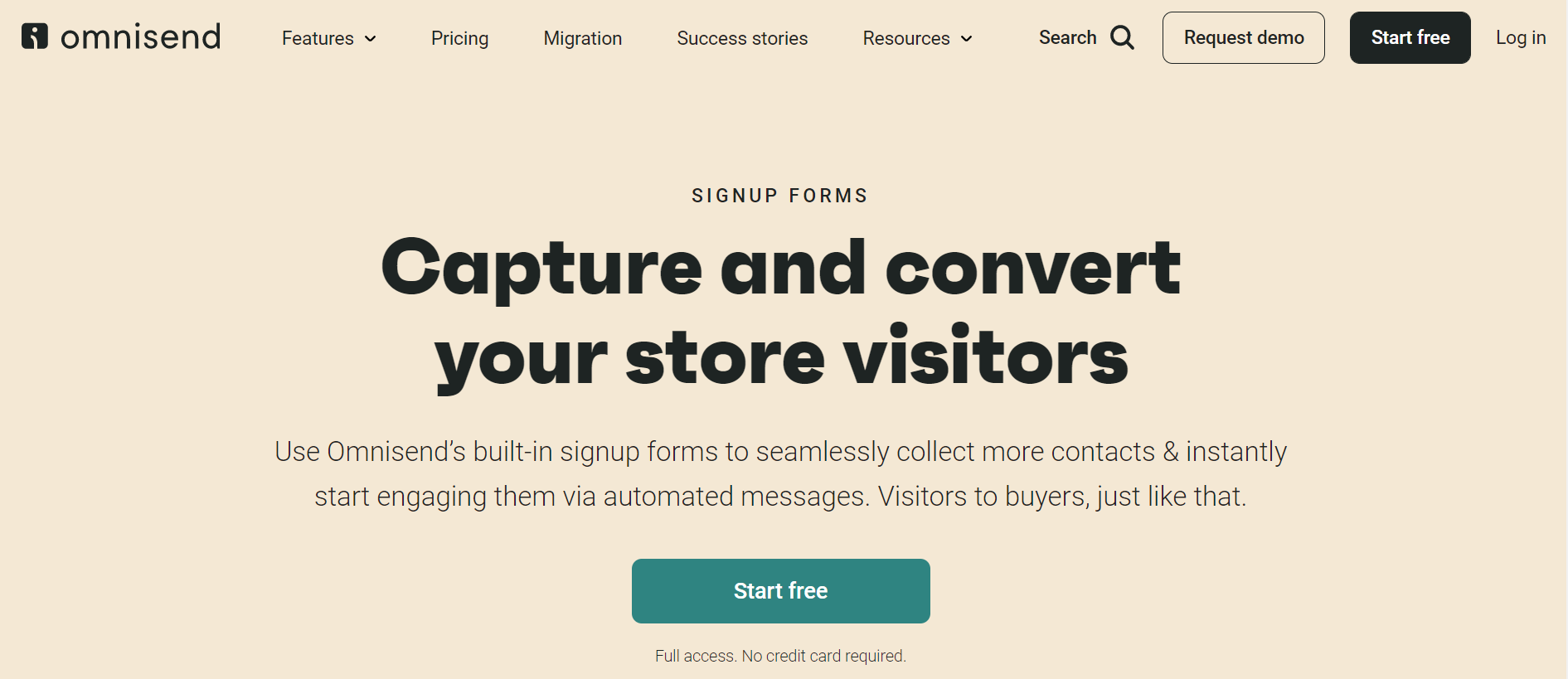 Source: Omnisend
Using Omnisend you can build your email and SMS subscriber list fast and choose the best way to do that. Omnisend offers different types of popups including exit-intent popups, landing pages, wheel of fortune, and teasers. All the lead generation forms are mobile-friendly and TCPA & GDPR-compliant.
Omnisend has a free plan, paid pricing plan starts at $16/month.
7. Elementor - Website creation and lead capturing platform
Elementor is a code-free WordPress website builder used by almost 6% of all the world's websites. A one-stop-shop for website creation, Elementor offers powerful features geared towards marketers, as well. Elementor's no-code page builder is a perfect way to create must-click landing pages. Features such as fully customizable forms and smart popups enable site owners to considerably grow their audience.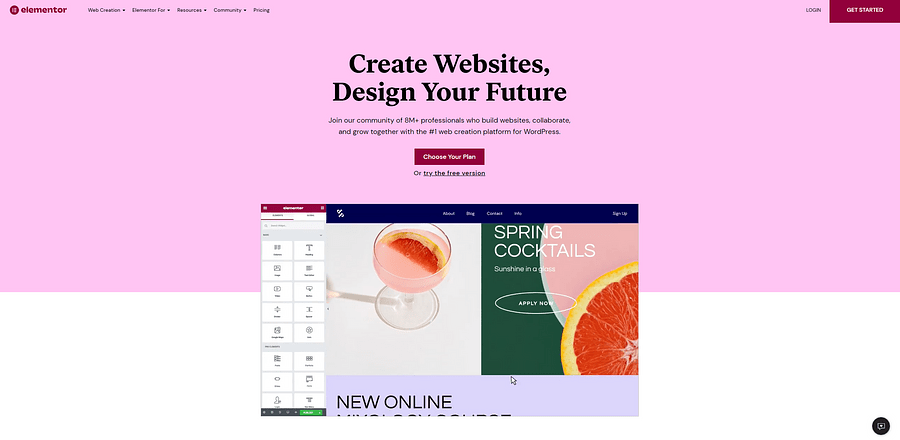 Elementor users can leverage customizable templates and set triggers to target their visitors at the right moment. Just as importantly, Elementor integrates with all your other powerful marketing tools, so you can engage with your customers on all fronts.
Elementor offers an extensive free plan, along with four subscription packages starting at $49 per year
8. Getsitecontrol - Lead capture widget to generate sales lead
It is a professional website widget to capture the audience via email subscription forms builder that helps to generate sales lead for your business. You can simply embed pop-ups form, survey forms & promotion campaign pop-ups.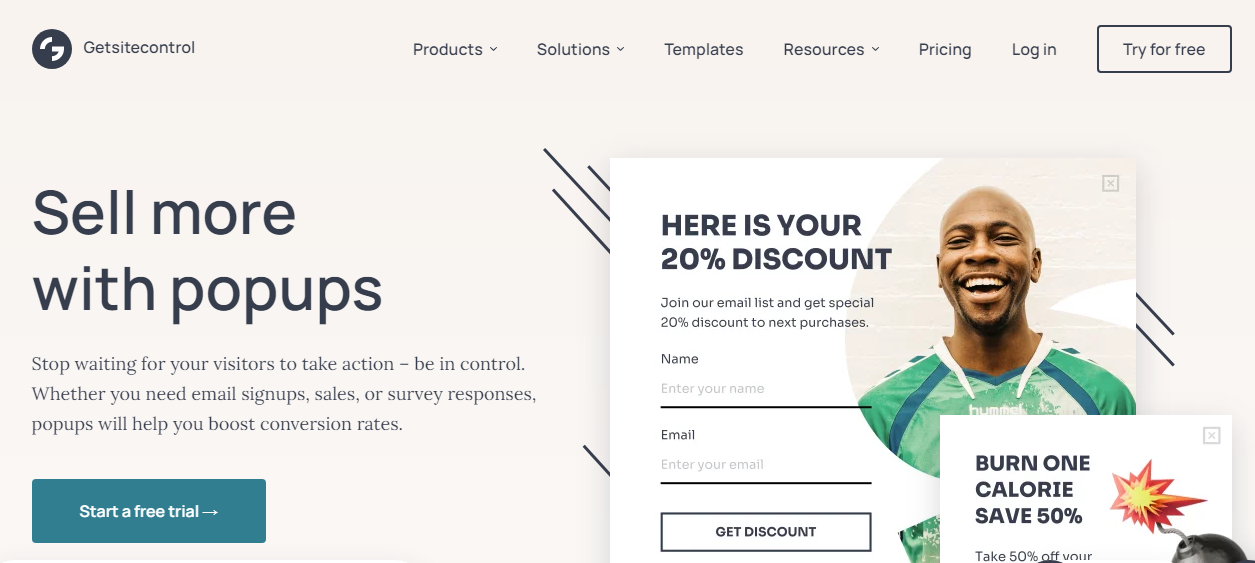 That is easy to design and many options to relocate the pop-up on the website page. You can put it as a hello bar, model, slide-ins, and more. You can grow your email list up to 250%.
The pricing of Getsitecontrol starts at $7/month.
9. Unbounce - Pop-up & Sticky Bar for better lead capture
With Unbounce, you can present related deals with pop-ups and sticky bars and nudge more guests to convert. You can easily embed on the different pages of the websites and give the opportunity to convert leads into your paying customers.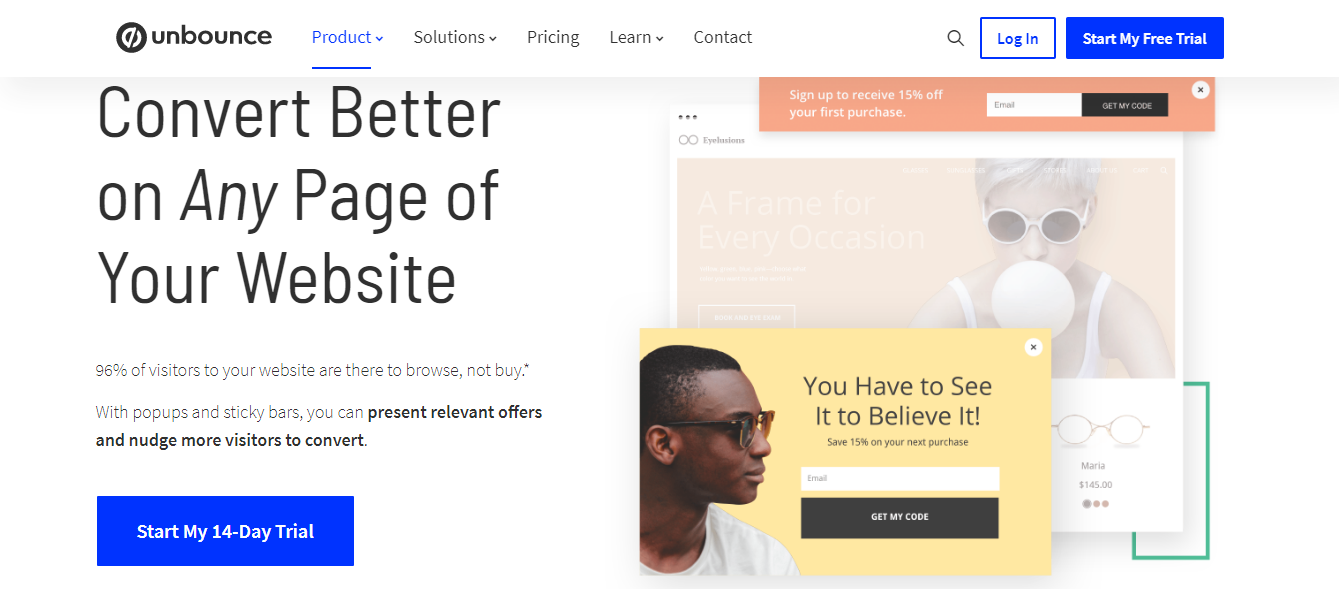 Unbounce helps to engage your customers more often and get a personalized touch for your audience. Sticky bar is a mobile-friendly interface that couldn't resist the website visitors to see it and click it at one glance. Many leading companies increase their ROI by using Unbounce pop-ups & Sticky Bar.
Pricing starts at $80/month. The 14-day free trial is also available.
10. Hello Bar - Capture leads from your website visitors
Another lead capture software that can increase your conversion rate by grabbing your customers' attention. Hello Bar tool can be used for capturing leads making your website more happening and attractive to show your latest promotions and specific messages that you want to convey in vivid visibility.
Hello Bar starts its pricing with $29/month. A free forever plan is also available.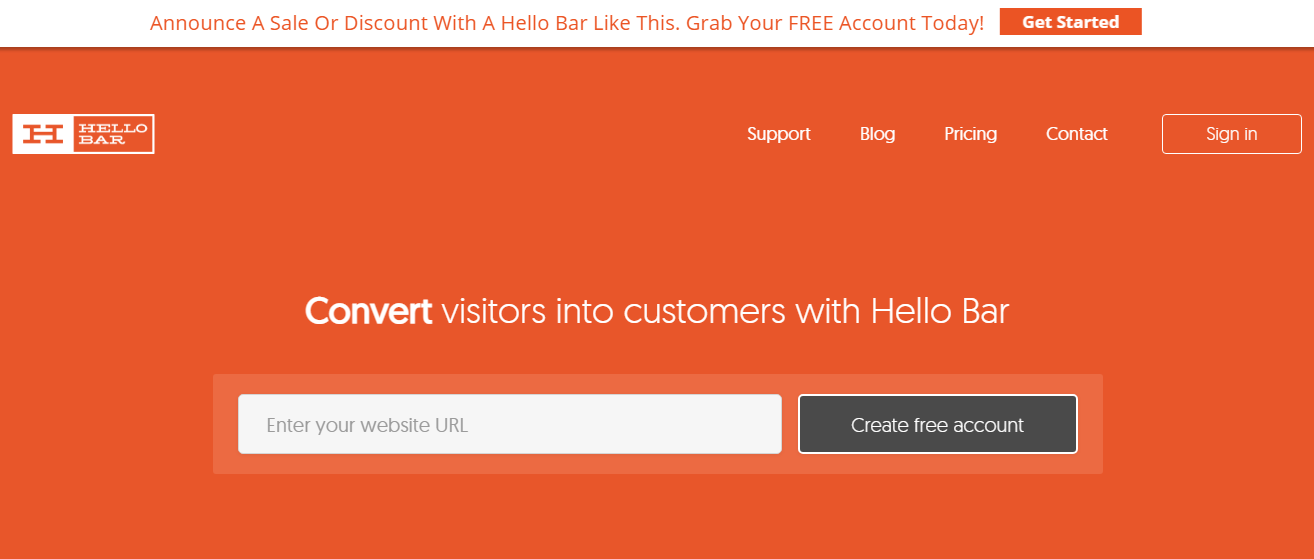 11. Gravity Forms - Advanced Forms for your website leads
Gravity Forms mainly focused to capture leads that are easy to build for your WordPress-powered website in ten minutes. Just put your content, select your required fields, and easily integrate on your site using the built-in tool.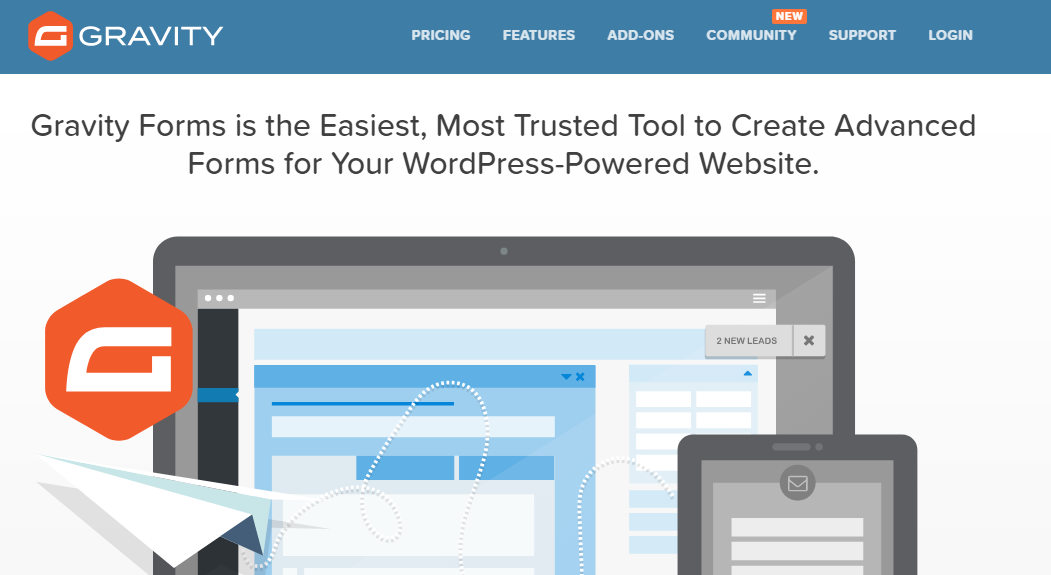 Create interactive pop-ups and generate targeted email addresses to make them potential customers.
Gravity Forms pricing structure starts with $59 per year.
12. Picreel- Pop-up Exit Intent Popup to Capture Leads
Picreel is an easy-to-use popup tool that helps you create engaging exit-intent popups to capture the attention of visitors right when they are about to leave. The popups can be triggered at the perfect moment when there is a high chance of visitors providing their email addresses in exchange for discounts and promotions.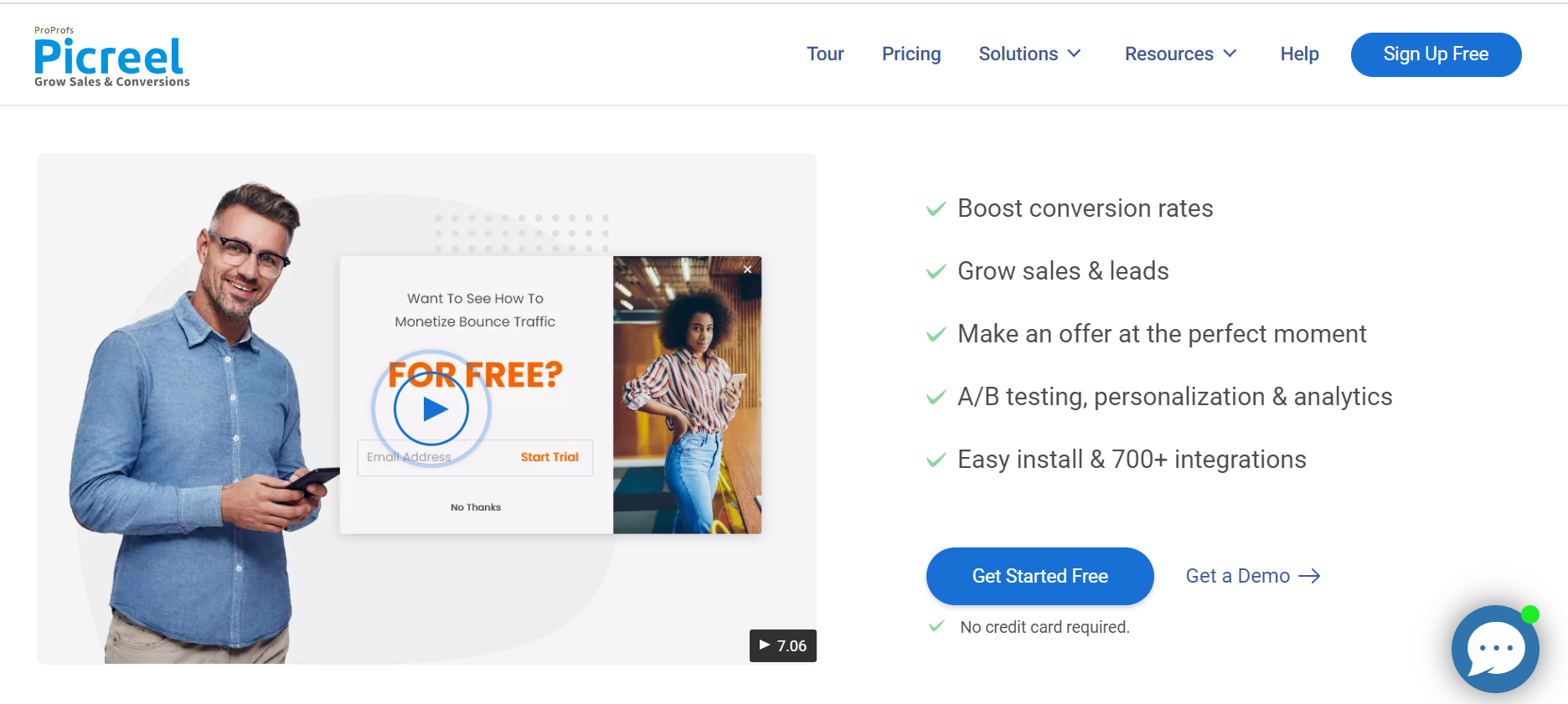 Source: Picreel
The captured visitor details are automatically pushed to your CRM where they can be nurtured to drive conversions. This functionality is offered as part of Picreel's seamless integrations with popular CRM tools such as Salesforce, Keap, HubSpot, and many others.
13. Visme- Form Builder that Helps to Capture Leads
With Visme form builder you can design engaging online forms in minutes with your brand fonts and colors. You can build your form from scratch by dragging and dropping your choice of form fields onto your form. Easily rearrange and customize the fields so you collect only the data you need. Choose from basic fields, interactive fields, and more.
Also, you can pull from all of Visme's other design elements, like icons, photos, and videos, to create a stunning, interactive form that grabs attention and generate leads.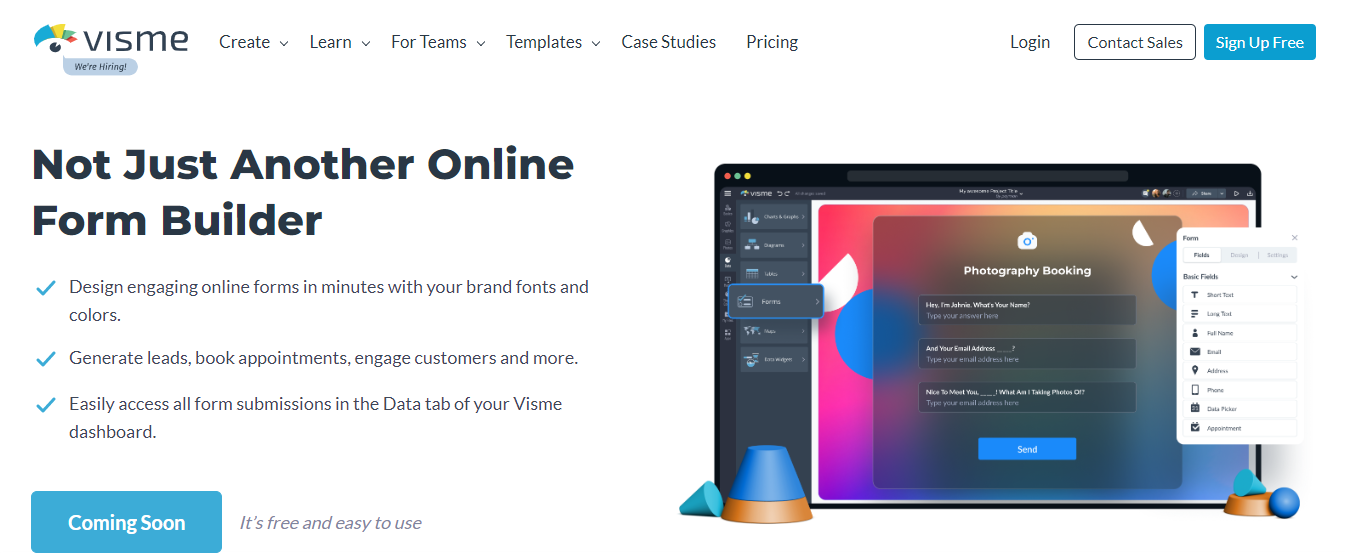 Source: Visme
14. CallPage - From Click to Call in a Heartbeat (+Meeting Scheduler)
CallPage stands out as a dependable lead capture software that prioritizes real-time customer engagement. Focusing on converting website visitors into phone call leads ensures businesses maintain a steady connection with potential clients.
What truly distinguishes CallPage is its commitment to efficiency. The software offers instant callbacks, often connecting potential leads to sales teams in under 28 seconds. This timely engagement ensures that the momentum of interest is maintained. CallPage's intuitive pop-up also facilitates meeting scheduling, future call arrangements, or simply message dropping.
The adaptability of CallPage is also noteworthy. Users can customize the widget to align with their brand's look and feel, ensuring a cohesive user experience. Beyond its aesthetic flexibility, CallPage integrates seamlessly with CRM tools, promoting efficient data flow and team collaboration. Moreover, its analytics features provide valuable insights, allowing businesses to refine their strategies for optimal results.
With the new pricing model, the platform costs 39 USD per month for the "Essentials" plan (or 31 USD if you pay annually).
Over To You
I know there are many lead capture software in the market, but the above mentions have their own place. If you are going to take one of these, you'll surely be the one who can increase conversion rates with authentic leads. Thank me later!
They all are applicable for B2B & B2C companies, without having leads you couldn't capture your audience, you need to connect them, engage them and satisfy them with your websites and the tools that capture their attention. Without bothering or forcing them, you can collect their email address with fun pop-ups or chatbots, so it'll be easy to reach out to them in the long run.