The Direct Impact of Email Marketing on Your Company's Sales Growth
7 min read
If you're building a strong online presence for your business, you can generate sales in many ways, from using PPC ads to sending promotional emails. Many eCommerce companies and other businesses that acquire leads and generate sales online agree that email marketing is one of the most effective methods that help generate the most profit.

Although email marketing has been around for quite a while, it hasn't become obsolete. Customers are used to receiving and sending emails. According to research, 60% of consumers note that email is their favorite channel for promotions and updates from businesses. Email is also very effective when it comes to customer acquisition: it's 40X more effective than Twitter and Facebook combined.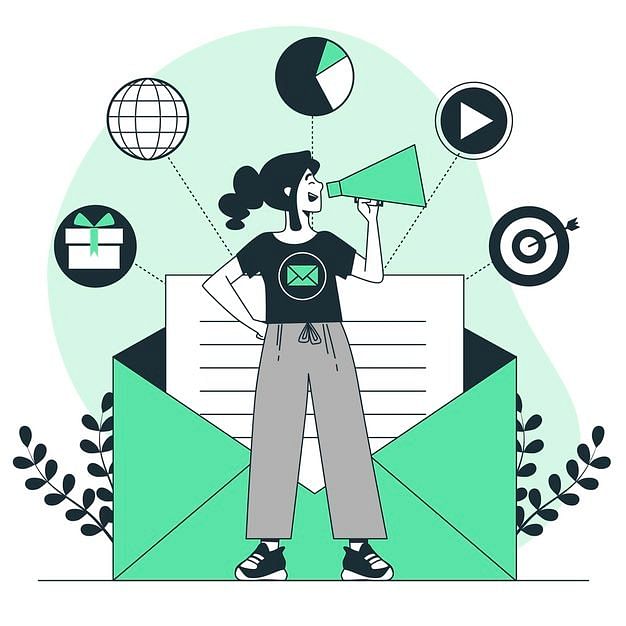 Another great thing about email marketing is that it's affordable. Both big and small businesses can run good email campaigns. Not everyone, however, manages to come up with a winning strategy.

You should understand some key principles of email marketing to make it work for you, and you should be aware of many things that can turn your campaign into a disaster.

In this article, we will consider both the advantages and disadvantages of email marketing, as well as the most effective practices that will help you boost your sales.
Table of Contents
What is Email Marketing?
Even though using email marketing in practice may be a challenging task, it doesn't mean that you should give up. Creating profitable campaigns isn't difficult. You should just keep in mind some important factors.

First, let's figure out what email marketing is. The main goal of email campaigns is to build trust. You can use emails to build trust with both your potential customers and the existing ones.

To build trust, you can use a variety of techniques. For instance, you can send personalized transactional emails, promotional emails, coupons, etc. There are many email tactics that can help you increase brand awareness and encourage loyalty. At the same time, you should make sure that your emails are not annoying.

Your emails shouldn't be too frequent or irrelevant. If you overuse email marketing or use it in the wrong way, you will make a negative impact on your reputation and sales. "Therefore, it's important to keep in mind not only the advantages", but also the disadvantages of email marketing, so we're going to consider them in more detail below.
Pros and Cons of Email Marketing
Why should you use email marketing? What makes email marketing effective is that it's:
Flexible
You can use different types of content, from plain text to videos, infographics, etc. You can also attach files. Therefore, emails give you countless opportunities to experiment with design and content.
Cost-effective
Email marketing can be much cheaper than other types of marketing. There's no need to pay for media space or printing, and there are no advertising fees.
Scalable
You can use email marketing with both short & well-targeted lists, and when working with large audiences.
Permission-based
Your email list consists of people who decided that they want to receive emails from you. They are already interested in your brand.
Shareable
The email content is easy to share so it also gives you opportunities for viral and word-of-mouth marketing.
Measurable
You can use different types of analytics software to measure the success of your campaign. For instance, you can test different calls to action, subject lines, copies, and images to determine the most effective content. This way, you can improve your campaigns with time.
Less intrusive
Recipients can read your emails when they want. Unlike phone calls, emails don't interrupt people. Besides, you can personalize emails and adjust them to a particular recipient's needs and preferences.
Real-time
Thanks to automated triggers like a purchase, website activity, or shopping cart abandonment, you can connect with your customers in real-time. You can make just the right offer at the right time.
As you can see, the advantages of email marketing are hard to overestimate. Not only does email marketing influence sales, but it also offers a number of additional benefits. However, there are also some drawbacks you should keep in mind:
Undelivered emails
If you don't put enough effort into designing your emails, they may not be delivered. For instance, this can happen if you use common spam keywords in the content of an email or its subject line. Emails with keywords like "click here," "$$$," or "FREE" can be filtered out by service providers and anti-spam software. Besides, you should keep your email list up to date because people change their email addresses.
Spam
Nobody likes spam and emails that push too hard. If you don't target your messages properly, your recipients may unsubscribe or report your emails as spam. Therefore, it's important to make sure that your campaign targets the right people and complies with data protection and privacy rules.
Size issues
If you attach any files, you must make sure that the recipient will be able to download them quickly. Besides, if you use images, you should also optimize them so that your email will load quickly, without frustrating your recipients.
Design issues
Another important thing to consider is the design of your emails. They should look equally good on different devices. Quite often, email marketers have to choose between functionality and design. Moreover, sometimes people choose to only receive textual emails, and you should know what your emails will look like in this case.
Skills and resources
To create an effective email campaign, you should have skilled professionals to create copies, design your emails, and build your email list. Sometimes, businesses don't have the necessary in-house professionals. In this case, they can outsource talent. For instance, if you're looking for professional copywriters, you can check out essay writing service reviews websites like Pick The Writer.
Most services that offer custom academic writing also work with business clients. For instance, you can find such companies here Writing Judge.
Now that you know the main challenges and advantages of email marketing, let's think of how you can use it to boost your company's sales.
How to Do Email Marketing Well?
Plan your campaign
First of all, you should plan your campaign. Define your audience and segment it. This way, you'll be able to tailor your message to the needs of your audience and to use various personalization tools. Segmentation will help you increase click-through rates because you'll make your emails more relevant. Obviously, you should also figure out what you're going to write. You should determine the objectives of your campaign, consider your other marketing content, and then come up with an effective email schedule.
Design your emails in the right way
Develop a strong key message and persuasive CTAs. Keep the design of your emails straightforward and clean so that the recipients can focus on the CTAs and the key message. We also recommend that you start your emails with the most important information so that people can understand what your emails are about as quickly as possible.
Test your emails
First of all, you should make sure that your emails look right on all kinds of devices, regardless of what service providers your subscribers use. Secondly, you must use A/B testing to determine the most effective content and design, making sure that you will get the best results from your campaign.
Measure the performance of your emails
There are many kinds of software that enable you to measure the success of your emails. Besides, many marketing and sales programs, such as Hubspot, Salesforce, and SendX include email tracking tools. We recommend that you track clicks and open rates, as well as the website traffic that you get from your emails.
How to Increase Sales With Email Marketing?
1. Segment your lists
According to research, well-segmented email campaigns lead to a striking 760% increase in revenue. You can segment your email list based on numerous factors, including your recipients' purchasing behavior, interactions with your brand, location, etc. If your emails are tailored to your recipients' behavior and preferences, they will be much more effective.
2. Personalize your emails
Segmentation will help you personalize your emails. The more personalized your marketing content, the more likely it will fulfill its purpose. First of all, you can use your recipients' names. This way, you will create a friendly atmosphere and make your brand more approachable. Besides, you can personalize emails based on such data as your customers' previous purchases and on-site behavior.
3. Create email-focused landing pages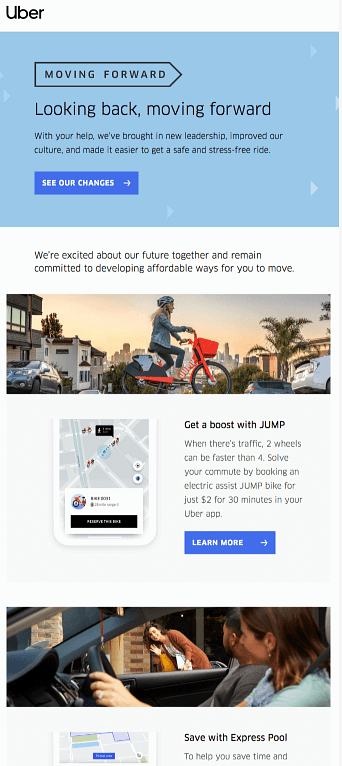 Creating specific landing pages for your email audience is effective in both B2C and B2B email marketing. According to research, this is the best email marketing tactic. Of course, you may not be able to create a landing page for each particular email. However, you should still make sure that a link in your email will take a recipient to a relevant page. For instance, if a link in your emails says "See New Arrivals," you must make sure that it leads to a page with new products, not to the main homepage. You can also redirect users to a page where they can learn more about the new features of your products and services, like Uber does.
4. Optimize for mobile

According to statistics, about 86% of emails are opened on smartphones and tablets. You should make sure that your emails are perfectly readable on mobile devices. Besides, if you use calls to action that lead recipients to your landing page, it should also be mobile-friendly.
5. Use transactional emails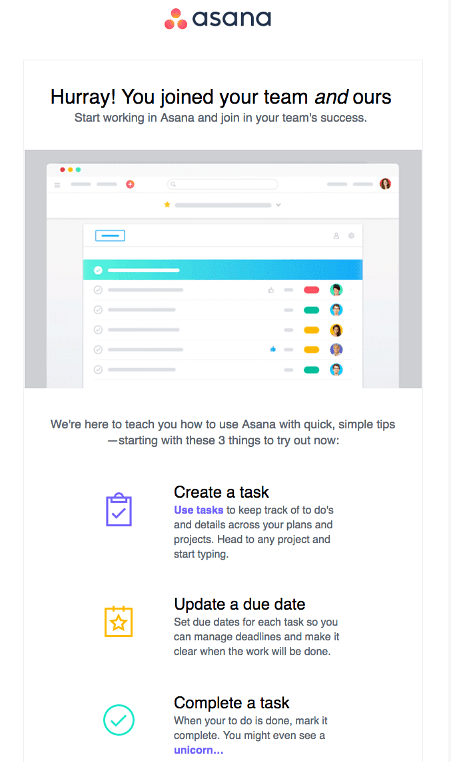 Transactional emails are sent after a certain trigger event. For example, you can send welcome emails, return receipt emails, order confirmation emails, etc. The best thing about transactional emails is that they are opened eight times more often than other types of marketing emails. You can also increase their value by including calls to action so that you can drive additional interaction.
For example, if you send a return receipt email, you can add a link to your new products so that a recipient can choose another product instead of the one that has been returned. You can also help your customers use your products. A B2B company Asana does exactly that, helping its clients quickly get started.
6. Perform A/B Test
Email marketing enables you to quickly understand what approaches are effective or not. We recommend that you always test your email campaigns. You can do A/B testing of your subject lines, images, the color of text, etc. Besides, you can experiment with timing, sending your emails on different days and hours. It may turn out that your target audience wants to hear from you more often. For example, 60% of consumers want to hear from brands at least every week.
Wrapping Up
Email marketing is one of the oldest types of digital marketing out there. However, it's still very effective. Thanks to automation and personalization, now businesses can create better email campaigns than ever.
For example, you can send emails triggered by a certain action. You can address your recipients by their name and take them to a landing page designed for a specific email campaign.
Email marketing offers countless benefits. It's flexible, scalable, measurable, and cost-effective. It enables you to create perfectly targeted messages, sending them to the right audience at the right time. And you can do it well using intuitive and affordable email marketing software like SendX. You can go for a 14-day free trial, and no credit card is required.
Using email marketing effectively can be a tricky task for beginners because there are too many factors you should keep in mind. However, if you follow our simple tips, you will create an effective campaign that will boost your sales in no time.