How To Create Email Newsletters That People Actually Want To Read
6 min read
You'll find tons of articles on this subject or loosely revolves around this subject. The most famous of all is - How to increase newsletter open rate "magically".
We have to understand two things.
First, there's no magic.
Second, the newsletter open rate has a lot to do with what you have written in your past newsletters. The logic is pretty clear. If I have enjoyed newsletters from Product Hunt in the past, there are higher chances I'll open the next one when I see.
Rather than focusing on newsletter open rates, let's focus on some of the essential aspects. Let's fix them one by one, and the email open rate will automatically increase!
In this article, we will be talking about the 3 most important parts of any newsletter. If we become successful to fix them, we will eventually gain a higher open rate.
Table of Contents
Three important parts of any email newsletter
The subject line
The content
The design
Makes a lot of sense, doesn't it?
Let's understand each of these parts and fix them one by one.
The subject line
Let's be honest for a second. If the subject line is not enticing enough, the email won't get opened in the first place.
And you won't have that magical open rate!
Cole Schafer from Honey Copy puts a lot of attention on the subject lines of his emails. He started the practice of using enticing and click-worthy email subject lines in his newsletters and eventually sold $15,000 worth of copywriting guides.
So what makes a subject line click-worthy?
There are a lot of theories on the subject of "the subject line", but here's everything you need to know:
"Something uncommon."
Yes, click-worthy subject lines are always uncommon.
I have to interrupt the flow here. Let's not get confused between "clickbaity" and "click-worthy".
The difference between a clickbaity subject line and a click-worthy subject line can be understood by actually reading the content.
A clickbaity subject line would lead to content that does not go well with the subject or something that is fishy. The purpose of that content is not to provide you with information but to sell something doubtful or attract you in a negative direction.
Something like "How This Man From Arizona Made $2 Billion in a Week!".
And you end up reading about the age-old pyramid scheme.
A click-worthy subject line is to draw your attention. To be precise, to become different from the rest of the emails in the inbox. A click-worthy subject line would attract you to open that email, and you will have valuable takeaways from the content.
Let's get back to our statement: "Something uncommon."
Where the entire world is using obvious subject lines, you can come up with a creative line that can make people open your newsletter, so they can go through your content.
I have been a fan of SEMrush newsletters, but sometimes I do miss the good ones. But SEMrush makes sure that I read their emails, here's a solid example: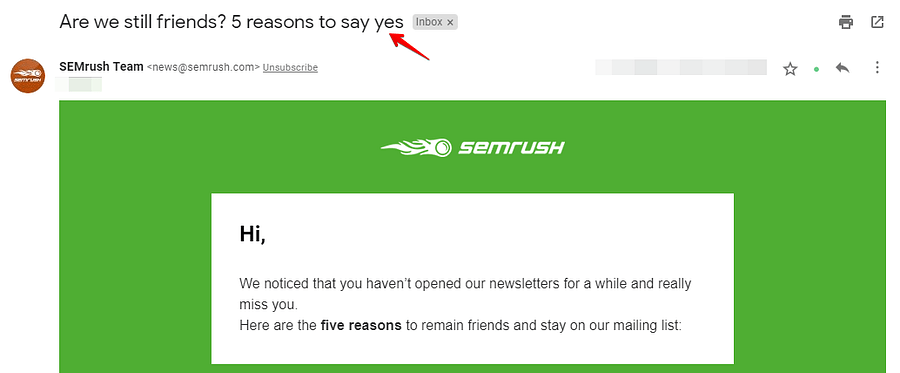 Here are some successful examples of email subject lines from famous brands:
9 Disgusting Facts about Thanksgiving from Eat This Not That.
Deals That Make Us Proud (Unlike Our Nephew, Steve) from Groupon.
Boom shakalak! Let's get started from TicTail.
Try To Avoid These 27 People On New Year's Eve from Thrillist.
Look what you did, you little jerk… from The Hustle.
Statistically, personalized emails subject lines with names can get an open rate of 10-14% across industries. So, you can use prospect names in the right place and quickly improve your email open rate.
A quick tip: Use emojis wherever you can. When people check their inbox, the one with emoji stands apart. 😋
The Content
This leads to the second, and probably the most important factor - The content.
It's the content that makes people stick to your newsletters. As I said, your newsletter open rate has a lot to do with what you have already delivered.
If the audience is not finding your content worth-reading, they are not going to waste a single second on your email.
Let's make sure the following things when it comes to email newsletter content:
The content must make sense and deliver the message clearly (context)
The audience must have at least one actionable takeaway from the content\
Give the right links at the right spots (website, social media, signup, etc.)
I specifically enjoy the weekly newsletters from Product Hunt. It has all the right things in the right places. Here're some of the things I love about PH newsletters:
The content is easy to read and explains clearly about a new product or technology.
Valuable resources are included in the content (blogs, discussions, Product link, Podcast, etc.)
Clickable actions are available. If I want to know more about the subject, CTA is always available.
Excellent use of Gifs to highlight trending products.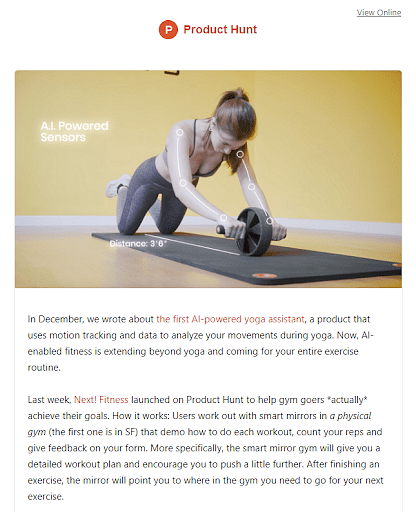 Basically, think like a reader and ask yourself these questions:
What did I learn from this piece of content?
Where should I click to know about the subject?
How can I know more about this brand?
It is important to pass your message, but it is also important not to spill everything in the newsletter. Because you would want to drive traffic from emails to your website supposedly.
The design
Design is the third most important thing in a newsletter.
People like to see pretty things. That's one of the reasons why the cosmetic industry makes so much money.
Design can be the sole reason people regularly check out your newsletter. When the right content meets the right design, it is magic.
Maybe that's the MAGIC you're looking for.
Here's a good example from a marketing tool called Later: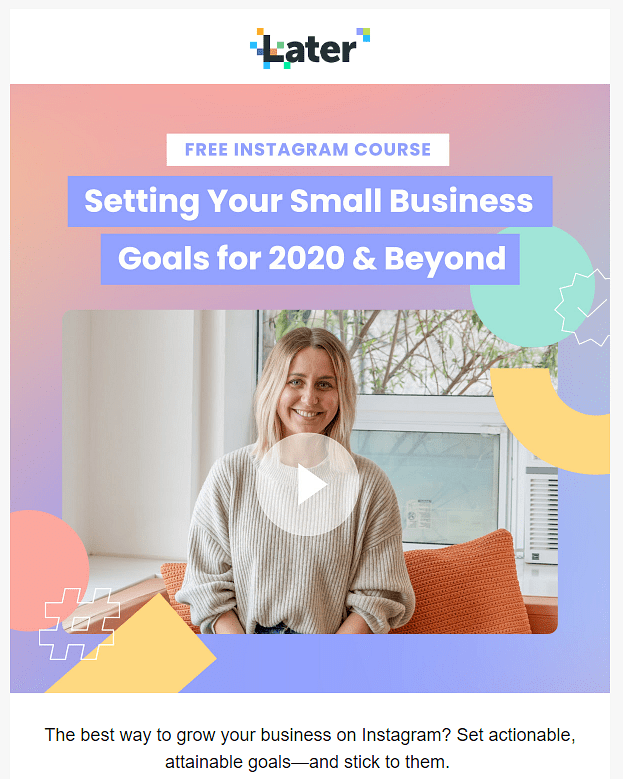 If you're in the process of designing a new template or optimizing an old one, here are some of the things to keep in mind:
The newsletter should resonate with your brand i.e. website, web app, or channel.
Design the blocks mindfully based on how many items you want to showcase.
Consider the length of the newsletter. You don't want people to scroll like an article.
Let's take an example for each of these 3 points and understand them thoroughly:
Newsletter's resemblance with your brand
The design of your email newsletters should always remind the readers of your brand.
For example;
You can clearly relate the below snapshot with a famous meditation app "Calm". Whether it's font or CTA, the reader will always have a sense of belonging to the brand.
The logic is to set the user in a definite headspace. When the prospect identifies the email from "Calm", he should get the same feeling when he visits the site. It's like inviting the prospect into your world.
And you would carefully craft your world, aren't you?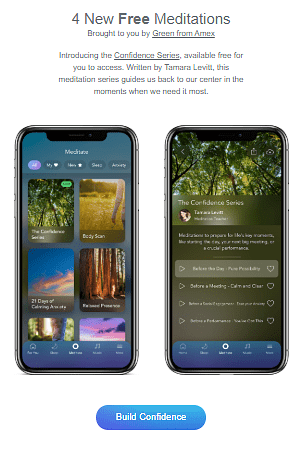 Set the blocks very mindfully
You can show multiple things in a newsletter.
Maybe you have created 7 articles in a week and you want to display all in a newsletter.
You have to highlight things that the prospect might be more interested in. For example; Netflix here showed 4 shows but highlighted a personalized one for the user.
Netflix has mindfully shown the trending shows on the platform, yet still given more emphasis on a show that the user had been watching in the past.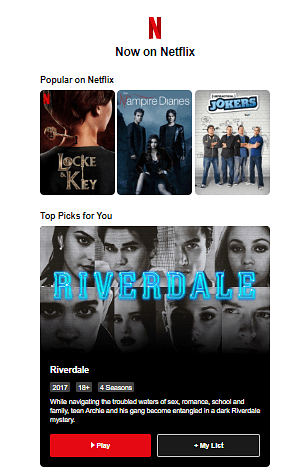 Length of the newsletter
A scroll or two is enough. After that, I would call it a blog.
The entire purpose of newsletters is to show a gist of your content, so the prospect gets excited and moves forward to consume more.
Quora here is a very genius in all terms. Quora send newsletters with questions based on your interest, and shows the initial lines of the answer. Naturally, I want to read more, so I would have to click.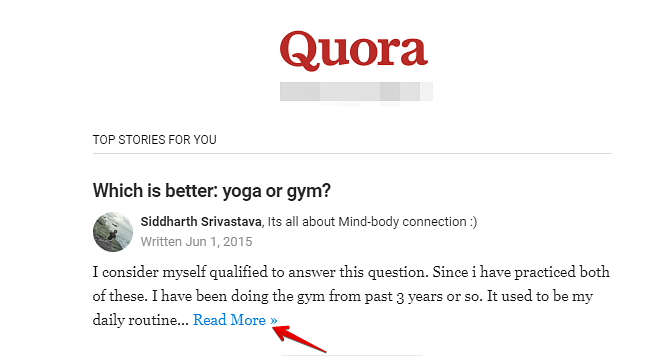 Improving is a big part of your success
It is important to focus on the subject line, content, and design. But it is also important to keep evolving with it.
Your first email shouldn't be the same as your hundredth. You have to evolve with what the readers are looking for.
That's when things like open rate and click rate come into the picture.
When you send out the newsletter and you have low open rates, you have to work on your subject line.
When the open rate is improving and you don't have enough traffic on your website (or click rate), you need to work on the content and link placement.
This journey can be a little bit overwhelming, and that's why you need smart tools to assist you.
Email marketing tools like SendX can help you manage your campaign with insightful data. You can execute, optimize, and re-execute newsletters to your audience with SendX.
Once the audience is interested in your newsletters and starts to realize that you can be the right business partner, you have successfully started the customer funnel. This is where you need a smart CRM software that can manage your leads with utmost efficiency.
Final Words
Warren Buffet, the Founder of Berkshire Hathaway, and one of the richest men in the world, has created a unique image in the business world. He has built a strong email newsletter game that it has become necessary for any investor to follow Berkshire Hathaway's newsletters.
The point is, email newsletters are no joke. It is worth much more than just branding. It can give you the actual business.
I sincerely hope these tips will be useful to you in building a stronger email chain, and eventually build a strong customer base.
Cheers!