How To Reduce Email Unsubscribe Rate (With 10 Solutions)
8 min read
Whether you want it or not, one day, some people who joined your email list will unsubscribe. On one hand, it hurts to lose any number of users. But on the other hand, your list gets self-cleaned, leaving you with the most devoted readers, which is certainly good. So, is unsubscription such a disaster?
If your email unsubscribe rate is below average, which is 0.5%, you don't need to worry. But even if it's higher, you shouldn't worry either. Here are 10 awesome solutions to help you reduce it.
1. Send emails with the right frequency
The majority of people wish to quit email lists if they get too many emails. It's not a surprise. Believing that their content is the most unique and valuable, brands tend to bombard recipients with tons of irritating letters.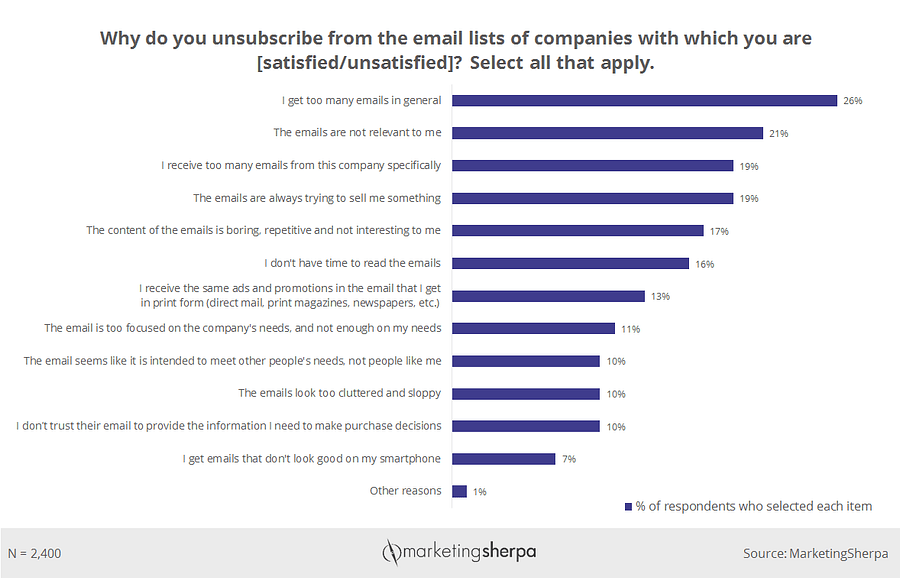 What can you do?
Reconsider the frequency with which your subscribers will get your emails. You may:
Inform them how often you will send them emails
Ask them to update their preferences on their own by choosing how often they would like to hear from you
Here's how Adore Me does it: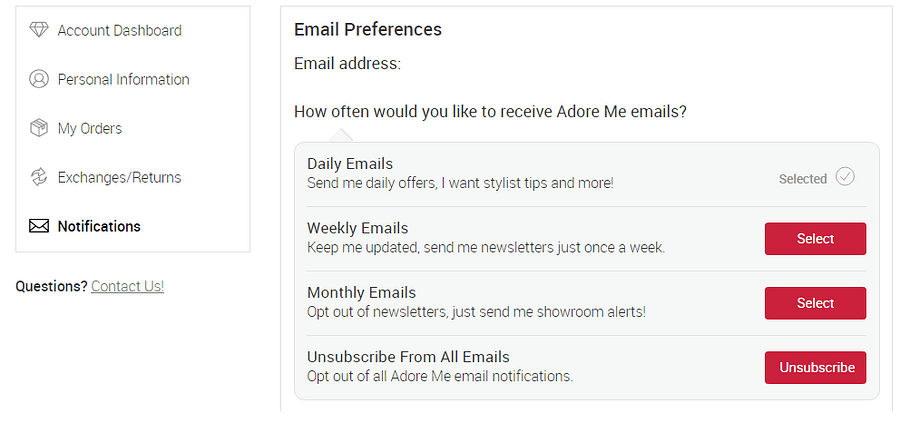 This way, your subscribers won't be annoyed by your next email, as they will simply know when to expect it.
2. Care about personalization
Very often people unsubscribe because they are getting irrelevant emails. For example, if a 35-year-old woman has subscribed to the latest updates in summer clothing trends but gets a stream of emails about how to get dressed for the job interview, she will most likely unsubscribe.
What can you do?
Think about how to personalize your emails, i.e., target them to users based on their preferences, interests, or purchase history. For example:
Send emails from a person, not a brand. Use your rep's name as a sender to make recipients feel there is a real person on the other side. Look at how Houston does this: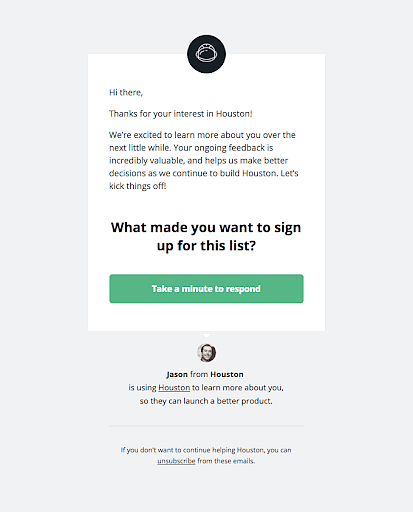 Send birthday congratulations. Together with a gift or a discount, such emails might show your subscribers that you value them. Frankly, I was pleased when I got such an email from Dorothy Perkins: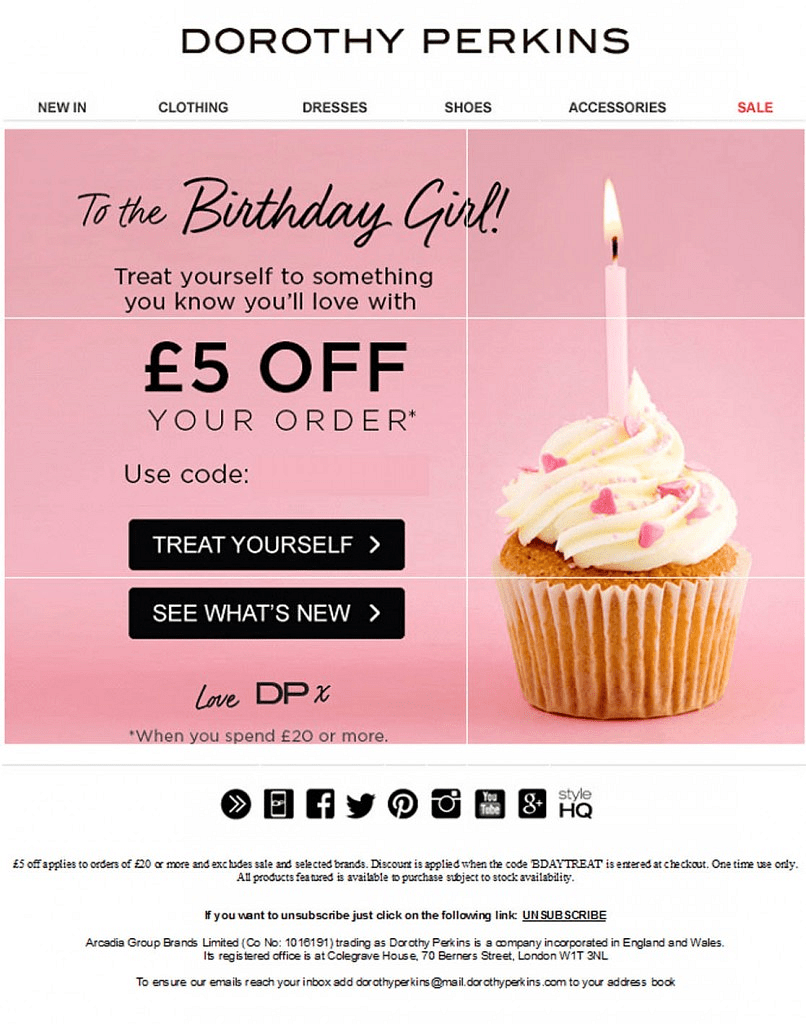 The brand also used my name in the subject line, which made their email stand out among the rest in my Inbox:

3. Segment your email list
As a rule, segmented email campaigns enjoy 9.37% lower unsubscribe rates than non-segmented ones. Segmenting your email list means splitting it into several groups based on similar characteristics.
What can you do?
Ideas for segmentation are endless: geographic location, age, gender, profession, frequency of purchases, interests, and so on. For example, Nike regularly segments their list to send relevant emails to men and women respectively:

4. Elaborate on the content
When the content of your emails doesn't resonate with the subscriber's feelings, they may choose to opt-out.
What can you do?
Offer a variety of content forms. Even if your main goal is to sell, note that 40% of users would like to get more informative than sell-oriented emails. So, dilute your promotional campaign with different types of content, such as blog posts, newsletters, e-books, case studies, quizzes, videos, infographics. Then, analyze which of them brings you a higher open rate.
Just look how Nasty Gal does it. Today you might receive an email with an engaging brand story and get acquainted with their team: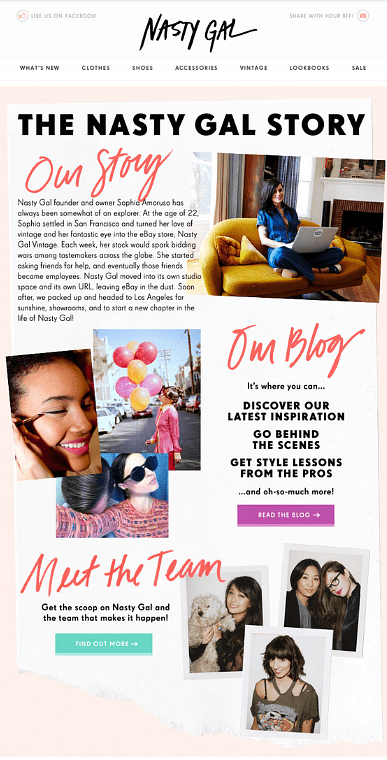 Then you find yourself dazzled by their birthday congrats: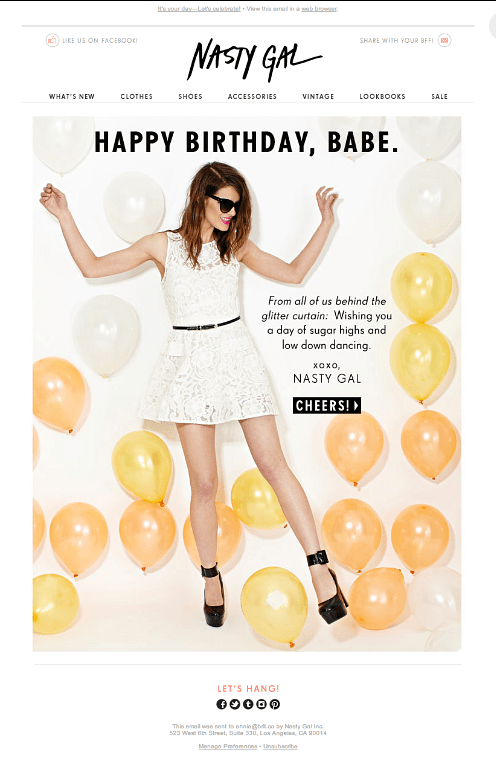 And one day you are sent an invitation to participate in a survey and win $500: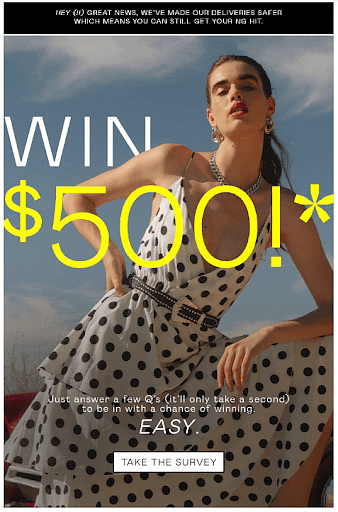 5. Combine single opt-ins and double opt-ins
Every time a user subscribes to you, they leave their email address by filling in the form. If they don't need to confirm their subscription via email afterward, such an opt-in is called single. For example, on my visiting Acquire Convert website, I just filled in the subscription form to get access to the course they offer:
My email address flew to the company's list without any extra confirmation.
Double opt-in is a two-step process that involves leaving your address in the form, and confirming your subscription via email. For instance, when I decided to take a free course by BitDegree, I first filled in the subscription form and was further asked to verify my address via the welcome email that I got from the company right after my subscription: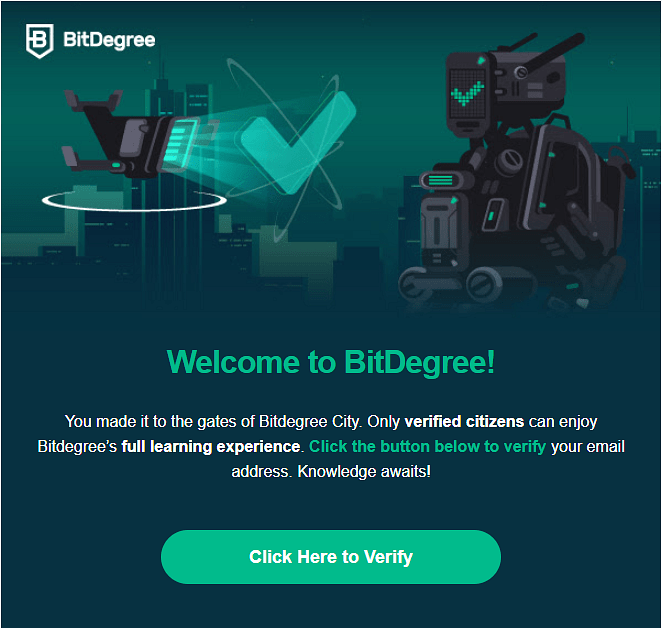 With a single opt-in, it's much easier and faster for a user to join your email list. However, there are no guarantees that the address they have provided is correct. And as you might know, bad-quality email lists pose a big threat to your sender reputation.
With a double opt-in, on the contrary, the process of a subscription isn't so instant. This makes 20% of people who subscribe to your website never confirm their email. At the same time, those who confirm it, bring you:
A quality email list
More guarantees your emails will be opened and clicked through
What can you do?
Combine single and double opt-ins depending on the content you are going to send to your subscribers. If you plan to deliver salesy emails, using a double opt-in will help you avoid spam folders. Meanwhile, for newsletters, a single opt-in option can do.
Just remember: the best way to find out your golden middle is to test. So, experiment with both forms and find out what works best for you.
6. Optimize your emails for mobile
About 85% of people now use their smartphones to access emails every day. It means that if your website isn't optimized for mobile, a lion's share of your users may ignore or unsubscribe from your emails.
What can you do?
Mobile optimization entails making your emails mobile-friendly. You can do it in several ways:
Pay attention to your pre-header text. It's as important as your subject line, so make it laconic and up to the point, just like French Connection did, catching my attention with a discount offer right at the start:

Use responsive design. The design of your emails should properly fit the parameters of mobile devices. Even if you use responsive email templates that usually adjust to different screens automatically, always check how your email is displayed on different screens.
Adjust the text properly. Since a majority of people use mobile devices on the go, put the most important information in the beginning. Break up long paragraphs and avoid link clusters. Ensure fonts are big enough. Your email must be easy to read.
Use images wisely. Don't overuse images, and avoid large pictures since they may take longer to load, especially in zones with a weak Wifi connection.
Make buttons touch-friendly. All buttons should be large enough to be clicked by a user's finger without zooming in. Remember that the standard minimum for CTAs and other buttons is 44×44 pixels.
7. A/B test subject lines
If you want to reduce the email unsubscribe rate, think about what you may change about the subject line of your emails, as 35% of recipients open emails based on this element alone. You will find different rules on how a proper subject line should look like, yet not always will these rules pertain exactly to your subscribers.
What can you do?
A/B test your subject lines on various criteria. Let's consider some of the ideas:
Length
The most optimal subject line length for all types of emails is believed to be up to 20 characters, which equals to 4-5 words on average.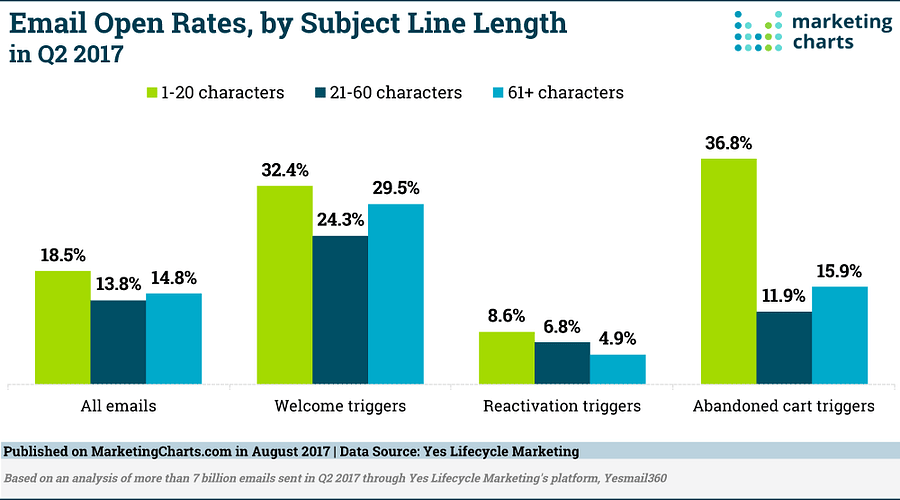 To find your best length, you can test short subject lines against long ones, for example:
Top ideas for growing your business plan
vs
Grow your business plan
Name
Personalized email subject lines may increase open rates by 50%, though not always. To find out what works for you, try a split test where the subject line of one email will contain a subscriber's name while another won't:
Find 10 top ideas for growing your business plan
vs
[Name], find 10 ideas for growing your business plan
Besides, you may experiment with a full name or first and last names separately.
Emojis
Using emojis in subject lines may result in a 56% higher open rate compared to text-only subject lines. Why? Because emojis:
Convey emotions and thus appeal to subscriber's feelings
Capture a subscriber's attention
Spare place and thus keep a subject line concise
Despite these merits, overwhelming your subject lines with emojis or sending them not to the right subscribers (e.g., the elderly or people with rather conservative views) may play a bad joke on you.
A/B test subject lines with an emoji against those that don't have one. For example:
Top ideas for growing your business plan here 👉
vs
Top ideas for growing your business plan
There are many ideas for A/B testing your subject lines: urgency vs. no urgency, capitalization vs. no capitalization, explicit benefits vs. implicit benefits, and so on. Experiment to find the option that will reduce your unsubscription rate.
8. Reward your subscribers
Users are more loyal to the brand if it has something valuable to offer. Don't miss the chance to reward your subscribers.
What can you do?
Offer discounts. For example, Hollister likes to 'spoil' their users with summer discounts. I've got one too: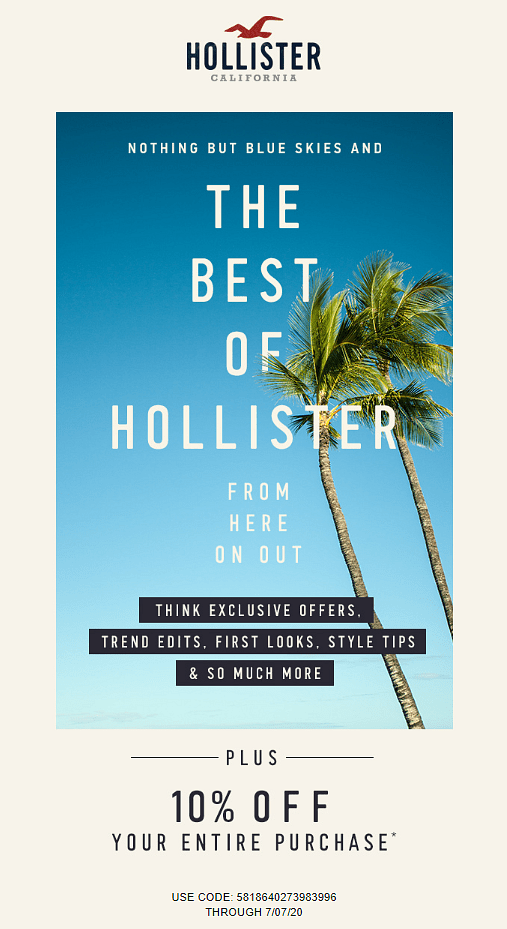 However, if you send your offs to subscribers here and there, your 'generosity' may have an adverse effect — they will suspect you of being too promotional and unsubscribe.
Provide exclusive offers. No wonder 47% of consumers claim they make them feel excited and rewarded. For example, if you announce a 15% discount on your website, send your subscribers an email with a 20% off as a special offer. They will be pleasantly surprised.
Mark milestones of your cooperation with subscribers. Celebrate users' subscription offering them a special gift. Look how Crocs reminded me about the first anniversary of my friendship with them: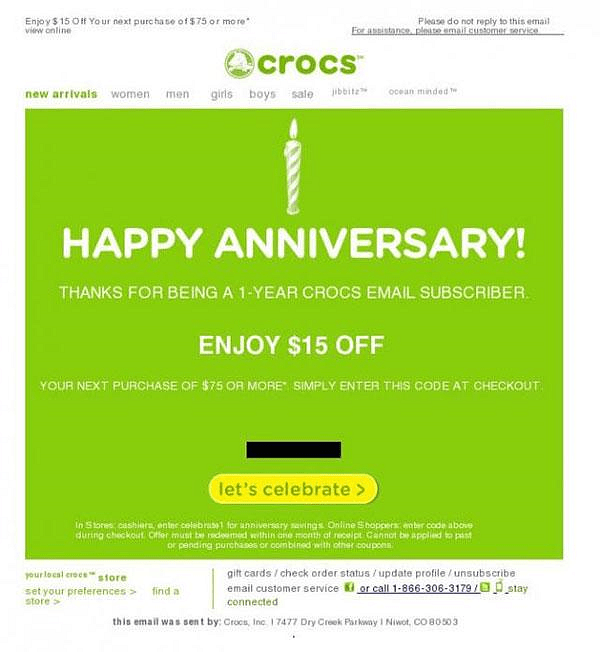 9. Leave an appealing follow-up message
Even if your subscribers have decided to opt-out, don't be in a hurry to burn bridges.
What can you do?
Write an unobtrusive follow-up message. Show people that you are not cold to their departure. Just look how Getaway did it by sending a brief but touching unsubscribe message: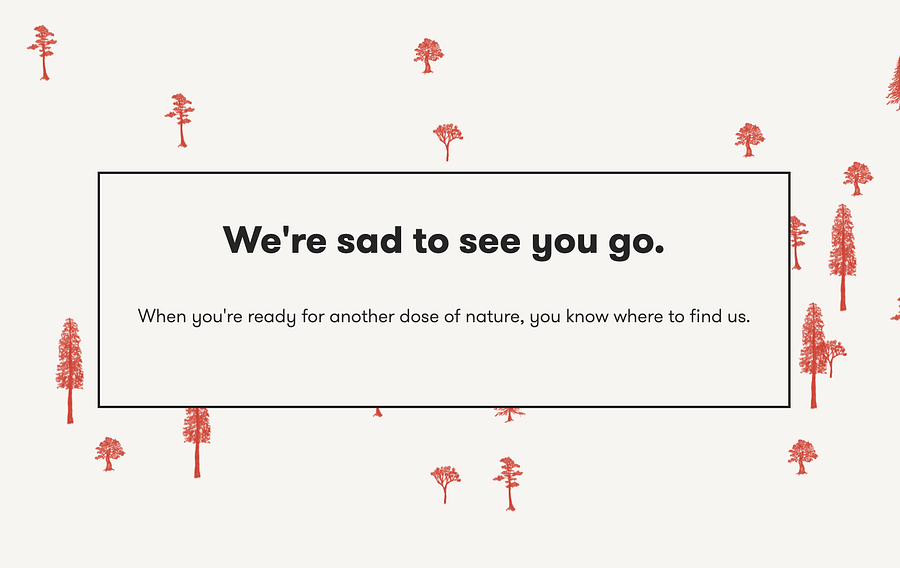 Suggest alternative time and content. Provide some options on how a user can still hear from you. For example, Betalist offers to change the email frequency and subscribe to weekly newsletters instead of daily emails: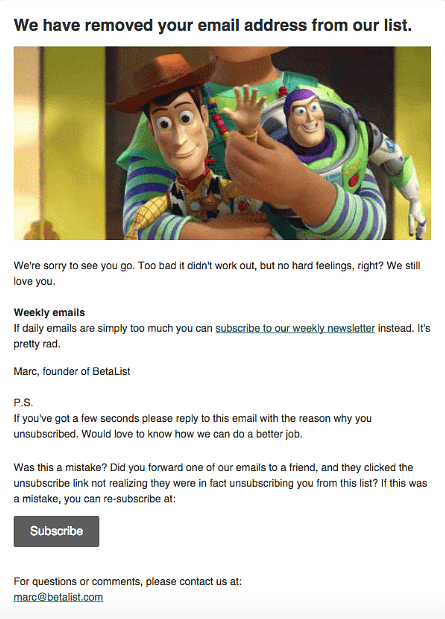 Suggest alternative channels. You may propose still keeping in touch with readers via social media.
10. Ask for feedback
People who unsubscribe from your emails may have different reasons in mind, so next time you start blaming yourself for everything that could go wrong, stop. Remember: if people decide to go, you should let them go.
What can you do?
Don't be afraid to ask users what made them opt-out. The insights you'll get from their feedback will help you improve your marketing approach. Companies ask for feedback in different ways: calls, emails with exit interviews, or surveys on the unsubscribe page. Just take a look at how Keap accomplishes this by sending an email with a survey: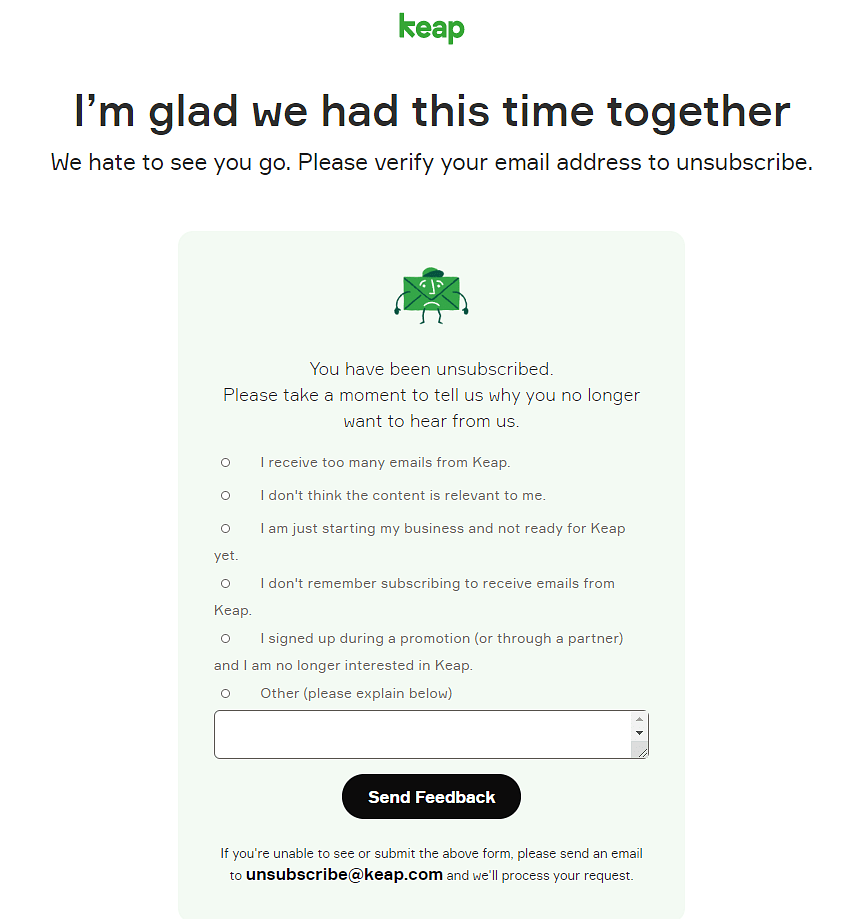 While asking users for feedback, keep in mind that:
It must be optional and simple (one question will be enough).
You should request it in a polite form only after the unsubscription has been completed.
Takeaway
It's natural that some of your subscribers will want to quit your mailing list one day. And believe it or not, they will do you a favor making your email list cleaner. So don't try to make your unsubscribe rate a complete 0%. Instead, concentrate on sending your users highly personalized emails with the content that will bring them real value, never stop testing your marketing approach, and be sure your efforts will always pay off.
FAQs
1) What is email unsubscribe rate?
An unsubscribe rate is the percentage of users who have opted-out from your mailing list after an email campaign. This tells you the number of subscribers who have chosen not to receive your newsletter any further.
2) How do I calculate unsubscribe rate?
Unsubscribe rate is the number of unsubscribes divided by the number of emails delivered. For example, if 3000 emails are delivered in your email campaign and 20 subscribers have opted-out then your unsubscribe rate is 0.6%.
3) What is a good email unsubscribe rate?
A healthy unsubscribe rate is 0.5%, however, this varies according to your industry. In fact, unsubscribing keeps your email list clean, leaving you with the most devoted readers, which is a good thing.
4) How can I reduce the unsubscribe rate?
The top few ways to reduce unsubscribe rate are as below:
Segmenting your audience from time to time can help you send content that is relevant to them
Determine the goals of your campaign, build engaging content that interests your reader
Understand what your subscriber needs and send them only that.