Top 10 Tips & Tricks to Optimize your Emails
10 min read
Email marketing is one of the most stable and effective ways for business owners to drive conversions and raise brand awareness. When done right, it can generate impressive returns - 4200% return on investment.
However, marketers have to remember that most of their competitors try to leverage the full potential of email marketing as well. According to statistics, last year, U.S. businesses spent over $350 million on campaigns and email-based advertising.
In this post, we will take a look at email optimization - a range of tools and strategies that will let your messages stand out among competitors.
Table of Contents
What is Email Optimization?
By definition, email optimization is a range of practices marketers use to improve the deliverability, engagement, and conversion of the emails they send.
There are different ways to approach optimization - from A/B testing subject lines and content to creating multi-step email sequences that turn readers into leads.
While there are tons of optimization tips and recommendations, business owners should aim to create a unique strategy that fits the company's budget, email marketing scale, and objective.
How Email Optimization Impacts Conversions
Although optimizing the content and performance of each email is a time-consuming process, the impact of such small changes on conversion rate is drastic.
Here are a few examples of how tweaking the contents of the letter and the infrastructure behind generates more leads and fuels engagement:
Statistically, around 60% of all emails are opened on mobile devices. Business owners who don't put enough effort into creating responsive messages lose access to huge audiences.
Segmenting email lists and personalizing emails skyrockets engagement, leading to a 760% increase in campaign revenue.
Researchers found out that 47% of users open emails based on the subject line testing- that's why it's crucial for marketing teams to test email content and choose the most appealing subject line.
10 Crucial Elements of Email Marketing Optimization
As you plan out email marketing optimization, what are the things to fix, test, and improve? Here's a rundown of 10 important email marketing aspects that make or break the campaign's conversions.
1. Email list
The success of your email marketing strategy depends, first and foremost, on the strategies you choose to get more people to sign up. Unfortunately, there are a lot of mistakes marketers might not realize they are making, as well as important practices teams don't know about.
Email List DON'Ts:
Forgetting to update the email list. Unfortunately, there's no subscriber base that always stays the same. Statistically, in 2 years, a subscriber list typically loses up to 50% of its addresses. Marketers need to spot such emails and remove them as quickly as possible - otherwise, they will make your emails bounce and tank the account's sender reputation.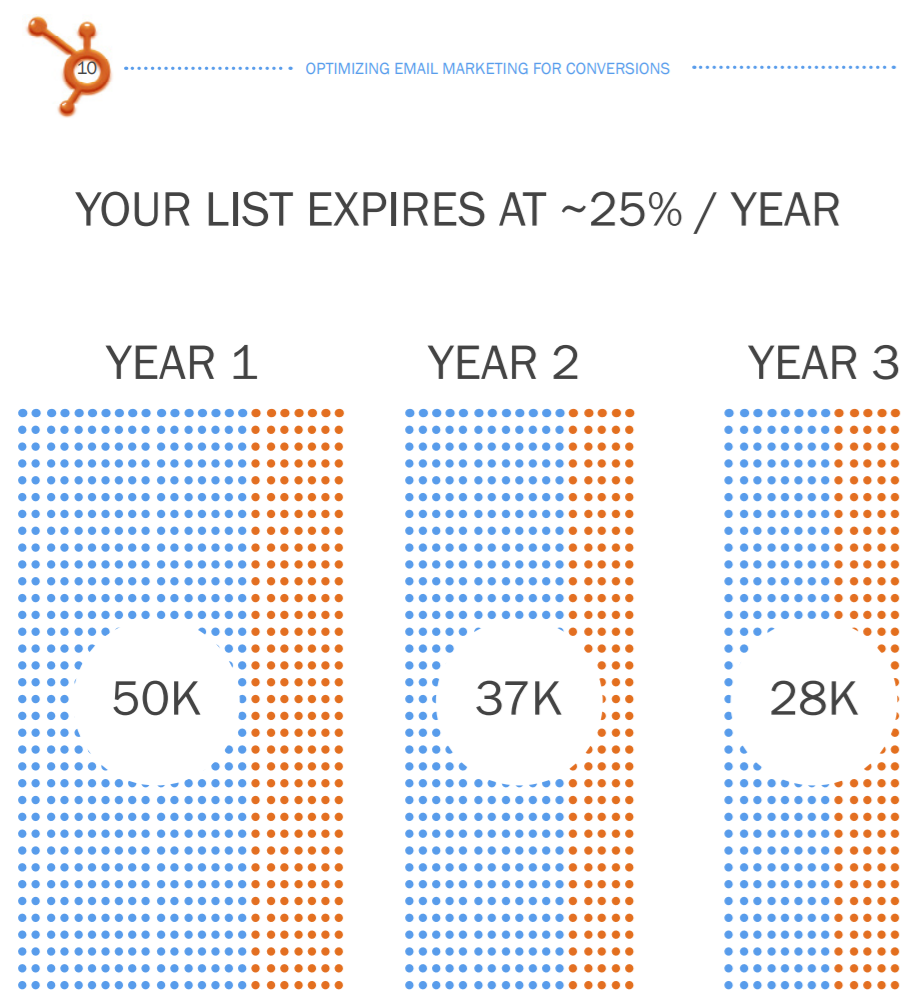 Buying third-party subscriber lists or signing readers up without their consent. Putting people into the subscriber base without asking for permission leads to disastrous consequences - low email deliverability, sinking sender reputation, and penalties for privacy laws non-compliance. Even if a reader will not block your letters, in most cases, they will be reluctant to open and engage with your emails - so you wouldn't be making the most out of email marketing.
No "unsubscribe" box or a long opt-out mechanism. Since marketers work so hard to build email lists, we want as many people to stay on it as possible. That's why a lot of teams look for creative ways to hide the "Unsubscribe" button - an absolute no-go in email marketing. If a reader wants to opt-out of the list, a marketer should let him do it. Otherwise, unengaged subscribers will start flagging your messages as spam, destroying the ESP's trust in the sender.
Email List DOs
Share value-based content to encourage subscribers to enter your subscriber list willingly.
Update the subscriber base regularly and review it once in 3-4 months.
Create an easy-to-implement opt-out mechanism and use the Unsubscribe sequence as a way to know more about the audience (for example, a marketer can add a survey that'll help find out why a reader is no longer interested in emails or give subscribers a choice to subscribe to a different type of newsletter).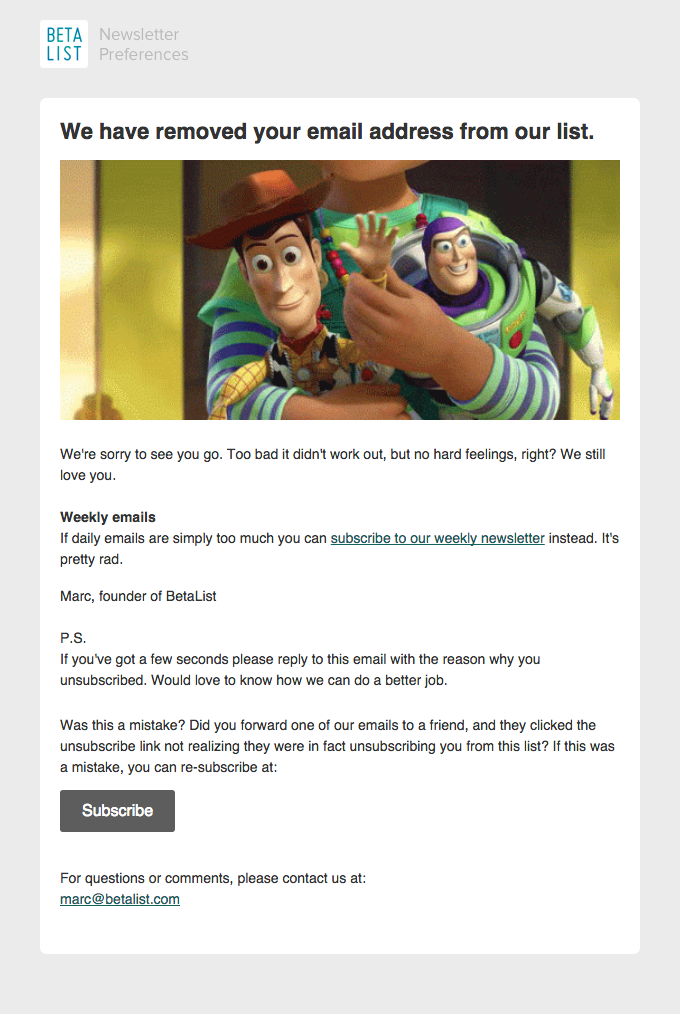 Promote your newsletter online - always be on the lookout for partnerships with bloggers, social media influencers, and teams in charge of bigger newsletters. Investing in ads through these channels is an organic way for marketers to grow the email list.
2. Subject line
An email subject line is important since it gives a reader a snapshot of what an email is like. Since marketers often feel pressured to stand out among other emails in a reader's inbox, they use a lot of creative tools and practices to come up with creative subject lines.
Some of these are helpful while others are the reason readers don't get your messages. Let's take a closer look at the DOs and DON'Ts of writing subject lines:
Subject Line DON'Ts:
Adding special characters and emojis. Once upon a time, this was a popular way to make a subject line stand out. Recently studies, however, show that, instead of increasing open rates, subject lines featuring special characters are likely to go straight to spam.
Using spam triggers. There are words and phrases email service providers see as a red flag for spam - free, cash, new, bonus, offer, new, cheap, guarantee, home-based, and many more. The list of triggers is quite long and specific to every email client. Make sure to study these phrases and avoid them at all costs.

This email with a trigger "Get" went straight to my Spam folder
Not optimizing pre-headers. Unlike subject lines, email preheaders don't generate as much buzz. Nevertheless, they contribute a great deal to your campaign's success by giving a reader a glimpse into the letter. Make sure the preheader is value-driven and intriguing enough to encourage people to read the entire message.
Writing too long or too short subject lines. According to statistics, the highest-performing subject lines are 6-10 words long. Writing more than 15 words lowered open rates from 21% to 9%. Emails with short subject lines didn't perform too well, landing an average open rate of 16%.

Hustle uses short and clear subject lines for newsletters
Subject Line DOs:
Optimize subject lines for mobile - avoid using characters that are not readable for smartphones, put important words closer to the beginning in case the rest gets cut out.
Use common interests or references. For example, if you and the reader visited the same conferences, definitely mention it in the subject line.
Personalize the subject line (but go beyond the first-name basis). For instance, if you know which blog posts or website pages a reader visited, including it in the subject line is a good idea.
Stick to lower-case letters. One of the main objectives of a subject line is to make a marketing email blend in with personal messages. With that in mind, aim to avoid using words, or symbols you wouldn't use when writing personal or work-related emails. In most cases, we don't write our peers in ALL CAPS, so stick to all lower-case instead.
3. Device friendliness
Mobile devices lead the way in email opens. That's why mobile-first thinking in email marketing is no longer optional. Achieving mobile-friendliness is a crucial goal for marketers - let's take a look at the mistakes teams make when designing email layouts, as well as the ways to successfully optimize your letter design.
Device-friendliness DON'Ts
Not using standard formats for images and videos. As of 2020, the recommended file types for JPEG embedded pictures and MPEG-4 for videos. Adding files in different formats blows out the size of the email and slows loading down, making the message harder to read on smartphones.
Small font size and hard-to-read typography. Since smartphone screens are small, marketers need to adjust the font size. Statistically, using simple Sans Serif fonts and choosing 14px as the font size is the best bet for mobile-friendly email campaigns.
Poor formatting. Text-heavy emails are not easy to read on mobile devices - that's why designers need to structure sentences in small paragraphs, as well as add bullet points. Make sure there's enough white space surrounding links in the email - the clicking precision on mobile is lower than that on desktop.
Device-friendliness DOs
Test the layout on different devices. There are thousands of screen dimensions in the world of mobile so there's no way to do too much testing. Instead of rushing to hit "Send", make sure that a message is easy-to-read on iPhones and most popular Android devices.
Choose one-column layouts - these require little-to-no mobile optimization and are easy to read.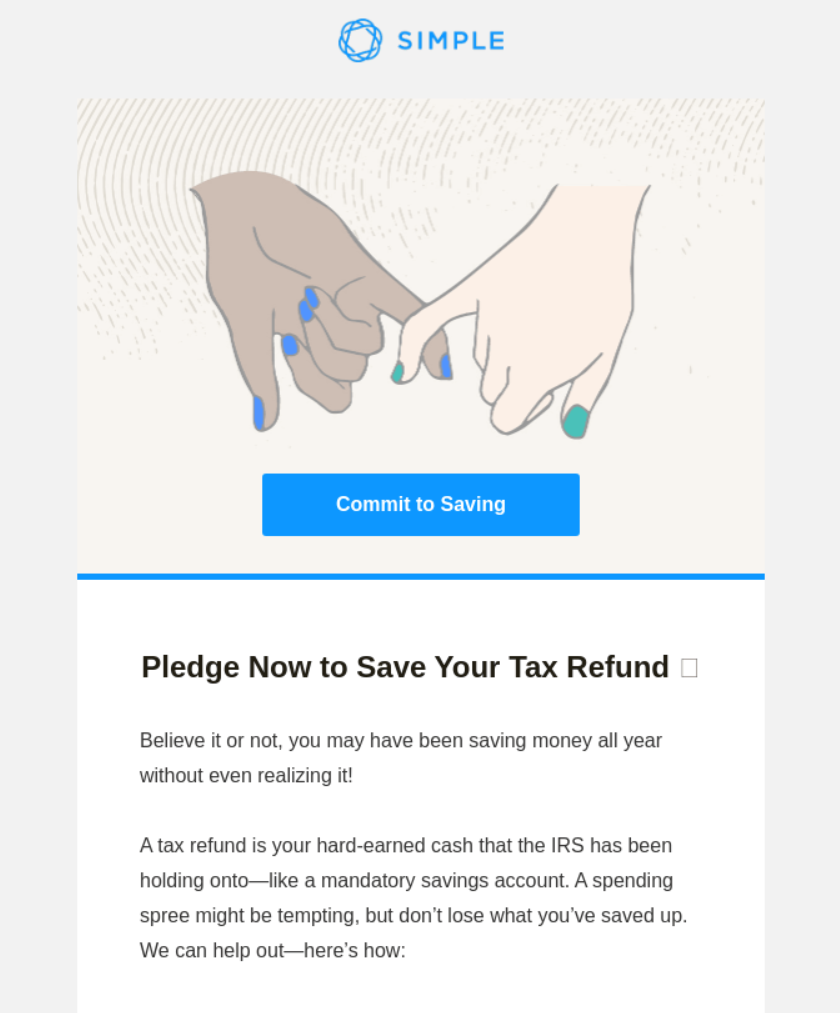 Sleek, mobile-friendly one-column email
Leave white spaces between links and paragraphs to improve your emails' mobile readability.
Use center alignments for CTAs and buttons. If the layout includes buttons, make them at least 44x44px wide to facilitate clicking.
4. Images
Images are a controversial topic in email marketing. While some suggest that adding pictures helps brands improve awareness, other experts vote in favor of plain-text-only emails.
While the debate keeps going on, one thing is certain - if you plan to add images to the message body, you better do it right, avoiding frustrating yet common mistakes.
Image DON'Ts:
Using heavy images. Emails that feature pictures heavier than 1MB consume too much bandwidth and are next-to-impossible to read on mobile devices.
Too large or too small dimensions. Setting the image size manually often does your emails more harm than good. When a picture is too small, it'll look grainy. The images that are too large block the copy and stick out of the layout. The practice most marketers use to avoid dimension issues is keeping the default size letting the ESP optimize the visual automatically.
Forgetting to add alt tags. Marketers should remember that email readers don't always have access to a high-speed internet connection. If the network is slow, in most cases, they will not be able to see images. Writing alt-tags for each picture is a way to help subscribers with low-quality connection understand what's in the frame.
Image DOs:
Converting color values to RGB (the web-friendly color scheme) instead of CMYK (a color system used for print).
Keeping the total email weight between 600 and 800KB.
Using contrast colors to make sure people who can't differentiate colors have no difficulties when reading overlaid text.
Repeat important messages and offers from images as text so that the readers who struggle to load the visual are comfortable.
5. Email Copy
There is a lot of room for optimization in the email copy. Let's take a look at the mistakes you should avoid making when working on email campaign content and the ways to help your words carry meaning and value.
Email copy DON'Ts
Forgetting about CTAs. If you don't let readers know what to do after reading your email, the odds of them moving along the sales funnel are slim. Don't be shy to add and repeat the main CTA at least 2-3 times throughout the email.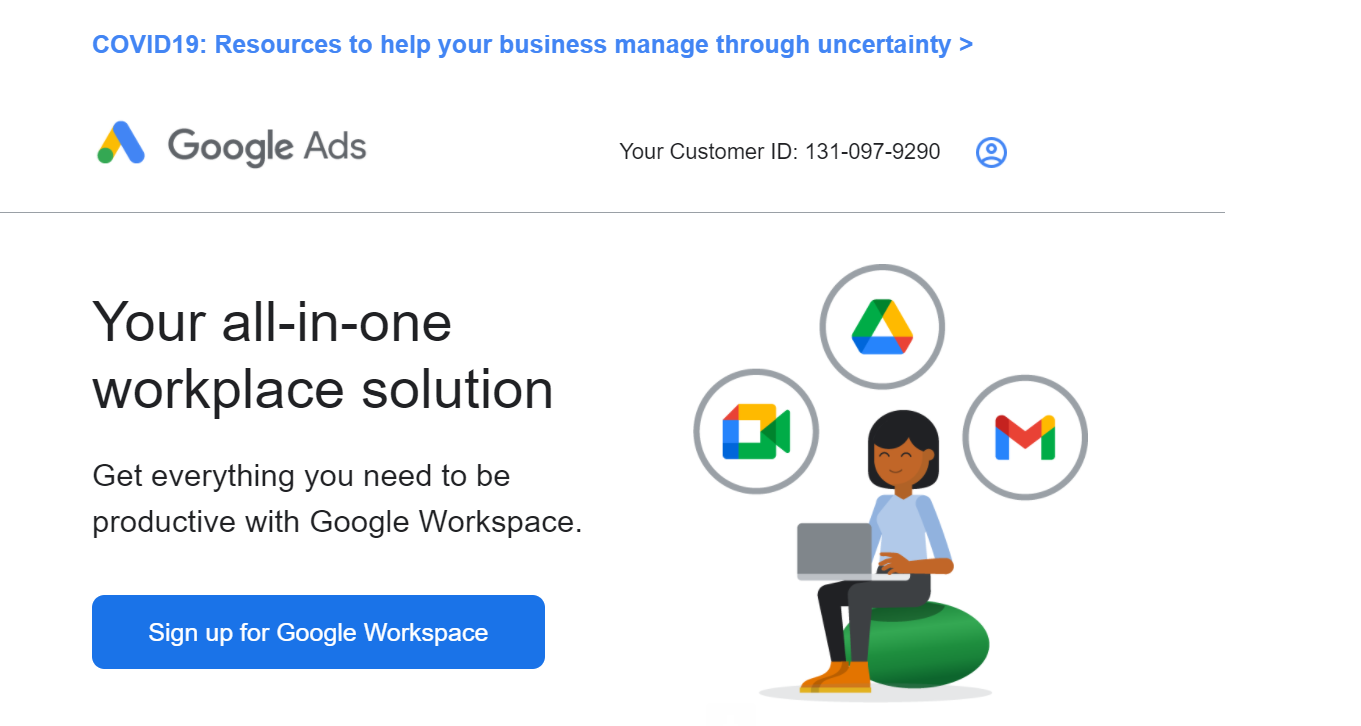 An email with a clear CTA from Google Ads
Setting wrong expectations. Make sure there's no mismatch between the subject line and the body copy (for example, avoid promising something for free if, later, a reader discovers he actually has to pay for the offer).
Turning a blind eye to grammar and spelling errors. Making a copy mistake is not the end of the world, but it makes the sender look unprofessional. Running your content through a spell-checker takes just a few minutes - make sure to do it.
Using sales-heavy language. If you sprinkle too many "now", "free", and other marketing words over the copy, you risk getting flagged by ESPs and disliked by readers.
Email Copy DOs:
Keep your text structured, paragraphs - short. These are the standard practices for web-friendly writing. In the example below, Pics.io proves that less is often more in the email copy.

Stay relevant - using news websites, and platforms like Reddit and Quora is a great strategy for finding newsletter topics your audience cares about.
Use first and second-person pronouns to create a connection between a sender and a reader.
Describe the offer's benefits (not features) and apologize for mistakes when necessary.
6. Deliverability
Before you hit the "Send" button, make sure you manage to avoid the traps that prevent subscribers on the list from getting your emails. Here are the DOs and DON'Ts of deliverability optimization:
Deliverability DON'Ts:
Sending too many emails at once without warming the email address up properly.
Not re-examining the subscriber base leaving those who haven't engaged with a single email hanging.
Increasing the frequency of emailing without advance notice, contributing to inbox noise.
Deliverability DOs:
Gradually increasing email volumes and slowly building up IP credibility.
Segmenting the subscriber base to make sure everyone on the list gets messages they can resonate with.
Establishing and following a consistent sending schedule.
7. Rendering
Unfortunately, few email marketers keep a careful eye for pointing out rendering issues - broken links, display blunders, and others. However, not troubleshooting rendering leads to higher bounce rates and reduces sender credibility.
Rendering DON'Ts:
Not testing emails on multiple clients before sending
Not accounting for font resizing on iOS
Sending emails larger than 102kb (it's not recommended since Gmail typically clips such messages).
Rendering DOs:
Using web-safe fonts
Using ESP platforms for email campaign optimization
Optimizing the design for different screen dimensions.
8. Signature
An email signature is an opportunity for business owners to "sign off with a bang", leaving a long-lasting impression on subscribers. At least, marketers should leverage signatures as a way to help a reader stay in touch with the sender.
Email signature DON'Ts:
Including too many contact details reduces the readability of the message.
Not optimizing the signature for smartphones.
Forgetting to add alt-tags to improve the readability of the signature on low-end devices.
Email signature DOs:
Keeping the signature short - up to 3-4 lines.
Adding a CTA to the signature to remind a reader of the offer.
Using personal images to improve credibility.
9. Testing
The success of an email campaign closely depends on the amount of testing the marketing team performs. Here are the most common blunders and best practices marketers should and shouldn't follow:
Email testing DON'Ts:
Testing multiple elements during a single session - such an approach makes it harder to understand which changes in the design make the difference.
Choosing the metrics that don't reflect the performance of the campaign well enough.
Testing emails against small subscriber groups - in this case, teams often end up with statistically insignificant data.
Email testing DOs:
Running split testing to get a clear understanding of which design changes perform better.
Having a clear testing hypothesis - setting a set of metrics that would qualify as success for the team.
Using email testing tools to streamline the efficiency of the process.
10. Performance monitoring
Last but not least, the way you analyze the performance of email campaigns is a make-or-break factor for the success of the campaigns you'll run in the future.
Performance monitoring DON'Ts:
Collecting too much or too little data about the performance of the campaign. In the first case, analyzing the campaign will take too much time while, in the second case, you will not have enough data to derive helpful insights.
Not following trends. Other than basing your judgement on the numbers alone, marketers should watch trends and compare how the values of metrics change over time.
Having no idea how frequently metrics should be tracked. There are values in email marketing that should be monitored daily while others shouldn't be tracked more often than weekly or even monthly.
Performance monitoring DOs:
Limiting the range of metrics for campaign analytics.
Turning data into actionable insights and using them when planning future campaigns.
Setting well-defined benchmarks and KPIs to understand whether each email in the campaign hit its performance milestones.
Conclusion
When it comes to email optimization, there are a lot of details marketers have to test and fix. It's easy to get lost and overwhelmed by the volume of work you need to handle.
The good news is if you break email optimization down into steps and clear actions, improving the quality of your email list and content becomes much easier. As long as you are not afraid to take your time and follow best practices, you'll definitely create a no-fail email marketing campaign.
And in order to be super successful in putting these best practices into action, you need an email marketing software which is easy to use and affordable, and well, affordable. We recommend SendX, which comes with a 14-day free trial, and no credit card is required.
FAQs

1) What is email optimization?
Email optimization is a range of practices marketers use to improve the deliverability, engagement, and conversion of the emails they send.

2) What are the various ways to approach email optimization?
There are different ways to approach email optimization - from A/B testing subject lines and content to creating multi-step email sequences that turn readers into leads. But it is up to you to create a unique strategy that fits the company's budget, email marketing scale, and objective.
3) What are the different elements of email marketing optimization?
The most crucial elements of email marketing optimization are, email list, subject line, device friendliness, images, email copy, email deliverability, rendering, signature, testing, and performance monitoring.
4) Can you offer some tips for email deliverability optimization?
In order to optimize your email deliverability, you can follow the below tips:
Gradually increase email volumes and slowly building up IP credibility
Segment the subscriber base to make sure everyone on the list gets messages they can resonate with
Establish and follow a consistent sending schedule.