Effective Email Follow Up Strategies To Get More Sales
7 min read
For businesses one of the most confusing parts is how to stay in touch with the potential customers, that is follow up. The initial phase of contact is easy, but executing a perfect follow up strategy is not.
Do you know that 60% of customers say 'no' four times on an average before saying 'yes'? This means that the salesperson should try and keep on attempting to get a positive response, but make sure that you don't appear annoying to them. What about waiting for the customer to respond after contacting them once? Don't do that.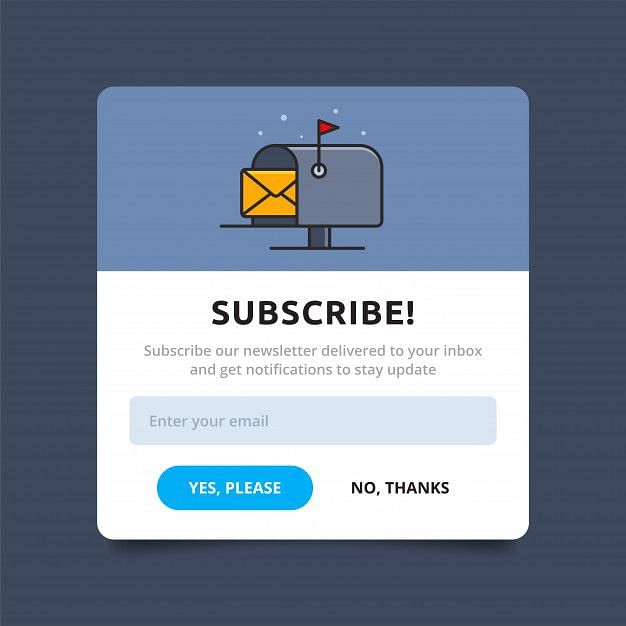 Yes, the rejection chances are high, since the average email open rate is around 22.1% only. If not done in the right way, you may lose a loyal customer.
And in some cases even if the customer seemed to be interested in your sales pitch offers, they will disappear in no time, without any further action, right?
So, what can be done here, or what is the right strategy for getting a lead or even a single response through follow up? The perfect recipe behind a successful follow-up strategy is to be clear, brief, on-time, and friendly while remaining persistent.
And how is it done?
Follow Up Using Email
Which is the most effective channel to reach out to potential customers for regular follow up? There are many communication mediums available. For example, phone calls, emails, text messages, social media, and of course the multi-channel approach.
According to a study report by HubSpot, on average a salesperson in America spends one-third of his day talking to prospects through cold-calls. Even though it can be observed that cold calling is very much alive, email follow ups are proved to be two times higher return that is ROI than cold calling.
What is a follow up email?
It is an email or sequence of emails sent by a salesperson to get a response from the pool of prospects that are more likely to be interested in your services. This frequent communication can help in filtering the potential audience for better conversion, thus getting more sales.
So, we are here to help you to follow up on your potential customer like a pro using email. Let's start, shall we?
When to send a follow up email?

You must have heard this advice to choose Monday or Tuesday to send your emails as they are the best time to get maximum engagement. Here's a reasoning for that - on Monday people clear their pile of emails, take meetings etc., so Tuesdays are better. Thursday, because by then they are looking towards the weekend and have relaxed a bit into week's work. These might be good for infomercial sales emails or eCommerce emails.

From personal experience, I have seen most information-loaded, requests for beta testing or signing up for a course kind of emails landing into my inbox over the weekend. Because people check out new apps, blogs, articles etc over the weekend. So it works for them.

While these strategies will work for a newsletter or an ecommerce sales email, they might not work for B2B follow ups. People in business are most active on their emails on all weekdays. If you send your email on Monday, it will be on top of their inbox and if it's valuable, they might mark it to take further action. But a business email is sent on the weekend, it will probably (I would bet… 100%) be missed.

So yes, there is no magic-pill or one clear answer on when to send your follow-up emails. It depends on the kind of business and audience you have.

Let me tell you an interesting case:
Before 2020, marketers never used to send emails on Fridays. Because people would shut down their work, head to the pubs or travel over the weekends. But here's what we found as we tracked the journey of tens of thousands of emails through SendX:
https://twitter.com/thebitmonk/status/1369977040028323840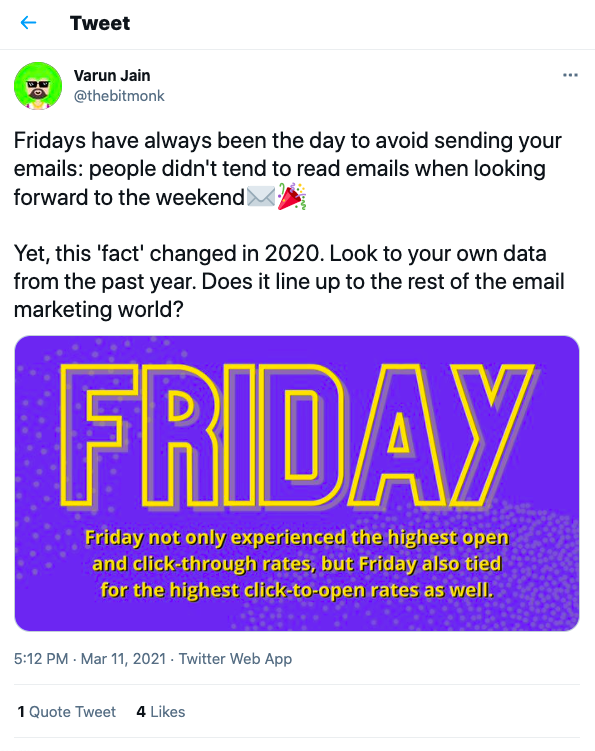 So take into consideration these three factors while judging when to send follow-up emails:
Your target audience - their core behaviors & professions
The content you are sending out
Kind of business you have (B2B, B2C, ecommerce etc.)
Any offbeat global situation happening? Major election or… pandemic!
On top of it, don't just rely on thought-process, but look at your data too.

Create a hypothesis on why your emails will work on certain days & times. Test them and check your data for which days work the best.
Effective Email Follow Up Strategies to Get More Sales
1. Find which follow up communication medium the customer prefers
To come up with a flawless follow up strategy at first, you need to understand which follow up communication medium is preferred by the customer. Even though email marketing strategy is much preferable, it is up to the customer to decide. So, just ask them directly, 'Which is the best way to reach out to you?'. You can make use of online surveys, real-time chatbots like WhatsApp chatbots for this purpose.
Maybe they will be more comfortable with multiple channels follow up, for example, combining email and Facebook messenger. Here the Messenger is integrated with the email strategy thus reaching out to a wide audience in social media too. This way you can improve the customer experience during the follow up process offering multiple options like auto-replies using chatbots, direct chat buttons, reminders, or live notifications.
2. Start your follow up with a reason to contact
Start the conversion or the email with a strong reason. Avoid terms like 'just check-in'. This will make your client think that the follow-up mail is an unnecessary one. On average a working person spends around 2.5 hours checking their personal inboxes and if they couldn't relate to an email they will simply put them straight into the trash.
This can affect your follow up-target. So, do some research on what the prospect is looking for or interested in. This will for sure help you in coming up with a valuable reason to send a follow up mail.
3. Send follow up emails with personalized subject lines
One of the most important parts of a follow-up email is the subject line. 47% of people say that they open emails they get only based on the subject line. Also, a recent study showed that the subject lines with a recipient's first name can increase the open rates by 2.6%.
Plus, if the number of words is between 6 to 10 words the open rate will be around 21%. You can also add some of the effective follow-up words in your email like 'demo', 'connect', 'apply', 'opportunity', 'payments' etc. So, always remember the importance of perfectly crafting a subject line while writing your next follow up email.
4. End each conversion with a defined next step
End each follow up mail with a clearly defined future agenda. Because the follow up doesn't end with an initial catch up. It is a long term process. You must keep the client on your side.
So, make sure to have a proper chat with the client about the next step of your follow up process. This will make them not able to avoid the next scheduled meeting since they have committed. It is a continuous process and gets it done every time the deal is closed.
5. Get written confirmation
Make sure that you send an email containing the whole summary of your conversation and ask them to send a written confirmation each time you hold a meeting with the client.
This way both the parties can get a clear record of things you have discussed. Also, this written confirmation will hold the client accountable and committed throughout the process.
6. Schedule the whole followup
Research shows that almost 42% of the people would be encouraged to make a purchase if the sales rep called back at an agreed-upon time. So, as a salesperson, you will need to plan and schedule the follow up.
During the planning consider the fact that the email opening rate is highest either at 10 am or 1 pm, more likely on Tuesdays. Try to communicate 8-10 times before giving up, since 80% of sales require a minimum of 5 follow-up calls.
7. Stand out from the rest
According to a report by Workfront, a cloud-based Enterprise Work Management company a normal American employee will have about 199 unread or unopened emails in their inboxes at any given time. So, as we are trying to get in touch with the client and not planning to be left out as an unopened follow up email make sure that you have something special to offer something special.
One way to do that is to do a proper study on the client. Then you will get an idea of what the client is looking for. Keep in mind that 55% of consumers prefer personalized messages that include information, products, benefit offers, and services that match their individual preferences. In addition to this show the clients that you care, listen to their needs. Try not to be pushy. Customers would be interested in making a purchase from a salesperson who doesn't try to apply pressure or hassle them when following up.
The Power of Follow-ups
What do you do after reaching out to a prospect for the first time? If you're not following up, then you're likely leaving money on the table.
When you reach out to a prospect for the first time, there's no guarantee they will respond. You want to make sure your name is top of mind when prospects are deciding which vendor to choose, so keep following up until they either say "yes" or tell you "no thanks."
Many salespeople give up after their first attempt at reaching out to prospective clients. Few will follow up, and even fewer will follow up multiple times, even though it often takes several follow-ups to make a sale.
When following up, make it clear what action is expected so prospects don't feel like they have to reciprocate with a response. Remind them of the great things you can do for them and why it will be in their best interests to do business with you. Send follow-up emails at least once per week, remembering not to overdo it or seem pushy. Understand that you may need more than one tactic to secure an opportunity; try different strategies until something sticks.
It's important to remember that your target market is always in motion, and what they're thinking now may not be the same as they were before. That's why you want to go to where your customers are at this moment with a service or product solution tailored to their needs.
While you may not have an audience that is currently ready to buy, it's important for a business like yours to invest in future customers. The more potential buyers are aware of your brand or product, the more likely it is that they will be interested enough when the time comes.
While only a fraction of the market is actively buying, and many prospective buyers are not ready to make a purchase, a good sales methodology can help tip those who are poised on the edge toward making a purchase now. It's essential that you are effectively reaching your target market and informing them about what sets your product or service apart from competitors.
How you follow up can make the difference. The right tone can make your pitch come across stronger and more persuasive. You may think that following up with a lead who seems disinterested is useless, but the right follow-up strategy can lead to converting them into a sale.
Here are some tips for making successful follow-ups:
Schedule the next call prior to ending the first call.
Immediately send out calendar invites and a recap of what was discussed in your email.
Set a CRM or calendar reminder to notify you of the next scheduled call or step in converting your lead.
It's time to take the next step and close that sale! Now you know the power of follow-ups, so use your knowledge to make it happen. Follow up with your prospects and stop leaving money on the table.

Wrapping Up
Follow up can be a little time-consuming or even frustrating. But by applying the right strategy at the right time, you make it easier to connect with your prospects.
And in order to execute your brilliant follow-up strategy, you need the right email service provider. Try SendX for a 14-day trial, no credit card required.