5 Email Copywriting Tips for Writing Engaging Marketing Emails
5 min read
Email copywriting is the actual words you use in your emails. That's obvious. But don't mistake it for only the email body. Email copy starts right from the subject line. Here are the elements that you will need to optimize in a copy:
Subject line
Preview text
Email body
CTA
These words influence people to check out your email, read it from top to bottom (or skim it) and then take action. What you say there will be much more effective than what you show with colorful buttons, touch-up images or fancy templates (unless you are in the fashion or travel industry that's very visual). But even then, having a bad copy with a good design will lead to poor conversions.
Table of Contents
The tips given in this article focus on how to optimize the elements mentioned above, appeal to your audience and best practices to create a high converting email.
Here are our top 5 tips to create an effective copy for your emails:
Don't write for everyone
Subject line & preview text
Copy of your CTAs
Length of the copy
Keep the customer journey in mind
Let's explore each one a bit more and see how to implement these.
Don't write for everyone
This is one advice which seems very counterintuitive to newbie writers. They usually think that if we talk to everyone, we will be able to address a lot more people than if we talk to a specific audience.
But that's a mistake.
When you are writing an email or even anything on the internet, write for a particular segment of audience so that your offer, voice, tone everything is relatable to them. For example, an email targeting guys in the age group of 18-25 would be different from the one that targets men in the 40-50 age group.
So keep in mind the audience (their aspirations, problems, language they are used to reading) in mind and then write specifically talking to them.
Subject Lines & Preview Text
Subject line shouldn't be too generic, boring or misleading.
When readers are scrolling through their inbox, your email is competing for attention with hundreds of other emails. But once you get inside the email, you have their undivided attention.
So create a subject line that talks to your audience. You can use techniques like FOMO, intrigue, scarcity or even humor to catch their attention. And always, test what works best by tracking open rate metrics.
If you want some ideas on subject lines, we have made a list of 300+ subject lines (categorized). You can check it out here.
Your preview text should give readers a little more context into the email contents. Keep in mind to keep it under 50 characters so it fits the preview area. It shouldn't re-iterate the subject line but add more info to it.
Copy of CTAs
CTAs (call-to-actions) are simple invitations for the reader to take an action. But don't just stop thinking that the action they take is 'click the link'. The action you actually want them to take will be something like - buy the book, read the blog, book your spot, try for free etc.
As you can see, these words on a button or a hyperlink tell the reader exactly what will happen if they click a button. The right copy not only makes your message clear but also effective.
First, determine the goal you want to accomplish and then write your CTA & then write a short CTA with the use of a strong verb.
At the same time, don't put too much pressure on the CTA to do everything. Meaning, if your email is redirecting to the sales page where you have your buy button, don't put the buy button in the email. The only job of email is to redirect to the sales page. So use something like 'Learn More' or 'Find out about it'. And then let the reader take buying decisions on the sales page.
Length of the copy
Length of the email copy depends on the kind of audience, product, resources & marketing goals you have. There is no magic word limit that has proven to work. It's different for everyone.
Ecommerce emails are generally very succinct. Newsletters which are informative are usually long as they try to pack pitches to read a lot of articles or even full articles sometimes.
But you should take care of the kind of audience you are targeting. If you are targeting busy, working professional women, they would like a shorter email. If you are targeting the audience that will buy a course worth $1000, then probably a long email addressing all objections and giving social proof is valuable.
Test out some versions and see which one gets the higher conversion. The metric you should look at is - Click-to-open-rate.
Keep the customer journey in mind
In email marketing, it's important that you don't push people towards a sale too soon or too late. Your emails should be written keeping in mind the level of trust the reader has on your brand.
That's why the first email is always a welcome email. Then you can create an onboarding journey where you introduce readers to what your company does, where can they find more about it. After this, they can become a part of your content newsletters. Once they have been exposed to your email enough, that's the time to introduce sales emails in the journey.
The best part is, email marketing softwares these days helps you automate all these things. You can check out SendX for your email & automation needs. There is a 14-day trial that doesn't require you to fill lengthy forms or credit card details.
5 Samples Of Effective Email Copywriting
Here are 5 examples of emails from different industries and brands showing how effective copywriting can be used to persuade people to engage with your brand through clicks, replies, purchase etc.
1) Masterclass
Masterclass copywriting is very minimal. They focus on the reader by addressing which class is for what kind of people.
The headline invokes curiosity and the reader is interested in exactly what Masterclass has to offer. The subheading shows some features of the programs before talking about various options to choose from.
Notice the interesting place of CTA after every program title. The CTA is subtle with just the text. It is also very direct and there is no room for interpretation of what the CTA means. It clearly asks you to subscribe now.

2) Chubbies
Chubbies take a fun approach towards their copywriting. They understand that their person is young men who invest in having fun, comfort and relate to a cheeky copy.
In contrast to Masterclass CTAs, the CTAs here are long text and not very direct.
Words like "making the whole group look better" convince people that they need these clothes to have a 'cooler' status in their group.
The language uses slang words like 'big ól' , 'kinda'. This is the lingo that the younger generation uses so perfectly for their emails. They are talking like their customers.

3) Moo
The copy explaining about the notebook talks about its features and how your life will actually be transformed with these notebooks.
The CTA is direct and focuses on the main product, that is, notebooks. The note about 100% satisfaction at the end builds trust in the brand and convinces people who are on the edge to go checkout this brand.

4) Ramit Sethi
Ramit Sethi doesn't use heavy imagery in his emails. So all the impact has to be delivered through the copy.
This email is sent to someone who checked out their latest program, Earnable, but didn't go through to purchase it.
It starts with empathising the reader by agreeing that it might not be the right time for a course. Then the next paragraph talks about benefits of joining the program.
It finally ends with a CTA to join the waitlist for next time.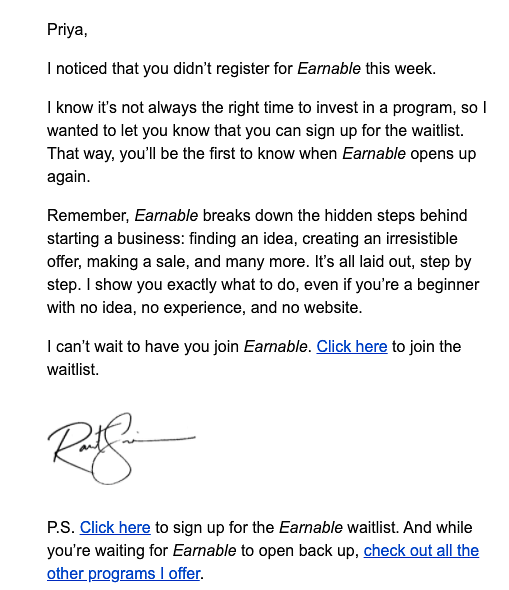 5) Birchbox
Birchbox offers subscription boxes and keeps running offers to get their recurring revenue up.
Their copy focuses on the offer. Then it shows the CTA before launching into a small paragraph if someone is not convinced with the image and offer yet.
They give you reason to buy each type of item hoping that you will like at least one of these. They have two CTAs - Get this deal and Shop this deal. I believe they are A/B testing for something here.

What's next?
The best way to test what works with your audience is to test it, collect the data, modify something and test again.
To do all of that, I would suggest giving SendX a try. It's an easy to use, intuitive email marketing platform that's trusted by 3000+ companies for growing their business with the help of email marketing.
You can try all of its features for free with unlimited emails. All this without any credit card or waiting in line to get verified. Get your 14-day trial here.