12+ Must-have eCommerce Tools to Communicate With Customers
9 min read
A consumer journey in 2023 looks more complicated and diverse than ever before – your customers can reach you in a number of ways, through a multitude of channels, and they expect top-notch service on all of them. This is especially the case for e-commerce, where people can order online and give you their money in a matter of minutes, without even leaving their home.
Add to the equation that customers today have no problem with scrapping a purchase because of bad service, and it's clear that your business depends on communication much more today than it would have even five years ago.
To manage communication with customers on multiple channels, many businesses use tools that engage customers in an efficient way, throughout their consumer journey.
So we evaluated some of the greatest software products for eCommerce and came up with the list of top tools you could incorporate in your business right now!
Table of Contents
Best eCommerce Tools
1. SendX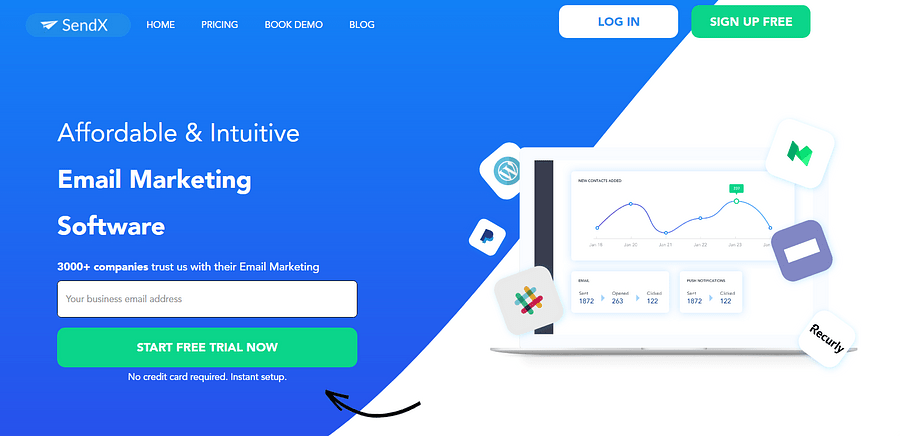 Email is a preferred channel of communication for many users, so having a strong email marketing strategy and a good tool to deliver it is a must. After all, an average office worker can receive more than 120 emails on a daily basis, so you want to make sure yours reach the right person at the right time, with the right kind of message! One tool that does this in a great way is SendX.
The first thing that strikes you with SendX is the exceptional ease of use – it's incredibly user-friendly email editor with a clutter-free dashboard and a neat drag-and-drop. The targeting options are also quite advanced, as you can show personalized popups depending on pretty much everything: page scrolls, clicks, even exit intent.
Another notable feature is the built-in marketing automation option that can be very useful for an e-commerce business. It can allow you to create automation sequences with simple rules, which is great for upselling. For example, you can create a rule that offers black tennis socks via email to a user who just purchased a pair of black tennis shoes in a matter of minutes!
2. DelightChat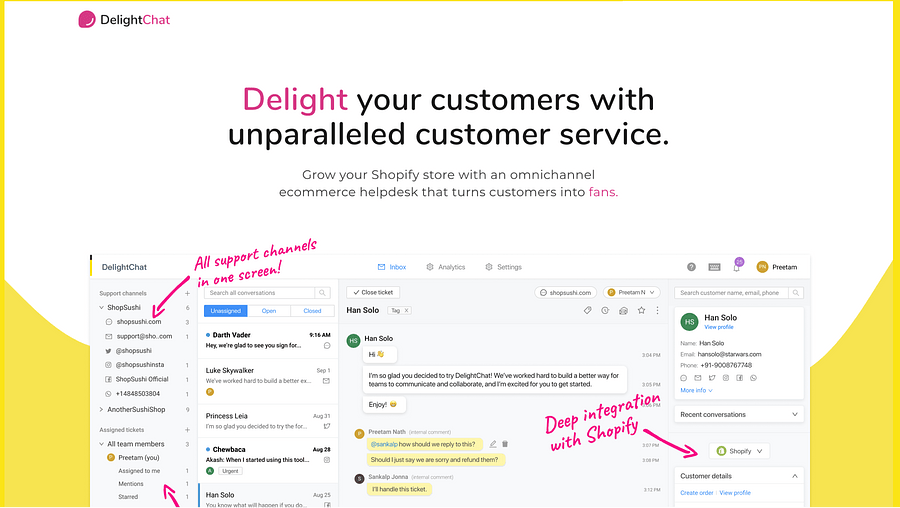 With DelightChat's omnichannel support inbox, you can respond to customer queries from every channel - Facebook Messenger, Facebook post & ad comments, Instagram post & ad comments, WhatsApp, Email, and Live Chat - in one screen. No more switching back and forth browser tabs. You can also monitor all your team members and their interactions with customers and even jump in if they need help with a particular conversation.
An easy-to-use interface, powerful features, and affordable pricing make DelightChat the best choice for modern eCommerce websites & DTC brands to deliver delightful support experiences.

DelightChat is currently in beta. Sign up today to gain early access.
3. RingBlaze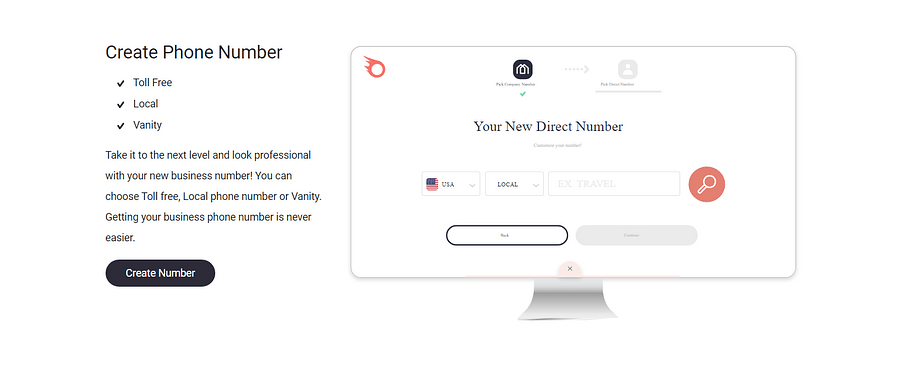 A comprehensive business phone system is a must when it comes to good customer service. A lot of people like to file their complaints and ask their questions via the phone, and nothing is more frustrating to an already frustrated customer than bad call management.
A great customer service tool for this purpose is RingBlaze – a VoIP business phone system with a lot of features that make managing calls easy for the whole team. One of its best features is the surprisingly affordable option of international phone calls and numbers, which can be extremely important for online businesses.
RingBlaze comes with other features including a shared dashboard for small teams, leaving comments on calls, and recording calls. It also includes a cool "click-to-call" widget, or a "call us" button that you can easily incorporate into your website and make it even easier for your users to reach you.
Another impressive feature of RingBlaze is the auto attendant feature that can direct customers to the right department or person, reducing wait times and improving the overall customer experience.
4. ZenDesk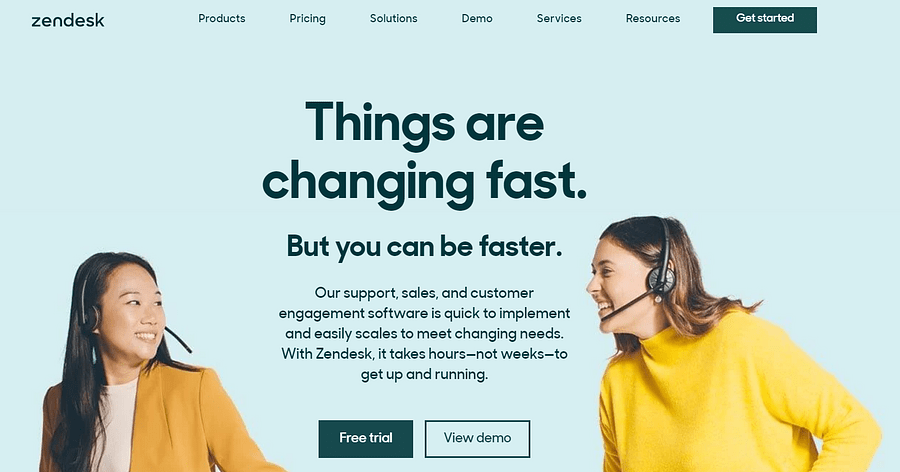 A well-known name in the industry, used by big companies like Shopify and Uber, ZenDesk is a complete solution that does more than just customer support.
One of the unique things about ZenDesk is its marketing approach to customer service – in addition to service desk features, you also get their CRM platform called Sunshine, which is great for small businesses. Analytics and reporting are also pretty comprehensive, but easy to master.
The only potential drawback with ZenDesk is pricing Ranges– while ZenDesk Support can be purchased on its own, it lacks much of the features included in ZenDesk Suite. The latter comes with live messaging, a call center software, and much more. However, the Suite can end up costing you up to $149 per user per month, so make a list of all the features you'll need and check how it fits their pricing plan before making a decision.
5. Omnisend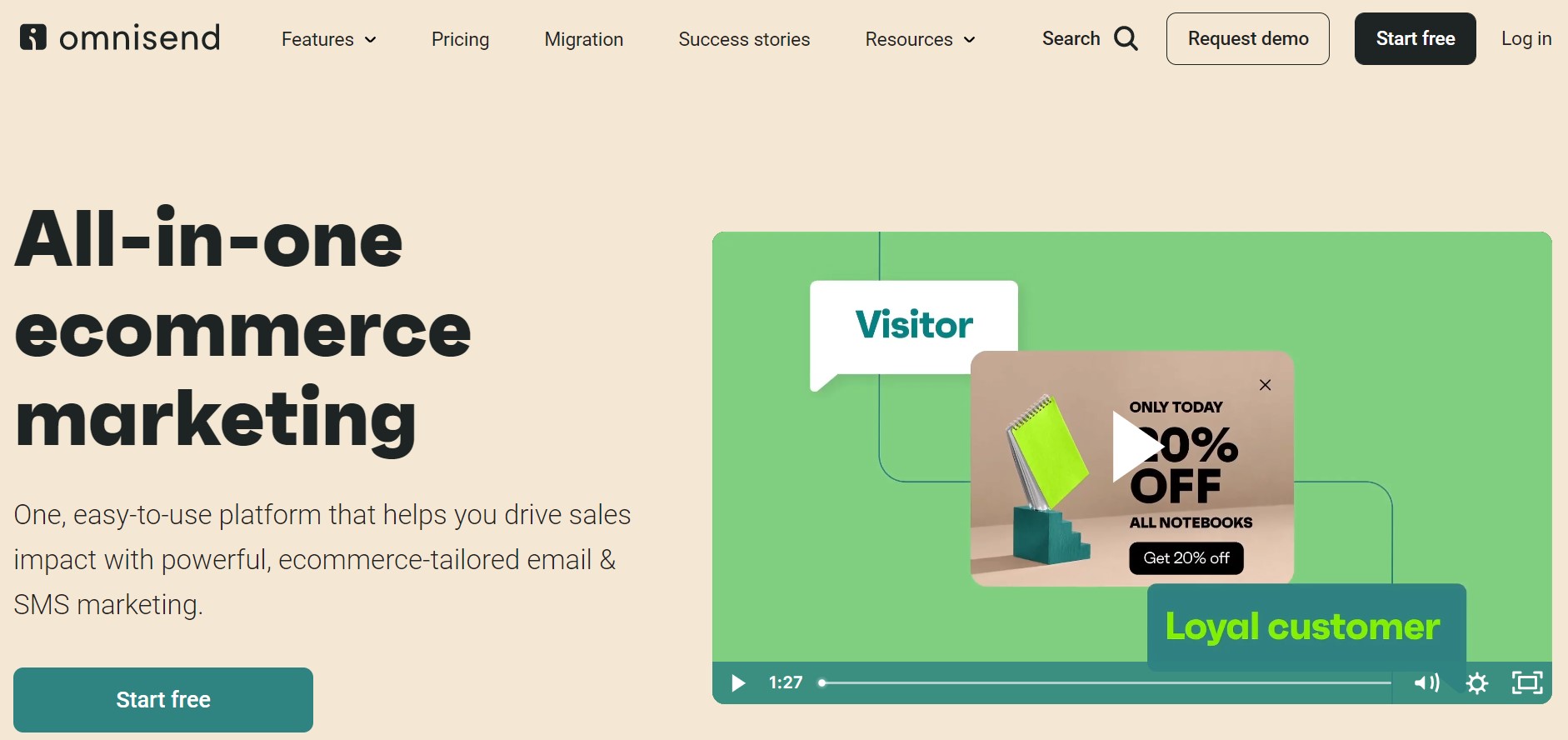 Source: Omnisend
If you are looking for a marketing automation tool specifically tailored for e-commerce Omnisend might be your go-to tool. Omnisend has direct integration with the main e-commerce platforms like Shopify, Woocommerce, Bigcommerce, Wix and many others.

Omnisend offers email and SMS marketing automation that can be seemingly used together with other Omnisend channels like Push notifications, Facebook and Google Audience Sync.
Using Omnisend you can send cart or browse abandonment, order confirmation and other custom types of automation flows.
A variety of popups, signup forms and landing pages will help you build your email and SMS subscriber list fast. Omnisend drag-and-drop email editor and templates will help you create beautiful, branded email newsletters in a short time. Advanced analytics and reporting will help you measure and predict the best ways to increase sales.
6. LiveChat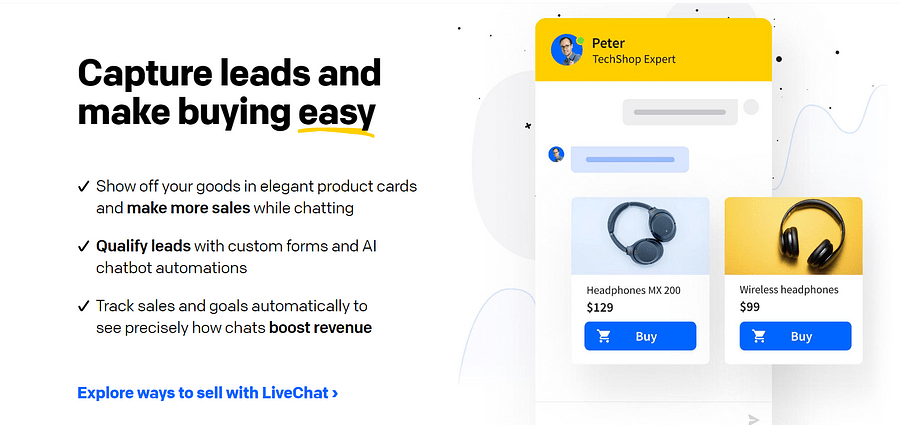 Some business owners still view a live chat website feature as unnecessary, but data suggests that people have come to expect it! In fact, some research shows that chat is the leading contact source when it comes to online environments, surpassing social media and email.
A simple, yet efficient tool that provides this is LiveChat. It can be installed on your website pretty easily, and, once live, it looks like a small bubble in the bottom corner, offering your users the chance to speak to one of your customer service agents. A cool feature of this tool is the option to have multiple agent accounts, allowing you to offer a more personalized experience for your users.
You can also track all of your chats so you can analyze them and even see which of them have led to sales.
7. Mento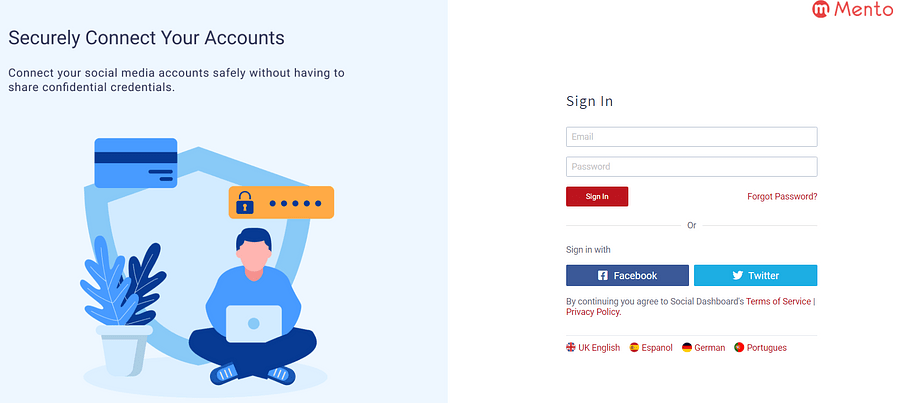 If you're not using social media to communicate with your customers, you're doing something wrong.
Not only do social media channels give you great opportunities to reach the right people and turn them into customers, but they've also shown to be a good option for receiving feedback and improving your customer service. Your response time, reviews, and tone on social media make for a big chunk of your overall digital presence.
One tool that can help you manage your social media presence easily is Mento. What makes this one of the best e-commerce tools around is the option to connect it to your online store that you can easily integrate with your social media channels. This makes promoting your products via social media simple and efficient, as you can give Mento access to pictures and other content from your website.
Apart from that, this tool offers some other, standard social media automation features – you can schedule your posts and publish them on multiple channels at the same time, get suggested content, add hashtags automatically, and much more.
8. SurveyMonkey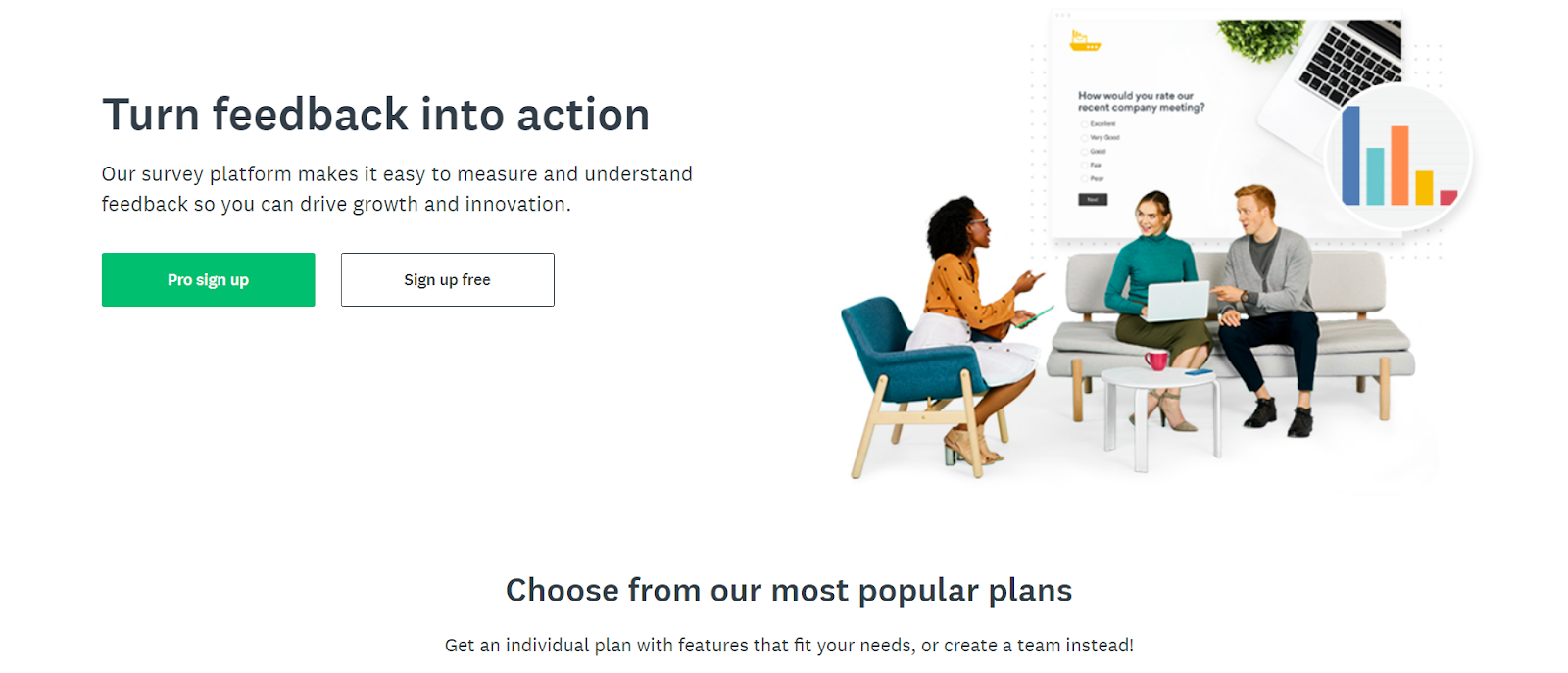 Customer feedback is one of the most important things you can get out of the e-commerce process, and the more complex and detailed it is, the better. You can get feedback through a lot of tools on this list – almost all customer service software solutions have some sort of chat/conversation feature built in. However, not many of them provide as comprehensive options as SurveyMonkey has.
Although not strictly an e-commerce tool, Survey Monkey is used by many companies all over the world for researching and studying customer behavior, needs, and expectations. You can create your own surveys that examine just about anything you'd like and get feedback from your customers on each step of their journey. All surveys are well-designed and pretty intuitive, with plenty of options for multiple-choice questions, open questions, and other.
You can also use their analytics feature, so you can get access to customer information and use it to inform your future decisions.
9. Acquire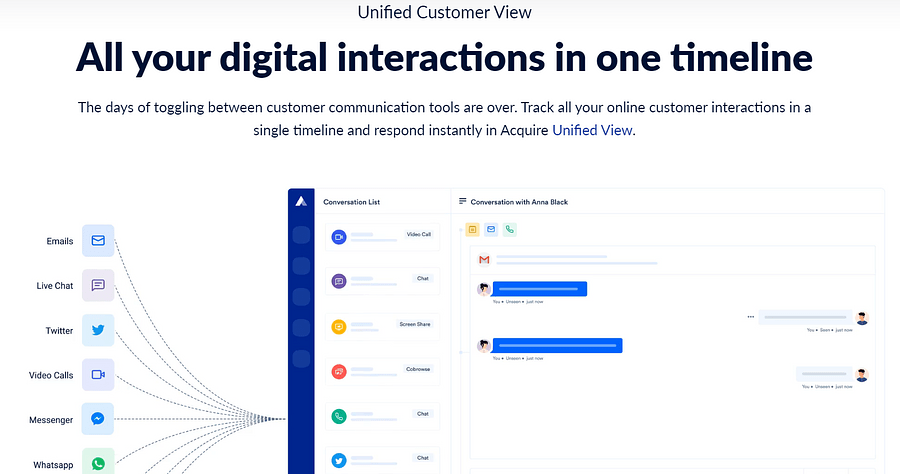 An all-in-one tool that manages all of your customer interactions in one place, Acquire offers you an easy way to connect with your customers, wherever they may be. From emails to live chats and chatbots, Acquire's "Unified View" can help you manage all of your interactions.
But the reason why this tool is featured on the list is one unique option – your customer service team can share their screen with the customers and use it to troubleshoot even the most complicated issues. The endless applications of this feature are easy to imagine. It can help you reduce communication costs and increase customer satisfaction in moments.
10. Thankbot

While other tools on this list are used for some of the most crucial steps in your users' journey, Thankbot is something that can help you add a little flair to your digital presence. This tool will enable you to send handwritten "thank you" notes to your users.
Now, since this is a digital tool, you don't really need to write anything by hand – you type, and the tool returns a hand-written text. Yes, you read that right – not a handwritten-like font, but a truly handwritten piece of text.
In this digital day, a feature like this can help you introduce a personal touch into your digital strategy and potentially separate yourself from the competition.
11. BrandMentions
Let's face it: It's very difficult to stay up to date 24/7 with everything that is said about your business at any moment. With so much content being published online every second, it's almost impossible to monitor your business accurately. And here's where specialized tools & apps jump in.
A great tool for real-time brand monitoring is BrandMentions. The tool does much more than brand monitoring. Brand Mentions help you out a lot with social listening. The tool will not just show you all the mentions you got from all major social networks, but will also give you lots of other insights that will help you out in defining or changing your existing social marketing strategy.
Also, BrandMentions can help you out with all three online reputation processes: building, maintaining, and recovering it. Of course, the tool is just a helper; you are the one in control of the strategy. Yet, it is a pretty good helper. Another cool feature the tool has it's the sentiment analysis. The tool lets you know how many of your mentions have a negative or positive sentiment. And although there are cases when you'd have to set a mention's sentiment manually, the tool still gives you a good idea of where you're standing. Given above a chart with the mentions number and their sentiment for the past three months. You can get this report in a more detailed view if you're interested in the negative mentions only, for instance. You can even add an alert notification, so you'll get an automated mail each time a negative mention of your brand appears online.
All in all, Brand Mentions is a super useful app that will definitely make your life easier. You don't have to be a digital marketer or a social marketer guru to use it. Any site or small business owner can use it and get awesome insights from it.
12. Rewind.io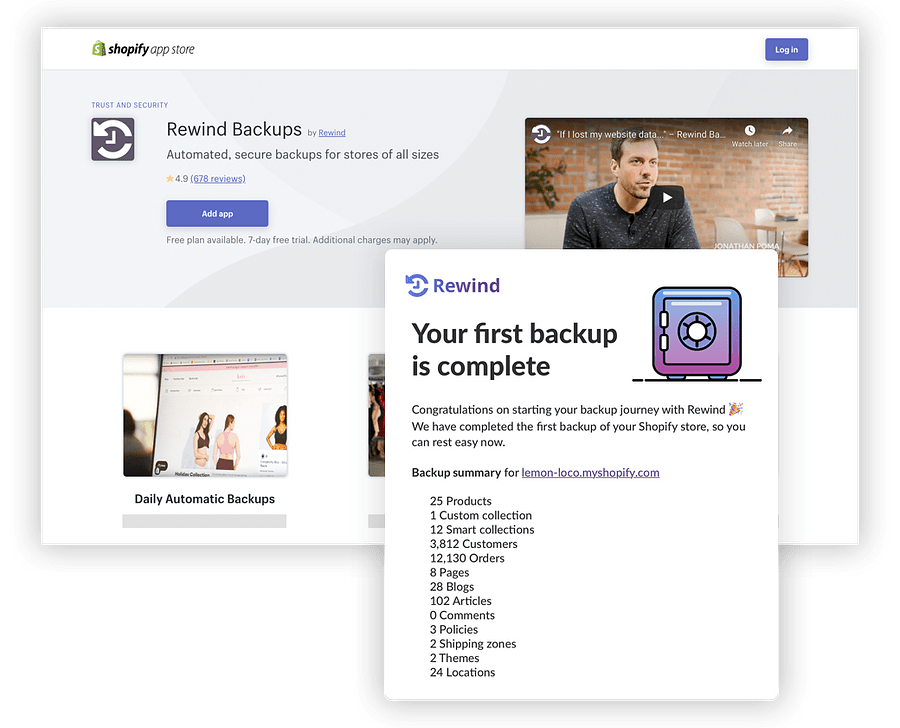 One of the key elements to boosting your online sales is having a site that is up and running all the time. Rewind is one of the most essential Shopify apps that creates an automatic backup of your online store so that you can seamlessly bring it back to life anytime something goes wrong.

Backing up your data periodically is fundamental to any online business. This is all the more critical with a Shopify store where a small coding error or a faulty app integration could instantly wipe all your pricing or inventory data (such as inventory turnover ratio) in seconds.
While you can manually backup your store, it is time-consuming and you do not have access to backup specific data and items that apps with Shopify API access can backup and protect. Trying to do things yourself is really not a better option than spending $3 a month on an app like Rewind.

Rewind is used by over 60,000 stores, including large brands like Staples, Pampers, Charmin and MVMT.
13. MobileMonkey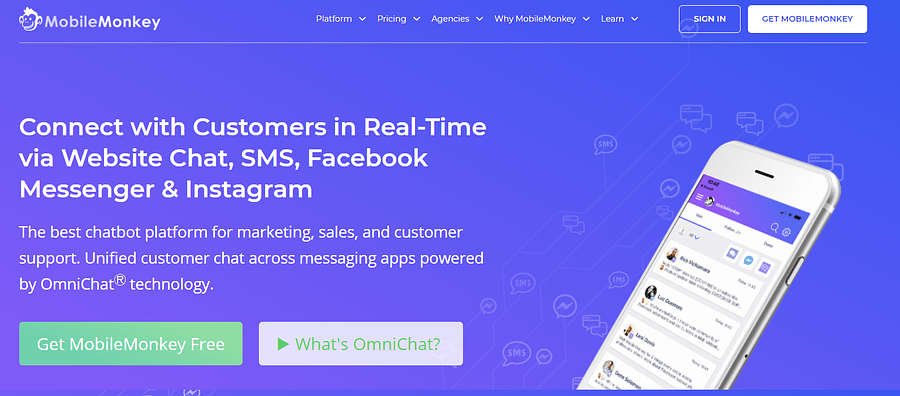 MobileMonkey is a social media tool and multi-channel chatbot platform that enables companies to proactively engage with audiences on their website, Facebook Messenger, SMS text messaging, and other popular web chat applications.

It's one of the widely used chatbot builders by marketers since its key features include drip campaigns, list building, and chat blasts, which are perfect for lead generation.
14. Hiver
Email is still amongst the most preferred channels of communication for customer service. So, if you're an e-commerce brand and get customer queries (enquiring about delivery status, cancellations, and more), how do you efficiently manage and act on them?
This is where a customer support solution like Hiver comes in handy. Hiver helps you assign, track, and collaborate on all customer requests that arrive inside a shared inbox like support@ or help@. Teams can make use of features such as Email Notes to have discussions around customer queries and also provide context which will help in a smooth resolution. And the best part? You don't need to migrate to an alien interface and spend a lot of time and effort learning to use Hiver. That's because Hiver works within Gmail's native UI and is extremely intuitive.
15. ProProfs Help desk
ProProfs Help Desk is a SaaS-based help desk system designed for businesses looking to offer 24x7 delightful support. With an intuitive and Gmail-like interface, your team can get started in no time and speed up the issue resolution process.
With powerful omnichannel capabilities, your team can manage customer conversations across multiple channels - email, live chat, help center, web forms, etc. Support agents can choose to manually pick tickets or automate the process using round-robin ticket assignment.
This tool has robust features to offer when it comes to internal collaboration. For example, agents can discuss complex tickets using private notes, avoid duplication with collision detection, and prioritize urgent issues that demand immediate action.
In addition to this, users can enjoy integration with native tools such as knowledge base, live chat, survey, project management, etc. You can even integrate with the leading CRM solutions such as Salesforce and MS Dynamics to deliver highly personalized experiences.
The Final Word
Offering a great experience to your customers means reaching out to your users with special offers, opening up for feedback, and providing good customer service, among other things. Catching your users at the right moment in their consumer journey with the right message is crucial, and it can do wonders for your sales and customer loyalty.
How do you know if you're doing this? Well, if you're not using live chat on your website, email automation software or a customer support platform, it's safe to say that you're slowly falling behind.
So, check out some of these e-commerce tools and start having meaningful conversations with your users! Once you do, it's only a matter of time before you notice a substantial change in your results – both in terms of business objectives like sales and retention, and in brand parameters like loyalty and love. If you are a parent and want to start your e-commerce business, these e-commerce tools (paired with other awesome software solutions) will come in handy for you.