The Top 5 Crypto Mining Software In 2023
4 min read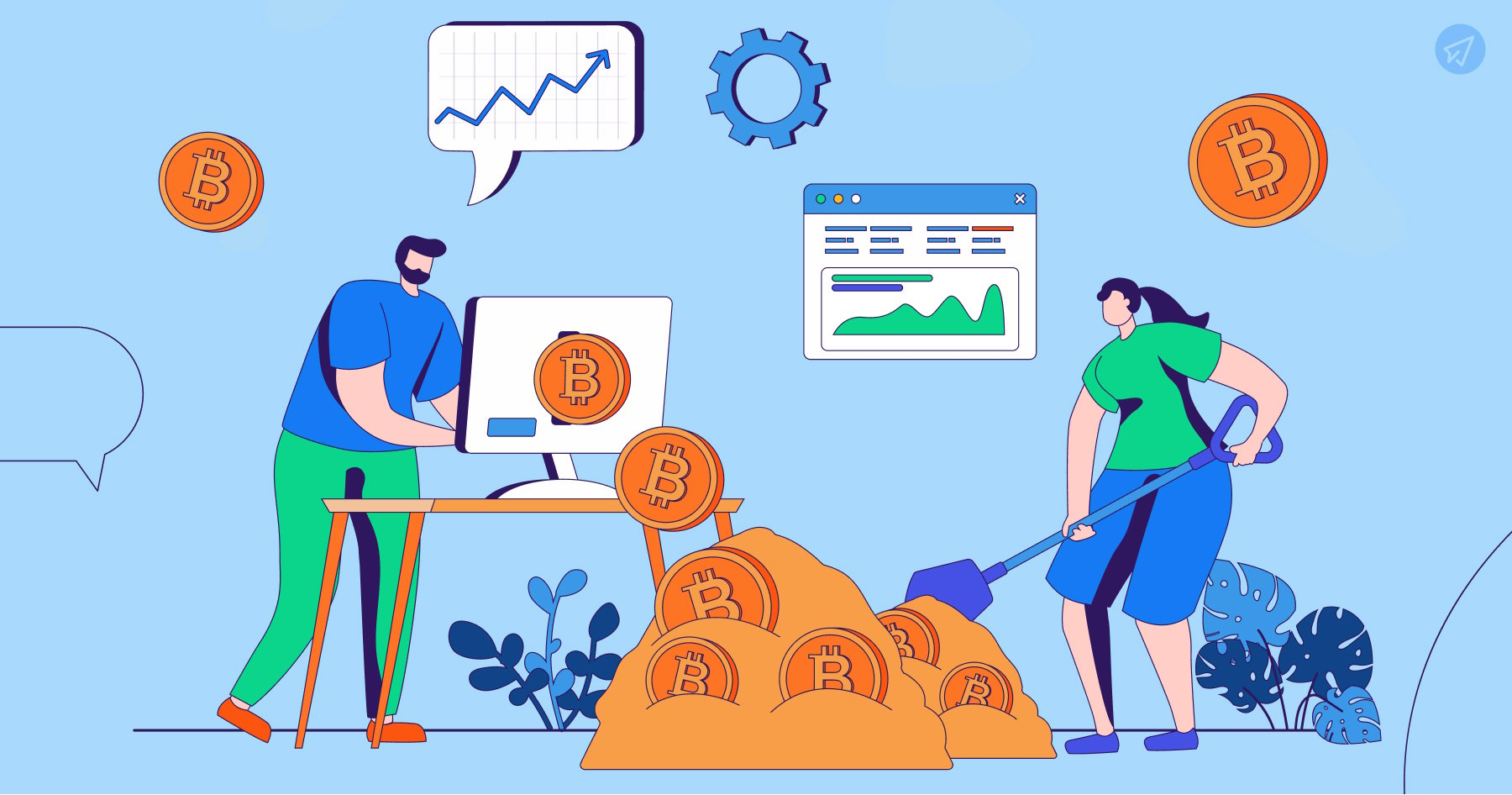 In recent times, cryptocurrency has become a household term. Crypto trading has seen a steep rise, piquing the interest of not only the technically proficient but also the regular non-tech population. The most lucrative of all this is Crypt mining — the act of generating cryptocurrency by solving complex mathematical problems to valid other transactions.
But mining required expensive equipment and tech configurations till now until mining softwares came into the picture. They simply allow you to select the desired plan, configurations or power and generate revenue.
In this post, we'll look at the features of 5 Cryptocurrency mining software so you can choose which one to go ahead with for your projects.
Table of Contents
What is Crypto Mining?
Mining crypto currency is a complicated process, requiring strong cryptography and blockchain technology knowledge alongside some serious computing power. Like 'real life mining', crypto mining rewards are the incentive these virtual miners receive in exchange for the computational power they provide to keep your coin transactions running smoothly.
According to one of the most reputed crypto exchange, Coinbase —
"Mining is the process that Bitcoin and several other cryptocurrencies use to generate new coins and verify new transactions. It involves vast, decentralized networks of computers around the world that verify and secure blockchains – the virtual ledgers that document cryptocurrency transactions. In return for contributing their processing power, computers on the network are rewarded with new coins"
While being a very lucrative prospect, crypto mining also needs good software. But with the plethora of available options, it is difficult to decide what would be the right choice for you, especially if you are not very tech-savvy.
To make it easier for you, we present a list of the 5 best crypto mining software, ranging from beginner-friendly to advanced.
List of the best crypto mining software available
Crypto mining software, among its multiple other features, is essentially the source of circulating new cryptocurrency in the blockchain. An essential part of the blockchain ledger's maintenance, crypto mining rewards users with cryptocurrency for breaking down complicated calculations or 'blocks' of every verified transaction.
Here we will discuss the features and specialities of the 5 best crypto mining software for you to choose from:
CGMiner
Let us start our list with the oldest and probably the most popular mining software, CGMiner.
This open-source mining software is simple, and easy to use, but does the job just as well. CGMiner is Linux based but designed to be compatible with most hardware and platforms, It uses a command-line interface and is capable of remote rig mining.
One of the best features of CGMiner is that the user can control the functions with effortless keyboard commands. Amateurs might find this software a little difficult as it is a little difficult to install in certain operating systems.
Perks
Remote mining rig interface.
Users can control the fan speed.
Manageable with simple keyboard commands.
Advanced block detection, thus can hash at a high rate without causing disturbances in the network.
Cross-platform compatible and runs on various software including ASIC, FGI, CPU, GPU, etc.
BFGMiner
Popular for its customization ability, BFGMiner is a multifaceted crypto mining software. This one is ideal for advanced users as it offers a dynamic clocking, remote mining interface, and monitoring of the hardware temperature. BFGmining allows users to mine multiple cryptocurrencies at the same time. This particular mining software is written in C and is compatible with FPGA and ASIC. However, this software might seem a little tricky to beginners as it is not compatible with GUI mining.
Perks
Works on several cryptocurrencies at once.
Hashing on a number of cryptocurrencies simultaneously, this software allows the user to mine, hedge, and redistribute the risk across different cryptocurrencies.
Best mining software for customization.
Runs on Windows, Mac and Linux.
Customizable hotkeys.
Can also be installed on Raspberry Pi.
DiabloMiner
Next on our list is DiabloMiner, a Java bitcoin miner that uses an OpenCL platform and is compatible with GPU (Graphics Processing Unit. In short, your video card). The speciality of DiabloMiner is quick hashing computations, allowing the user to mine from a boundless number of pools. However, it also allows solo mining. This quick hashing software is best compatible with Mac but if you have the latest Nvidia software or ATI Stream SDK 2.1, it can run on other operating systems as well.
Perks
The OpenCL platform enables quick hashing calculations.
Users can mine across multiple pools or can choose to mine solo.
GPU compatible.
NiceHash Miner
One of the best mining software for beginners, NiceHash provides an easy and smooth experience of mining and trading cryptocurrencies. Apart from mining, users can also remotely monitor the tasks and status of the bitcoin mining operations. From tracking profits to temperature, NiceHash is a one-stop software ideal for novices. NIceHash is gaining more and more traction as it is user-friendly and makes crypto-currency mining accessible even to the non-tech savvy population. However, NiceHash only supports bitcoin mining as of now. This is a drawback as there are other cryptocurrencies like Dogecoin and Ethereum.
Perks
Simple interface, easy to keep track of the tasks and activities.
Comes with a profitability calculator.
Easy to install and register.
Easy withdrawals.
Users can manually choose different algorithms offered by different vendors.
Awesome Miner
Are you looking for hassle-free mining software that is specifically designed for large scale mining? If yes, then AwesomeMiner would be your best mining buddy. It uses a centralized system that can harbor a number of different mining rigs and mining pools. It is all accessible on one dashboard, making it convenient for the user to track and control the functions. Merging every notable mining algorithm, AwesomeMiner can facilitate over 50 mining pools. Through this powerful software, users can enjoy real-time tracking of various cryptocurrencies as well. In addition to that, the dashboard shows the overall temperature and condition of the hardware so that the user can also manage the performance and health of the device.
Perks
Accessible from computers, tablets or smartphones.
Compatible with 50+ mining engines like CGMiner, BFGMiner, SRBMiner, etc.
Supports several algorithms like ZCash, Scrypt, Ethereum, etc.
Users can manage multiple mining pools with a single click.
Centralized dashboard showing different mining activities across several pools.
The dashboard also keeps track of the fan speed, temperature etc.
BTC Miner
With more than 1,40,000 users, BTCMiner is a cloud-based crypto mining software. All you need to run BTC Miner is FPGA mining equipment, a bitcoin wallet and an internet connection. It comes with ready-to-use Bitstreams, so you do not need to worry about having Xilinx software or even a license. BTC Miner is simple to use because it automatically picks the frequency with the highest crash rate. Bitcoin mining is effortless with this software as it functions and shut down in case of overheating automatically. You can just sit back and dream of profits while BTC Miner does the work for you.
Perks
Automatic frequency scaling.
Comes with a power-saving mode and ready-to-use Bitstream.
Temperature tracking.
One software controls multiple FCGA boards.
No need for a license or additional expensive software.
Summing Up
Churning profits and avoiding losses significantly depend on your choice of mining software. But even the best software can't have all the exciting features. So you should consider all the important factors: compatible algorithms, mining pools, manageability etc before choosing the right software for you. You can also try free software till you get comfortable with them. This would allow you to choose the one that suits you best. You can also still take your place among the leaders in this quite a new niche by developing your own app with the help of experts.