5 Tips to Use Brand Pitch Email Templates to Complement Your Email Marketing Efforts
6 min read
Marketing is very crucial for any business that desires to survive and thrive in a competitive environment. One of the marketing channels the internet has made it easier to reach out to customers is through the use of email marketing.
A large percentage of individuals use email, and it keeps growing by the day. This means that applying a well-planned brand pitch email template can help your business generate new leads.
If you don't use branded email messages for your email marketing strategy, you are 10 steps behind your competitors.
Your brand is an idea of who you are, your values, opinions, and beliefs. These are plainly communicated by your acts, doings, and expressions. Making consumers aware of your products and services through email marketing gives them an informed decision about your products and how they can benefit them as consumers.
What's more, when you use brand pitch email templates, you build relationships with your customers, establish your expertise, and ultimately increase repeat and new sales.
Table of Contents
What is Brand Messaging?
Your company can be in a saturated market, with numerous companies fighting to be in the limelight. But it really isn't about fighting for customers to choose your business over that of your competitors; Instead, it is about using strategies that differentiate you from them in the minds of your potential clients. This is where branding comes into play.
When we hear the word brand, our thoughts move to certain companies and their colors, logo designs, and most importantly, their messages from a mile away. We know their messages and the kind of voice they convey to the public because we often hear them.
Brand messaging is all about using the right words to convey the significance of your brand to possible clients. It's about how people see you, and this lays the groundwork for how your potential clients perceive your brand in the marketplace.
Why is Email Marketing Important to Your Brand?
Businesses worldwide consistently find the most efficient strategies to establish a powerful online presence, brand credibility, and viability as competition becomes more challenging each day.
Email marketing has remained 40 times more powerful through these challenges in getting clients and delivering a brand's message across to potential customers than Instagram, Twitter, and Facebook at the least cost. Some significant benefits include:
Provides better brand recognition
Establish authority
Super easy to start
Reach the right audience at the right time
Increased traffic
Email marketing is an awesome marketing technique that can provide better conversion results for your business, especially when you use the appropriate brand pitch email template. This is because branded email messages totally pass a clear and concise message to your audience, and as a result, improve and sustain customer relationships and business growth.
If you are on track with the right brand message, your customers will picture you as a professional brand that cares about their needs and offers solutions to their problems. However, without knowing how to send branded messages, email marketing can be a huge waste of time.
Following the tips below can give you a great start to improving your brand's messages with email marketing.
Send Out A Welcome Email
Starting with the first and most important, you need to send out a welcome email. This is an overlooked tip that makes the first impression on behalf of your brand and serves as a reminder to potential customers as to why they signed up in the first place.
At any rate, your welcome email should thank your subscribers for opting-in and give them two essential points to note, which are:
What kinds of emails to expect from you in the future
Why you are the best brand in your niche and why they should stick with you.
With this, your welcome email would grab your subscribers' interest and have them pleasantly waiting to receive your emails to follow. This is one of the best ways of getting the jump on the fierce competition in the digital space and positioning your brand for success.
Your welcome email can also point out extra offers, case results, and features that your subscribers may not have known about your brand when joining your list. However, no matter how you design your welcome email, make sure it's clear and actionable.
2. Personalization
A general email is unlikely to work by any stretch of the location to have a successful email marketing campaign. You need to understand that just the same way you receive tons of promotional emails every day, your subscribers receive them too. So, you need to stand out and grab their attention before they decide to ignore or delete your message by personalizing your emails.
Personalizing a message is not only about including your subscriber's first name in the email. The purpose of a personalized message is to provide a familiar frame of reference for your customers in the most compelling way possible. You can create a customized brand identity using an online logo maker to add a personalized touch to your message or you can customize the theme of the email to reflect your brand personality.
It's about creating content that is specifically relevant and tailored to them. When you show your customers that they're valuable individuals through personalization, they'll engage more with your emails.
So, if you want your brand pitch email template to serve its purpose, you need to ensure that it is personalized, concise, attention-grabbing, and does not distract readers from the key point with unnecessary details. The more you personalize each message to a reader, the more they will feel acknowledged and love your brand.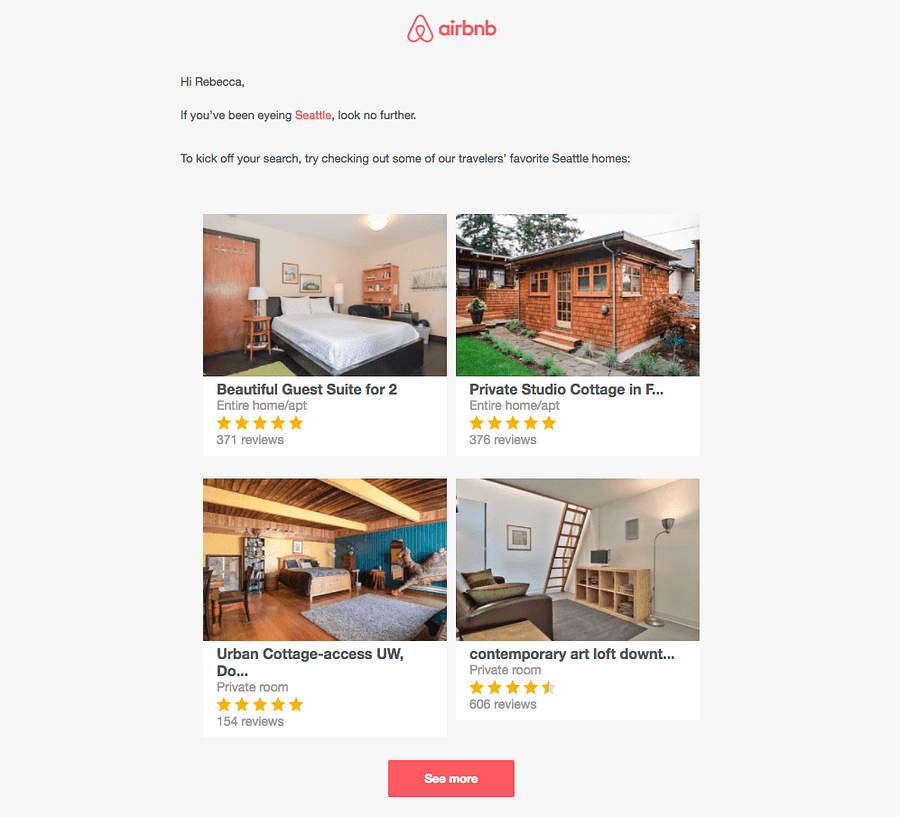 3. Segment your Audience
We all know how important segmentation is to email marketing's success, but how many of us take the time and effort to use that knowledge effectively? ........ Yeah right, the answer is 'Not a lot.
According to Hubspot, marketers or individuals who segment their campaigns can get as high as over a 700% increase in revenue. The benefits of segmenting your audience go much further than improving conversion rates, increasing revenue, and saving advertising spend. It also reduces spam. With segmenting, you will easily match your content with your audiences' interests, which would help reduce spam.
To make segmentation easier, you can gather some information on target demographic, behavior, or other data during sign-up or follow-up requests. This would enable you to understand your audience and their buying pattern while creating a level of personalization that can make your email marketing campaign more successful.
4. Create a Solid Landing Page
Almost all individuals like to be held by the hand, led to what they expect to see, and then told exactly what they need to do - The easier it is, the more likely they are to succumb! The same applies to landing pages. Landing pages are no place for guessing games. They need to be fine-tuned, to the point, and straightforward.
A solid landing page will go with your brand pitch emails by giving your audience a message and a call to action to follow. For email marketing to be effective, both the email and its corresponding landing page must be well designed and properly conceptualized to make it easier for subscribers to access.
Designing a landing page for each of your promotions might seem a bit stressful, but if you can catch your customers' attention through your email, you must sustain this interest in the landing page where the call to action is presented.
If either one of these does not meet its particular goal, the whole point of your email marketing scheme will fail.
5. Send Emails Regularly
One thing that brands should never miss out on is maintaining positive contact with their customers. After all, most individuals subscribe to an email list because they want to hear from the business. So, when a business promises it will send out messages, staying consistent is vital because the subscribers will be expecting messages from them.
"Consistency helps build trust and familiarity among your readers, enabling them to identify your brand quickly. If you don't send emails regularly, your subscribers will forget about you," says Jay Knispel from the Law Offices of Jay S. Knispel, LLC. "To keep your subscribers alive, you need to keep them interested by emailing them regularly, but not so often that they feel like they are being spammed."
Sometimes, it might be a challenge to know how often to send emails — either daily, weekly, or monthly. The key is to stick with a pattern rather than randomly sending emails with no plan or schedule.
Wrapping Up
Everyone has the opportunity to learn, improve, stand out, and develop their skills to create a unique and recognizable brand that people will want to be a part of. To have a successful brand pitch email campaign, effort and consistency are required, as constant interaction with clients enforces their loyalty and attracts new ones.
So, if you genuinely offer a good product that you guarantee and a service that indeed shows you care, your emails will certainly reinforce your brand for good once you follow these tips.
FAQs
1. What is brand messaging about?
Brand messaging is all about using the right words to convey the significance of your brand to possible clients. It's about how people see you, which lays the groundwork for how your potential clients perceive your brand in the marketplace.
2. What are the benefits of using email marketing for brand messaging?
Some top benefits of using email marketing for brand messaging are:
Provides better brand recognition.
Establishes authority.
Very easy to start.
Reaches the right audience at the right time.
Increases traffic.
3. How can I improve my brand's messaging using email marketing?
You can follow the tips below that can give you a great start to improving your brand's messages with email marketing:
Send out a welcome email.
Personalize your emails.
Segment your audience.
Create an attractive landing page.
Send email regularly.